Dessert has always been my favorite part of any Thanksgiving meal. But with so many options to choose from, I've compiled a list of my top Thanksgiving dessert recipes so you don't have to scour the internet to find the right one. I've included a wide variety, from pies and cakes to brownies and cookies, as well as vegan and gluten free options.
A quick way to find the dietary restricted recipes, simply hit command + F or ctrl + F on your keyboard and word search "gluten free" or "vegan" on this post. It will take you straight to those recipes! Otherwise, I highly recommend scrolling through this entire list of 30 Thanksgiving dessert recipes until you find a dessert that I know you'll love.
---
THANKSGIVING PIE RECIPES
---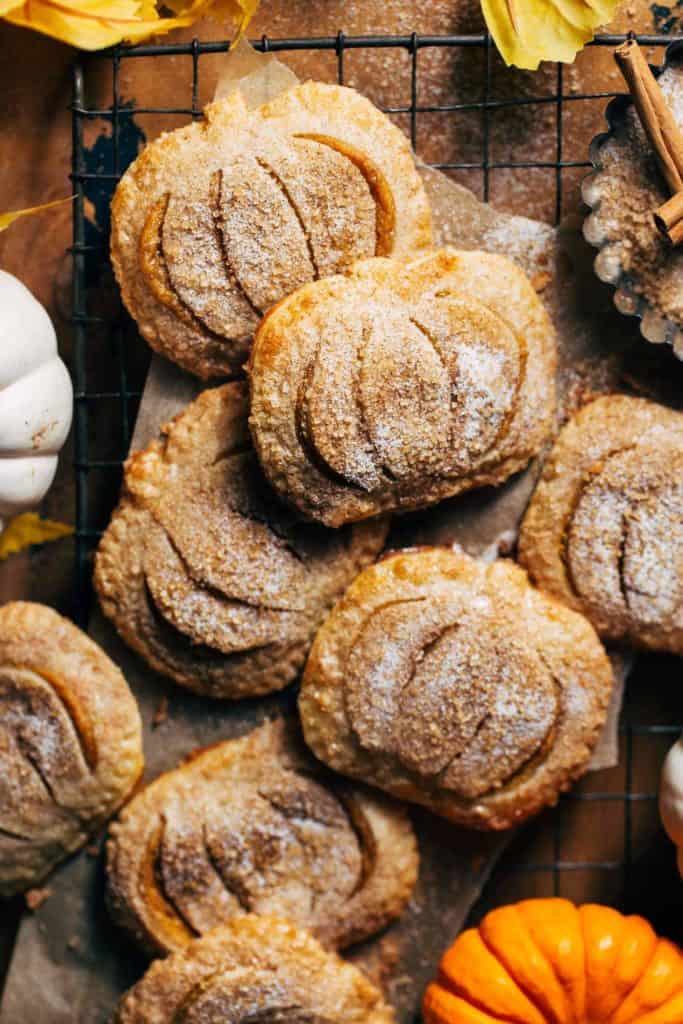 These mini pies take all the work out of traditional pie. Made using store bought pie dough and a quick and easy filling, these little pies are ready in under an hour and are so fun to make!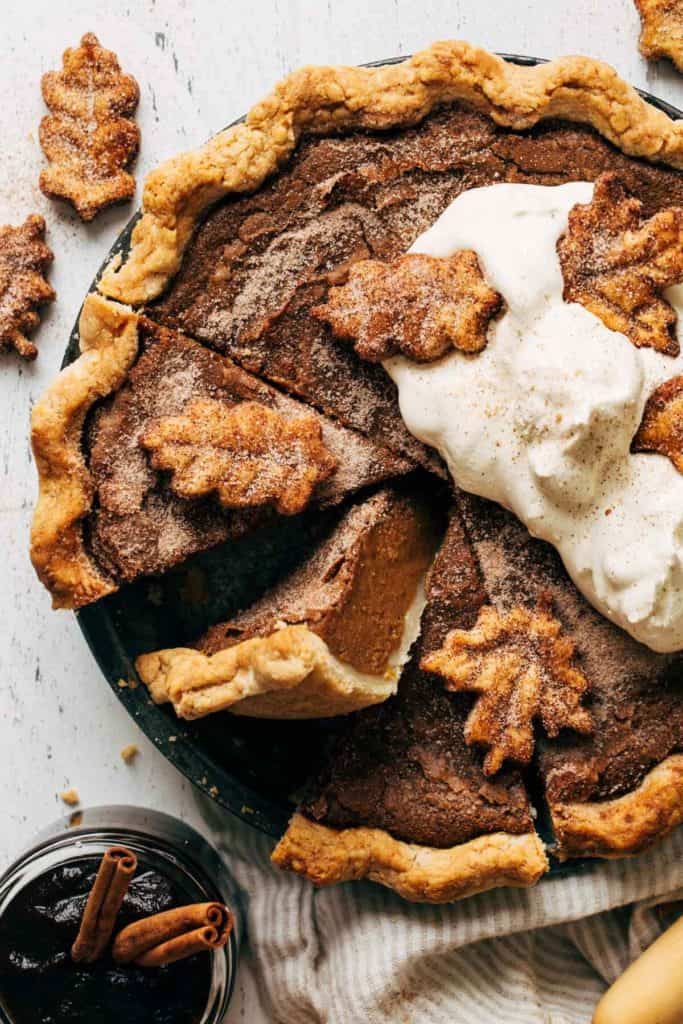 If you aren't a fan of pumpkin pie, apple butter pie has that same creamy texture but completely different flavor. This custard-based pie is baked with flavorful apple butter, dusted with a layer of cinnamon sugar, and baked in a flaky and buttery gluten free crust.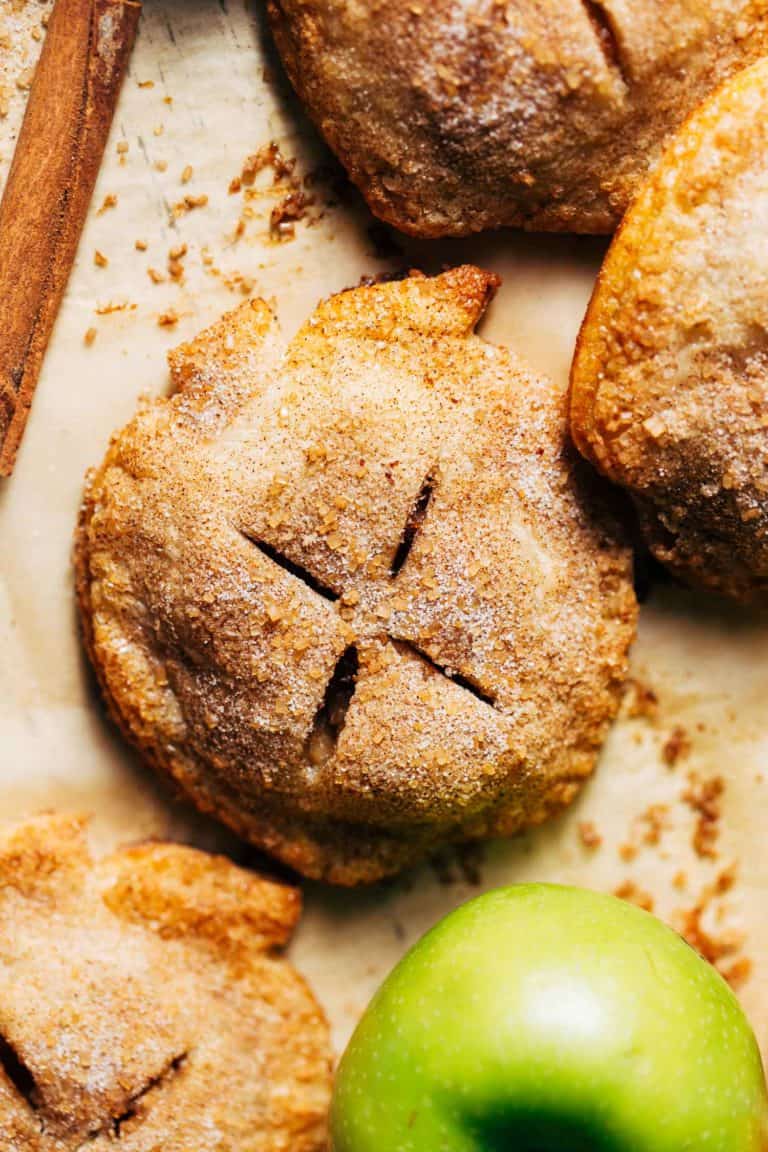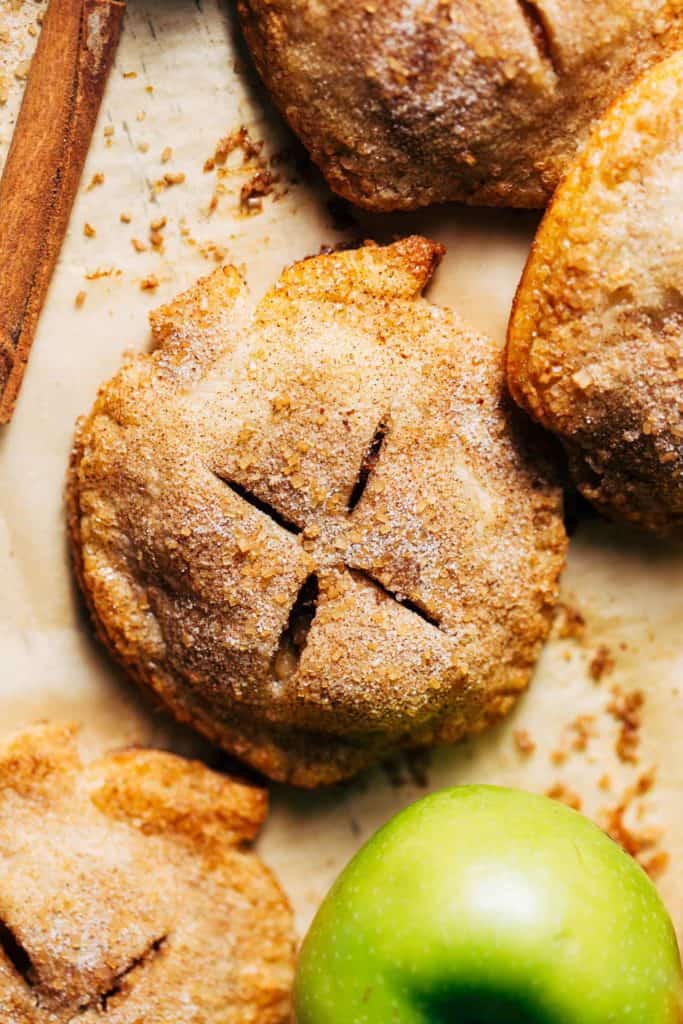 Just like the mini pumpkin pies, these mini apple pies are WAY easier to make than homemade apple pie, and much faster!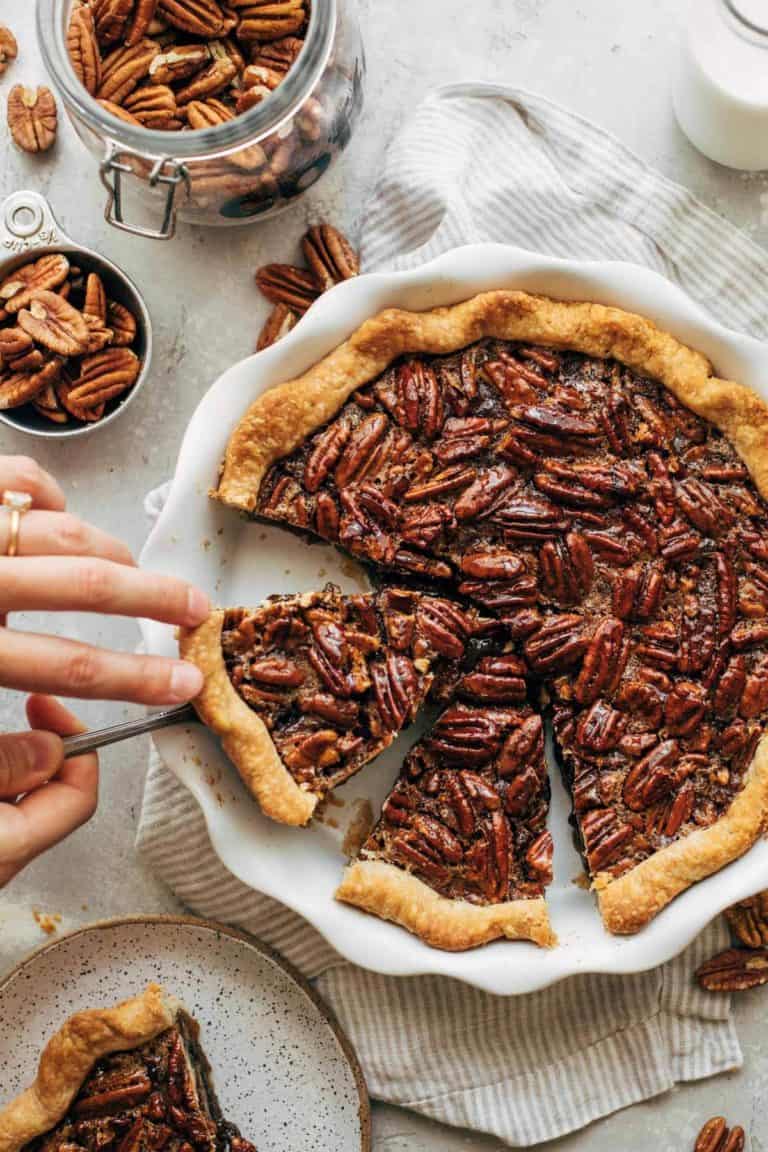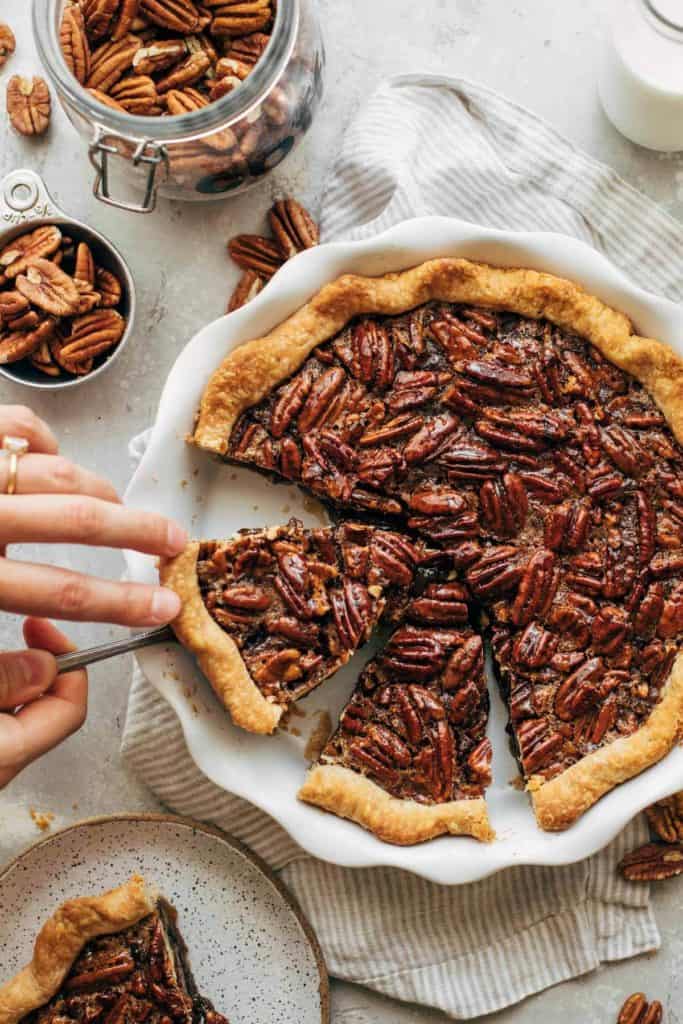 Pecan pie is classic, but it just never has enough pecans! This pecan pie has that delicious gooey filling, but with extra whole pecans. Each bite has so much texture, making it a bit more savory than regular pecan pie. To make it gluten free, just swap the pie crust with the gluten free pie dough used in my apple butter pie!
If salty and sweet is your jam, this pie is for you. Sweet butterscotch, salted pretzels, and savory pecans all swim together in this ooey gooey pie. To make it gluten free, just swap the pie crust with the gluten free pie dough used in my apple butter pie!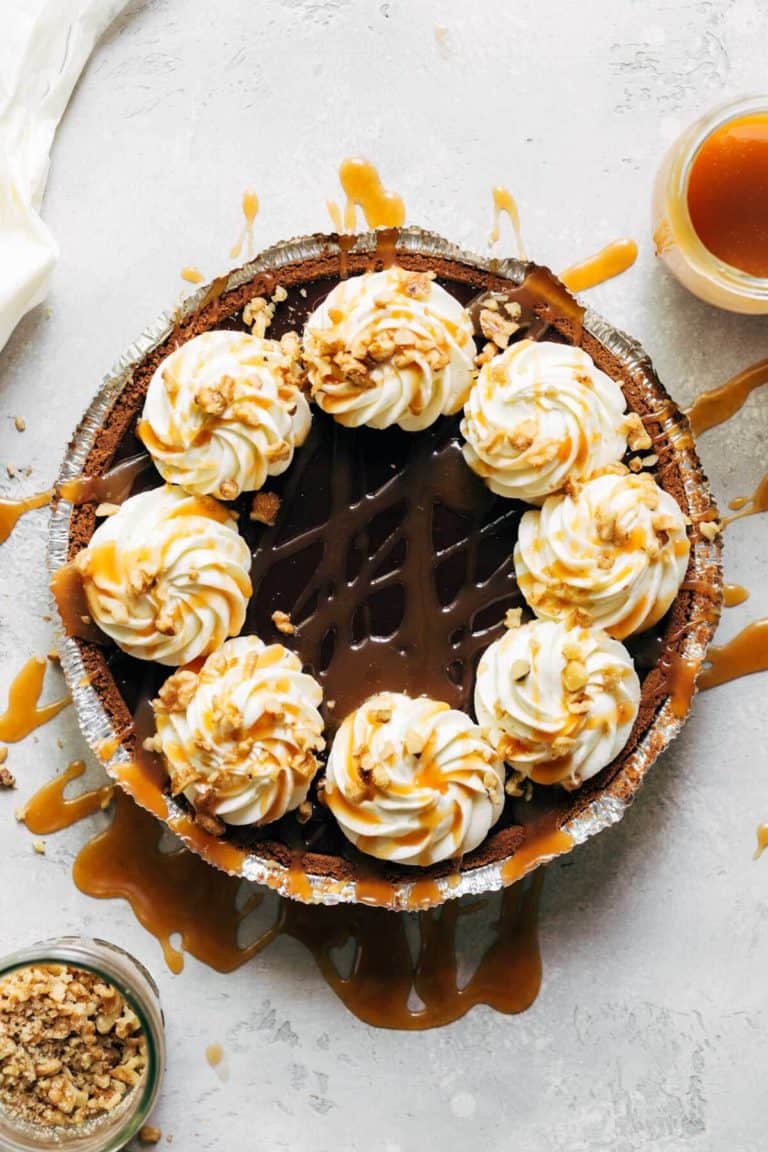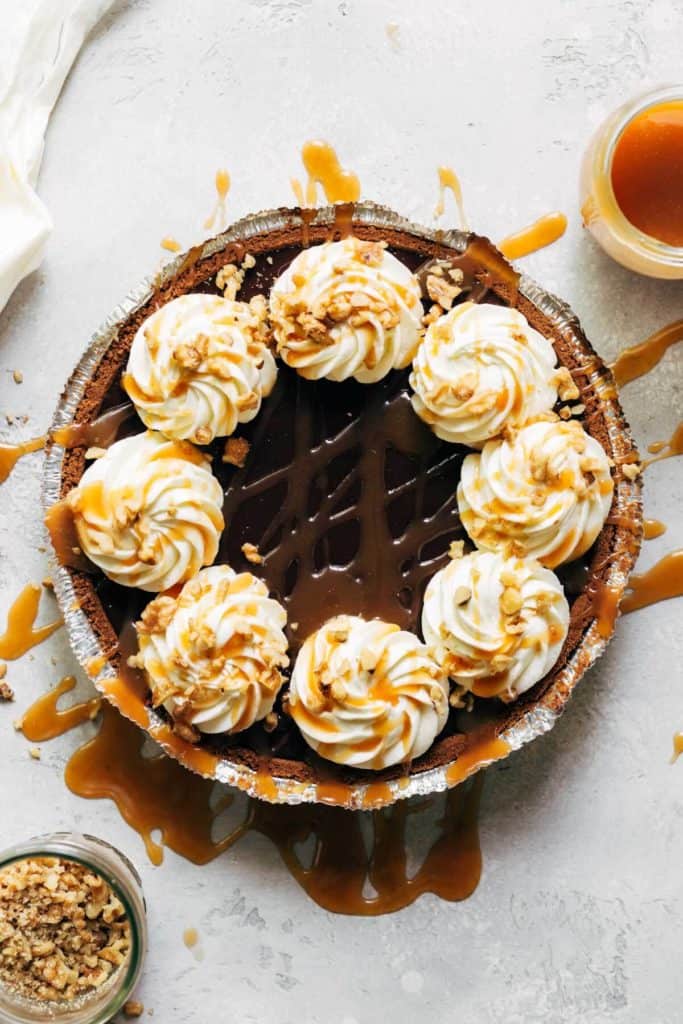 This pie is sinfully rich, but is so quick and easy to make. Using a pre-made walnut crust, this pie is prefect to bake the day ahead as it chills in the refrigerator overnight. Serve it up with caramel and cream cheese whip to bring in that chocolate turtle flavor.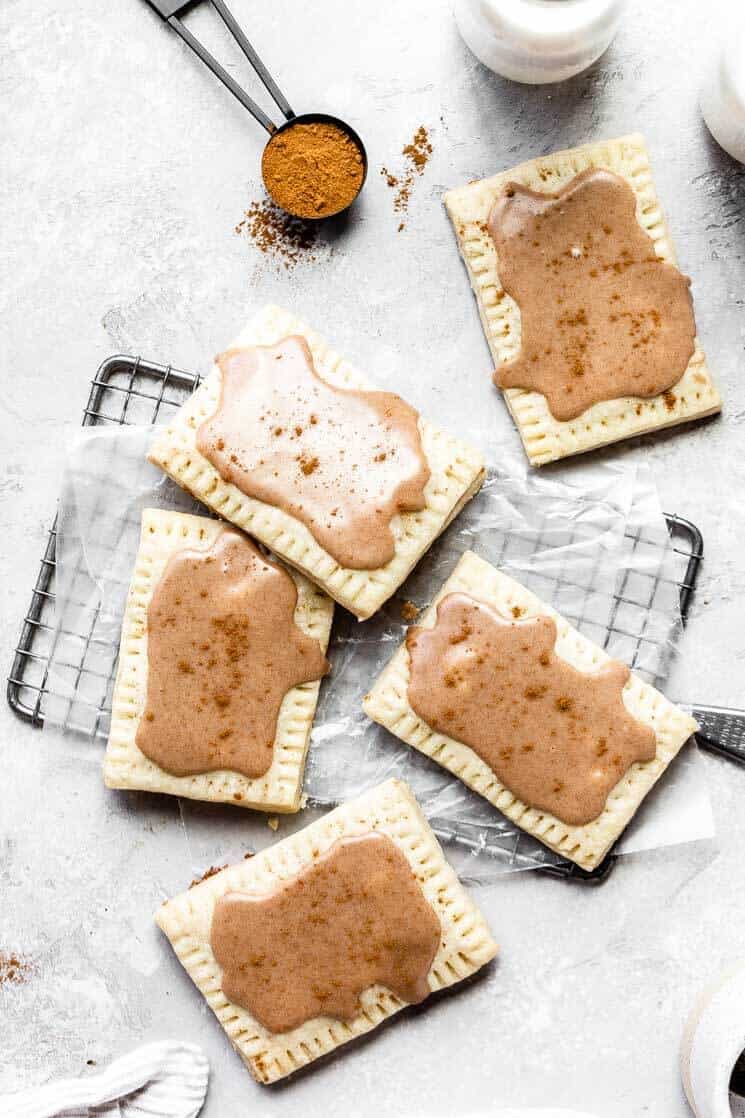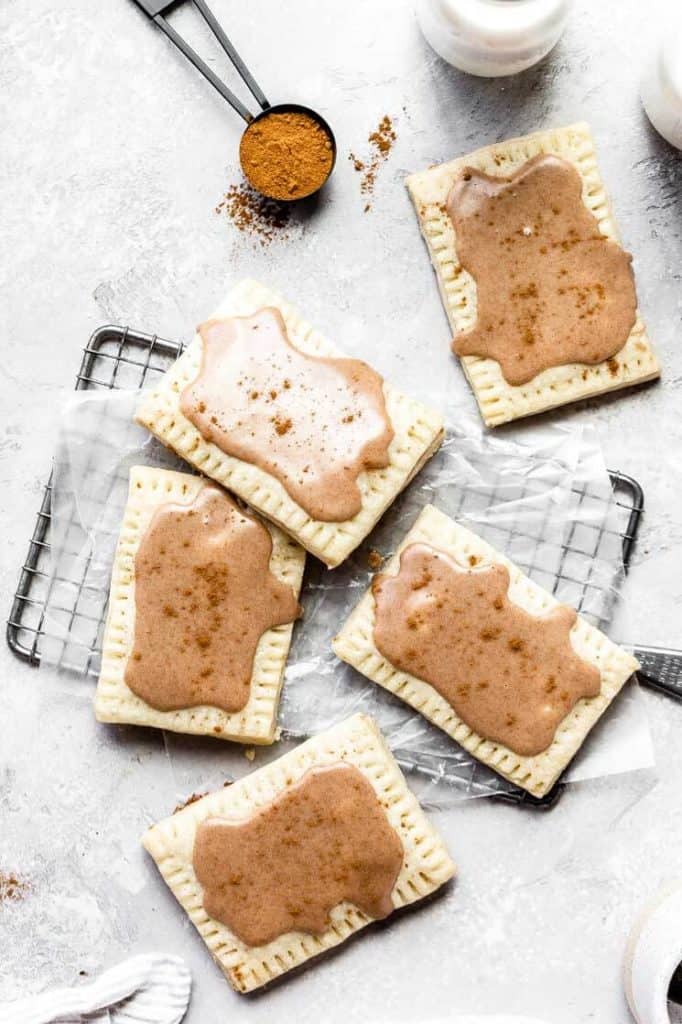 If you want something a bit non-convectional, but still has that pie feel, these brown sugar cinnamon pop tarts will do the trick. They taste even better than boxed pop tarts, and are ALWAYS a crowd favorite. My friends ask for these all the time! Use the pie dough recipe from my peanut butter and jelly pop tarts to make this recipe gluten free.
---
THANKSGIVING CAKE RECIPES
---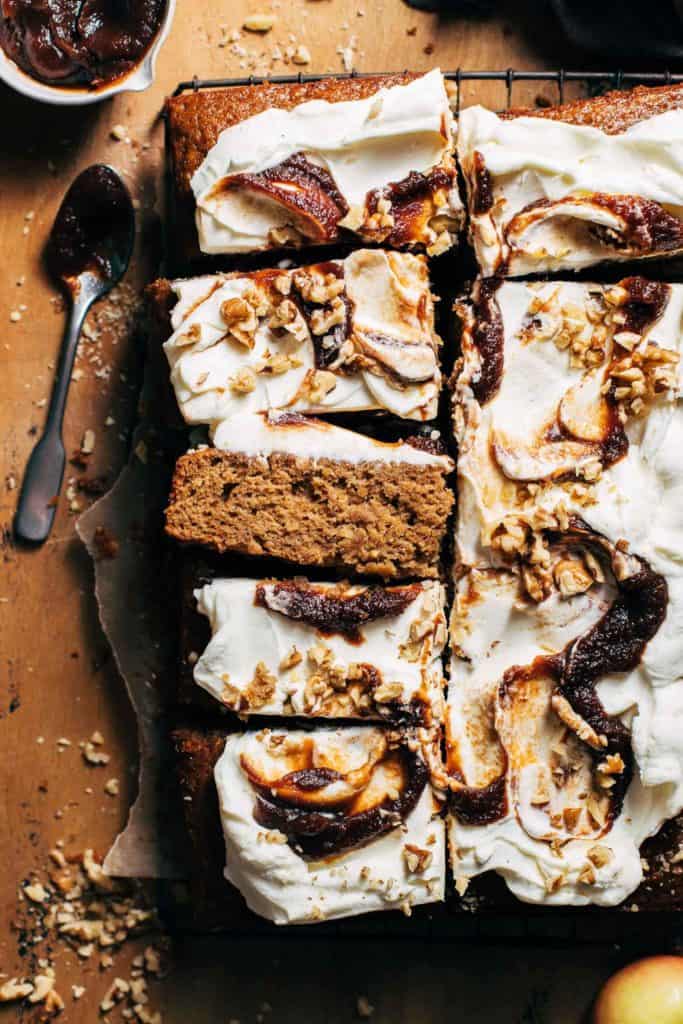 Not only is this cake super easy to make, but it tastes SO GOOD! Grated apples and apple butter are baked into this moist spice cake, and it's all topped with cream cheese frosting and swirls of more apple butter. This recipe is also very easy to make gluten free if needed!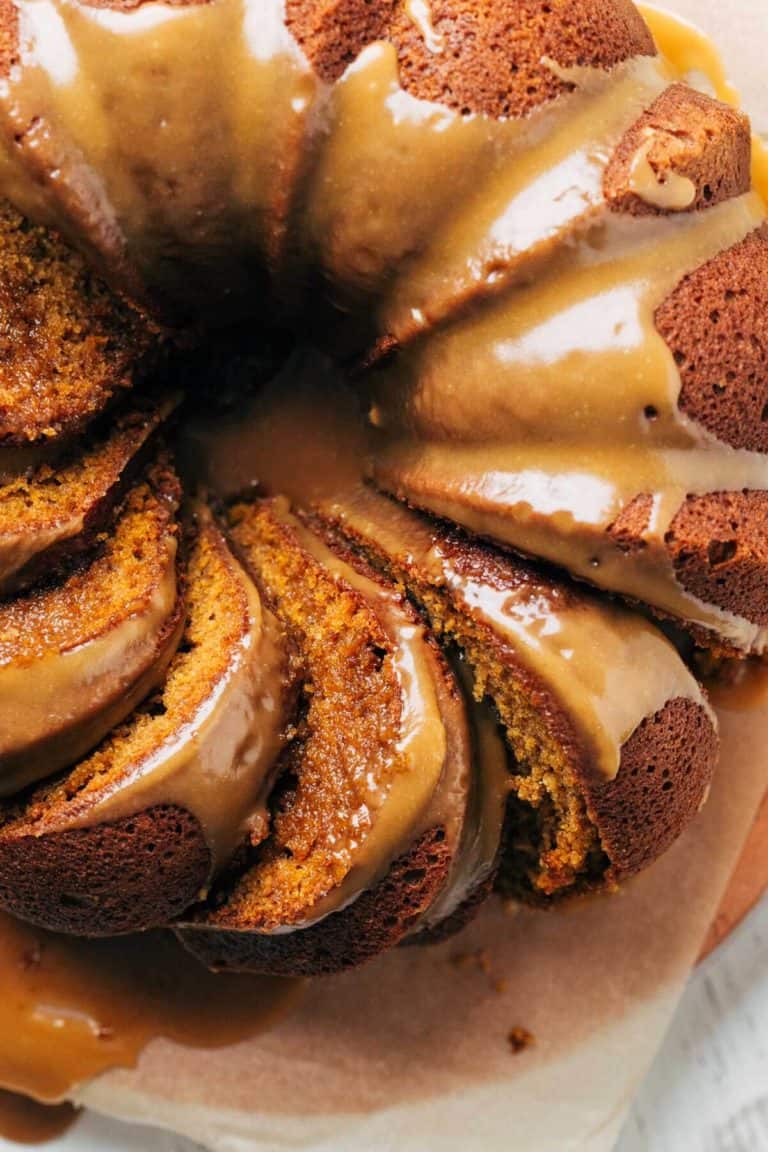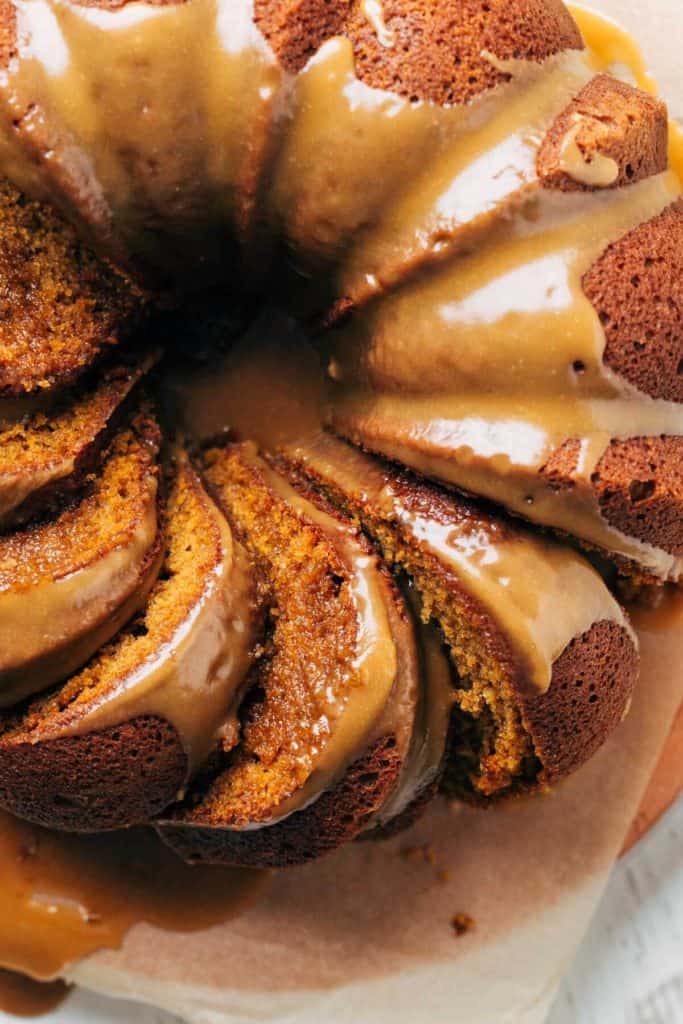 This cake is sure to wow! The batter is baked with a homemade butterscotch sauce, and then it's also drizzled on top. You still have that moist and bold pumpkin flavor, but with a side of sweet and rich butterscotch sauce.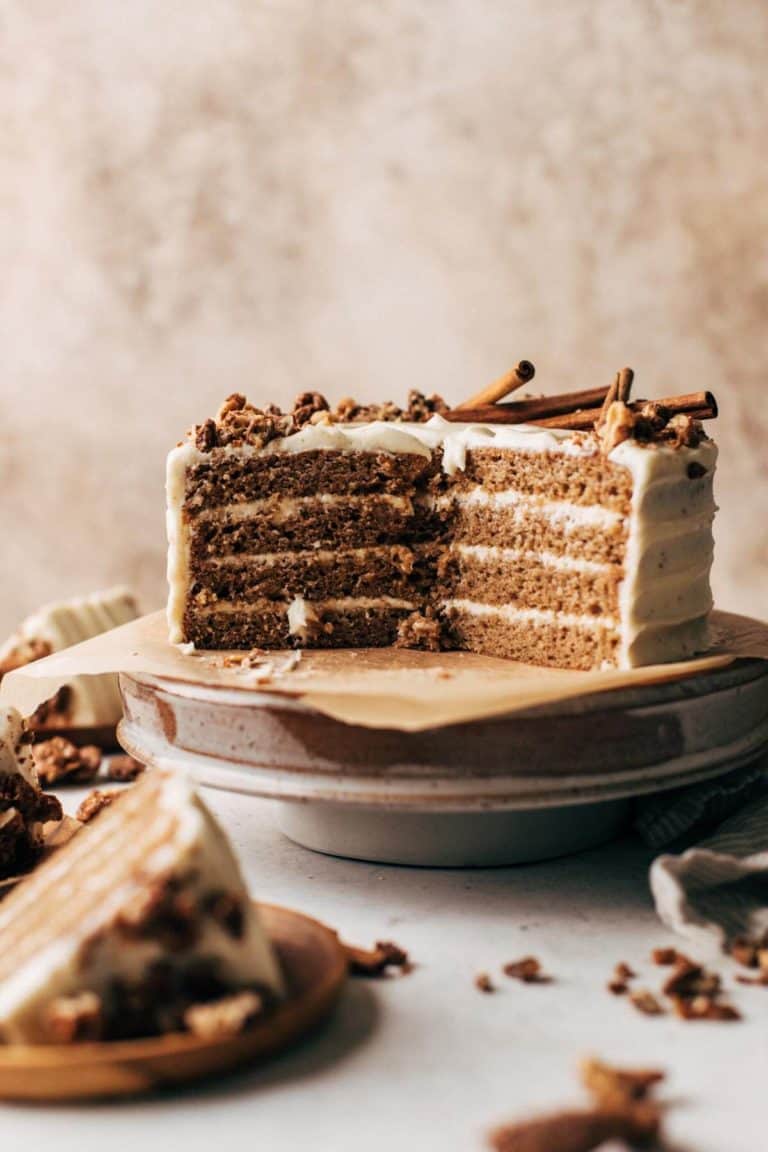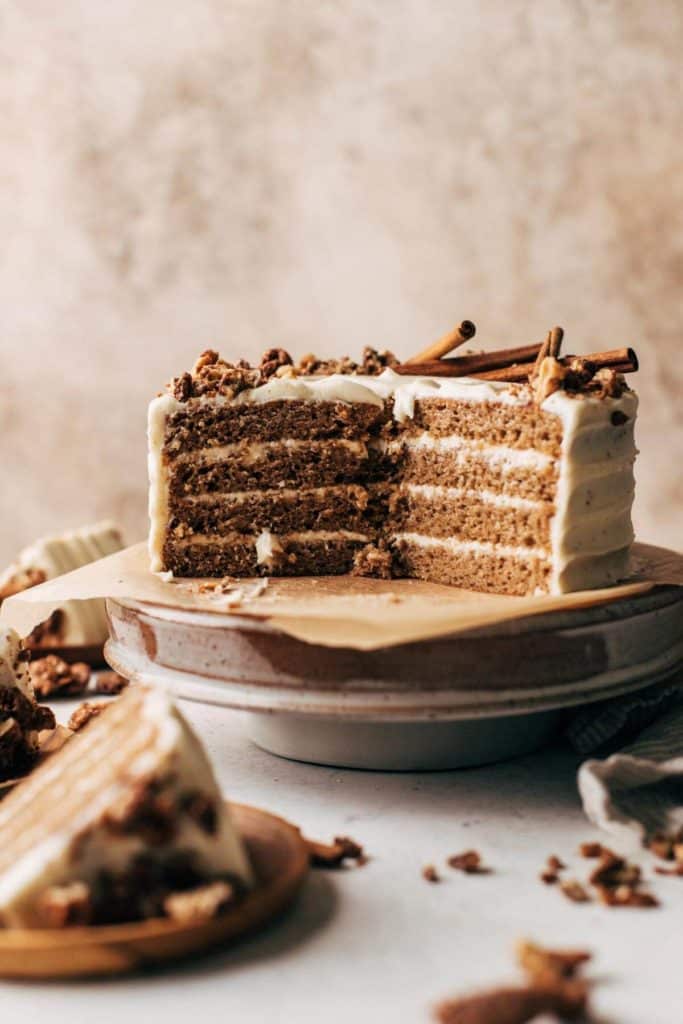 Who doesn't love a classic spice cake? This recipe is extra moist and slathered in a rich brown butter cream cheese frosting. It's unlike any other spice cake you've had, but still has that classic taste and texture.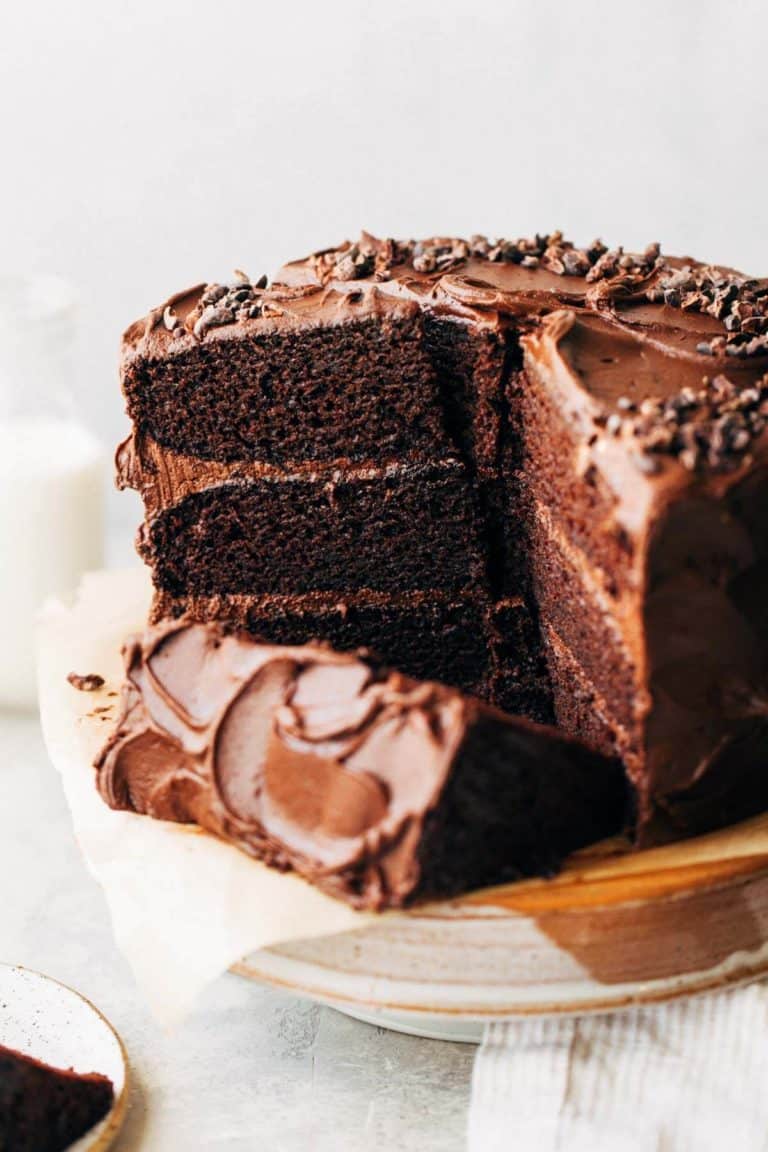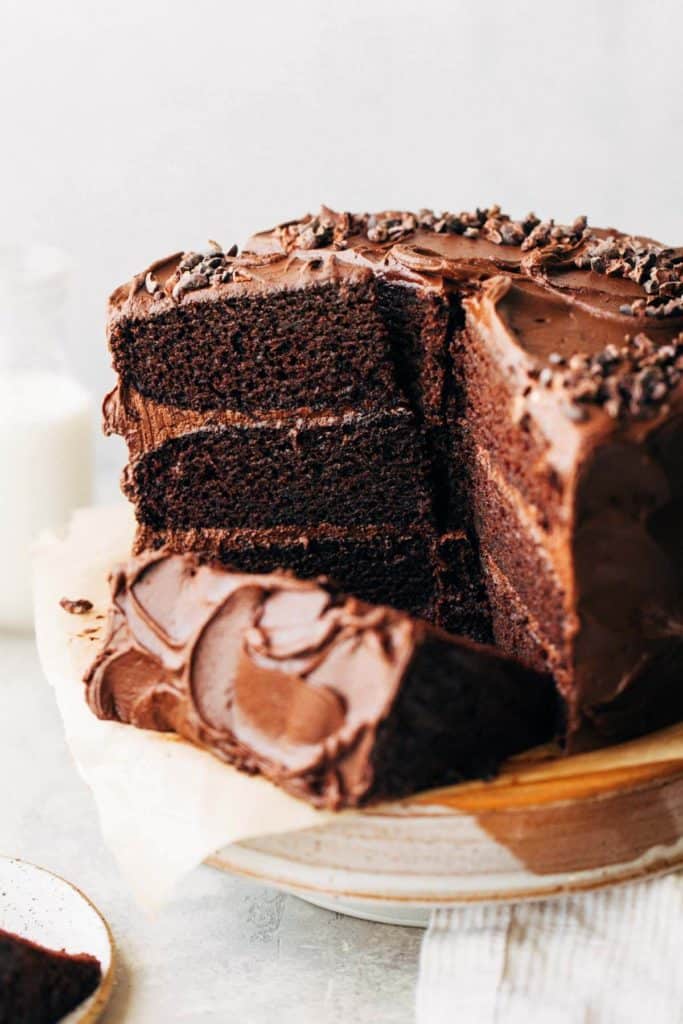 Who says you can't have chocolate cake on Thanksgiving? This vegan option is sure to wow everyone, whether they're vegan or not. It's easily the best chocolate cake I've ever had, with a super tender and moist texture and extra silky chocolate frosting. Trust me, even if you aren't vegan you definitely need this cake in your life.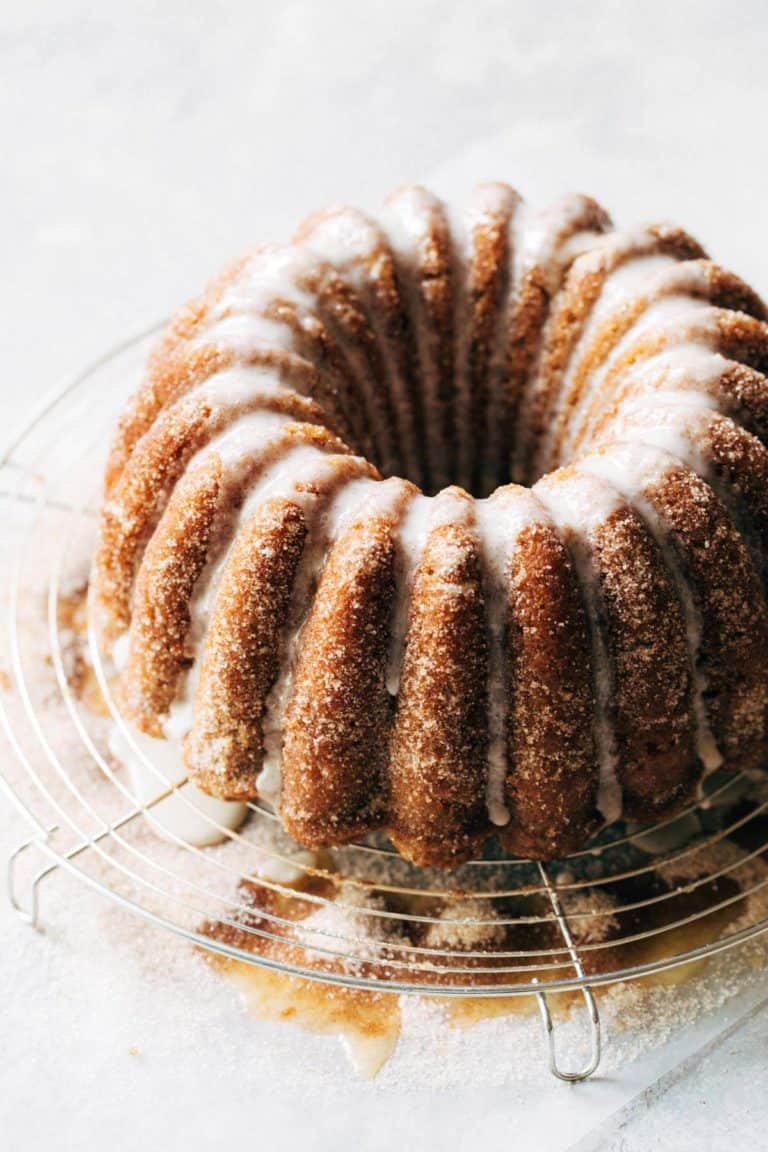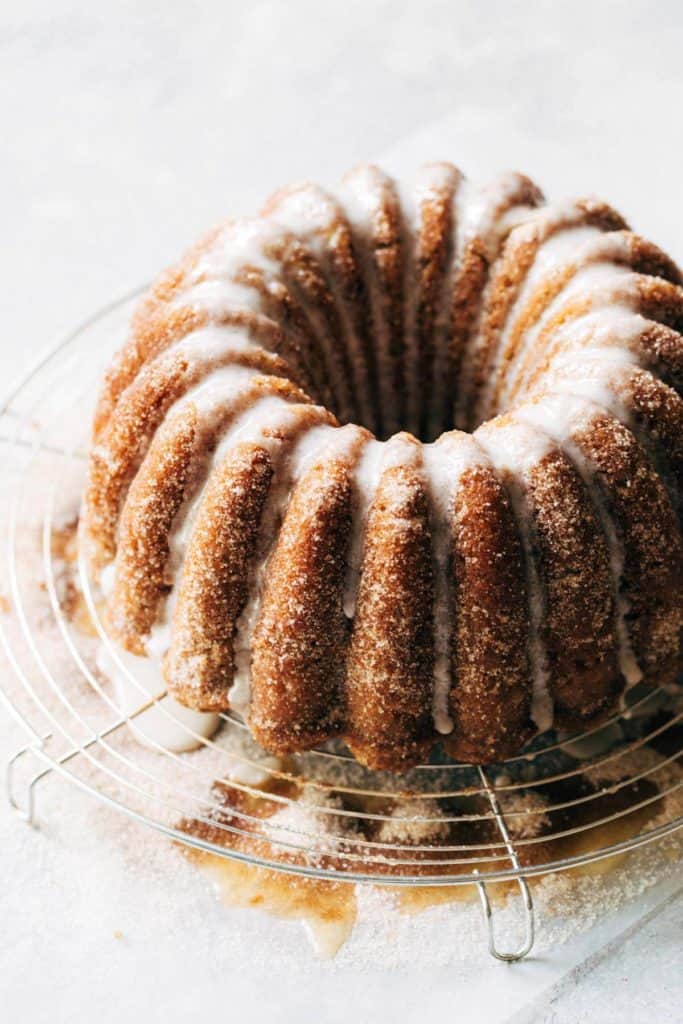 This cake tastes as good as it looks! It has a moist apple cider cake which is then soaked in butter and apple cider, coated in cinnamon sugar, and topped with an apple cider glaze. It's just perfection.
This quick and easy recipe is a great Thanksgiving dessert because it isn't too sweet or rich. It has a deep chocolate flavor that pairs perfectly with ice cream and powdered sugar. If you don't want anything too indulgent after your Thanksgiving feast, this cake is perfect. It's also naturally gluten free!
---
THANKSGIVING COOKIE RECIPES
---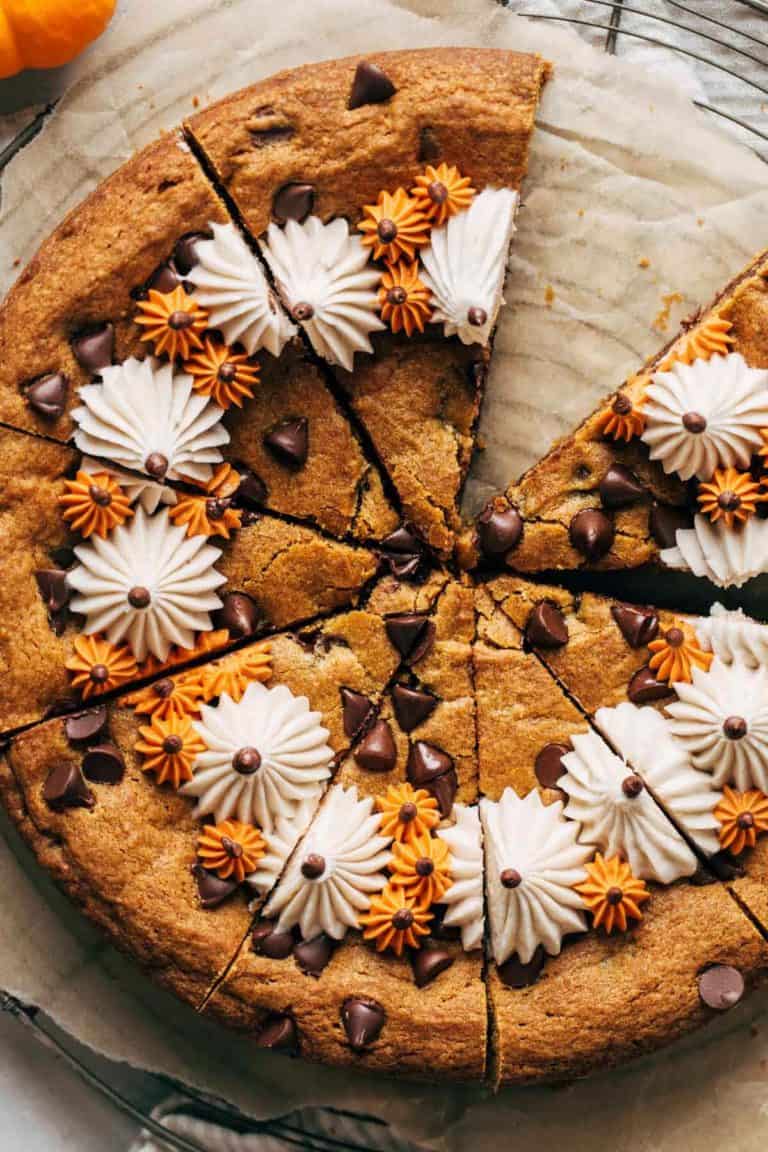 Trust me when I say you NEED this pumpkin cookie cake in your life. It's rich gooey, and prefect to split with a crowd. It's great to bake as a last minute dessert, just make sure to allow it to chill and set before serving.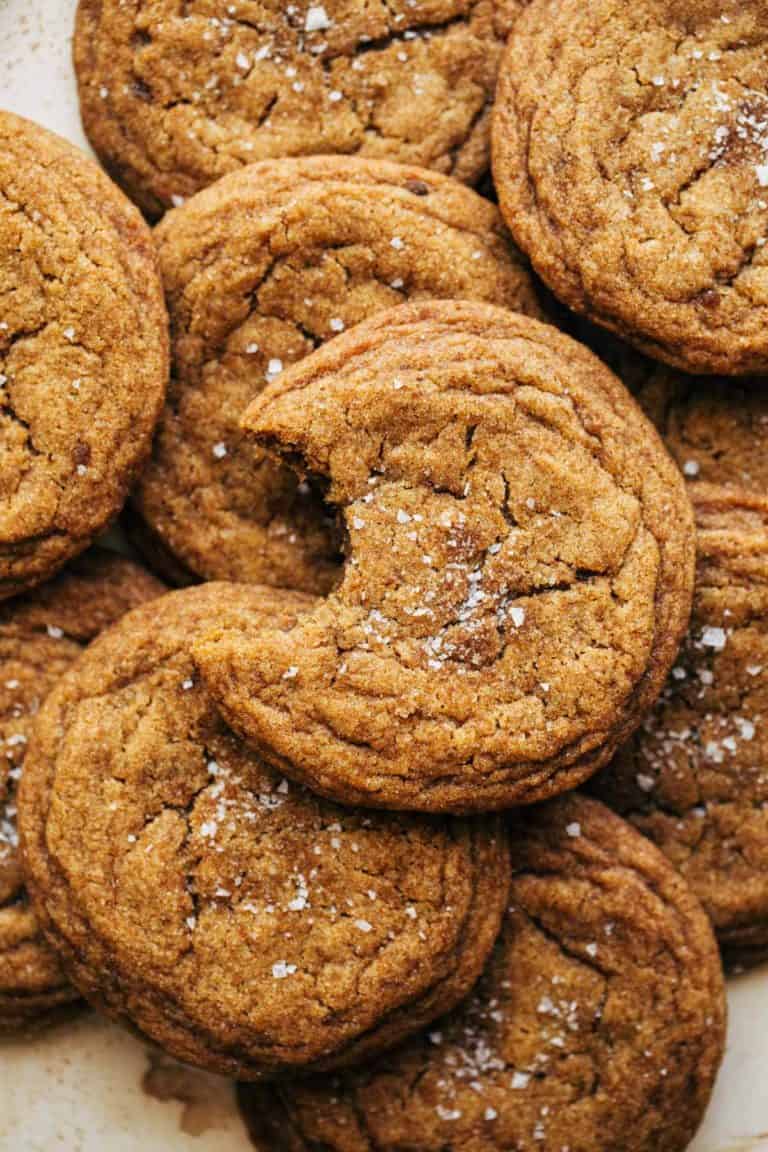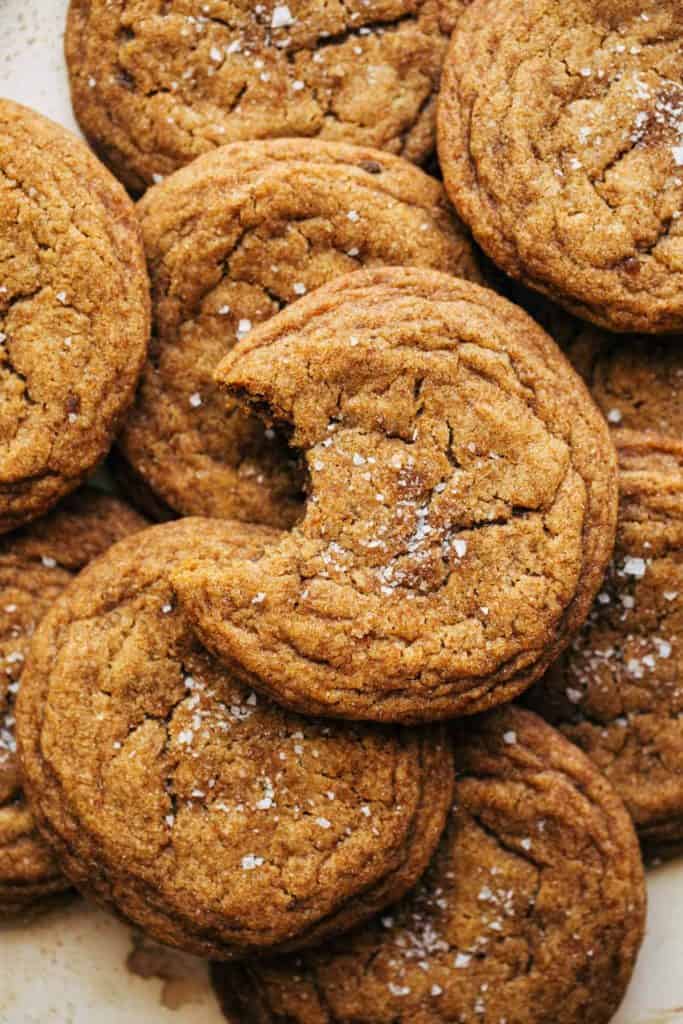 This is easily my most popular cookie recipe, and for good reason. These chewy cookies are baked with brown butter, pumpkin, warm spices, and maple to give you all the fall feels. Everything always loves these cookies, and they're a great option if you need a dessert that's easy to travel with.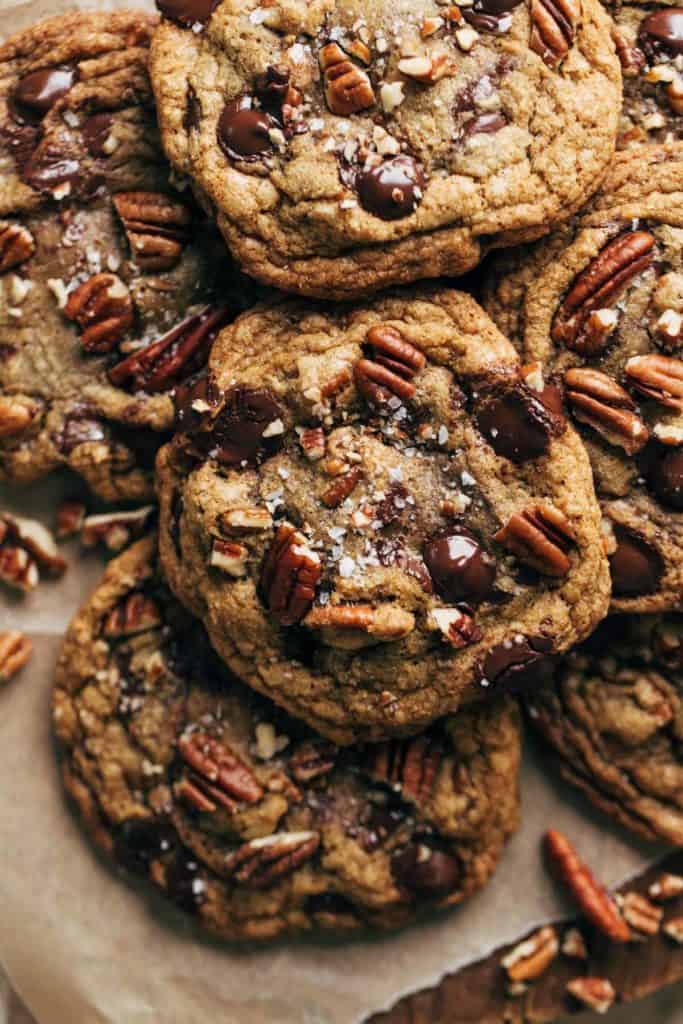 These cookies are sinfully good! Made with brown butter, dark chocolate, savory pecans, and a pinch of sea salt, these cookies are rich and gooey but not overly sweet. The dough only needs to chill for 30 minutes before baking, so they're great for a last minute option!
I love these cookies for so many reasons. They're so flavorful and baked with loads of warm spices and just a hint of molasses. They also stay soft and chewy for days, so they're great to make the day before Thanksgiving!
This is my go-to when I'm invited to a last minute Thanksgiving and I need to bring something that I know will impress. These maple snickerdoodles are simple but effective, with a tender and doughy center and added flavor of maple. They're easily one of my favorite cookies EVER.
---
THANKSGIVING BARS & BROWNIES
---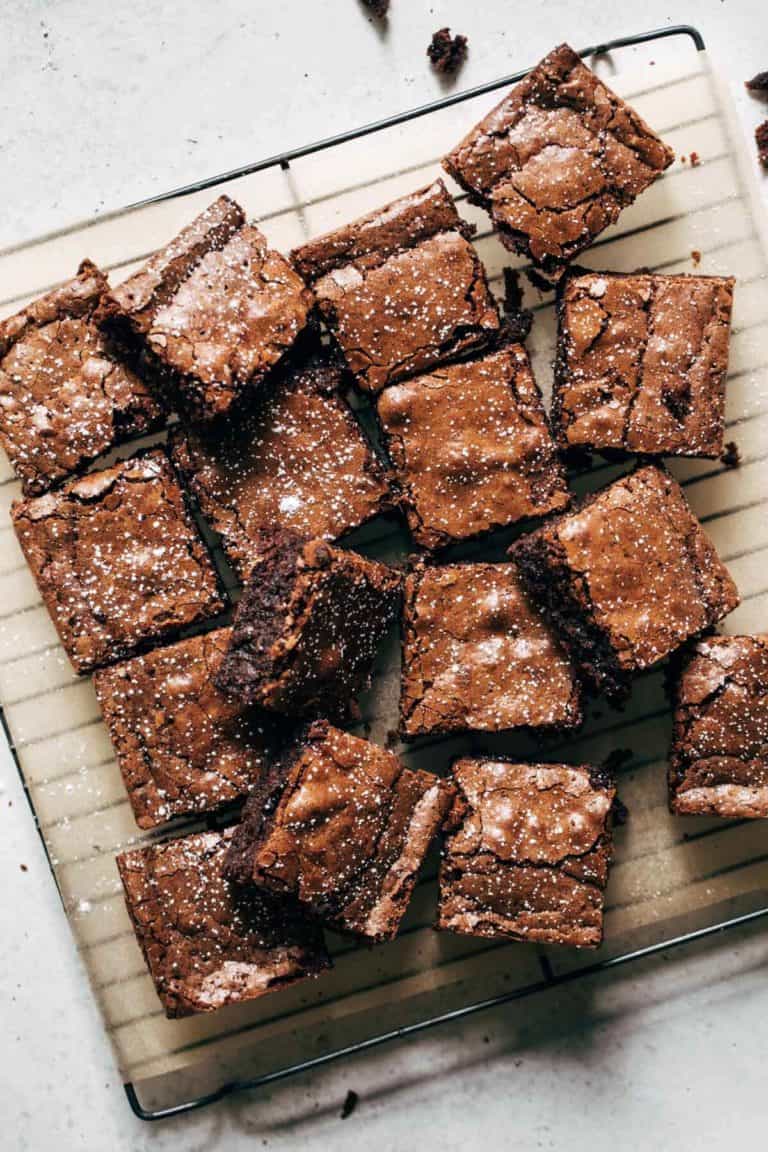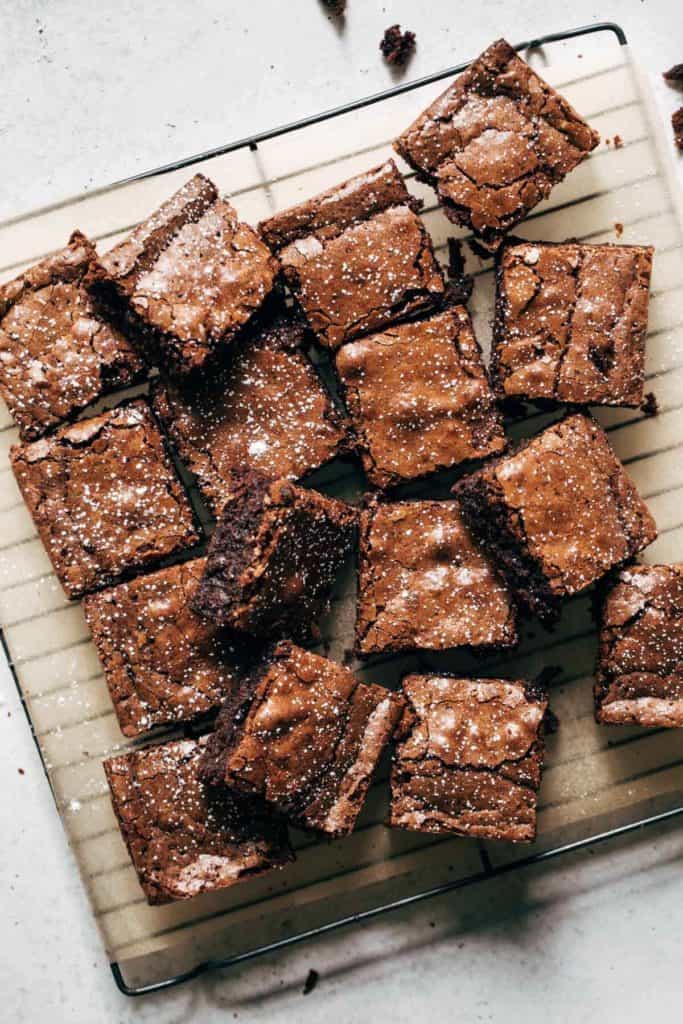 I know, brownies aren't a conventional option for Thanksgiving but they're easy to transport and no one never not wants a brownie. These brownies are one of my top recipes and for good reason. They're not too cakey, not too fudgy, and have a deep chocolate flavor.
If you're REALLY in a pinch and need a dessert ASAP, these rice krispies are perfect. They're a bit more elevated than a traditional rice krispie treat as they're made with brown butter and mixed with chocolate toffee bits. It's also perfect to serve for a small crowd.
These bars are PERFECT for a large gathering because it makes a sizable amount. They're also really easy to make and you would never even know they're gluten free! Make these for any gluten free skeptics and they'll change their judgements real fast.
---
THANKSGIVING CHEESECAKE RECIPES
---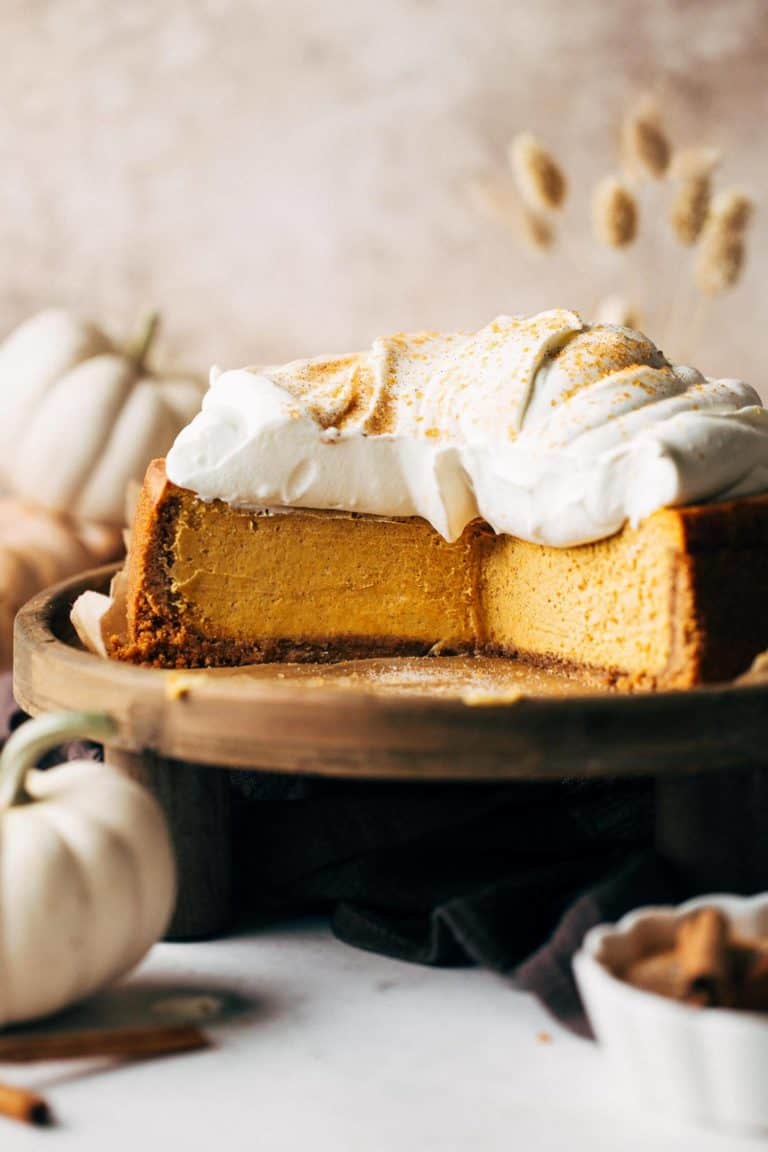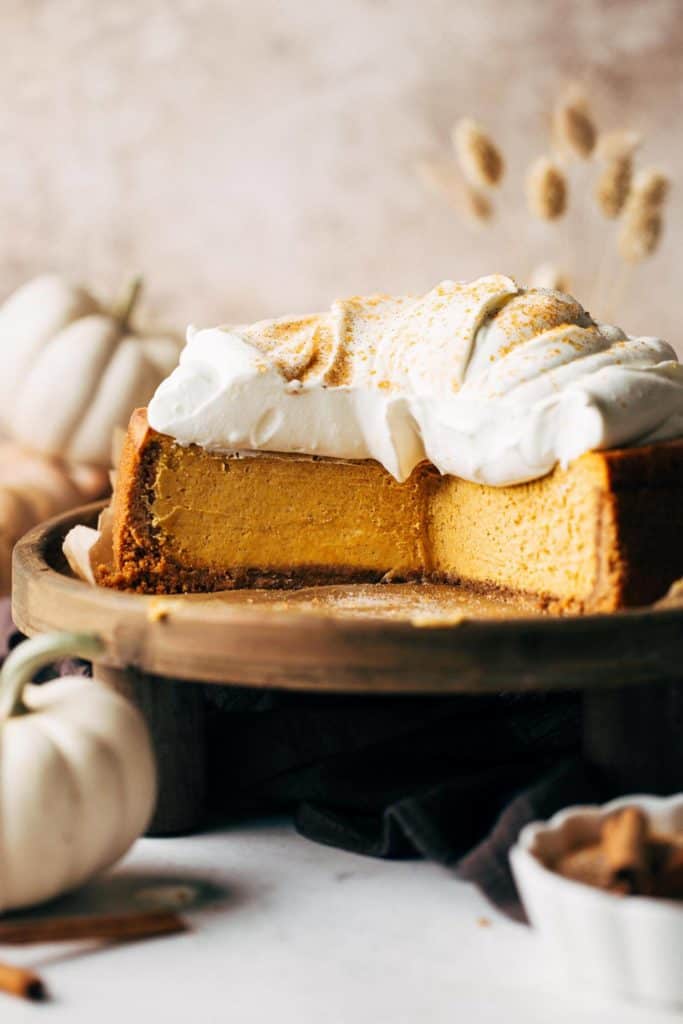 This cheesecake tastes as good as it looks. It's loaded with pure pumpkin, warm spices, and is baked with a brown butter graham cracker crust. Don't forget the cloud of soft whipped cream on top!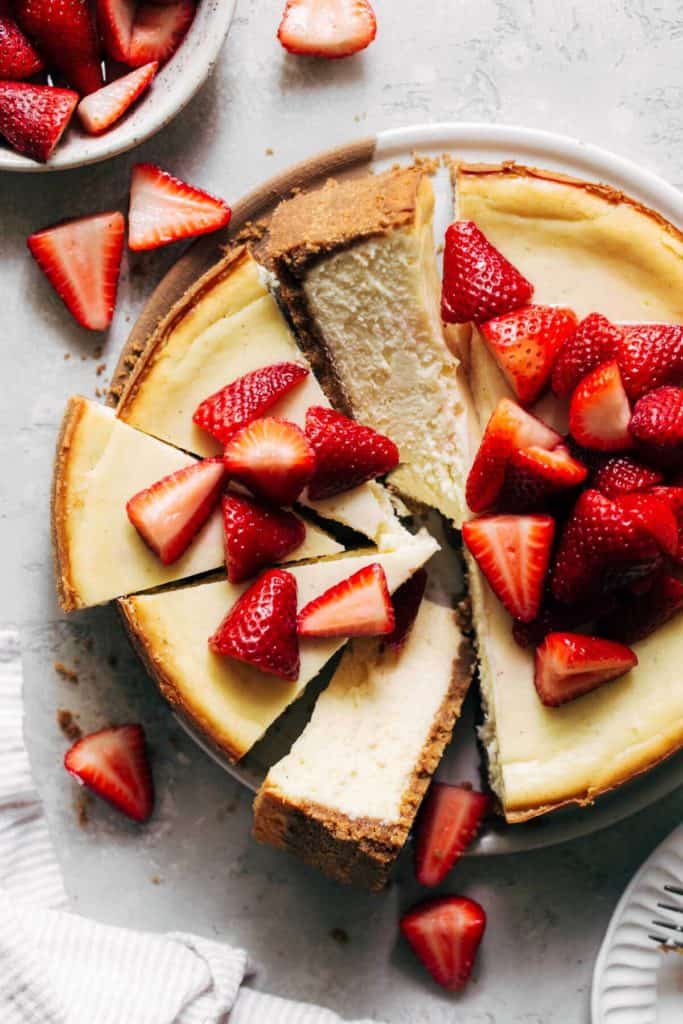 If you just need something simple but effective, this classic creamy cheesecake will blow everyone away. It's extra soft with a thick graham cracker crust. The recipe also includes TONS of tips and step-by-step photos to ensure it turns out perfect. Just make sure to make it a day ahead so it can chill overnight.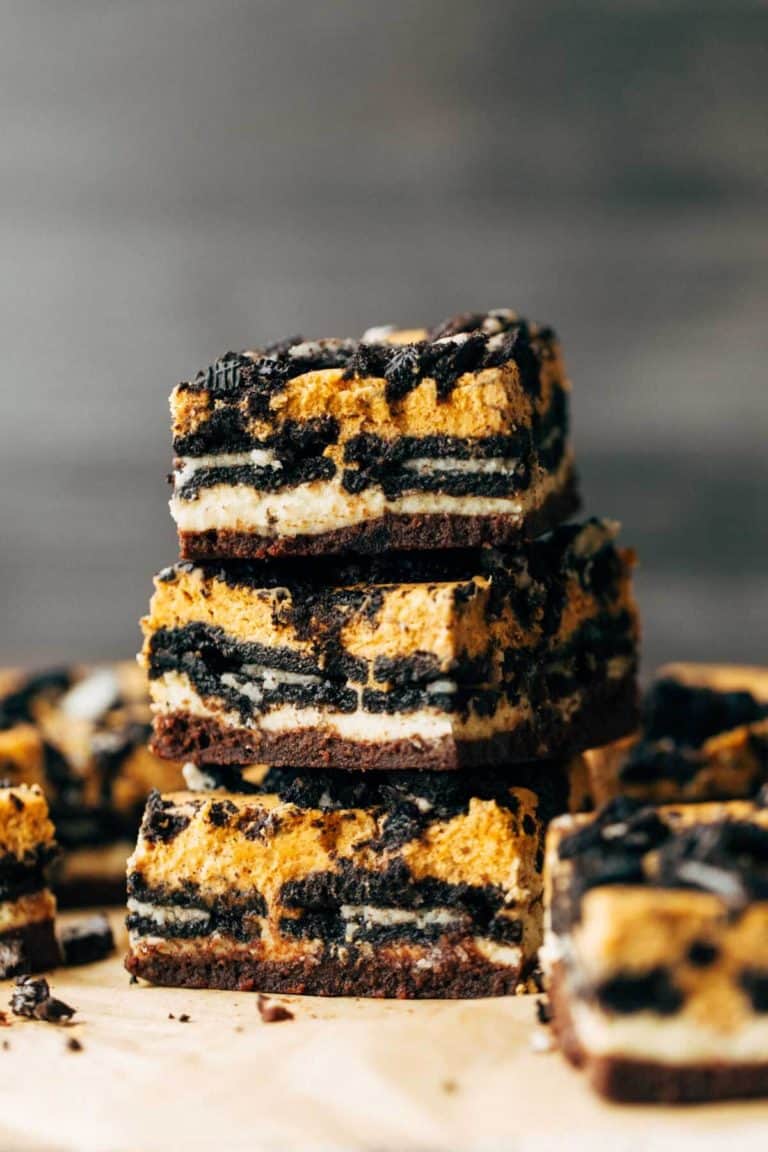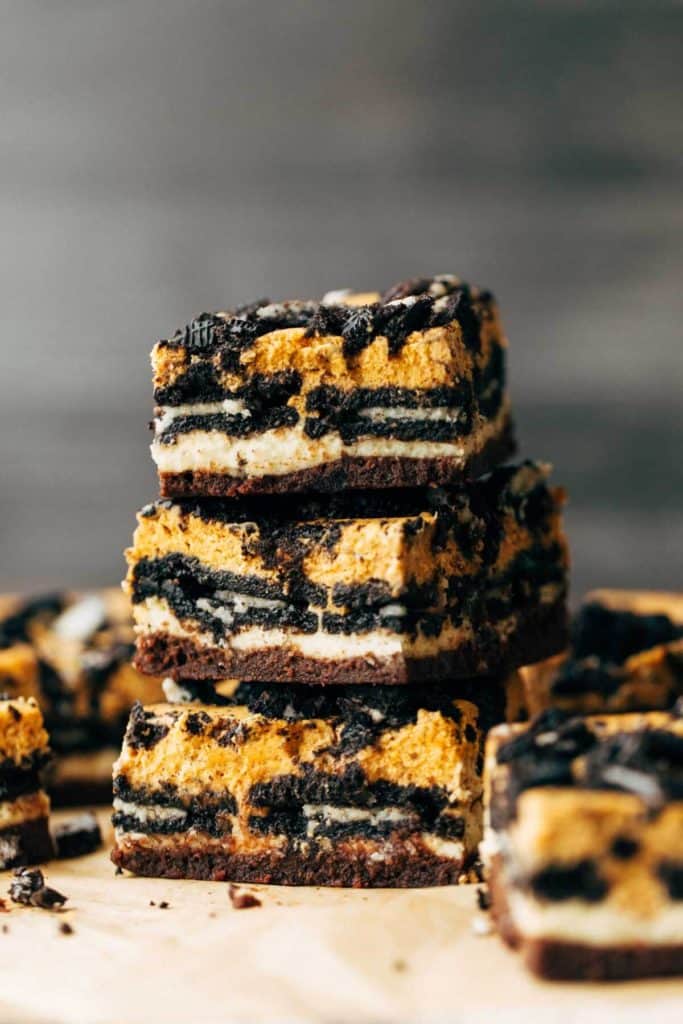 These have got to be the ultimate pumpkin dessert. The crust layer is made up of a soft brownie, followed by a layer of vanilla cheesecake, then oreos, then pumpkin cheesecake. They're so dang good and are such a fun option for your Thanksgiving dessert.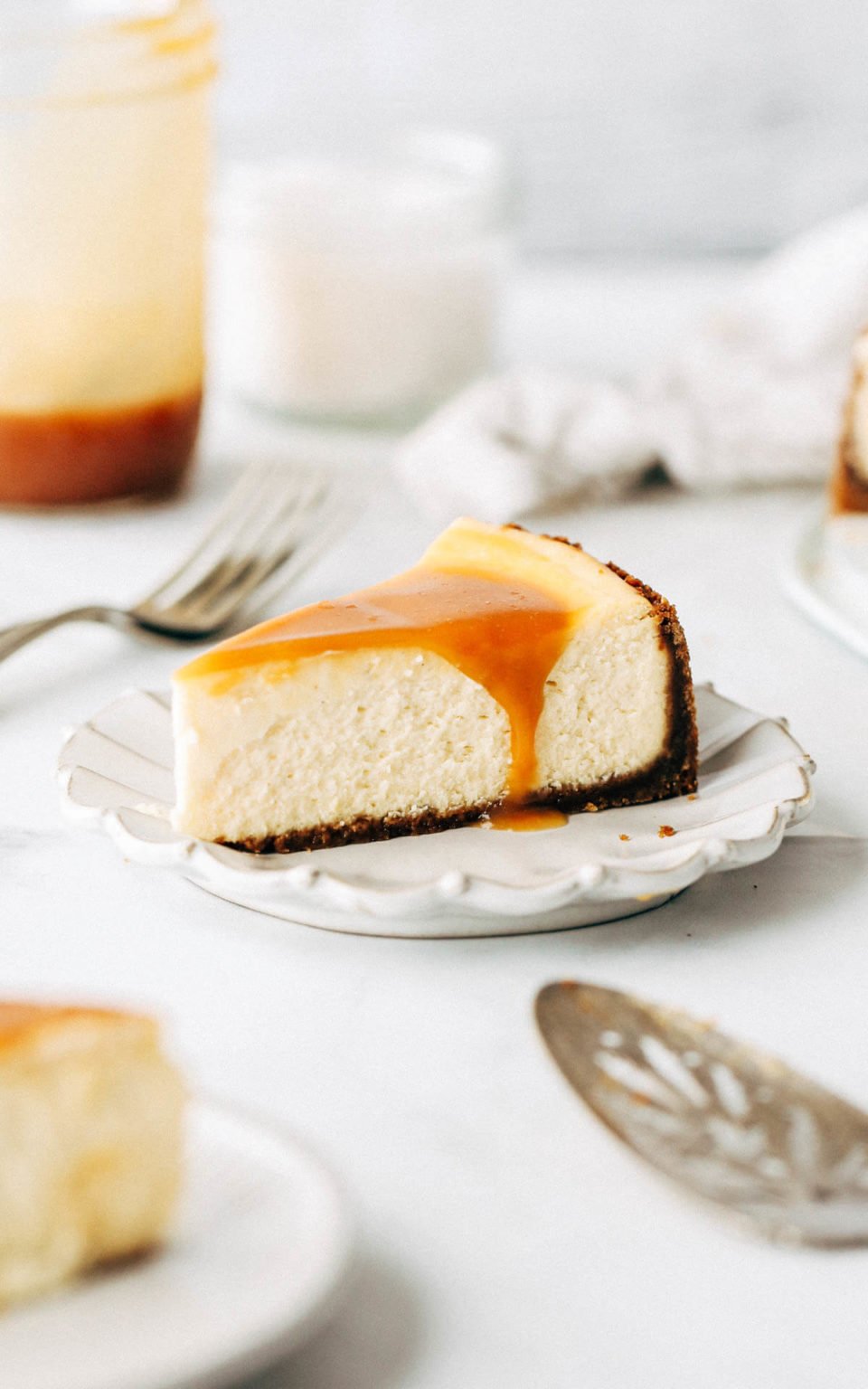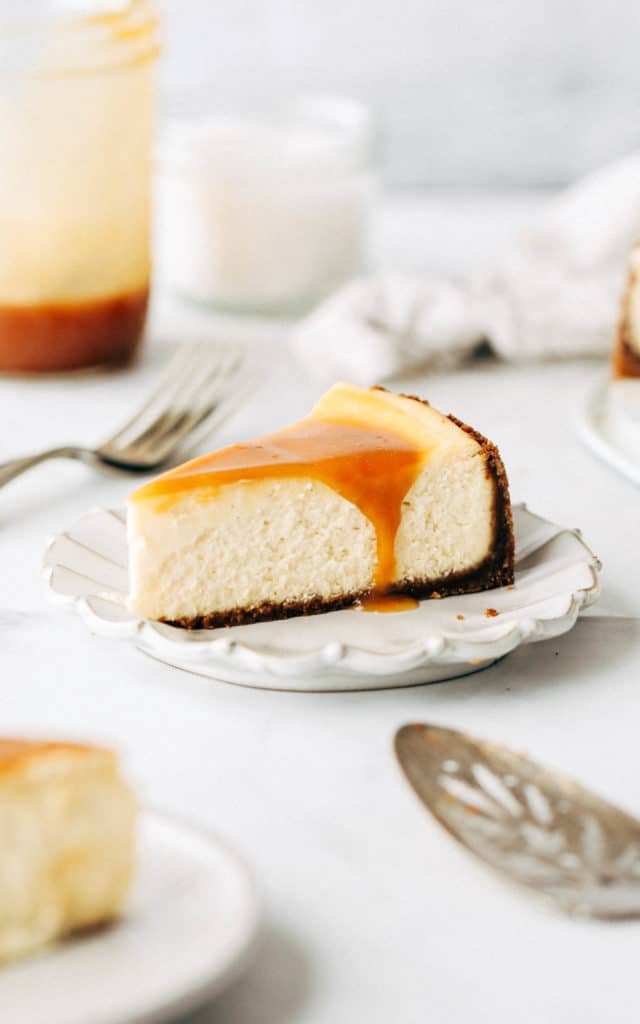 I made this for Thanksgiving last year and everyone went back for seconds! The cheesecake is baked with caramel inside the batter, and then covered in a layer of more salted caramel. It's extra creamy and baked with a sweet gingersnap crust.
This is the perfect option if you have any friends or family members with food sensitivities or allergies. These creamy vegan cheesecake bars are no bake and are completely vegan, gluten free, and naturally sweetened but taste just as indulgent as any other dessert!
---
HONORABLE MENTIONS
---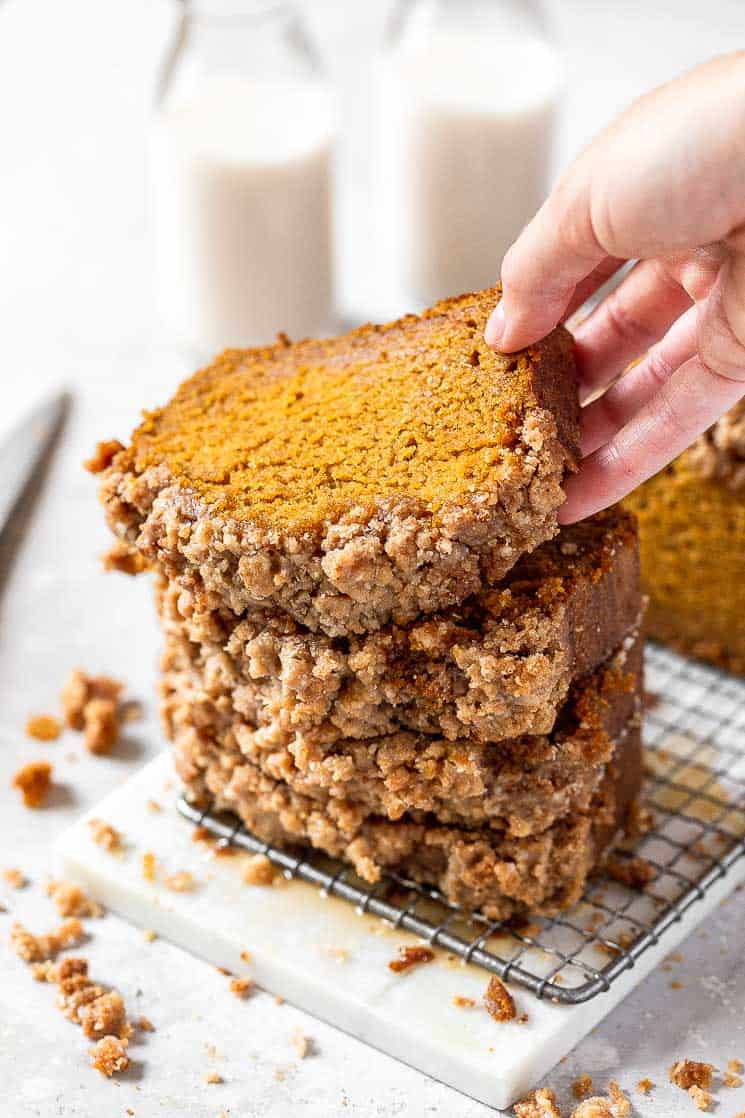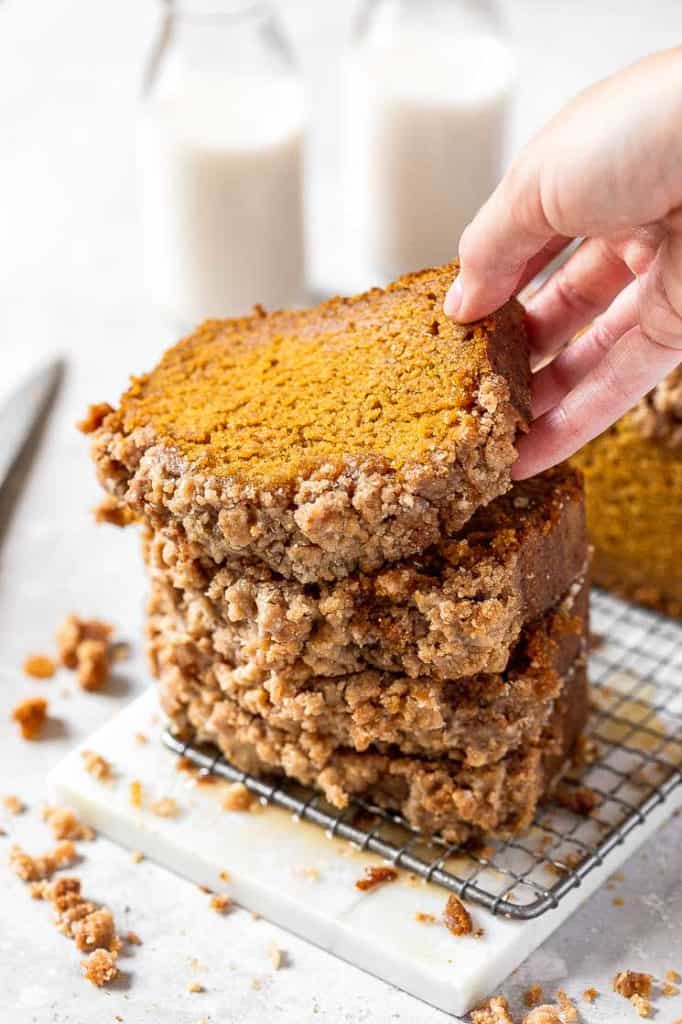 Who doesn't love pumpkin bread this time of year? My recipe is extra moist and baked with a crunchy streusel topping, and is then coated in a sticky maple glaze. It's the best pumpkin bread you'll ever have.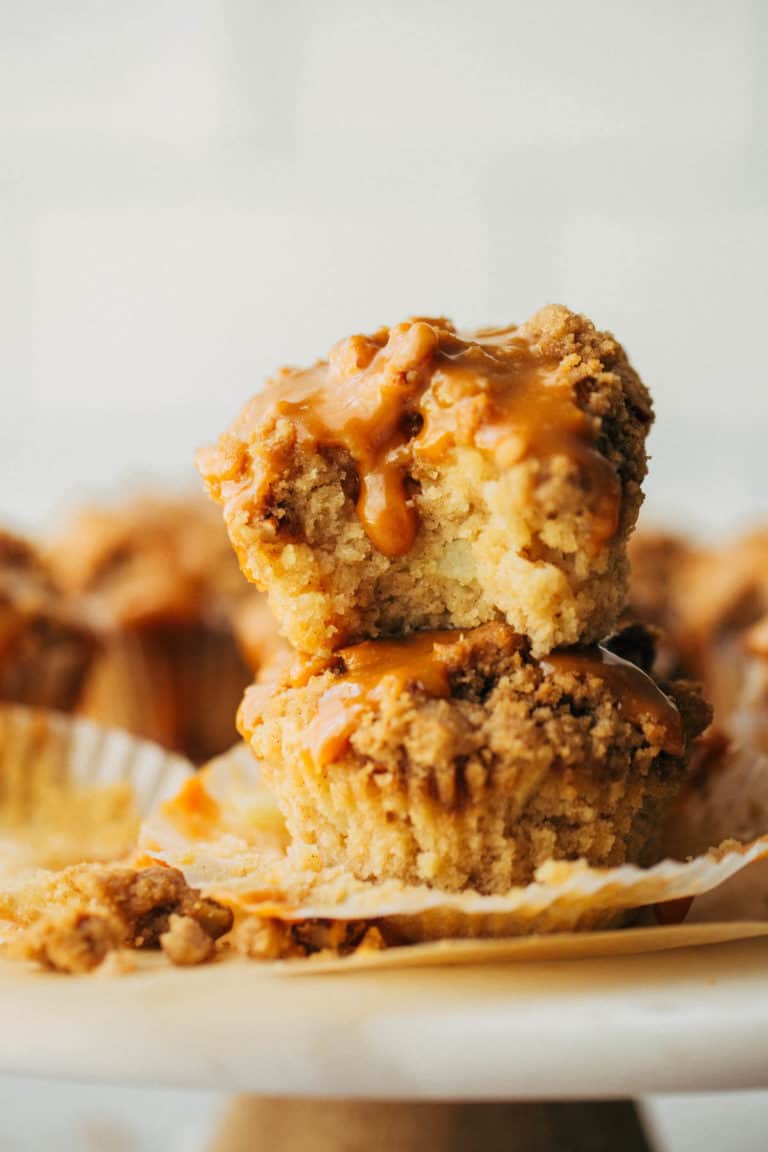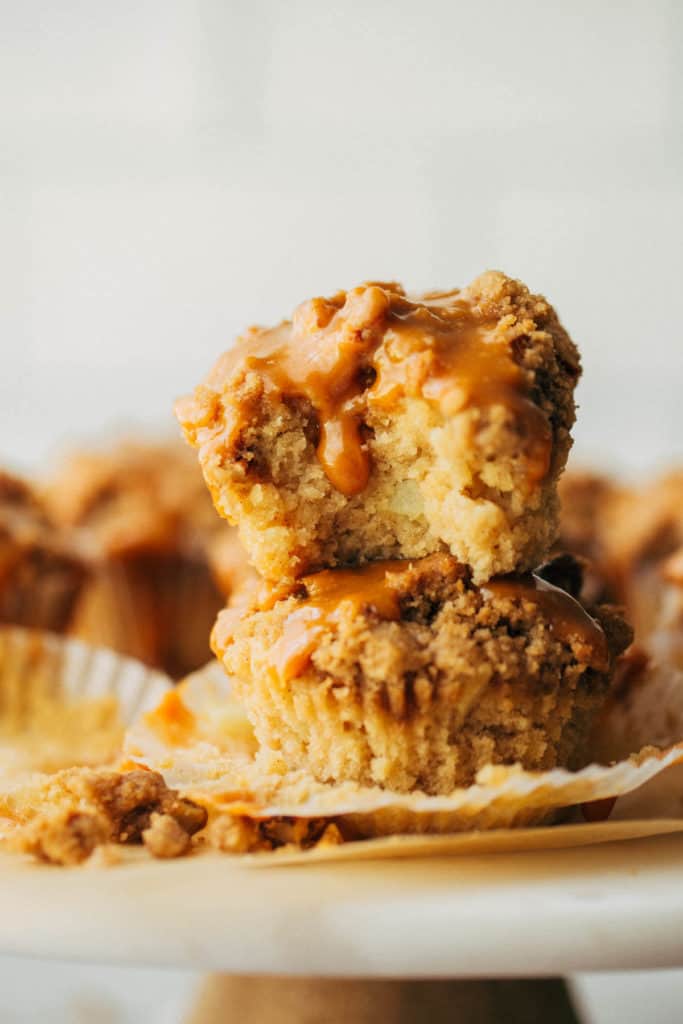 I love these as a grab and go dessert, for when you're so full and can't get off the couch but still need something sweet. These moist apple muffins are baked with a crunchy streusel topping and topped with a homemade salted caramel.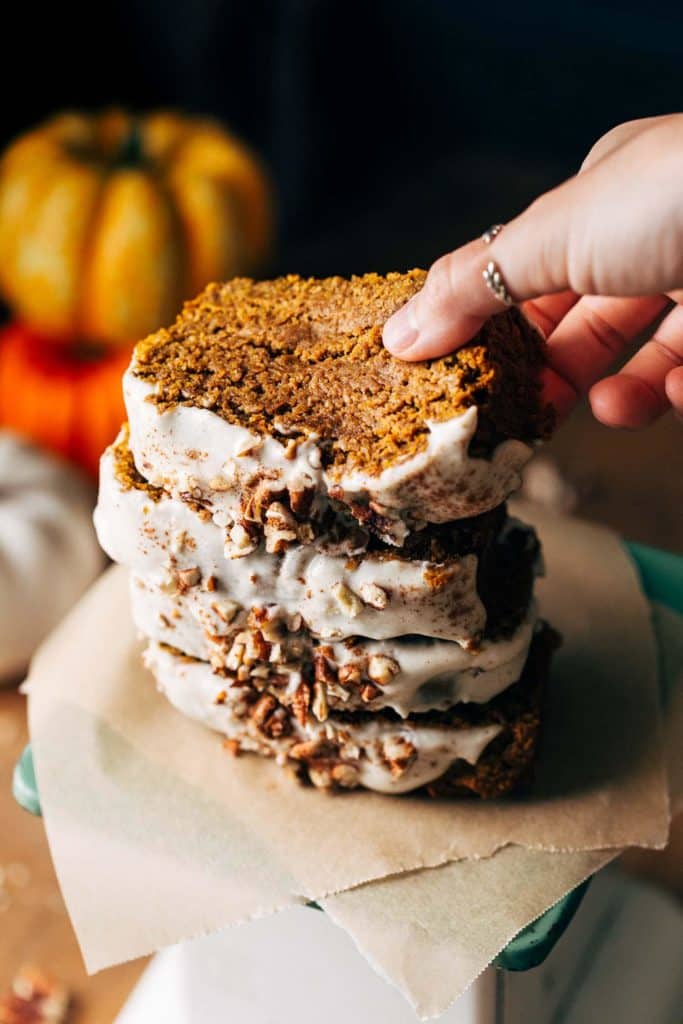 Don't be fooled by the word healthy, as this pumpkin bread is just as rich and moist as any other! This one is just made vegan, gluten free, and is naturally sweetened so it's a great option if you're serving people with some food sensitivities or allergies.
30. Apple Crisp (Gluten Free, Vegan)
You can never go wrong with this classic dish! My version is completely vegan and gluten free, and has a thick but tender filling that isn't too runny. It's even made with EXTRA crumble topping, because honestly that's the best part of any good apple crisp.