These six layer s'mores bars are everything you could ever want in a s'mores! They start with a layer of graham cracker chocolate chip cookie dough, then a layer of chocolate, a layer of peanut butter, a layer of graham crackers, a layer of marshmallow fluff, and a final layer of more cookie dough on top. They're absolutely insane but everyone absolutely LOVES them!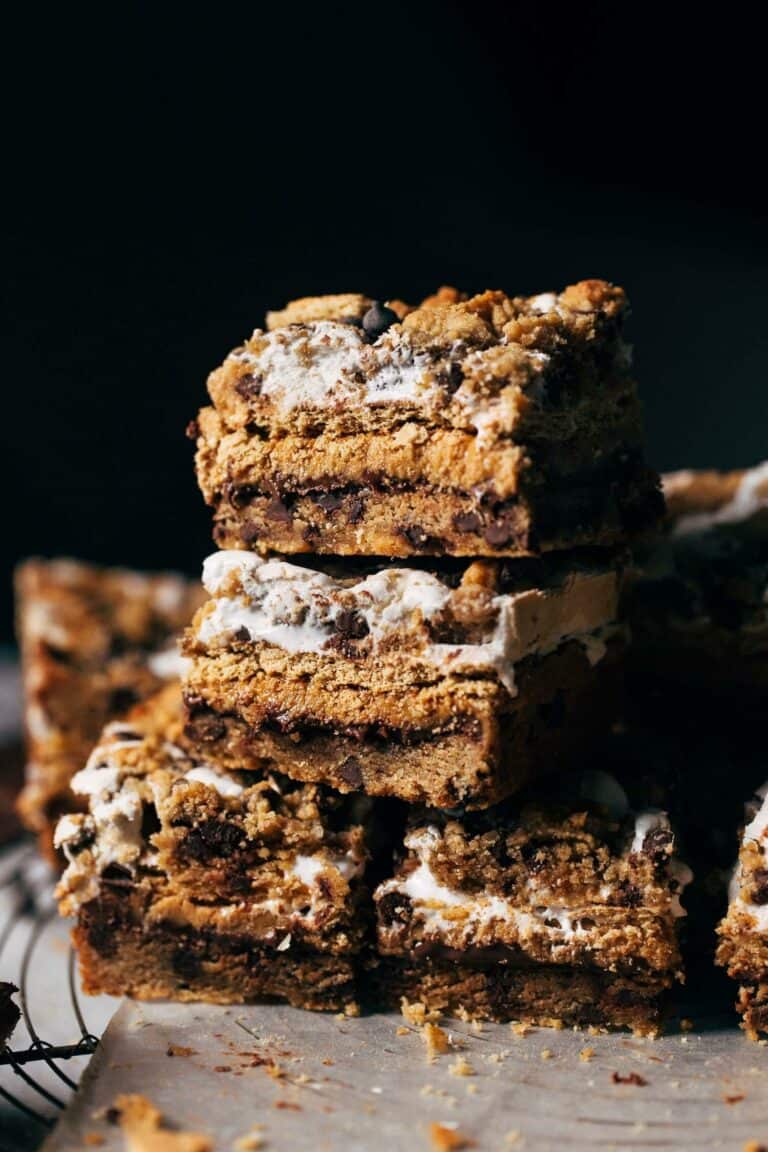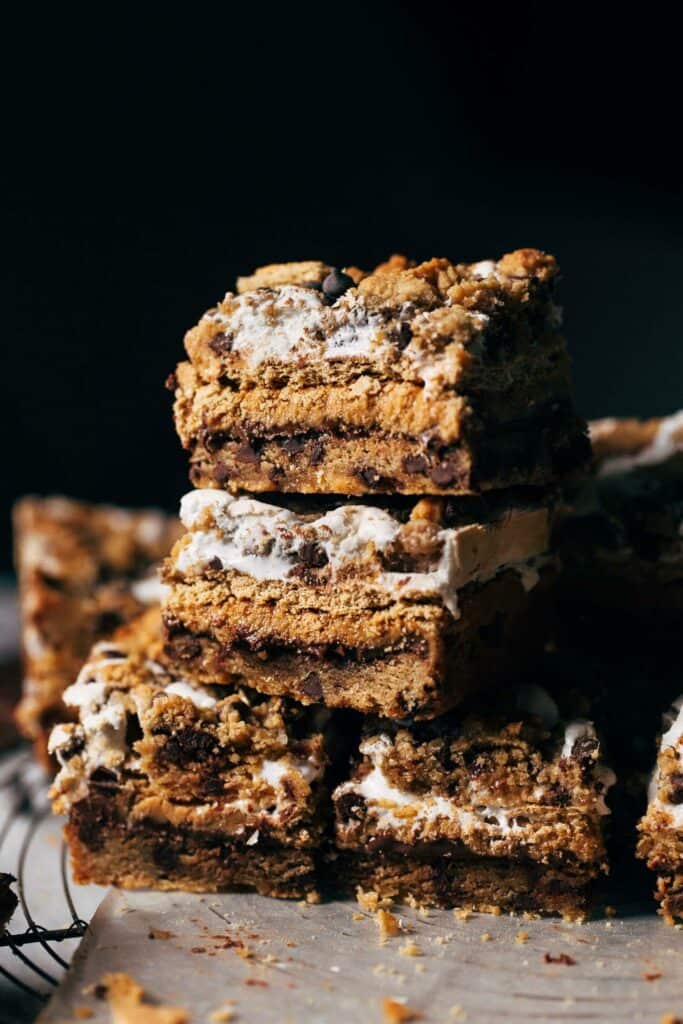 What goes in to six layer peanut butter s'mores bars?
Ok there's a lot going on with these bars so let's break this down:
Layer 1: Graham cracker chocolate chip cookie dough – This is the homemade portion of the recipe and it makes the most buttery and rich base for these bars!
Layer 2: Hershey's chocolate bars – I know Hershey's isn't the BEST chocolate out there, but it's just what makes a s'more a s'more.
Layer 3: Peanut butter – The creamy peanut butter is mixed with a bit of flour and salt to help create a thicker consistency once baked.
Layer 4: Graham crackers – This added layer of crunch is VERY needed, and it also recreates the similar experience of eating a bonfire s'more.
Layer 5: Marshmallow fluff – I experimented with homemade fluff as well as regular marshmallows, and store bought marshmallow fluff was the clear winner. It stays in tact to reveal a distinct layer of marshmallow.
Layer 6: More cookie dough – The rest of the cookie dough is crumbled on top to nearly cover the surface. When baked, the top layer is a delicious mix of both fluff and dough.
Everything is baked together all at once to create a heavenly stack of s'mores goodness!
Tips for baking six layer s'mores bars
Even though these bars are baked with six layers, they're actually very easy to make! Here are my top tips to ensure they turn out just right:
The Pan – For the best results, use a perfectly square light-colored metal baking pan. If using glass or ceramic, it's lightly the edges will over bake. Plus, those perfectly square edges make it much easier to lay down the layers! I linked one of my favorite pans at the bottom of the recipe card.
Flour – When measuring the flour, I always suggest using a food scale for accuracy. Otherwise, spoon the flour into a measuring cup and level it off for a light and fluffy cup of flour. Never scoop directly into the flour as this packs it down into the cup, leaving you with too much added flour.
Graham Crackers – 1 cup of graham cracker crumbs is about 1 sleeve of graham crackers, but don't base your measurements solely off of the sleeve. Different brands packaged their graham crackers in different amounts, so make sure to still measure out to 1 cup before adding to the dough.
Chocolate Chips – At the end, the dough becomes rather thick and crumbly, so I find that kneading in the chips by hand is the best option. Just be careful not to over work the dough!
Layers – When placing each layer, try to place or spread as evenly as possible. So press the dough flat, layer the chocolate in one single layer that completely covers the dough, spread the peanut butter from edge to edge in an even layer, arrange the graham crackers the same as the chocolate, spread the fluff the same as the peanut butter, and crumble the dough in an even arrangement over the fluff.
Chilling – It's very important that these bars chill for at least an hour and a half. There's a lot going on in these very thick bars, so they need to be completely cooled before slicing. Otherwise, they could fall apart.
S'mores Bars FAQs
Can these s'mores bars be made a day ahead?
Sure! Just chill the bars overnight and they'll be ready to go the next day.
Can I use a different chocolate?
If you don't prefer Hershey's or would like a different type of chocolate, any chocolate bar will work.
Can natural peanut butter be used in place of the creamy peanut butter?
Unfortunately not as creamy peanut butter is nice and thick so it can handle the weight of the layers above it. Stick with a classic creamy peanut butter like Jif or Skippy.
Can I use marshmallows instead of marshmallow fluff?
I tried marshmallows and they were ok, but they don't hold up well over time. They tend to turn dry and chewy the next day whereas fluff stays nice and soft.
Can this s'mores bar recipe be doubled?
I hesitate to say yes, only because there's a lot of weight in these bars so I worry they might struggle to bake all the way through if using a larger 9×13 pan. It's at your own risk!
How long do s'mores bars keep?
Once chilled and sliced, these bars will keep at room temperature for a couple days or even longer in the refrigerator (about 5 days). If you're baking them ahead of time and slicing at a later date, I suggest only chilling for 1 night for maximum freshness.
For more s'mores dessert recipes, check out my:
Make sure to tag me @butternutbakery on Instagram and leave a review below if you make these peanut butter s'mores bars. To pin this recipe and save it for later, you can use the button on the recipe card, the buttons above or below this post, or on any of the photos above. Happy baking!
Print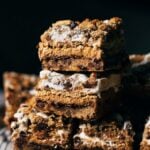 Six Layer Peanut Butter S'mores Bars
---
Author: Jenna Barnard
Total Time: 2 hours 45 minutes
Yield: 12-16 bars
Description
Ok buckle up because these s'mores bars are NEXT LEVEL with six layers of: graham cracker chocolate chip cookie, chocolate, peanut butter, graham cracker, marshmallow fluff, and more cookie dough on top. They're a lot…but in the absolute best way.
---
Graham Cracker Chocolate Chip Cookie Dough
1 cup (140g) ground graham cracker (about 1 sleeve)
1 cup + 2 tbsp (148g) all-purpose flour
1 tsp baking powder
1 tsp kosher salt
1/2 cup (110g) unsalted butter, room temp
1/2 cup (105g) light brown sugar, packed
1/4 cup (50g) granulated sugar
1 large egg
2 tsp vanilla extract
1 cup (180g) mini semisweet chocolate chips
Six Layer S'mores Bars
6 Hershey's chocolate bars
1 cup (250g) creamy peanut butter
1 1/2 tbsp all-purpose flour
Pinch of kosher salt
1 sleeve graham crackers
7 oz jar marshmallow fluff/creme
---
Instructions
Graham Cracker Chocolate Chip Cookie Dough
Preheat the oven to 350F and grease and line an 8×8 baking pan with parchment paper, allowing the paper to hang over the sides for easy release later.
In a medium bowl, whisk together the ground graham crackers, flour, baking powder, and salt. Set aside.
In a large mixing bowl using a wooden spoon or electric mixer, mix together the room temperature butter, brown sugar, and sugar.
When it's smooth, well combined and lightened in color, thoroughly mix in the egg and vanilla.
Dump in the dry ingredients and stir to combine. Before the flour is fully incorporated, toss in the chocolate chips and work them into the dough.
The dough will be rather thick at this point, so feel free to use your hand to knead the chips in! Just be careful not to over work the dough.
Six Layer S'mores Bars
Press 2/3 of the dough into the bottom of the baking pan.
Place an even layer of the chocolate bars on top, arranging them to completely cover the cookie dough. Cut the bars as needed to fit the entire surface.
Now for the peanut butter, mix with the flour and salt and spread over the chocolate bars.
Then arrange a layer of graham crackers on top of the peanut butter. Same as the chocolate bars, completely cover the surface and cut the graham crackers as needed.
Now plop most of the marshmallow fluff on top, leaving about 1/4 cup in the jar. For easy spreading, lightly spray your tool with some nonstick stray and spread the fluff in an even layer.
Crumble the remaining cookie dough on top, covering most of the surface with some small pockets of marshmallow peaking through.
Bake the bars for 20-25 minutes. They're ready when the fluff is puffing through the surface and the cookie dough looks lightly golden around the edges.
Allow the bars to cool at room temperature for 30 minutes, then transfer to the refrigerator to chill for at least 1 hour and 30 minutes. It's important for the bars to set before slicing, otherwise they can fall apart.
When the bottom of the pan is no longer warm to the touch, lift the bars out of the pan and slice. Enjoy!
Equipment
Prep Time: 20 minutes
Cooling Time: 2 hours
Cook Time: 25 minutes
Category: Dessert
Method: Baking
Cuisine: American
Keywords: s'mores bars, smores bars, s'mores bars recipe, smores bars recipe, s'mores cookie bars, smores cookie bars, peanut butter s'mores bars, peanut butter smores bars, peanut butter s'mores, peanut butter smores
Recipe Card powered by