This is hands down the BEST spice cake recipe. It's incredibly moist, perfectly spiced, and coated in a silky brown butter cream cheese frosting. It's an absolute show stopper and never fails to impress. Take it a step further and add candied nuts on top…both for decoration and for snacking!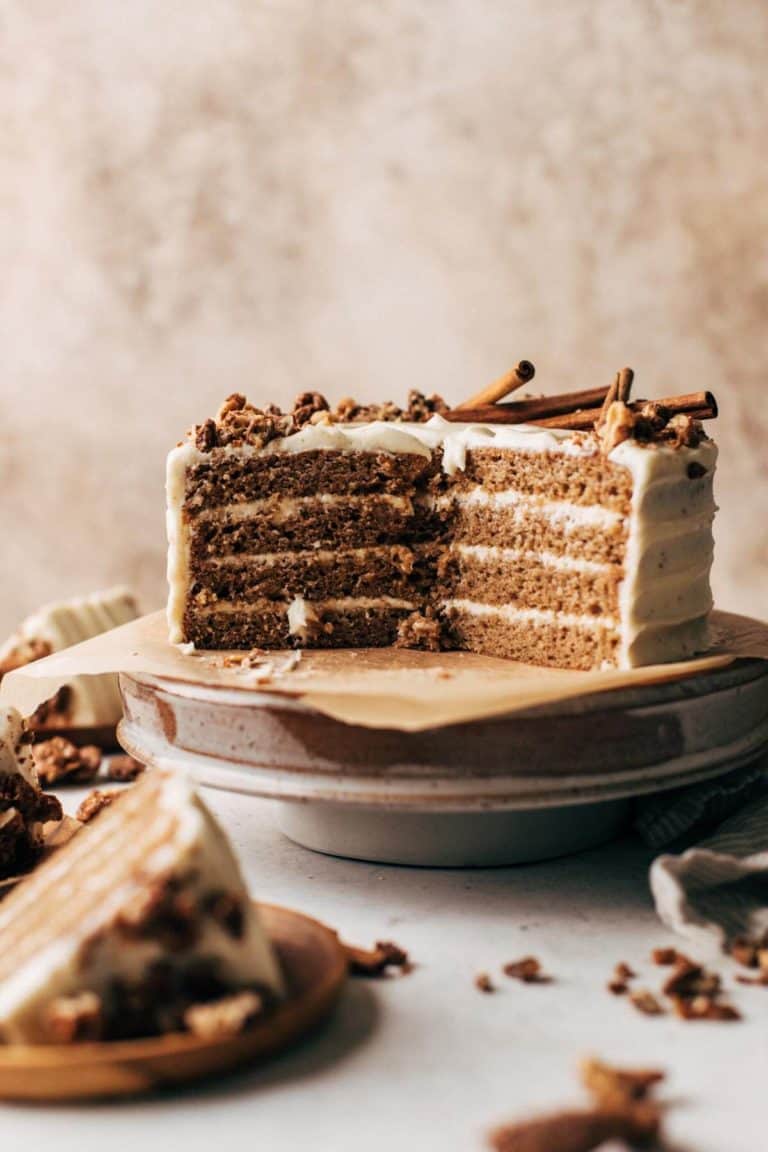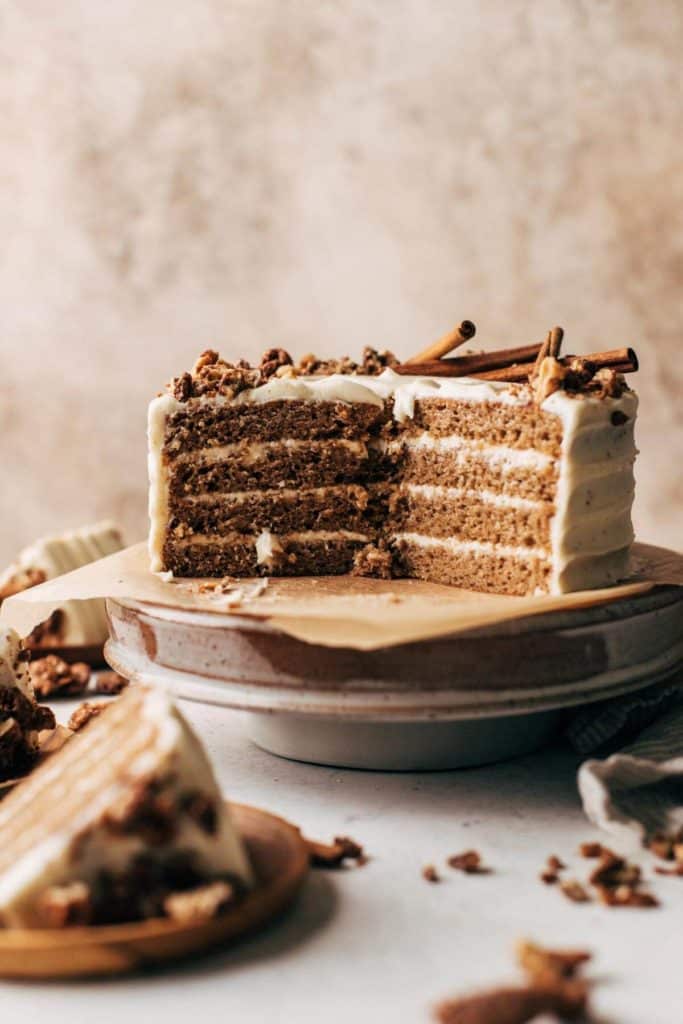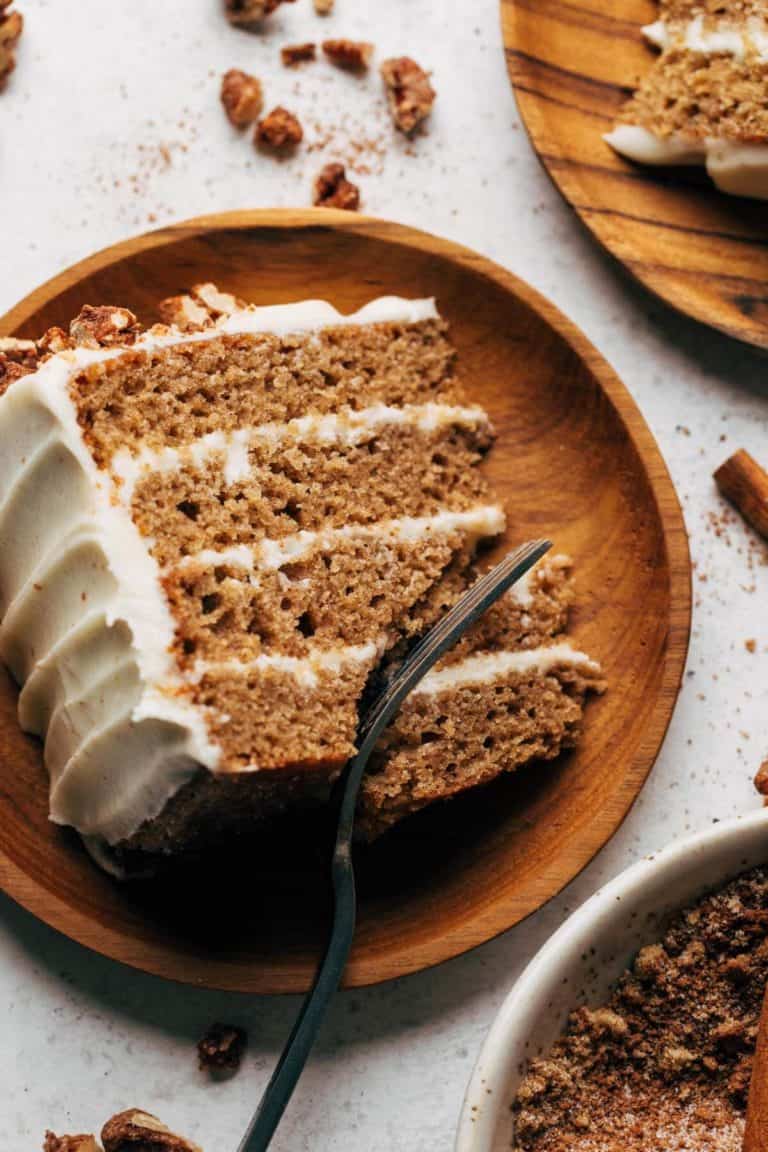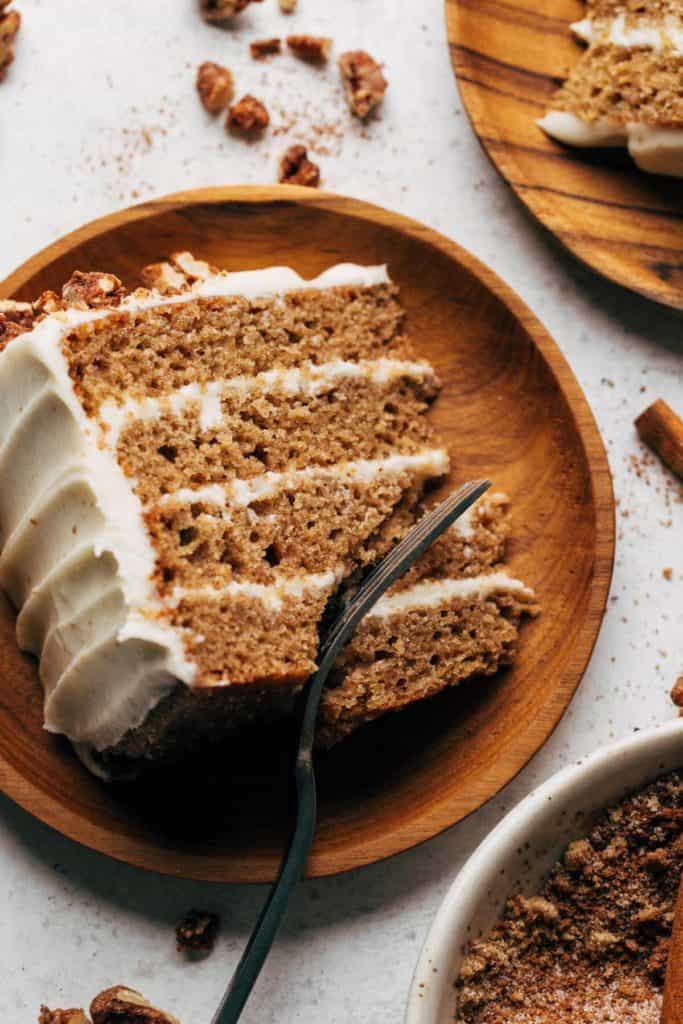 What makes this the best spice cake recipe?
I know it's a pretty big claim to say that my spice cake recipe is the best, but it is just too good not to be. Each cake layer is so moist and packed full of flavor. And because it's baked with oil instead of butter, this cake stays moist for days after it's baked.
But the cream cheese frosting is the real star of the show. Made with brown butter, this frosting has a slightly nutty and warm flavor that pairs perfectly with the many spices in this cake. Trust me, after making this cake you'll never want another spice cake without it.
What spices are in spice cake?
Most spice cake recipes include your traditional warms spices. It's a mix of cinnamon, nutmeg, ginger, and cloves. These are all of your classic spices that are perfect for fall and winter baking. Some might also add cardamom, all spice, or even pumpkin pie spice.
For my recipe, I went with a combination of traditional and unique spice. With the addition of cardamom, it adds an extra hint of flavor that's unexpected but perfectly blends in with the rest of the spices.
Another flavor added in spice cake recipes is apple. It's very common to include apple sauce because not only does it add moisture, but it works so well together with the spices.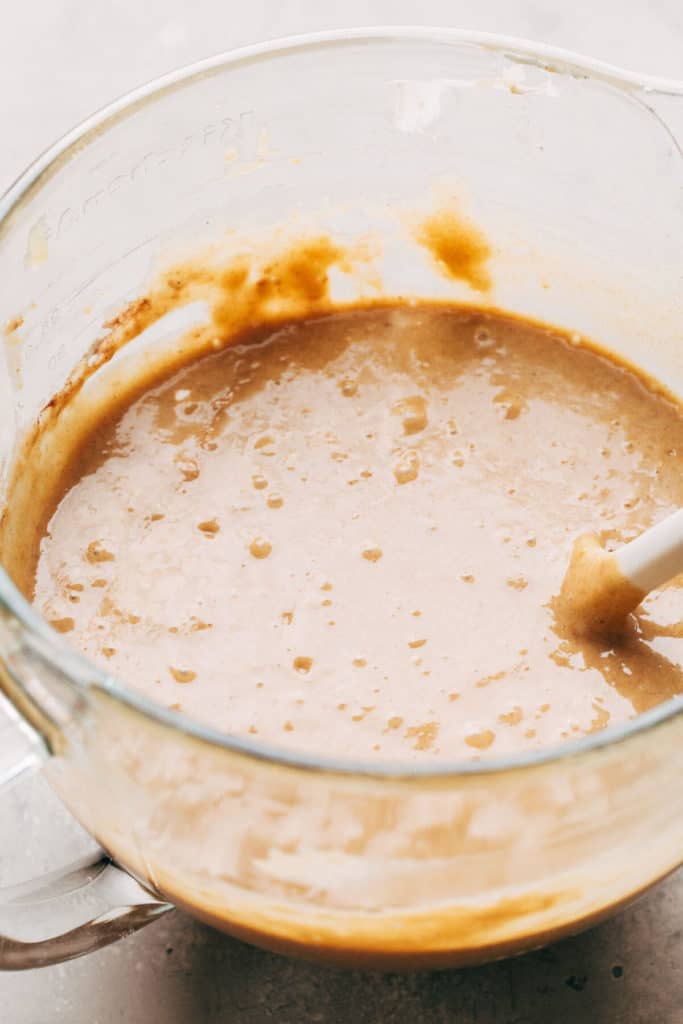 Tips for baking a moist spice cake
The cake batter is very easy to make, but here are a few tips to keep in mind to ensure your spice cake turns out just right:
Don't overmeasure the flour. To ensure you use the exact amount needed, gently spoon the flour into your measuring cup and level if off with a flat edge. If you scoop directly into the flour container, it pacts it down into the cup which could leave you with 1/4 cup or more of added flour. This will create a dry and crumbly cake.
Use room temperature ingredients. Anything that's chilled in this recipe, like the eggs and sour cream, try to bring them up to room temperature before adding to the batter. This won't make or break the recipe, but using room temperature ingredients ensures that the cake will bake more even.
If you have them, use cake strips. Cake strips are pieces of fabric that are dampened and wrapped around the cake pans before baking. The moisture prevents the outside edges of the pan from heating up too quickly. This allows the outer edges and center of the cake to bake at a more even rate.
Evenly distribute the batter between the two cake pans. This is a no brainer, but it's also very important. If one cake is overfilled and the other under filled, the two cakes will need to bake at different times. One has the potential to over bake and dry out, whereas the other one may turn out raw and sunk in the middle.
Always test with a toothpick to be sure. Even if you think they're done, test with a toothpick anyway. Especially with this recipe, the center can look puffed but it may still need a few extra minutes to completely bake in the center.
Once the cakes have baked, allow them to cool COMPLETELY before assembling. If they're still even just a bit warm, the frosting will melt on the cake and cause the layers to slip and slide right off.
How to make brown butter cream cheese frosting
I could just dive right into that bowl of cream cheese frosting. The flavor is just TOO good!
To make this type of frosting, first you must brown the butter. I have a blog post all about how this works so I recommend checking that out if you've never browned butter before.
But to keep it short and sweet, simply melt the butter down in a saucepan over medium heat. Keep stirring until it turns from melted, to bubbling and sputtering, to foaming. You'll know it's almost ready when it reaches the foaming stage and the butter falls silent.
Pour the butter into a shallow glass dish (scraping in the brown bits at the bottom of the pot) and place it in the refrigerator. By the time the cakes have baked and chilled, the brown butter should be at the perfect consistency.
That consistency should be opaque and firm, but not too hard. You should be able to easily dig a knife into it without applying too much pressure (like the image above). If it's still too soft or liquid, keep chilling. If it's too firm, leave it at room temperature until it's softened.
Next, add the butter to the cream cheese frosting mixture and mix until smooth. The next steps of this process are very straight forward, but if you find the frosting is too thin it could be because the cream cheese and/or butter were a bit TOO soft to start out with. If that's the case, chill the buttercream for about 30 minutes to thicken before adding to the cake.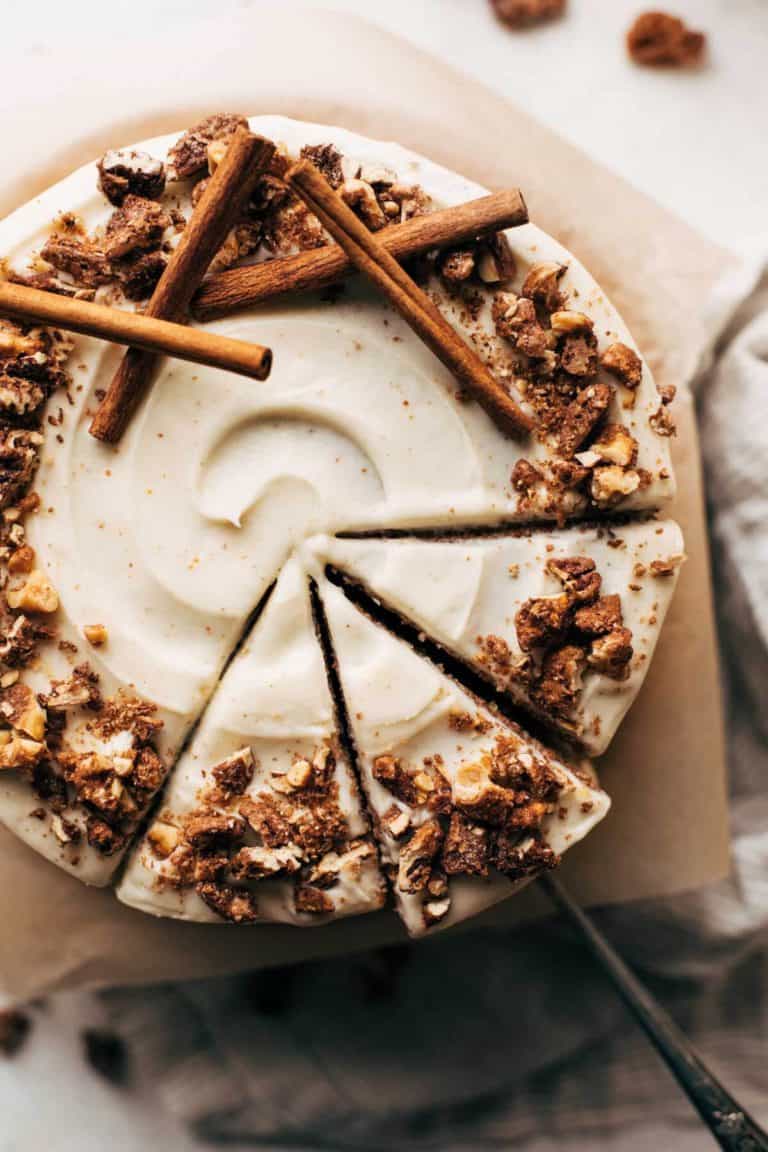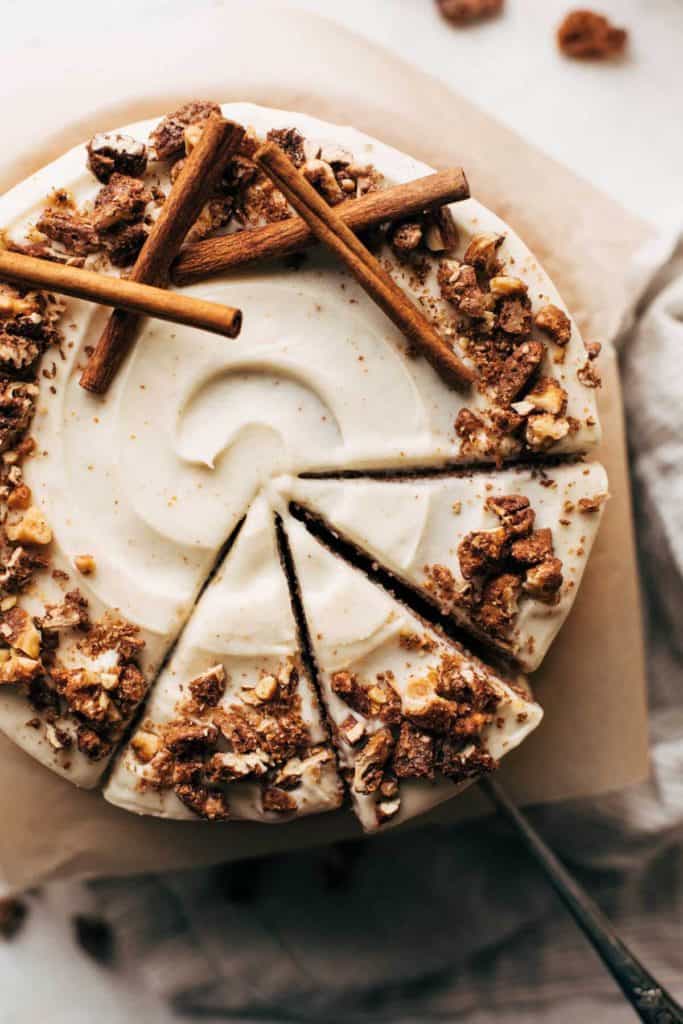 Prepping the cake layers
Once the cakes have cooled, start by leveling off the tops. I use a cake level to make this process much easier. They should have puffed up in the very center, but not too tall so there won't be too much waste. Or, you could use the cake scraps to crumble on top as decoration.
After they're leveled, you have the option to slice each cake in half to create 4 thin layers. I prefer this because it gives you a better frosting to cake ratio for each slice. If you'd prefer just two thick cake layers, you can leave the layers as is.
How to make candied nuts for spice cake decorations
I don't know what I love more about this cake, the frosting or the candied nuts on top…mainly for side snacking purposes. They take this cake over the top but are such a simple added step. You can use any nuts you like but my favorites for this spice cake are pecans and/or walnuts.
I have a separate post all about how to make homemade candied nuts. I recommend cutting this recipe in half, splitting the single egg white in half as best as you can. After that, just coat the nuts in cinnamon sugar, roast, and they're good to go.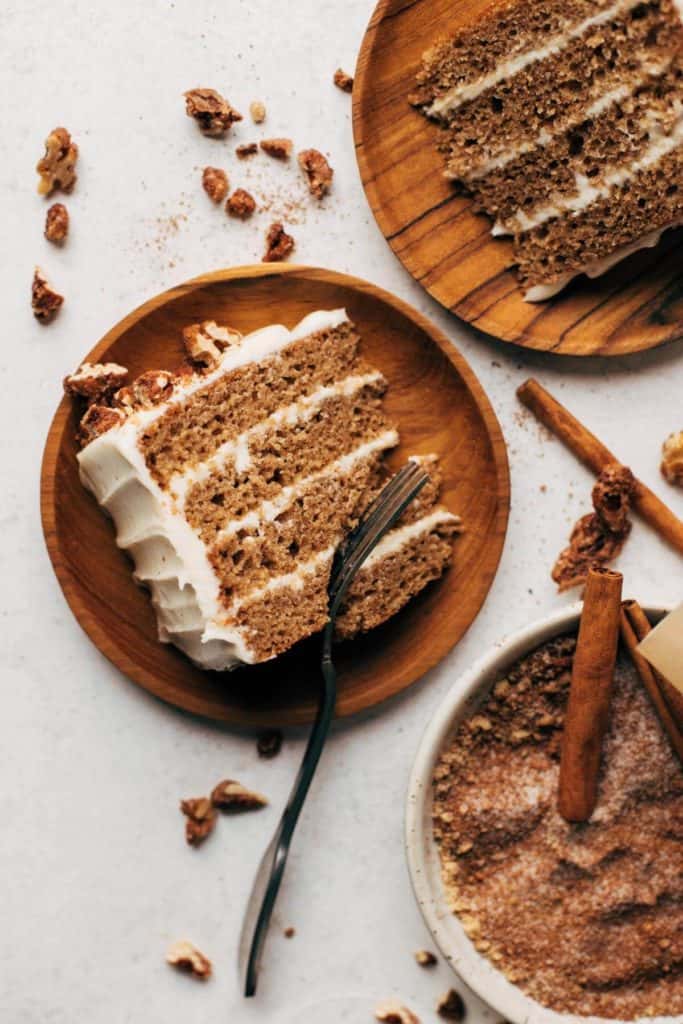 For more fall dessert recipes, check out my:
Make sure to tag me @butternutbakery on Instagram and comment below if you make this Spice Cake recipe. To pin this recipe and save it for later, you can use the button on the recipe card or on any of the photos above. Happy baking!
Print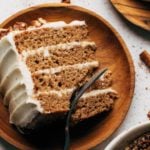 Spice Cake with Brown Butter Cream Cheese Frosting
---
Author: Jenna Barnard
Total Time: 1 hour 10 minutes + 2 hours cooling
Yield: 8″ layer cake
Description
This extra moist spice cake is perfectly spiced and coated in a silky brown butter cream cheese frosting.
---
Spice Cake
2 3/4 cups (350g) all purpose flour
1 1/2 tsp baking powder
1 tsp baking soda
1/2 tsp salt
1 tbsp cinnamon
1 tsp cardamom
1 tsp ginger
1/2 tsp nutmeg
1/4 tsp cloves
2 cups (380g) light brown sugar, packed
1 cup (200ml) vegetable or canola oil
1 cup (235g) unsweetened apple sauce
4 large eggs, room temperature
3 tsp vanilla extract
3/4 cup (200g) sour cream, room temperature
Brown Butter Cream Cheese Frosting
1 cup (220g) unsalted butter
16 oz cream cheese, room temperature
5 cups (600g) powdered sugar
1/2 tsp vanilla extract
Decorations
---
Instructions
Spice Cake
Preheat the oven to 350F and prep (2) 8″ round cake pans. Coat them with a thin layer of nonstick spray and line the bottoms with a round sheet of parchment paper. Wrap in damp cake strips if you have them. Set aside.
In a medium bowl, whisk together the flour, baking powder, baking soda, salt, and spices. Set aside.
In a large mixing bowl, either mixing by hand with a whisk or an electric mixer, mix together the sugar, oil, and apple sauce until the sugar is evenly moistened.
Whisk in the eggs, one at a time, followed by the vanilla.
Once smooth, mix in half of the dry ingredients until combined. Then mix in the sour cream, followed by the rest of the dry ingredients.
The batter should be fairly thin. Pour it into the two cake pans, filling each about 2/3 full.
Bake for 35-40 minutes or until a toothpick in the center comes out clean. While the cake bakes, make the brown butter.
Brown Butter
Add the butter to a saucepan over medium heat. Melt it down and continue to stir until it bubbles, foams, and turns a rich amber color (for more details on how to brown butter, click here). Pour the brown butter into a shallow glass dish and chill while the cakes bake.
Once the cakes have baked, allow them to cool in the pans for about 20 minutes. Then, flip out on to a cooling rack. If you plan on decorating the cake that same day, transfer the cakes to the refrigerator uncovered to chill completely before frosting. If you are decorating the next day, allow the cakes to cool completely at room temperature. Then wrap each layer in plastic wrap and chill overnight.
Brown Butter Cream Cheese Frosting
Once the cakes are chilled, make the frosting. But first, test the butter. It should now be opaque and firm, but not hard. It should be the consistency of softened butter to where you can easy dig into it with a butter knife. If it's not there yet, continue to chill.
When it's ready, add the butter and cream cheese to a large mixing bowl. Mix until smooth, either using a hand or stand mixer with the whisk attachment.
Mix in 1 cup of powered sugar at a time, followed by the vanilla. If it's still too thin, add 1/2 cup of powdered sugar at a time to thicken. Or, if your home is a bit warm, transfer the frosting to the refrigerator to chill for about 30 minutes to thicken.
Assemble
When the cakes have completely cooled, level off the tops and slice each layer in half to make 4 thin layers. You don't have to do this, but I like how it evenly distributes the frosting throughout the cake.
Add a thin layer of frosting between each layer. Once all layers have been stacked, cover the cake in a thin coating of frosting to lock in the crumbs. Place the cake in the refrigerator to chill for 20-30 minutes to allow the frosting to set.
Once chilled, cover the cake with the remaining frosting. Add any decorations you like, such as cinnamon sticks, crumbled cake scraps, or homemade candied nuts.
Place the cake back in the refrigerator to chill until serving. Enjoy!
Notes
CAKE PANS – You can also make (3) 6″ cake layers or (2) 9″ cake layers. Just make sure to watch the cook times. It make take closer to 30-35 minutes to bake in larger or multiple pans. Although I haven't tested it, this batter should make the right amount for a 9×13″ baking dish. Bake at 350F for 40-45 minutes or until a toothpick in the center comes out clean. Then, only make half of the frosting recipe to spread on top.
SPICES – Cardamom isn't a spice that's in everyones kitchen. If you don't have it on hand, you can leave it out and add 1/4 tsp extra of both cinnamon and ginger to the recipe, or swap it with pumpkin pie spice.
Prep Time: 30 minutes
Cook Time: 40 minutes
Keywords: spice cake, brown butter, spice cake recipe, cream cheese frosting
Recipe Card powered by