This is truly the BEST pecan pie recipe. The crust is buttery and flaky, the filling is gooey and sweet, and it's loaded with rich and savory pecans. Sadly pecan pie is something we never have at my Thanksgiving table because my dad despises pecans. I know, how are we related? So this year I'm making a pecan pie completely from scratch that deserves to be the star of the table…and maybe even sways my dad's opinion. If any pecan dish could do it, it would be this one!
This post is sponsored by Karo Syrup but all thoughts and opinions are my own. Thank you for supporting the brands that make Butternut Bakery possible!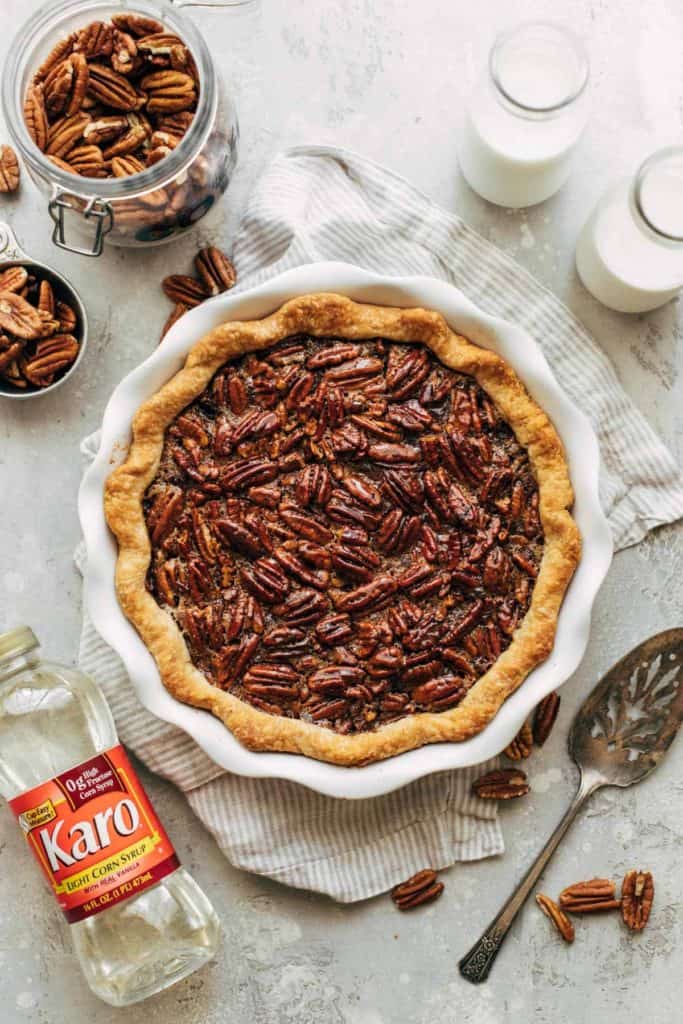 The secret to a gooey pecan pie filling
Every pecan pie has to have that signature texture in the middle. It's thick, smooth, sweet, savory, and always holds together no matter how gooey it may be. This pecan pie recipe is all of that and more.
It has that gooey layer with loads of pecans throughout. And with how many pecans I've added to this pie, it's important that the base mixture is capable of holding the entire pie together.
The secret is using Karo Light Corn Syrup. It binds the pie together while adding a slight sweetness. Not only that, but it stops the brown sugar in this recipe from crystalizing in the oven. If it did, the sugar would become gritty and grainy, leaving you with an unappetizing sandy texture. With Karo, your pie will have a smooth and melty filling. For more information about Karo Light Corn Syrup, click here.
Easy homemade pie crust
You can't call this the BEST pecan pie without having a delicious homemade pie crust. Not only is it buttery and flaky, but it's also very quick and easy to make.
Better yet, you only need 4 ingredients: flour, sugar, salt, and butter. Here are a few tips to keep in mind to ensure it turns out perfect:
Measuring the flour – Make sure to measure the flour properly. Spoon it into the measuring cup and level it off with a flat edge. Don't pack it down, don't shake it down, and don't scoop directly into the flour container or bag. This can lead to too much flour in your dough, making it dry and crumbly.
Cold butter – The butter must be very cold when added to the dry ingredients. Pull it straight from the fridge before cutting into cubes and tossing into the flour. If it's not cold enough, it will melt into the dry ingredients and you'll be left with a wet pie dough that's tough and dense.
Cold water – Once the butter is worked into the flour, add cold water. I like to keep a glass of ice water off to the side and grab my 1/4 cup from there. Once the water is added, the dough should become lightly dampened and shaggy with crumbs that fall to the bottom of the bowl. If it's still too dry and crumbly, add 1 tablespoon of water a time until you achieve the right consistency.
Chilling the dough – Let the dough chill for 30 minutes. It should be very firm. To roll it out, let the dough rest at room temp for 15 minutes. This allows it to become more pliable so the edges don't crack as it spreads out. Shape it into your dish and place the shell back into the refrigerator. It should be chilled at all times before baking.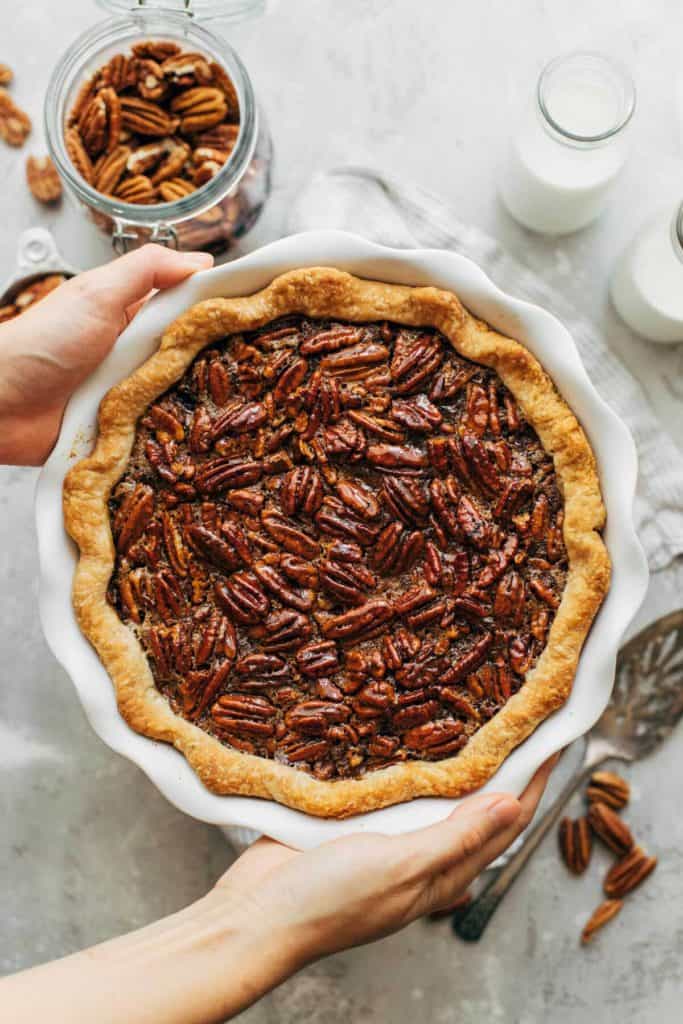 Tips for creating a beautiful pecan pie
Presentation is everything, especially with a simple but classic pecan pie. Here are a few tips to make sure it comes out picture perfect:
Pie edges – When shaping the pie shell, don't cut off any excess overhang. Fold the excess under the edges to create a thick crust all around the pie. This thick crust makes it easier to pull out each slice and also provides a gorgeous golden ring all around the edge.
Pecan halves – Use pecan halves as opposed to chopped pecans. The whole pecan is much more appetizing than chopped, so it makes your pecan pie look magazine-worthy.
Final touches – Once the filling is poured into the shell, turn over any pecans that have flipped over. This makes your pie look much more polished and the tops of the pecans provide texture and dimension.
As an optional step, you could also brush the surface with a mixture of 2 tsp Karo Light Corn Syrup and 2 tsp water. This leaves a glossy finish with a little extra sweetness.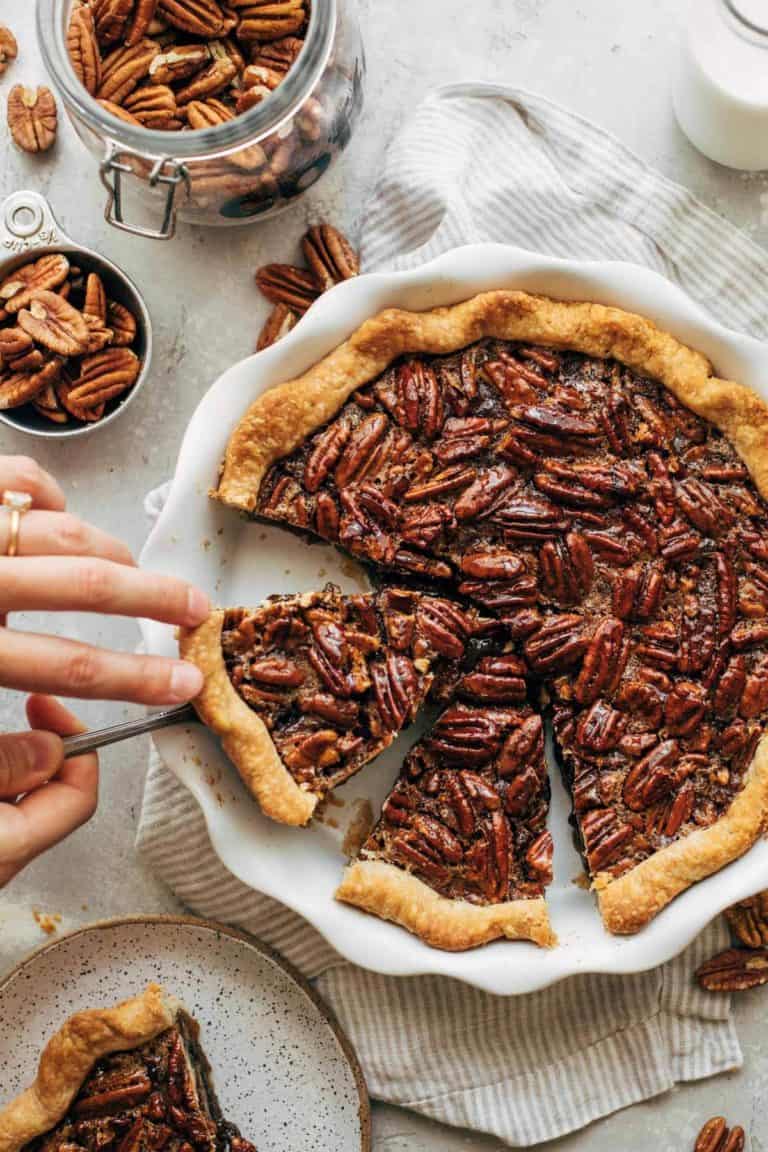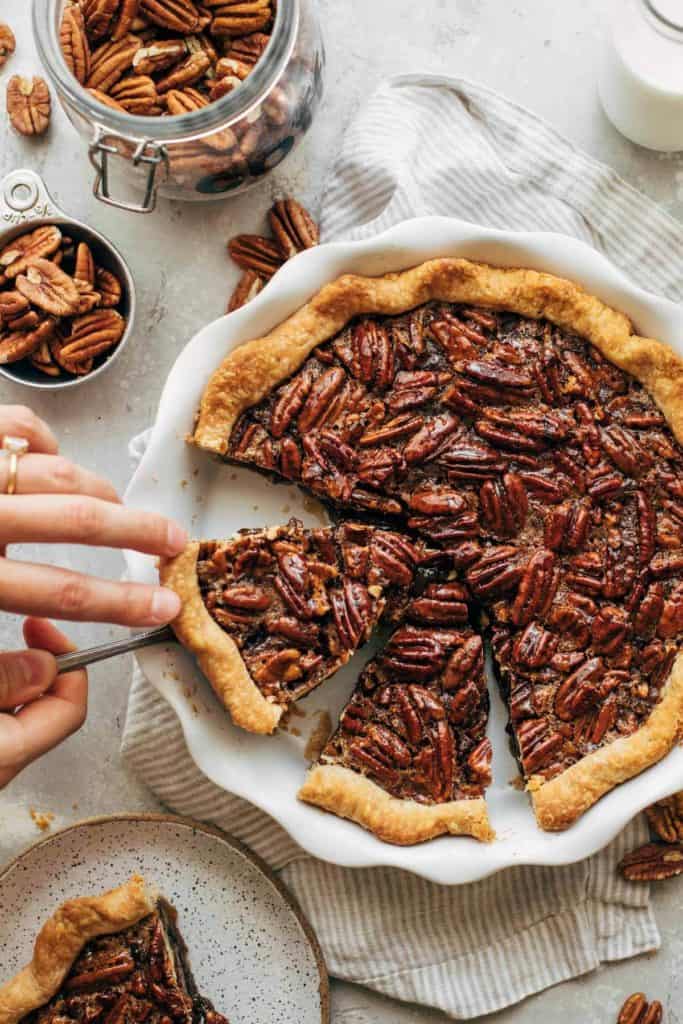 Serving pecan pie
Pecan pie is best served at room temperature, but you need to give the filling a chance to settle and firm up before slicing.
When the pie is fresh out of the oven, allow it to cool at room temperature for about 30 minutes. After those 30 minutes, the center will have settled but the pie will still be very warm.
If you're in a rush, transfer to the refrigerator uncovered and chill for 1 hour. This gives the filling a chance to thicken so each slice holds together. If you made this in the morning and are planning to serve it in the afternoon, keep the pie out at room temperature for a few hours and it will be perfect for serving.
Slicing pecan pie
With so many pecans in this filling, I find it's best to cut into this pie with a quick downward motion. Using a sharp knife, point it into the center of the pie and quickly press down. Continue this motion until you reach the crust. This will prevent the pecans from sinking into the pie, leaving you with a perfect slice.
How to store pecan pie
Once the pie is firm and set, it can be kept at room temperature for up to 4-5 days. Just make sure to cover the dish in foil or cling wrap.
For more Thanksgiving dessert recipes, check out my:
Make sure to tag me @butternutbakery on Instagram and comment below if you make this Classic Pecan Pie. To pin this recipe and save it for later, you can use the button on the recipe card or on any of the photos above. Happy baking!
Watch how to make homemade pecan pie:
Print
The BEST Pecan Pie
---
Description
This is the BEST pecan pie because it has a buttery and flaky pie crust and with a filling that is ooey gooey and loaded with pecans.
---
Pie Crust
1 1/4 cups (155g) all purpose flour *see notes for GF option
1 1/2 tsp granulated sugar
1/4 tsp salt
1/2 cup (110g) unsalted butter, cold and cubed
1/4 cup ice water
Pecan Pie Filling
1 cup (340g) Karo Light Corn Syrup
3/4 cup (150g) light brown sugar, packed
2 large eggs
2 tbsp unsalted butter, melted
2 tsp vanilla extract
3 cups (330g) pecan halves
---
Instructions
Pie Crust
Whisk together the flour, sugar, and salt in a large bowl.
Add in the cold and cubed butter and use your fingers to press it into the dough. Keep working it in until you reach small pea-sized lumps all throughout.
Pour in 1/4 cup of ice water and mix with a wooden spoon. It should become thick and damp but still somewhat crumbly. It it's still too dry, add 1 tablespoon of water at a time until it starts to form into a shaggy dough.
Pour it out onto a lightly floured surface (crumbs and all) and work it into a smooth ball. Flatten into a disk and wrap in plastic wrap.
Chill for at least 30 minutes.
Once chilled, let it rest at room temperature for about 15 minutes. Then roll it out and form it into your 9″ or 10″ pie dish. Place the shell back into the refrigerator while you make the filling.
Pecan Pie Filling
Preheat the oven to 350F.
In a large mixing bowl, combine the corn syrup, sugar, eggs, butter, and vanilla. Mix until smooth and well combined.
Mix in the pecans to evenly coat.
Pour into the chilled pie shell and spread around the pecans to create an even filling.
Bake for 1 hour to 1 hour 10 minutes. It's done with the crust is golden brown, the edges are barely bubbling, and your whole kitchen has a nutty and caramelized aroma.
Allow the pie to cool completely at room temperature, then move to the refrigerator to chill for about 1-2 hours to set.
Slice and enjoy!
Prep Time: 20 minutes
Cook Time: 1 hour
Keywords: pecan pie, pecan pie recipe, best pecan pie
Recipe Card powered by