This moist pumpkin bundt cake is accompanied by a rich homemade butterscotch sauce. Not only is it poured on top, but it's also baked into the cake to give it a unique sweetness. This cake is easy to make but looks amazing, so it's perfect to have as a dessert for your Thanksgiving dinner.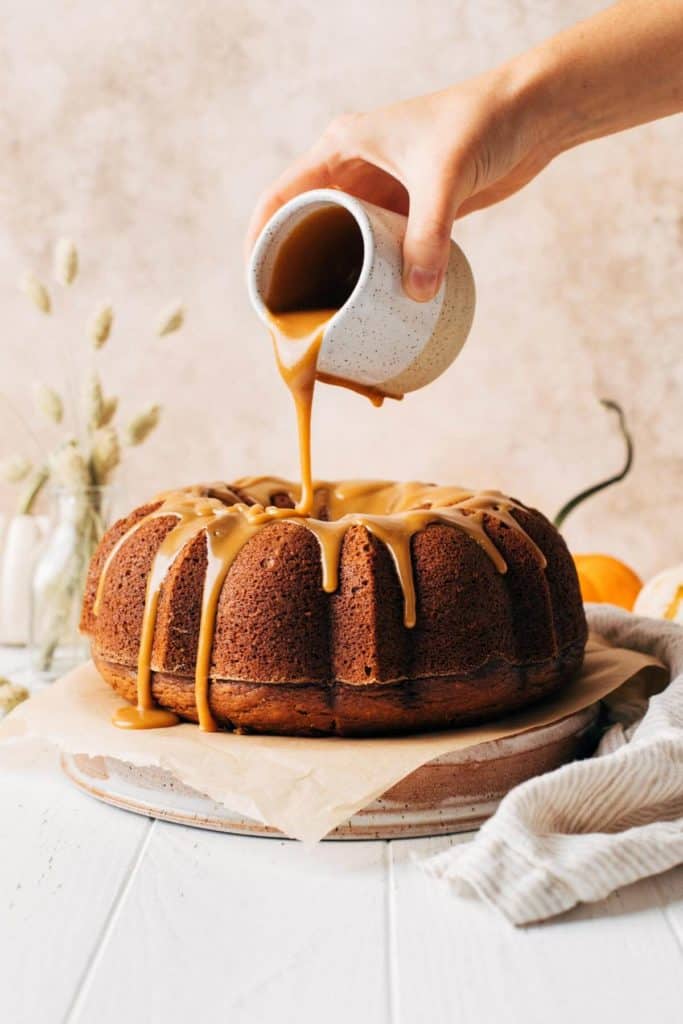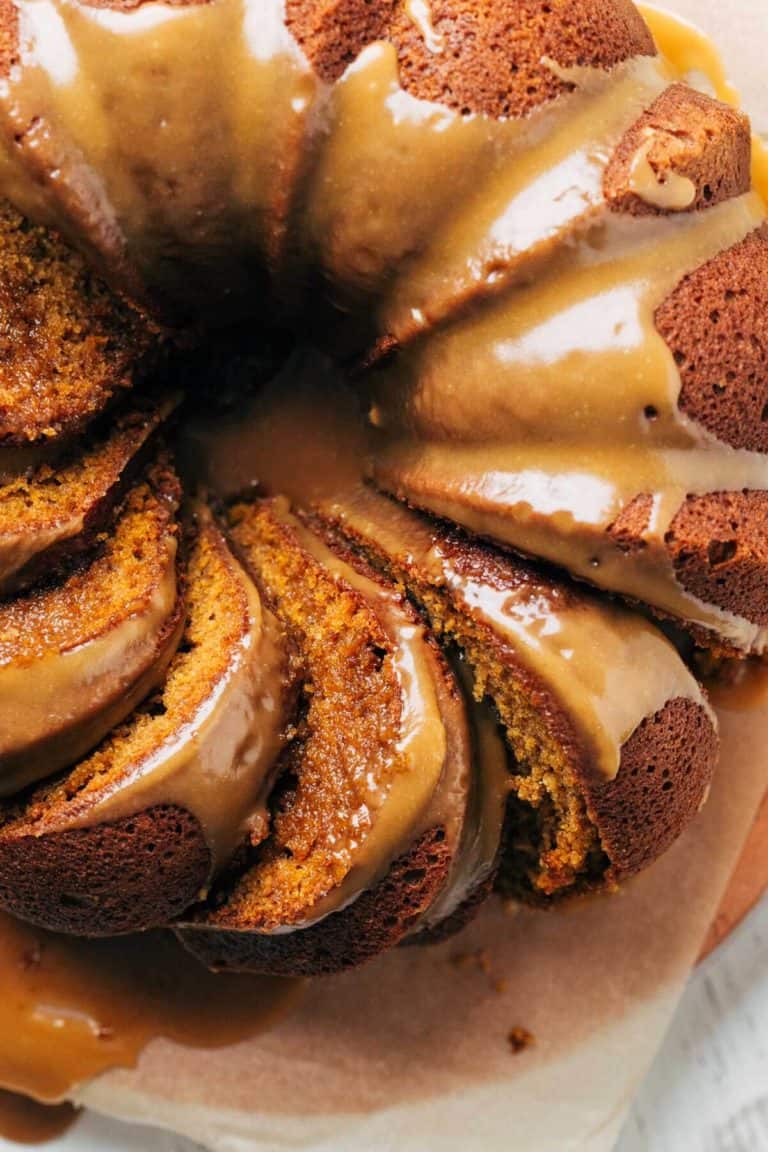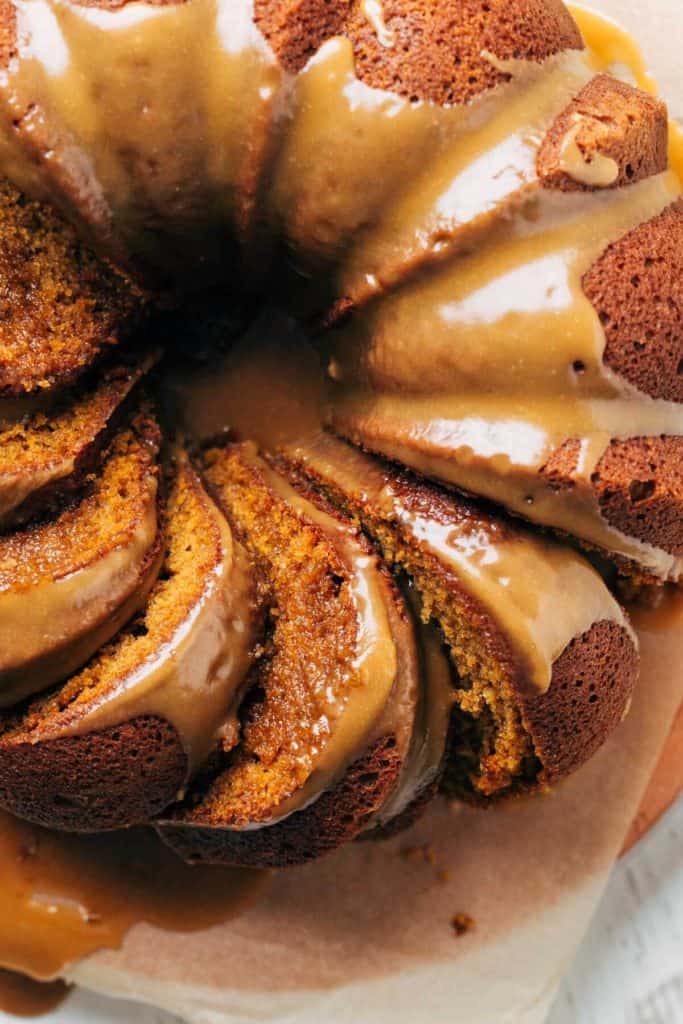 What's the difference between butterscotch sauce and caramel?
The butterscotch in this recipe takes in over the top, but in the best way possible. It adds a unique flavor to the pumpkin cake and pairs so well with its warm spices.
Butterscotch sauce is very similar to caramel. The main difference is the sweetness and richness. Butterscotch sauce is a bit sweeter and is deeper in flavor than caramel. This is due to the use of dark brown sugar and extra heavy cream. The brown sugar gives it a slightly more molasses flavor and the cream makes the sauce rich and smooth.
Caramel is also made through a processes of burning sugar, giving it a very slight bitter taste. Butterscotch sauce, on the other hand, is made by melting together butter, brown sugar, and heavy cream. This gives it a smoother flavor that's creamy and well rounded.
Caramel is typically flavored with just salt and vanilla. But with butterscotch sauce, a touch of rum helps bring out the flavors. Since it's a rich and sweet sauce, the rum helps cut through in order to balance out that richness. You can't necessarily taste it, but you can definitely tell a difference when it's not mixed in.
Overall, butterscotch sauce is like the Holiday version of caramel. It has a very warm and inviting flavor that pairs perfectly with the flavors of the fall and Holiday season.
Tips for baking a moist pumpkin bundt cake
This recipe took sooo many tests to get just right! Since it's a large amount of batter baked all at once, it's tricky to achieve a soft and moist texture that's able to bake all the way through. With a few small tweaks, this pumpkin bundt cake is now moist, flavorful, and bakes beautifully.
To make sure it turns out just right, here are a few things to keep in mind:
Don't overmeasure the flour. To ensure you use the exact amount needed, gently spoon the flour into your measuring cup and level if off with a flat edge. If you scoop directly into the flour container, it pacts it down into the cup which could leave you with 1/4 cup or more of added flour. This will create a dry and crumbly cake.
Allow the butterscotch sauce to cool before adding to the batter. This cake has homemade butterscotch mixed right in to give it a unique flavor, but if it's too hot it can dissolve the sugar or even scramble the eggs. It can be slightly warm to the touch, but not pipping hot.
Use room temperature buttermilk and eggs. This won't necessarily make or break the cake, but it definitely doesn't hurt. Using room temperature ingredients means the batter doesn't have to fight to get up to to room temperature before it's baked. If all ingredients are at the same temperature, the batter will be smooth and lump-free.
Don't over mix the batter. Once all of the dry ingredients are dissolved into the batter, stop mixing. It's ok if there are a few small lumps throughout. Over mixing can lead to a tough cake.
The best way to prevent bundt cakes from sticking
Bundt pans can be so finicky. Sometimes your cakes slide right out, and sometimes they stick to the sides. If you have a pan that you know can sometimes stick, here's the best way to prepare your pan:
Smear butter all around the inside of the pan, making sure you get into ever nook and cranny. To take it a step further, I prefer to use vegan butter because you still get the flavor of butter but the slickness of shortening. It's the best of both worlds.
Chill the pan while you prepare the batter. This locks the butter in place. If you oil or spray the pan, the grease can sometimes slide down and pool at the bottom of the pan. This can lead to patchiness and sticking. Locking the butter in place ensures it stays right where it should once the batter is poured in.
Right before you add the batter, dust the entire inside with flour. Turn and twist the pan to get it into every single spot. Then, pour in the batter and spread it even.
This method works for me every single time. My cakes always slide right out.
Cake serving options
By the time the cake has baked and cooled, the butterscotch sauce should be at the perfect consistency. Expect it to be thickened and opaque, but still thin enough to smoothly drizzle over top of the cake.
But you have two options on how you would like to present your cake:
Option 1: Drizzle – As shown in the photos here, I used the butterscotch sauce when it was cooled and thickened. This creates a very distinct drizzle on top of the cake, but then pools at the bottom center so each slice is coated on the top and bottom with butterscotch. This is a great option if you prefer a more aesthetically pleasing presentation.
Option 2: Soak – Once the cake is out of the pan and still warm, poke the top with tons of tiny holes using a toothpick. Then, warm the butterscotch sauce either in the microwave or in a saucepan. Heat until it's thinned and more translucent. Pour it over the cake and allow it to soak in. This will give you an extra moist cake that's just as delicious.
Do I have to add rum to the butterscotch sauce?
I definitely recommend leaving it in, but if you prefer to not use alcohol you can replace the rum with 1 teaspoon of rum extract.
How to store the cake
Once you've added the butterscotch sauce on top, keep the cake in an air tight container at room temperature for 1 day or in the refrigerator for up to 5 days.
For more pumpkin recipes, check out my:
Make sure to tag me @butternutbakery on Instagram and comment below if you make this Pumpkin Bundt Cake. To pin this recipe and save it for later, you can use the button on the recipe card or on any of the photos above. Happy baking!
Print
Butterscotch Pumpkin Bundt Cake
---
Author: Jenna Barnard
Total Time: 1 hour 30 minutes + 1 hour cooling
Yield: 16 slices
Description
Moist pumpkin bundt cake baked and topped with homemade butterscotch sauce
---
Butterscotch Sauce
1/2 cup (110g) unsalted butter
1 cup (180g) dark brown sugar
3/4 cup (175ml) heavy cream
1/2 tsp salt
2 tsp vanilla
2 tbsp rum*
1/2 cup (60g) powdered sugar
Pumpkin Cake
3 1/2 cups (445g) all purpose flour **see notes for GF option
2 tsp baking soda
1/2 tsp salt
1 tbsp cinnamon
1 tsp ginger
1/2 tsp nutmeg
1/8 tsp clove
1 cup (215ml) oil
2 cups (360g) light brown sugar
1 15oz can pumpkin puree
1/2 cup homemade butterscotch sauce, cooled
4 large eggs, room temp
2 tsp vanilla extract
1 cup (230ml) buttermilk***, room temp
---
Instructions
Butterscotch Sauce
In a saucepan, melt the butter over medium heat.
Once melted, mix in the brown sugar and heavy cream. Bring the mixture to a simmer and let it bubble for 6 minutes.
Remove from heat and mix in the salt, vanilla, and rum. It should look thin, dark, and slightly translucent. 
Pour out 1/2 cup of the sauce to use in the cake, then mix in the powdered sugar to the remaining sauce.
Pour the extra sauce into a separate container and allow it to cool at room temperature while you bake the cake. It will thicken and lighten in color as it cools. (You should now have two containers of sauce, one of 1/2 cup for the cake batter and one with powdered sugar mixed in to pour on top of the cake.)
Pumpkin Cake
Preheat the oven to 350F and prepare a 12 cup bundt pan. You can do so however you like, but my preferred method is to cover the entire inside with butter, chill the pan while I prep the batter, then dust the pan with flour right before I pour in the batter.
In a medium bowl, whisk together the flour, baking soda, salt, and spices and set aside.
In a large mixing bowl, whisk together the oil, sugar, pumpkin, and 1/2 cup of butterscotch sauce. Make sure it's not too hot before adding it to the batter.
Whisk in the eggs two at a time, followed by the vanilla.
Pour in half of the dry ingredients and mix to combine. Then mix in the buttermilk until smooth.
Whisk in the remaining dry ingredients. The batter should be fairly thick.
Pour into the bundt pan and spread it even. Bake for 1 hour, or until a toothpick in the center comes out clean.
Allow the cake to cool inside the pan for 15 minutes. Then turn it out onto a cooling rack while it's still a bit warm. Let the cake cool before pouring over the sauce (about 30-45 minutes).
By the time the cake has cooled, the reserved sauce should be thickened and opaque. You can either pour it over the cake at this consistency (as shown in photos) or you can use a toothpick to poke holes all around the cake and pour warmed butterscotch sauce on top. When it's warm, the consistency will be thin. This allows it to sink into the cake to create a soaked bundt cake. It's delicious either way!
Notes
*RUM – If you prefer to not use real rum, you can substitute 1 tsp rum extract. 
**GLUTEN FREE – Although I haven't tested it, I believe this cake would do well with gluten free flour. Sub the flour with a good quality gluten free baking flour. I like Bob's Red Mill 1-to-1 gluten free baking flour. I also suggest weighing the flour, rather than measuring by cups, to ensure accuracy.
***BUTTERMILK – You can also make your own buttermilk. Measure out one cup of milk and omit one tablespoon. Then mix in a tablespoon of white vinegar (apple cider vinegar is also OK). Let it sit for 10 minutes to thicken and curdle before use. 
Prep Time: 30 minutes
Cook Time: 1 hour
Keywords: pumpkin bundt cake, bundt cake, pumpkin cake, butterscotch
Recipe Card powered by