This is the BEST apple crisp recipe. It's perfectly sweetened with thick and jammy apples and extra crisp on top. It's also naturally gluten free using an almond flour and oat crumble topping. This is a quick and easy apple crisp that is perfect for apple picking season!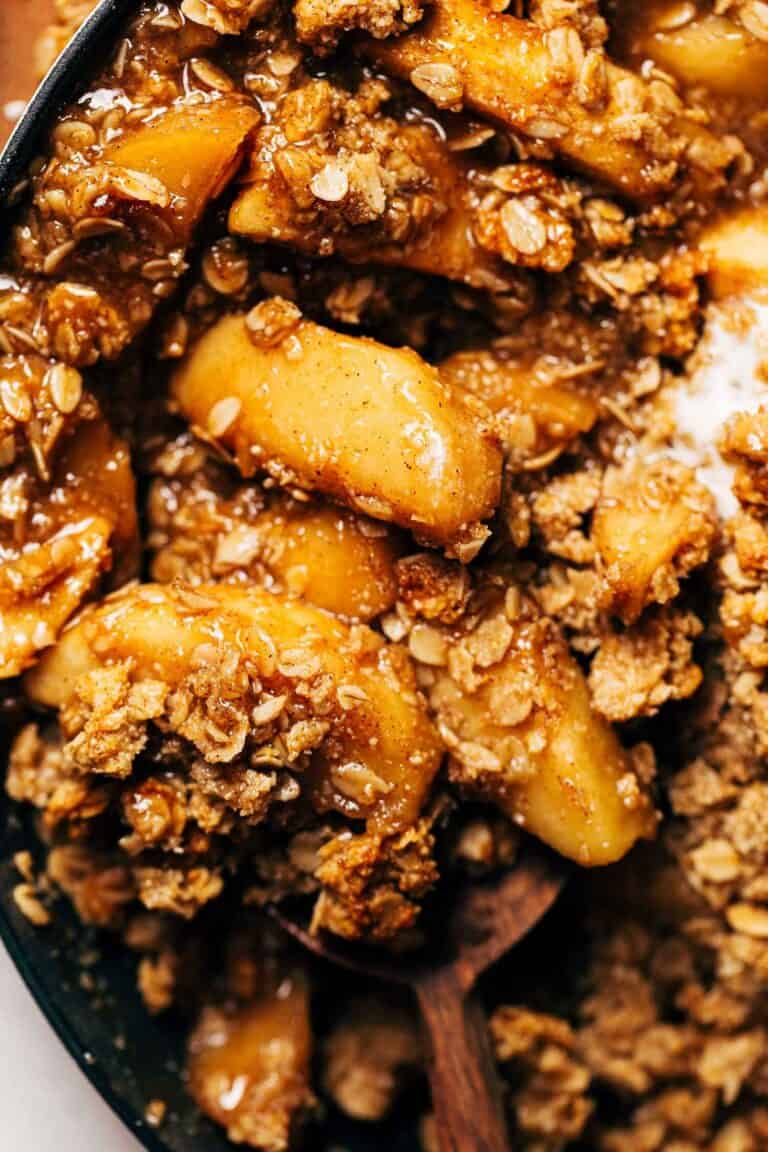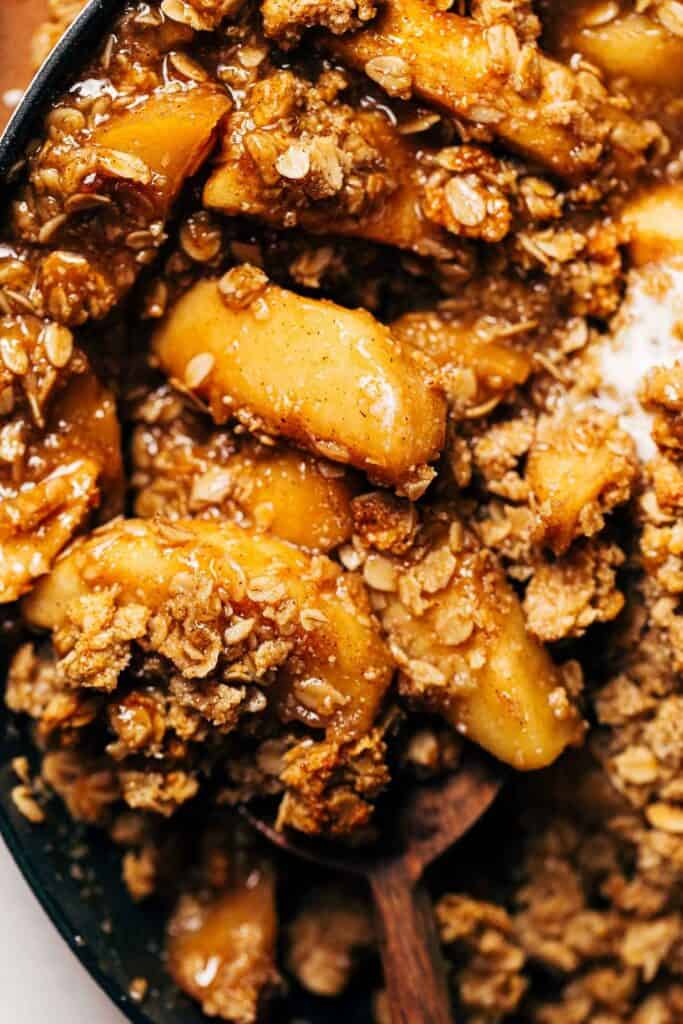 What makes this the BEST apple crisp recipe?
The photos here speak for themselves, but trust me when I say this apple crisp is just as good as it looks!
First, it's made with tender spiced apples that are sliced in thick wedges. Since the apples are thicker, they bake for about 10 minutes before adding the crumble topping. This creates an apple filling that is loaded with tender and juice apples and is swimming in a thick sauce.
After 10 minutes the apples are nice and warmed. This is when the crisp topping is piled on. And I say piled because it is A LOT! Crisp is the best part after all.
This recipe uses extra crisp and it's made with almond flour, oats, sugar, cinnamon, and butter. It's naturally gluten free and bakes into a delicious golden brown layer of sweet crumble.
Last but not least, warm spices are added to both the apples and the crisp topping. This apple crisp is made with cinnamon, nutmeg, ginger, and cloves for extra depth of flavor.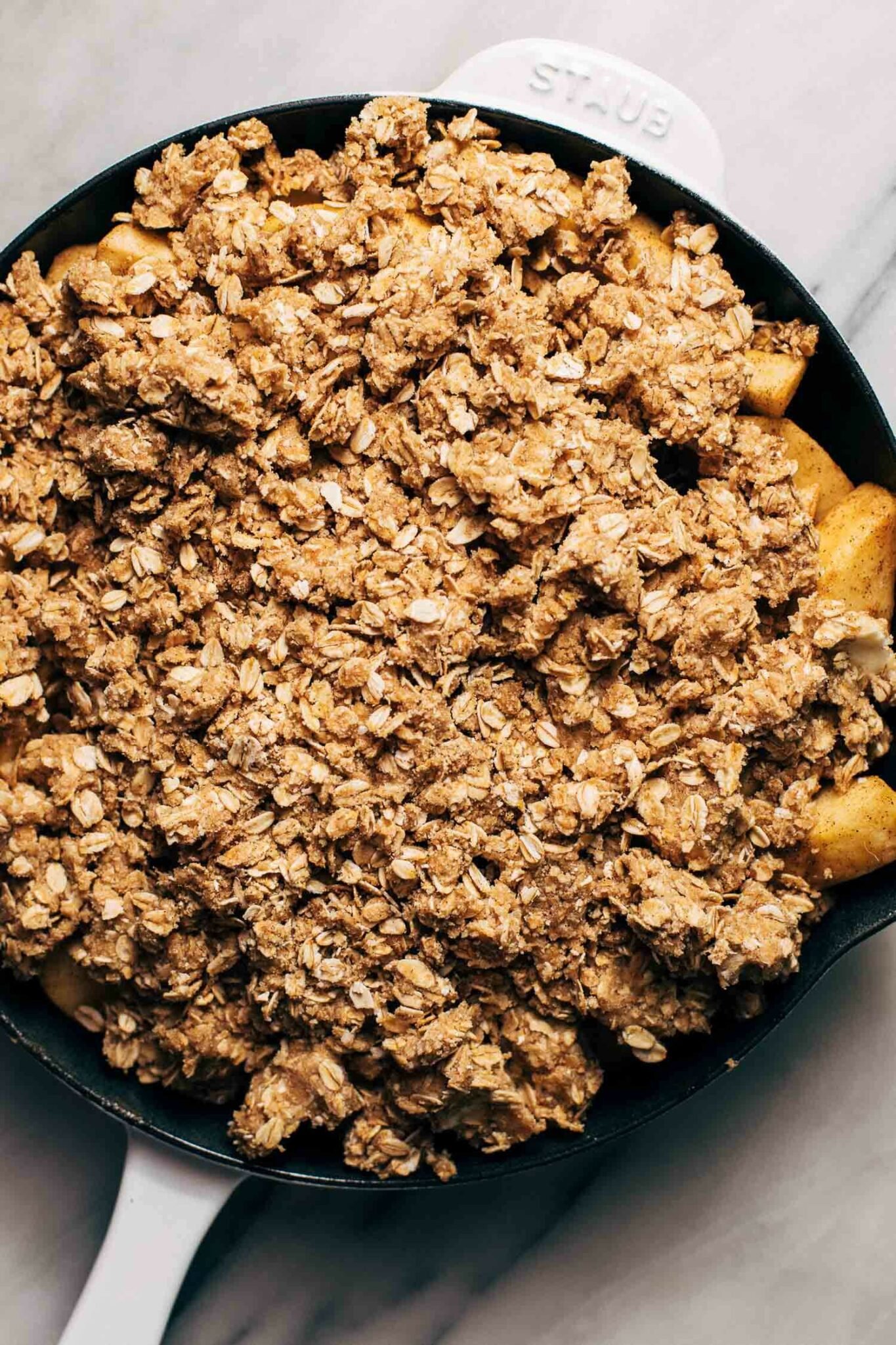 How to make this easy apple crisp recipe
There are two main components of this recipe: the crisp and the apple filling.
Start with the filling by peeling, coring, and slicing the apples. We are using sweet and crisp apples in this recipe for loads of flavor. The apples are sliced into roughly 1 inch wedges for a thick and tender apple crisp filling.
The apples are then tossed in lemon juice, vanilla extract, brown sugar, sugar, cornstarch, and spices. The acidity of the lemon juice helps cut through the sweetness while the cornstarch creates a jammy filling when baked.
Transfer the apples to a cast iron skillet and bake on their own for 10 minutes. This gives them a head start before adding the crisp on top.
As for the crisp, combine oats, almond flour, brown sugar, salt, cinnamon, and cubed butter to a large bowl. Use your fingers to really mush and press the butter into the crisp. It's ready when barely any butter is visible and it holds its shape when mashed together.
Dump the mound of crisp on top of the warm apples and spread it even. Then bake to golden brown perfection!
How to make vegan apple crisp
Apple crisp just isn't the same without some butter. For some recipes, you can get away with swapping butter with oil for a vegan-friendly option. But with apple crisp, we want those clumps of butter to remain in the crisp.
As it bakes, the butter melts and sinks into the layers of the apple crisp to create a crisp top and gooey center.
That's why plant-based or vegan butter can be used in this apple crisp recipe. It bakes and melts just like regular butter to create a super simple vegan apple crisp!
How to make almond flour
If you don't have almond flour at home, it can easily be made with raw almonds.
Place the almonds in a food processor and pulse to break down into a fine flour. Be careful not to over-blend the nuts as it can turn into almond butter.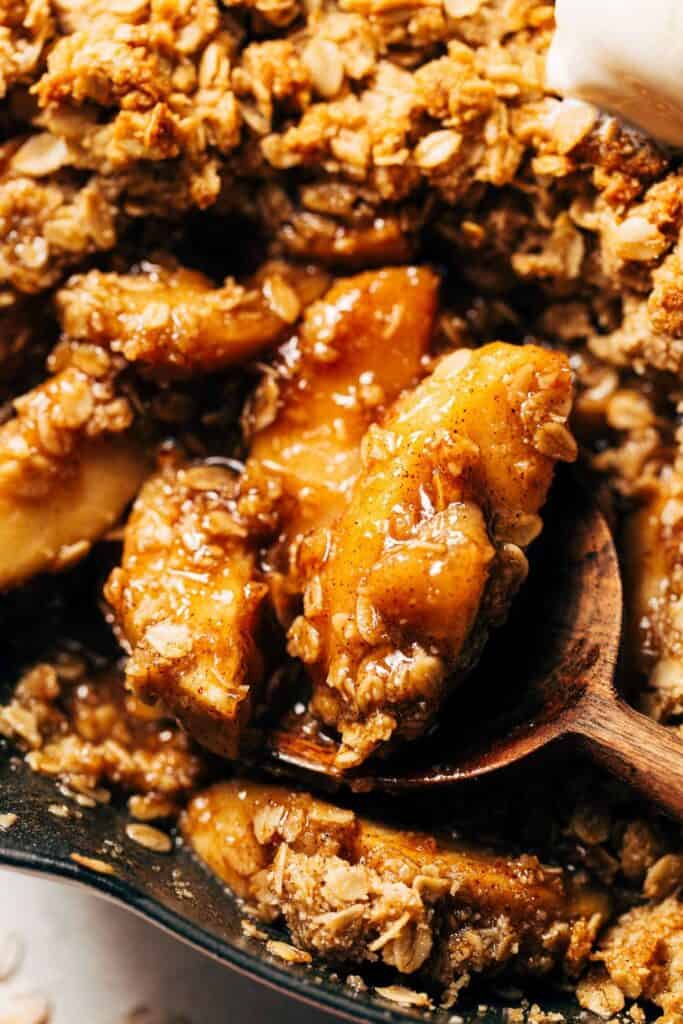 Apple Crisp FAQs
What are the best apples to use in apple crisp?
For the most flavor, use a crisp and sweet apple like Honeycrisp, Fuji, or Jazz apples.
Can this recipe be made in something other than a skillet?
Yes, it can be baked in anything that will hold the apple crisp! This could be a deep pie dish, a square baking pan, or a casserole dish. As long as the apples cover the dish to where you cannot see the bottom, it can be used to make this apple crisp.
Can flour be used in place of the almond flour?
I have not tested this recipe with regular flour so I cannot guarantee a solid swap. If you would like to give it a try, I suggest using 3/4 cup flour in place of the 1 cup of almond flour.
Can quick oats be used instead?
Yes, quick oats can be used in place of the old fashioned oats.
How do you serve apple crisp?
Allow the crisp to cool for about 15 minutes, then dig in and serve in a bowl with a scoop of vanilla ice cream!
Does apple crisp need to be refrigerated?
It will keep for up to 3 days at room temperature as long as it is well covered. Otherwise, it can be stored in the refrigerator for about a week. Keep in mind that the topping looses it's crispy consistency once it has chilled, so this is best to serve fresh.
Can you freeze apple crisp?
Yes! Once baked and completely cooled, cover in plastic wrap and foil. Freeze for up to 2 months. Allow it to thaw at room temperature before reheating. Bake at 300F for about 10 minutes.
For more delicious apple recipes, check out my:
Make sure to tag me @butternutbakery on Instagram or comment below if you make this Apple Crisp. To pin this recipe and save it for later, you can use the button on the recipe card, the buttons above or below this post, or on any of the photos above. Happy baking!
Print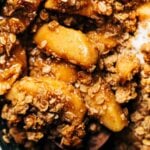 Apple Crisp
---
Author: Jenna Barnard
Total Time: 1 hour 20 minutes
Yield: 6-8 servings
Diet: Gluten Free
Description
This is the BEST apple crisp recipe! It's perfectly spiced with thick slices of tender and jammy apples and extra crisp on top. This recipe is also naturally gluten free using an almond flour and oat crumble. It's quick, easy, and so delicious!
---
Apple Crisp Filling
6 cups Honeycrisp apples (about 6 medium apples), peeled and sliced into 1/2″ wedges
2 tsp fresh lemon juice
1 1/2 tsp vanilla extract
1/4 cup (50g) granulated sugar
1/4 cup (50g) light brown sugar, packed
2 tbsp cornstarch
1 tsp ground cinnamon
1/4 tsp ground ginger
1/8 tsp ground nutmeg
1/8 tsp ground cloves
Apple Crisp Topping
2 cups (200g) old fashioned rolled oats (certified gluten free if needed)
1 cup (100g) almond flour
3/4 cup (150g) light brown sugar, packed
1/2 tsp kosher salt
1 tsp ground cinnamon
3/4 cup (170g) unsalted butter, cold and cubed (regular or plant-based)
---
Instructions
Preheat the oven to 350F. 
Add all of the apple crisp filling ingredients to a large bowl and toss to coat the apples.
Pour the apples into an 11″ cast iron skillet (or any baking pan that will hold the apples, as long as the apples cover enough surface area to where you cannot see the bottom of the pan).
Bake the apples for 10 minutes.
While those bake, make the topping. Whisk together all of the ingredients, minus the butter, in a large bowl. 
Toss in the cubes of butter and use your fingers to work and mash the butter into the dry ingredients. This will take some time, so keep working until the butter is no longer visible and the crisp mixture will hold together when squeezed in your hand. 
When the 10 minutes are up, pull the apples out of the oven and top with the crisp mixture. Spread it the crisp even to fully cover the apples.
Return the crisp to the oven and bake for 35-40 minutes or until the edges are bubbling and the crisp is golden brown. If the top is browning too quickly, cover with a loose sheet of foil and continue baking.
Allow the crisp to cool for about 15 minutes, then dig in!
Prep Time: 20 minutes
Cooling Time: 15 minutes
Cook Time: 45 minutes
Category: Dessert
Method: Baking
Cuisine: American
Keywords: apple crisp, apple crisp recipe, apple crisp recipes, gluten free apple crisp, best apple crisp
Recipe Card powered by