This sticky toffee banana bundt cake has the moist consistency of banana bread but with a sugar crusted exterior and a heavy drizzle of toffee sauce! It's the ultimate comfort cake and best of all, it's so easy to make.
This post is sponsored by SunButter and all thoughts and opinions are my own. Thank you for supporting the brands that make Butternut Bakery possible!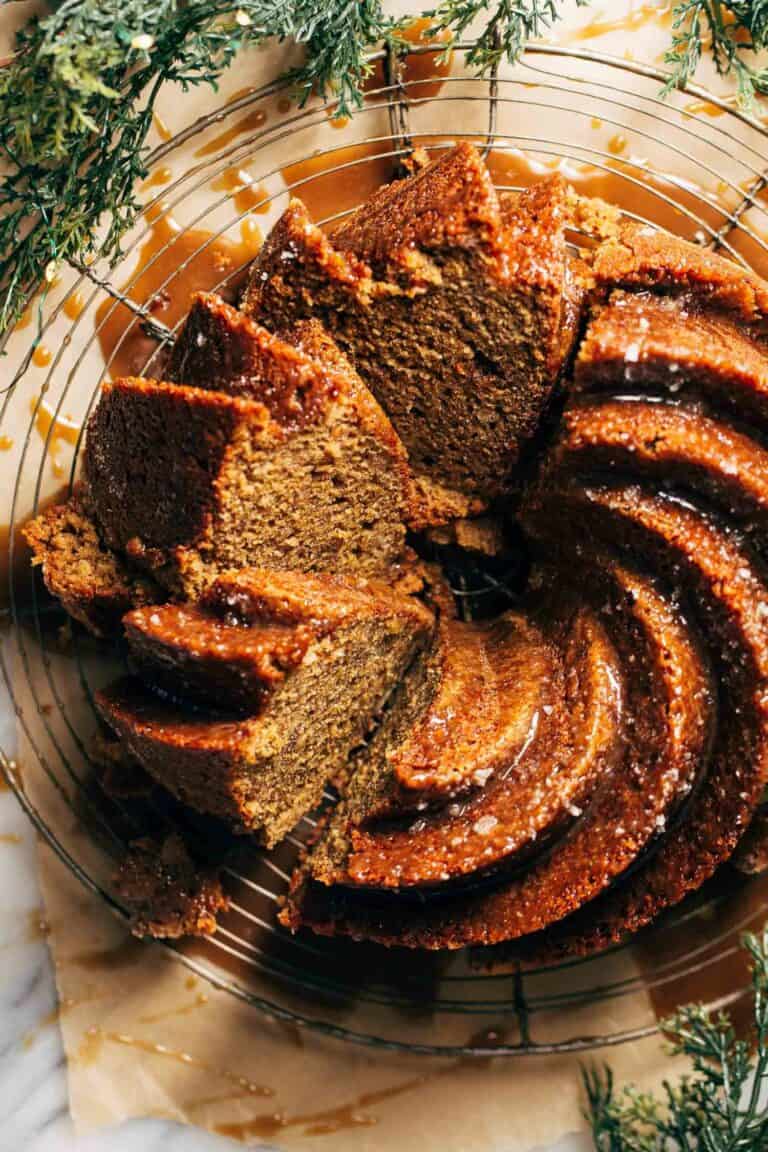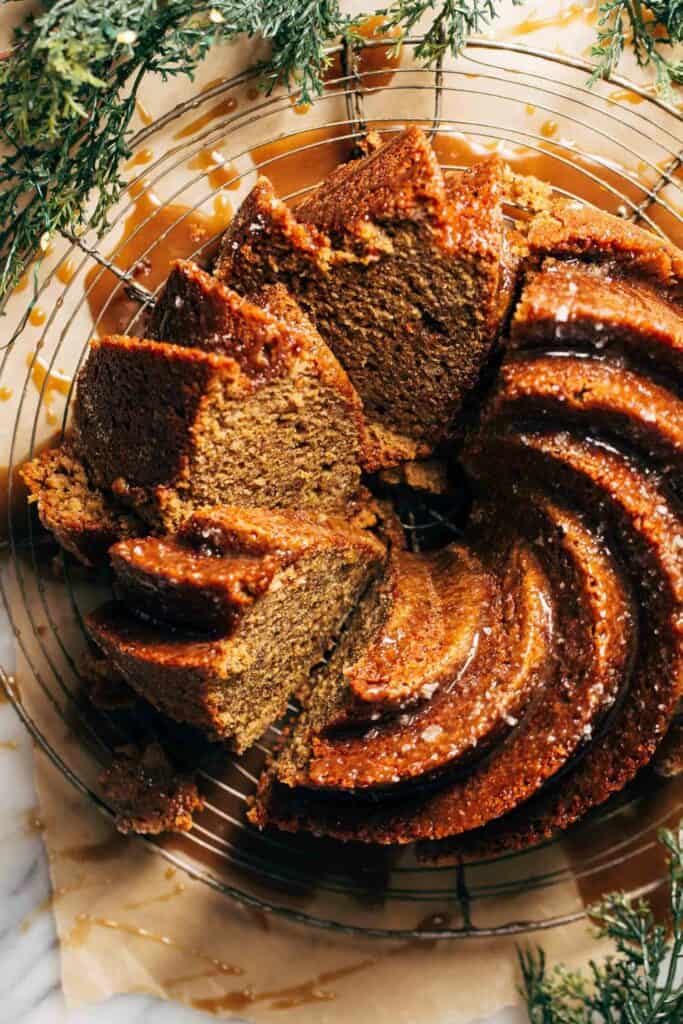 Tips for making banana bundt cake
To ensure your cake turns out perfectly moist every time, here are my top baking tips:
Flour – I say this in every post, and for good reason. It's the number one reason why most recipes fail. If there's too much flour, this banana bundt cake will turn dry. If possible, measure the flour with a food scale. Otherwise, to ensure the exact amount, gently spoon the flour into the measuring cup and level it off with a flat edge. If scooped directly into the flour container, the flour becomes packed down into the cup which could leave you with 1/4 cup or more of added flour.
Bananas – For the BEST flavor, use really ripe bananas. The more brown spots, the better. Also make sure to measure the bananas once mashed to ensure you have exactly 1 1/2 cups. If there's too little, the cake won't be as moist and if there's too much, the cake could turn mushy. If you're just short, supplement with some unsweetened applesauce.
Natural SunButter – This is the secret ingredient that makes this cake so rich and moist! Natural SunButter not only adds a slightly roasted flavor, but it also acts as a glue that binds everything together. It creates a really tight crumb while keeping the cake incredibly moist. So make sure to use Natural as this has the perfect drippy consistency for this cake.
Mixing – Mix as much as needed for the wet ingredients, but mix gently once the dry ingredients are added. If the batter is over worked, the cake can deflate in the center and turn out too dense and tough.
The batter should turn into a pudding-like consistency with tiny bits of banana throughout. If it looks like the photos below, then you're doing it right!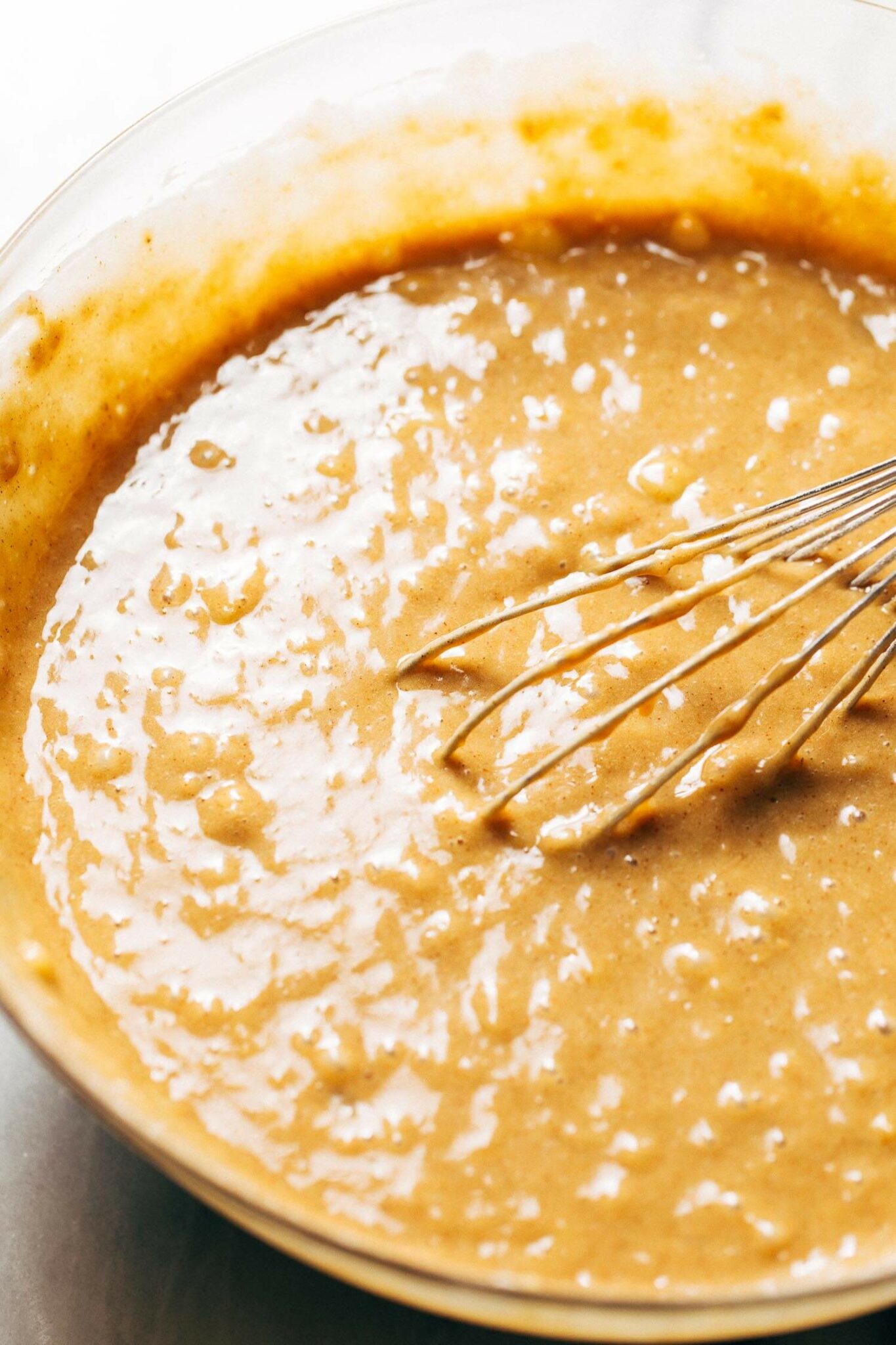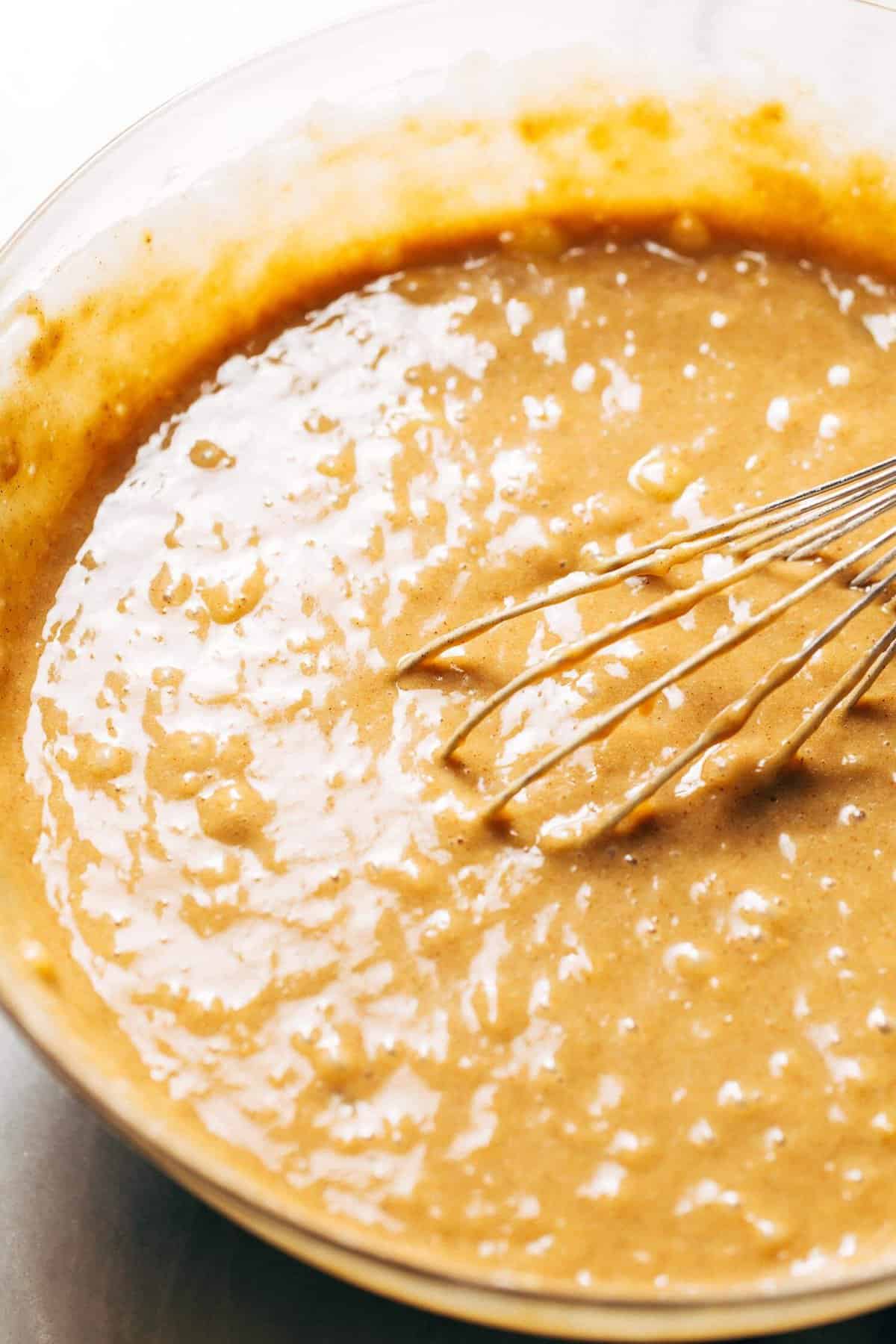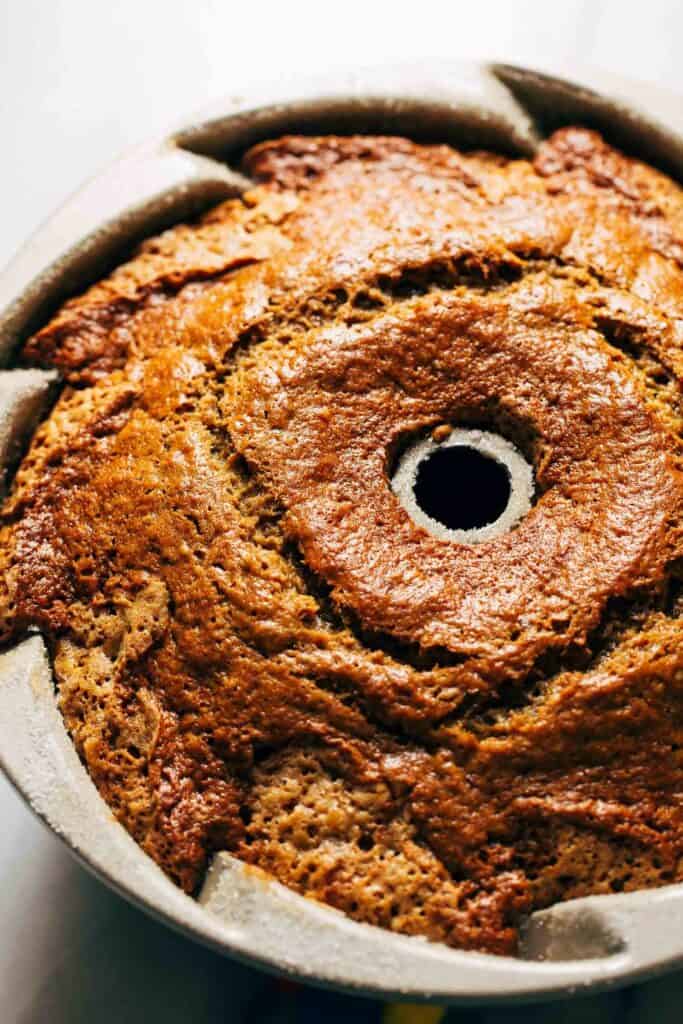 How to prevent your bundt cakes from sticking
Nothing is worse than going through all the steps of baking a bundt cake, only for it to completely stick to the pan. Although I have to admit that this hasn't happened to me in a very long time because I use a somewhat unusual method.
Instead of coating the pan in flour or baking spray, I use sugar! Here's how it works:
Step 1: Using your hands, rub the entire inside of the pan with softened butter. Make sure to get it into all the nooks and crannies. A pastry brush can be used for any of the tighter corners.
Step 2: Pour about 1/3 cup of sugar into the pan and rotate to coat the entire inside. Absolutely no bits of bundt pan should be showing through.
It seems like this wouldn't work…sugar is sticky when warm after all! The trick is to turn out the cake exactly 10 minutes after it's baked.
This allows just enough time for the cake to settle, while also leaving the sugar nice and hot. When it's at this temperature, the sugar is still liquid which creates a loose and fluid barrier between the cake and the pan.
The result – a bundt cake that will pop right out. And as an added bonus, this banana bundt cake is left with a delicious sugar crust around the outside with some crunchy bits at the bottom. Those are my favorite bites!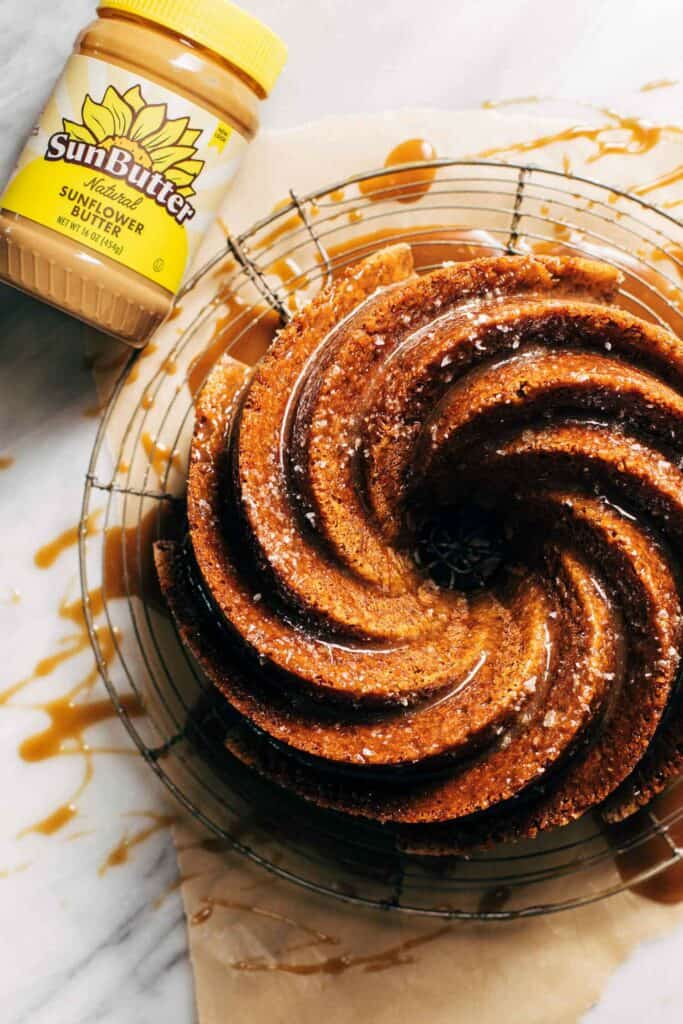 Easy sticky toffee sauce
Making caramel sauces can sometimes be tricky, but not this recipe. Using a few shortcuts, this sticky toffee sauce comes together in minutes and is SO easy to make! Here are the ingredients:
Pure Maple Syrup – This is one of the best shortcuts for making easy caramel or toffee sauce. Since this is sugar already in liquid form, there's no need to worry about crystallization. It's basically giving the sauce a head start!
Natural SunButter – This is the thickening agent that provides so much richness. I love using Natural SunButter when making sweet sauces because it's incredibly creamy so it blends seamlessly into the sauce. It also adds a toasted flavor that helps round out the sweetness.
Butter – This helps marry the syrup and SunButter together, while also allowing the sauce to thicken once cooled. It also creates a glossy sheen, making this banana bundt cake look as good as it tastes.
Vanilla and Salt – Once these three ingredients are melted down together, vanilla and salt are added to enhance the flavor even more. An entire tablespoon of vanilla is added to create a delicious toffee flavor and salt is used to balance everything out.
When the sauce is fresh, it will be very thin. For the right pourable consistency, refrigerate the sauce for about 30 minutes.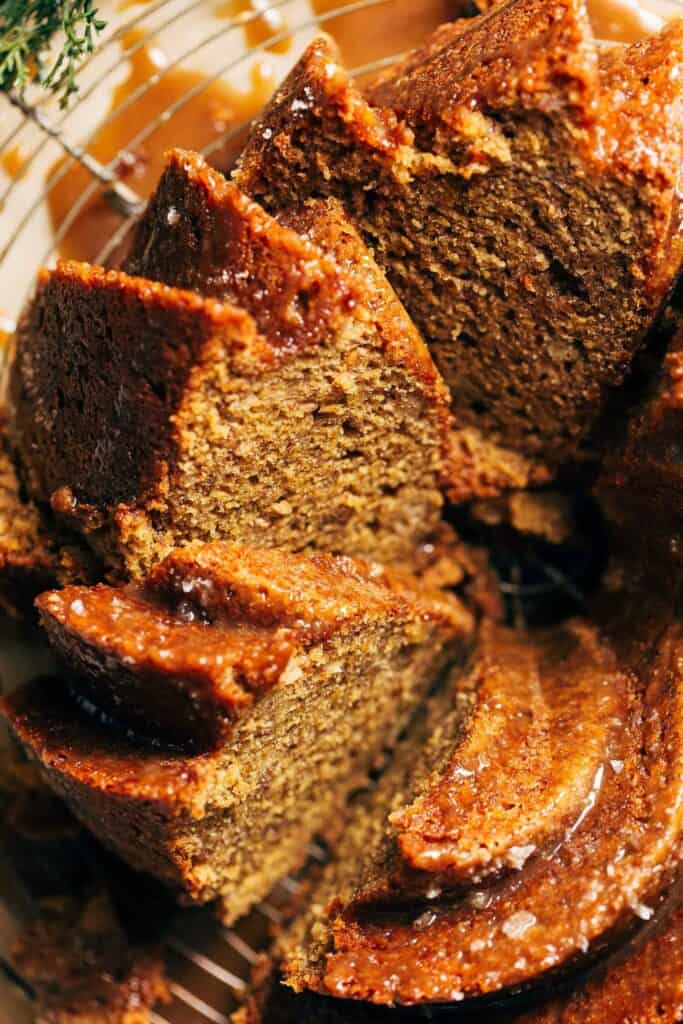 Banana Bundt Cake FAQs
Can this cake be made gluten free?
Yes! Thanks to the Natural SunButter, this extra emulsion really helps hold this cake together. This creates the perfect environment for gluten free flour as gluten free cakes tend to be more fragile. Simply swap the all purpose flour with a good cup for cup gluten free baking flour.
Can this cake be made dairy free?
Yes! Swap the sour cream with your favorite plant milk and the butter in the sauce with either vegan butter or coconut cream. For coating the bundt pan, I suggest using vegan butter.
How do you store banana bundt cake?
Keep the cake in an airtight container at room temperature.
How long does this cake last?
If left at room temperature, it will stay moist for up to 4 days (I think it actually gets MORE moist as it sits) but it can also be stored in the refrigerator for about a week.
How do I serve the cake if I make it a day ahead?
To make ahead, bake the cake and store it in the refrigerator without the toffee sauce. The sauce can also be made a day ahead and kept in the refrigerator. When you're ready to serve, microwave the sauce for 10-20 seconds to loosen it up and then pour over the cake.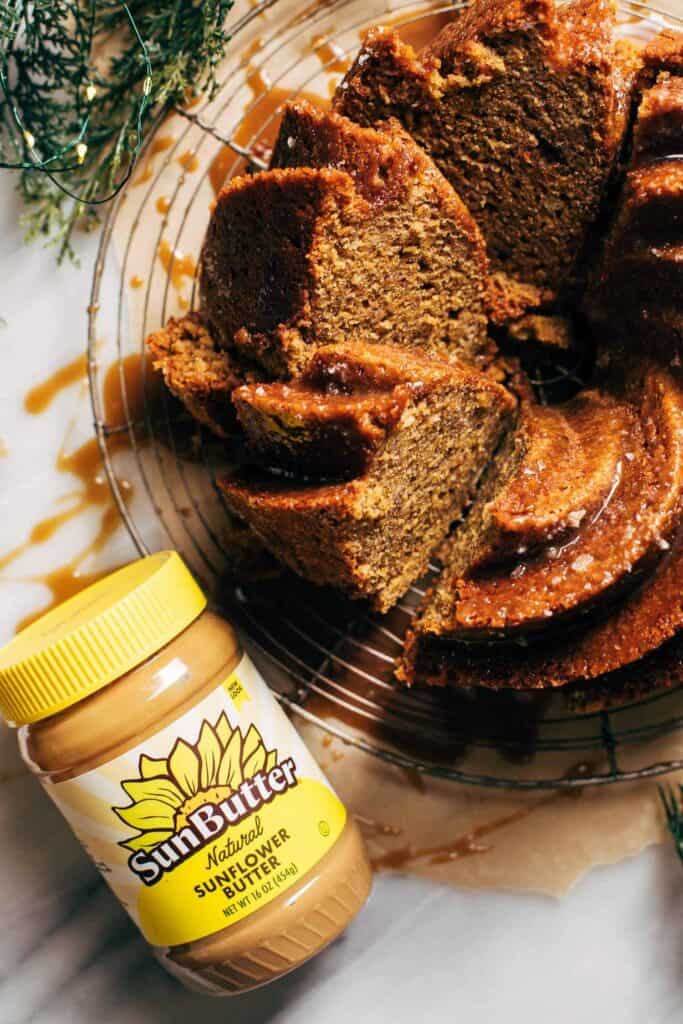 For more bundt cake recipes, check out my:
Make sure to tag me @butternutbakery on Instagram and comment below if you make this sticky toffee banana bundt cake. To pin this recipe and save it for later, you can use the button on the recipe card or on any of the photos above. Happy baking!
Print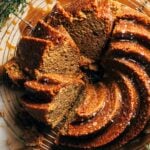 Sticky Toffee Banana Bundt Cake
---
Description
This banana bundt cake is SO moist and drenched in a sticky toffee sauce. With a hint of cinnamon and a pinch of sea salt, this banana cake is well balanced and the perfect warm and cozy dessert for the Holidays.
---
Banana Bundt Cake
1 1/2 cups (380g) mashed ripe banana (3–4 medium bananas)
1 cup (200g) light brown sugar, packed
1/2 cup (100g) granulated sugar
1/2 cup (108g) vegetable oil
1/2 cup (120g) sour cream
1/2 cup (125g) Natural SunButter
3 large eggs, room temp
2 tsp vanilla extract
2 cups (265g) all purpose flour (GF also works)
2 tsp ground cinnamon
1 tsp baking soda
1 tsp baking powder
1/2 tsp kosher salt
Softened butter + 1/4 cup sugar for coating the pan
Sticky Toffee Sauce
1/2 cup (160g) pure maple syrup
1/4 cup (60g) Natural SunButter
1/4 cup (55g) unsalted butter
1 tbsp vanilla extract
Pinch of kosher salt
---
Instructions
Banana Bundt Cake
Preheat the oven to 325F and prep a 10 or 12 cup bundt pan. Rub the entire inside with softened butter (making sure to get into all the nooks and crannies) and completely coat with granulated sugar. Set aside.
In a medium bowl, whisk together the flour, cinnamon, baking soda, baking powder, and salt. Set aside.
In a large mixing bowl, whisk together the sugars and oil, followed by the sour cream, Natural SunButter, eggs, and vanilla.
Once combined, whisk in the banana.
Add in the dry ingredients and whisk until smooth.
Pour the batter into the prepared bundt pan and bake for 1 hour or until a toothpick comes out clean.
Sticky Toffee Sauce
While the cake bakes, start on the sauce.
In a saucepan over medium heat, melt down the maple syrup, Natural SunButter, and butter.
Once melted and combined, turn off the heat and mix in the vanilla and salt.
Pour into a measuring glass or anything with a pourable spout. Place the sauce into the refrigerator to allow to thicken. Stir it every so often to ensure an even chill.
When the cake is done, remove it from the oven and set a timer for 10 minutes.
After the 10 minutes, remove the cake from the pan. This is just enough time for the cake to cool, but the sugar coating still remains warm and liquid which allows the cake to pop right out.
Let the cake cool for another 15-20 minutes, then pour over the sticky toffee sauce. Sprinkle with flaky sea salt, if desired, and enjoy!
Equipment
Prep Time: 30 minutes
Cooling Time: 30 minutes
Cook Time: 1 hour
Category: Dessert
Method: Baking
Cuisine: American
Keywords: banana bundt cake, banana bundt cake recipe, banana cake, banana cake recipe, caramel banana cake, toffee cake
Recipe Card powered by