These butter pecan cookies are the definition of warm and cozy. Baked with brown butter, these cookies have a rich flavor and texture. Each are filled with savory pecans, melty dark chocolate, and topped off with a sprinkle of sea salt. They're crispy and chewy on the outside and melty and gooey on the inside, making them the PERFECT pecan chocolate chip cookie.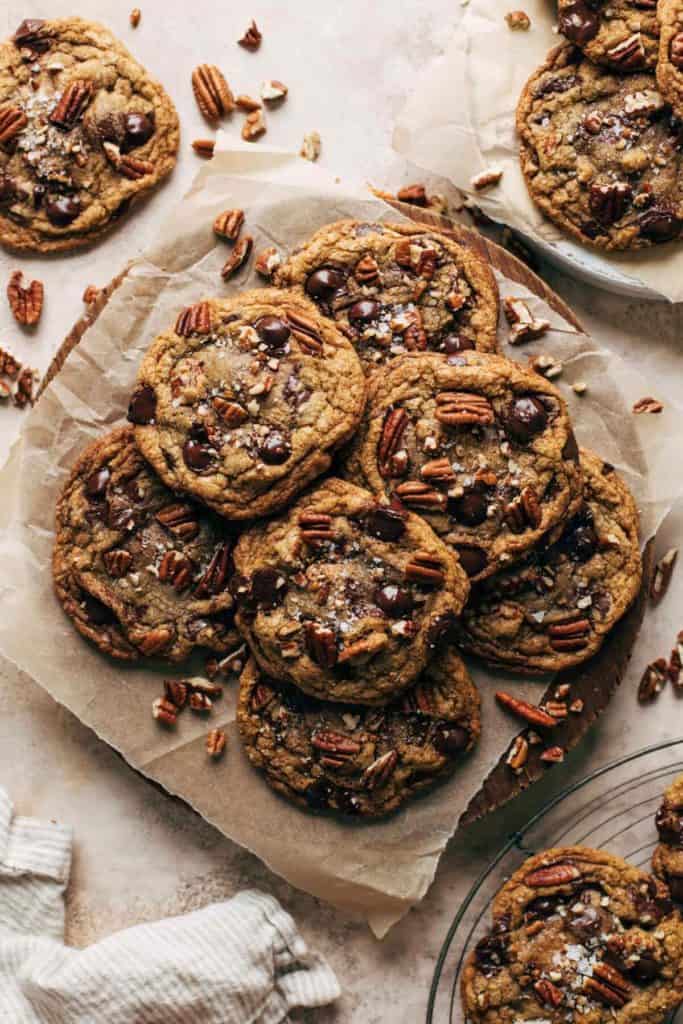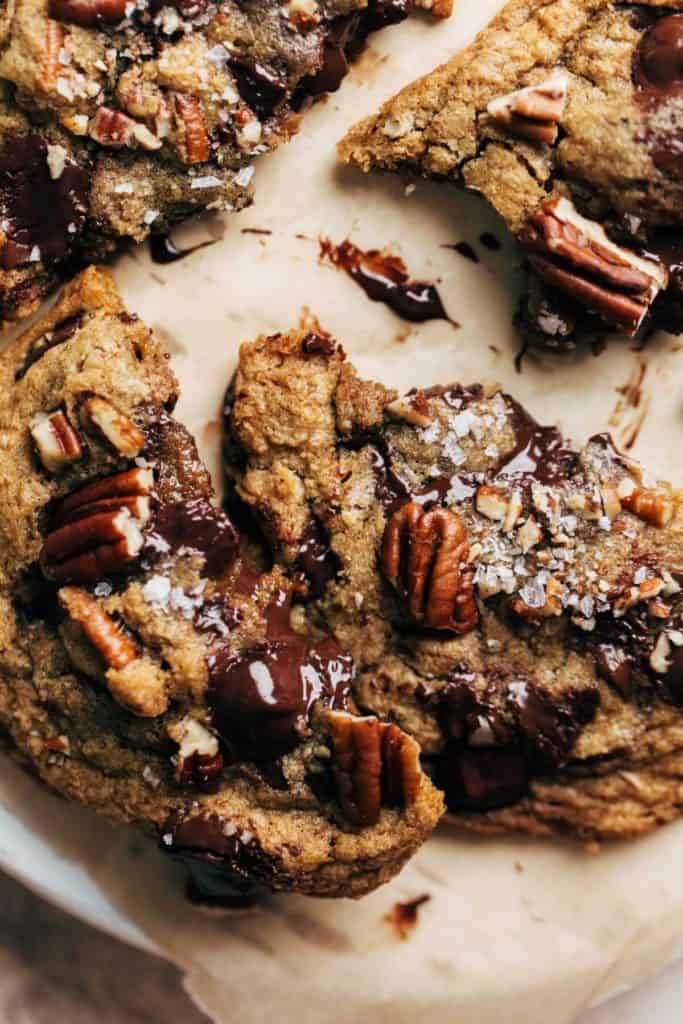 What makes these butter pecan cookies so good?
These might just be my new favorite chocolate chip cookie, and that's not an exaggeration. This recipe is PERFECT all around. Here are just a few reasons why I love it so much:
The cookies have that ideal cookie texture with those chewy and crisp edges and gooey and soft center, and each bite just melts in your mouth.
They have a rich depth of flavor, consisting of warm and nutty brown butter, rich dark brown sugar which is enhanced by a touch of extra molasses, sweet cinnamon, savory pecans, and deep dark chocolate.
In order to get a really flavorful cookie, the dough typically has to chill for hours or even overnight. But this dough only has to chill for 30 minutes and yet the cookies are still bursting with flavor.
The last little cherry on top is the sprinkling of sea salt on these warm cookies. It rounds out the flavors and transforms these into gourmet chocolate chip cookies.
How to brown butter
The star of the show here is the brown butter. It enhances the flavor of the butter, transforming it into liquid gold. It's rich, nutty, and takes these cookies to the next level.
The process of browning butter is very simple, but there are a few things to keep in mind as you cook down the butter. I made an entire post about the process of browning butter because I add it to so many of my recipes. So if this is a completely new process to you, I highly recommend looking through that post before browning the butter for this recipe.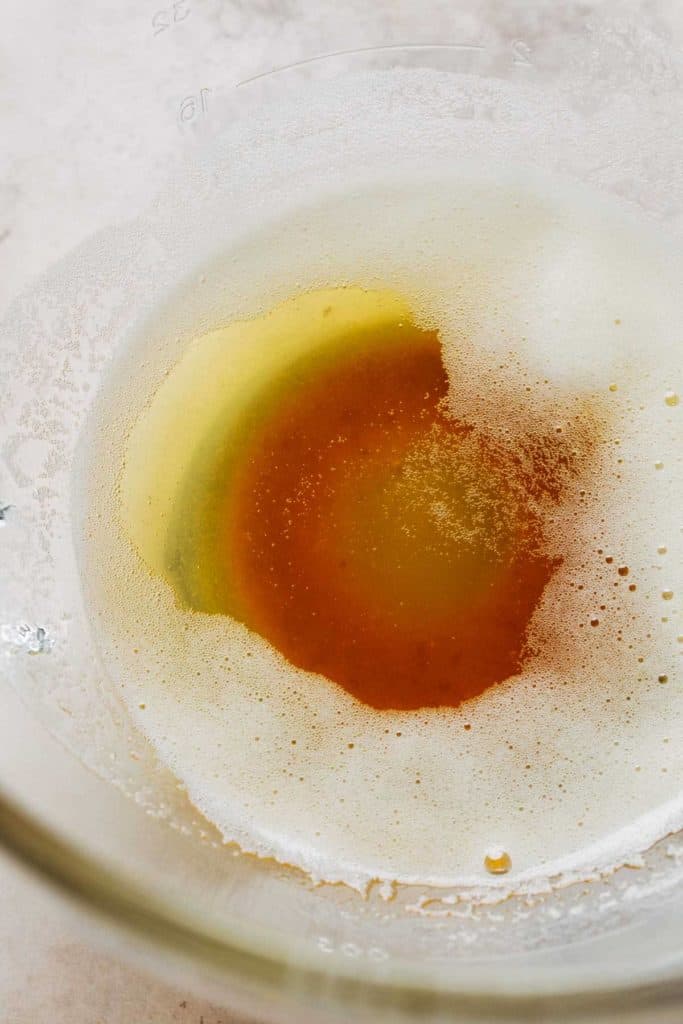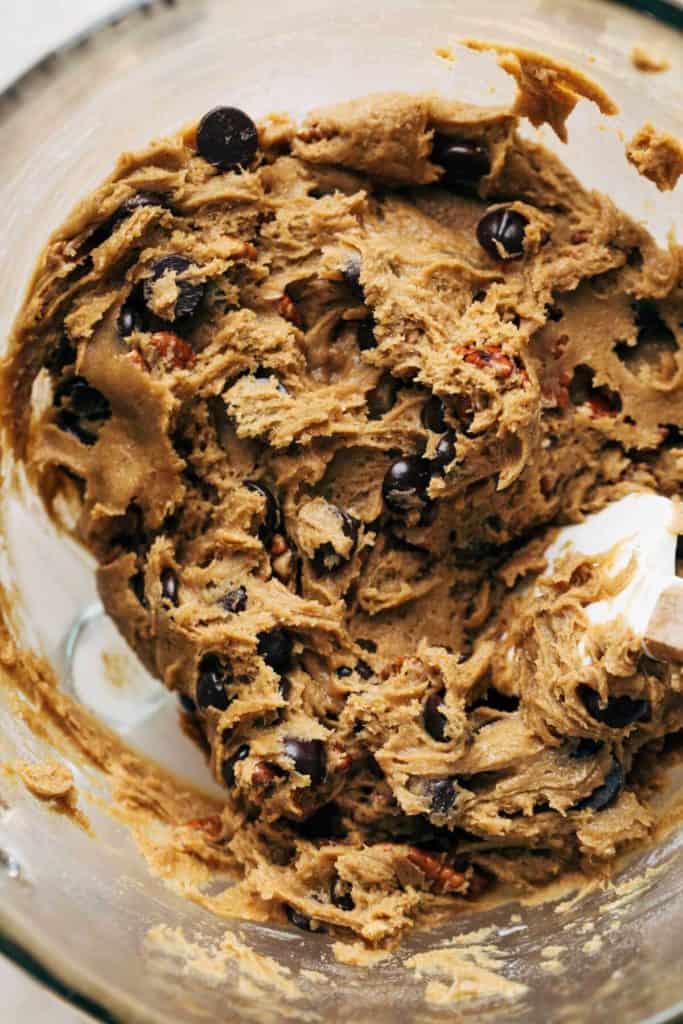 Tips for baking perfect pecan chocolate chip cookies
Although cookies are very easy to make, there can often be variability in the outcome. To ensure your cookies turn out perfect the first time and every batch after, here are a few things to keep in mind:
I sound like a broken record at this point, but always measure your flour properly! If you can, measure the flour with a food scale. Otherwise, to ensure you use the exact amount needed, gently spoon the flour into your measuring cup and level if off with a flat edge. If you scoop directly into the flour container, it packs it down into the cup which could leave you with 1/4 cup or more of added flour. And if you use too much flour, the cookies will not spread properly.
Don't skip the dark brown sugar or molasses. These two ingredients give these cookies a unique richness that pairs so nicely with the bitter dark chocolate and savory pecans.
Make sure the brown butter is close to room temperature before use. If the brown butter is too warm, your cookie dough will turn out too thin and sticky.
Use a large 2oz cookie scoop to scoop the cookie dough. This will give you that perfect crisp outside and soft inside. Go the extra mile and top the cookie dough with extra chocolate chips and pecans. This not only makes them look magazine worthy, but it also adds a bit more texture to these cookies.
The dough must chill for at least 30 minutes before baking. When it's ready, the cookie dough should be firm but not rock hard.
When they're chilled and ready to go, only bake 5-6 cookies at a time as they will spread quite a bit. To get that perfect texture, pull the cookies out of the oven when they're golden on the outside and pale, puffed, and slightly underdone on the inside. The cookies will darken and flatten as they cool.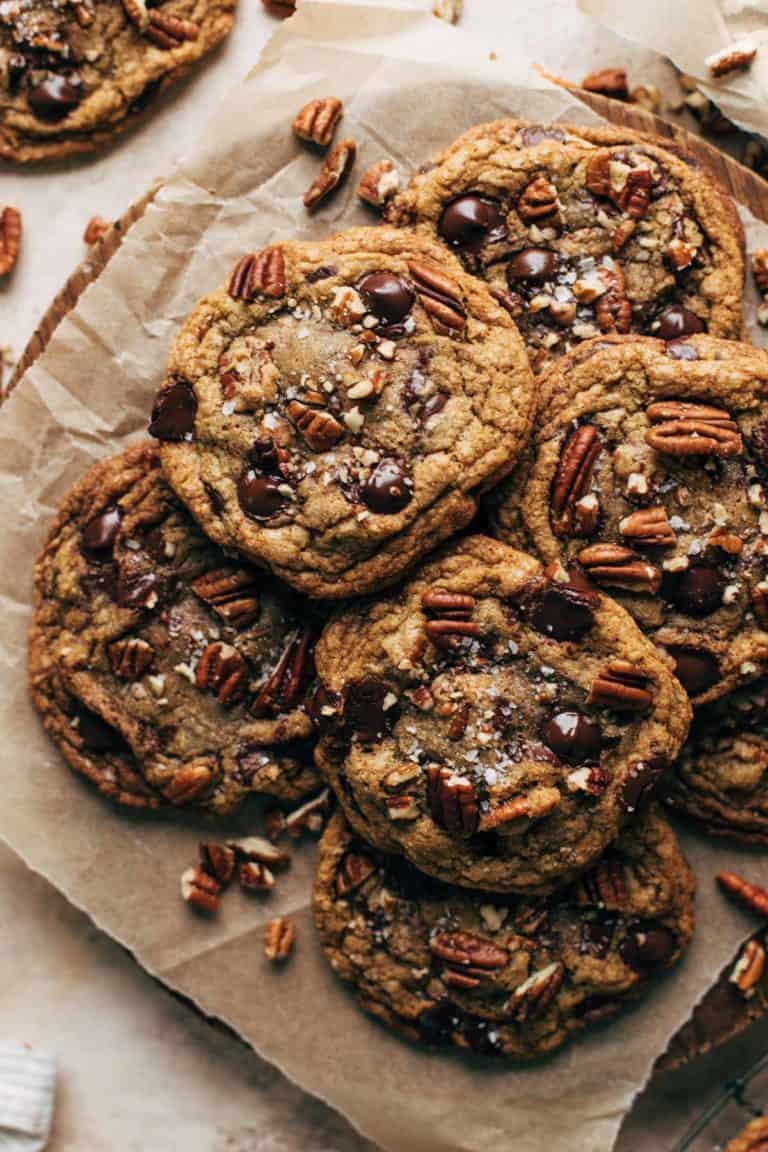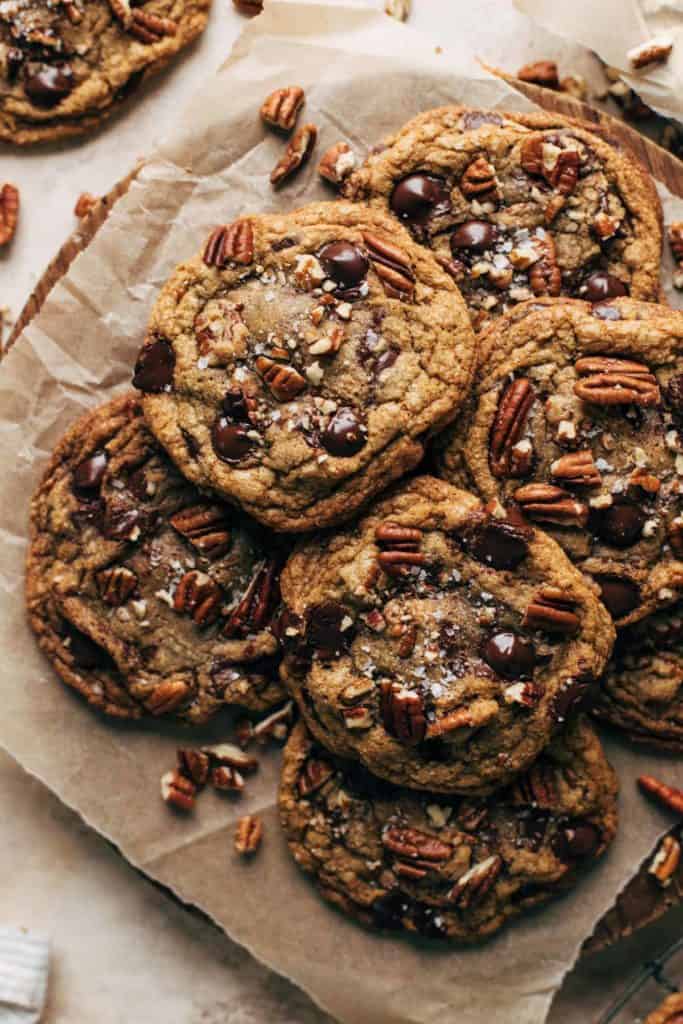 Troubleshooting your cookies
Right when you've finished making the dough, inspect the consistency. Is it sticky but thick? Or is it a bit too thin and gooey? You want the dough to be sticky, but it should still hold its shape when scooped. If the dough is too thin, chances are the butter was still too hot when you began mixing.
To fix this, place the bowl uncovered in the refrigerator for about 30 minutes. Then check on it to see if you've reached that scoopable consistency. If it's still too thin, chill for another 30 minutes. Note that you will still have to chill for the additional 30 minutes after the cookie dough is scooped.
If you scoop the dough when it's too thin, a few things will happen. One, the cookie dough balls will melt into each other as they're scooped. Two, the scooped dough will need longer than the allotted 30 minutes to chill. Three, you may not know it will need longer to chill, so the cookies will be placed into the oven too fast and they will spread way too much. So to ensure you get the right cookie, keep a close eye on your final dough.
Can I chill the cookie dough overnight?
Yes, just make sure to scoop before chilling. The cookies should bake exactly the same whether they've chilled for 30 minutes or overnight. But if you want to chill them for longer than 1 day, wrap the dough to prevent the cookie dough balls from drying out.
Can I freeze the dough?
Yes, once the dough has been scooped and chilled for 30 minutes, drop the cookie dough balls into a freezer safe bag. The dough can freeze for up to 1 month. To bake, remove however many cookies you would like to bake and let them sit at room temperature for about 30 minutes before baking. They may also need a couple extra minutes in the oven.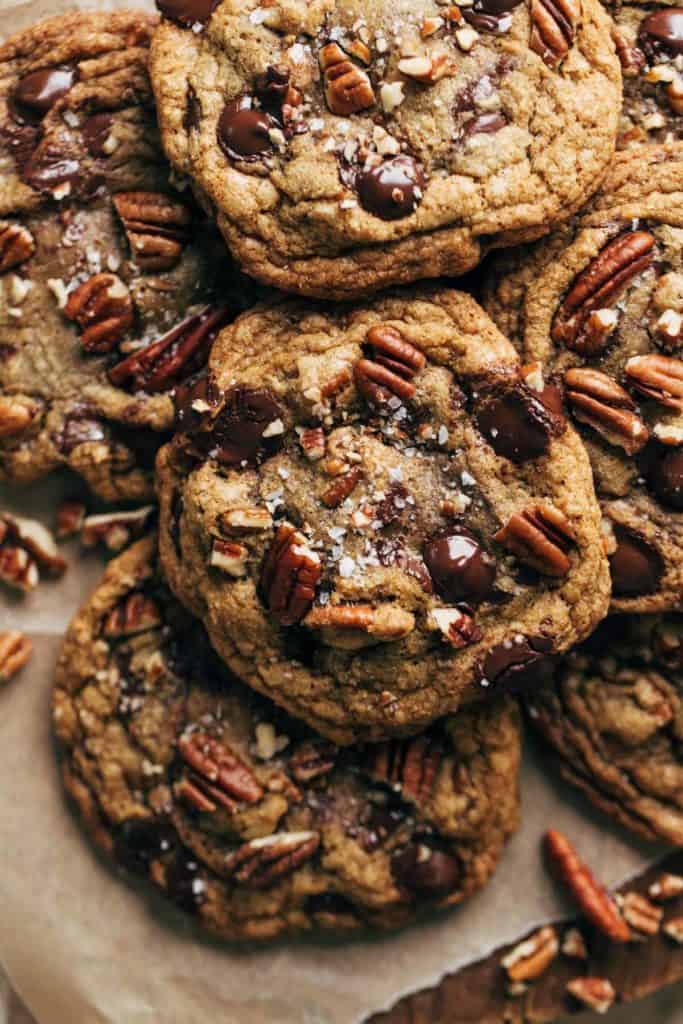 For more delicious cookie recipes, check out my:
Make sure to tag me @butternutbakery on Instagram and comment below if you make these Butter Pecan Cookies. To pin this recipe and save it for later, you can use the button on the recipe card or on any of the photos above. Happy baking!
Watch how to make these butter pecan chocolate chip cookies:
Print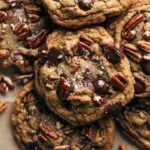 Butter Pecan Chocolate Chip Cookies
---
Description
These ooey gooey chocolate chip cookies are baked with savory pecans, rich dark chocolate, and nutty brown butter. The outside is golden and crispy and the inside remains soft and melty.
---
1 cup (220g) unsalted butter
2 cups (265g) all purpose flour
1 tsp baking soda
1 tsp salt
1/2 tsp cinnamon
1 cup (200g) dark brown sugar, packed
1/2 cup (100g) granulated sugar
1 tbsp molasses
2 large eggs
2 tsp vanilla extract
1 1/2 cups dark chocolate (chips or chopped) + more for topping
1 cup pecan halves, roughly chopped + more for topping
---
Instructions
First, brown the butter. Add the 1 cup of butter to a saucepan over medium heat. Melt and continue to stir until it turns a rich amber color and gives off a nutty scent. Click here for more details on how to brown butter. 
Pour into a large mixing bowl (making sure to scrape in the browned bits at the bottom of the pot) and set aside to cool. 
In a smaller bowl, whisk together the flour, baking soda, salt, and cinnamon. Set aside.
Once the brown butter is no longer hot, add the brown sugar, sugar, and molasses to the bowl. Whisk to combine. You can either do so by hand or with an electric mixer. It should resemble the texture of a slushie.
Whisk in the eggs and vanilla until fully combined. 
Pour in all of the dry ingredients and mix to incorporate. Switch to a rubber spatula to fold in the ingredients once the dough starts to thicken. 
Fold in the dark chocolate and pecans. At this point, the dough should be sticky and able to hold its shape when scooped. If it's too thin, place it in the refrigerator uncovered for about 30 minutes to cool. 
But if it's already at the right consistency, scoop out the cookie dough using a large 2oz scoop or 1/4 measuring cup. Place the scoops side by side on a plate or small baking sheet lined with wax or parchment paper. 
Place extra chocolate chips and pecans on top of each cookie and chill for at least 30 minutes, but they can also be left overnight. 
When ready, place 5-6 large cookies on a large baking sheet lined with parchment paper and bake at 350F for 13-15 minutes. If your cookies are smaller than 2oz, bake for 10-12 minutes. The cookies are ready when the edges are golden and the middle looks puffed, pale, and a bit underdone. 
When they're hot from the oven, sprinkle the tops with a bit of sea salt and transfer to a cooling rack. If the cookies are too soft to move, let them sit on the cookie sheet for about 5 minutes and then try again. 
Bake the remaining cookie dough and dig in!
Prep Time: 45 minutes
Cook Time: 15 minutes
Keywords: butter pecan, butter pecan cookies, brown butter cookies, chocolate chip cookies, pecan chocolate chip cookies
Recipe Card powered by