This is definitely the BEST healthy pumpkin bread. Made with natural ingredients, this recipe is completely gluten free, dairy free, and naturally sweetened with the option to also make it vegan. Both ways are equally delicious! This extra moist pumpkin bread is also topped with a cashew maple frosting which takes it over the top, making it impossible to ever think this could be a healthy recipe.
This post is sponsored by Bob's Red Mill but all thoughts and opinions are my own. Thank you for supporting the brands that make Butternut Bakery possible!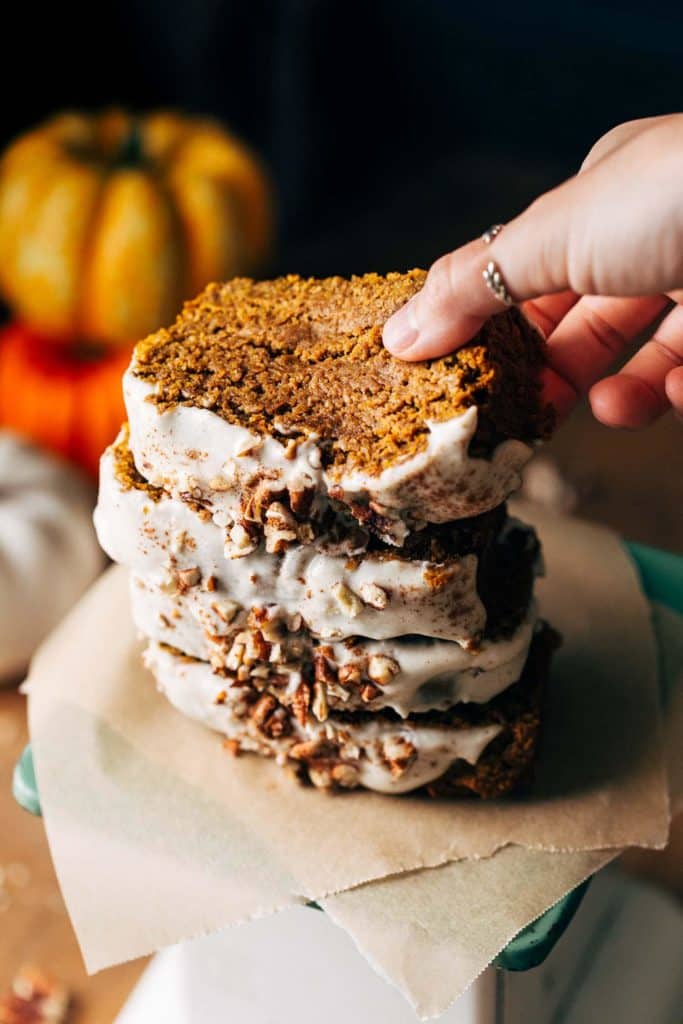 What makes this a healthy pumpkin bread recipe?
Don't get me wrong, I love a good sugar, butter, and flour filled pumpkin bread (check out my original pumpkin bread recipe if that's more your thing) BUT sometimes I want some pumpkin bread that I can just snack on without feeling that afternoon sugar crash. That's why this healthy pumpkin bread is made with fiber-filled ingredients that won't bring you any sugar highs or lows, but will most definitely satisfy that sweet tooth.
So what's the secret? Well there are a few key ingredients that help create the perfect moist pumpkin bread:
Bob's Red Mill Gluten Free Organic Quick Oats – To create a fully gluten free recipe without flour, I used Bob's Red Mill oats because they are certified gluten free AND organic. Many oats are processed in factories that also produce wheat products, thus causing cross contamination. But because Bob's Red Mill oats are CERTIFIED gluten free, you can rest assured that there is absolutely zero gluten in this recipe. Their gluten free quick oats are also organic, which is an added bonus in making a CLEAN pumpkin bread without any pesticides.
Coconut Sugar – This takes the place of traditional sugar as it's an unrefined option with a lower glycemic index. This means it will not spike blood sugar as much as traditional sugar, alleviating that dreaded sugar crash. It's also all natural as it's made from coconut palm sap.
Coconut Oil – Instead of using butter or canola oil, I opted for coconut oil for two main reasons. One, it helps make this pumpkin bread dairy free or vegan. Two, it's a much healthier option as opposed to highly processed oils like canola or vegetable. These types of oils are high in omega-6's which can promote inflammation. On the other hand, coconut oil has been shown to have anti-inflammatory properties which makes it a great healthy ingredient when baking. It also makes this pumpkin bread suuuuper moist without any coconut flavor!
Flax Eggs – If you choose to make this pumpkin bread vegan, it's very easy to swap the eggs with flax eggs. Flax eggs are a combination of ground flaxseed and water. As it sits, the flaxseeds gel into a gluey consistency very similar to eggs. This is also known as an emulsifier, as the flax helps to bind together the water-based and oil-based ingredients in this pumpkin bread. And honestly, I cannot tell a difference between the egg version and the flax egg version so it's all about your own preference!
Tips for making healthy pumpkin bread
This recipe is SO easy to make. I've also made it countless times and each batch always turns out the exact same. To ensure you have the same success rate, here's what you need to know:
Oat Flour – Using Bob's Red Mill Gluten Free Organic Quick Oats, grind the oats in a food processor to be as fine as possible. This will give you the best texture. You can also opt to use Bob's Red Mill Gluten Free Oat Flour if you don't have a food processor, but I find more uses for quick oats than I do oat flour so I like to just keep whole oats in my pantry! Whichever you choose, I highly recommend weighing the flour instead of measuring by cups as this will ensure you use the exact amount every time.
Ingredient Temperatures – Coconut oil will solidify if it comes in contact with chilled ingredients, so when you're mixing the batter make sure most of the ingredients are at room temperature. In other words, it's OK if the eggs and milk are chilled, but don't use chilled pumpkin as this makes up a majority of the wet ingredients.
Loaf Pan – Use a 1 pound aluminum loaf pan for the best results. A light aluminum pan will carry heat evenly throughout the loaf so it bakes evenly. I'd stay away from glass or ceramic pans as they may not yield the same result.
Cooling – Allow the pumpkin bread to cool until it's barely warm to the touch. First, this prevents the frosting from melting off the bread and second, the cooled pumpkin bread has a much more sturdy texture vs when it's warm from the oven.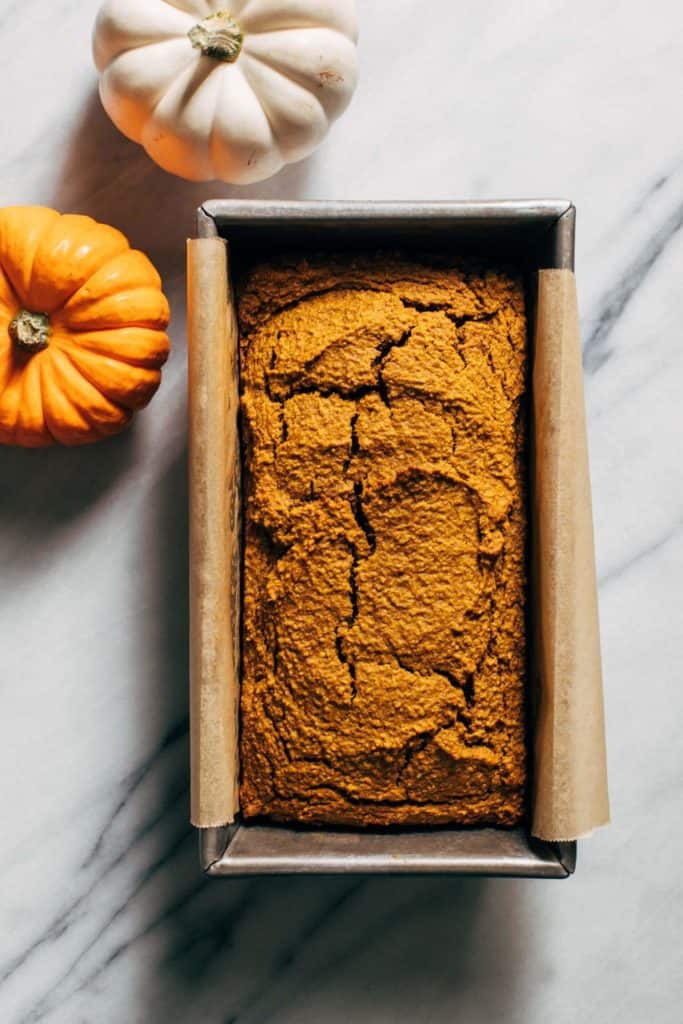 Different topping options – in case you don't have a blender!
I must say, this pumpkin bread definitely needs some sort of topping to help round out the flavors. Thats why I LOVE the cashew maple frosting! The only downside is that it requires a high speed blender. If you don't have one, here are some other topping options:
Cream Cheese Frosting – Combine 3/4 cup of vegan cream cheese with 2 tbsp of pure maple syrup and 1/4 tsp of cinnamon. Mix until smooth and spread it on top!
Yogurt Drizzle – Before baking, top the pumpkin bread with chopped pecans and a mixture of 1 tbsp raw sugar and 1/2 tsp cinnamon. Once it's baked and cooled, mix together 1/3 cup of vegan or regular vanilla yogurt with 1 tbsp maple syrup and 1/2 tsp cinnamon. Drizzle on top of the cooled pumpkin bread.
Almond Butter – Leave the pumpkin bread bare and spread almond butter on a slice. Then drizzle with honey and a sprinkle of cinnamon!
Pumpkin Pie Spice Alternatives
If you don't have pumpkin pie spice, you can also substitute 1/4 tsp of nutmeg, 1/4 tsp ginger, and 1/8 tsp allspice.
How to store healthy pumpkin bread
After the pumpkin bread is baked, cooled, and coated in frosting, store the pumpkin bread in an air tight container in the refrigerator. It will keep for up to 6 days.
I recommend warming up a slice whenever you want a snack, as the bread turns pretty firm once chilled (although I actually kind of like it chilled, but I also love cold leftover pizza). Microwave for about 10 seconds before eating!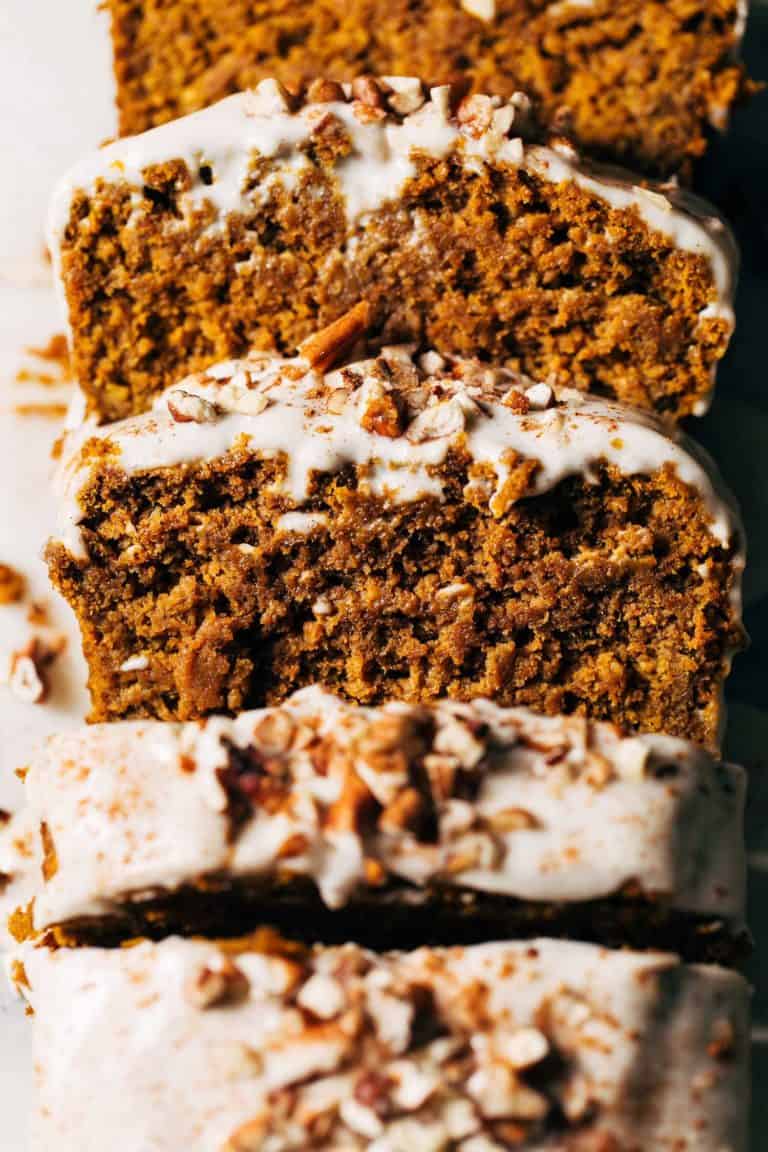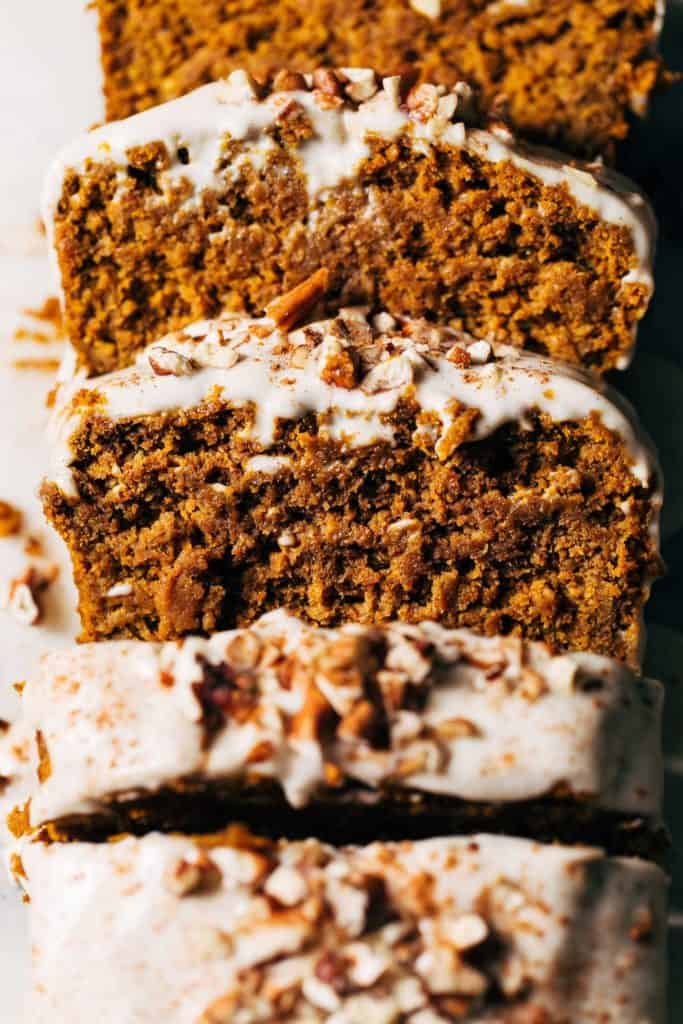 For more healthy dessert recipes, check out my:
Make sure to tag me @butternutbakery on Instagram and leave a review below if you make this healthy pumpkin bread recipe. To pin this recipe and save it for later, you can use the button on the recipe card, the buttons above or below this post, or on any of the photos above. Happy baking!
Print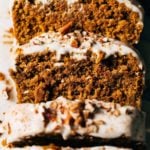 BEST Healthy Pumpkin Bread
---
Author: Jenna Barnard
Total Time: 1 hour 10 minutes + 30 minutes cooling
Yield: 8 slices
Description
This healthy pumpkin bread is made with natural ingredients and is completely gluten free, dairy free, and naturally sweetened with the option to also make it vegan. Both ways are equally delicious, especially with the sweet maple frosting on top. 
---
Healthy Pumpkin Bread
2 cups (230g) finely ground Bob's Red Mill Gluten Free Organic Quick Oats
1 tsp baking soda
1 1/2 tsp ground cinnamon
1/2 tsp pumpkin pie spice
1/4 tsp salt
1 1/2 cups (365g) pumpkin puree, NOT pumpkin pie filling
1/2 cup (93g) organic coconut oil, melted
3/4 cup (105g) organic coconut sugar
2 large eggs or 2 flax eggs*
1/4 cup (60ml) almond milk
1 tsp vanilla extract
Cashew Maple Frosting
3/4 cup raw unsalted cashews, soaked in water overnight
1/2 cup (110g) coconut cream**
2 tbsp pure maple syrup
1 tbsp almond milk
1/4 tsp cinnamon
---
Instructions
Healthy Pumpkin Bread
Preheat the oven to 350F and grease a 1 pound loaf pan with nonstick spray and line with parchment paper. Allow the paper to hang off the sides for easy removal. 
In a medium bowl, whisk together the ground oats, baking soda, cinnamon, pumpkin pie spice, and salt.
In a large mixing bowl, whisk together the pumpkin puree, coconut oil, coconut sugar, eggs or flax eggs, milk, and vanilla. 
Pour in the dry ingredients and mix to combine. The batter should be fairly thick. 
Scoop the batter into the prepared pan and spread it even. Bake for 50 minutes.
Allow the pumpkin bread to cool while we make the frosting.
Cashew Maple Frosting
**SEE POST FOR DIFFERENT TOPPING OPTIONS
Add all of the ingredients to a high speed blender and blend until completely smooth.
Scoop the frosting into a dish and chill in the refrigerator while the pumpkin bread continues to cool.
Once the pumpkin bread is no longer hot, but slightly warm to the touch, remove it from the pan and top with the frosting. Note that you may not need ALL the frosting, so I recommend storing the excess in the refrigerator or freezer and use it for your next batch of pumpkin bread!
Sprinkle with chopped pecans and cinnamon (optional) before digging in. Enjoy!
Equipment
Notes
FLAX EGGS – Mix together 2 tbsp ground flaxseed with 5 tbsp water. Let it sit for 10 minutes to gel before mixing it into the batter.
COCONUT CREAM – Coconut cream can either come from a can of coconut cream or a can of full fat coconut milk. Either way, make sure the can is chilled overnight along with the cashews. Then open the can and scoop out the thick cream from the top of the can. Do not mix, as the water settles to the bottom of the can and we do not want that in the frosting. 
STORAGE – Excess frosting; if you have leftover frosting, store it in an air tight container in the refrigerator where it will keep for up to 1 week. You can also keep it in the freezer for about a month. When you bake your next batch of pumpkin bread, simply warm the frosting up in the microwave until it's smooth and spreadable. Pumpkin bread; keep the pumpkin bread in an air tight container in the refrigerator where it will keep for up to 6 days. 
Prep Time: 20 minutes
Cook Time: 50 minutes
Keywords: healthy pumpkin bread, healthy pumpkin bread recipe, vegan pumpkin bread, gluten free pumpkin bread, oat flour pumpkin bread, dairy free pumpkin bread
Recipe Card powered by