If you're on the hunt for the BEST chocolate chip banana bread…then look no further. This one is so incredibly moist, flavorful, and loaded with chocolate chips. Forget about any other chocolate chip banana bread recipe because this is all you'll ever need!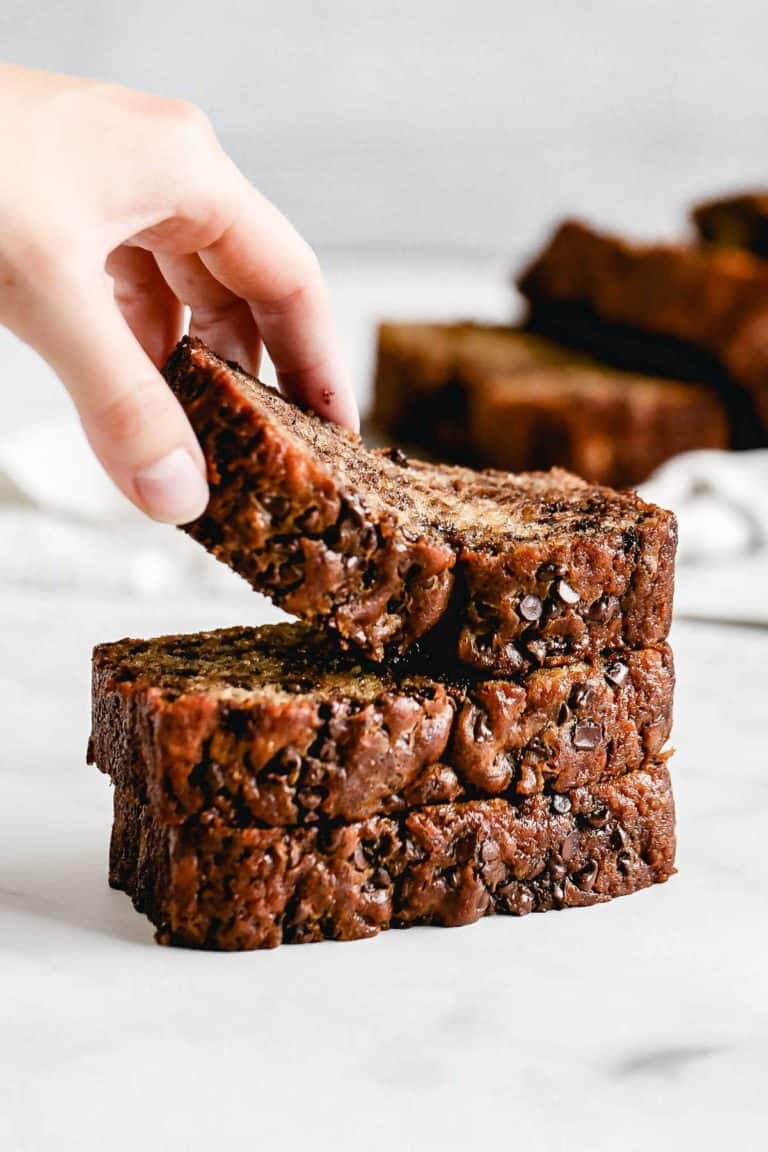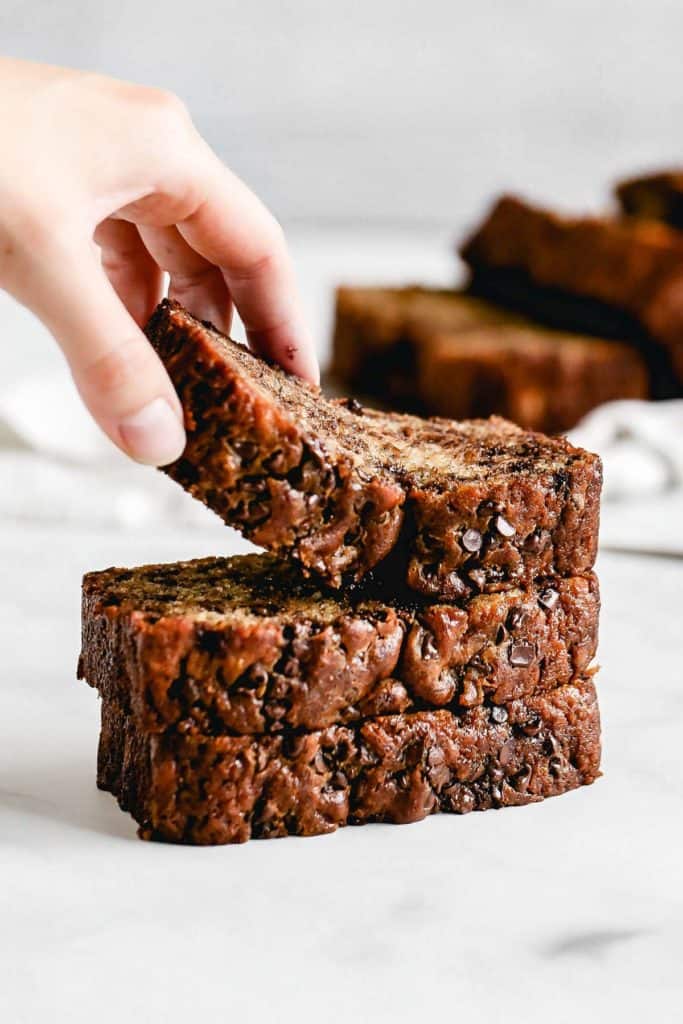 How to make the BEST chocolate chip banana bread
I know, we all hate the word moist but there's just no other word that better describes this banana bread. It's tough to even categorize this as "bread" because of how soft and lush it is. Especially with those mini chocolate chips sprinkled throughout.
To make this recipe, I essentially modified by pumpkin bread recipe because it's just so good. If it can make life-changing pumpkin bread, why can't it make life-changing chocolate chip banana bread? Hypothesis confirmed. It sure can.
There are a few things to keep in mind to ensure your bread turns out perfect:
MEASURE the bananas. I recommend about 3 medium bananas but you will still need to measure them out to make sure you have the right amount.
If you come up a bit short with your measurement, top it off with some applesauce.
Scoop and level your flour. By that I mean, spoon the flour into your measuring cup then level it off with a flat edge. This will ensure you don't use too much.
Fully cream together your butter and sugar. Really whisk together the two ingredients until you reach a thick paste-like consistency. You can either do this by hand or with a mixer.
To get the chips on top, sprinkle on an extra handful before baking.
Bake for 1 hour and check for doneness by inserting a toothpick in the center. If the center is still wet, bake in 5 minute intervals until done.
So that's that. These few simple tips will ensure your chocolate chip banana bread turns out soft and moist every time.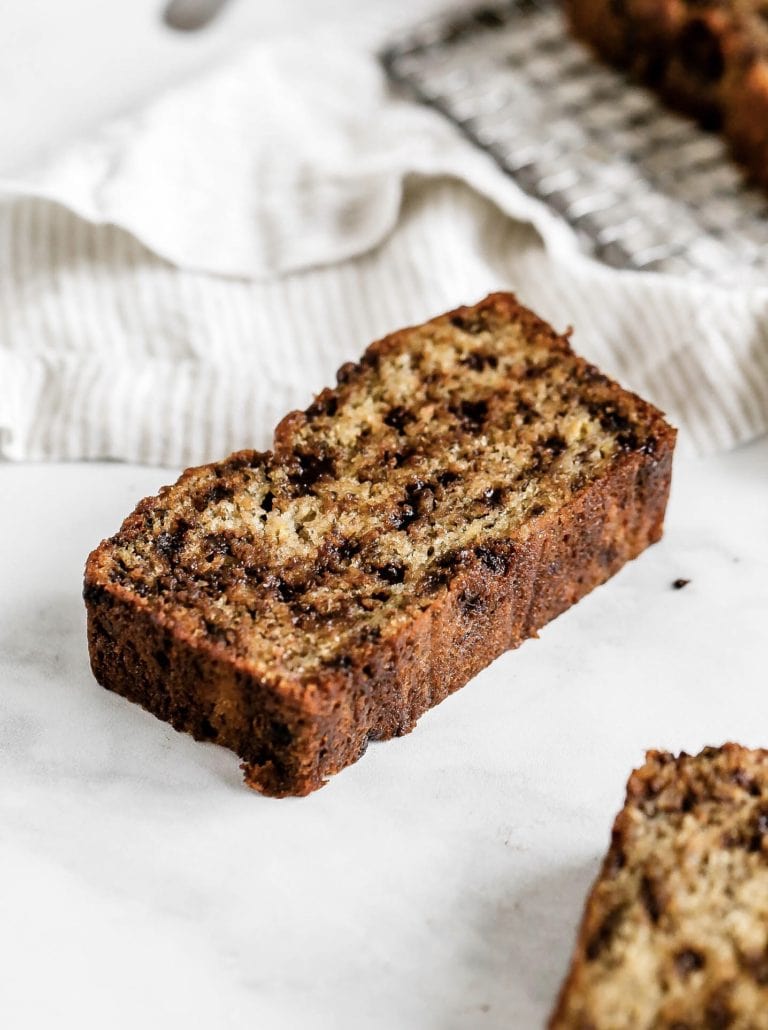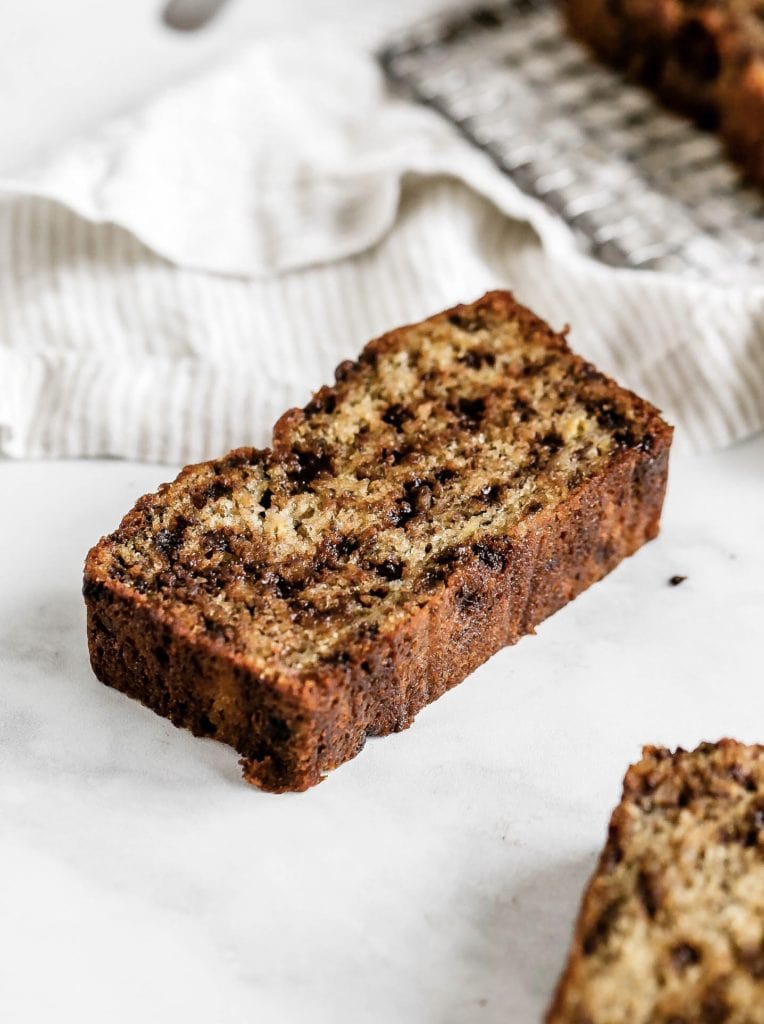 The secret to super moist banana bread
The "secret" to getting moist chocolate chip banana bread is really just a couple simple ingredients. The main two being melted butter and Greek yogurt.
Using melted butter, as opposed to room temperature, helps to soaks up all the flour which gives you that smooth texture. The Greek yogurt adds even MORE moisture while still providing structure. It's my secret ingredient in so many of my dessert recipes.
Another reason why Greek yogurt works so well here is because its flavor. Greek yogurt is slightly sour which helps to balance out the sweetness of the bananas, chocolate, and sugar.
It's also very thick and contains less water than regular yogurt. This is the reason why I love baking with it so much, it provides tons of moisture without thinning the batter too much.
But if you don't have Greek yogurt available near you, sour cream will also do the trick.
We can't forget about the bananas. You have to add just enough to get that strong flavor but too much can turn your banana bread into banana pudding (trust me, it's happened to me before). Getting the perfect balance of flour, butter, yogurt and banana is the key to getting deliciously moist chocolate chip banana bread.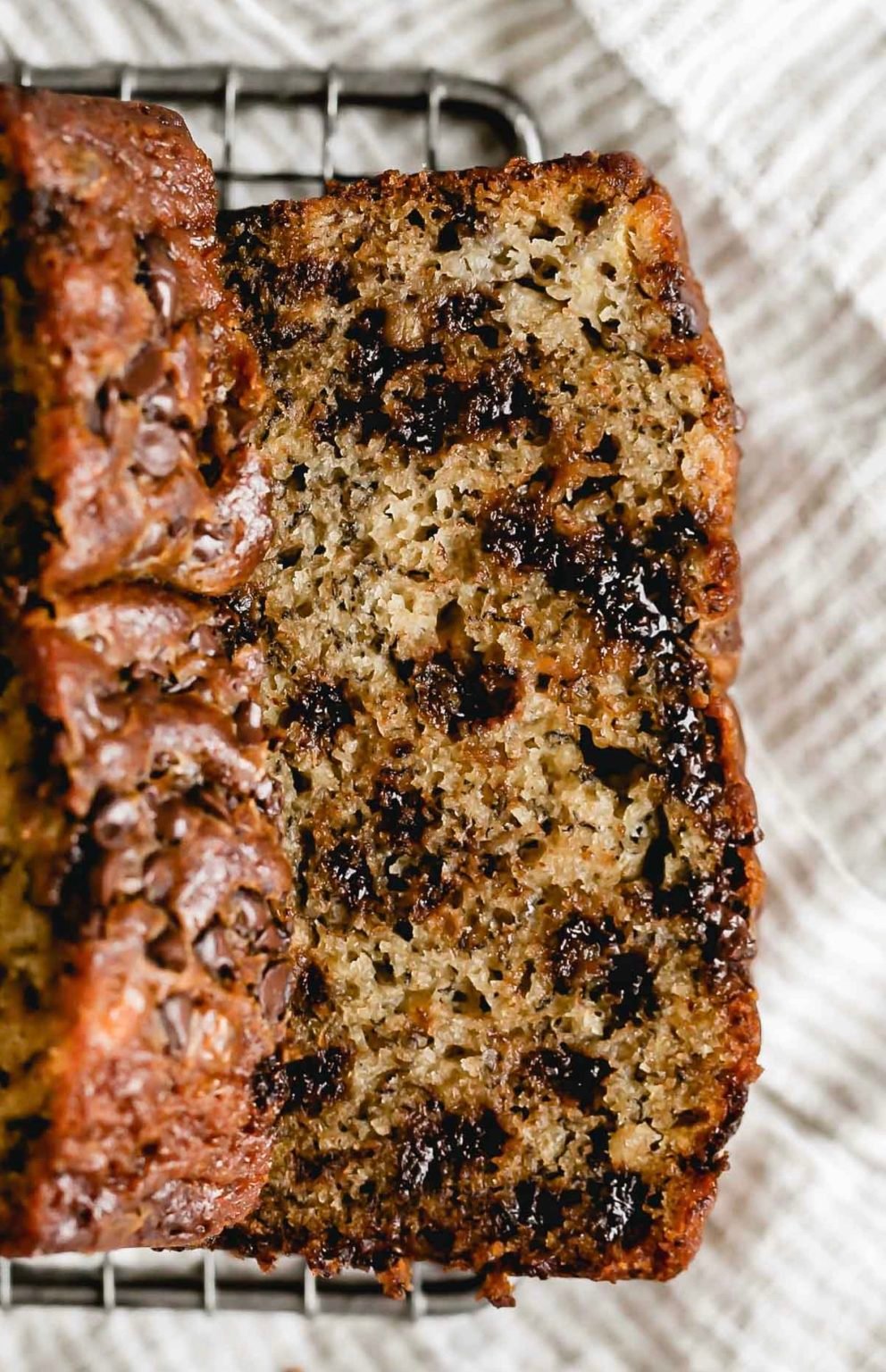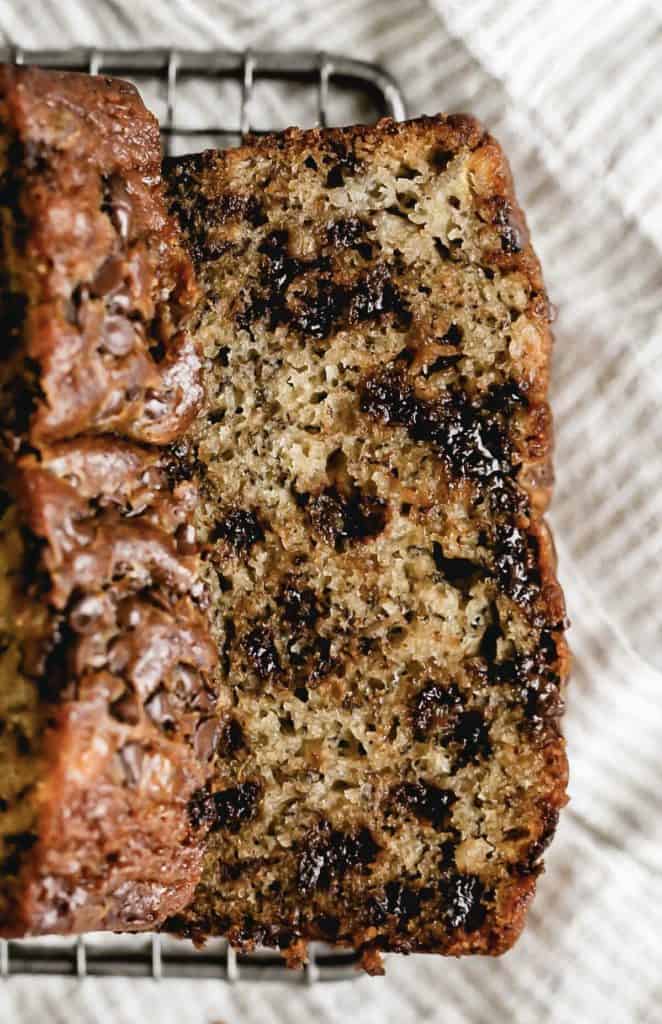 How to ripen bananas for chocolate chip banana bread
Don't have ripe bananas on hand? There are a few ways you can speed up the ripening process to make your bananas perfect for banana bread!
The night before, break apart your bananas and place them in a brown paper bag. It blocks just enough oxygen which allows the bananas to release a chemical called ethylene. This is what speeds up the ripening process.
Place them on a baking sheet and bake for 15-20 minutes at 300F. They're ready when they've turned COMPLETELY brown. Let them cool before using.
If you're in a pinch, you can microwave your bananas. Pierce the banana with a fork a few times and microwave it for 30 seconds – 1 minute.
Lastly, your best bet to find already ripe bananas is to look for single bananas at the grocery store. They usually keep a pile at the bottom of the banana display.
And there you have it! Ripe bananas that are going to make your chocolate chip banana bread extra delicious.
If you already have frozen ripe bananas, you can also use those. Just leave them out for about 30 minutes to 1 hour in order to thaw before using.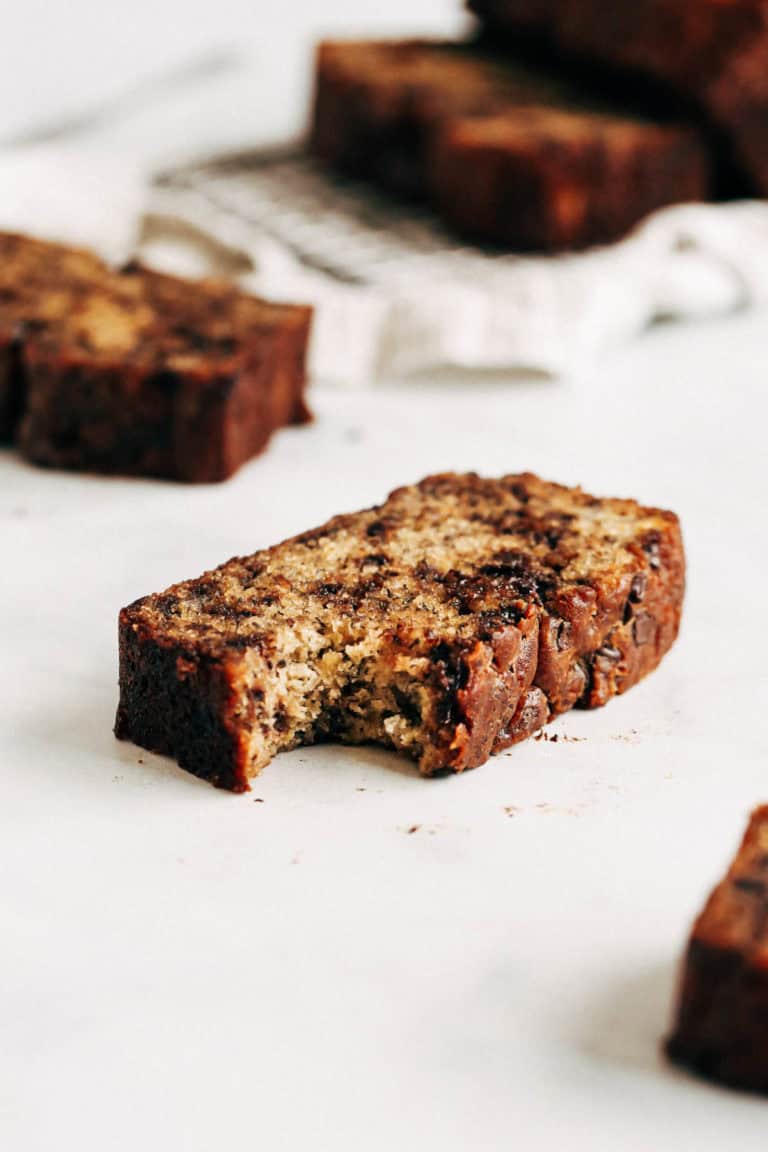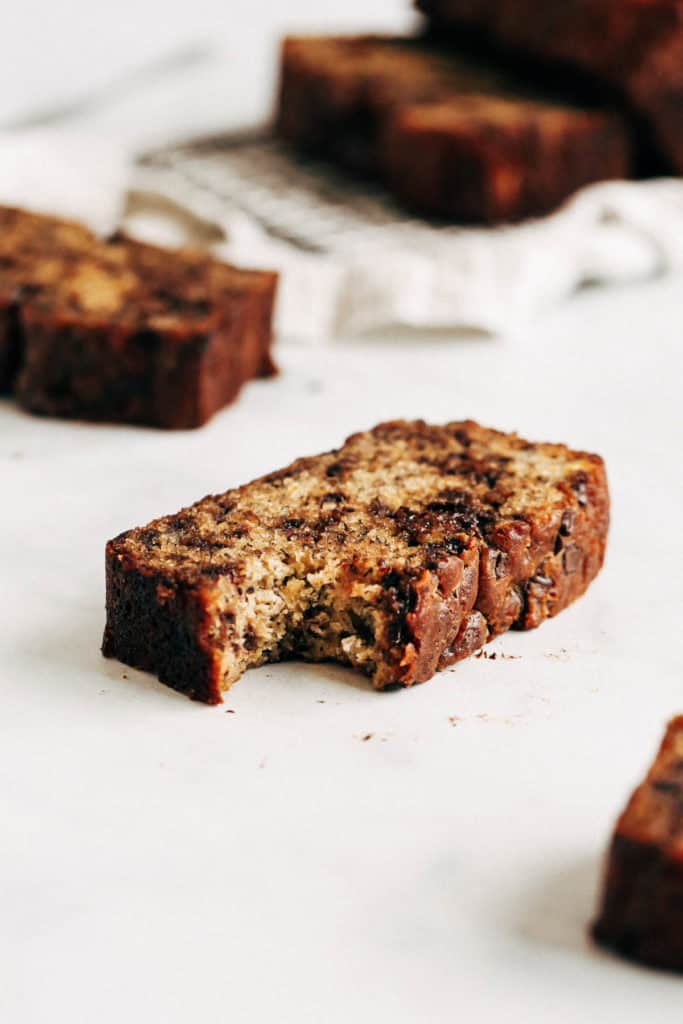 Chocolate Chip Banana Bread Recipe: Frequently Asked Questions
Can I make this banana bread gluten free?
I have not tested this specific recipe, but I have a delicious recipe for gluten free banana bread that's just as moist! Just add chocolate chips.
Can I use plain yogurt instead?
If you don't have Greek yogurt or sour cream, you can also use plain unsweetened yogurt.
Can I use less sugar in this recipe?
Sugar plays a big role in the moist texture of this bread. Adjusting it will likely change the banana bread. For a refined sugar free option, try swapping all of the sugar with coconut sugar.
Why did my banana bread sink in the middle?
This is likely due to two missteps: 1. You over mixed the batter. Over mixing develops the gluten strands in the flour, creating a more dense and heavy batter. Mix just until the ingredients are combined. This is why it's important to mix the batter by hand. 2. Your pan is too small. 9×5 loaf pans can vary in size, as mine is about 9.5x5x5 inches. If you have a smaller loaf pan, only fill the pan about 2/3 full. Any more than than and the center of the banana bread will have trouble baking all the way through.
Do I need to make this banana bread with chocolate chips?
If you just want plain banana bread, you can leave out the chocolate chips. Alternatively, you can add nuts instead.
For even more banana bread recipes, check out my:
Watch how to make chocolate chip banana bread here:
Make sure to tag me @butternutbakery on Instagram if you make this chocolate chip banana bread recipe. I love seeing my recipes come to life in YOUR kitchen! To pin this recipe and save it for later, you can use the button on the recipe card, the buttons above or below this post, or on any of the photos above. Happy baking!
Print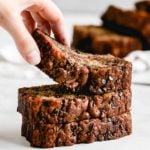 Chocolate Chip Banana Bread
---
Author: Jenna Barnard
Total Time: 1 hour 15 minutes
Yield: 1 loaf
Description
This is the BEST chocolate chip banana bread. It's incredibly moist, full of bananas, and loaded with chocolate chips.
---
Chocolate Chip Banana Bread
1 1/2 cups (380g) ripe and mashed banana (3-4 medium bananas), measured
1/2 cup (100g) packed light brown sugar
1/2 cup (100g) granulated sugar
1/2 cup (110g) unsalted butter, melted
2 large eggs
1 tsp vanilla extract
1/2 cup (130g) 2% Greek yogurt (sour cream also works)
1 1/3 cups (180g) all-purpose flour
1 tsp baking soda
1/2 tsp salt
3/4 cup (140g) mini chocolate chips + a handful more for sprinkling on top
---
Instructions
Chocolate Chip Banana Bread
Preheat your oven to 325F and grease and line a 9×5 loaf pan with parchment paper.
In a bowl, whisk together the flour, baking soda, and salt. Set aside.
In a separate bowl, mix together the melted butter and sugars until you reach a paste-like consistency. This may take some vigorous whisking for a minute or two. You can either use a whisk or an electric mixer with the paddle attachment.
Add in your mashed bananas followed by the eggs, yogurt, and vanilla.
Once all of your wet ingredients are mixed together, fold in the dry ingredients. Then, fold in the chocolate chips.
Pour the batter into your prepared loaf pan and spread it even. Sprinkle extra chocolate chips on top if you like.
Bake for 1 hour to 1 hour 15 minutes or until a toothpick comes out with a few moist crumbs. Let it cool completely before removing from the pan. Store at room temperature in an air-tight container.
Now dig in! Make sure to leave a comment below to let me know how it went!
Prep Time: 15 minutes
Cook Time: 1 hour
Category: Bread
Method: Baked
Cuisine: American
Keywords: banana bread, chocolate chip banana bread
Recipe Card powered by