I don't just throw around the word "best" just because. When I say this is one of the best cheesecakes I've ever had, I mean it! This salted caramel cheesecake has the silkiest and creamiest texture that is perfectly balanced with the salted caramel. It's both inside AND on top of this cheesecake. Oh, did I mention it has a gingersnap cookie crust?? Trust me, you definitely need to make this ASAP.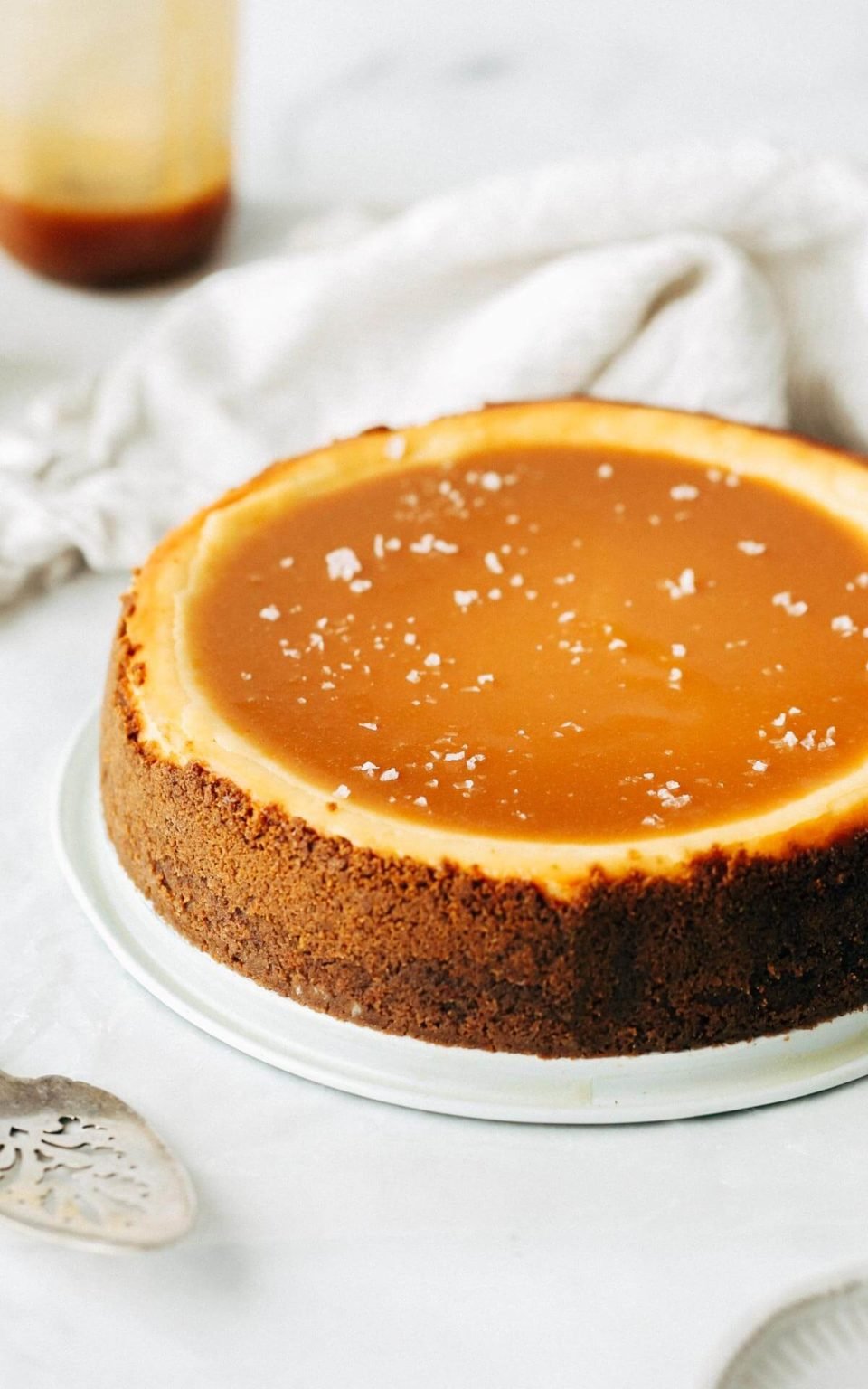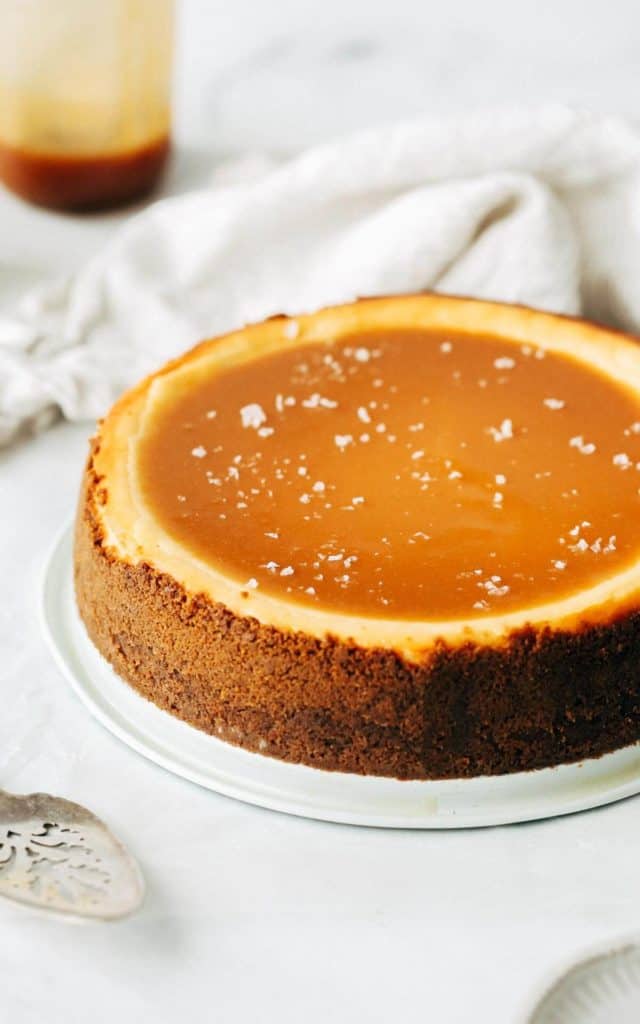 Yes, that's right. I'm not afraid to say that this is the best cheesecake recipe! I made the final version of this recipe for our Friendsgivingmas and I've never seen so many of my friends LOVE a dessert like they did this one.
How could they not? The texture is super creamy and the salted caramel on top makes sure the flavor isn't too sweet. And the secret to getting that creamy texture is the salted caramel baked into the cheesecake!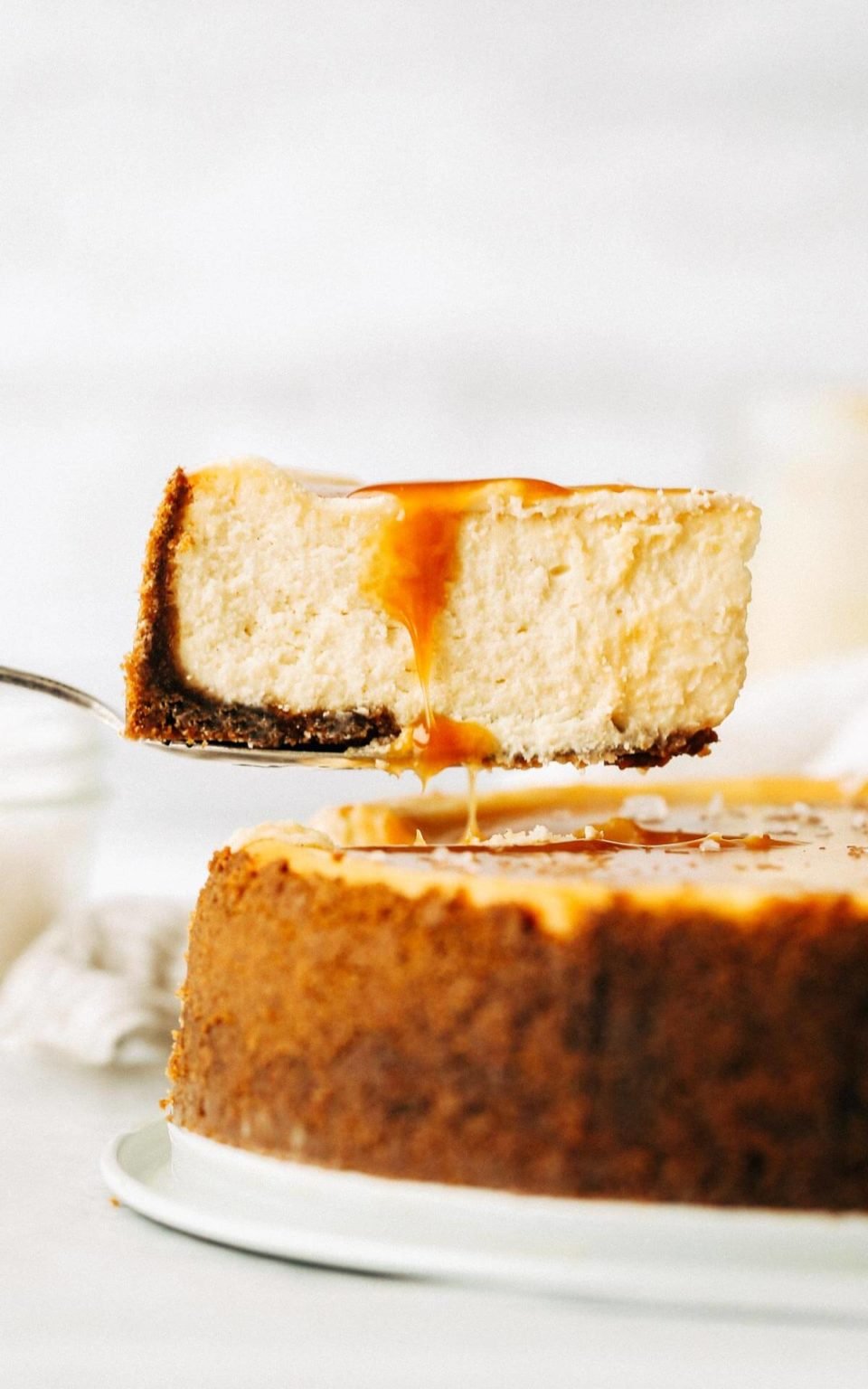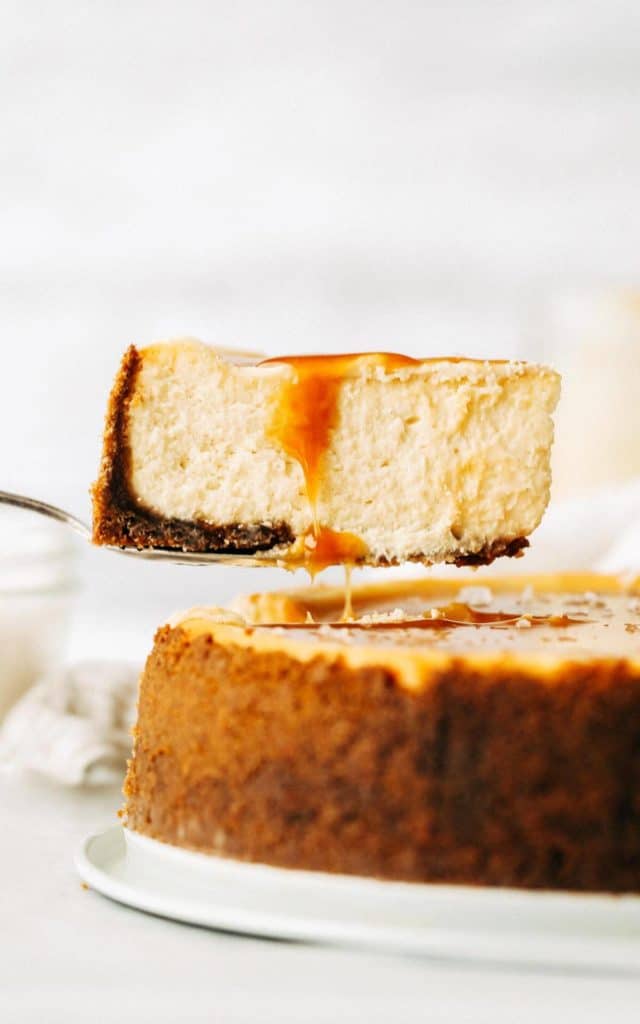 How to make this easy salted caramel sauce
We're already baking an entire cheesecake from scratch so I wanted to make this caramel sauce recipe as simple and as quick as possible. I've made this recipe over and over again for SO many desserts. It's perfect as a drizzle, filling, topping, or an ingredient all on it's own.
Start by melting the sugar in a medium saucepan. Make sure you're continually whisking it, even if it looks like nothing is happening. As it starts to melt, small clumps of sugar will start to form. This is why we keep whisking, so that those clumps don't get too big. If they do, they'll take longer to melt down which could lead to burnt caramel.
Once the sugar is melted, quickly whisk in the butter. Make sure it's at room temperature because if it's cold, the sugar will seize up, ruining your caramel.
When that's almost combined, pour in the heavy cream and whisk until smooth. It's also important to warm the cream before adding it to the caramel for the same reason as the butter.
Finish it off by mixing in the salt. The caramel will be very thin when it's piping hot but as it cools down, you get that perfect caramel sauce consistency.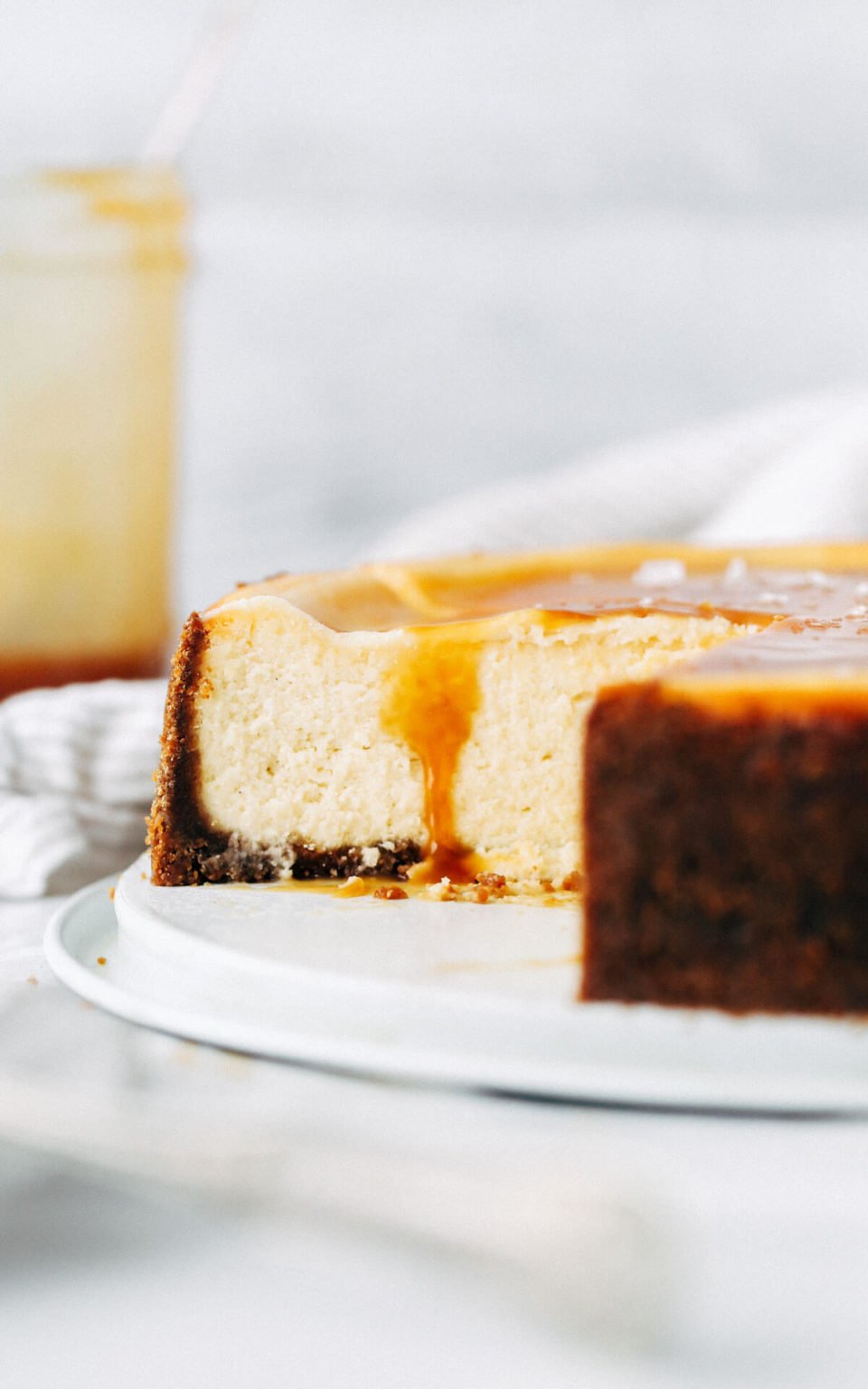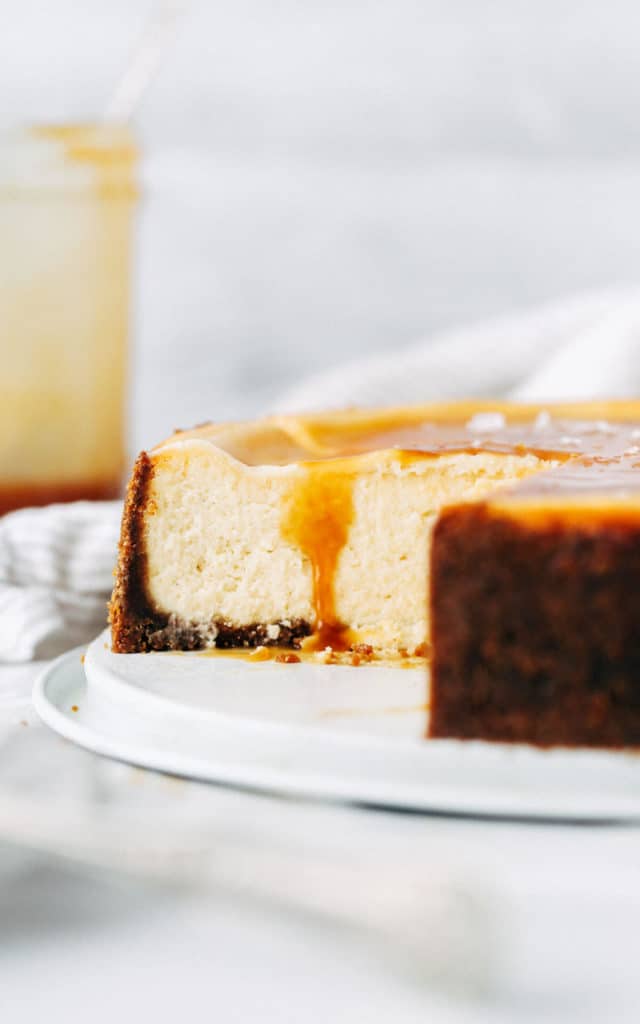 How to make the creamiest salted caramel cheesecake
Room temperature ingredients. Room temperature ingredients. Room. Temperature. Ingredients. Get it? Got it? Good.
This is the KEY to making any cheesecake super smooth. At the very least, make sure your cream cheese and eggs are at room temperature. If you're in a pinch, place your eggs in a bowl of warm water for a few minutes. You can also secure your cream cheese in a ziplock bag and place in a separate bowl of warm water for about 5-10 minutes.
I also like to use both my whisk and paddle attachments when mixing the batter. I use the whisk just for the cream cheese to get it super smooth. Whisk it on medium speed until the cream cheese is no longer lumpy.
Then, take the bowl off of the mixer and use a large rubber spatula to "punch out" any air. I do this by vigorously spreading and flattening out the cream cheese. After this step, switch to the paddle attachment.
You also want to give your ingredients a head start. For example, whisk together all of the dry ingredients before adding them to the cream cheese. This is less work your mixer has to do, which means there's less opportunity for you to whip air into the batter.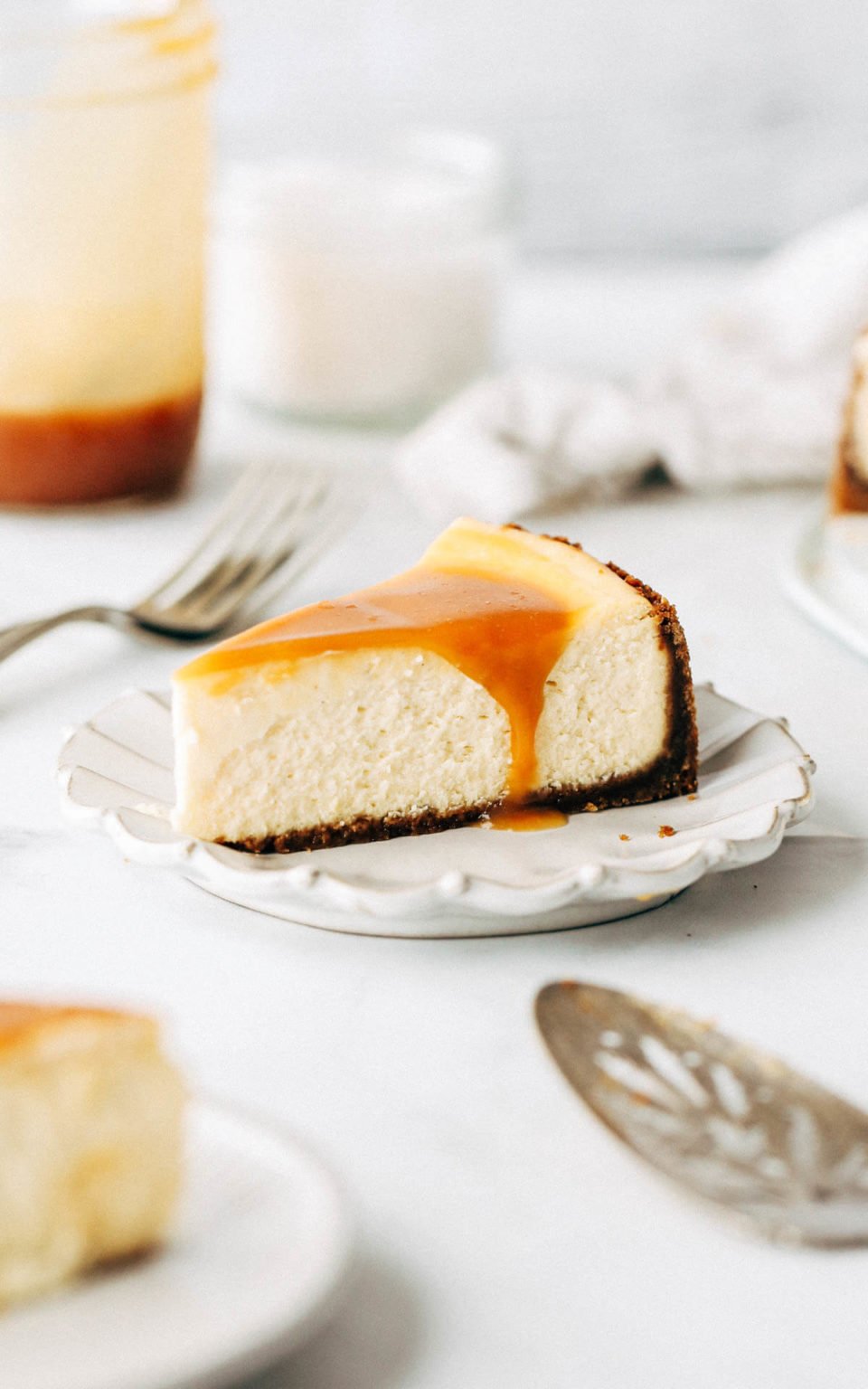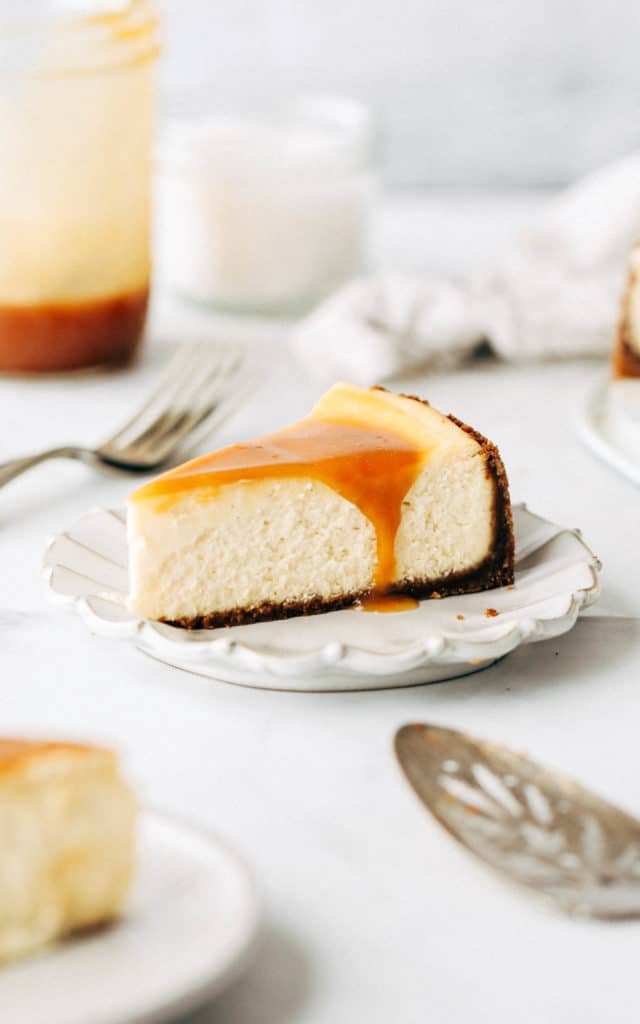 Baking your salted caramel cheesecake
In order to prevent cracking, place a roast pan filled with boiled water on the rack below your cheesecake. The steam will stop your cheesecake from drying out, ensuring zero cracks.
You also want to make sure you thoroughly grease your springform pan so that nothing sticks and your cheesecake can rise evenly.
When it's done, the edges will puff up (don't worry, they'll settle when it cools). Gently shake the pan and if the center giggles just a little, it's done. The best way to describe a giggle is like when you shake jello. It's a tighter motion than if you shake a glass of water. That's more of a wobble. If you see a wobble, it's not done!
Turn off the oven and let the cheesecake sit in there for another hour with the door cracked open. This also prevents cracks that can happen when the cheesecake is exposed to a drastic change in temperature.
Since the edges puff up during baking, it creates a perfect wall for the caramel to sit in. Pour it on top of the cooled cheesecake and place in the fridge for at least 4 hours before devouring.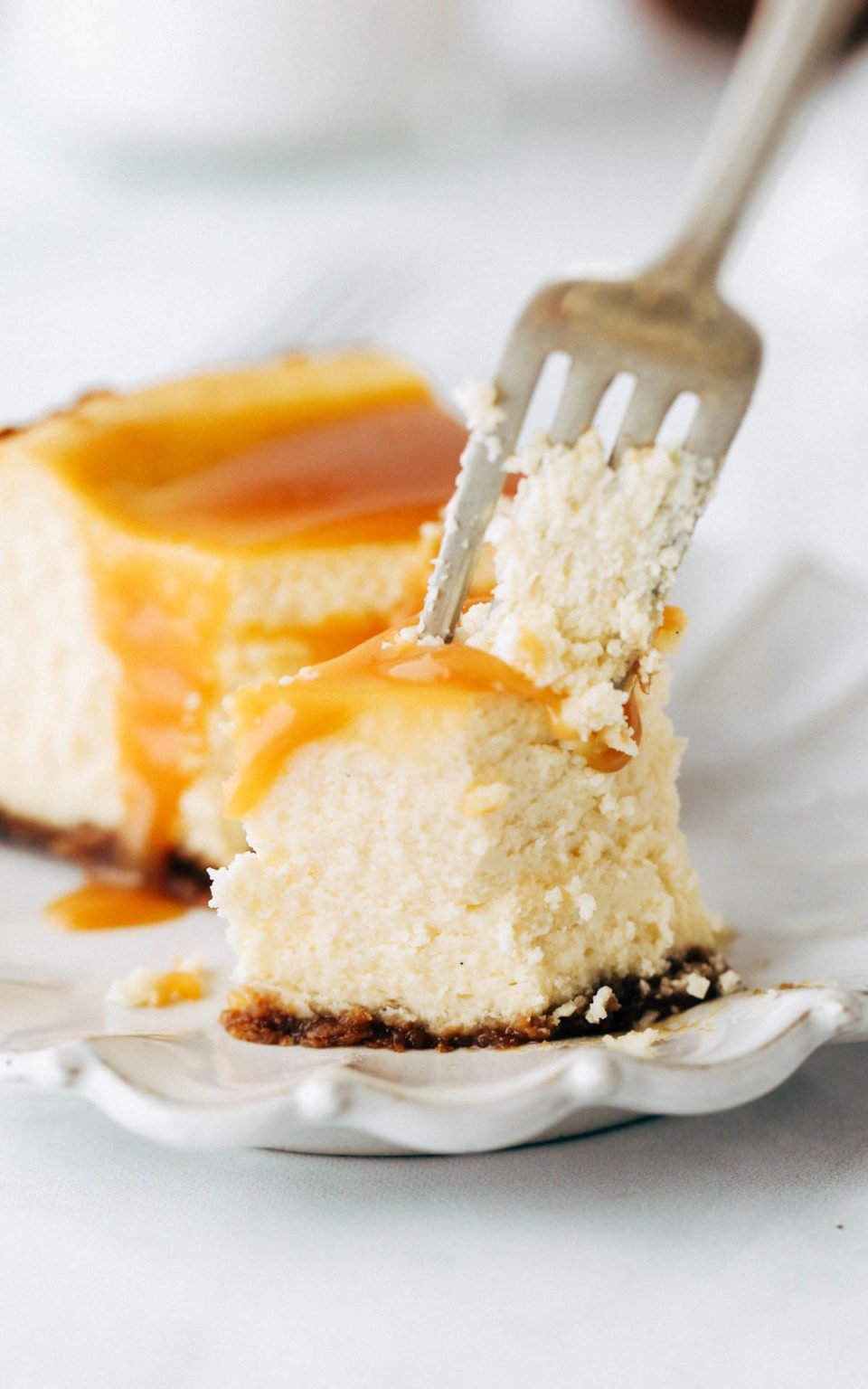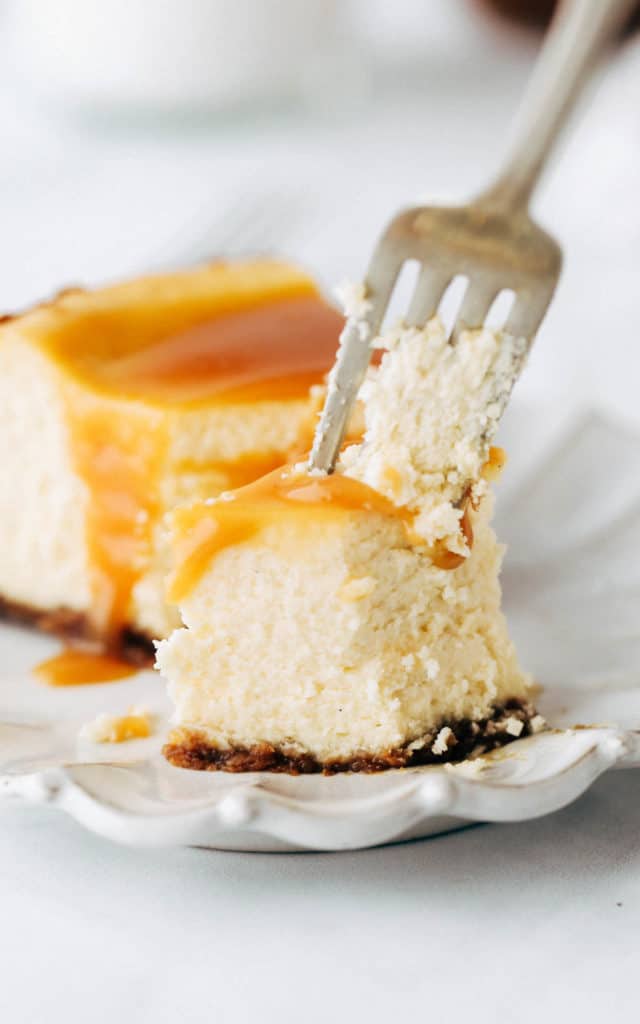 For more cheesecake recipes, check out my:
Make sure to tag me @butternutbakery on Instagram if you make this salted caramel cheesecake. I love seeing my recipes come to life in YOUR kitchen! To pin this recipe and save it for later, you can use the button on the recipe card, the buttons above or below this post, or on any of the photos above. Happy baking!
Print
Salted Caramel Cheesecake
---
Description
This salted caramel cheesecake is seriously the best cheesecake recipe ever. It's silky smooth, extra creamy, and covered in a delicious homemade salted caramel. 
---
Gingersnap Cookie Crust*
2 cups crushed gingersnap cookies, regular or gluten free
1/4 cup granulated sugar
6 tbsp unsalted butter, melted
Salted Caramel Cheesecake
2 lbs full fat Philadelphia cream cheese, room temp
1 cup granulated sugar
2 tbsp all purpose flour or gluten free flour
4 large eggs, room temp
1 tsp vanilla bean paste
1/2 cup full fat sour cream, room temp
1/3 cup of the salted caramel sauce, cooled to room temp
---
Instructions
Pour the caramel into a heat proof container and place it in the fridge while you make the cheesecake.
Gingersnap Cookie Crust
See note at the bottom of this recipe.
Preheat your oven to 350F and thoroughly butter or grease your springform pan.
In a bowl, combine the crushed cookies, sugar, and melted butter. Mix until the crumbs are evenly moistened then tightly press it into your springform pan.
Bake for 8-10 minutes then leave it out to cool while you make the filling.
Salted Caramel Cheesecake
Reduce the oven temperature to 325F and place a large roast pan on the bottom rack.
In a stand mixer fitted with the whisk attachment, mix the room temperature cream cheese on medium speed JUST until smooth – no more than a minute. 
Take the bowl off the stand and use a rubber spatula to knock out any air that the whisk might have added.
Switch to the paddle attachment and place the bowl back on the stand. 
In a small bowl, whisk together the sugar and flour. Then mix it into your cream cheese on low speed until just combined. Scrape down the bowl, especially on the bottom.
At this point, you'll want to start a pot of boiling water on the stove top.
In that same small bowl, lightly beat your room temperature eggs and vanilla and slowly mix it into your batter on low speed until just combined. Scrape down the bowl again then mix it for a couple more seconds.
Lastly, mix together the sour cream and caramel in a small bowl then fold it into your batter using a rubber spatula.
Pour the batter over the cooled crust and drop the pan against the counter a couple times to let out any air bubbles.
Once your water is boiling, CAREFULLY pour it into your roast pan and then place the cheesecake on the middle rack above it. This will help prevent cracks and also catch any drippings.
Bake for 1 hour and 20 minutes. It's done when the edges have puffed up and the center gives a tight giggle when you shake the pan.
Turn the oven off and leave the cheesecake in the oven with the door cracked open for 1 hour. 
Then, pour the caramel sauce over the cheesecake before refrigerating. If the caramel is too thick to pour, place it in the microwave for 30 seconds to 1 minute to thin it out. 
Place the cheesecake in the fridge for at least 3-4 hours to set. Sprinkle with a pinch of sea salt before serving. I recommend serving it slightly chilled so that the caramel stays in tact.
Store in an air tight container in the fridge. Enjoy!
Notes
*this recipe makes a crust that lines the bottom and edges of the cheesecake. If you just want a bottom crust, halve the recipe but prepare it the same as instructed: 1 cup crushed gingersnap cookies, 2 tbsp granulated sugar, 3 tbsp unsalted butter, melted
Prep Time: 4 hours
Cook Time: 1 hour
Keywords: cheesecake, salted caramel cheesecake, homemade caramel sauce
Recipe Card powered by