This apple fritter skillet cake is just as warm and cozy as it sounds. A moist and spiced apple fritter cake is baked with tender cinnamon spiced apples, a warm butter sauce, and is all topped with a sweet glaze…just like apple fritters! Everything is heated and baked in one skillet so this is a quick and simple recipe that's perfect to bake this fall.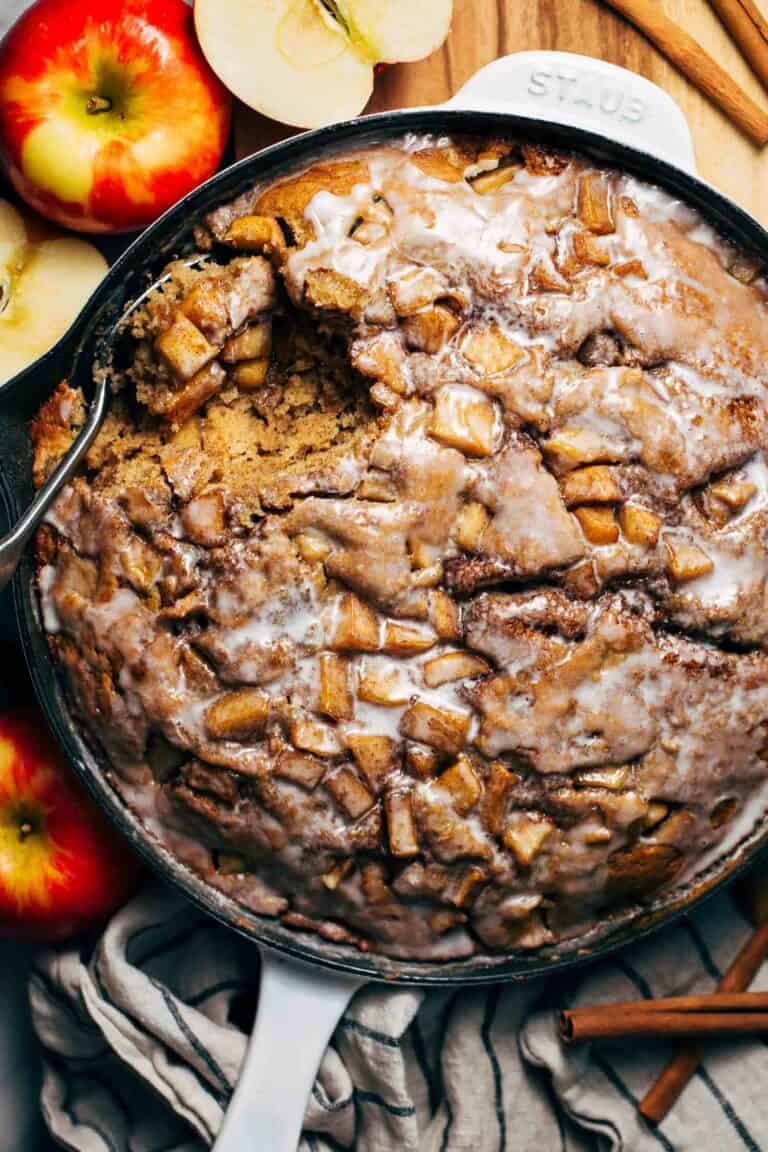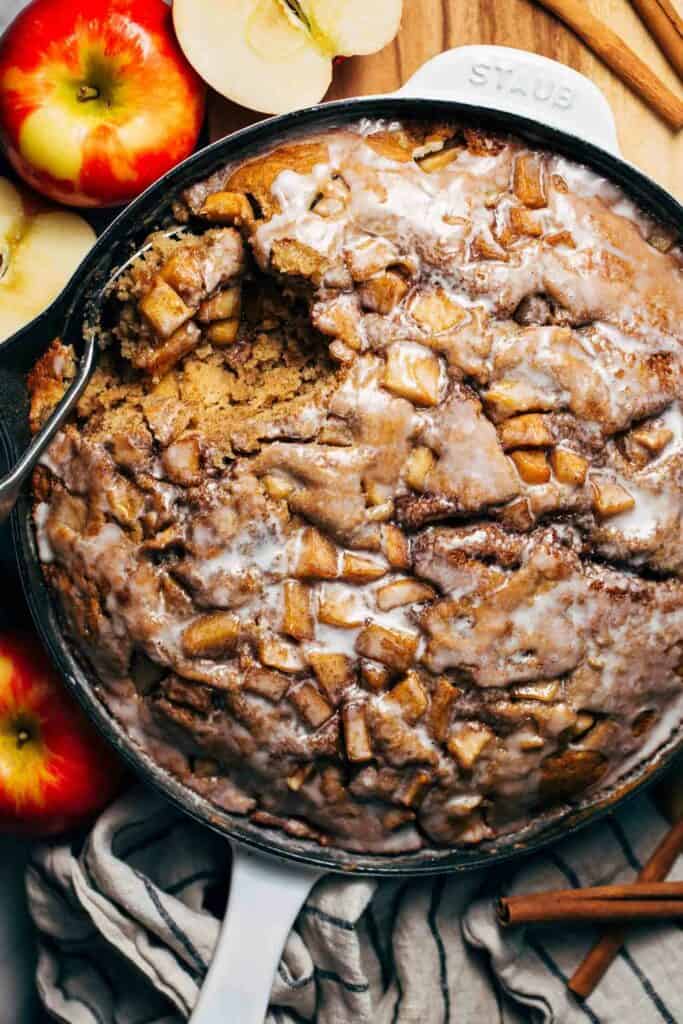 What is apple fritter cake?
As a baker, I will be the first to admit that I have zero patience for deep frying. Between all the oil and having the keep it at just the right temperature between each batch…it's definitely a craft I have yet to master.
But who doesn't love apple fritters? The deep fried nuggets of soft batter and spiced apples is irresistible. But to make them at home is quite the process…that is unless you transform them into an apple fritter cake!
Plus, this recipe is so quick and easy because it's comprised of three main steps:
Spiced Apples – Apples are peeled, chopped, and cooked down with some butter, sugar and cinnamon. An added bonus – they're heated in the same skillet that the cake is baked in!
Apple Fritter Batter – The cake batter is similar to apple fritter dough because it's enriched with eggs and butter and gets its lift from baking powder and baking soda. It's just as moist and fluffy, but is baked instead of fried.
Combine – The batter is then scooped into the skillet with the tender apples. Just fold, top, and bake!
For a deep fried affect, the cake is topped with a generous helping of some of those tender apples in its thick syrup sauce. The buttery syrup combined with the heat of the oven will provide the cracks and crevices similar to a fried apple fritter.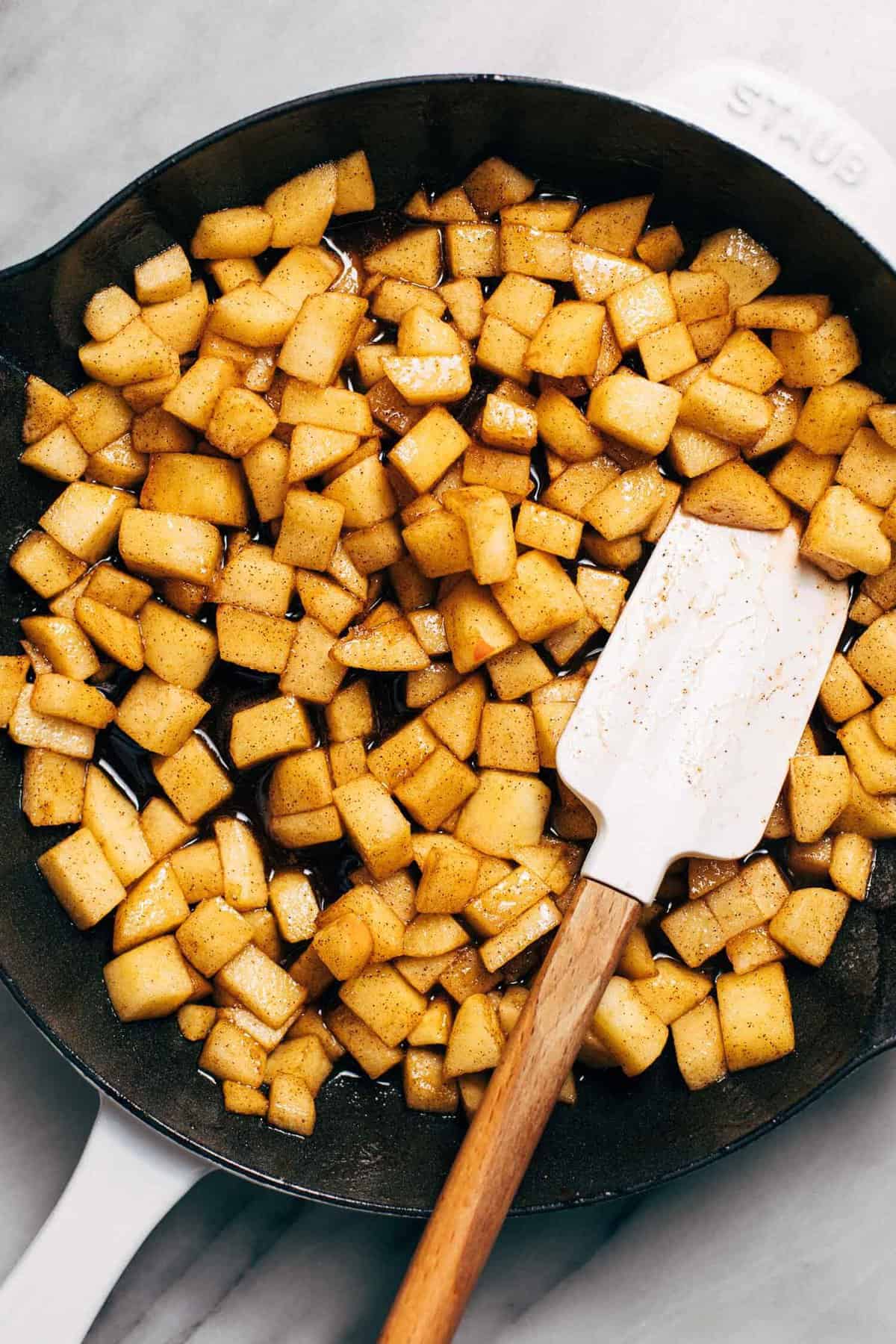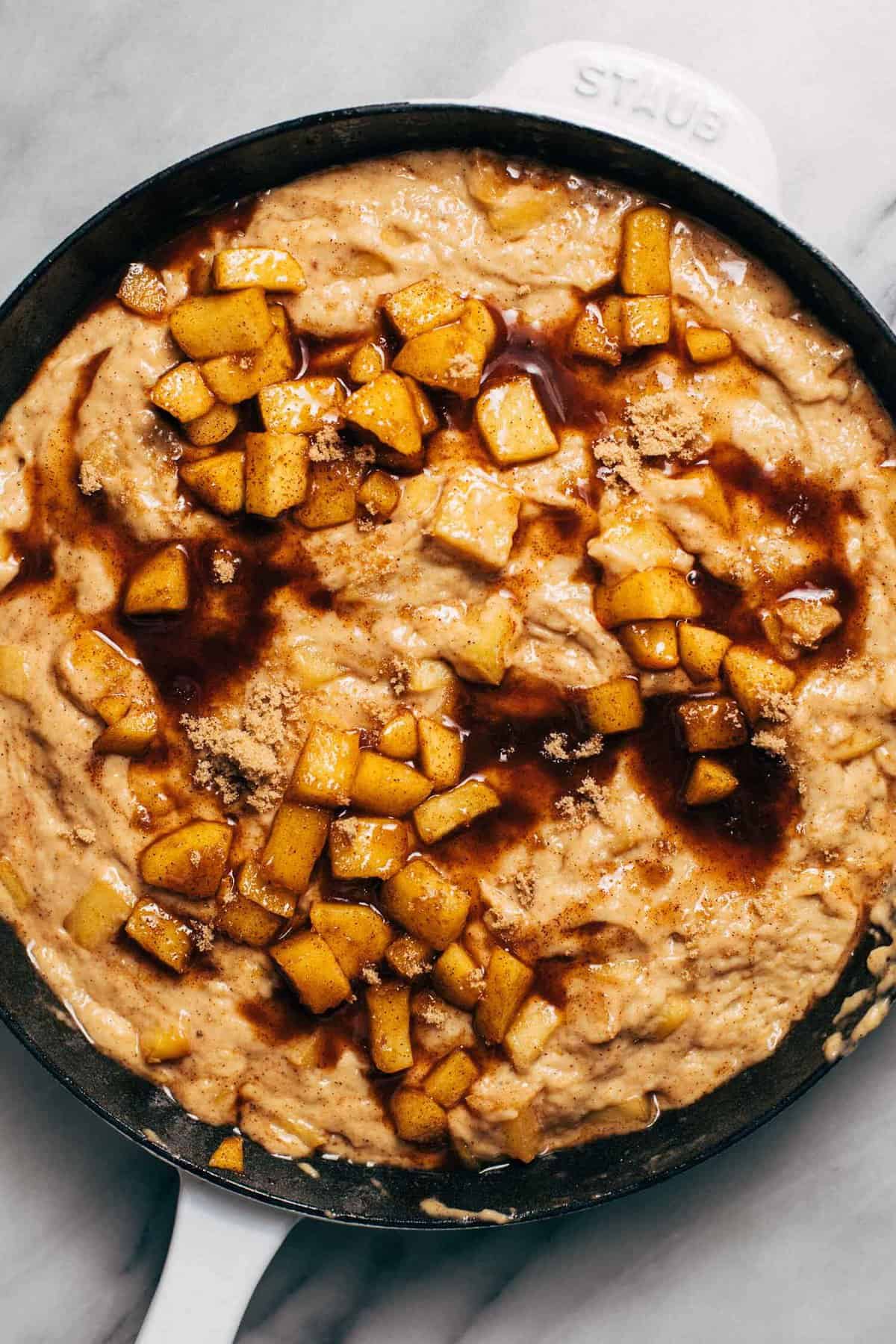 Tips for baking apple fritter skillet cake
What I love about this recipe is that it's so simple, but here are a few things to keep in mind to ensure yours turns out just right:
Flour – I say this in every post, and for good reason. It's the number one reason why most recipes fail. If there's too much flour, this cake will turn dry. If possible, measure the flour with a food scale. Otherwise, to ensure the exact amount, gently spoon the flour into the measuring cup and level it off with a flat edge. If scooped directly into the flour container, the flour becomes packed down into the cup which could leave you with 1/4 cup or more of added flour.
Applesauce – It's very important that the applesauce is at room temperature before baking. If cold applesauce is combined with warm melted butter, it can cause the butter to seize up and curdle. If you're in a pinch, microwave the applesauce for about 30 seconds.
Apples – Heat the apples for about 10 minutes. They should be slightly tender and browned with a syrupy sauce. The sauce itself should be thickened. To test, run a spoon through the sauce. If it takes a couple seconds to come back together, it's ready. If it immediately pools back together, heat the apples for a bit longer.
Mixing – The cake batter is mixed by hand so there's a slim chance of this happening, but over mixing the batter can lead to a tough cake. Take your time and slowly mix through each step. Right when the batter fully comes together, stop mixing.
Folding in the Apples – The batter is scooped into the skillet along with the syrupy apples. To combine, use a rubber spatula to fold the two together. Gently mix must enough to where the sauce and apples are evenly distributed.
Topping – Before baking, more apples are added on top. These come from the syrupy apples in the skillet so make sure to pick up the apples AND syrup. The syrup plays a big role in recreating a crispy, fried texture. Scoop the apples and syrup on top of the apple batter to create random clusters and pools of syrup and apples throughout – just like the picture above.
Apple Fritter Cake FAQs
What are the best apples to use?
For this apple fritter cake recipe, I recommend Honeycrisp for the best flavor. They're firm, sweet, crisp, and taste so delicious in this cake.
But any firm and sweet apple will also do the trick! Apples like Fuji, Jazz, Pink Lady, or Gala can also work here. Either way, make sure to peel and dice the apples into uniform bite-sized pieces.
When is the best time to glaze the cake?
The best time to glaze the apple fritter cake is when it has had about 15-20 minutes to cool. It shouldn't be piping hot, but it also can't be completely room temperature. A warm cake takes the glaze the best.
How do you serve apple fritter skillet cake?
This is really up to you! I like to just grab a spoon and dig right in, but this recipe can also be sliced like a regular cake. Either way, I recommend serving it up warm.
Can this recipe be made gluten free?
I haven't tested it, but I do think this recipe would do well with gluten free flour. Simply swap the all purpose flour with a cup for cup gluten free baking flour. The rest of the recipe is the exact same.
How do you store a skillet cake?
To store, cover the cooled cake with foil or plastic wrap. The cake can keep at room temperature for a day, but any longer and it will need to be stored in the refrigerator.
It can also be reheated in the oven. Bake at 300F for about 5 minutes to bring back that warm and moist texture!
For more apple dessert recipes, check out my:
Make sure to tag me @butternutbakery on Instagram and leave a review below if you make this apple fritter cake. To pin this recipe and save it for later, you can use the button on the recipe card, the buttons above or below this post, or on any of the photos above. Happy baking!
Print
Apple Fritter Skillet Cake
---
Author: Jenna Barnard
Total Time: 1 hour 10 minutes
Yield: 10 servings
Description
This apple fritter cake is a giant apple fritter baked in a skillet! It's made with a moist spice cake that's mixed with tender cinnamon apples, a thick buttery sauce, and is topped with an icing glaze.
---
Cinnamon Apples
3 cups peeled and diced honeycrisp apples* (about 3 medium apples)
2 tbsp unsalted butter
1/3 cup (65g) light brown sugar, packed
1 tsp ground cinnamon
Apple Fritter Cake
2 1/2 cups (330g) all purpose flour**
1 tsp baking powder
1 tsp baking soda
1/2 tsp kosher salt
1/2 tsp ground cinnamon
1/4 tsp ground nutmeg
1/2 cup (110g) unsalted butter, melted and cooled
1/2 cup (105g) light brown sugar, packed
1/2 cup (120g) unsweetened apple sauce, room temp
2 tsp vanilla extract
2 large eggs, room temp
1/2 cup (120g) milk
1 tbsp light brown sugar, for sprinkling
Icing
2 cups (220g) powdered sugar
1/4 cup (60ml) milk
---
Instructions
Cinnamon Apples
Preheat the oven to 350F.
Place an 11-12″ cast iron or oven-safe skillet over medium heat and add the apples, butter, brown sugar, and cinnamon.
Stir and continue to heat until the apples start to become tender and their juices produce a syrup-like coating (about 10 minutes).
Remove from heat and move on to the batter.
Apple Fritter Cake
In a medium bowl, whisk together the flour, baking powder, baking soda, salt, cinnamon, and nutmeg.
In a large mixing bowl, whisk together the butter, sugar, and apple sauce.
Then whisk in the vanilla and eggs.
Once smooth, whisk in the dry ingredients. The batter will become very thick so halfway through mixing, pour in the milk and continue to mix.
The batter should be thick and sticky.
Back to the skillet full of apples – remove 1/2 cup of the apples with some of the syrup.
Then pour the batter into the skillet full of apples and fold to combine the two. It doesn't have to be well mixed. Just fold just enough to where the apples and syrup are evenly distributed.
Spoon the reserved 1/2 cup of apples on top in a random placement. Sprinkle with the remaining 1 tbsp of brown sugar, concentrating the sugar in the apple sections.
Bake for 40-45 minutes or until a toothpick in the center comes out clean with a few moist crumbs.
Icing
While the cake cools, make the icing.
Whisk together the sugar and milk until smooth. It should be the consistency of elmer's glue. If it's too thin, whisk in a spoonful of sugar at a time until you reach the right thickness.
After about 15 minutes, pour the icing over the warm cake.
Now you're ready to cut a slice or dig straight in with a spoon. Enjoy!
Notes
*APPLES – I love honeycrisp for this recipe, but any firm and sweet apple will do such as fuji, jazz or pink lady.
**GLUTEN FREE FLOUR – Although I haven't tested it, I do think this would do well with a good gluten free baking flour. Simply swap the flour in this recipe with a cup for cup gluten free baking flour to make this recipe gluten free.
Prep Time: 30 minutes
Cook Time: 40 minutes
Category: Dessert
Method: Baking
Cuisine: American
Keywords: apple fritter cake, apple cake, apple skillet cake, apple fritter skillet cake
Recipe Card powered by