Nothing makes me feel more nostalgic than strawberry cake. It's something my sister and I made for my dad's birthday when we were little, although that was with a strawberry cake mix and canned frosting. It only felt right to redeem ourselves and create a strawberry cake from scratch! No mixes, just fresh strawberries, cream cheese, and everything in between. It's moist, flavorful, and all homemade!
How to make strawberry cake using fresh strawberries
Before my mom told me that we actually just used a cake mix for my dad's cake, I was scouring the internet trying to find the recipe I thought we might have used.
Through my deep dive, I found that most strawberry cake recipes out there rely on some sort of mix and hardly any actual strawberries. I just couldn't accept that!
I made it my mission to create a flavorful and moist strawberry cake that was also easy to make. To do so, I decided to use freshly pureed strawberries in the cake AND the strawberry cream cheese frosting.
The key is to get the perfect puree consistency. You want it thin enough to blend with the batter but not too thin to where you can't see those pretty strawberry specks.
When running your strawberries through a food processor, stop right before you reach the point of a completely smooth puree. I've found this is the perfect way to bake with strawberries as I also did something similar with my Roasted Strawberry Cupcakes – they turned out to be a huge hit!
And because this is an oil based cake, which is what makes it so moist, we want to use enough strawberries to cancel out that oil flavor. Using fresh strawberries helps to not only cancel out the oil, but also balance out the sweetness of the cake.
Why you should make strawberry cake from scratch
Now, I need to make my case here because I just can't accept the fact that there are SO MANY phony (yeah I said it) strawberry cake recipes out here. If you're going to make a homemade strawberry cake, using fresh strawberries is the only way to go!
The main reason being that it's easier than it might seem and doesn't take that much more effort compared to using a jello or cake mix. The only extra step is to puree your strawberries which, in the grand scheme of things, isn't that big of a deal especially when this cake is the outcome!
Many strawberry cake mixes have strawberry flavors and dyes to get that "strawberry" taste.. but what even is that? Why bake the fake stuff when you can have the real deal??
And finally, you probably already have all the ingredients you need to make a strawberry cake from scratch. It doesn't require anything fancy, unless you don't keep cake flour in your kitchen. If that's the case, using all all-purpose is totally fine. Your cake won't turn out as tender but it will still be just as moist and flavorful.
Ok, I rest my case. Just know that baking with a fresh strawberry cake is so worth it.
How to remove a strawberry sheet cake from the pan
There are a few ways you can serve a sheet cake. The most popular route is to keep it in the pan you baked it in which makes it easy to frost and store in the fridge. All you have to do is wrap the top in some plastic wrap.
If you prefer to ditch the pan completely, there's two ways you can remove your cake. The first way is to grease your cake pan and cover just the bottom in parchment paper.
When your cake is completely cooled, flip it out onto a cooling rack then flip that back on to your serving surface.
The other way, which is what I chose, is to line the bottom and sides with one big strip of parchment paper (also greasing the pan). Letting the paper hang over the edges along the length of the pan allows you to lift it out later.
You must chill the cake in the fridge for at least an hour for this step. Since we're pulling it from the sides, we don't want the cake to bend too much in the middle when lifting it out.
Simply lift and place the cake on a surface. You can also cut away any excess paper. Frost your cake once you've placed it on your serving tray.
To store it, it's easiest to slice your cake then place the pieces in an air tight container. Keep the strawberry cake in the fridge for up to 7 days.
Silky strawberry cream cheese frosting
Ah, arguably the best part about this strawberry cake recipe. The strawberry cream cheese frosting is so smooth and flavorful. I could easily eat it by the spoonful.
It's also so easy to make and consists of just 4 ingredients: cream cheese, butter, strawberry puree, and powdered sugar.
Make sure your cream cheese and butter are at ROOM TEMPERATURE to get the perfect silky consistency. Cream the two together using an electric mixer then add in two cups of powdered sugar.
Once combined, mix in your strawberry puree (prepared the same was as the cake puree). At this point, you can decide to add one or two more cups of powdered sugar.
Adding one more will give you a thinner consistency like the one you see here. Adding a fourth cup will give you a slightly thicker frosting. It also depends on the amount of moisture your strawberries carry so adjust the frosting as needed.
It's also important to smear on the frosting when the cake is completely cooled. If you do so while it's still warm, the frosting will run everywhere.
Now you're ready to slice and enjoy the fruits of your labor…heh….get it?
For more delicious strawberry dessert recipes, check out my:
Make sure to tag me @butternutbakery on Instagram or leave a comment below if you make this Fresh Strawberry Sheet Cake. I love seeing my recipes come to life in YOUR kitchen! To pin this recipe and save it for later, you can use the button on the recipe card, the buttons above or below this post, or on any of the photos above. Happy baking!
Print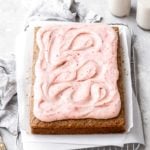 Fresh Strawberry Sheet Cake
---
Author:

Jenna Barnard

Prep Time:

30 minutes

Cook Time:

40 minutes

Total Time:

1 hour 10 minutes

Yield:

9

x13 sheet cake

1

x
Description
This strawberry cake is incredibly moist and made with FRESH strawberries! No mixes, no food coloring, just natural strawberry flavor with a silky strawberry cream cheese frosting.
---
Scale
Ingredients
Strawberry Cake
2 cups

all-purpose flour

3/4 cup

cake flour

2 tsp

baking powder

1/2 tsp

baking soda

1/2 tsp

salt

3/4 cup

vegetable oil

1 3/4 cups

granulated sugar

4

large eggs

1 1/2 cups

lightly pureed strawberries*

1 tsp

vanilla extract
Strawberry Cream Cheese Frosting
8 oz

cream cheese, room temperature

1/2 cup

unsalted butter, room temperature

3

–

4

cups powdered sugar

1/4 cup

lightly pureed strawberries*
---
Instructions
Strawberry Cake
Preheat your oven to 350F and grease and line a 9×13 baking pan with parchment paper. If you plan on serving the cake within the pan, omit the parchment paper. If you want to take the cake out of the pan, place a strip of parchment paper along the length of the pan, letting it hanging over both sides.
To puree your strawberries, place them in a food processor and let it run for a couple seconds. Then pulse until it's almost completely pureed but with a few small strawberry chunks. We don't want it completely smooth as you still want some strawberry bits throughout the cake. This is also the same process for the strawberries in the strawberry cream cheese frosting.
For the cake, whisk together the all-purpose flour, cake flour, baking powder, baking soda, and salt in a bowl and set aside.
In a large bowl, whisk together the oil, sugar, eggs, strawberry puree, and vanilla extract.
Fold in the dry ingredients just until the batter comes together.
Pour it into your prepared pan and spread it even. Bake for 35-40 minutes or until a toothpick in the center comes out clean with a few moist crumbs.
Let the cake cool completely in the pan before frosting. If you would like to lift the cake out of the pan, refrigerated it for at least an hour before doing so.
Strawberry Cream Cheese Frosting
Using an electric mixer, cream together the cream cheese and butter.
Mix in 2 cups of powdered sugar, one cup at a time, then the strawberry puree.
Mix in another cup of powdered sugar and gauge if you'd like it to be a bit thicker. If so, add the 4th cup of powdered sugar.
Spread it onto your COOLED cake with an offset spatula. Serve right away or store in the fridge for up to 7 days. Enjoy!
Notes
*These measurements are of the puree, not the strawberries. First, puree the strawberries and then measure to the amounts listed above.
Category:

Cake

Method:

Baked

Cuisine:

American
Keywords: strawberry cake, strawberry sheet cake
Recipe Card powered by