These warm spice cookies are full of flavor with a thin, soft, and chewy texture. They're so easy to make, require zero chill time, and are baked right away! It's the perfect cozy treat to make in the chilly fall and winter months.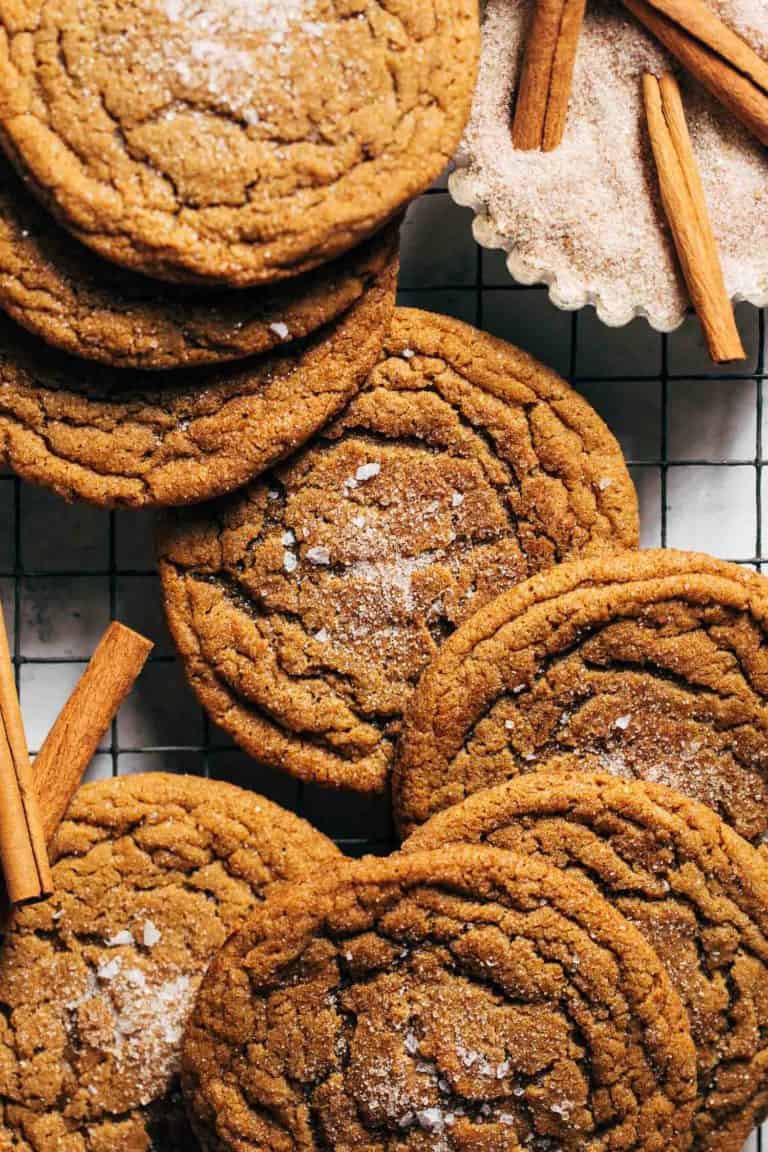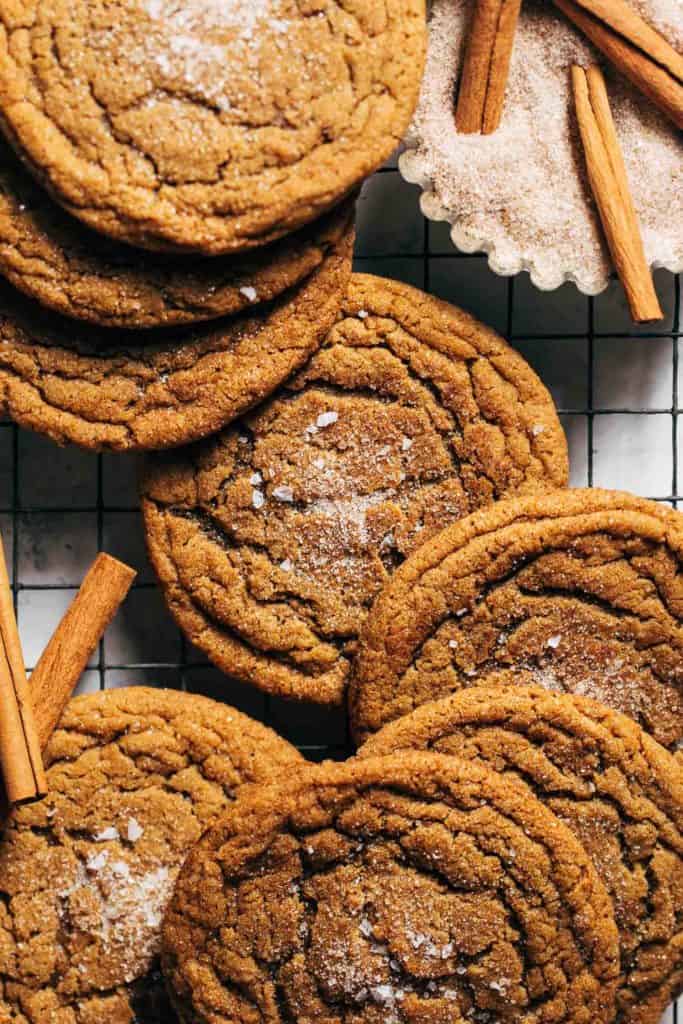 What are spice cookies?
Spice cookies are like a mix between a sugar cookie, snickerdoodle, and a chewy molasses cookie. They're baked with tons of warm spices, so they have more flavor than a snickerdoodle, but have just a touch of molasses to add that chew. The molasses doesn't outshine the spices, but it is there to help accentuate their flavors.
To me, they taste a lot like cinnamon teddy grahams. They have a slightly sweet graham cracker-like taste with a blend of cinnamon, ginger, nutmeg, and cloves. The cookies are then rolled in cinnamon sugar for some added sweetness and spice!
Why make this recipe?
Not only are these cookies SO delicious with the perfect soft and chewy texture, but they're also very easy to make. They can be baked right after mixing, so there's not wait time.
They are also a very unique cookie as they aren't quite a snickerdoodle, not quite a molasses cookie, and not quite a sugar cookie. With the perfect blend of spices and sweetness, these cookies are sure to impress!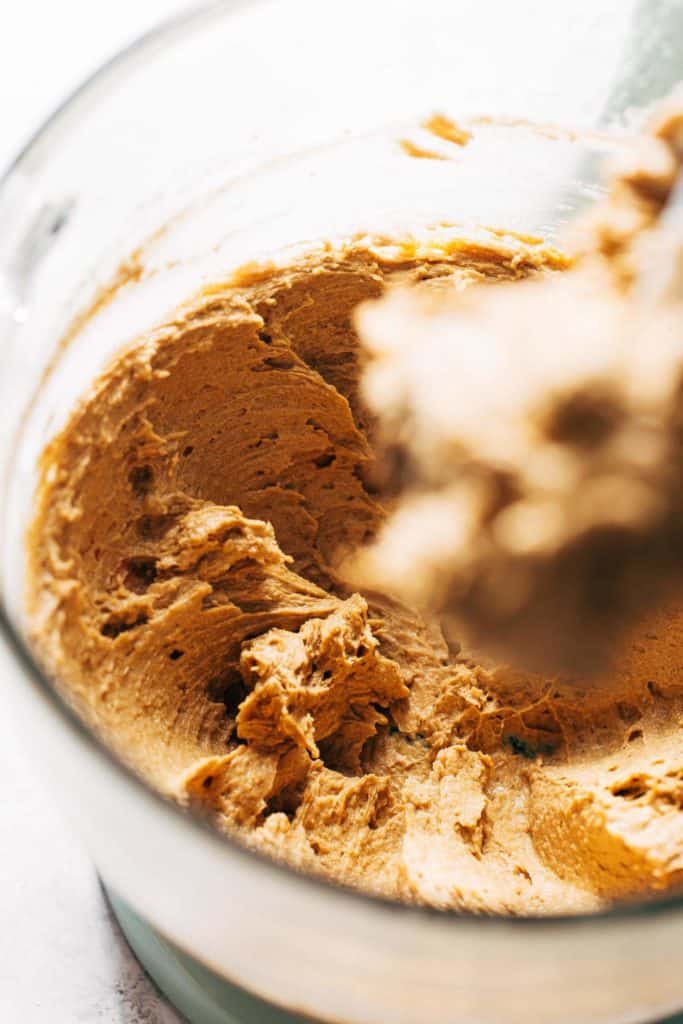 Tips for making spice cookies
While these cookies are easy to make, here are my top tips to ensure they turn out just right:
Properly measure the flour – I say this in almost every post, and for good reason. It's the number one reason why most baking recipes fail. If there's too much flour, the cookies will not spread properly. If you can, measure the flour with a food scale. Otherwise, to ensure you use the exact amount needed, gently spoon the flour into your measuring cup and level if off with a flat edge. If you scoop directly into the flour container, it packs it down into the cup which could leave you with 1/4 cup or more of added flour.
Butter temperature – Make sure the butter is at room temperature before starting. The butter must be soft in order to mix into a creamy consistency. The process of creaming will whip small air pockets into the butter. These pockets allow the heat from the oven to easily flow throughout the entire cookie. Without them, the cookies will not bake or spread properly.
Mixing speeds – The recipe starts by creaming together the butter and sugar. This means that the two should be fully mixed for at least 2 minutes on high speed. The mixture should turn pale and fluffy. Then, mix in the eggs on high speed for another 2 minutes. This is the emulsification process with brings together the oil and water within the dough – creating a stronger structure. Once the dry ingredients are added, this is when we turn the speed down and mix low and slow. Stop RIGHT when all of the ingredients come together as over mixing can lead to a tough cookie.
Baking – Make sure to scoop LARGE cookies as these will bake much nicer. With big cookies, it takes longer for the heat to reach the center so you get chewy and baked edges with a soft center. Also pull the cookies from the oven when the edges are golden and wrinkled but the center is pale and puffed. The cookies will flatten and darken as they cool outside of the oven.
Spice Cookies FAQs
Can these cookies be made gluten free?
I have not tested it, but I would assume that using gluten free flour would yield a thicker and less chewy cookie. It's definitely worth a try! Especially if you just want that delicious warm spice flavor. I would recommend using a good quality gluten free baking flour and to weight it rather than measure by cups. This just ensures you use the right amount, as gluten free flour tends to be a bit more dense than regular flour.
Can I use light brown sugar instead of dark brown sugar?
I do not recommend replacing the dark brown sugar with light brown sugar or regular sugar. The purpose of dark brown sugar is to add extra chewiness, which is something the other two types of sugar cannot replicate as well.
Can these spice cookies be made dairy free?
I would suggest swapping the butter with vegan butter baking sticks. The cookies may spread a bit different, but should yield a similar result.
Can the cookie dough be stored in the refrigerator or frozen?
If you want to keep some cookies on hand and bake on a later day, you can scoop and chill or freeze the dough without the cinnamon sugar coating. I suggest storing the cookie dough balls in an air tight container or freezer safe bag to prevent them from drying out. Then roll in the sugar and bake from chilled at 340F for about 2 extra minutes.
The dough should keep in the refrigerator for about 3 days, and in the freezer for a couple months.
How do you store spice cookies?
Once baked, store the cookies in an air tight container or a ziplock bag. Due to the molasses, the cookies will continue to get chewier and softer over time so they last a bit longer than traditional cookies. They keep for about a week! This makes them a great cookie to ship to friends and family.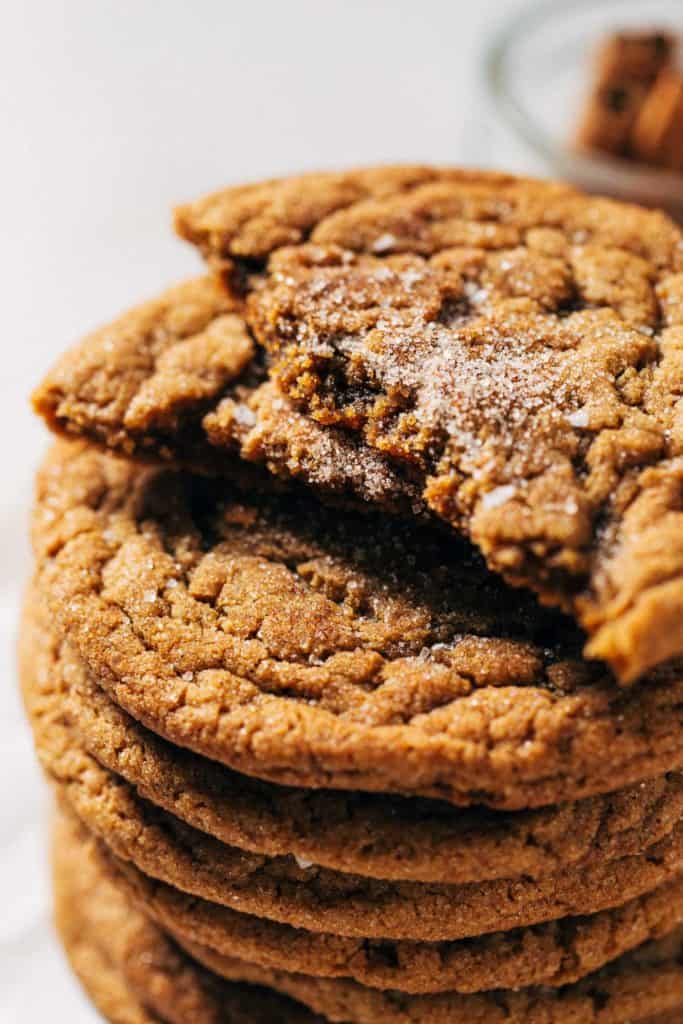 For more cozy cookie recipes, check out my:
Make sure to tag me @butternutbakery on Instagram and leave a review below if you make these Chewy Spice Cookies. To pin this recipe and save it for later, you can use the button on the recipe card, the buttons above or below this post, or on any of the photos above. Happy baking!
Print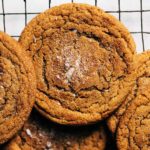 Chewy Spice Cookies
---
Author: Jenna Barnard
Total Time: 55 minutes
Yield: 13 large cookies
Description
These chewy spice cookies are bursting with flavor, baked with warm spices and rich molasses. 
---
Spice Cookies
2 2/3 cup (350g) all purpose flour
1 tsp baking soda
1/2 tsp salt
2 tsp ground cinnamon
1 1/2 tsp ground ginger
1/4 tsp ground nutmeg
1/4 tsp ground cloves
1 cup unsalted butter, room temp
3/4 cup (180g) dark brown sugar, packed
3/4 cup (150g) granulated sugar
1 large egg
1/4 cup (80g) unsulphured molasses
1 tsp vanilla extract
Coating
1/2 cup (100g) granulated sugar
1 tsp ground cinnamon
---
Instructions
Preheat the oven to 350F and line a large baking sheet with parchment paper.
Whisk together the flour, baking soda, salt, and spices in a medium sized bowl and set aside.
In a large mixing bowl using a hand or stand mixer with the paddle attachment, mix together the butter and sugars on medium-high speed for 2-3 minutes or until smooth, light and fluffy. 
Scrape down the bowl and add the egg, molasses, and vanilla and mix again on the same speed for another 2-3 minutes. The mixture should be silky, light and creamy. 
Pour in half of the dry ingredients and mix on medium-low speed until barely combined. Scrape down the bowl and then pour in the rest of the dry ingredients. Mix again on that same low speed until just combined.
Use a rubber spatula to manually mix together the dough, working in any dry ingredients that may have settled to the bottom of the bowl. 
Off to the side, add the sugar and cinnamon to a bowl and mix to combine. 
Using a 2 oz ice cream scoop, or 1/4 measuring cup, scoop out the dough and toss in the cinnamon sugar mixture. 
Place about 5 cookies on the large baking sheet, evenly and well spaced apart. Bake for 13-15 minutes, or until the edges are a light golden brown and the center is pale and puffed. The cookies will darken, flatten, and settle as they cool. 
If the cookies spread a bit too much, use a fork to nudge in the sides right when you pull the cookies from the oven. 
Allow the cookies to rest on the baking sheet for about 3 minutes before transferring to a cooling rack. Continue to bake the rest of the cookies and then enjoy!
Prep Time: 40 minutes
Cook Time: 15 minutes
Keywords: spice cookies, chewy spice cookies, spice cookie recipe, chewy molasses cookies, cinnamon cookies
Recipe Card powered by