This chocolate chip cookie cake has it all. It's rich, gooey, loaded with chocolate chips, and baked with PUMPKIN! It's a delicious fall treat, especially when it's topped with buttercream pumpkins and even more chocolate chips. It's quick and easy to make and tastes just as good as it looks!
This post is sponsored by C&H® Sugar but all thoughts and opinions are my own. Thank you for supporting the brands that make Butternut Bakery possible!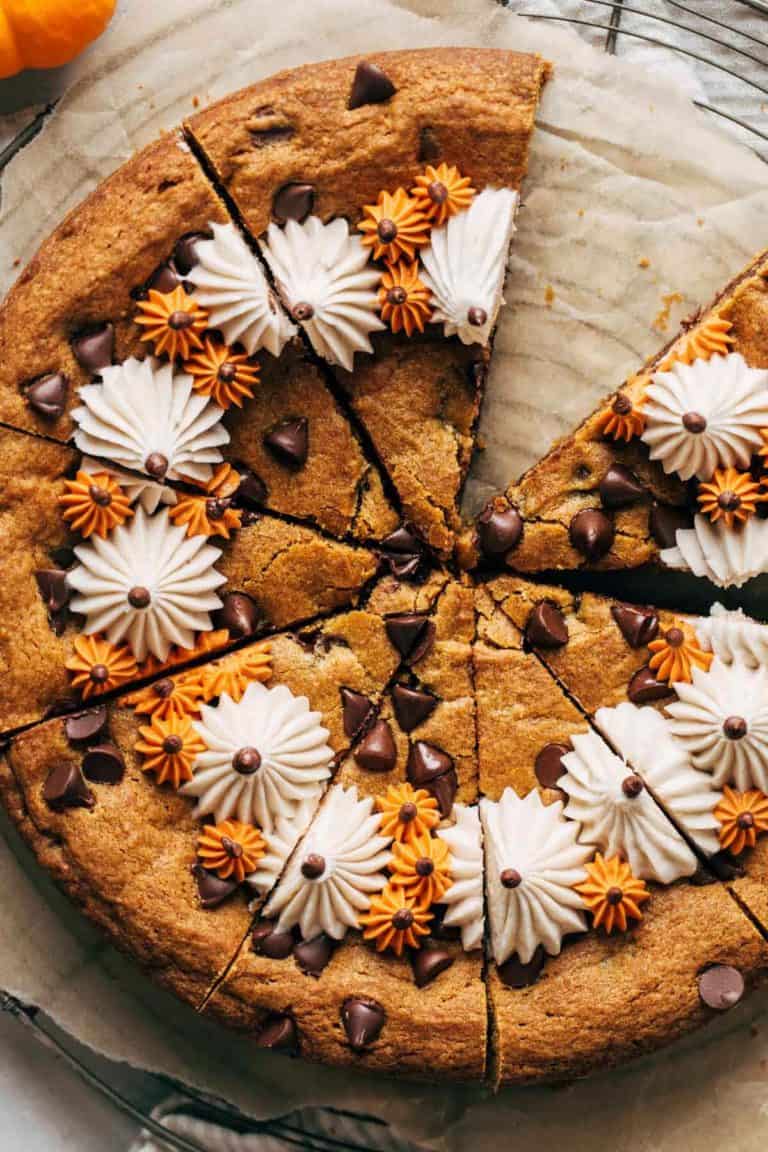 The secret to a chewy and gooey pumpkin cookie cake
Adding pumpkin to any sort of cookie dough can be difficult. Due to its high moisture content, it tends to create steam within the cookie as it bakes. This process leaves you with a light and cakey cookie rather than a soft and chewy cookie.
And a cookie cake just isn't a cookie cake without that gooey and chewy texture. That's why I've incorporated a few key ingredients to make this pumpkin cookie cake just right:
C&H® Dark Brown Sugar – This is my secret ingredient to achieve a really rich and chewy cookie. C&H® Dark Brown Sugar is infused with more molasses, so it provides a deeper flavor and texture. I also always make sure to use C&H® Sugar because I find it has a better consistency (AKA no large brown sugar lumps) and a smooth richness. It just blends seamlessly into this dough.
Extra butter – To get that melty texture, a few extra tablespoons of butter are needed. Rather than using 1/2 cup, this recipe calls for 3/4 cup in order to help weigh down the dough. This makes all the difference, taking it from a cake-like texture to our desired dense cookie texture.
Egg yolk – Rather than a whole egg, one single egg yolk is used in this dough. Pumpkin actually works as an emulsifier, just like eggs, so using more eggs than needed can actually add lightness to this dough. So instead, an egg yolk is incorporated to add richness to this cookie cake.
What should the dough look like?
Once it's all mixed together, the dough will be thick but sticky. If it's too dry or too wet, here's what could have gone wrong:
Too dry – This is when too many dry ingredients were used in the dough. Make sure to measure the flour properly by spooning it into your measuring cup and leveling it off with a flat edge. Never scoop directly into the flour as this can compact it into the cup.
Too wet – The butter may have been TOO soft before adding it to the dough. If that's the case, chill the dough for about 30 minutes before baking.
Tips for baking a giant chocolate chip cookie
Once the dough is prepped and ready to go, it's time to bake. First, try to use a 9″ springform pan. This not only ensures an even bake, but it's also very easy to release the cookie once baked. If you don't have this type of pan, you could also use a 9″ round cake pan or a cast iron skillet. Just know that you may not be able to release the cookie from these pans.
To prep your pan, coat it with a thin layer of nonstick spray and line the bottom with a sheet of parchment paper. To do so, spray the pan, release the ring, place a sheet of parchment on the bottom plate, and then place the ring back on the pan to seal the paper in place.
Then, spread the dough in an even layer. It's pretty sticky so I recommend using a rubber spatula or wooden spoon to spread it out. Once it's even, sprinkle the top with a few extra chocolate chips. This adds tons of beautiful texture and flavor.
Now it's ready to bake! To know when it's done, give the pan a gentle nudge inside the oven. If the center wobbles, it needs a few more minutes. But if it has a tight jiggle, it's ready. The entire cookie should also be evenly puffed, but the center will settle and sink down as it cools.
Allow the cookie to cool completely before decorating. Let it cool in the pan for about 20 minutes, then release the ring and place the cookie (still on the bottom plate) in the refrigerator for about 45 minutes to finish cooling.
How to pipe buttercream pumpkins
Without decorations, this cookie cake could just look like any other chocolate chip cookie cake. But with the buttercream pumpkins, it elevates this dish into a cookie cake perfect for fall.
To make the pumpkins, you will need:
Orange gel food coloring
Piping bags
1 large french star piping tip
1 small french star piping tip
1 small round piping tip
To make the buttercream, I always use C&H® Confectioners Sugar. I never feel the need to sift out any lumps, so it makes an effortlessly smooth buttercream every time. Once the buttercream is smooth and creamy, separate it into 3 dishes: 1 small dish for the chocolate stems, 1 medium dish for the small orange pumpkins, and 1 large dish for the white pumpkins.
Add one drop of orange gel food coloring to the medium dish, along with about 1/4 tsp of cocoa powder. This helps mellow out that bright orange color to make it a bit more muted and natural. Then add about 1 tsp of cocoa powder to the small dish to color it brown for the stems. Then the white is just left as is.
The large star tip is used for the large white pumpkins, the small start tip is for the small orange pumpkins, and the round tip is used to add the stems on top.
First start with the white pumpkins. Place random dollops all around the inner edge of the cookie cake. Then, go in with the orange pumpkins to fill in any gaps.
There's a technique to this. Place your piping tip about an inch above the surface of the cake (or 1/2 inch for the smaller pumpkins). Then apply even pressure to pipe on the buttercream. Don't move the tip, just let the buttercream dollop right where you placed it. Once the buttercream has spread enough to make the pumpkin shape, simply pull the piping bag straight up to release the buttercream.
If you find that your pumpkins have very pointy tips, dampen the tip of your finger with a bit of water and dab the tips of the pumpkins to flatten them out before adding the stems.
Then just pipe on the chocolate buttercream to the tops of the pumpkins and your pumpkin patch is complete!
How to store a pumpkin chocolate chip cookie cake
If you plan on serving this the day you made it, you may leave it out at room temperature. Otherwise, store the cookie in an air tight container in the refrigerator. It should keep for up to 5-6 days before it starts to dry out.
When you're ready to have a slice, let the cookie come up to room temperature and enjoy!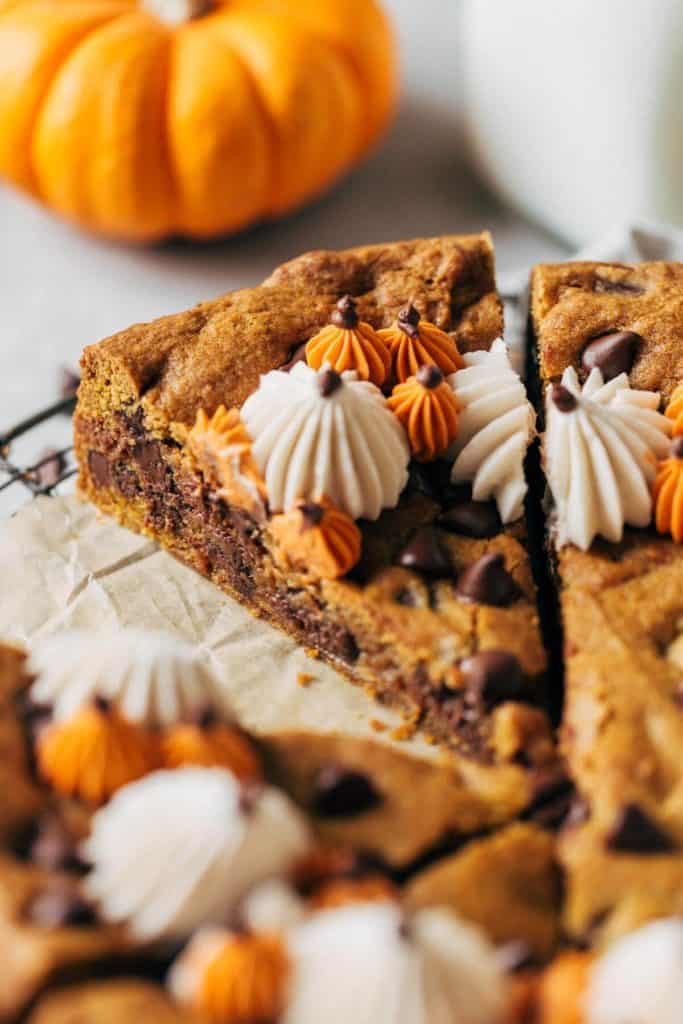 For more pumpkin recipes, check out my:
Make sure to tag me @butternutbakery on Instagram and comment below if you make this Pumpkin Chocolate Chip Cookie Cake. To pin this recipe and save it for later, you can use the button on the recipe card or on any of the photos above. Happy baking!
Print
Pumpkin Chocolate Chip Cookie Cake
---
Author: Jenna Barnard
Total Time: 55 minutes + 1 hour cooling
Yield: 10 slices
Description
This giant chocolate chip cookie is baked with pumpkin and warm fall spices to make it the ULTIMATE fall cookie. It's then topped with buttercream pumpkins and extra chocolate chips.
---
Pumpkin Chocolate Chip Cookie Cake
2 1/4 cups (280g) all purpose flour *see notes for GF option
3/4 tsp baking soda
1/2 tsp salt
1 tsp cinnamon
1/2 tsp ginger
1/4 tsp nutmeg
1/8 tsp clove
3/4 cup (160g) unsalted butter, room temperature
1 cup (200g) C&H® Dark Brown Sugar, packed
1/4 cup (50g) C&H® Granulated Sugar
1 large egg yolk
1/2 cup (110g) pumpkin puree
2 tsp vanilla extract
1 1/4 cups semi sweet chocolate chips, divided
Buttercream
1/2 cup (110g) unsalted butter, room temp
1 1/2 cups (180g) C&H® Confectioners Sugar
1 tsp vanilla extract
1 tbsp milk or water
1 1/4 tsp cocoa powder, divided
1 drop orange gel food coloring
---
Instructions
Pumpkin Chocolate Chip Cookie Cake
Preheat the oven to 350F, coat a 9″ springform pan with nonstick spray, and line the bottom with parchment paper. TIP: Spray the pan, remove the ring, place a sheet of parchment paper on the bottom pan, and place the ring on top to seal it in place. No need to cut a perfect circle.
In a medium bowl, whisk together the flour, baking soda, salt, cinnamon, ginger, nutmeg, and clove. Set aside.
In a large bowl, using a hand or stand mixer with the paddle attachment, cream together the butter, C&H® Dark Brown Sugar, and C&H® Granulated Sugar until light and fluffy.
Mix in the egg yolk, pumpkin puree, and vanilla.
Once smooth, mix in half of the dry ingredients. Once it's almost combined, mix in the rest. Stop when the dry ingredients are mostly mixed in with a few streaks of flour throughout.
Pour in 1 cup of chocolate chips and fold to distribute the chocolate chips and mix in that last bit of flour.
Spread into your prepared pan and sprinkle the extra 1/4 cup of chocolate chips on top. Lightly press them into the surface.
Bake for 32-37 minutes, or until the center of the cookie cake has a tight jiggle when the pan is nudged.
Allow the cookie cake to cool in the pan for about 20 minutes. Then remove the ring and place the cookie in the refrigerator for about 45 minutes to cool completely. If it's too warm, the buttercream on top will melt so it's important that it's at least room temperature before moving on to the next step.
Buttercream
Using a hand or stand mixer with the whisk attachment, whisk the butter until smooth.
Mix in 1 cup of C&H® Confectioners Sugar, followed by the vanilla. Then, once smooth, mix in the remaining half cup of C&H® Confectioners Sugar.
If it's too thick, mix in 1 tablespoon of milk or water to help thin it out.
Add 2 small pinches of cocoa powder to the buttercream and mix to combine. It shouldn't color it at all, but this will give it a slightly warmer tone.
Add one spoonful of the frosting to a small dish and 4 spoonfuls to another dish. Now you should have 3 bowls of buttercream (one small, one medium, and one large).
To the small dish, add 1 tsp of cocoa powder and mix to combine. This will act as the stems of the pumpkins.
To the medium dish, add a drop of orange gel food coloring and 1/4 tsp of cocoa powder. The cocoa powder helps mellow out the orange so it looks more natural, like the color of actual pumpkins.
The large dish (the original buttercream mixture) is to remain white. Add the white buttercream to a piping bag fitted with a large french star tip. Add the orange to a bag fitted with a small french star tip. And finally, add the chocolate buttercream to a bag fitted with a small round tip.
When the cookie cake is completely cooled, start by piping on the white buttercream in small dollops all around the rim of the cake. Fill in any gaps with the orange buttercream, and then add your chocolate stems on top of each pumpkin.
Now slice and enjoy!
Notes
GLUTEN FREE – Although I haven't tested it, I believe this recipe would do well with gluten free flour. Swap the flour with a good quality gluten free baking flour – one with xanthan gum. I also suggest weighing the flour, rather than measuring by cups, to ensure accuracy. 
Prep Time: 20 minutes
Cook Time: 35 minutes
Keywords: cookie cake, pumpkin cookie cake, chocolate chip cookie cake
Recipe Card powered by