Pumpkin gooey butter cake…four of my favorite words wrapped up in one dessert. This delicious pumpkin cake has a moist spice cake bottom with a layer of smooth pumpkin pie filling on top. Make this for Thanksgiving and I don't doubt that everyone will be asking you for the recipe!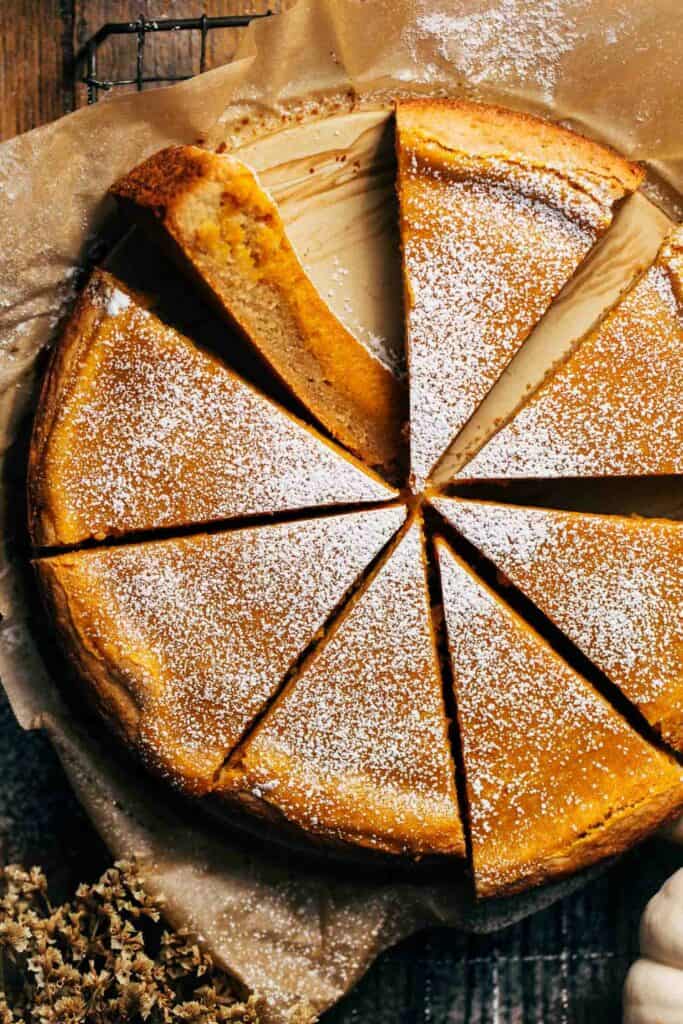 What is pumpkin gooey butter cake?
The inspiration for this recipe came from my gooey lemon butter cake which was heavily influenced by a classic gooey butter cake. If you've never tried it, it's essentially a thin and dense cake baked with a layer of cream cheese and butter on top.
Basically, it's sweet ooey gooey goodness. But for this pumpkin version, I wanted to create something that was more of a mash up between moist spice cake and smooth pumpkin pie.
To do so, the base is made up of a spice cake that isn't too dense or too light. It's able to hold the weight of the topping while also baking all the way through. If anything, the base itself is like a mash up between spice cake and a rich blondie.
The topping is made almost just like pumpkin pie filling but instead of cream or condensed milk, cream cheese is used to create a thick and rich pumpkin pie layer. It has all the delicious spiced goodness of pumpkin pie but without the long wait time to set.
It bakes with a super tender and moist spice cake with a layer of rich and smooth pumpkin pie filling on top. The filling bakes into a smooth consistency that melts in your mouth with each bite.
How to make pumpkin butter cake
Not only is this cake a major crowd pleaser, but it's also really easy to make! Just spread and pour into a pan, bake, cool, and it's done. But to ensure it turns out just right, here are my top tips:
Spice Cake
Flour – I say this for every recipe, and especially cake. If possible, weigh the flour rather than measure by cups. This is the most accurate way of baking. If a kitchen scale isn't available, gently spoon the flour into a measuring cup and level it off with a flat edge. This prevents the flour from packing down into the cup, creating a tough and dry cake.
Butter – For the best flavor, I suggest using quality butter like cultured European style. Of course this isn't mandatory, but it does give the cake tons of flavor. Also make sure the melted butter has cooled before use.
Vinegar – It's such a small amount but don't skip out on this ingredient! It helps create an incredibly tender cake layer that isn't TOO sweet.
Mixing – The batter is mixed by hand, so it's difficult to over mix. In any case, stop mixing right when the flour disappears. If the cake batter is over worked, it will likely struggle to bake all the way through.
Pumpkin Pie Filling
Cream Cheese – First and foremost, make sure the cream cheese is at room temperature before use. If not, the cream will turn out lumpy with clumps of cream cheese throughout. Second, I highly recommend Philadelphia block cream cheese as it has the best consistency and flavor out of any other cream cheese I've tried.
Pumpkin – It's very important to use pumpkin puree and NOT pumpkin pie filling. Only use pure pumpkin puree made with just pumpkin.
Mixing – Mix in the powdered sugar one cup at a time, ensuring each is fully incorporated before adding the next. The sugar helps smooth and thin out the cream cheese which helps when mixing in the egg after.
Egg – Speaking of, use room temperature eggs. If the eggs are too cold, it could freeze up some of the cream cheese.
Pouring – Pour the filling into the center of the spread spice cake batter. It's thin enough to where it will naturally spread out to the edges. It does not have to touch the sides of the pan, but it should nearly cover the entire surface of the cake.
How to tell when pumpkin gooey butter cake is done
The toothpick test doesn't work here as it will pick up the wet cream topping on the way out. To tell that it's done, look at the surface of the cake.
The pumpkin layer should be evenly puffed with golden cake edges. It color will also appear very light, but it will darken into a rich pumpkin color once cooled.
Chilling pumpkin butter cake
This part is ESSENTIAL to the process, as cooling the cake allows the pumpkin to set. The cake must rest for about an hour at room temperature, or until the pan is no longer warm to the touch. This process can also be sped up by placing the cake in the refrigerator to chill.
Serving pumpkin pie cake
This cake is best served when it's fresh so slice right in when it has cooled to room temperature. Top with a light dusting of powdered sugar if desired. A little sprinkle of cinnamon also doesn't hurt!
How to store gooey butter cake
Keep the cake in an airtight container at room temperature for a day or the refrigerator for up to 5 days.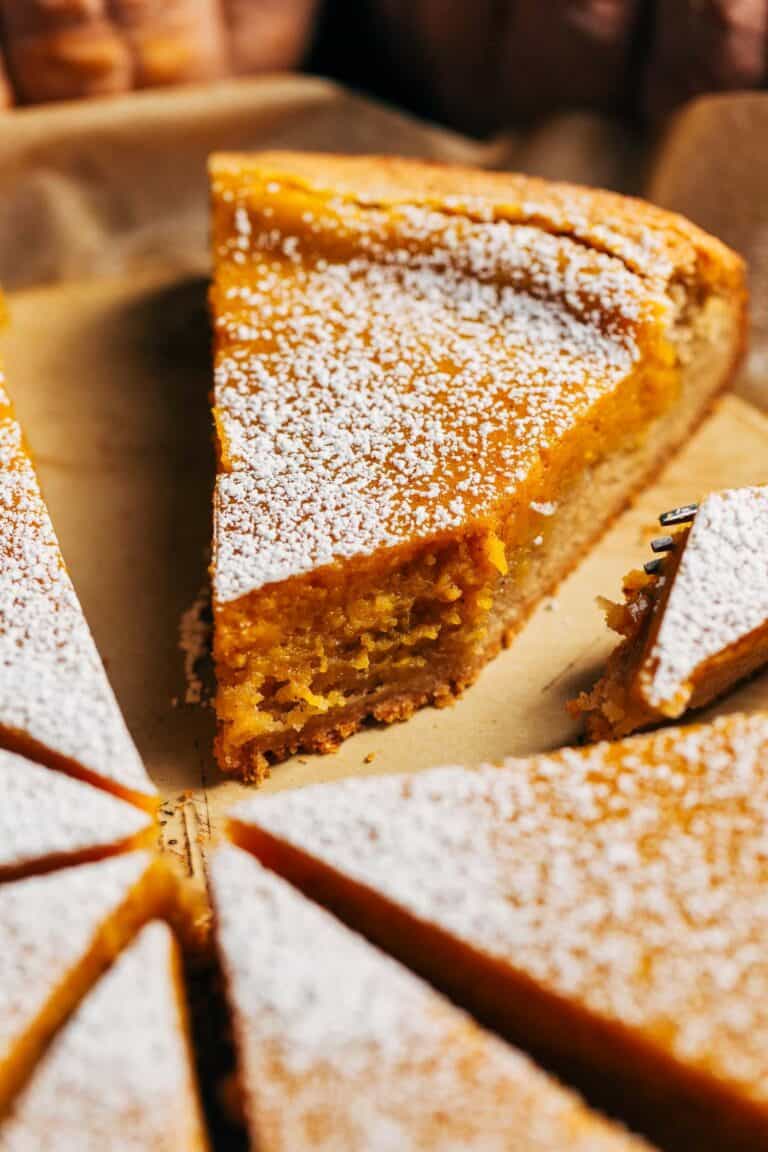 For more pumpkin desserts, check out my:
Make sure to tag me @butternutbakery on Instagram and comment below if you make this pumpkin gooey butter cake. To pin this recipe and save it for later, you can use the button on the recipe card or on any of the photos above. Happy baking!
Print
Pumpkin Pie Gooey Butter Cake
---
Author: Jenna Barnard
Total Time: 55 minutes + 1 hour cooling
Yield: 8 slices
Description
This pumpkin gooey butter cake is a delicious combination of super moist spice cake and smooth pumpkin pie filling. It's a fun alternative to pumpkin pie and is so easy to make!
---
Spice Cake
1/2 cup (110g) unsalted butter, melted
3/4 cup (150g) granulated sugar
1/4 cup (50g) light brown sugar, packed
1 large egg, room temp
1 tsp vanilla extract
1 tsp apple cider or white distilled vinegar
1 1/4 cup (165g) all purpose flour
1 tsp baking powder
1/2 tsp ground cinnamon
1/4 tsp ground nutmeg
1/4 tsp ground ginger
1/4 tsp kosher salt
Pumpkin Pie Filling
4 oz full fat cream cheese, room temp
1/2 cup (125g) pumpkin puree (not pumpkin pie filling)
2 cups (220g) powdered sugar
1 large egg + 1 egg yolk, room temp
1/2 tsp vanilla extract
1/2 tsp ground cinnamon
Pinch of kosher salt
---
Instructions
Spice Cake
Preheat the oven to 350F. Spray the inside of a 9″ springform pan with nonstick spray and line the bottom with parchment paper.
In a medium bowl whisk together the flour, baking powder, spices, and salt. Set aside.
In a large bowl whisk together the butter and sugars, followed by the egg, vanilla, and vinegar.
Pour in the dry ingredients and use a rubber spatula to fold the batter together.
Spread the batter in the bottom of the prepped pan and set aside.
Pumpkin Pie Filling
In a medium bowl, whisk together the cream cheese and pumpkin. This can be done so by hand or using an electric mixer.
Whisk in the powdered sugar one cup at a time, followed by the vanilla, eggs, cinnamon, and salt.
Pour the pumpkin pie filling over the spice cake. It should self level, so there's no need to spread it even.
Bake for 35-40 minutes. When the cake is fresh from the oven, carefully run a knife around the edge of the pan to prevent the cake from sticking to the sides.
Allow the cake to cool in the pan for 20 minutes, then remove the springform ring and continue to cool to room temperature. Chilling the cake will speed up this process.
Once cooled, top with a light dusting of powdered sugar, slice, and enjoy!
Equipment
Prep Time: 20 minutes
Cook Time: 35 minutes
Category: Dessert
Method: Baking
Cuisine: American
Keywords: pumpkin butter cake, pumpkin gooey butter cake, pumpkin pie cake, pumpkin cake
Recipe Card powered by