Fall can only mean one thing – apple cider donuts! These baked donuts have the sweet tartness of apple cider with a coating of cinnamon sugar. They're soft, moist, tender, and so fun to make.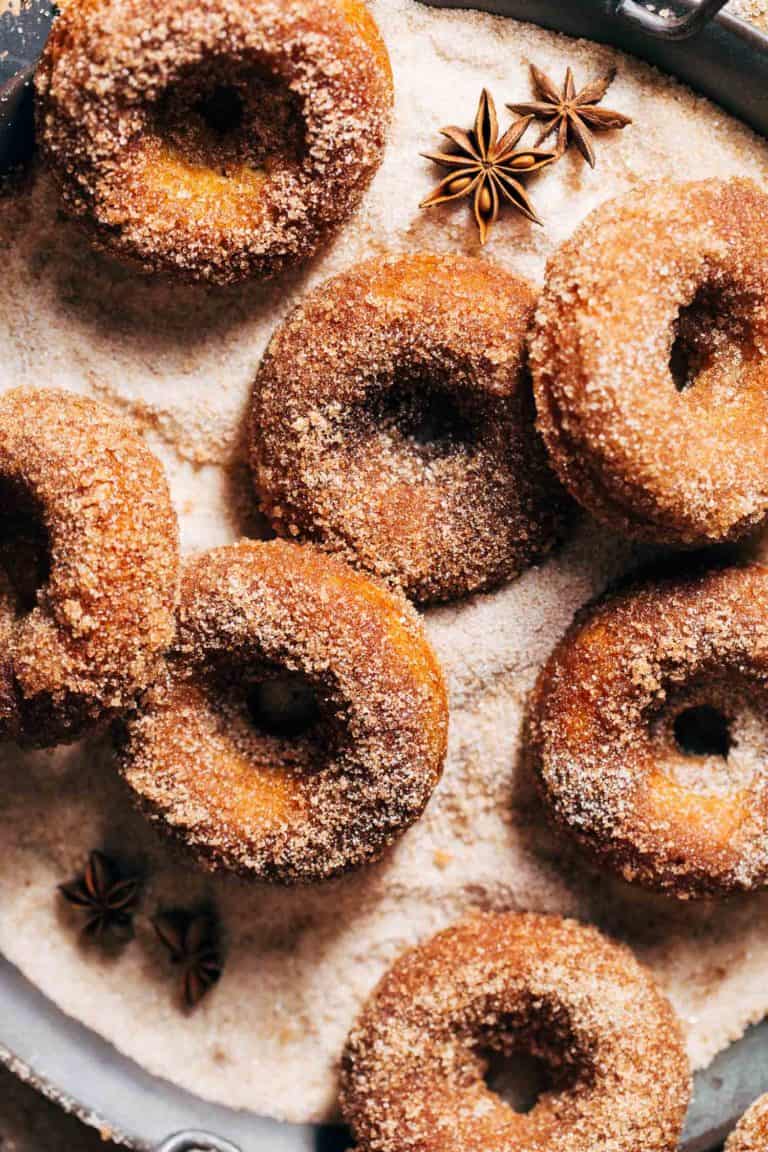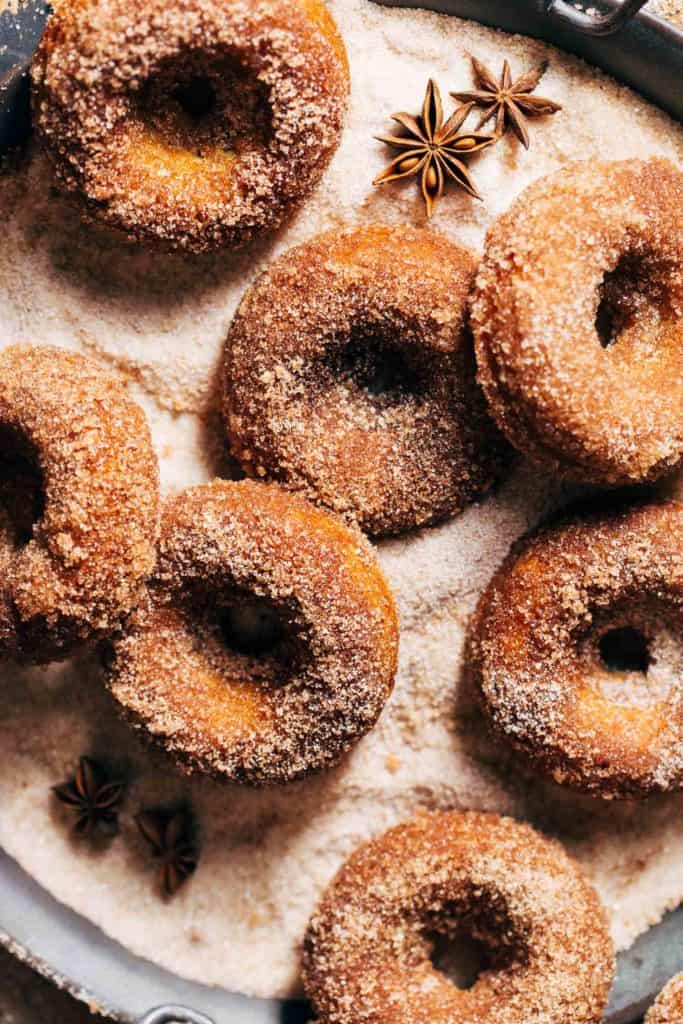 What makes these the BEST apple cider donuts?
Let's be real, frying donuts at home is a PAIN. Between heating and keeping the oil at the exact temperature, to discarding and cleaning up all that oil, it's just too much for me. So it's completely acceptable to take the much easier route and just make baked apple cider donuts. They're just as delicious, and for so so many reasons.
For starters, the TEXTURE. They're so soft and pillowy but remain really moist and tender. This is due to the fact that these donuts are made with oil instead of butter. Apple sauce is also added to further that moist texture. That paired with the crunchy cinnamon sugar coating is a match made in heaven.
To take it a step further, I made this recipe completely dairy free! It was nearly intentional, as I wanted to create an oil-based donut for a really moist texture, but a few simple ingredient swaps later and the recipe ended up without any dairy.
Not only that, but it's so easy to make these donuts gluten free if you prefer. I tested it both ways and whether you use regular flour or gluten free flour, you'll still end up with a delicious apple cider donut that's perfectly soft and sweet.
Tips for making homemade apple cider donuts
This recipe is super simple and SUPER fast to make, but here are a few things you should know to ensure they turn out just right:
Apple Cider – For the best results, use really good apple cider. And by really good, I mean the fresh and homemade kind you can get at an apple orchard. This will give you the best flavor. Of course if you don't have access, store bought apple cider is completely and totally acceptable. But if you can, grab the good stuff!
Dry Ingredients – I say this in every post, and for good reason. It's the number one reason why most recipes fail. If there's too much flour, the donuts will turn out dry and stiff. If you can, measure the flour with a food scale. Otherwise, to ensure you use the exact amount needed, gently spoon the flour into your measuring cup and level if off with a flat edge. If you scoop directly into the flour container, this packs it down into the cup which could leave you with 1/4 cup or more of added dry ingredients.
Mixing – The donut batter is mixed by hand, so it's hard to over mix it. But just so we're on the same page, you can mix vigorously when it's only the wet ingredients. Once the dry ingredients are added, mix just until they're fully blended into the batter. If the batter is over mixed, the donuts may have trouble rising and they will likely turn out tough and chewy.
Filling – These donuts are baked in a non stick donut pan, which can be tricky to work with. To make sure each cavity is evenly filled, pipe in the donut batter using either a piping bag or a ziplock bag with the tip snipped off. This makes it easy to squeeze the batter into each donut section.
Cooling – Allow the donuts to cool inside the pan before releasing – just until they're cool enough to handle. If they're too warm, they tend to break easily.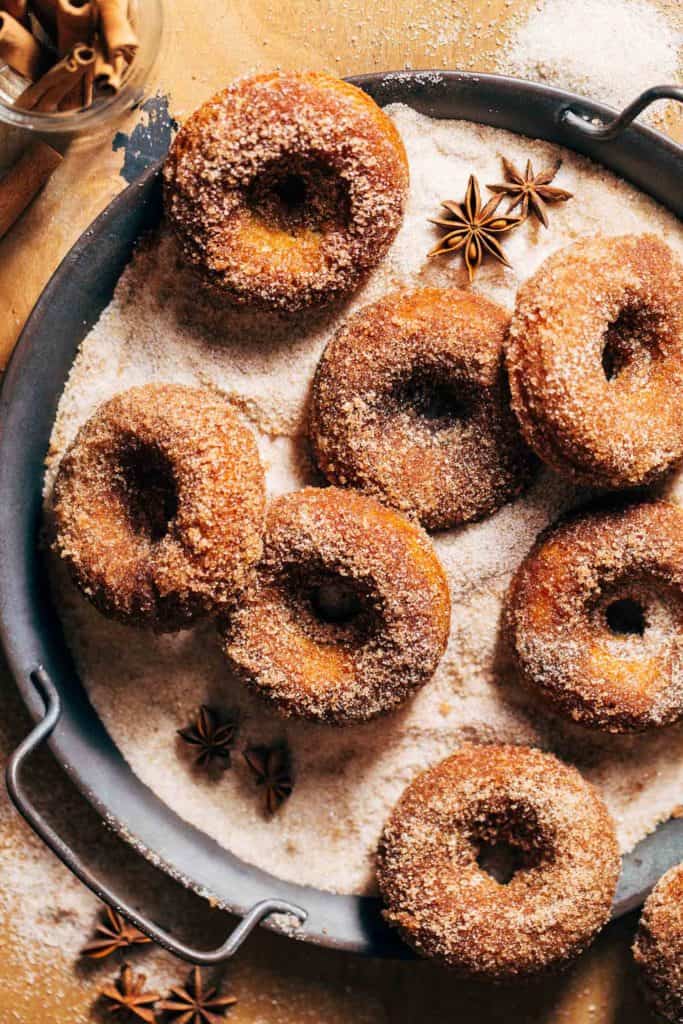 Cinnamon sugar coating
I honestly don't know which I love more, a glazed donut or a cinnamon sugar coated donut. But in this case, cinnamon sugar is definitely the way to go. The warm cinnamon and sweet sugar paired with the tart apple cider donut is just too good to be true.
First, allow the donuts to cool before coating. This makes them easier to handle and ensures they stay in tact when tossing in the sugar.
Then, dunk the donuts in melted butter. Since I chose to make this a dairy free recipe, I recommend using vegan baking butter for this step. Of course if you aren't dairy free, you can choose to use regular butter instead.
After dunking, allow some of the butter to drip off. Then transfer to a dish filled with cinnamon sugar and toss to coat, covering the entire outside surface of the donut.
As for the coating, I personally like a mix of raw sugar, granulated sugar, and cinnamon. The raw sugar adds a slight crunch that pairs so well with the soft donut. In this case I do 1/2 cup raw sugar, 1/2 cup granulated sugar, and 2 tsp cinnamon. If you don't have raw sugar, not to worry! Granulated works just fine. But if you have it, I definitely recommend using it.
Do these apple cider donuts have to be made dairy free?
Nope! If you want to use regular milk instead of almond milk, or regular butter instead of vegan butter, go right ahead. It will not change the outcome.
What if I don't have a cinnamon stick?
If you don't have cinnamon sticks to toss in with the cider, that's OK. Of course it's preferred, but it will not make or break the recipe.
Can these donuts be made vegan?
I have not tested it, so I can't say for certain. Egg replacements I would try include – 3 tablespoons of aquafaba (liquid from a can of chickpeas) for 1 egg; 1 flax egg which is 1 tbsp ground flaxseed mixed with 2.5 tablespoons of water in place of 1 egg; an egg replacement mix.
How long do apple cider donuts keep?
Since my recipe is oil-based, these donuts will stay moist for quite some time. Store the donuts in an air tight container in the refrigerator and they will keep tasty for about 1 week.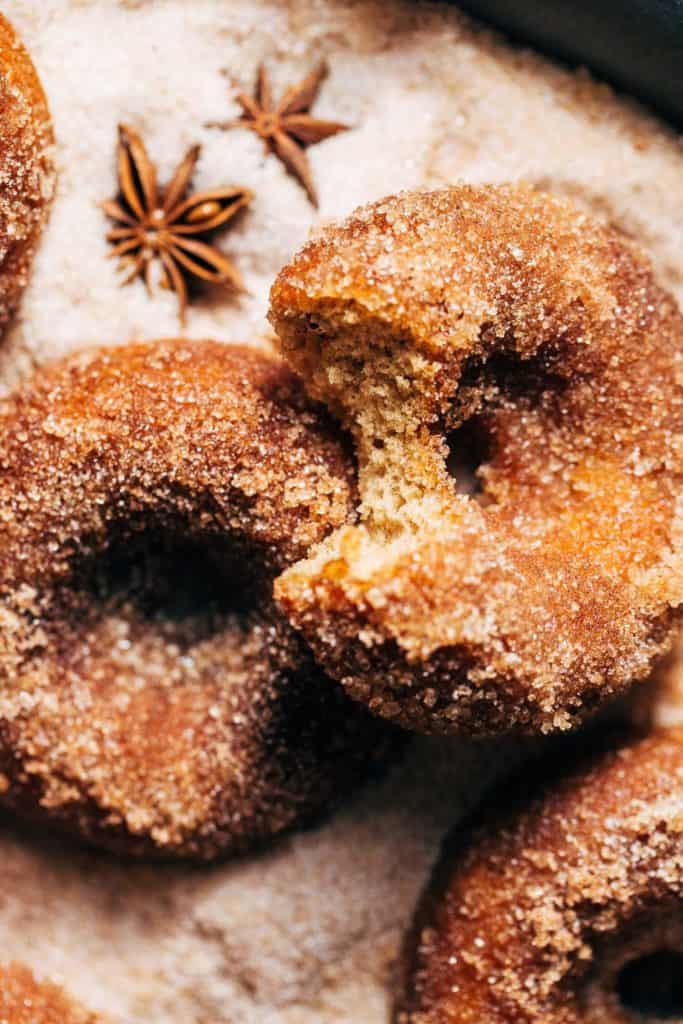 For more apple recipes, check out my:
Make sure to tag me @butternutbakery on Instagram and comment below if you make this apple butter spice cake. To pin this recipe and save it for later, you can use the button on the recipe card or on any of the photos above. Happy baking!
Print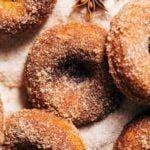 Apple Cider Donuts
---
Description
These moist apple cider donuts are baked to perfection, and are completely dairy free with the option to make them gluten free as well!
---
Apple Cider
1 1/4 cup apple cider, reduced to 1/3 cup
1 cinnamon stick
Apple Cider Donuts
2 cups (255g) all purpose flour or gluten free flour*
1/4 tsp salt
1 tsp baking powder
1 tsp baking soda
1 tsp ground cinnamon
1/2 tsp ground ginger
1/4 tsp ground nutmeg
1/2 cup (100g) light brown sugar, packed
1/4 cup (50g) granulated sugar
1 large egg
1 tsp vanilla extract
1/4 cup (55g) melted coconut oil, or vegetable oil
1/4 cup (60ml) almond milk, or regular milk
3 tbsp unsweetened apple sauce
Cinnamon Sugar Coating
6 tbsp unsalted butter, melted (use vegan butter for dairy free)
1 cup (200g) granulated sugar
2 tsp ground cinnamon
---
Instructions
Pour the apple cider into a saucepan with the cinnamon stick. Place over medium heat and bring to a simmer.
Simmer until it reduces down to 1/3 cup. Pour into a measuring glass to ensure you have exactly 1/3 cup. If you're just a hair short, top it off with a bit more fresh apple cider. Set aside.
Preheat the oven to 350F and bring out your donut pans, enough to make 12 donuts.
In a medium bowl, whisk together the flour, salt, baking powder, baking soda, and spices. Set aside.
In a large bowl, whisk together the brown sugar, sugar, egg, vanilla, melted oil, and warm cider. The cider can be warm to the touch, but not hot. 
Then whisk in the almond milk and apple sauce.
Pour in the dry ingredients and whisk to combine. 
Pour the batter into a piping bag, or a large zip lock bag, and snip off the tip or corner.
Lightly spray the donut pans with nonstick spray and pipe the batter into each cavity, filling each about 3/4 full and using up all of the batter. 
Bake for 10 minutes, or until a toothpick comes out clean with a few moist crumbs. 
Allow the donuts to cool for about 10 minutes, then carefully remove them from the pan and place on to a cooling rack.
For the coating, melt the butter in the microwave and combine the sugar and cinnamon in a separate dish.
Coat the donuts by dunking in the butter, allowing any excess to drip off, and then toss in the cinnamon sugar.
Now they're ready to enjoy!
Equipment
Notes
GLUTEN FREE FLOUR – I have tested this with gluten free flour as well and they turned out great! But I recommend weighing the flour rather than measure by cups, as it's very easy to use too much when measuring. The flour I use is Bob's Red Mill 1-to-1 Gluten Free Baking Flour.
Prep Time: 40 minutes
Cook Time: 10 minutes
Keywords: apple cider donuts, baked apple cider donuts, apple cider donut recipe
Recipe Card powered by