Caramel apples are a classic fall treat that everyone knows and loves. That's why I took this tried-and-true flavor combination and worked it into these moist caramel apple muffins! Soft and tender cinnamon spiced apple muffins are baked with a sweet and crunchy streusel topping and drizzled with a spoonful of thick homemade caramel sauce. They're tart, fluffy, sweet, crunchy and oh so delicious.
This post is sponsored by Bob's Red Mill but all thoughts and opinions are my own. Thank you for supporting the brands that make Butternut Bakery possible!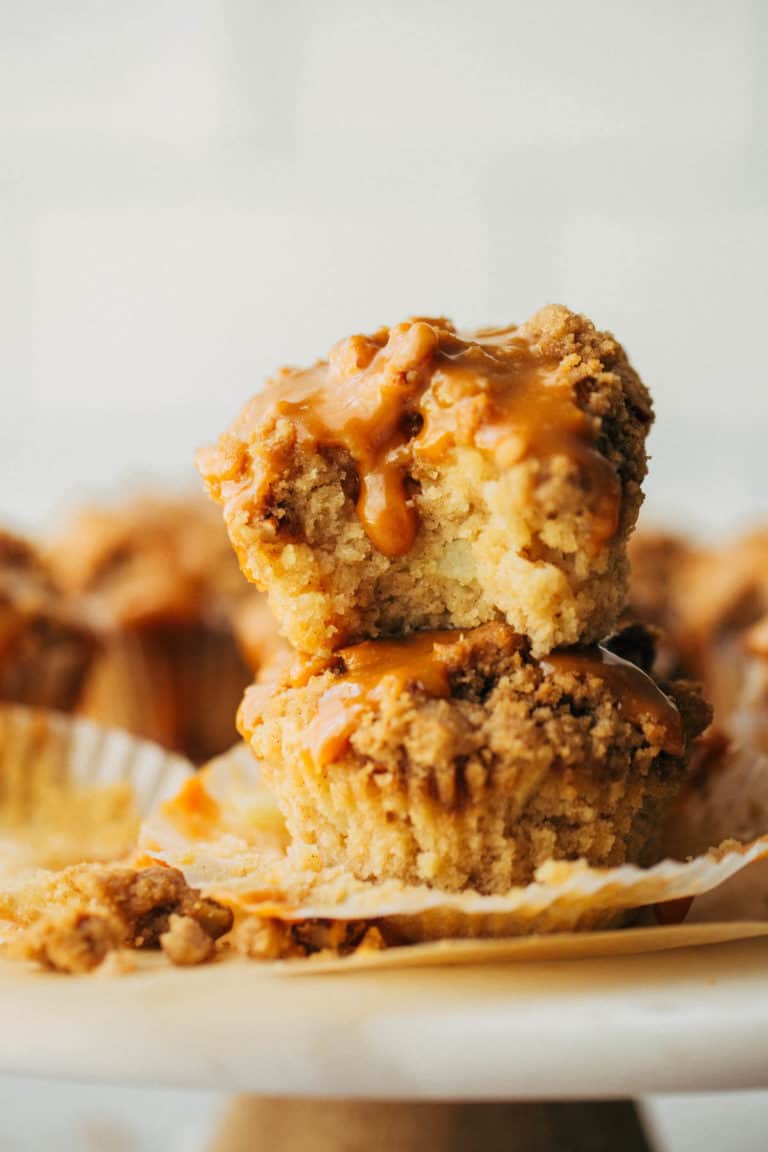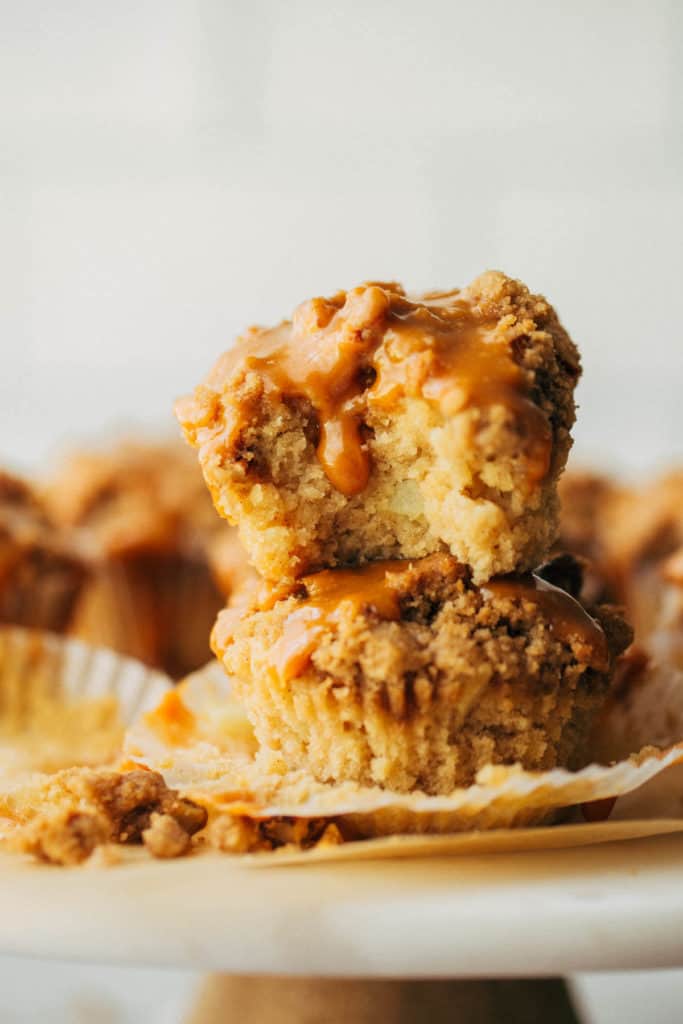 Tips for baking perfect apple muffins
What I love about muffin recipes is that they're so quick and easy to make, and this recipe is exactly that. They're made all in one bowl and are mixed by hand, so no special equipment is needed. But here are a few tips to ensure they turn out just right:
The Flour – The best part about a muffin is that dome shaped top accompanied by a light and fluffy interior, although it can be hard to strike the balance between the two. That's why I prefer to bake with a good quality flour like Bob's Red Mill Organic All Purpose Flour. With a protein content of 10-12%, it lends a lighter texture as opposed to the typical 13% of other all purpose flours. It's also made from premium organic wheat, so it absorbs moisture like a dream to create a smooth batter but sturdy muffin. The same goes for the streusel topping. Using Bob's Red Mill Organic All Purpose Flour gives it a slight crunch that isn't too hard or too crumbly.
The Apples – Peel and dice the apples into tiny bite-sized pieces (as shown below). If they're too tiny, you'll lose the texture. If too large, they'll stick to the paper liners and fall out of the muffins. Tossing them in lemon juice stops the apples from browning while you make the batter.
Mixing – When the wet ingredients are almost mixed into the dry ingredients, fold in the apples. Folding will distribute the apples while also allowing the rest of the batter to come together. You want to mix the batter as little as possible. This will give you light and tender muffins as opposed to dense and tough.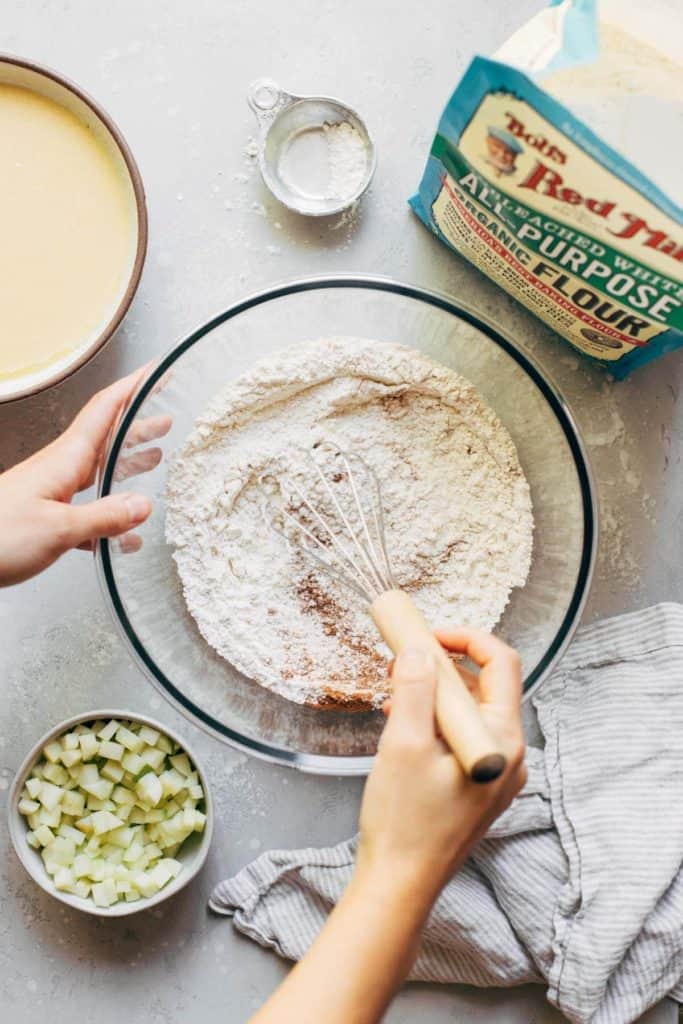 The secret to a sweet and crumbly streusel topping
Even though streusel is really easy to make, it can be tricky to get the consistency just right. It can either melt all over the muffins in the oven, or turn out a bit too crumby and dry.
I make almost all my streusels with melted butter. At first, the mixture may seem too mushy and wet. But the trick is to chill the streusel while you make the batter. This allows the flour to fully hydrate the butter as it firms and cools. By the time the batter is scooped into their liners, the streusel will be the perfect crumbly consistency.
How to apply the streusel
When all the liners have been filled with the muffin batter, remove the crumble from the refrigerator. It will be firm and clumped up into one big mass, so use your hands to break it up.
Then, crumble a hefty amount onto each muffin. It may spill over the sides but that's perfectly fine. It may also seem like a lot, but once the muffins expand in the oven their surface area becomes much larger. This allows the streusel to spread out and cover the entire muffin top.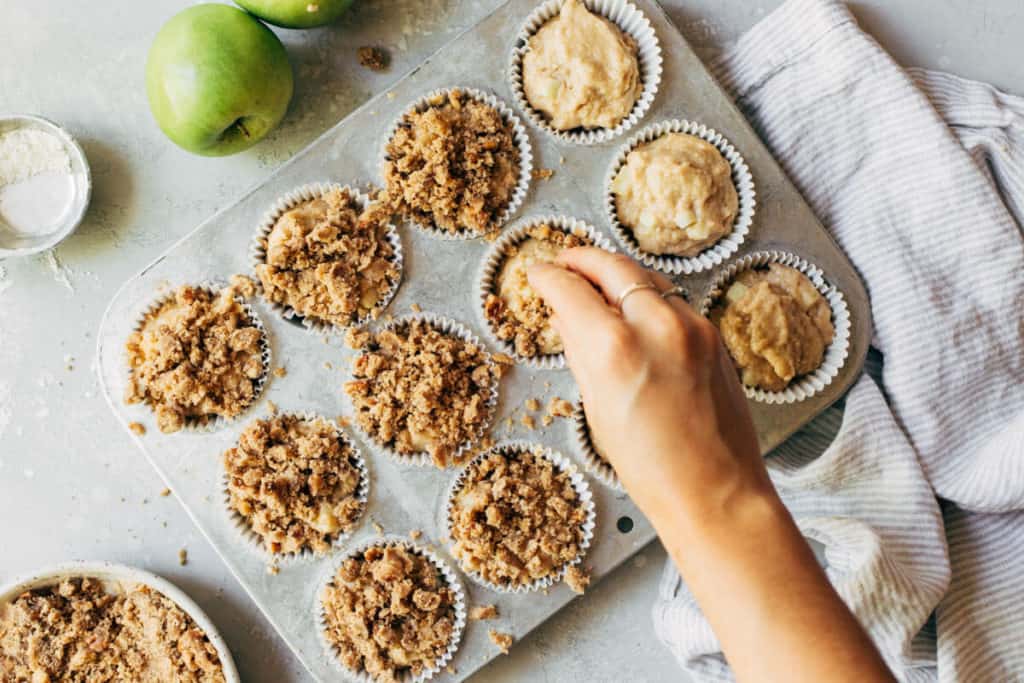 Thick and rich homemade caramel sauce
The cherry on top of these apple crumble muffins in the rich and lush salted caramel sauce. It's creamy, smooth, and provides so much added flavor. It's also really easy to make, as long as you follow these extra tips:
Don't touch the sugar – Sprinkle the sugar in an even layer and then just let it melt over the heat. Don't touch it, don't stir it, just let it be. If you stir, the sugar will clump up as it melts. But if you see there are a few "sugar islands" that just aren't melting, give the pot a gentle shake to coat them in the hot melted sugar that surrounds it.
Heat – Don't let the sugar get too hot. Melt it slowly over medium heat. If you know your stove top runs pretty hot, work on medium-low heat. If it's too hot when you add the cream, it could seize up.
The trick to mixing – If you stir in cold cream to piping hot sugar, it will cool down the sugar too quickly and turn into a clumpy hard sugar mess. So just before the sugar is completely melted, pop the cream in the microwave for about 1 minute. It should come out steaming and bubbly. Remove the sugar from heat and place it on something that will keep the pot in place, like an oven mitt or towel. Begin to quickly whisk the sugar while also pouring in the heavy cream. It's important to not lean over the pot as it will steam and sputter during this process. Keep whisking until the two are completely combined.
Sift the powdered sugar – Once the heavy cream is mixed in, the hardest part is over. All that's left is to add the butter, salt, vanilla, and powdered sugar. To avoid lumps, sift the powdered sugar into the caramel.
If you run into any trouble, check out my post all about how to make homemade salted caramel. The recipe is a bit different, but all the same tricks and troubleshooting tips apply.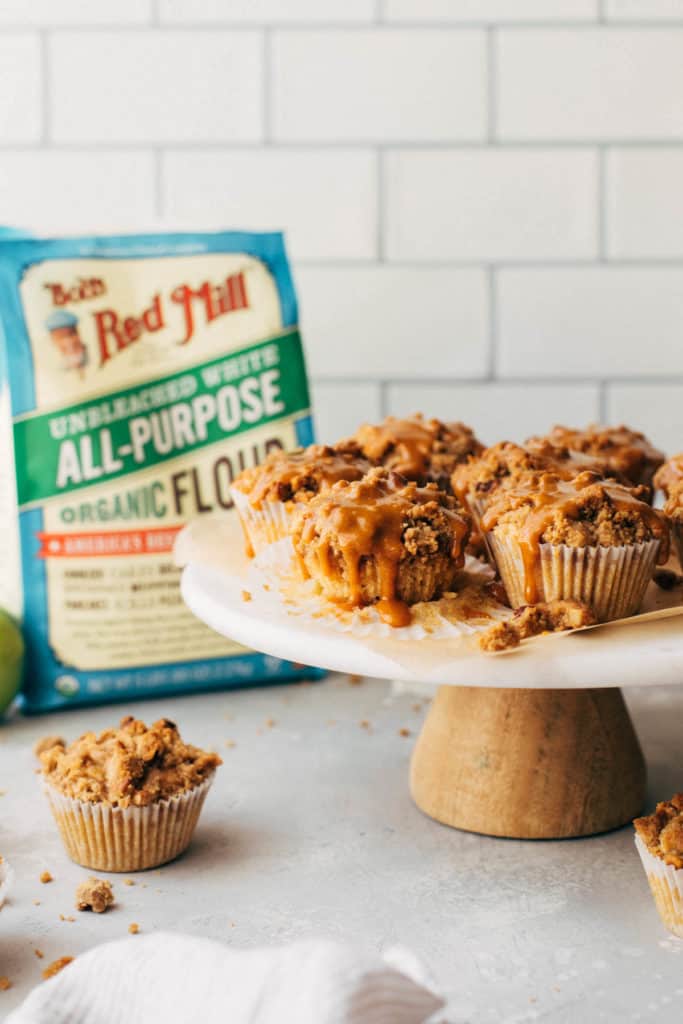 How to serve the muffins
Make the caramel while the muffins are cooling. By the time the caramel is ready, the muffins should be just about room temperature. It's important to drizzle on the caramel when it's still hot as it will firm up and thicken as it cools.
Drizzle on the caramel and dig right in. If you're saving these for later, still drizzle the caramel but store the muffins as they are in an air tight container in the refrigerator. When you're ready to serve, just allow the muffins to come up to room temperature.
How long do apple muffins keep?
When stored in the refrigerator as specified above, they will keep for 5-6 days.
Can these be made gluten free?
I haven't tested it, but I've always had great luck using Bob's Red Mill 1-to-1 All Purpose Gluten Free Baking Flour. Simply swap their Organic White Flour with equal parts Gluten Free Flour. Just be aware that they may turn out a bit more dense and the crumble will be a bit lighter in color.
For more muffin recipes, check out my:
Make sure to tag me @butternutbakery on Instagram and comment below if you make these Caramel Apple Muffins. To pin this recipe and save it for later, you can use the button on the recipe card or on any of the photos above. Happy baking!
Print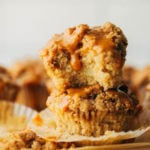 Caramel Apple Muffins
---
Author: Jenna Barnard
Total Time: 50 minutes
Yield: 12 muffins 1x
Description
Moist and tender cinnamon apple muffins are baked with a sweet and crunchy streusel topping and drizzled with a quick and easy homemade caramel sauce.
---
Streusel Topping
1/4 cup (50g) unsalted butter, melted
1/2 cup (100g) light brown sugar, packed
2 tbsp granulated sugar
1/3 cup (40g) finely chopped pecans (optional)
1 tsp cinnamon
Apple Cinnamon Muffins
1 cup (120g) peeled and diced Granny Smith apples (about 1 large or 2 small apples)
1 tsp lemon juice
1/2 cup (100g) granulated sugar
1 1/2 cups (195g) Bob's Red Mill Organic All Purpose Flour
2 tsp baking powder
2 tsp cinnamon
1/2 tsp salt
2 large eggs
1 cup (250g) unsweetened apple sauce
1/2 cup (100g) unsalted butter, melted
1 tsp vanilla extract
Caramel Sauce
1/2 cup (100g) granulated sugar
1/4 cup (60ml) heavy cream
3 tbsp unsalted butter, room temp and sliced into tablespoons
1/2 tsp vanilla extract
1/2 tsp salt
1/4 cup (30g) powdered sugar, sifted
---
Instructions
Streusel Topping
Combine all of the ingredients and mix until evenly hydrated. It should resemble wet sand.
Transfer the mixture to a wide and shallow dish or plate and refrigerate while you make the batter. It will firm up and turn into a crumble consistency once chilled.
Apple Cinnamon Muffins
Preheat the oven to 375F and line a cupcake tin with 12 liners.
Cut up the apples into small bite-sized pieces and place in a bowl. Toss with the lemon juice and set aside.
In a large mixing bowl, whisk together the sugar, flour, baking powder, cinnamon and salt.
In a separate bowl, combine the eggs, apple sauce, melted butter, and vanilla.
Pour the wet ingredients into the dry ingredients and mix. When the two are just about to come together (with some ribbons of flour still throughout the batter), fold in the apples until the batter is completely combined.
Evenly distribute the batter between the 12 liners, each 3/4 of the way full. All the batter should be used up.
Take the crumble out of the fridge and place a hefty amount on top of each muffin, crumbling it between your fingers to break it up.
Bake the muffins for 17-20 minutes or until a toothpick in the center comes out clean.
While the muffins cool, make the caramel sauce.
Caramel Sauce
Add the sugar to a medium saucepan over medium heat and spread it in an even layer. Don't touch it, just allow it to slowly melt over the heat. This will take a few minutes so keep an eye on it.
Resist the urge to stir or touch it. If you notice any clumps of sugar that need some help, give the pan a gentle shake to even out the sugar.
When it's almost completely melted and browned, heat the heavy cream for 45 seconds to 1 minute in the microwave. It should come out steaming and bubbly.
Remove the sugar from the heat and place it over a towel or oven mitt, anything to keep it from moving. Pour in the heavy cream as you whisk, whisking fast. Stand back as the mixture will sputter and steam.
Once combined, stir in the butter, vanilla and salt. Then, whisk in the powdered sugar.
Spoon the warm caramel over the cooled muffins. The caramel will thicken as it cools, so pour it on when the caramel is still warm for the best consistency. Enjoy!
Prep Time: 30 minutes
Cook Time: 20 minutes
Keywords: apple muffins, apple cinnamon muffins, apple crumble muffins, caramel apple muffins, homemade salted caramel
Recipe Card powered by