This super moist recipe for apple cinnamon bread is next level. With fresh apples, warm spices, and a layer of cinnamon sugar apples swirled on top, this is bound to be your new favorite apple bread recipe!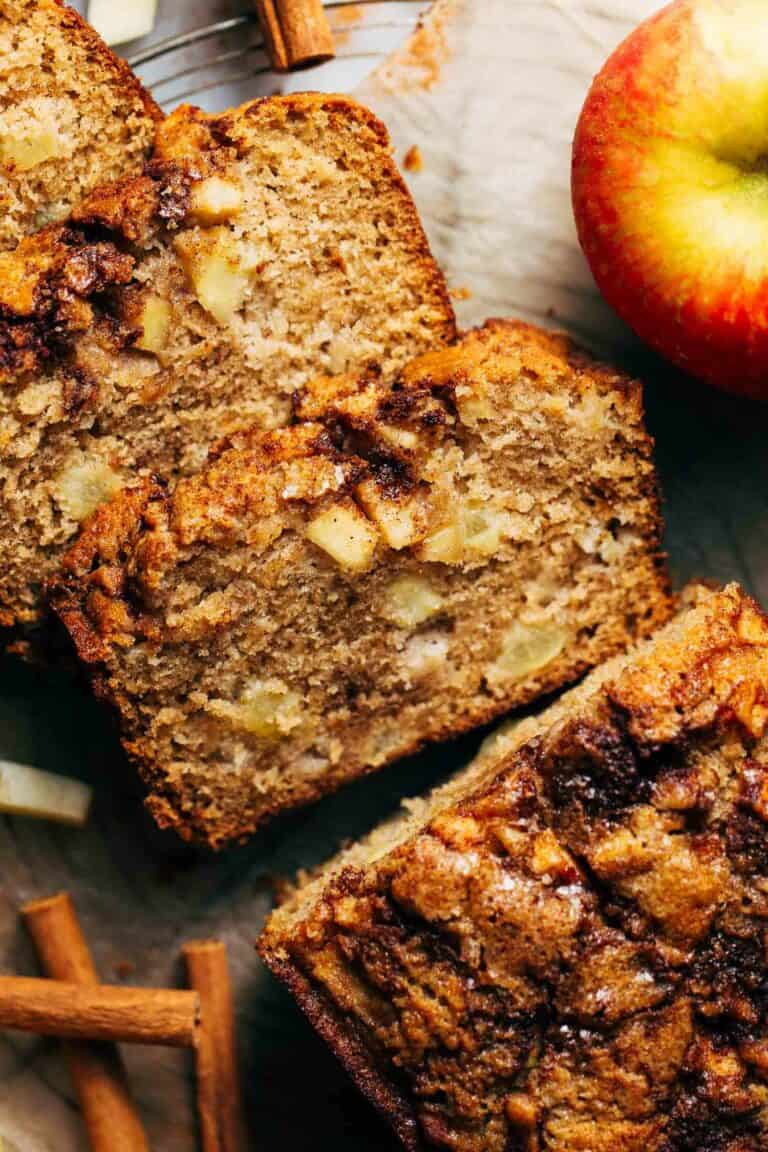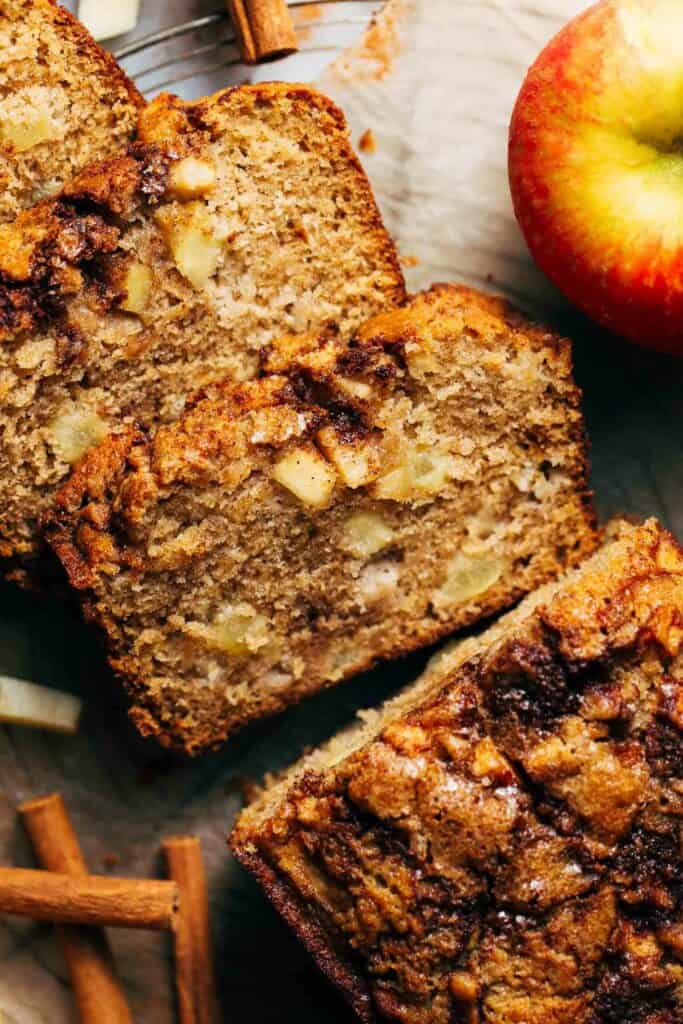 Why I love this apple cinnamon bread recipe
To me, apple picking signifies to start of fall! So what better way to celebrate than with a loaf of moist apple cinnamon bread?
This recipe is so perfect because it's loaded with chunks of finely diced apples as well as a layer of buttered cinnamon apples on top. They bake into a soft and tender consistency where each bite is surrounded with sweet and moist cinnamon bread.
Not only is it so easy to make, but it works with just about any apple! As long as it's crisp and tastes delicious, this bread can handle it.
It's also best served warm – perfect for those chilly fall afternoons!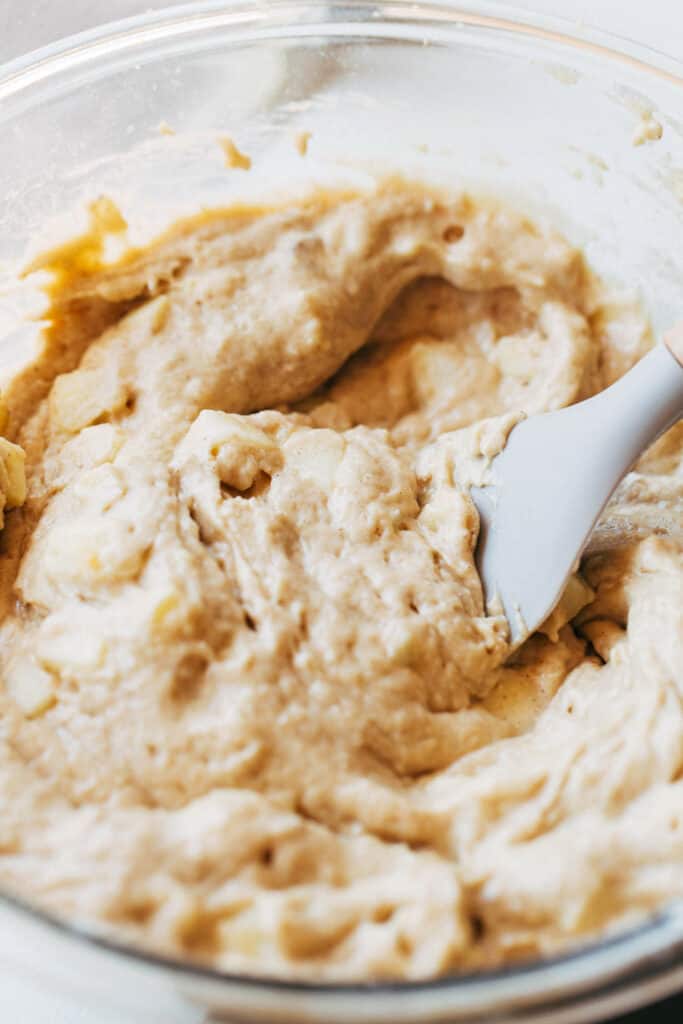 What are the best apples to use in apple cinnamon bread?
With so many different apples to choose from, how do you know which one is right for your recipe? It all depends on the flavors of the recipe, the sweetness, and the way in which the apples are baked.
For this apple cinnamon bread, I chose classic Honeycrisp. The bread itself serves as a blank slate to showcase the bold flavor of Honeycrisp. It also pairs really well with cinnamon because it has a slight tartness.
I also wanted to ensure that the apples stayed in tact and added a hardy texture to the bread. I needed a firm apple that wouldn't turn too soft once baked, and Honeycrisp holds up really well when exposed to high heat.
It's a very crisp apple, so you still get tender bits of apple in each slice that are very clear and distinct… just what I was looking for!
Although this bread will really work with just about any crisp apple. Use whichever you like the flavor of! Fuji, Sweetango, Cosmic Crisp, Pink Lady, or even classic Granny Smith will taste great in this apple cinnamon bread.
Moist cinnamon apple bread baking tips
This apple bread is VERY easy to make, but here are my top tips to ensure yours turns out perfectly moist:
Apples – When dicing the apples, chop them into tiny bite-size pieces. These smaller chunks ensure there's a bit of fresh apple in every bite.
Flour – I always say to measure the flour if you can. If a scale isn't available, gently spoon the flour into a measuring cup and level it off for a light and fluffy cup of flour. Never scoop directly down into the flour as this packs it down into the cup, leaving you with way too much excess flour in the batter.
Butter – Use a really good quality rich butter. It is typically called European Style or Irish butter. These types of butters have a higher butterfat content, providing the apple bread with extra flavor and moisture.
Mixing – When stirring in the dry ingredients, only mix just until it's combined. Light mixing will ensure a light and fluffy texture.
Baking Pan – For the best results, use a light-colored aluminum loaf pan. Avoid glass or ceramic as these typically overheat the outside of the bread, leading to an uneven bake. Also make sure it's a 9×5 pan and not a 1 pound loaf pan as a 1 pound pan is a bit smaller.
Buttered Apples – The chilled apples can sometimes solidify the butter once everything is mixed together. If this happens to you, pop the buttered cinnamon apples in the microwave again for about 30 seconds to help loosen up that butter. Then spoon on top of the batter before baking.
Apple Cinnamon Bread FAQs
Can this apple bread be made gluten free?
Yes! Swap the all-purpose flour with a cup for cup gluten free baking flour. I like Bob's Red Mill (the blue bag) or King Arthur Flour.
Can it be made dairy free?
Sure! Sub the milk with plant-based milk and the butter with plant-based butter.
Can I use a different vinegar?
Yes, regular white vinegar can be used in place of the ACV.
Can I use a different type of apple?
I use Honeycrisp because I love the flavor, but any firm apple will work!
How do you store apple cinnamon bread?
Keep the bread in an air tight container or large ziplock bag. It can be kept at room temperature for about 3 days, or store in the refrigerator for up to 10 days. I recommend warming up leftover slices in the microwave for the best texture!
For more delicious apple recipes, check out my:
Make sure to tag me @butternutbakery on Instagram and comment below if you make this Apple Cinnamon Bread. To pin this recipe and save it for later, you can use the button on the recipe card, the buttons above or below this post, or on any of the photos above. Happy baking!
Print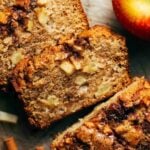 Apple Cinnamon Bread
---
Description
This moist apple cinnamon bread is the best way to kick off apple picking season! It's loaded with fresh tender apples, warm cinnamon, and is topped with a layer of buttered cinnamon apples. 
---
Apple Cinnamon Bread
2 cups peeled and finely diced Honeycrisp apples, divided
3/4 cup (185g) milk
1 tbsp apple cider vinegar
2 cups (265g) all-purpose flour or gluten free baking flour
2 tsp ground cinnamon, divided
1 tsp baking soda
1/2 tsp kosher salt
1/2 cup (113g) + 1 tbsp unsalted butter, room temp (use a high butterfat butter or "European style" butter for the best flavor and texture)
1/2 cup (105g) + 1 tbsp light brown sugar, packed
1/2 cup (100g) granulated sugar
1/4 cup (62g) unsweetened applesauce
1 large egg
1 tsp vanilla extract
Demerara or raw sugar, for topping (optional)
---
Instructions
Apple Cinnamon Bread
Preheat the oven to 350F and grease the inside of a 9×13 loaf pan. Lay in a sheet of parchment paper so it covers the bottom and two long sides of the pan. 
Place 1 cup of diced apples in a medium microwave-safe bowl and the other cup off to the side.
To the bowl of apples, add 1 tablespoon of butter and microwave until melted (30-60 seconds). Then toss in 1 tablespoon of brown sugar and 1 tsp of cinnamon. Set aside.
In a measuring glass, measure the milk and stir in the vinegar. Set aside.
In a separate medium bowl, whisk together the flour, the other 1 tsp of cinnamon, baking soda, and salt. Set aside.
In a large mixing bowl using a hand or stand mixer with the paddle attachment (or by hand with a wooden spoon), mix the remaining 1/2 cup of softened butter with the remaining 1/2 cup of brown sugar and 1/2 cup of granulated sugar.
Then mix in the applesauce, egg, and vanilla.
Pour in half of the dry ingredients and mix. 
Just before it's fully incorporated, pour in the milk and vinegar mixture and stir to combine.
Then dump in the rest of the dry ingredients and mix. Just before the flour is fully mixed in, toss in the other 1 cup of apples and fold to combine. 
Pour the batter into the loaf pan and spread even. Scatter the buttered cinnamon apples over the surface. Very loosely swirl them into the batter. Sprinkle with a few pinches of raw sugar (optional). 
Bake for 50-60 minutes or until a toothpick in the center comes out clean with a few moist crumbs.
Allow the loaf to cool for about 45 minutes. Then slice and enjoy while it's still warm! 
Equipment
Prep Time: 30 minutes
Cooling Time: 30 minutes
Cook Time: 1 hour
Category: Dessert
Method: Baking
Cuisine: American
Keywords: apple cinnamon bread, apple bread, apple desserts, cinnamon apple bread, cinnamon apple bread recipe, apple cinnamon bread recipe, apple bread, apple bread recipe
Recipe Card powered by