This Apple Crumble Cake with Walnuts is the perfect cozy treat for your fall morning! A moist spice cake is baked with whole apple slices and topped with a sweet and savory walnut crumble. It's so easy to make, but tastes and looks impressive. Top with C&H® Confectioners Sugar, ice cream, or leave it as is for a sweet breakfast treat with a cup of coffee.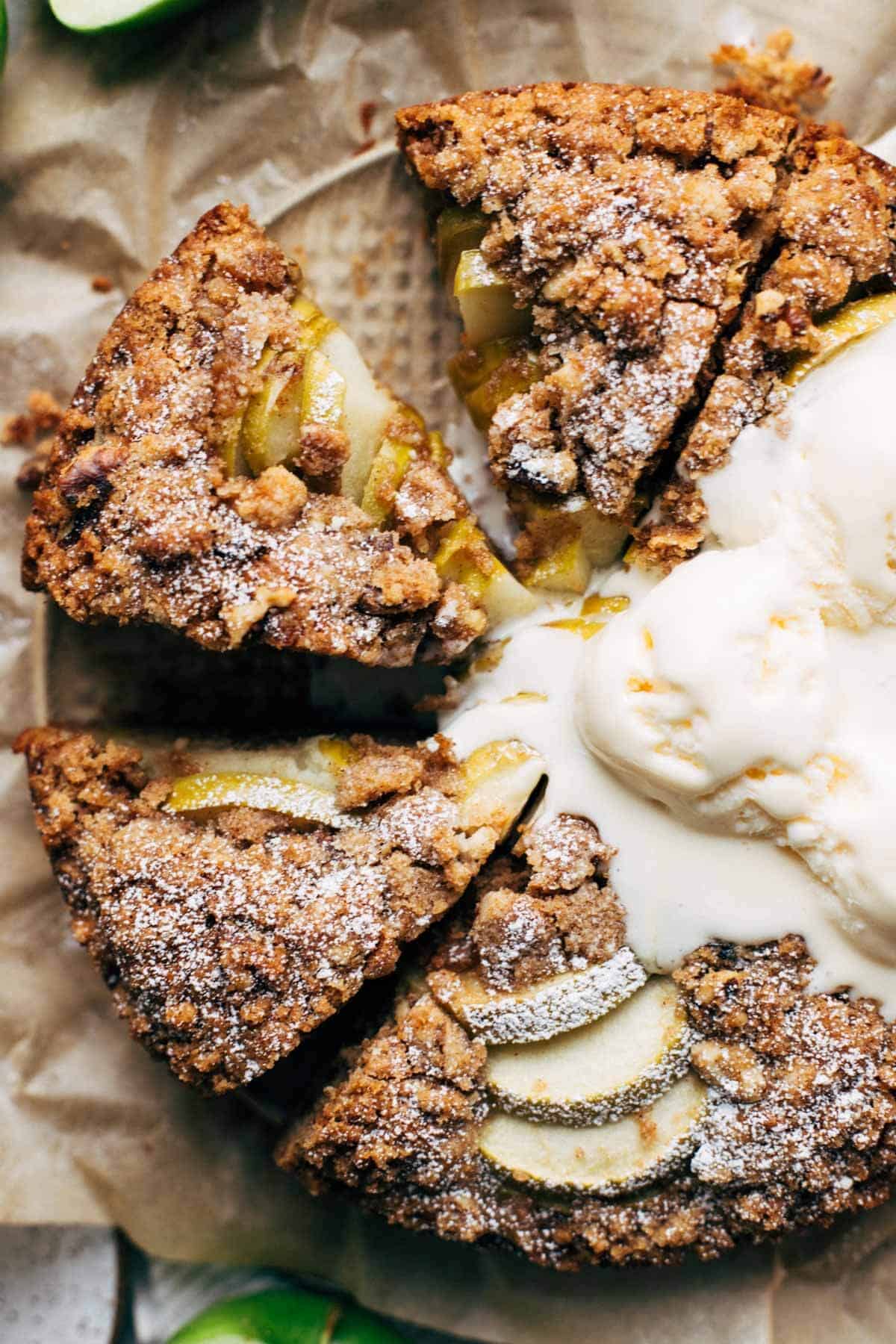 This post is sponsored by C&H® Sugar but all thoughts and opinions are my own. Thank you for supporting the brands that make Butternut Bakery possible!
Why I love this recipe
Who does not want the perfect apple cake recipe in their back pocket ready to break out every fall?
This Walnut Apple Crumble Cake is so tender, so moist but also holds together well when you slice it with slices of caramelized apple on top as well as a generous amount of crunchy walnut crumble topping.
I also love that you can enjoy a slice at pretty much any time of day!
How to bake with whole apple slices
Before the cake is baked, apple slices are arranged on the surface of the batter to create a unique apple design on top. Leaving the slices whole gives this cake so much flavor and texture.
In order to get the most out of the apple slices, they're briefly macerated before baking. This is the process of soaking the apples in an acid (like lemon juice) and sugar to help bring out their juices. Drawing out those juices ensures they don't get too soggy on top of the cake, and the sugar helps caramelize the tops of the apples in the oven.
To prep the apples, simply core and thinly slice 2 apples. I prefer Granny Smith as they're a great tart balance to the sweet cake and crumble, but you can use whichever apples you like best. Another great option would be Fuji or Honey Crisp.
Toss the apples in lemon juice and C&H® Granulated Sugar. I love using C&H® Sugar because it has very fine granules, so it dissolves right into the apples so no sugar lumps are left in the mix.
Allow the apples to soak while you prep the batter. By the time the batter is done and poured into the pan, the apples will be ready to bake.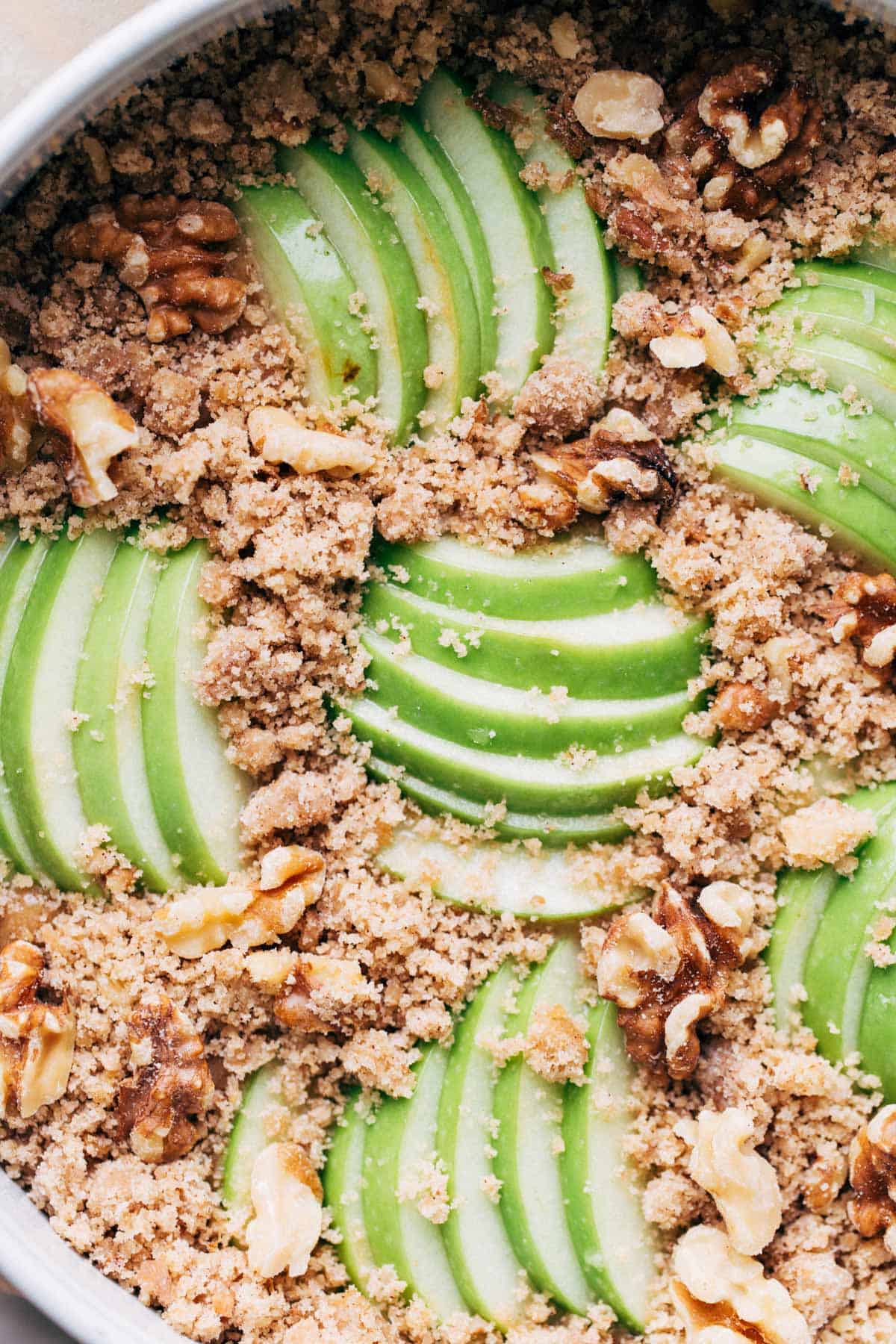 Tips for baking a moist apple cake
There are 3 main components to this cake: apple slices, walnut crumble, and spice cake. Each are very easy to make, but here are a few things to keep in mind when making the cake batter to ensure it turns out perfect:
Don't overmeasure the flour. To ensure you use the exact amount needed, gently spoon the flour into your measuring cup and level if off with a flat edge. If you scoop directly into the flour container, it packs it down into the cup which could leave you with 1/4 cup or more of added flour. This will create a dry and crumbly cake.
Use C&H® Light Brown Sugar for the best results. I prefer this sugar because of its fine granules and it always has very few brown sugar lumps, if any at all. It just melts into this batter to help create a soft and flavorful cake with notes of molasses and caramel.
Don't use anything smaller than a 9″ pan. I prefer a springform pan because it's easy to release the cake. You could also use a 9″ round cake pan if you don't have a springform, but anything less than 9″ and the cake will struggle to bake in the center.
Test for doneness only in areas where it's just cake. Don't stick a toothpick into or close to the apples as this will make it difficult to tell if the cake is done. It should look evenly puffed with golden brown crumble edges.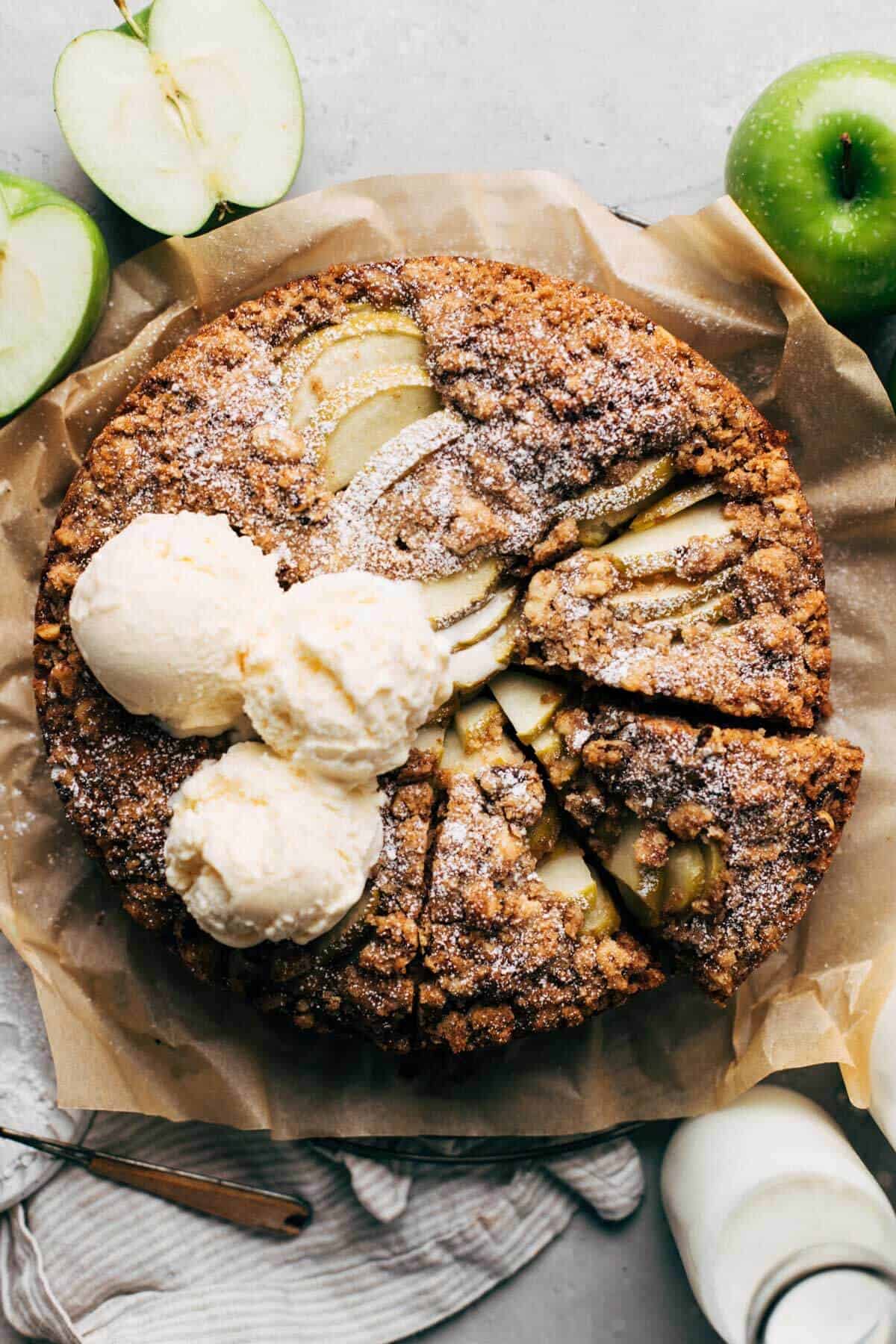 Apple Crumble Cake FAQs
What is the best way to serve this apple crumble cake with walnuts?
This cake is best served when it's a bit warm. The apples are tender and juicy and the crumble is fresh and crunchy. You can slice it as is, or top with C&H® Confectioners Sugar and/or ice cream or an à la mode dessert. Either way, use a sharp knife to cut into the cake. Otherwise, the apple slices will smoosh down into the cake if a dull utensil is used.
How should I store this cake?
With any leftovers, store the cake in an airtight container in the refrigerator. It will keep at room temperature for 1 day, but anything more and it must be chilled. It will keep for up to 5 days in the refrigerator.
Can I use a different type of nut or leave them out completely?
If you don't like walnuts or prefer to leave them out, it's easy to adjust the crumble to your liking. I recommend pecans as a good replacement for the walnuts but if you can't have nuts, you can opt to leave them out completely.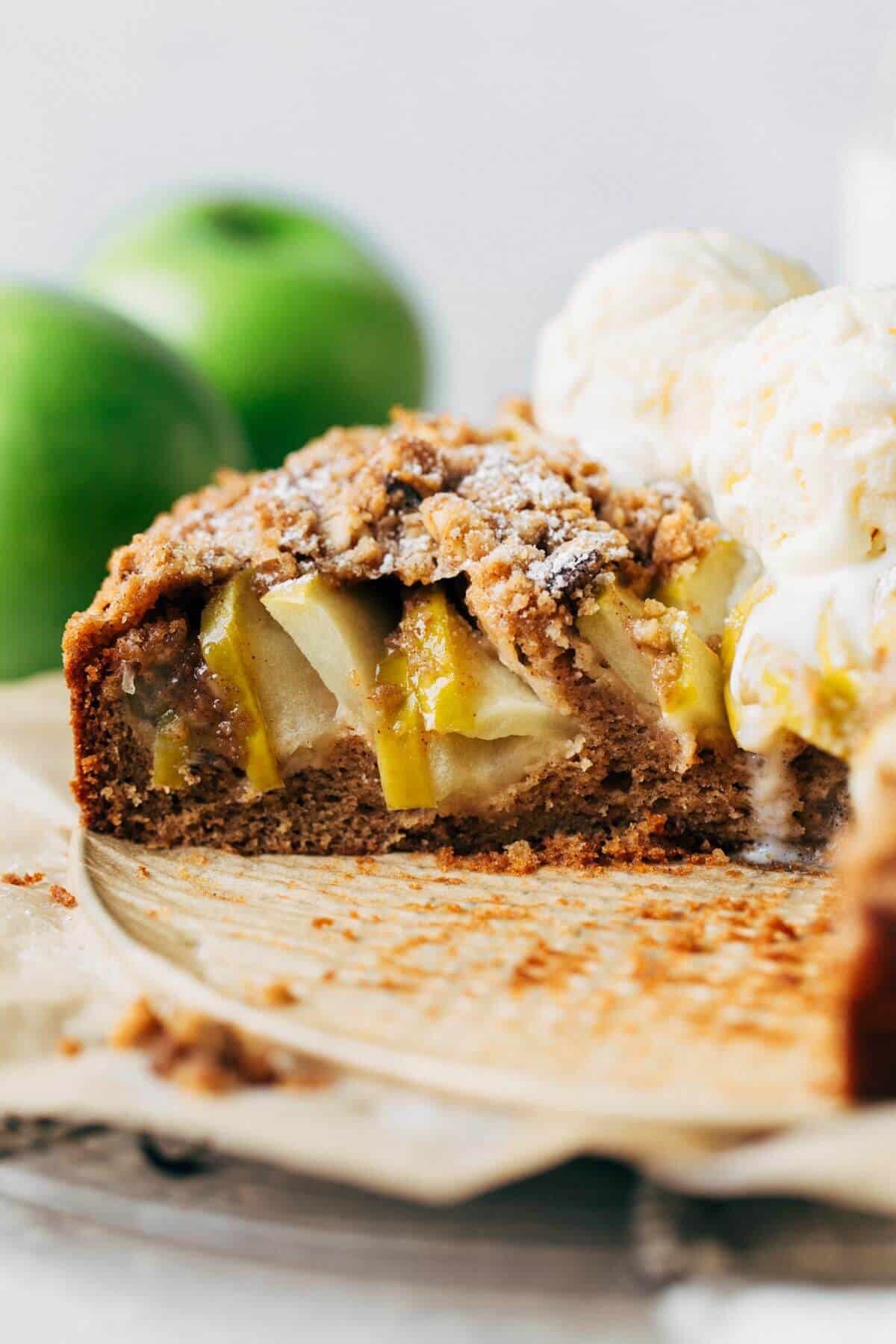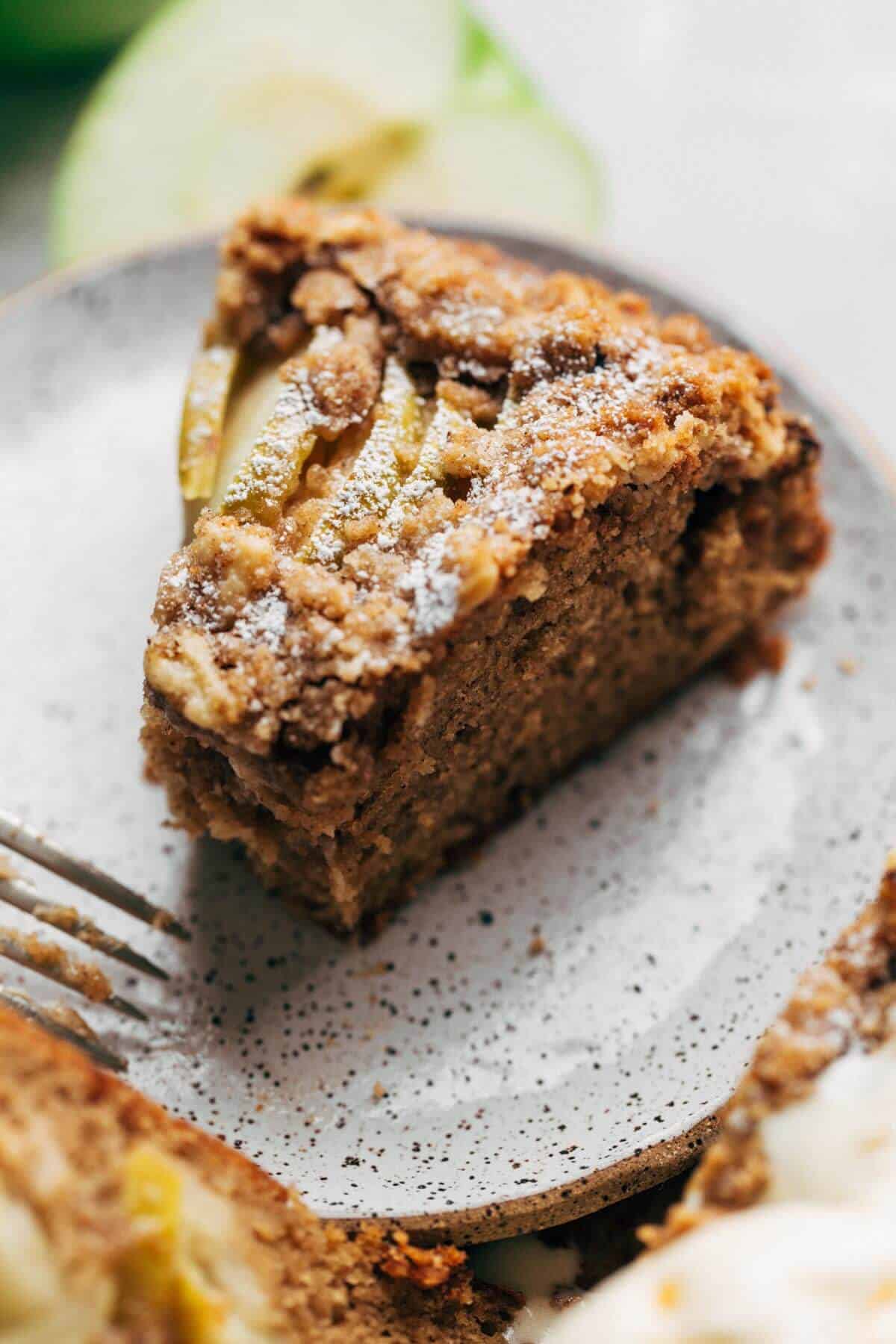 For more apple recipes, check out my:
Make sure to tag me @butternutbakery on Instagram and comment below if you make this Apple Crumble Cake with Walnuts. To pin this recipe and save it for later, you can use the button on the recipe card, the buttons above or below this post, or on any of the photos above. Happy baking!
Print
Walnut Apple Crumble Cake
---
Author: Jenna Barnard
Total Time: 1 hour 10 minutes + 20 minutes cooling
Yield: 8-10 slices
Description
Moist spice cake baked with whole sliced apples and a sweet and crunchy walnut crumble.
---
Apples
Walnut Crumble
Spice Cake
1 1/2 cups (190g) all purpose flour
1/2 tsp baking powder
1/2 tsp baking soda
1/2 tsp salt
1 tsp cinnamon
1/2 tsp ginger
1/8 tsp nutmeg
1 cup (180g) C&H® Golden Brown Sugar
1/2 cup (110g) oil
2 tsp vanilla extract
2 large eggs
1/2 cup (130g) sour cream
C&H® Confectioners Sugar, for dusting
---
Instructions
Apples
Toss the apples in the C&H® Granulated Sugar and lemon juice and let them sit while you prep the rest of the cake.
Walnut Crumble
Add all of the ingredients to a bowl and mix to combine. It will seem a bit wet, so let it chill in the refrigerator while you make the cake batter. It will dry up and turn into a crumbly consistency by the time the cake is ready to bake.
Spice Cake
Preheat the oven to 350F and grease and line a 9″ springform pan with parchment paper.
In a medium bowl, whisk together the flour, baking powder, baking soda, salt, and spices. Set aside.
In a large mixing bowl, whisk together the C&H® Golden Brown Sugar and oil. Once combined, whisk in the vanilla and eggs.
Add half of the dry ingredients to the batter and whisk to combine. Then whisk in the sour cream.
Once smooth, whisk in the remaining dry ingredients.
Pour the batter into the pan and spread it even. Arrange your apple slices on top in 6 clusters (see picture in post for reference). Take the crumble out of the refrigerator and sprinkle it on top, completely covering anywhere the cake batter is exposed. Don't cover the apple slices.
Bake for 40-45 minutes or until a toothpick in the center comes out clean (makes sure to poke a cake section and not directly into the apples).
Allow the cake to cool for 20 minutes and then release the springform ring. Serve warm or allow it to cool completely. Dust with C&H® Confectioners Sugar if desired. Enjoy!
Prep Time: 30 minutes
Cook Time: 40 minutes
Category: Baking
Keywords: apple cake, apple crumble cake, walnut crumble
Recipe Card powered by