These rich apple blondies are made extra special with a silky caramel frosting! It's then drizzled with an incredibly easy 3 ingredient dairy free caramel that tastes just like the real deal. And not only are these bars insanely delicious, but they're also gluten free, dairy free, and nut free with a simple vegan option.
This post is sponsored by SunButter and all thoughts and opinions are my own. Thank you for supporting the brands that make Butternut Bakery possible!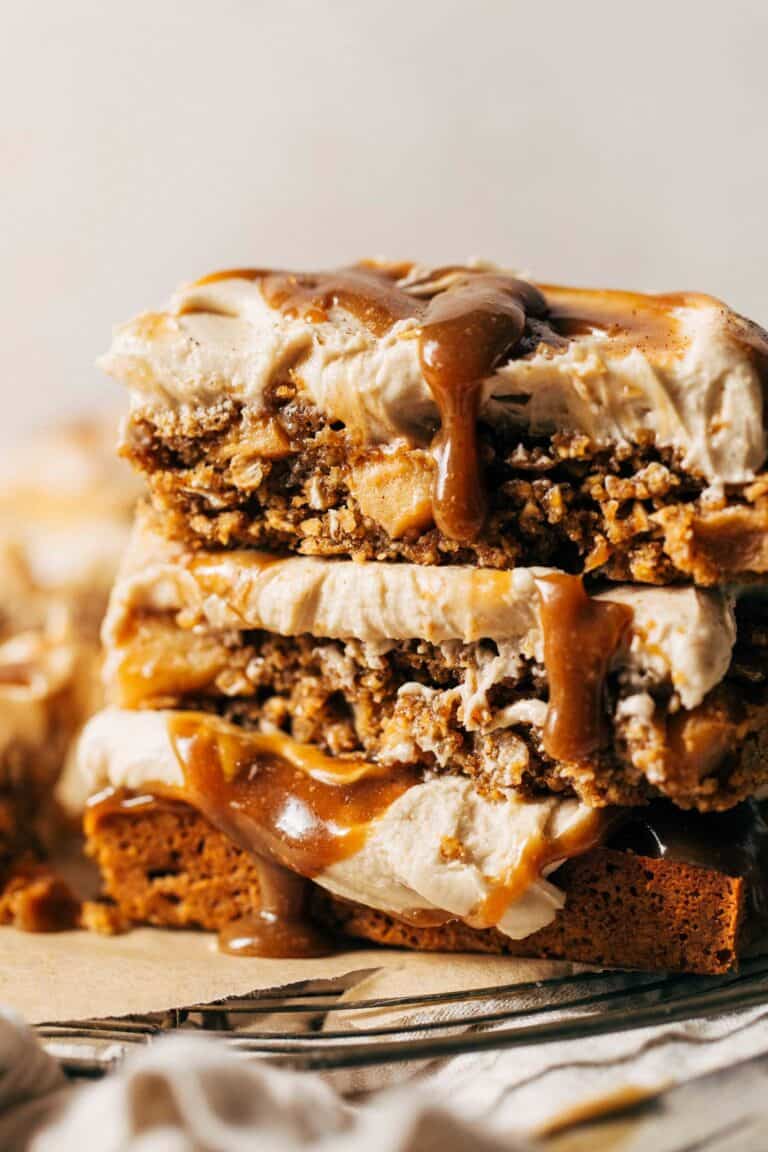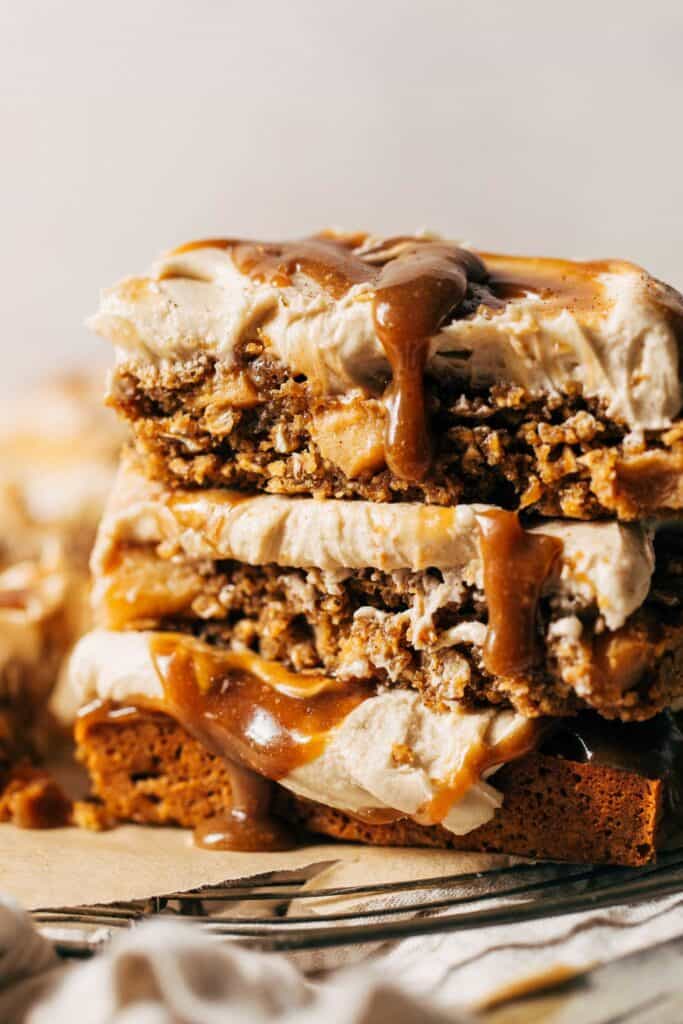 How to make 3 ingredient vegan caramel
Lots of flavor is packed into the caramel frosting and it pairs so well with the rich apple blondies! But to make this recipe completely dairy free, the caramel recipe is quite unique.
Not only is it the easiest caramel you will ever make, but it's also made up of just 3 ingredients:
Pure Maple Syrup – This 100% pure maple syrup sweetens the caramel and provides a sticky and thick caramel consistency. Just make sure to use pure maple syrup and not pancake syrup.
Coconut Cream – Rather than heavy cream, thick coconut cream is used to enrich this caramel. And if coconut isn't a flavor you particularly like, it goes completely unnoticed in this caramel. Its only there for textural purposes – not flavor.
Natural SunButter – The toasted quality of natural SunButter really rounds out this caramel. Made with roasted sunflower seeds, the rich and creamy SunButter adds a natural caramel-like toasted quality when paired with the maple syrup. The flavor of this caramel is actually mind blowing because it tastes (and looks) just like regular dairy caramel!
All three ingredients are mixed together and heated in a saucepan. After about 10 minutes on the stovetop, you're left with thick and sweet dairy free caramel sauce.
Tips for making apple blondies
These apple blondies are very easy to make, but here are a few tips to ensure they turn out just right:
Warmed Apples – Heating the apples in a saucepan before mixing into the batter really helps the overall consistency. Cook the apples until they JUST start to turn slightly tender. Once they're baked into the blondies, they turn nice and soft.
Natural SunButter – This is the key ingredient to making these blondies rich and dense! Natural SunButter is so smooth and drippy, so it's the perfect consistency to mix into the batter. In other words, make sure to stick with Natural SunButter for the best flavor and consistency.
Oat Flour – Instead of flour, oat flour is used to make these blondies gluten free. This can be packaged flour or you can make your own by blending oats into a food processor.
Baking Pan – This recipe calls for a square 8×8 baking pan. To prep, lightly spray the entire inside with nonstick spray. Then lay in a sheet of parchment paper that's the same width (8″) as the pan. Press the paper into the bottom and two of the sides, allowing the paper to reach up over the edges for easy removal once the blondies have baked and cooled.
Baking – The blondies are done when the center feels firm and bouncy. The surface may appear shiny and underdone, so make sure to give the center a good tap before removing from the oven.
Outside of these tips, these blondies shouldn't cause you any trouble. Especially since this recipe is completely gluten free. That means it's nearly impossible to over mix and over work the batter, which is a common issue with gluten-filled desserts. No matter how you mix, these apple blondies will turn out dense and tender every time!
How to make caramel apple frosting
The frosting can be optional as you have the choice to simply top the blondies with the homemade caramel by itself, but the frosting really does take these blondies to the next level.
To transform the caramel to caramel frosting, only two ingredients are needed:
Vegan Butter – This is vegan butter in baking stick form. Don't go for margarine as it's too soft for frosting! Vegan baking butter is meant to act just like real butter, so it's perfect for creating thick frosting.
Powdered Sugar – To sweeten and thicken the frosting even further, powdered sugar is mixed in with the butter.
At room temperature, vegan butter is VERY soft…softer than traditional room temp butter. Because of this, the butter and sugar are really easy to mix by hand. It makes this frosting recipe quick and easy.
Once the butter and sugar are combined, vanilla and salt are added for extra flavor. Then, half of the SunButter caramel is mixed in. It helps create an incredibly smooth frosting that tastes INSANELY good.
After the bars have cooled, all of the frosting is spread on top. The remaining caramel can then be swirled into the frosting or drizzled on top. To drizzle, I recommend heating the caramel for about 10 seconds in the microwave to loosen it up.
Apple Blondies FAQ's
What is the best type of apple to use?
I prefer honey crisp, but any firm apple will do! This includes green apples, fuji, gala, or pink lady.
What does SunButter taste like?
SunButter has a really rich quality with a slightly toasted and sweet flavor. It's the perfect pairing to the sweet cinnamon apples and smooth caramel.
Can I substitute the oat flour?
Oat flour and almond flour are great substitutes for each other. If you don't need this recipe to be nut free, I suggest this swap.
Can this recipe be made vegan?
Yes, the only ingredient NOT vegan is the eggs which can be swapped for flax eggs. Combine 2 tbsp ground flaxseed with 4 tbsp water. Let it rest for about 5 minutes to thicken and gel before use.
How to store apple blondies
Keep the blondies in an air tight container in the refrigerator. They'll keep for up to 5 days and taste delicious when chilled.
For more gluten free recipes for the fall season, check out my:
Make sure to tag me @butternutbakery on Instagram and leave a review below if you make these apple blondies. To pin this recipe and save it for later, you can use the button on the recipe card, the buttons above or below this post, or on any of the photos above. Happy baking!
Watch how to make these blondies:
Print
Frosted Caramel Apple Blondies
---
Author: Jenna Barnard
Total Time: 2 hours
Yield: 16 bars
Diet: Gluten Free
Description
These apple blondies are so dense and moist with a sweet caramel frosting on top! They're baked with tender cinnamon apples and drizzled with a simple 3 ingredient caramel sauce – all completely gluten and dairy free.
---
Cinnamon Apples
1 heaping cup peeled and chopped honey crisp apple (about 1 large apple)
1 tbsp light brown sugar
1/2 tsp ground cinnamon
Caramel Frosting
1/4 cup (80g) pure maple syrup
2 tbsp Natural SunButter
2 tbsp coconut cream *the thick cream from a can of coconut milk
1/2 cup (110g) unsalted vegan butter, room temp
2 cups (220g) powdered sugar
1/2 tsp vanilla extract
Pinch of kosher salt
Apple Blondies
1/2 cup (125g) Natural SunButter
1/4 cup (60g) unsweetened apple sauce
3/4 cup (150g) light brown sugar, packed
1 large egg + 1 egg yolk *see notes for vegan option
2 tsp vanilla extract
1 cup (100g) oat flour, certified gluten free
3/4 cup (95g) quick oats, certified gluten free
1 tsp ground cinnamon
1/2 tsp kosher salt
---
Instructions
Cinnamon Apples
Combine the ingredients in a saucepan and place over medium heat.
Stir and cook for about 5 minutes, or until fragrant and the apples start to become tender.
Transfer the apples to a bowl and reserve the saucepan for the caramel. 
Caramel Frosting
In that same saucepan (it's ok if there are some cinnamon sugar bits in the pot), add the maple syrup, SunButter, and coconut cream.
Place over medium heat and whisk until everything is melted together.
Continue to whisk occasionally and allow the mixture to bubble. Once bubbling, the caramel should start to thicken. 
Remove the caramel once it coats the back of a spoon. Pour it into a heat safe dish and transfer the caramel to the refrigerator to chill while we make the blondies.
Apple Blondies
Preheat the oven to 350F and grease and line an 8×8 baking sheet with parchment paper. Allow the paper to reach over the sides for easy removal.
In a mixing bowl, stir together the SunButter, apple sauce, and brown sugar.
Once combined, stir in the eggs and vanilla.
Toss in the oat flour, oats, cinnamon, and salt and stir to combine. Then fold in the cinnamon apples.
Transfer to the baking pan and spread the batter evenly. Bake for 20-25 minutes or until the center is firm to the touch.
Allow the bars to cool completely before making the frosting. They can be cooled slowly at room temp or sped up in the refrigerator. 
Caramel Frosting
Add the room temperature butter and 1 cup of powdered sugar to a mixing bowl. The butter should be soft enough to mix by hand, but an electric mixer can also be used.
Once smooth, mix in the additional cup of powdered sugar followed by the vanilla and salt.
By this time, the caramel should be completely chilled. Spoon half of the caramel into the frosting and mix until smooth.
Spread the frosting on top of the blondies and then drizzle with the excess caramel. Swirl the caramel into the frosting and top with a few pinches of cinnamon (optional).
Now slice and enjoy!
Notes
*VEGAN EGG – Swap the eggs with 2 flax eggs. In a small bowl, mix together 2 tbsp ground flaxseed + 4 tbsp water. Allow it to sit for 5 minutes to gel and thicken before use.
Prep Time: 35 minutes
Cooling Time: 1 hour
Cook Time: 25 minutes
Category: Dessert
Method: Baking
Cuisine: American
Keywords: apple blondies, caramel apple bars, apple bars, gluten free apple bars, caramel apple, frosted blondies
Recipe Card powered by