There are the best homemade vanilla cupcakes you will ever make! They're so moist and tender and flavored with vanilla beans for TRUE vanilla flavor. This recipe is inspired by the delicious moist and bouncy texture of box cake mix and after many many tests, this recipe is nearly identical and so much more. Oh, and we can't forget the extra smooth vanilla bean buttercream on top!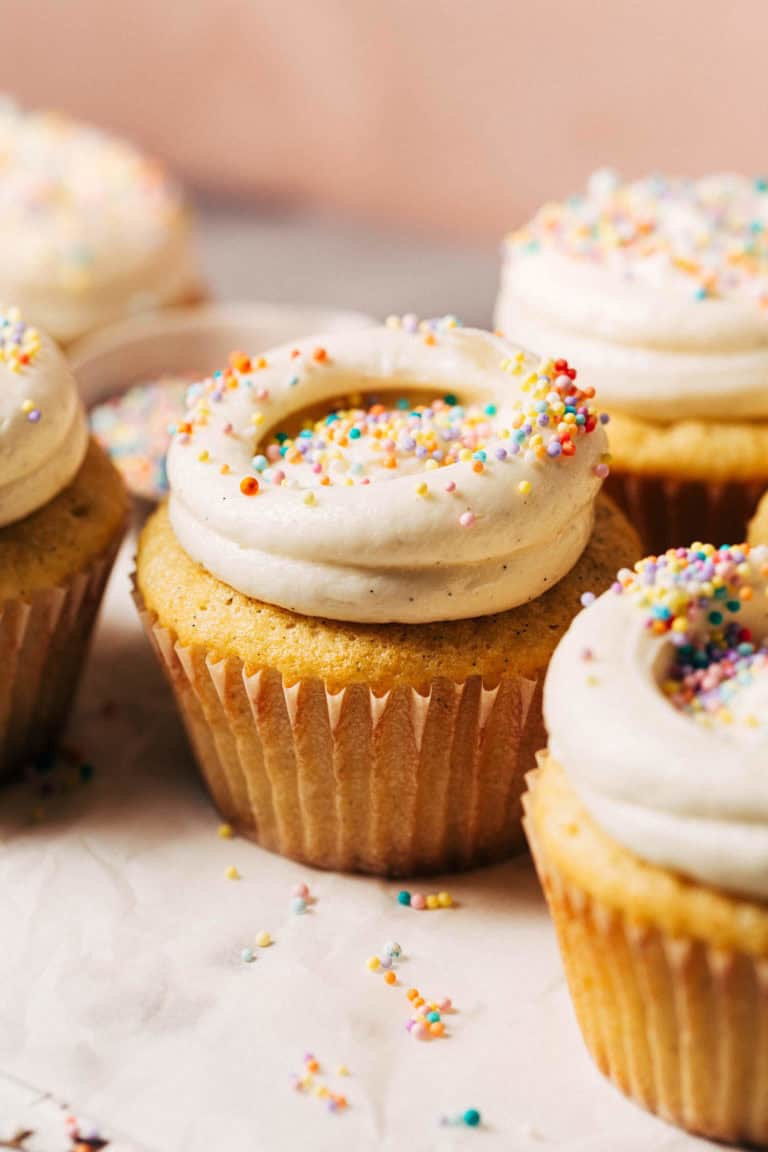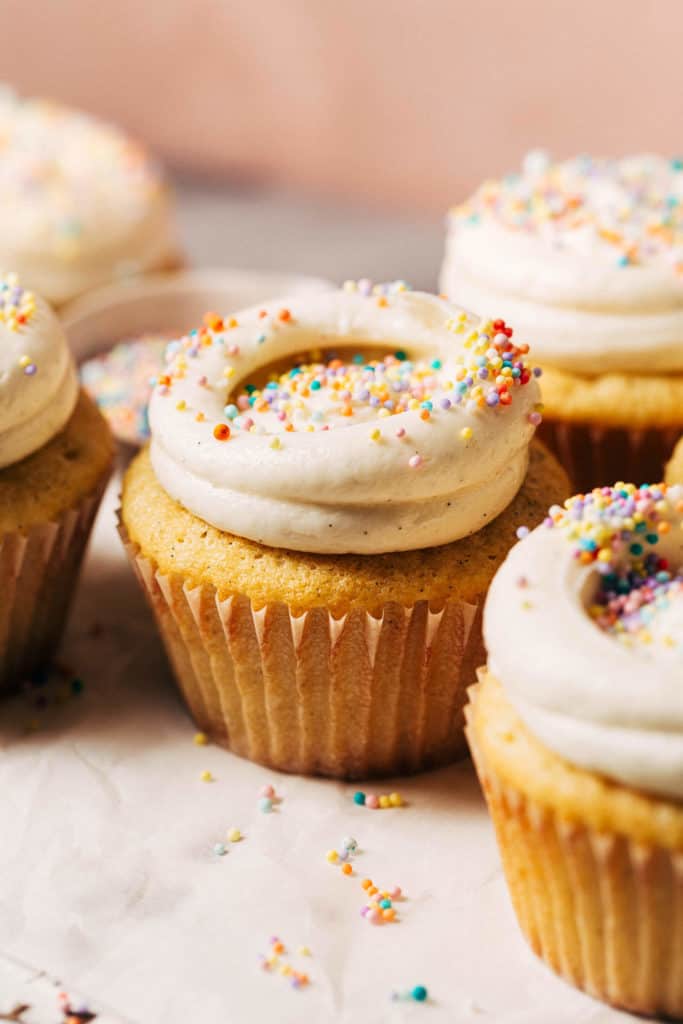 What makes this the BEST vanilla cupcake recipe?
These vanilla cupcakes have it all. They're moist, pillowy, tender, fluffy, and chock full of vanilla beans from top to bottom.
To get here, this recipe was tested every which way possible. Some batches were made with all purpose flour, some with cake flour, some with both, some with sour cream, some with buttermilk, some with both, some with the standard cake method, some with the reverse creaming method, some with vanilla extract, some with vanilla bean paste, some with both…as you can see I spent extra time to get this just right!
So what's the secret ingredient combination to really good homemade vanilla cupcakes? Here's everything you need to know:
Cake Flour – The cake flour batch was by far much better than the all purpose flour batch. Due to the lower amount of protein in the flour, it creates a light, fluffy, and delicate texture.
Sour Cream – To balance out the lightness of the cake flour, pairing it with sour cream is a match made in heaven. Sour cream creates a more sturdy cake (while adding tons of moisture) which creates a very interesting balance of textures. These cupcakes are light and tender, but also so rich at the same time.
Butter + Oil – You rarely want to use all oil in a vanilla cupcake because the vanilla flavor itself isn't enough to mask the flavor of the oil. BUT, oil does produce an incredibly moist cake so by using both butter and oil in these cupcakes, you get the best of both worlds.
Milk Powder – I'll go into detail about this a little later, but just 2 tablespoons of dry milk powder really helps to elevate these cupcakes! Both in flavor and consistency as it's basically pure protein in powder form.
Vanilla Bean Paste – Last but not least, the vanilla flavor. I really wanted a TRUE vanilla flavor in these cupcakes and you just can't get that anywhere else besides vanilla beans. But vanilla beans themselves are rather expensive so vanilla bean paste is the next best thing. It stretches much farther, which is definitely necessary since we're using an entire tablespoon in these cupcakes.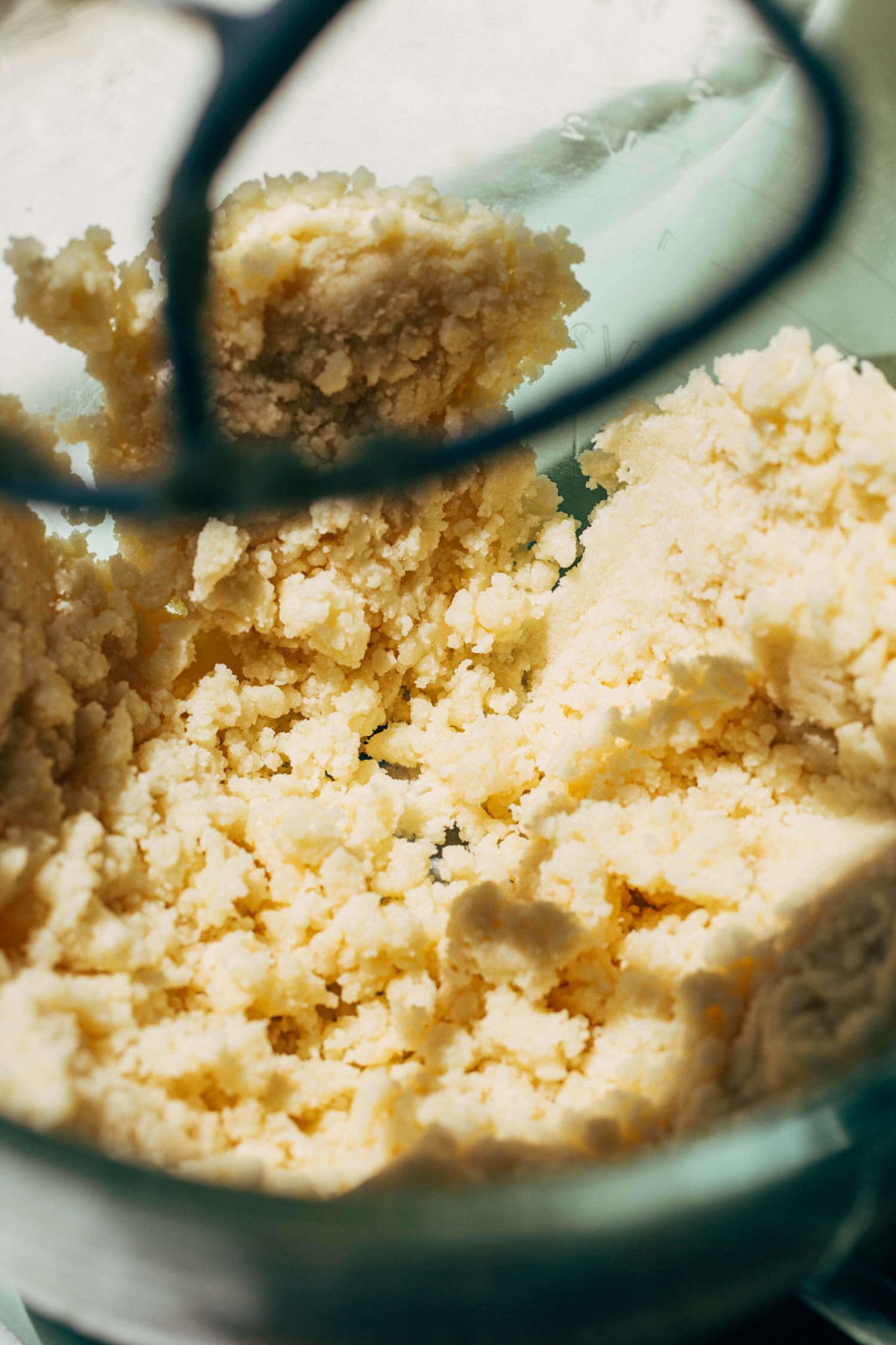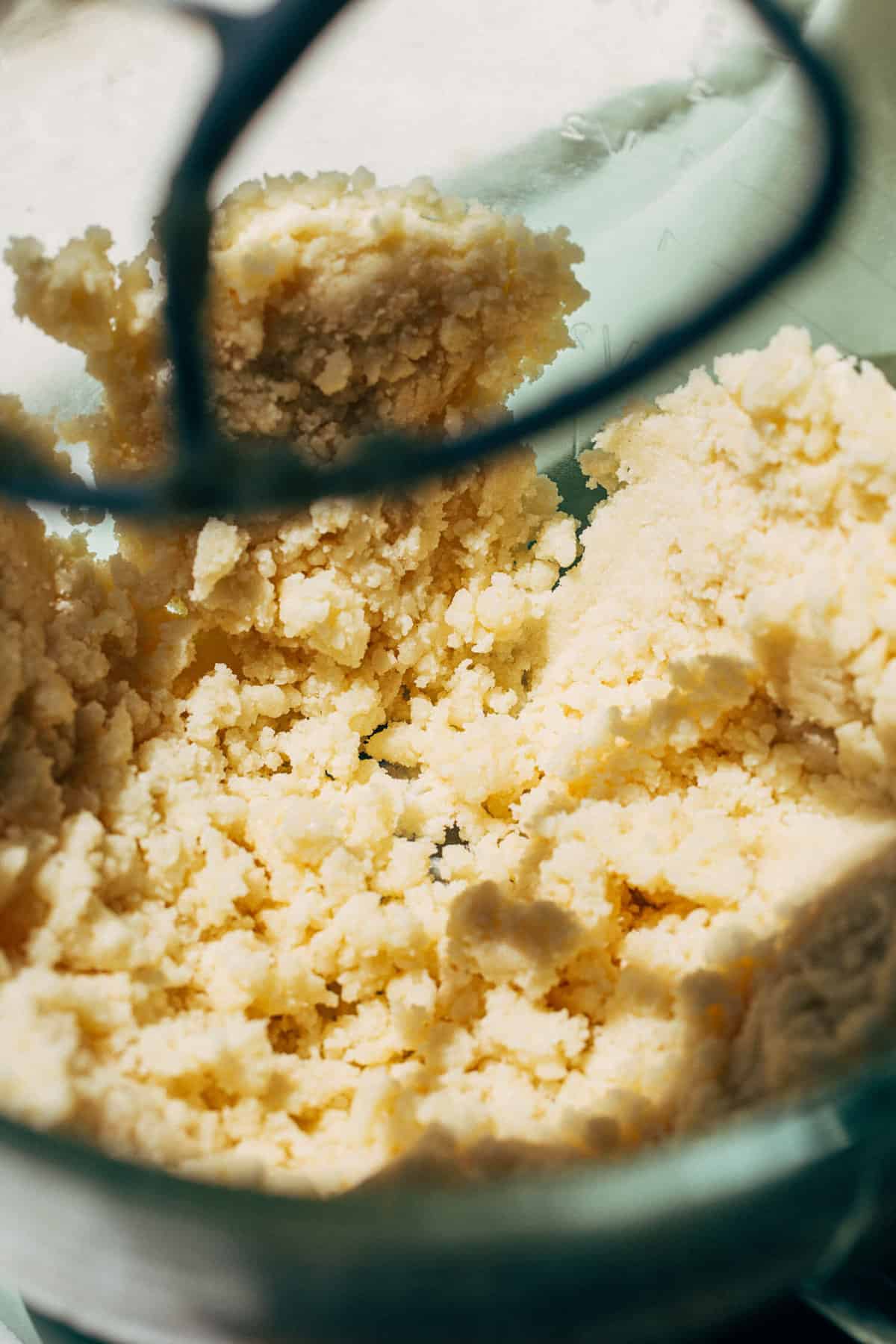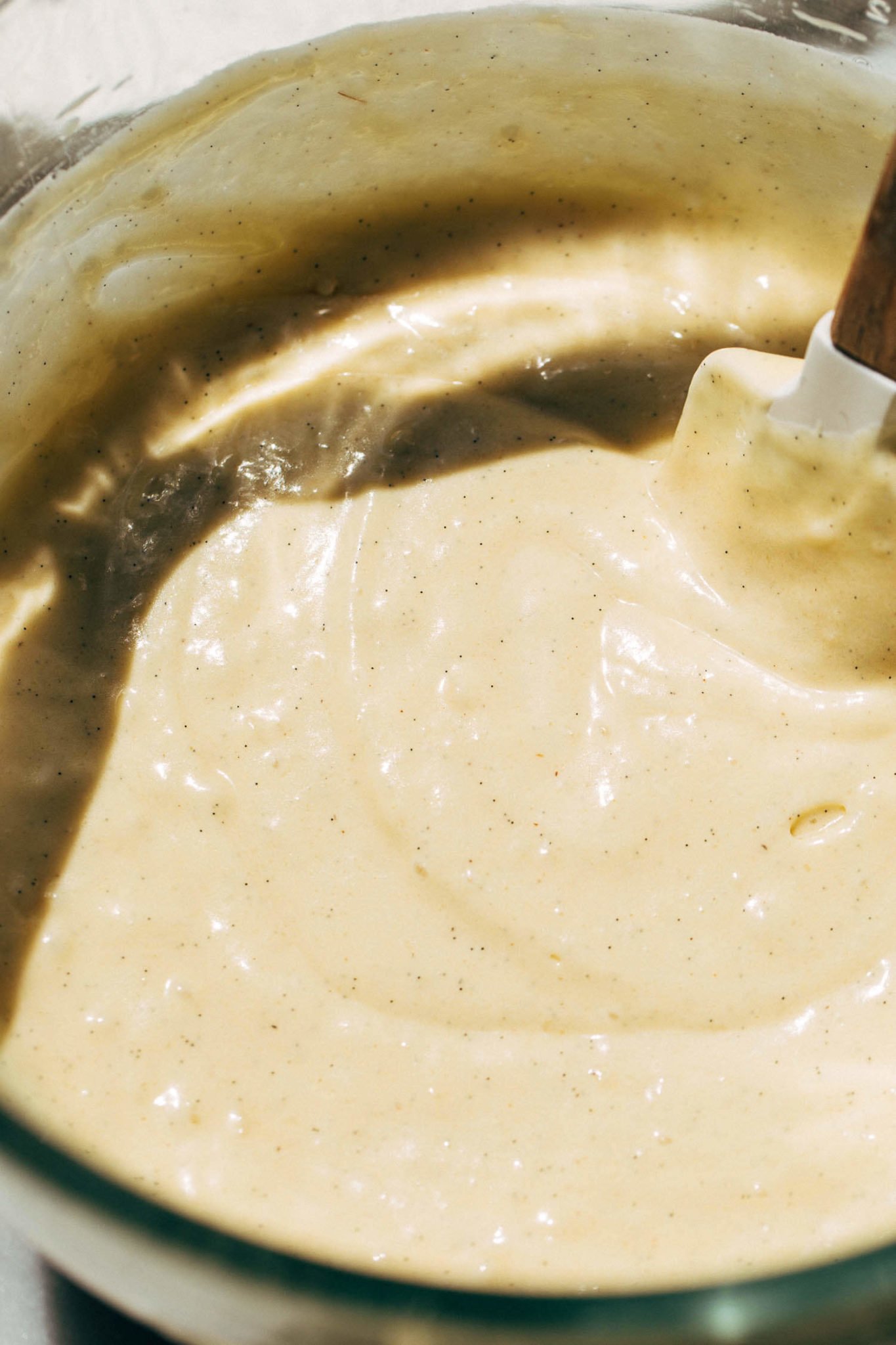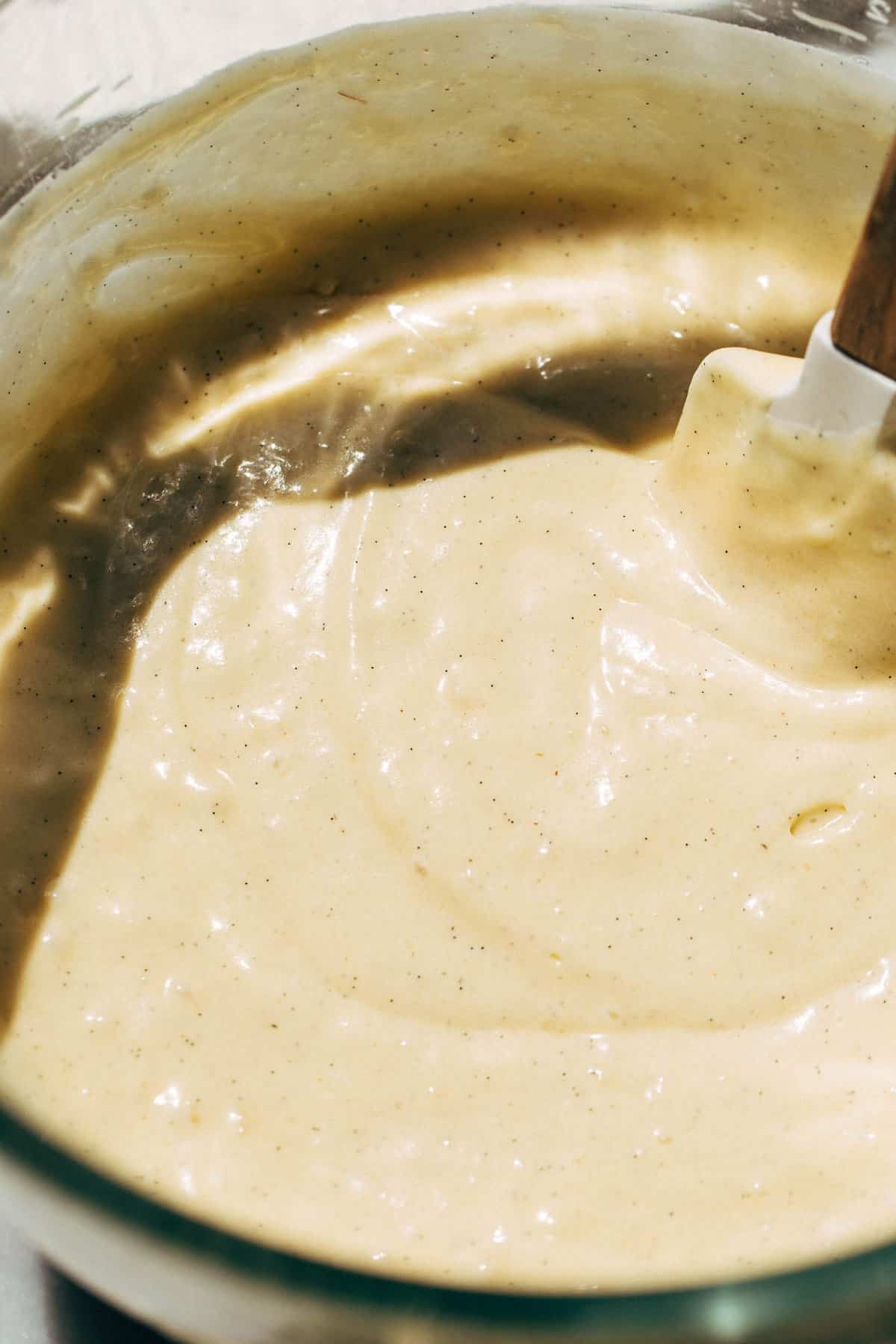 What is the reverse creaming method?
Standard cake batter is made using the traditional creaming method that you're likely the most familiar with. Start by mixing together the butter and sugar until light and fluffy and then mix in the rest of the wet ingredients followed by the dry ingredients.
This vanilla cupcake recipe uses a different technique called the reverse creaming method. It feels a bit backwards at the start, but the first step is to combine all of the dry ingredients including the sugar.
Once combined, the fat (in this case it's both butter and oil) is mixed straight into the dry ingredients. The fat builds a coating around the flour which slows the formation of gluten. This in turn creates a delicate cake.
Then all of the wet ingredients are combined separately and then poured in to the dry and fat mixture. Overall this method requires fewer steps and is much easier than the creaming method, in my opinion.
Reverse creaming also changes the crumb of a cake. Rather than having a much more open consistency with many many tiny little air pockets, reverse creaming creates a cake that has a tighter and bouncy crumb.
This is the secret to creating an incredibly tender cupcake that's still so rich and moist!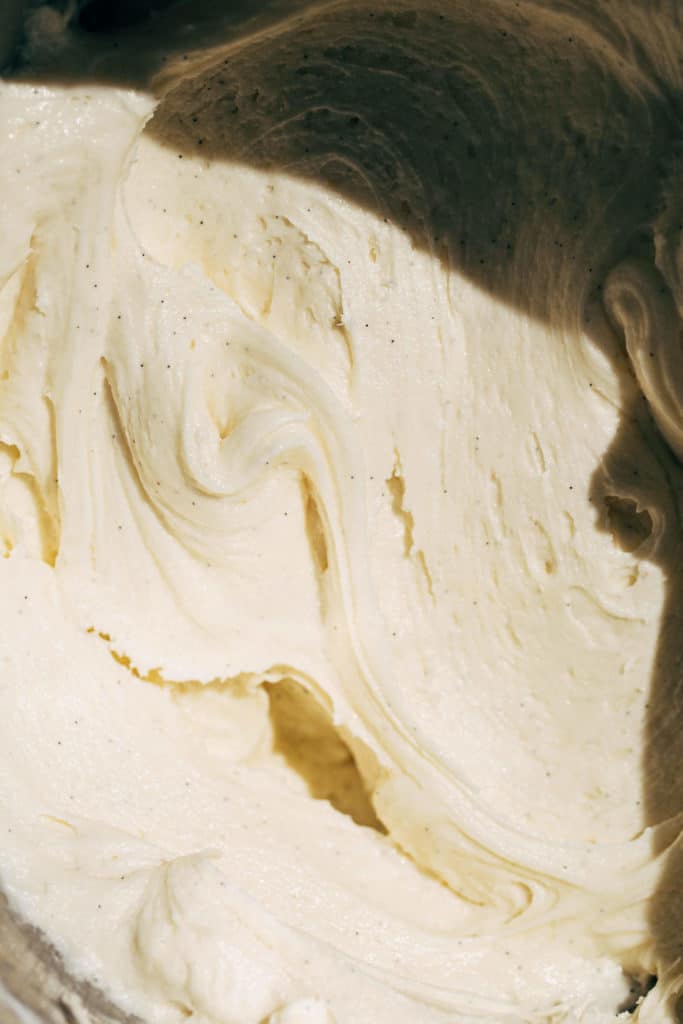 What is dry milk powder?
There's an ingredient in these vanilla cupcakes that isn't very standard, but yields one heck of a cupcake.
Dry milk powder is essentially just milk without the moisture. It's made by evaporating milk to a point where only the fat and protein remain.
This creates a condensed protein substance in powder form. What this does in baking is create a sturdy consistency that isn't tough or chewy. It basically enhances any dessert it touches!
For these cupcakes, milk powder is there to ensure an even rise. I baked these cupcakes so many times in so many different ways and not once did they fall in the center!
Milk powder also enhances the flavor of these cupcakes. It adds a sweet smoothness that is very hard to explain, but it's easy to tell when it's not there.
If milk powder isn't in your typical baking pantry, I definitely urge you to try it out for this recipe! Then add 1 or 2 tablespoons to any of your future bakes and watch as it creates delicious cookies, cakes, brownies, and more.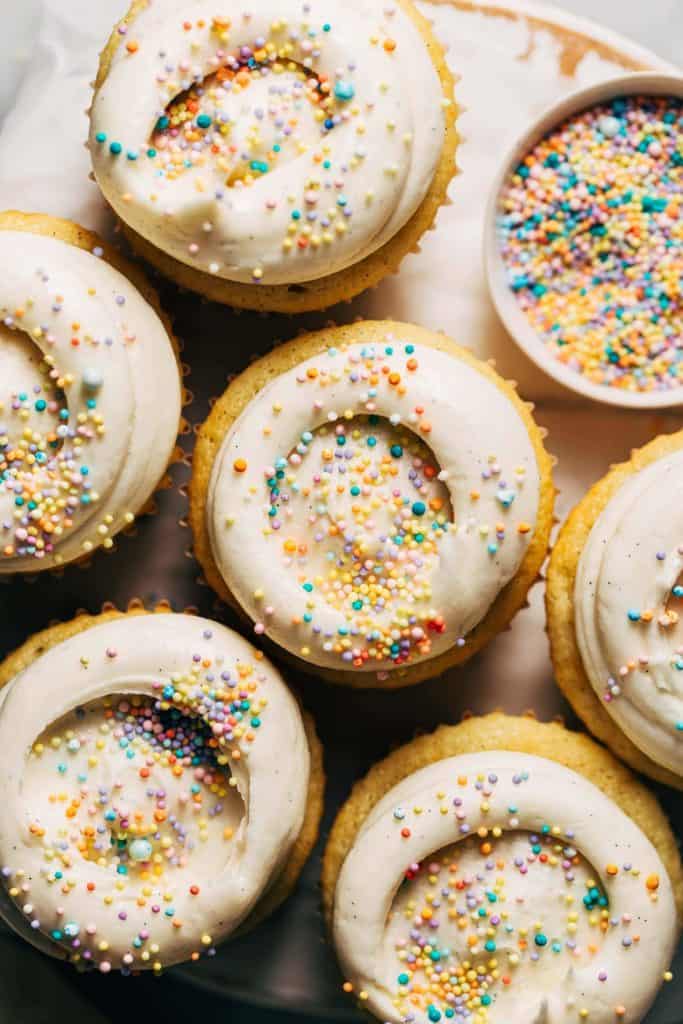 Silky vanilla bean buttercream
It's not a perfect vanilla cupcake recipe without perfect vanilla buttercream! This recipe is so simple and easy but yields an incredibly smooth and flavorful frosting.
All that's needed is butter, powdered sugar, milk, and vanilla bean paste. For best results, use a high fat butter such as cultured or European style! Since butter makes up a large portion of the buttercream, good butter goes a long way.
Before making the buttercream, make sure the butter is softened at room temperature. If it's not, the buttercream could turn out too lumpy and thick.
To the butter, mix in the powdered sugar 1 cup at a time. To measure the powdered sugar, spoon it into the measuring cup and level it off. Don't scoop directly into the sugar or shake and pack it down. We want a nice, light, and fluffy cup of powdered sugar.
Then, milk is added to smooth out the frosting. I found that 3 tablespoons was the perfect amount, but this may vary depending on how wet or dry it is where you life and also how much sugar was added. In the end, we're looking for a smooth and glossy consistency that's still able to hold its shape when piped.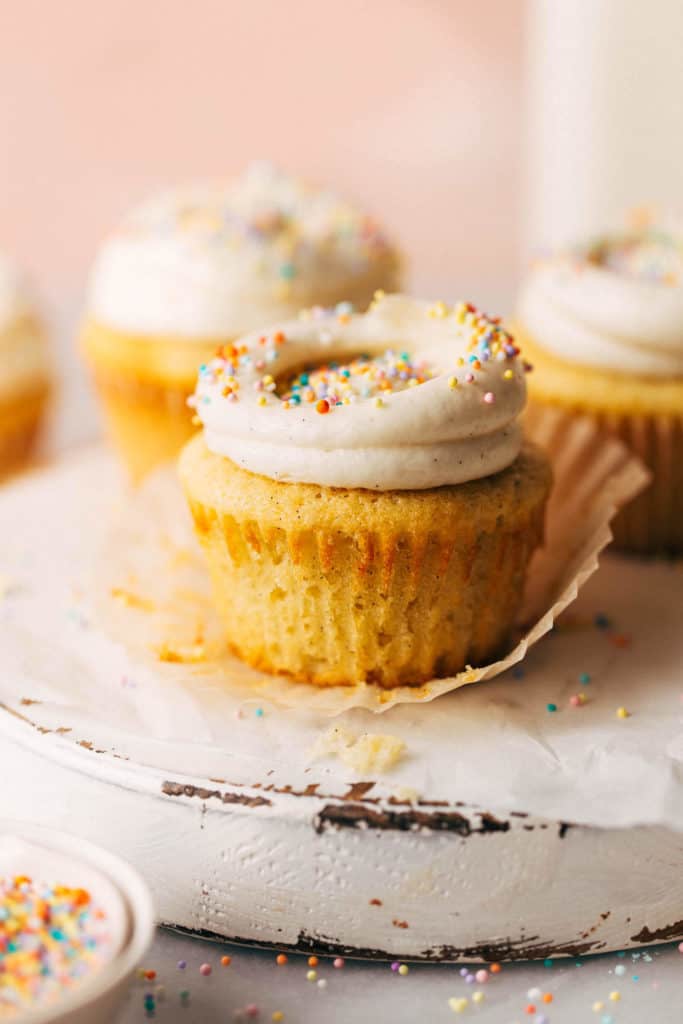 Tips for decorating vanilla cupcakes
To achieve the same look as the cupcakes shown in this post, here is what you will need:
First, pipe a tall mound in the center of the cupcake. Almost like a small Christmas tree.
Then, angle the spatula to a 45 degree angle. Dig the tip of the spatula into the very tip of the frosting and gently press down as you swirl the cupcake in your other hand.
Very carefully push the frosting out towards the sides as you continue to push down. Pull away with one final swoop and immediately top with sprinkles!
The frosting develops a skin rather fast, so make sure to sprinkle right away otherwise they will not stick.
Outside of this technique, feel free to frost any way you like! Use a star piping tip or spread the frosting on by hand. Sprinkle on rainbow sprinkles, coarse sugar, fruit, caramel…anyway you make these they're sure to be delicious.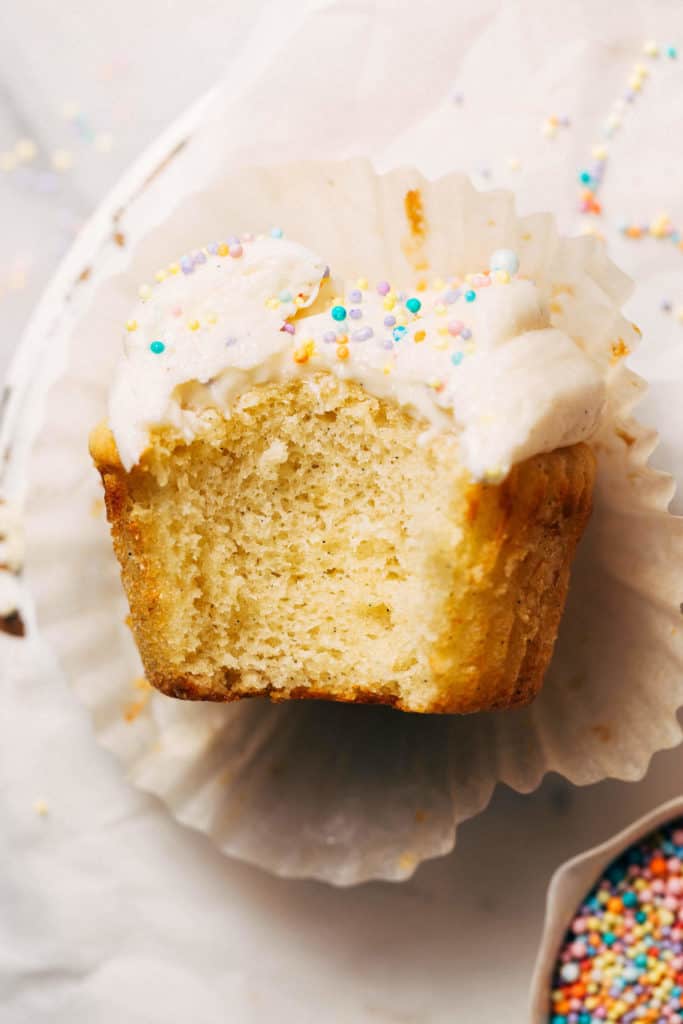 Vanilla Cupcakes FAQs
Can I substitute all purpose flour for cake flour?
If you can, definitely use cake flour! Otherwise, you can make cake flour from all purpose flour. Measure out 1 1/2 cups of flour (192g), and then remove three tablespoons. Replace with 2 tablespoons of cornstarch and whisk to combine.
Do I have to use milk powder?
Yes! Use it! It makes such a big difference in these cupcakes!
Can I substitute vanilla extract?
Yes, vanilla extract can be subbed one for one with the vanilla bean paste.
How do you store vanilla cupcakes?
Keep the cupcakes in an air tight container in the refrigerator. They'll keep soft for up to 4 days.
What are the best cupcake liners to use?
I prefer parchment paper liners, but any liner will do. These cupcakes don't stick!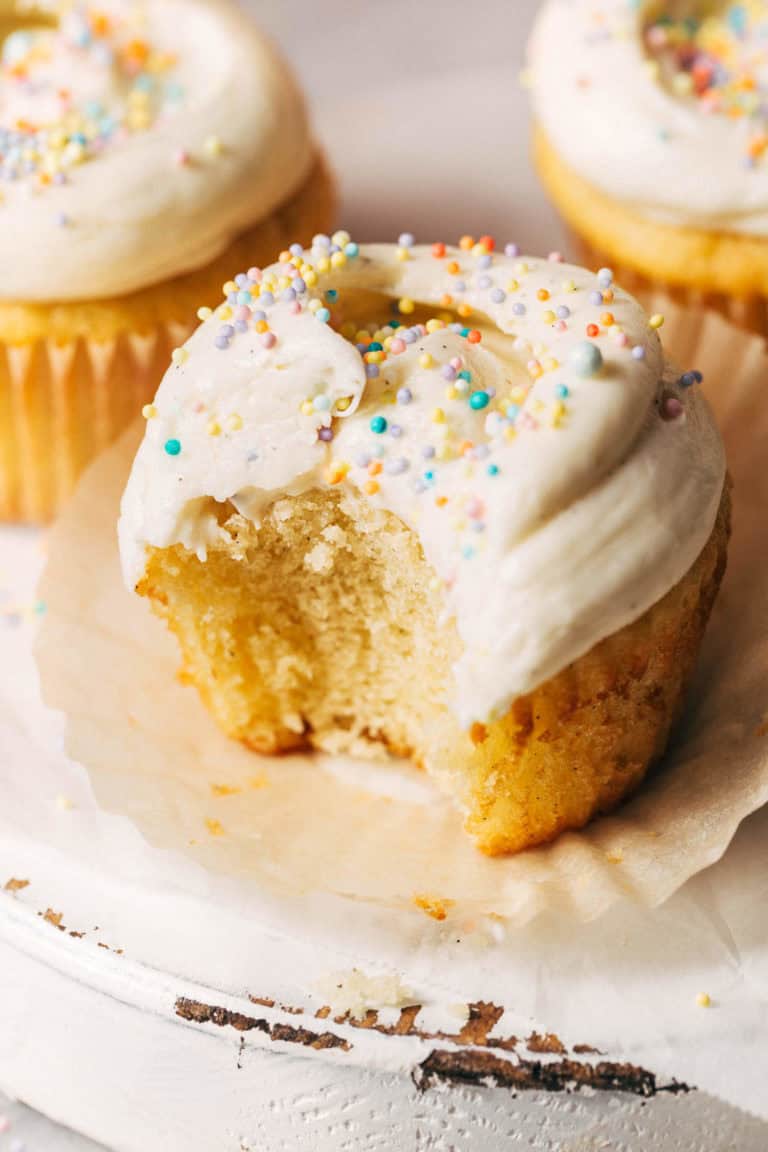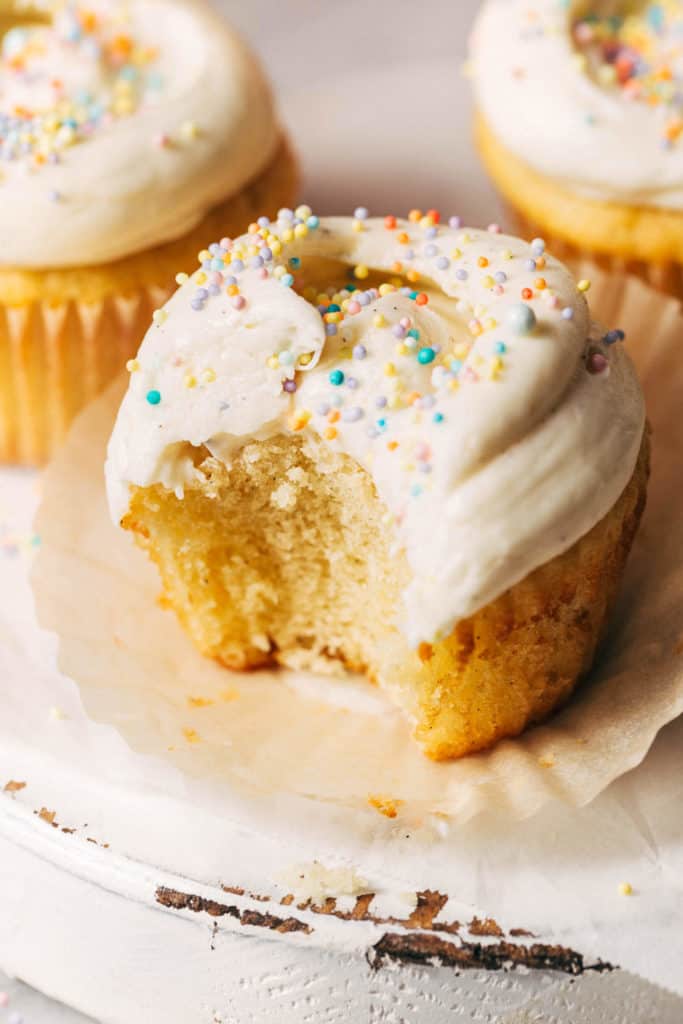 For more cupcake recipes, check out my:
Make sure to tag me @butternutbakery on Instagram or leave a comment below if you make this vanilla cupcake recipe. I love seeing my recipes come to life in YOUR kitchen! To pin this recipe and save it for later, you can use the button on the recipe card, the buttons above or below this post, or on any of the photos above. Happy baking!
Watch how to make these vanilla cupcakes:
Print
Perfect Vanilla Cupcakes
---
Author: Jenna Barnard
Total Time: 1 hour 15 minutes
Yield: 15 cupcakes
Description
These are the most perfect vanilla cupcakes with a moist, bouncy, and tender texture, strong vanilla flavor, and silky vanilla bean buttercream on top. My goal was to match the texture of box cake mix and after almost 20 tests, this is the winning vanilla cupcake recipe!
---
Vanilla Cupcakes
1 1/2 cups (182g) cake flour* spooned and leveled**
1 cup (200g) granulated sugar
2 tbsp dry milk powder***
1 tsp baking powder
1/2 tsp baking soda
1/4 tsp kosher salt
6 tbsp unsalted butter, softened
3 tbsp vegetable oil
1/4 cup water, warm
1/2 tsp vinegar
1/2 cup (120g) sour cream, room temp
2 large eggs + 1 egg yolk, room temp
1 tbsp vanilla bean paste****
Vanilla Bean Buttercream
1 cup (220g) unsalted butter, softened
6 cups (660g) powdered sugar
3–4 tbsp milk
1/2 tbsp vanilla bean paste
---
Instructions
Vanilla Cupcakes
Preheat the oven to 350F and line a cupcake pan with 12 liners and a second pan with 3 liners (this recipe makes 15 cupcakes).
In a large bowl using a hand or stand mixer with the paddle attachment, combine the flour, sugar, milk powder, baking powder, baking soda, and salt.
Add the softened butter and oil and mix on medium-low speed until everything is well combined and no visible lumps of butter remain, although the mixture itself should appear lumpy.
In a 2 cup measuring glass, beat together the water, vinegar, and sour cream until smooth.
Then beat in the eggs and vanilla.
With the mixer running on medium-low speed, slowly pour in the wet ingredients. Pause pouring after about 1/2 cup is added to give the batter a chance to smooth out, then continue pouring.
The batter should appear rather thin and it's ok if there are a few small lumps. Use a rubber spatula to give the batter one more good mix by hand, scraping down the sides and bottom of the bowl.
Distributive the batter between the liners, filling each just a hair past halfway. Use a large cookie scoop to make this much easier!
Bake for 15 minutes then test for doneness. A toothpick should come out clean with a few moist crumbs. If they're not done, bake for 1-2 additional minutes.
Very carefully (since the pan and cupcakes are still hot) immediately transfer the cupcakes to a cooling rack. Removing the cakes right away prevents any residual heat from continuing to heat the cupcakes.
Transfer the cupcakes to the refrigerator to cool for about 30 minutes, then make the frosting.
Vanilla Bean Buttercream
Using a hand or stand mixer with the paddle attachment, mix the butter until smooth.
Mix in 1 cup of powdered sugar at a time. To ensure the right amount, spoon the sugar into a measuring cup and level it off. We want light and airy cups of powdered sugar.
When the buttercream starts to become dry and thick, add a tablespoon of milk in between cups.
After all the cups are mixed in and you've reached 3 tablespoons of milk, mix in the vanilla bean paste and then assess the consistency.
The buttercream should be glossy and smooth but thick and pipable. If it's still too thick, add in that last tablespoon of milk. If it's too thin, mix in a heaping spoonful of powdered sugar at a time until you reach the right consistency.
When the cupcakes are completely cooled, spread or pipe the frosting on top. Sprinkle with any topping of your choice and enjoy!
Equipment
Notes
*DIY CAKE FLOUR – You can also make cake flour from all purpose flour if you can't find cake flour at your grocery store. Measure out 1 1/2 cups of flour (192g), and then remove three tablespoons. Replace with 2 tablespoons of cornstarch and whisk to combine.
**SPOON & LEVEL – Never scoop directly from the flour as this will pack the flour down into the cup. For true, weigh the ingredients with a food scale. If that's not an option, spoon the flour into a measuring cup and level it off with a flat edge. Don't shake it or pack it down as we want a light and fluffy cup of flour! 
***MILK POWDER – Milk powder is essentially just pure condensed protein. This provides an extra lift to these cupcakes while also creating a more tender crumb and well rounded flavor. It can be found in most grocery stores usually in the baking aisle. Grab a bag and add a tablespoon to any dessert recipe and watch the magic happen!
****VANILLA BEAN PASTE – Pure vanilla extract can be used instead, but I love the flavor of vanilla beans here!
Prep Time: 30 minutes
Cooling Time: 30 minutes
Cook Time: 15 minutes
Category: Dessert
Method: Baking
Cuisine: American
Keywords: vanilla cupcake recipe, vanilla cupcakes, vanilla cupcake, vanilla cupcake recipes, vanilla bean cupcakes, vanilla bean cupcake recipe
Recipe Card powered by