Say hello to the best ever chocolate cupcake recipe. For real though, these Guinness Chocolate Cupcakes are insanely delicious. They're full of that deep chocolate flavor with a hint of Guinness…which only makes the chocolate taste even better. Topped with a salted caramel buttercream, these chocolate cupcakes need to be at the top of your "to bake" list!
What makes Guinness Cupcakes so good?
It's one of those things that's hard to explain and you just know when you try it. You might not think Guinness and chocolate go together…especially in cupcakes…but trust me, it's AH MA ZING.
If you're thinking, "Can you actually taste the beer?" the answer is no! Or at least not really. There is the slightest HINT of stout flavor but because it goes so well with the chocolate, it just tastes like a really rich and luxurious chocolate cupcake. A fancy chocolate cupcake, if you will.
The best part is that the Guinness makes these super moist chocolate cupcakes. I mean I brought these to work and 5 days later they were STILL good.
The carbonation also helps to lighten the cake so it's not super dense. It's the perfect balance of light and fluffy but also rich and moist.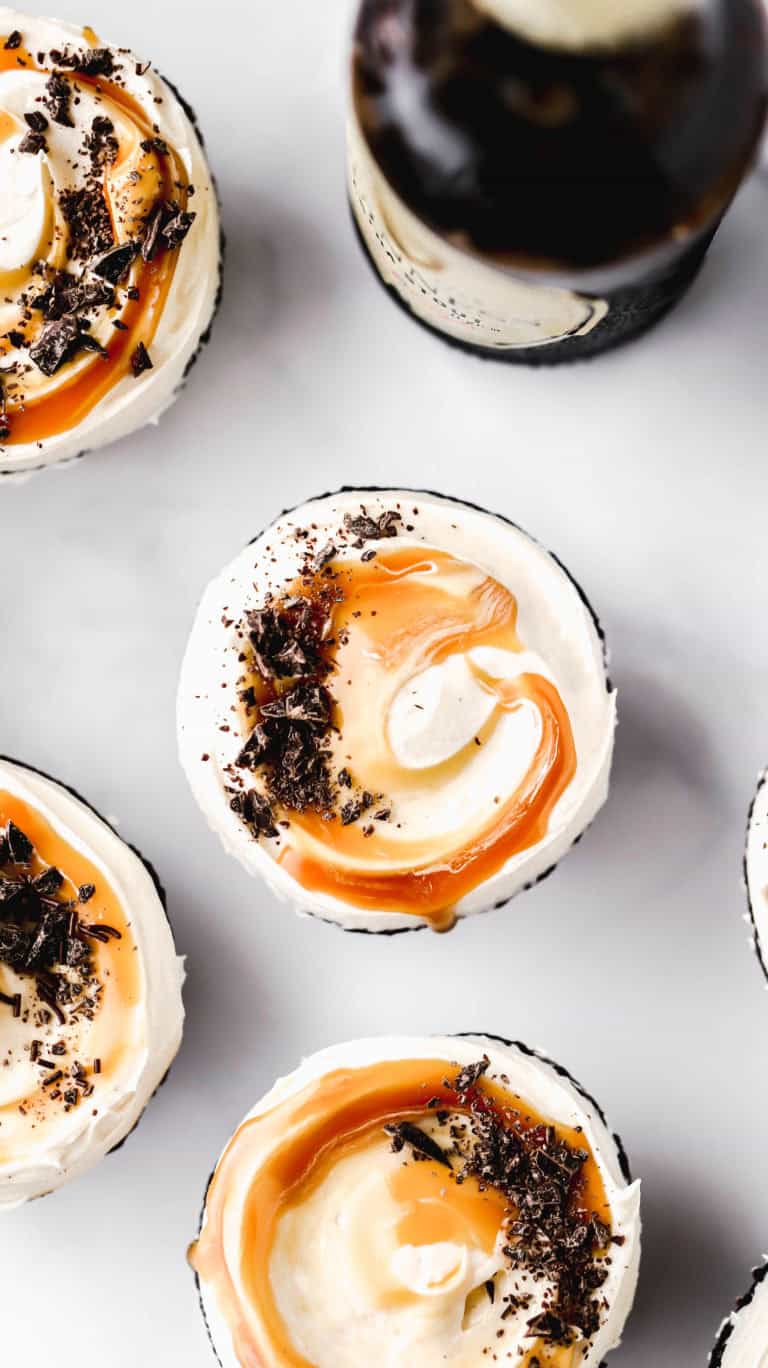 DELICIOUS Salted Caramel Buttercream
You've got a super rich chocolate cake so it's only natural to match it with a luscious salted caramel buttercream, am I right??
I absolutely love this caramel buttercream recipe because of how quick and easy it is to make. It starts with my tried-and-true salted caramel recipe that I've used in SO many of my desserts. Seriously, it never fails! And just to name a few:
After the caramel has had time to cool and thicken, you just add it to this simple American buttercream recipe. Voila! You have salted caramel buttercream. And just as a warning, you'll be very tempted to eat it by the spoonful.
How to frost cupcakes without a piping bag
If you're in a pinch or just can't justify buying piping tips AND piping bags, you can still make your cupcakes look cute! All you need is a butter knife or an offset spatula and you're good to go.
Start by dolloping about 3 tablespoons worth of frosting into the center of your cupcake. Using the knife or spatula, gently spread it just past the edge of the cupcake.
Turn your knife upright and run it along the edge to create a smooth side.
For this recipe, drizzle on some SLIGHTLY warm salted caramel sauce and use either a spoon or the edge of your knife to make that swooping motion around the top of the cupcake.
Sprinkle on some chopped chocolate, pretzels, sea salt, sprinkles, or nothing at all! They'll look gorgeous either way.
A couple things to know before baking these Guinness chocolate cupcakes:
Make sure to use Guinness Extra Stout. This will give you that bold flavor as opposed to the Draught version.
If you don't have Dutch Process Cocoa Powder, opt for a dark chocolate cocoa powder to get that deep flavor and color.
MAKE SURE YOUR CARAMEL IS COOLED TO ROOM TEMPERATURE BEFORE USING. Otherwise your buttercream will melt.
The batter is very thin so don't be alarmed. It also might not seem very smooth but it will bake up very nicely.
These cupcakes bake pretty flat so don't be alarmed if yours didn't get much of a rise.
With these tips, you're on your way to making the best chocolate cupcakes you'll ever have.
For even more cupcake recipes:
Make sure to tag me @butternutbakery on Instagram if you make these Guinness Chocolate Cupcakes. I love seeing my recipes come to life in YOUR kitchen! To pin this recipe and save it for later, you can use the button on the recipe card, the buttons above or below this post, or on any of the photos above. Happy baking!
Print
Guinness Chocolate Cupcakes
---
Description
These Guinness Chocolate Cupcakes have to be the BEST EVER chocolate cupcakes and are topped with a delicious salted caramel buttercream.
---
Guinness Chocolate Cupcakes
3/4 cups all-purpose flour
1/3 cup dutch processed cocoa powder
1/4 tsp salt
3/4 tsp baking soda
2/3 cup stout
1 tsp vanilla extract
1 tsp espresso powder
1/2 cup unsalted butter, room temp
1 cup granulated sugar
2 large eggs
1/2 cup sour cream
Salted Caramel Buttercream
1 cup unsalted butter, room temp
4 cups powdered sugar
1/4 cup salted caramel, cooled
---
Instructions
Guinness Chocolate Cupcakes
Preheat the oven to 350F and add 12 cupcake liners to a cupcake tin.
In a bowl, whisk together the flour, cocoa powder, salt, and baking soda.
In a cup, mix together the stout, vanilla, and espresso powder.
Using a hand or stand mixer, cream together the butter and sugar until light and fluffy. About 3-4 minutes.
Mix in the eggs one at a time and then the sour cream.
Mix in half of the dry ingredients, half of the stout, half of the dry, then finish with the stout.
Evenly distribute the batter between your 12 cups and bake for 15-17 minutes or until a toothpick comes out clean.
Let them rest for 15 minutes then remove the cupcakes and place on a cooling rack.
Salted Caramel
Pour into a glass container and let it cool at room temp.
Salted Caramel Buttercream
Cream together the butter and powdered sugar until smooth.
Pour in COOLED salted caramel and mix until combined.
If needed, add more powdered sugar or a teaspoon of milk to either thicken or thin the frosting.
Frost the cupcakes when they've completely cooled. Drizzle the remaining caramel sauce on top. Enjoy!
Prep Time: 45 minutes
Cook Time: 15 minutes
Keywords: chocolate cupcakes, guinness chocolate cupcakes, stout cake
Recipe Card powered by
Some of the links above are affiliate links, which pay me a small commission for my referral at no extra cost to you! Thank you for supporting Butternut Bakery.