This banana cake is like heaven in a slice! Not only does it have two layers of moist banana cake, but it's also smothered in creamy peanut butter chocolate frosting. Basically all three of the best flavors wrapped up in one cake!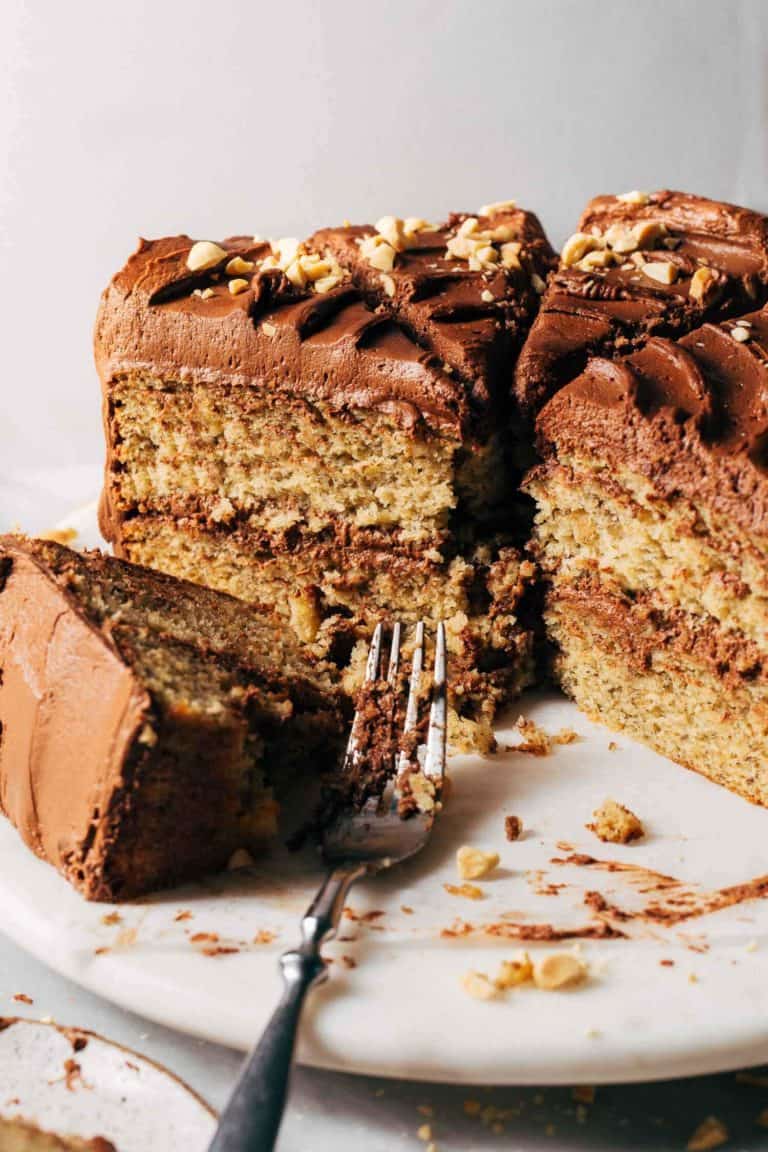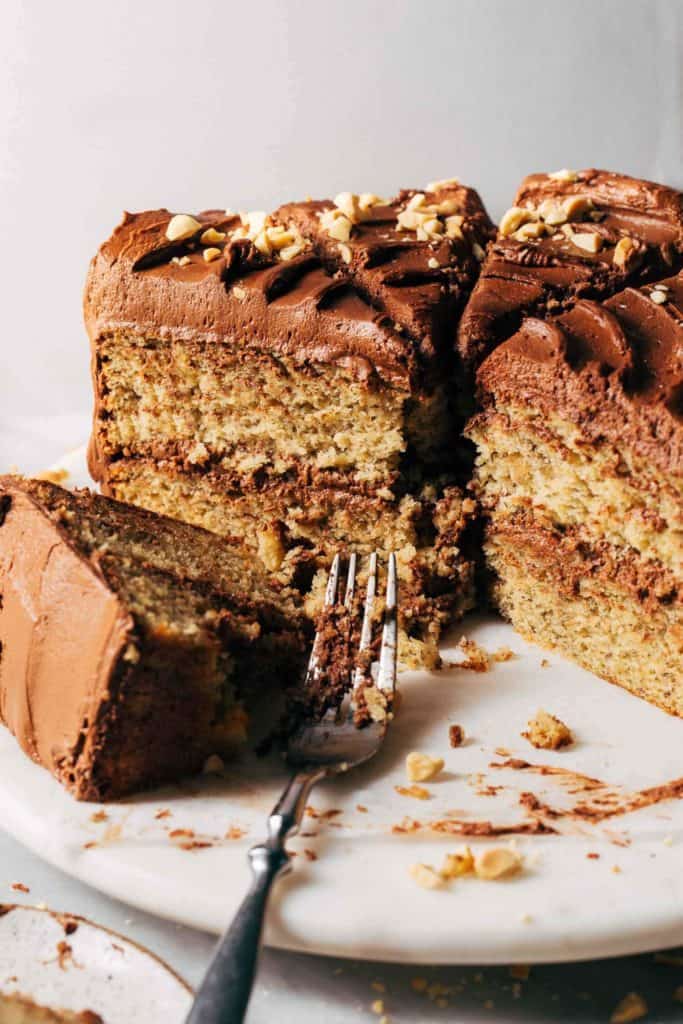 How to make banana cake
No only does this cake have banana, peanut butter, AND chocolate…but the cake batter is mixed by hand! We love a good quick and easy cake recipe.
The batter starts by whisking together melted butter, sugar, and brown sugar. The melted butter adds so much richness and flavor, while the brown sugar adds a little extra moisture!
Then sour cream, eggs, vanilla, and finely mashed banana are added. Sour cream adds yet another layer of moisture but its tangy flavor also helps balance out the sweet bananas. Of course for the best flavor and cake texture, use super ripe brown bananas and mash them up as fine as possible!
Then half of the dry ingredients are mixed in. This includes flour, baking powder, baking soda, and salt. But to prevent the batter from clumping up, milk is mixed in before the rest of the dry ingredients are added.
The batter turns into the perfect thick pudding-like consistency that produces a dense and moist but tender banana cake.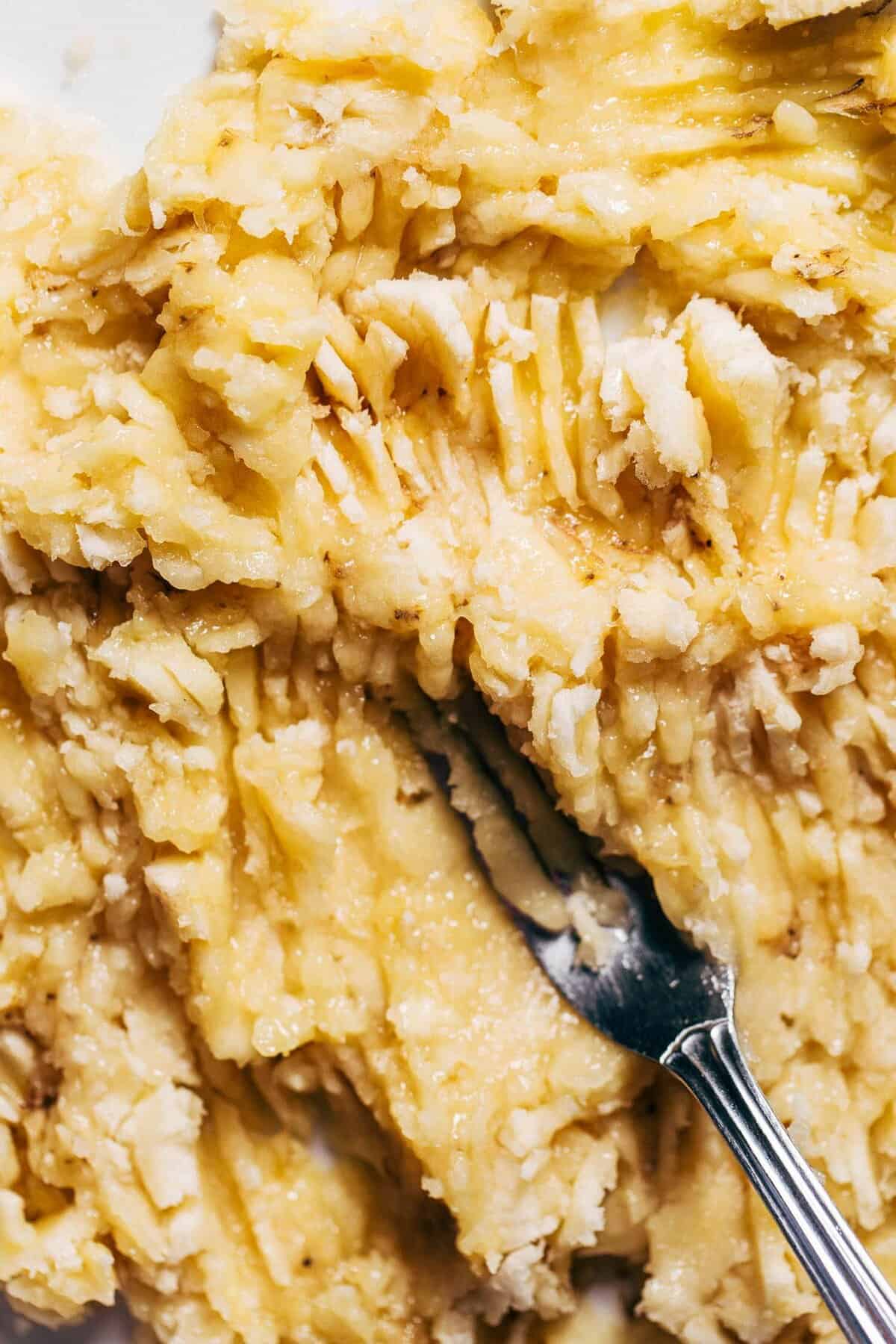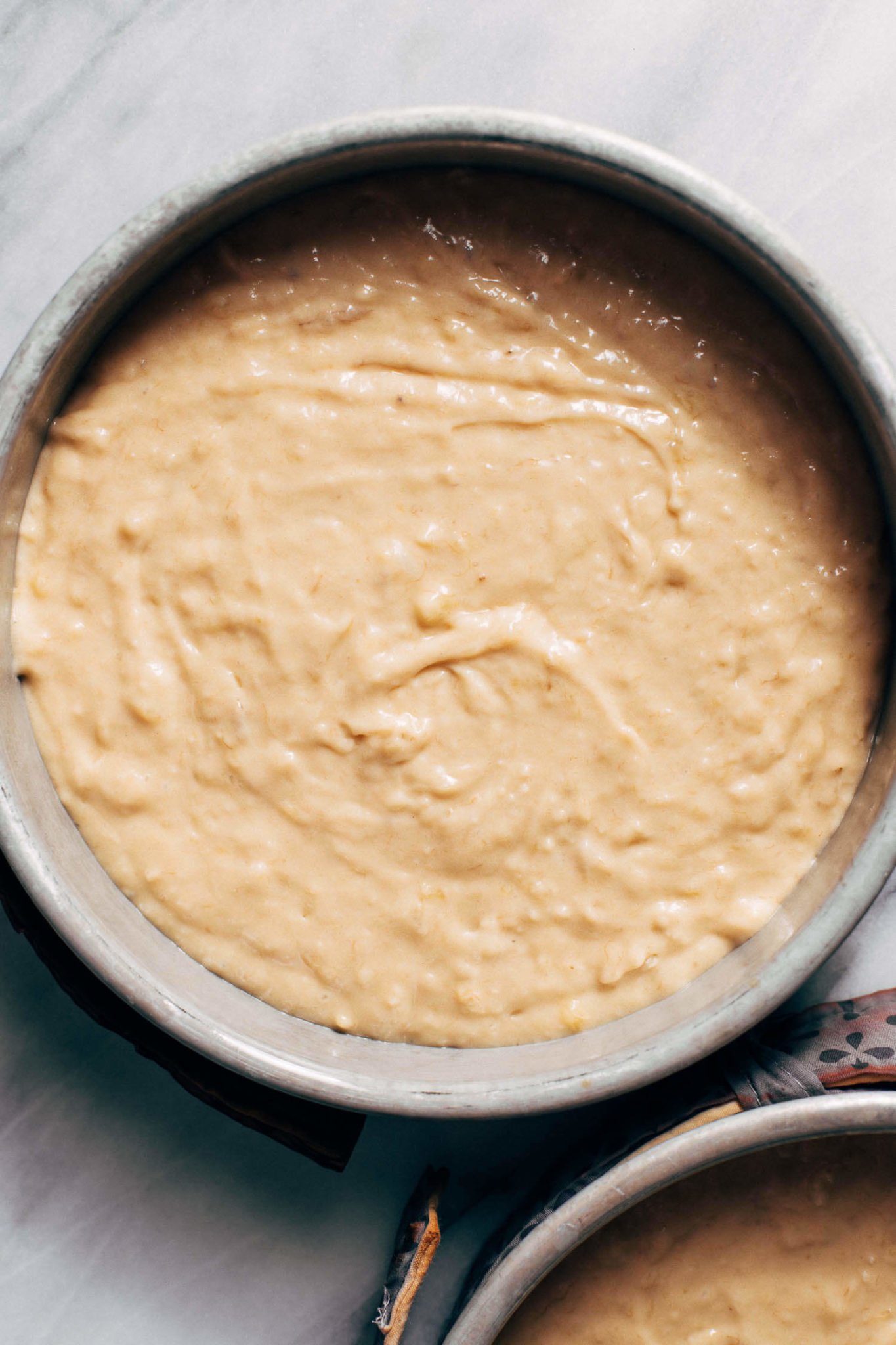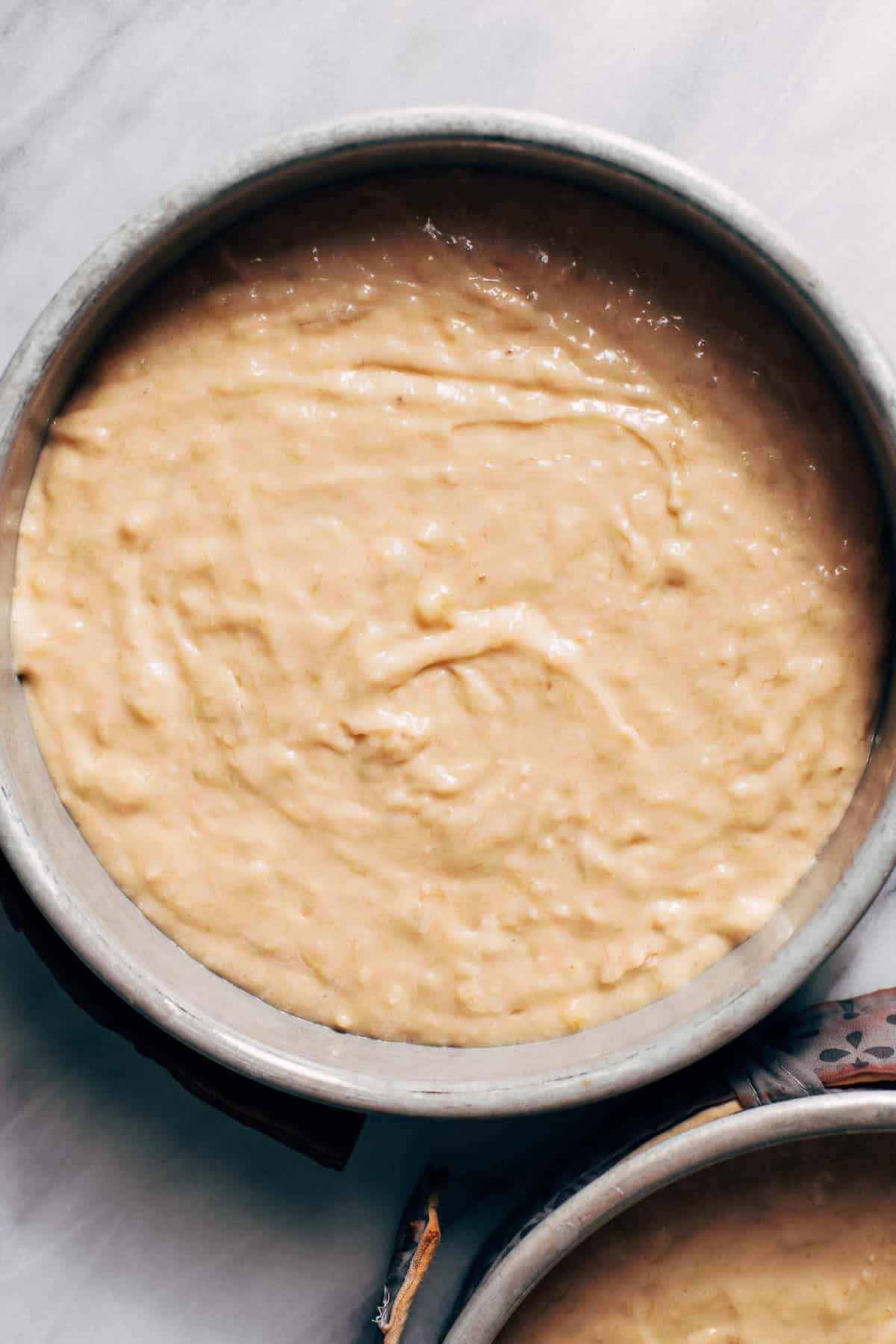 Tips for making this banana cake recipe
Bananas – The riper the bananas, the better! Ripe bananas have SO much more flavor and help to create a really moist and tender cake texture. Also make sure to measure the banana to exactly 1 1/2 cups.
Flour – If possible, weigh the flour with a food scale. Otherwise, spoon the flour into the measuring cup and level it off with a flat edge. NEVER scoop directly into the flour as this packs the flour down into the cup, leaving you with way too much added flour.
Mixing – Once the dry ingredients are added to the batter, take the mixing nice and slow. Over mixing can lead to a tough cake with a sunken center. At this point, I like to switch to a rubber spatula to further prevent over mixing.
Cake Strips – If you have them, cake strips allow these cakes to bake incredibly even with the same consistency from edge to center. If you don't have cake strips, that's totally fine. But these little pieces of cloth make a huge difference in cake baking!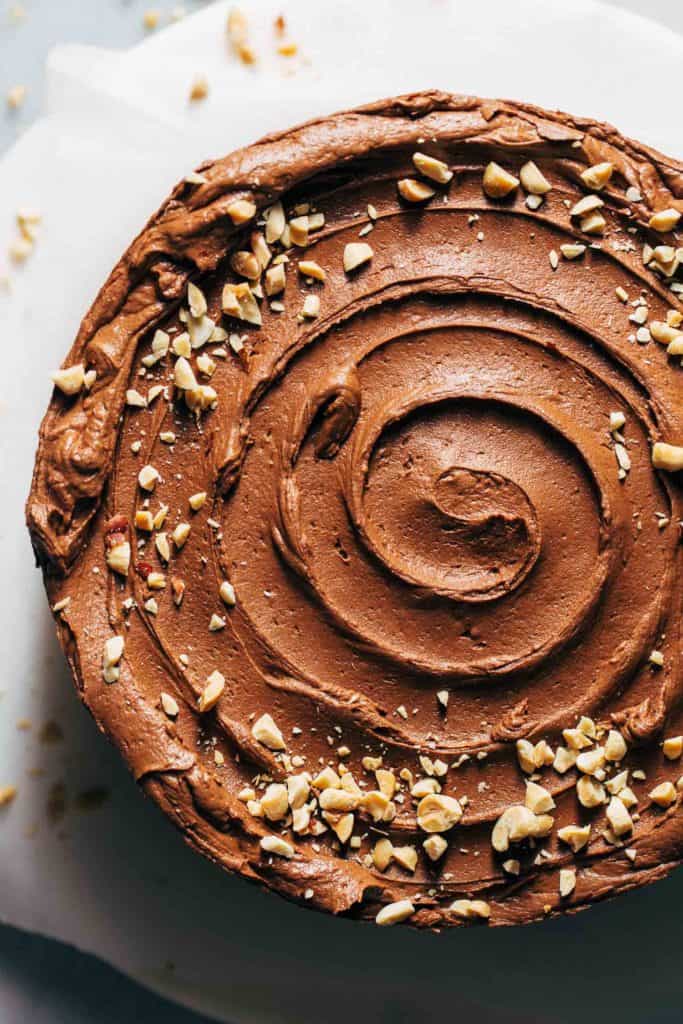 How to make peanut butter chocolate frosting
This might just be my new favorite frosting recipe. The peanut butter makes it SO rich and smooth and the chocolate prevents it from being too sweet.
To make this frosting, start with room temperature butter. This is key to making a super smooth buttercream!
The butter is mixed until smooth, and then the peanut butter goes in. This is your standard creamy butter like Jif or Skippy. Don't use natural here as the excess oils will create a thin buttercream.
After the butter and peanut butter, powdered sugar is added to both sweeten and thicken the buttercream. It's added one cup at a time and be careful not to pack it into the cup. Just like flour, powdered sugar must be spooned into the cup and leveled off.
Once the sugar is mixed in, the chocolate is next. Regular unsweetened cocoa powder is used to give this frosting its chocolatey taste. But, regular cocoa powder tends to be a bit clumpy so make sure to sift it in.
At this point, the buttercream will appear very thick. Vanilla and milk are added for flavor and to help smooth out the buttercream. In the end, you want a buttercream that has a smooth and silky consistency but is still thick enough to hold its shape.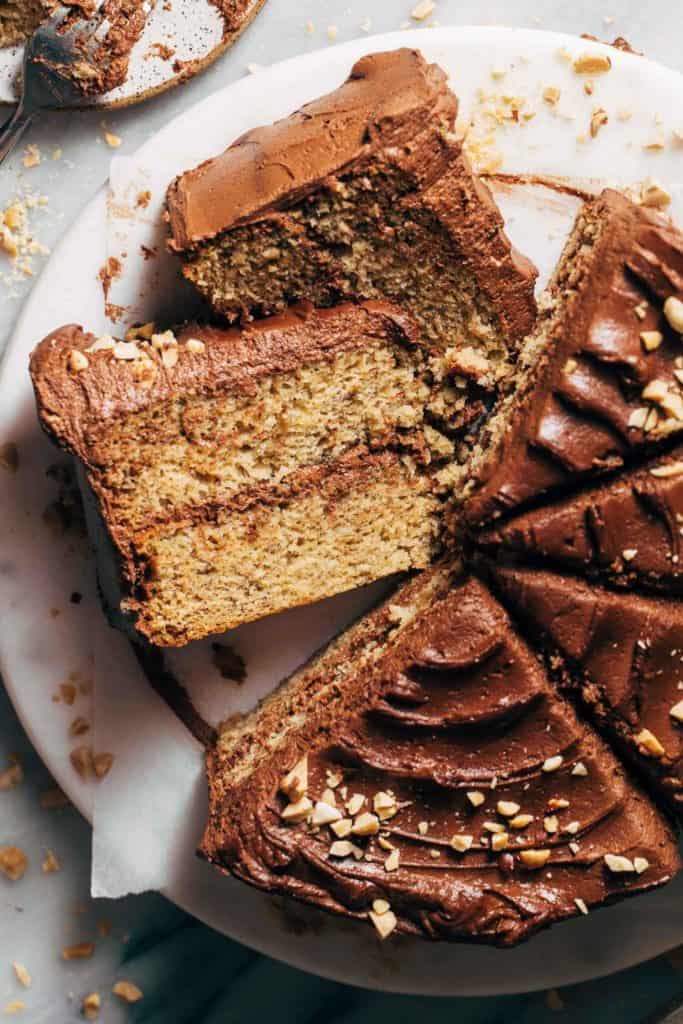 How to frost banana cake
Cake strips are supposed to prevent cakes from baking with an uneven top. While that works most of the time, it's not super effective ALL of the time. This cake bakes incredibly even BUT it's still just a tad bit domed on top.
So before frosting, make sure to level off the cakes. The easiest and fastest way is to use a cake leveler. Otherwise, a large knife will also do the job.
Once the cakes are leveled, it's time to add the frosting! First, spread about a cups-worth of frosting between the two layers. Spread it as smooth and as level as possible and allow it to reach over the edges of the cake.
Lay the second layer on top of the first layer but place it upside down so the bottom of the cake is now the top. The bottom of the cake is completely sealed, whereas the top is porous since it was leveled. Stacking the cakes this way is just extra insurance to prevent it from drying out too fast, while also providing a super smooth surface.
Smother the entire cake in the remaining buttercream. Yep, no crumb coat here! This banana cake bakes with a tight crumb and smooth sides so there's just no need for it.
Top with chopped peanuts, banana chips, chocolate shavings, or sprinkles and dig in!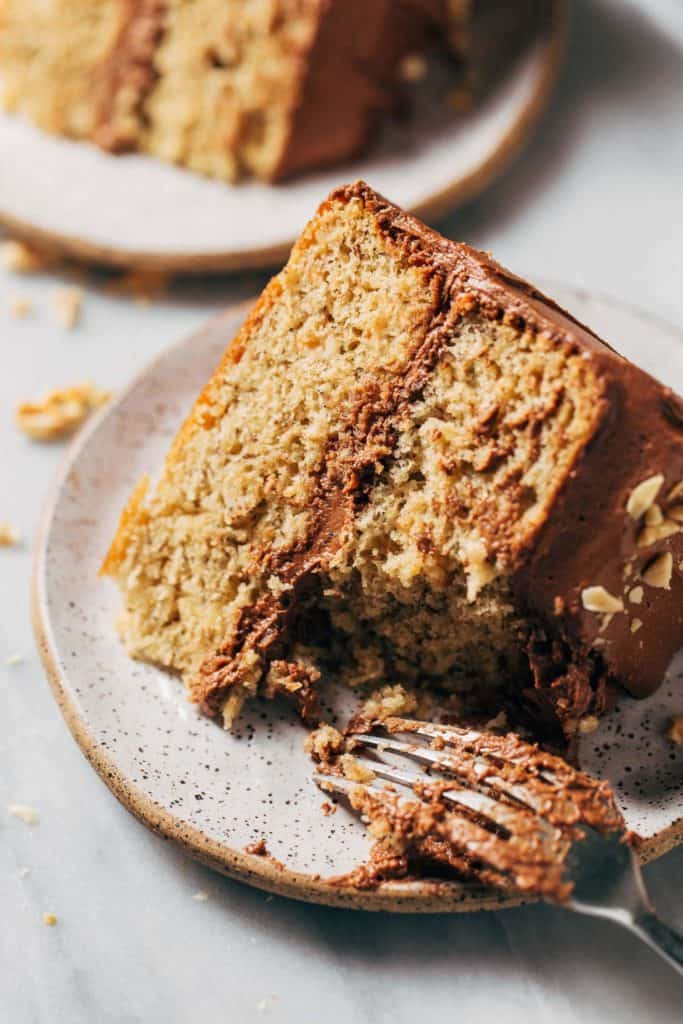 For more banana recipes, check out my:
Make sure to tag me @butternutbakery on Instagram if you make this banana cake. I love seeing my recipes come to life in YOUR kitchen! To pin this recipe and save it for later, you can use the button on the recipe card, the buttons above or below this post, or on any of the photos above. Happy baking!
Print
Banana Cake with Peanut Butter Chocolate Frosting
---
Author: Jenna Barnard
Total Time: 1 hour 20 minutes + 1 hour cooling
Yield: 10-12 slices
Description
This moist banana cake is baked in two layers and smothered in creamy peanut butter chocolate frosting. It's all the best flavors wrapped up in one cake!
---
Banana Cake
1 1/2 cups (395g) mashed ripe banana, measured (about 3 large bananas)
1/2 cup (110g) unsalted butter, melted
1 cup (200g) light brown sugar, packed
1/2 cup (100g) granulated sugar
1/2 cup (120g) sour cream
2 large eggs
1 tbsp vanilla extract
1/2 cup (118ml) milk
3 cups (385g) all purpose flour, spooned and leveled
1 tsp baking soda
1 tsp baking powder
1 tsp kosher salt
Peanut Butter Chocolate Frosting
1 cup (220g) unsalted butter, room temp
3/4 cup (180g) creamy peanut butter, like Jif or Skippy
3 cups (330g) powdered sugar
1 cup (100g) unsweetened cocoa powder, sifted
1 tsp vanilla extract
2–3 tbsp milk
Chopped peanuts, for sprinkling
---
Instructions
Banana Cake
Preheat the oven to 350F. Grease all sides and line the bottom of two 8″ round cake pans. Wrap in cake strips if you have them! 
In a medium bowl, whisk together the flour, baking soda, baking powder, and salt and set aside.
In a large mixing bowl, whisk together the butter and sugars.
Then whisk in the sour cream, eggs, vanilla, and banana.
Pour in half of the dry ingredients and whisk to combine. Then mix in the milk.
Use a rubber spatula to gently mix in the rest of the dry ingredients.
Split the batter between the two cake pans and spread it even.
Bake for 35-40 minutes. Test with a toothpick for doneness. 
Allow the cakes to cool in their pans for about 30 minutes, then release from the pans and chill for about an hour before frosting. *See notes for baking the cakes a day ahead.
Peanut Butter Chocolate Frosting
In a large mixing bowl using a hand or stand mixer with the paddle attachment, mix the butter until smooth.
Scrape down the bowl and add in the peanut butter. Mix again until smooth.
Scrape down the bowl and mix in the powdered sugar, one cup at a time, followed by the sifted cocoa powder.
Mix in the vanilla and milk at the end. Add more milk as needed, depending on how thick the frosting is.
Once the cake has completely cooled, frost the cake to your liking. No need to add a crumb coat! Just one layer of frosting and you're good to go. 
Sprinkle with chopped nuts or sprinkles and enjoy!
Notes
*BAKE AHEAD – Allow the cakes to cool completely, then wrap in plastic wrap and chill for up to two days before frosting.
Prep Time: 40 minutes
Cook Time: 40 minutes
Keywords: banana cake, banana layer cake, banana cake recipe, recipe for banana cake
Recipe Card powered by