These are the BEST peanut butter chocolate chip cookies! They're baked to perfection with lightly crisp and chewy edges with a tender and soft center. By using mini chocolate chips, there's just the right amount of chocolate and peanut butter cookie in every bite!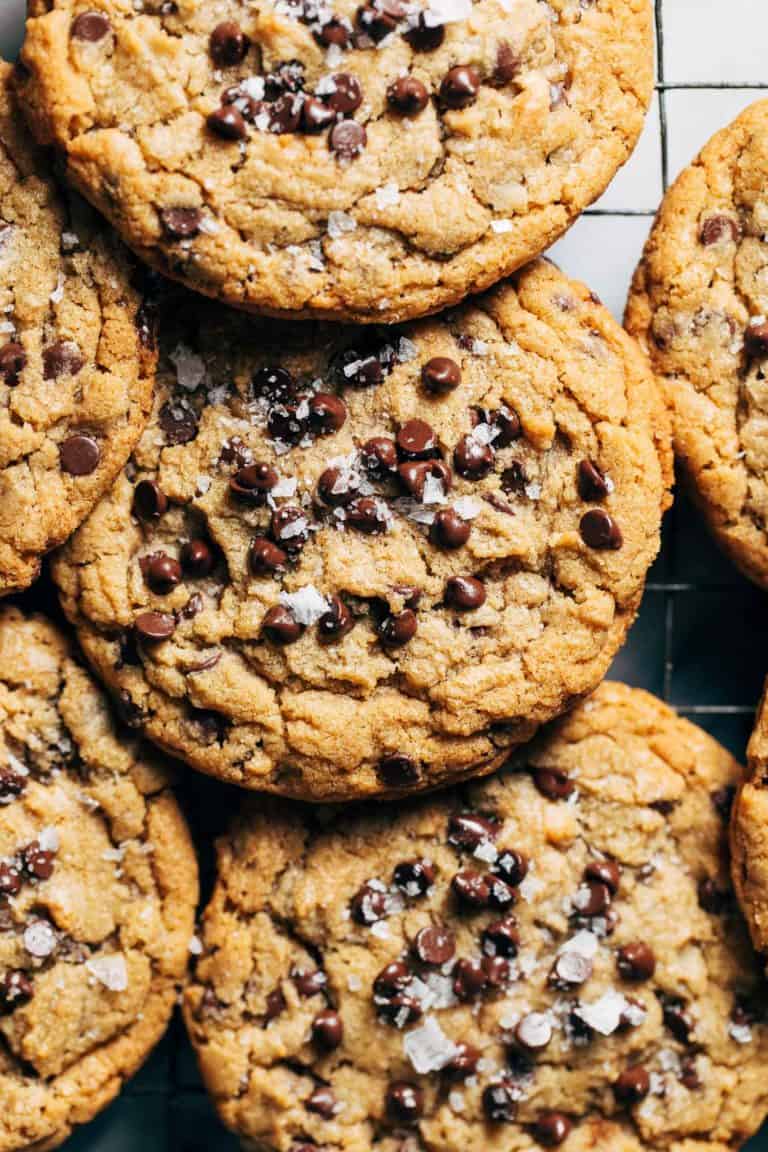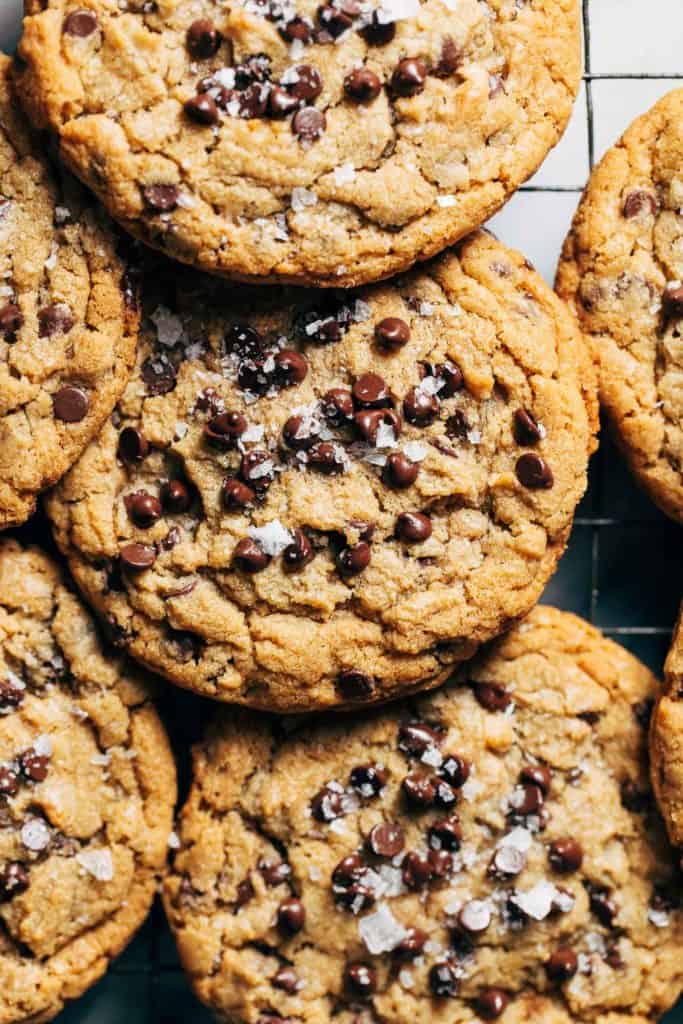 What makes these the BEST peanut butter chocolate chip cookies?
I have so many feelings about these peanut butter cookies, starting with the fact that they are just so dang GOOD! I find that so many peanut butter cookies tend to be dry and crumbly, but not these.
The edges are lightly crisp and chewy, the center is soft and tender, and there are melty chocolate chips scattered throughout.
These cookies also have a rich peanut butter flavor, using a hefty 1/2 cup of creamy peanut butter. Using this in equal parts butter makes these cookies extra rich and bakery-worthy.
Last but not least, they're BIG and not just for appearance. For lack of better words, bigger cookies bake better. The larger the cookie, the longer it takes for the oven heat to reach the center. This is was creates a super tender and slightly underdone center that is so soft and delicious.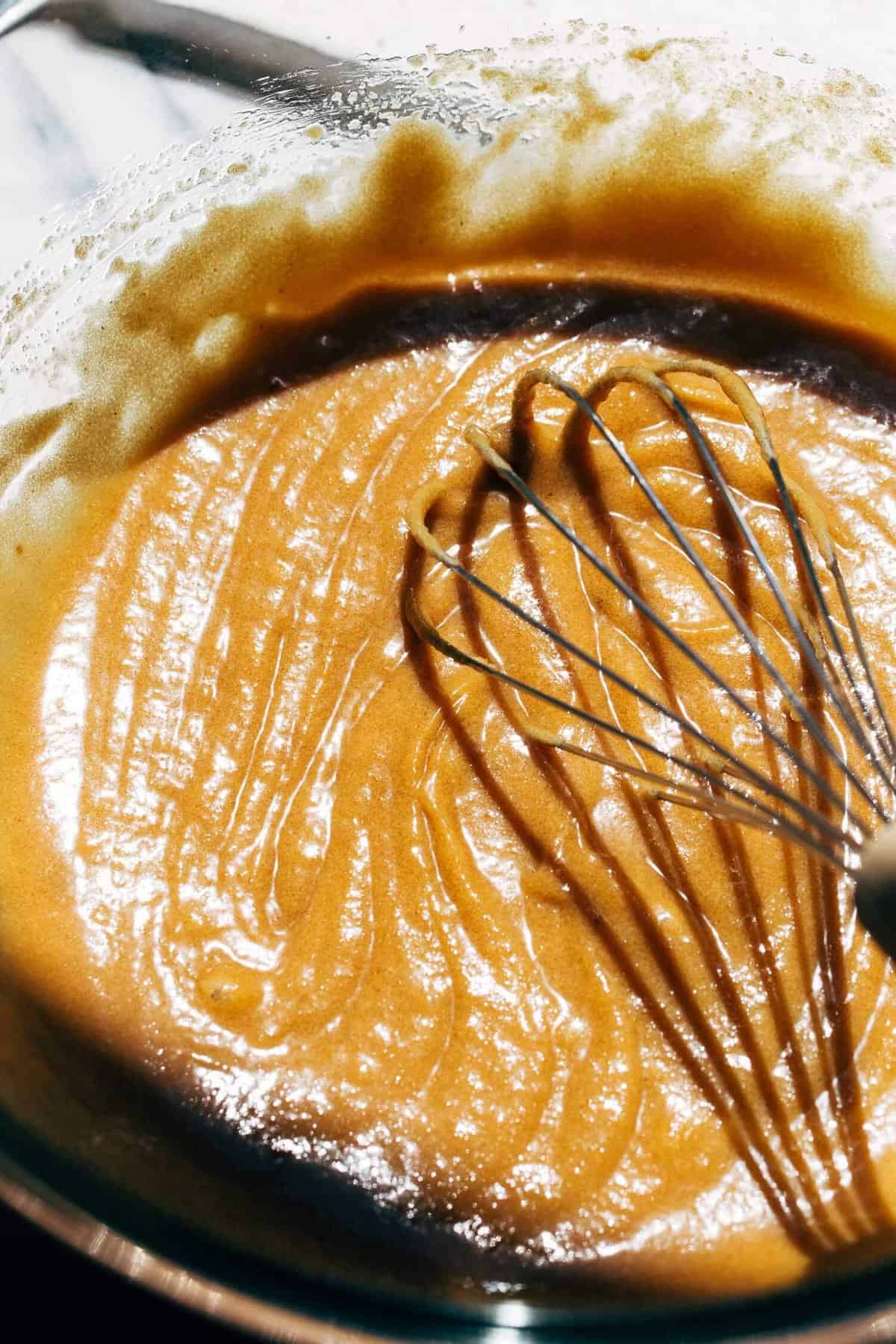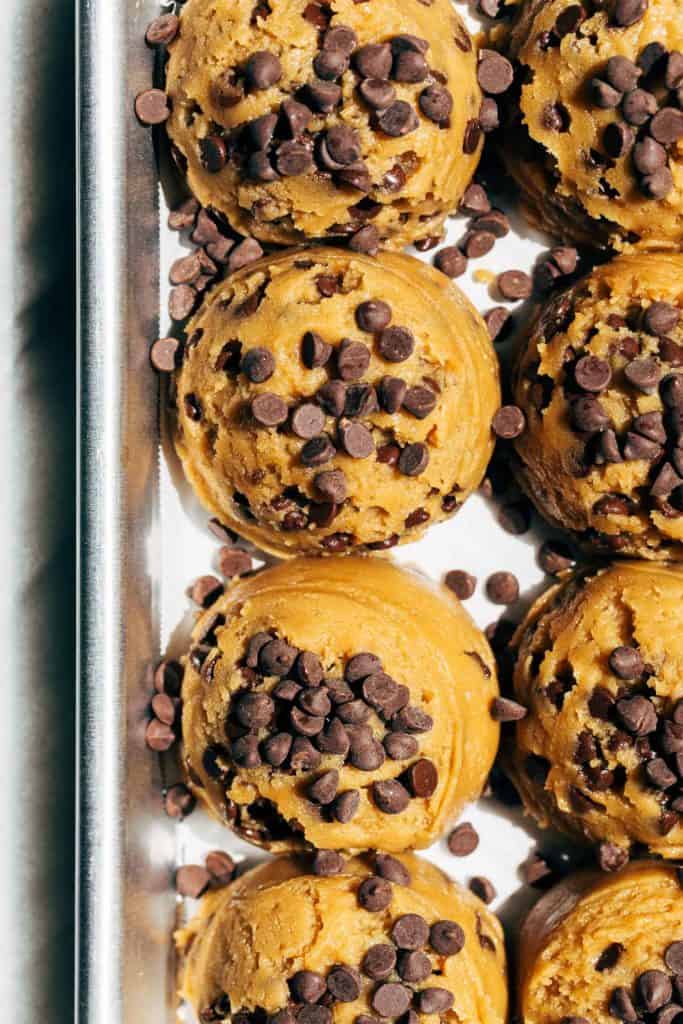 How to make peanut butter chocolate chip cookies
I hope you don't turn down this peanut butter chocolate chip cookie recipe when you see that the dough has to chill overnight. It's the secret to achieving that super soft peanut butter cookie texture! Here's how it works:
Fat – These chocolate chip peanut butter cookies have a high amount of butter to flour. This excess of fat is what creates a super tender and soft texture.
Hydration – BUT, because of these contents, the cookies cannot bake right away. If they did, they'd melt and spread way too much. By chilling the dough overnight, this gives the dry ingredients a chance to fully hydrate. Meaning, it will absorb the water and fat in the cookie to give it a stronger structure when baking.
Flavor – You can think of the dough as lemonade concentrate. The less water the mix has, the stronger the lemonade flavor. The same goes for the dough. As the flour hydrates, the flavor becomes stronger and stronger due to the fact that the cookie dough is essentially drying out. This creates a concentration of flavor that allows the peanut butter to really stand out.
As I mentioned before, another key component is the size of the cookies. Using a large 2 oz cookie scoop helps further that soft and tender texture of these peanut butter cookies with chocolate chips.
The larger the cookie, the longer it takes for the oven heat to reach the center. This creates a slightly underdone center which leaves the cookie with a super tender center.
You might be wondering…won't the cookie be raw in the middle? Nope! By pulling the cookies when they're slightly underdone, the residual heat OUTSIDE of the oven will help settle and bake through the cookies as they cool. Once they're at room temperature, the center sets and becomes super soft.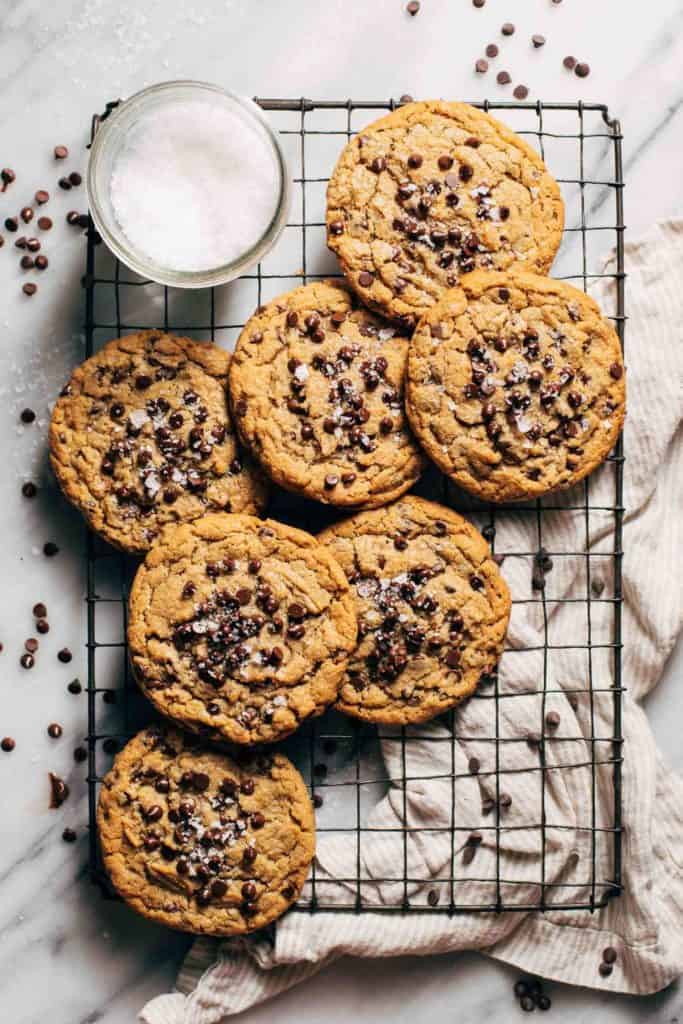 Prepping the peanut butter chocolate chip cookie dough
The way the cookies are scooped can completely change how they turn out. If rolled into smooth balls, they'll bake with a completely different texture on top. If flattened, the center will bake faster to create a thinner and crispier cookie. It's very important to follow the prep instructions on a recipe in order to get the best outcome.
For these cookies, and for most of my cookie recipes, I don't fuss with the dough too much. Using a large 2 oz cookie scoop, scoop the cookies out onto a small cookie sheet in order to prep for chilling. The cookie dough should be left in the same shape as the scoop – like a large dome.
When scooping, don't roll the dough or manipulate it in any way. Just scoop and move on. Using a scooper gives that rippled texture which creates those yummy wrinkles on top of these peanut butter chocolate chip cookies.
To make these cookies extra special and bakery-worthy, dot the tops with extra chocolate chips before chilling the dough. They'll be picture perfect once baked.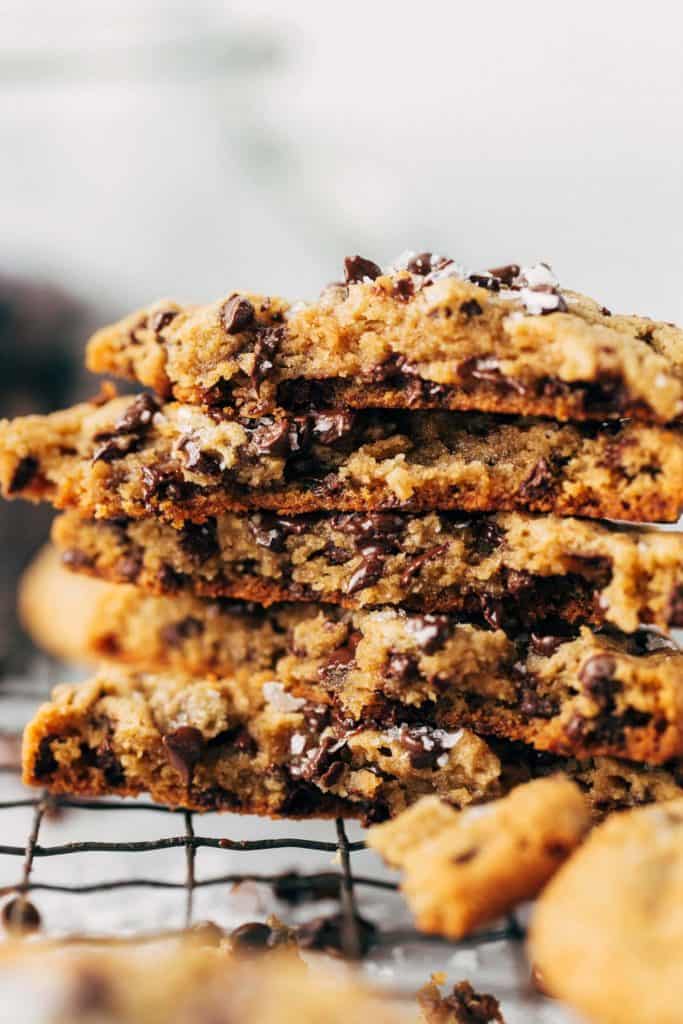 The best type of peanut butter for baking
For most peanut butter cookie recipes, choose a creamy peanut butter like Jif or Skippy. It gives that classic peanut texture and almost always yields the same outcome.
Natural peanut butters often separate where the oil floats to the top of the jar. Nut butters like this are difficult to bake cookies with because they can cause cookies to spread too thin.
When in doubt, always go with the standard creamy peanut butter when baking peanut butter cookies.
Can the cookie dough be frozen?
Once the dough has been scooped and chilled overnight, the cookie dough balls can be placed in a freezer storage bag. They'll keep for about 6-9 months.
To bake, allow the cookie dough to thaw for about an hour. Then bake as instructed, possibly adding on another minute or two if needed.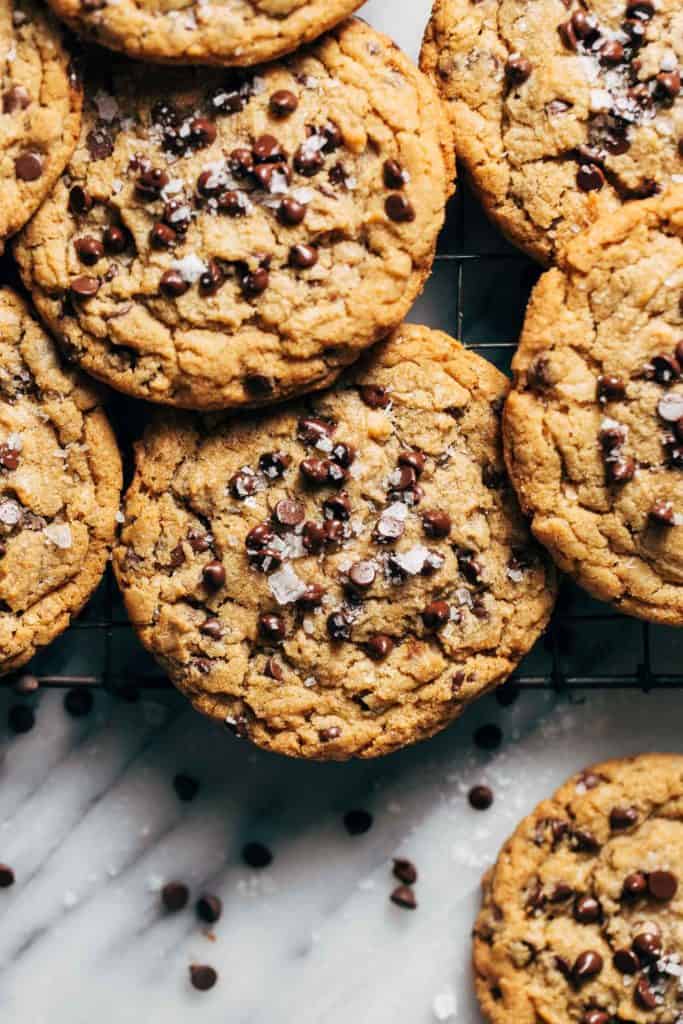 For more of the BEST cookie recipes, check out my:
Make sure to tag me @butternutbakery on Instagram if you make these peanut butter chocolate chip cookies. I love seeing my recipes come to life in YOUR kitchen! To pin this recipe and save it for later, you can use the button on the recipe card, the buttons above or below this post, or on any of the photos above. Happy baking!
Watch how to make these peanut butter cookies:
Print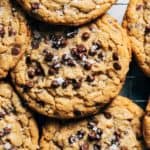 Peanut Butter Chocolate Chip Cookies
---
Author: Jenna Barnard
Total Time: 4 hours 15 minutes
Yield: 10 large cookies
Description
Many peanut butter cookies can be dry and chalky, but these peanut butter chocolate chip cookies are anything but! They're super soft and tender on the inside with a lightly crisp and chewy outside. Studded with mini chocolate chips, there's the perfect amount of chocolate to peanut butter cookie in every bite.
---
1 cup (132g) all-purpose flour, spooned and leveled
1/2 tsp baking soda
1/2 tsp salt
1/2 cup (128g) creamy peanut butter, like Jif or Skippy
1/2 cup (110g) unsalted butter, melted
3/4 cup (150g) light brown sugar, packed
1/4 cup (50g) granulated sugar
1 large egg, room temp
1 tsp vanilla extract
1 cup (170g) mini semisweet chocolate chips + more for topping
Flaky sea salt, for sprinkling on top
---
Instructions
NOTE: This dough must chill for at least 4 hours or overnight. I recommend making the dough a day ahead. It's the secret to a super tender and soft texture, so it's well worth the wait!
In a bowl, whisk together the flour, baking soda, and salt. Set aside.
In a large bowl whisk together the peanut butter, butter, and sugars until smooth.
Mix in the egg and vanilla until combined. 
Use a rubber spatula to mix in the dry ingredients just until the dough comes together – careful not to over mix.
Fold in the chocolate chips. The dough should appear wet but it should still hold its shape when scooped. If for some reason it's too thin to scoop, pop the bowl in the fridge for 20 minutes and then continue on to the next step.
Line a small cookie sheet with wax or parchment paper. This is what you will use to chill the dough.
Using a large 2 oz cookie scoop (or 1/4 measuring cup) scoop out the dough and set them side by side on the cookie sheet. Don't worry about rolling them in to perfect balls. Just plop them down and move on to the next one. *You can also make regular sized cookies but make sure to reduce your baking time by 3-4 minutes.
If you like, dot the tops with a few more mini chocolate chips.
Place the dough in the refrigerator uncovered and chill for at least 4 hours or overnight. 
When ready, preheat the oven to 350F and line a large baking sheet with parchment paper.
Space the cookies about 3 inches apart (about 4-5 cookies at a time) and bake for 14-16 minutes or until the edges are a light golden color and the center looks barely underdone. Only bake one batch at a time, keeping the rest of the dough in the fridge until you're ready for the next.
When fresh from the oven, sprinkle with sea salt then transfer to a cooling rack and let the cookies cool to room temperature before eating. They'll seem pretty doughy in the middle but they'll firm up as they cool. Store in an air tight container at room temperature. Enjoy!
Equipment
Notes
CHOCOLATE CHIPS – Regular-sized chocolate chips can be used as well, I just prefer the even scatter of mini chocolate chips. Dark or semisweet is best as milk chocolate may be too sweet for these cookies.
Prep Time: 4 hours
Cook Time: 15 minutes
Category: Dessert
Method: Baking
Cuisine: American
Keywords: peanut butter cookies, peanut butter chocolate chip cookies, chocolate chip peanut butter cookies, peanut butter cookies with chocolate chips
Recipe Card powered by