Do you remember those frosted Lofthouse cookies you'd beg your mom to buy at the grocery store? Well these soft frosted sugar cookies are just that, but better! The sugar cookie is tender and moist with sweet vanilla buttercream on top. They're bakery-quality sugar cookies made right at home!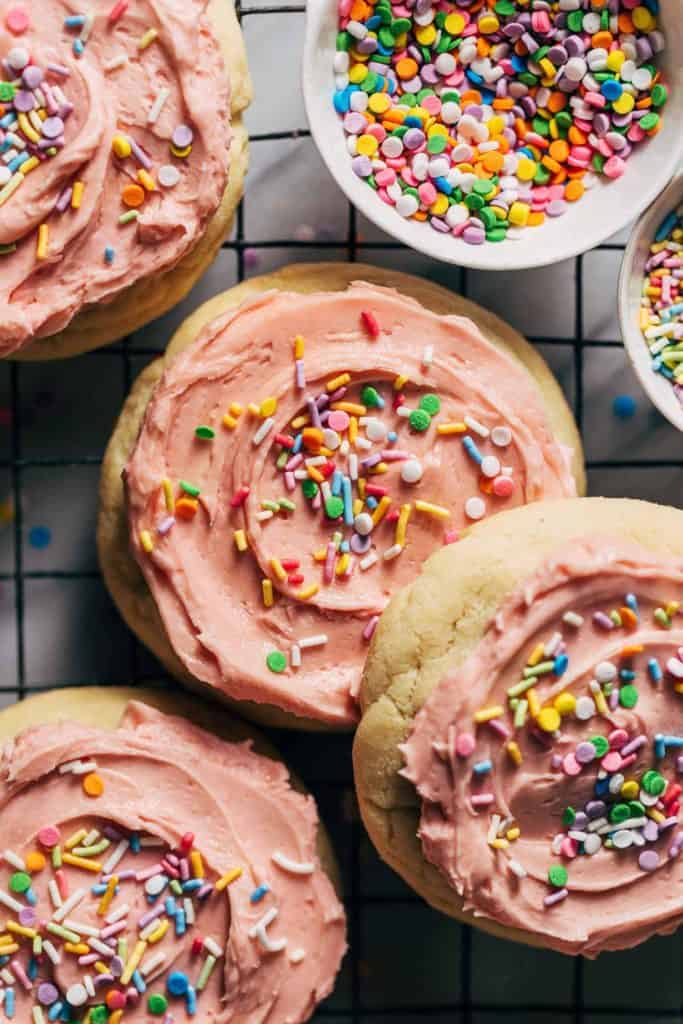 What makes these the BEST frosted sugar cookies?
When developing this recipe, I wanted them to have all the nostalgia of Lofthouse cookies but with the texture of a bakery-quality sugar cookie.
To bring this idea to life, I had to think like a bakery. They typically use some secret ingredients to make their treats extra special, so I check out a few popular cookie bakeries to see that most use oil in their cookies. Yes, OIL in COOKIES?
But it totally works! These sugar cookies are baked with a combination of butter and oil. The butter is there to add flavor, while the oil keeps these cookies super moist and tender. It's just the right balance to where you can't taste the oil, but we still get too reap all the textural benefits!
Additionally, these cookies are baked in bakery-style amounts. In other words, they're big! This not only makes them extra special, but big cookies also bake better. It takes longer for the oven heat to reach the center which leaves us with a super dense and tender center.
After the cookies have cooled, they're topped with a simple homemade vanilla buttercream that's slightly fluffy and so smooth. The best part – it can be dyed with any color!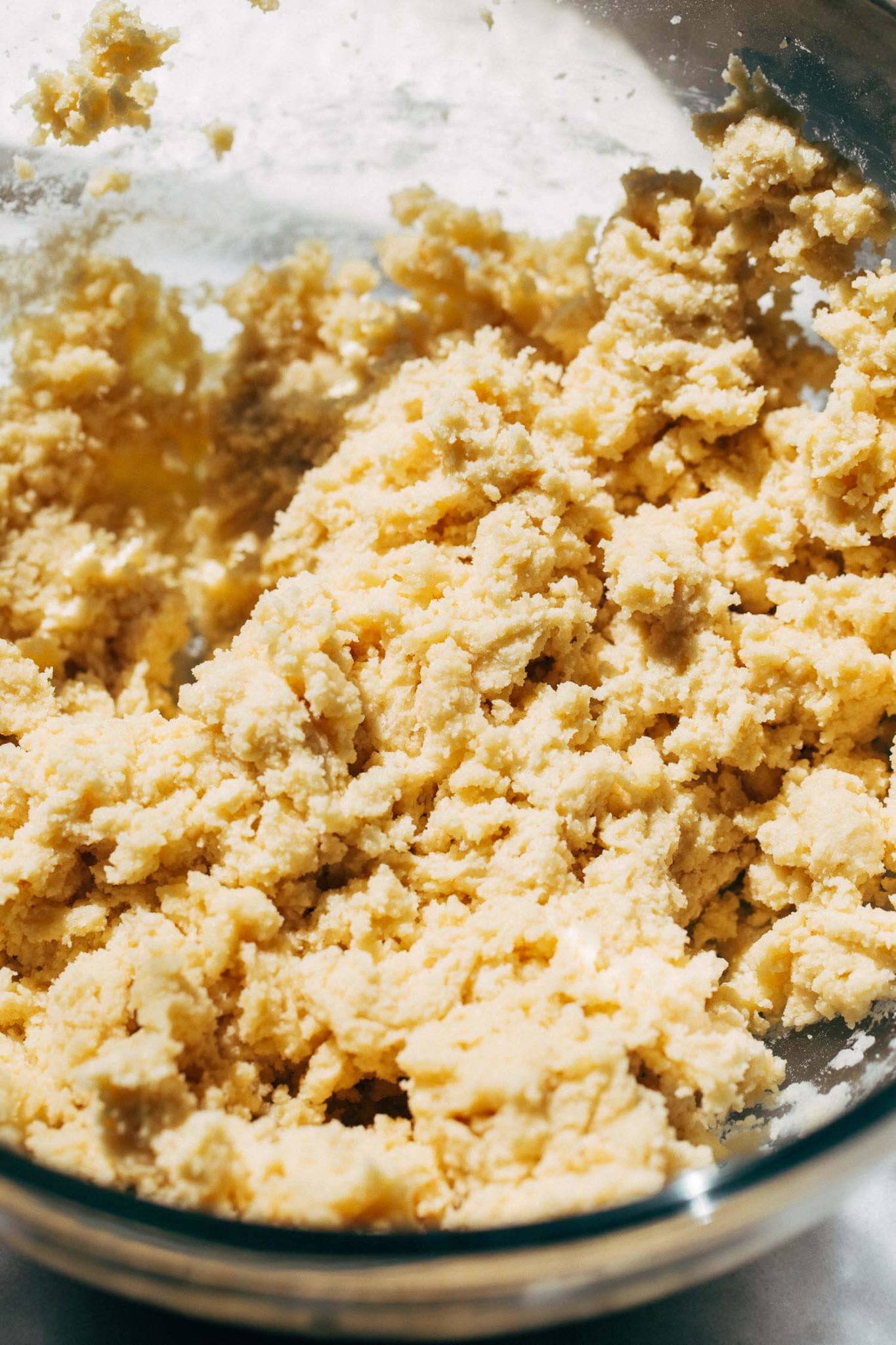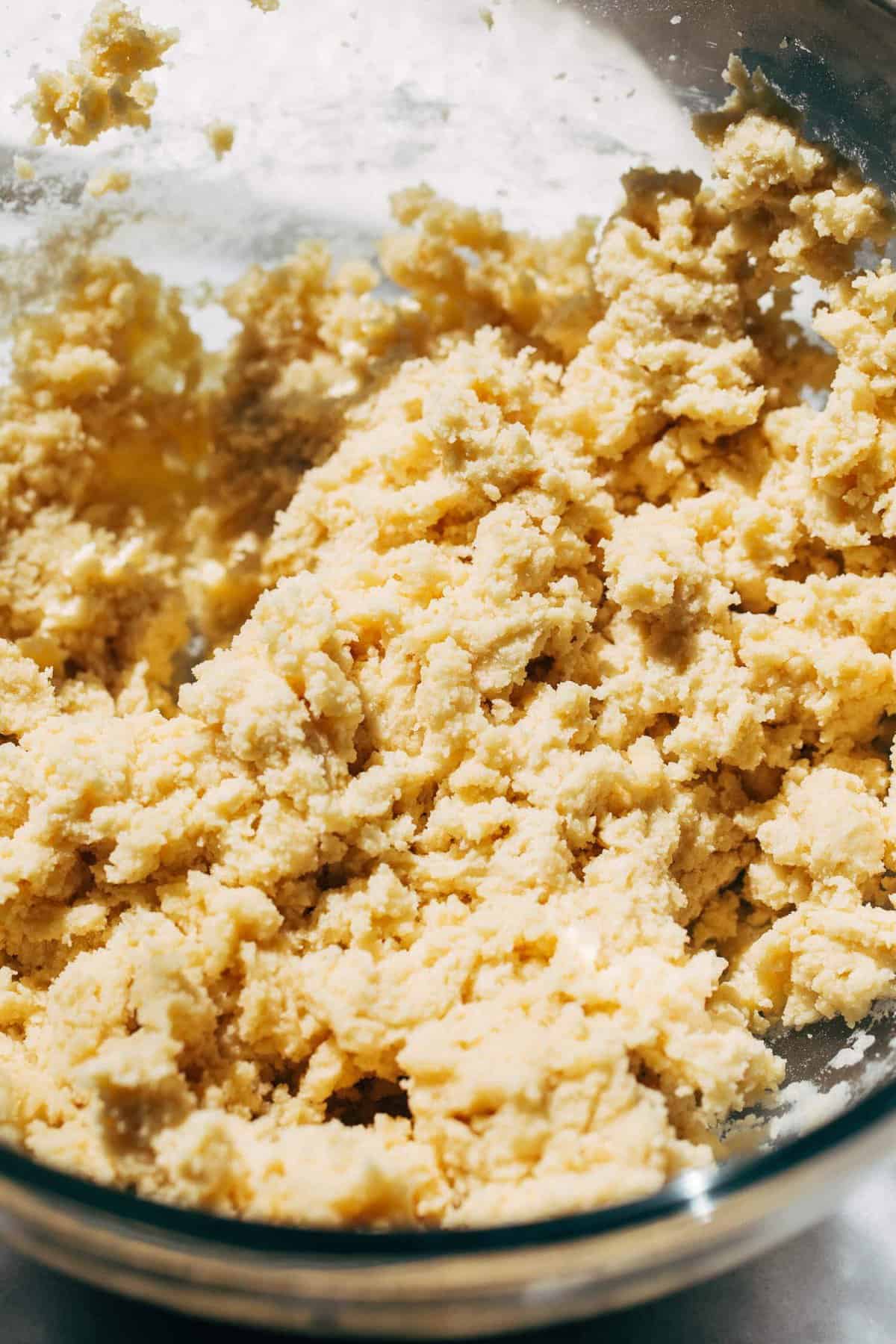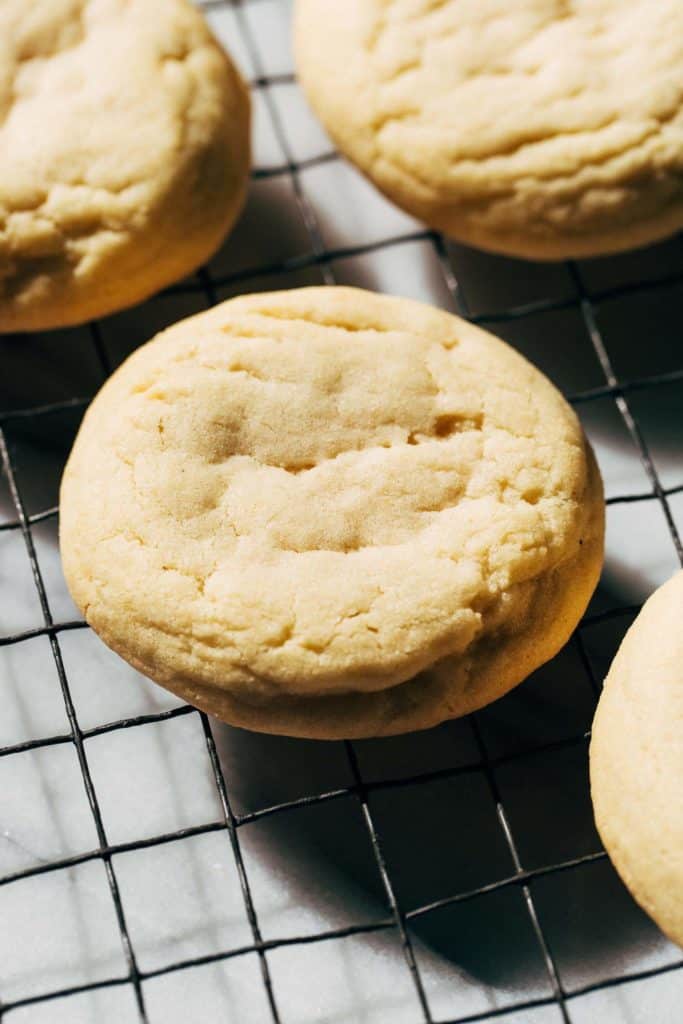 Tips for baking soft sugar cookies
Flour – I say this in every post, and for good reason. It's the number one reason why most recipes fail, especially for cookies. If there's too much flour, the cookies will turn out dry and they will not spread. If possible, measure the flour with a food scale. Otherwise, to ensure the exact amount, gently spoon the flour into the measuring cup and level if off with a flat edge. If scooped directly into the flour container, the flour packs down into the cup which could leave you with 1/4 cup or more of added flour.
Cornstarch – Don't skip this ingredient! It helps create an extra tender sugar cookie.
Butter – Start with room temperature butter! The soft butter is mixed with sugar to create tiny little air pockets which helps the oven heat freely flow through the cookie. If the butter is too firm, this process cannot happen.
Mixing – Right when the dough comes together, stop mixing! Over worked dough can lead to tough cookies.
Scoop – Use a large 2 oz cookie scoop, or 1/4 measuring cup. The larger size is key to a tender and soft center.
Press – Roll the dough into a ball but then lightly flatten the top with your palm. This gives the cookie a head-start on spreading since it's a fairly thick dough.
Appearance – The cookies may look a bit too puffed when they're fresh from the oven, but they should settle and flatten out as they cool.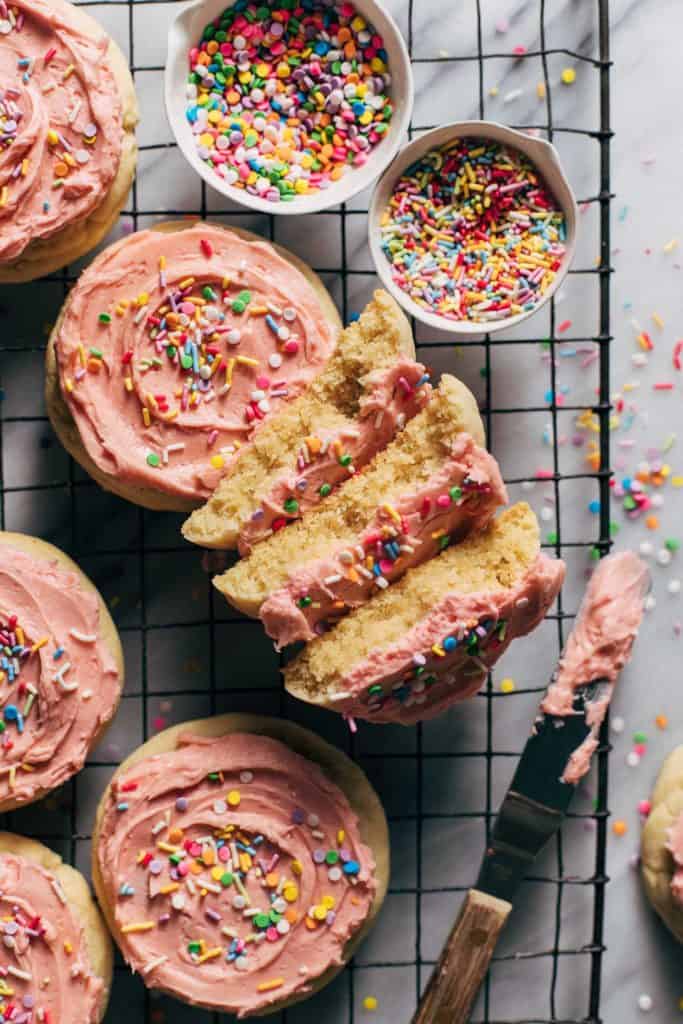 How to make frosting for sugar cookies
The frosting for these sugar cookies is really easy to make and consists of just 4 ingredients – butter, sugar, milk, and vanilla.
First, the room temperature butter is mixed until smooth. It's very important that it's at room temperature before mixing, otherwise you will end up with a lumpy buttercream.
The powdered sugar is then mixed in one cup at a time, followed by the vanilla and milk.
At the end, the frosting can be assessed. If it appears too thick, mix in another tablespoon of milk. If it's too thin, mix in another cup of powdered sugar.
This buttercream recipe is very forgiving, so it should turn out perfect every time!
How to add color to frosting
For the best outcome, use gel food coloring. A tiny bit goes a long way, so it will not affect the consistency of the frosting.
For a pale color, one drop of gel color is all that's needed. But most gel food coloring is a bit too vibrant for my liking, so just a touch of brown food coloring helps mellow out the intensity.
Simply dip the tip of a toothpick into the brown gel food coloring and swipe it into the frosting. This should be the tiniest smudge! It's best to add a small amount at first, and then mix and assess to see if more is needed.
How to frost sugar cookies
The one thing to remember when frosting sugar cookies is to make sure the cookies are COMPLETELY cooled before adding the frosting on top. If there's even a slight hint of warmth, the frosting will slip around.
Once cooled, my method of frosting goes like this:
Scoop – Use a medium cookie scoop to scoop a dollop of frosting right in the center. If you don't have a scoop handy, simply plop some buttercream on top using a spoon.
Spread – Using an offset spatula, I then work the glob of frosting from the inside out to the edges to cover the cookie.
Swirl – Once the cookie covered, I go pack in and roughly swirl the layer of frosting.
Sprinkle – Immediately top with sprinkles before a skin forms! If you wait to add the sprinkles after all the cookies have been frosting, the sprinkles will not stick as well.
Just like that, the frosted sugar cookies are ready to enjoy!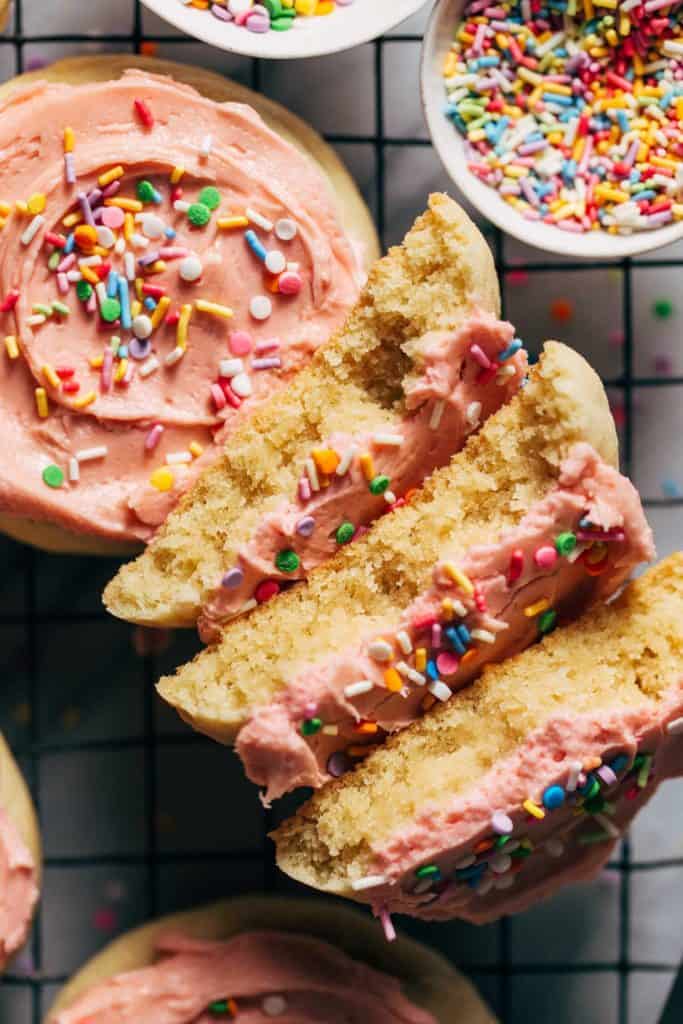 For even more sugar cookie recipes, check out my:
Make sure to tag me @butternutbakery on Instagram if you make these Soft Frosted Sugar Cookies. I love seeing my recipes come to life in YOUR kitchen! To pin this recipe and save it for later, you can use the button on the recipe card, the buttons above or below this post, or on any of the photos above. Happy baking!
Print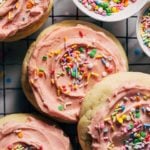 Soft Frosted Sugar Cookies
---
Author: Jenna Barnard
Total Time: 1 hour 20 minutes
Yield: 12 cookies
Description
These soft frosted sugar cookies are WAY better than Lofthouse! Made with a combination of butter and oil, the cookies are super tender and soft throughout. They're then topped with a smooth vanilla butter cream and, of course, sprinkles!
---
Sugar Cookies
2 1/2 cups (320g) all purpose flour
2 tbsp cornstarch
1 tsp baking soda
1/2 tsp salt
10 tbsp unsalted butter, room temp
1 cup (200g) granulated sugar
1/4 cup (50ml) vegetable or canola oil
1 large egg + 1 egg yolk, room temp
2 tsp vanilla extract
Vanilla Buttercream
3/4 cup (185g) unsalted butter, room temp
2–3 cups powdered sugar
1 tsp vanilla extract
1–2 tbsp milk
Rainbow sprinkles
---
Instructions
Sugar Cookies
In a medium bowl, whisk together the flour, cornstarch, baking soda, and salt.
In a large mixing bowl using a hand or stand mixer with the paddle attachment, cream together the butter and sugar until light and fluffy (medium high speed for 2-3 minutes).
With the mixing running on medium-low speed, pour in the oil in a slow and steady stream.
Once combined, scrape down the bowl and mix in the eggs one at a time.
Mix in the vanilla and scrape down the bowl again.
Dump in half of the dry ingredients and give it a light mix, then add in the rest and mix until just combined. Don't over mix.
Use a rubber spatula to scrape down the bowl and ensure everything is evenly incorporated. The dough should be thick but tacky. Cover the bowl with plastic wrap and chill for 30 minutes.
After 20-25 minutes, preheat the oven to 350F and line a large baking sheet with parchment paper.
Take the dough out of the refrigerator after the 30 minutes is up. Using a large 2oz cookie scoop (equal to about 1/4 cup), scoop out the cookies and roll into a ball. Place the ball onto the baking sheet and lightly flatten the top with your palm. Bake about 4-5 cookies at a time, covering and placing the dough back in the refrigerator between each batch.
Bake for 12-15 minutes or until the edges are a very pale golden color.
Let the cookies rest on the baking sheet for about 3 minutes, then transfer to a cooling rack and continue to bake the rest of the dough.
Vanilla Buttercream
Using a hand or stand mixer with the paddle attachment, mix the butter until smooth.
Scrape down the howl and mix in the sugar one cup at a time. Start with just two cups and assess if the third cup is needed at the end.
Mix in the vanilla and 1 tablespoon of milk.
If the buttercream appears too thick, mix in another tablespoon of milk. If it appears too thin, mix in the third cup of powdered sugar.
For a pale pink color, mix in one drop of pink gel food coloring. I also like to dull down the vibrance by adding a very tiny bit of brown gel food coloring. I do so by dipping the tip of a toothpick into the food coloring and swiping a smudge into the frosting. This is optional, as you can dye the frosting whichever color you like! 
Spread the frosting on the completely cooled cookies and top with sprinkles. Enjoy!
Equipment
Prep Time: 50 minutes
Cook Time: 30 minutes
Category: Dessert
Method: Baking
Cuisine: American
Keywords: sugar cookies, sugar cookie frosting, soft sugar cookies, frosted sugar cookies, better than lofthouse sugar cookies
Recipe Card powered by