This might just be the best strawberry cupcake recipe. It's made with fresh strawberries which are roasted beforehand to bring out their sweetness, juices, and flavor. They're perfectly moist and topped with a simple strawberry buttercream to round out that bold strawberry flavor!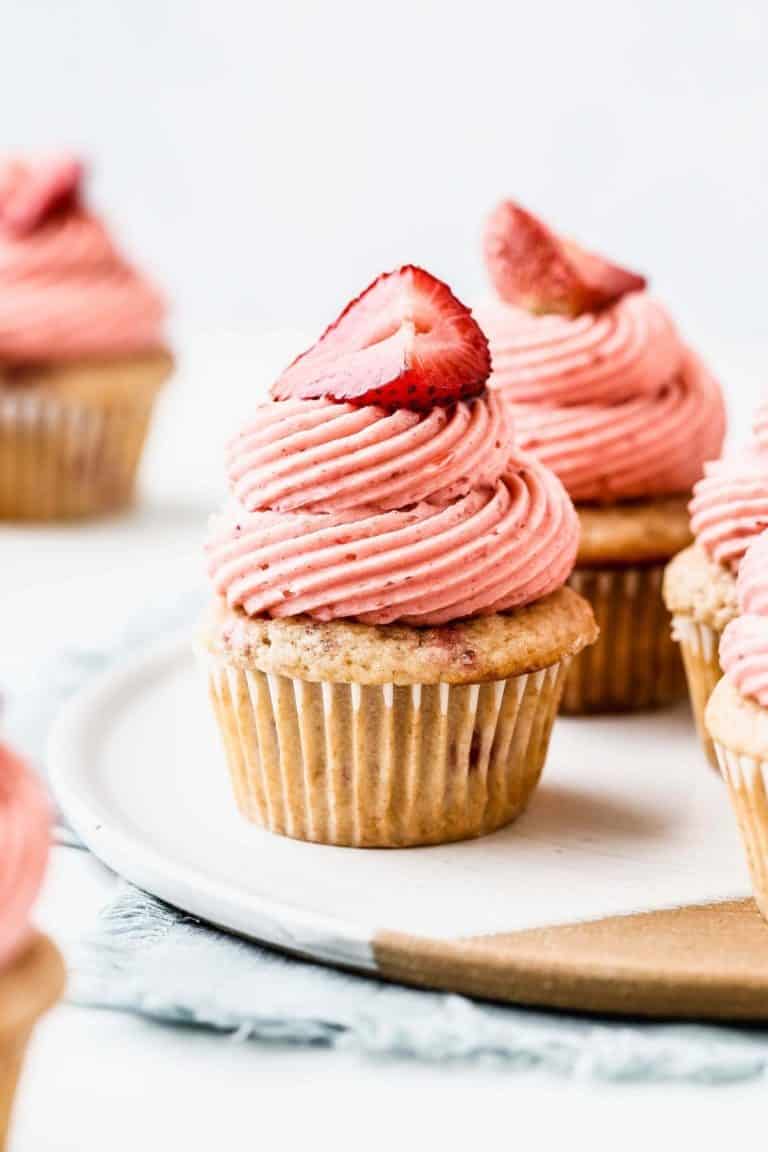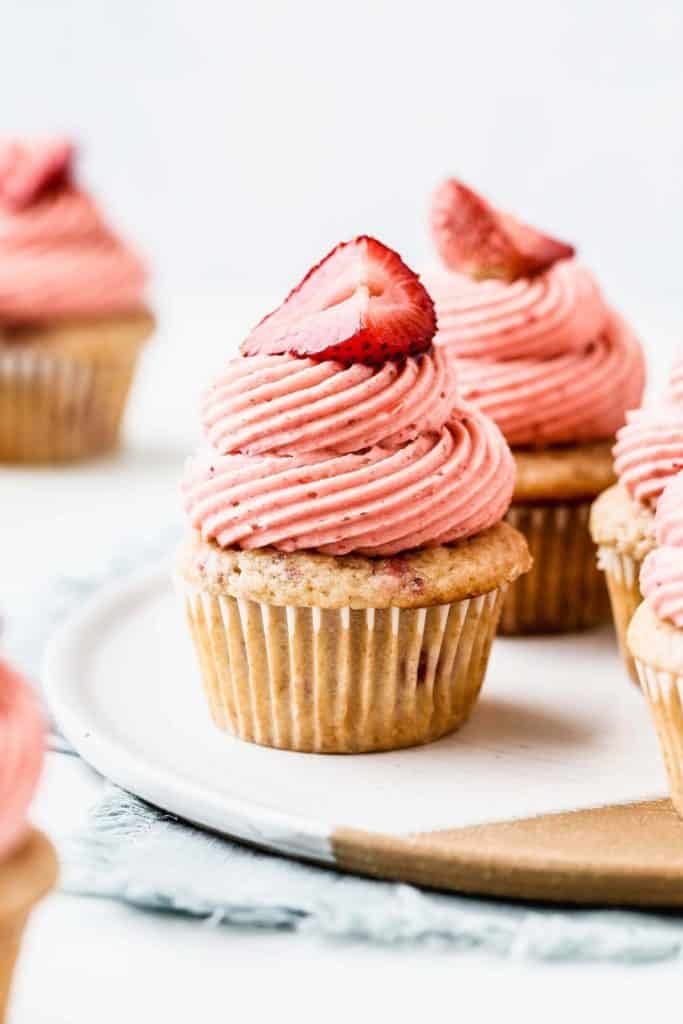 How to roast strawberries
The base of this strawberry cupcake recipe is 3/4 cup roasted and mashed strawberries. Once you bake with roasted strawberries, you'll never want to make another strawberry cupcake recipe again!
Roasting strawberries in the oven brings out their flavor even more and cuts the tartness. They develop a delicious sweetness and caramelization which is why these cupcakes are so dang good.
To roast your pint of strawberries, simply cut them in half, rinse them clean, spread them out on a baking sheet lined with parchment paper, then sprinkle with a little bit of fresh lemon juice and sugar.
Bake at 350F for 8 minutes, give them a quick toss, then bake for an additional 8 minutes. They'll come out soft, glossy, and will smell AMAZING.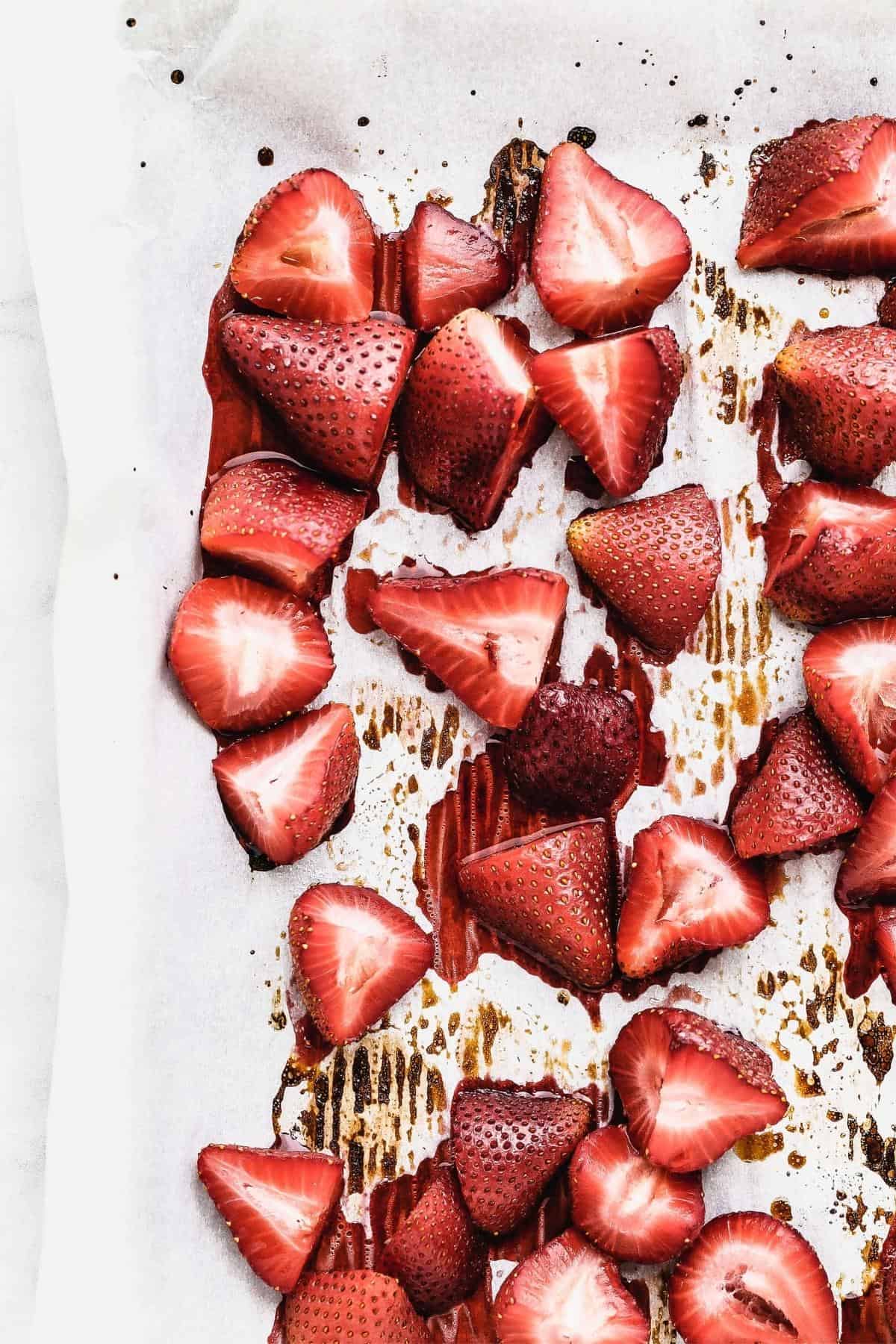 How to make homemade strawberry cupcakes with FRESH strawberries
Once you've roasted your strawberries, allow them to cool before making your cupcake batter.
When they've reached room temperature, mash up about half of them in a bowl with a fork. They'll be super soft, like ripe bananas, so they're easy to mash. Prepare enough to measure 3/4 cup.
Save the rest to top your cupcakes or to snack on!
With your roasted strawberries ready, prepare the batter just like any other cupcake recipe. Mix together all of your dry ingredients then set aside.
Then, whip together your butter and sugar, and then add the oil. The oil is used to give some added moistness to the cupcakes that butter sometimes inhibits.
Mix in your eggs, vanilla, Greek yogurt and roasted strawberries until combined. If can't get Greek yogurt, regular yogurt or sour cream will also work. Then, fold in your dry ingredients, careful not to over mix.
Disperse the batter between 12 cupcake liners and bake at 350F for 18-20 minutes. The centers won't rise a ton so don't worry if they aren't puffed up in the middle.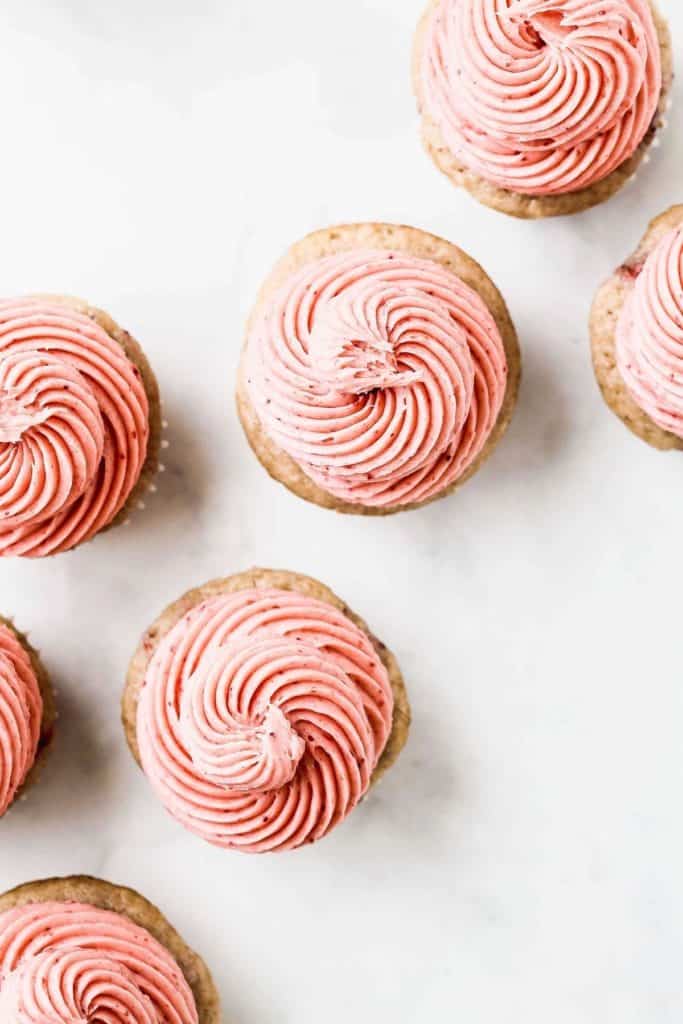 The perfect strawberry cupcake frosting
And it's easy! One thing that can be tricky with fruity buttercream recipes is that they can either separate from the juices OR you need to add a ton of powdered sugar to get the perfect consistency, sacrificing flavor.
Luckily, there's freeze-dried fruit! For this buttercream recipe, I ground up some freeze-dried strawberries in a food processor to get a fine powder. This made it so easy to add to the buttercream while also providing a ton of strawberry flavor.
It also turns the buttercream the perfect shade of pink for these cupcakes. That's why I'm all about using natural food coloring anywhere I can. My naturally colored shortbread cookies are another great example of this!
To get those adorable swirls on top, I used my FAVORITE Ateco Large French Star Tip. I use this piping tip on almost all of my cupcake recipes because it's so easy to use and creates the cutest buttercream tops.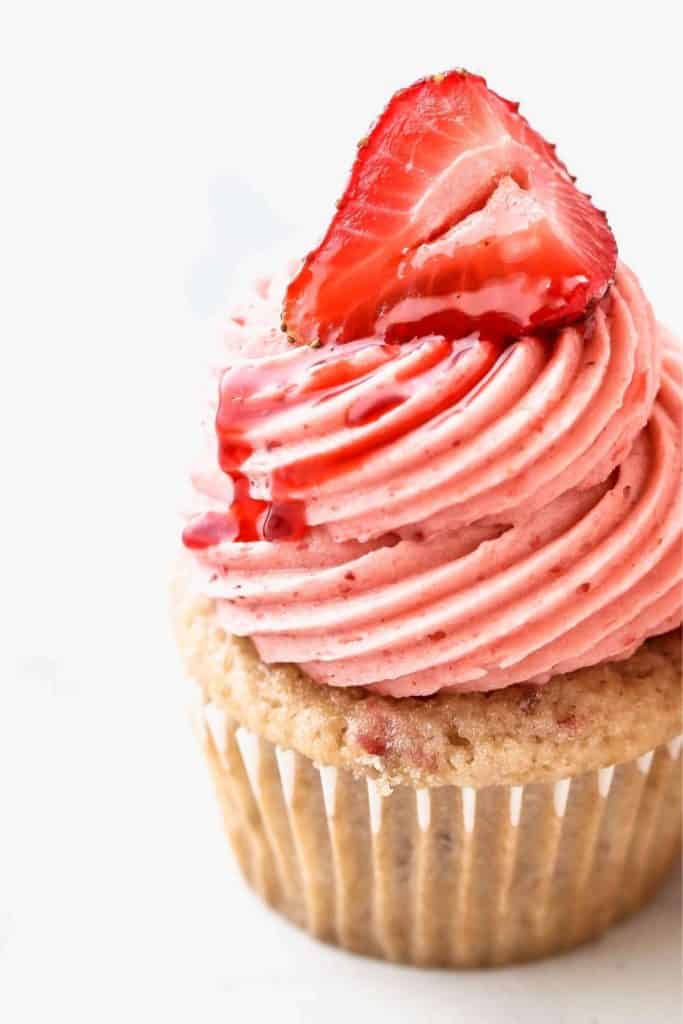 Take these roasted strawberry cupcakes to the next level!
I wanted to make this recipe as simple as possible, especially if you've never roasted fruit before. But there's definitely a way you can add even more roasted strawberry flavor to this recipe.
With the remaining roasted strawberries, blend them in a food processor or blender until smooth and then chill in the fridge to thicken for about 1 hour.
Once the cupcakes are baked and cooled, carve out a small hole through the center of the cupcake. Then, spoon in the strawberry puree.
Frost the cupcakes like usual so it hides the hole in the top of the cupcake. Now you have a delicious roasted strawberry center!
But trust me, the cupcakes alone without the filling are amazing. My boyfriend is a sucker for strawberry desserts and he LOVES these! Even my coworkers commented on how good they are. You should definitely make these as an Easter dessert or just for the spring or summer!
For more strawberry recipes:
Make sure to tag me @butternutbakery on Instagram or leave a comment below if you make these Roasted Strawberry Cupcakes. I love seeing my recipes come to life in YOUR kitchen! To pin this recipe and save it for later, you can use the button on the recipe card, the buttons above or below this post, or on any of the photos above. Happy baking!
Watch how to make these strawberry cupcakes:
Print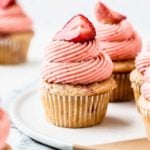 Roasted Strawberry Cupcakes
---
Description
These strawberry cupcakes are made with fresh roasted strawberries to bring out even more sweetness and flavor! So these cupcakes have the most amazing strawberry flavor with a moist texture and a creamy strawberry buttercream frosting.
---
Roasted Strawberries
1 lb strawberries, halved and cleaned
Half a lemon
2 tsp granulated sugar
Roasted Strawberry Cupcakes
3/4 cup mashed roasted strawberries
1 1/2 cups all purpose flour *see notes for GF option
2 tsp baking powder
1/4 tsp salt
6 tbsp unsalted butter, room temperature
1 cup granulated sugar
2 tbsp vegetable or canola oil
1/4 cup sour cream
1 tsp vanilla extract
2 large eggs
Strawberry Frosting
1/2 cup ground freeze-dried strawberries
1 cup unsalted butter, room temp
3 cups powdered sugar
1 tsp vanilla extract
2–3 tbsp milk
Pinch of salt
---
Instructions
Roasted Strawberries
Preheat the oven to 350F and line a rimmed baking sheet with parchment paper.
Rinse, cut the tops off, and halve the strawberries. Transfer to the baking sheet.
Top with a good squeeze of half a lemon (not the whole half, just enough to lightly coat the strawberries) and toss to coat. Spread the strawberries even and sprinkle with sugar.
Bake for 8 minutes, toss, then 10 minutes. Let the strawberries cool for about 15 minutes then mash enough to fill 3/4 cup – this is going in the cupcake batter.
Reserve the rest to top the cupcakes.
Roasted Strawberry Cupcakes
Leave the oven at 350F and insert 12 liners into a cupcake tin.
Whisk together the flour, baking powder, and salt. Set aside.
In a bowl of a hand or stand mixer fitted with the paddle attachment, mix together the butter and sugar on high until light and fluffy. Mix in the oil, sour cream, and the roasted mashed strawberries.
Scrape down the bowl, then mix in the vanilla and eggs.
Gently mix in the dry ingredients and evenly disperse the batter between the 12 liners.
Bake for 18-20 minutes or until a toothpick in the middle comes out clean with a few moist crumbs.
Let the cupcakes cool before frosting.
Strawberry Frosting
Pulverize the freeze-dried strawberries in a food processor until you reach a fine powder. You'll need 1/2 cup of this strawberry powder for the frosting.
With a hand or stand mixer fitted with the paddle attachment, mix together the butter with 1 cup of powdered sugar and strawberry powder. Mix in the remaining powdered sugar 1 cup at a time.
In between mixes, add in 1 tablespoon of milk at a time.
Finish with the vanilla and pinch of salt.
Frost your cupcakes with a large French star tip. Top with a slice of roasted strawberry and enjoy! Store in the refrigerator.
Equipment
Notes
GLUTEN FREE – Although I haven't tested it, I believe this cake would do well with gluten free flour. Sub the flour with a good quality gluten free baking flour. I like Bob's Red Mill 1-to-1 gluten free baking flour. Also make sure to spoon the flour into the measuring cup and level it off. Don't scoop directly into the flour as this will pack it into the cup, leaving you with way too much flour and a dry cake. 
Prep Time: 30 minutes
Cook Time: 20 minutes
Category: Dessert
Method: Baking
Cuisine: American
Keywords: strawberry cupcakes, roasted strawberries, strawberry cupcake recipe
Recipe Card powered by