These adorable Peach Pie Cupcakes are baked with cinnamon and stuffed with an ooey gooey fresh peach filling. The flavor and textures are so delicious, including a silky cream cheese frosting and a ring of crunchy oat crumble on top! It's like a little peach pie in a cupcake, making them the perfect treat for summer.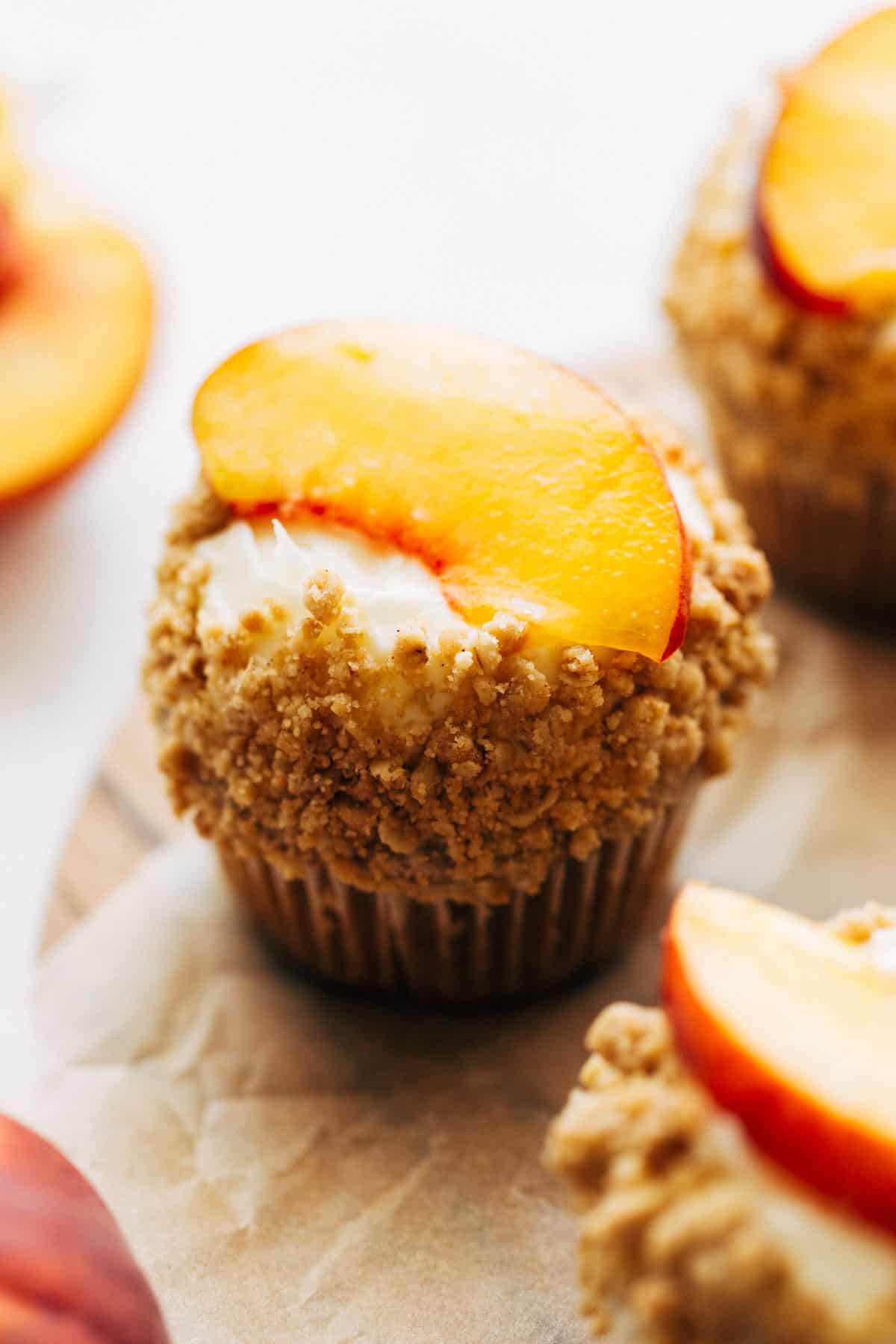 This post is sponsored by Bob's Red Mill but all thoughts and opinions are my own. Thank you for supporting the brands that make Butternut Bakery possible!
Why I love this recipe
I love making these Stuffed Peach Pie Cupcakes whenever I want a fresh peach dessert but I don't want to go all out and make my Roasted Peach Cobbler Cheesecake. These cupcakes are cute, fun, and already portioned!
The base of this recipe is a delicious cinnamon cupcake that is so moist and fluffy, making it the perfect vessel for the tender peach filling.
Here's the secret to getting the best cupcake texture:
Oil over Butter – Since this cake is flavored with cinnamon, I opted to use oil instead of butter in this recipe. The reason being, a cake must have a strong flavor in order to mask the flavor of the oil. If I could I'd use oil in every cake because it provides the BEST moist texture, but you also have to work around the flavor. That's why these cupcakes are so good.
No Eggs – Yep! The cake recipe itself is actually completely vegan (if using nondairy milk). Instead of eggs, the oil and DIY buttermilk help bind this cake together as it fully absorbs into the dry ingredients. No eggs means a super moist cake that's extra tender.
Quality Flour – Without eggs to hold it together, a really good flour is needed to provide structure to the cake. That's why I use Bob's Red Mill Organic All Purpose Flour in almost all of my cake recipes. It gives the cakes a strong but light texture that's never too crumbly. Trust me, once you use this premium flour by Bob's Red Mill it will be hard to go back to anything else.
Buttermilk – Combining milk and vinegar is an easy way to make your own buttermilk. I prefer this method because I have more control over how acidic the batter is. The acidity helps create a tender texture when combined with baking soda.
Also, it may look like there's a lot going on when you scroll down to the ingredients list for these Peach Pie Cupcakes but trust me, every single step in this recipe is really quick and simple. It's made up for 4 main parts:
Peach Filling – All you have to do is combine all of the ingredients in a saucepan and heat to thicken (about 5-8 minutes). Done!
Crumble – Combine all of the ingredients in a bowl and refrigerate. When you bake the cupcakes, the crumble bakes right along with them.
Cupcakes – The batter is made all in one bowl and can be mixed by hand. Simply dump all of the wet ingredients into the dry ingredients and you're good to go.
Frosting – This is made up of just 3 ingredients and comes together in minutes, especially if you have an electric mixer.
Topping – Toss fresh peach slices in some sugar and let it sit. Now you have juicy peaches to decorate with.
So yes, there are many components but all of them take less than 10 minutes to complete.
How to bake perfect peach cupcakes
The cupcake batter will be somewhat thin, so scooping it into the cupcake tin can get pretty messy.
The easiest way to scoop cupcake batter into your cupcake liners is to use a large ice cream scoop. Not only does this minimize the mess, but it also ensures each cupcake is filled equally.
The batter in this recipe makes exactly 12 cupcakes, so you shouldn't be left with any extra batter and each cupcake should be filled about 2/3 of the way full.
Once they bake, they'll puff up evenly but will still appear somewhat pale in color. Always make sure to test for doneness with a toothpick. If the center comes out clean, they're ready to pull from the oven.
Tips for assembling these stuffed peach pie cupcakes
First and foremost, make sure all the components are completely cooled before assembling these cupcakes. That means the filling, the crumble, and the cake should all be at room temperature.
Start by hollowing out the cupcakes with either a cupcake corer, apple corer, or a small knife. You want to create a hole that's about 1/2 inch in diameter and reaches 2/3 of the way down into the cupcake.
Stuff the cupcakes with the peach filling and pack it in. I use a spoon to fill in the hole and then pack it in using a clean finger. Fill all the way to the top.
Once all the cupcakes are filled, move on to the frosting. Scoop about 4 tablespoons worth of frosting on top of the cupcake and spread it out to the sides. Turn your spreading utensil vertical and run it all along the side of the cupcake in order to create a flat edge on the frosting.
Against that edge, press the crumble mixture (see picture below), then top with a fresh peach slice! I find it's best to decorate one cupcake, place it in the fridge, then work on the next cupcake. This just ensures the frosting can set, especially with the weight of the peach on top.
Peach Cupcakes FAQs
Can I use canned peaches?
Yes you can, but I recommend using fresh peaches the first time you make this recipe. Canned peaches will just provide a little bit of a softer filling than fresh peaches. Then top the cupcakes with a canned peach slice, omitting the sugar from the topping in the recipe card.
How should I store these peach cupcakes?
Store the cupcakes in an air tight container in the refrigerator. They will keep for up to 5 days.
How can I make this recipe vegan?
Since the cake itself is vegan, the rest of the recipe is really easy to transition into a plant-based dessert. Especially because Bob's Red Mill Organic Flour is certified vegan.
Here is where you will need to make some changes:
Swap the butter with vegan buttery baking sticks
Swap the cream cheese with your favorite vegan cream cheese (there are so many available now!) Or you could just make a simple buttercream and use all vegan butter (1 1/2 cups total).
Swap milk for any non dairy milk
Use organic sugar to ensure it's completely void of any animal products
For more cupcake recipes, check out my:
Make sure to tag me @butternutbakery on Instagram and leave a review below if you make these Peach Cupcakes. To pin this recipe and save it for later, you can use the button on the recipe card or on any of the photos above. Happy baking!
Print
Peach Pie Cupcakes
---
Author: Jenna Barnard
Total Time: 1 hour 15 minutes + 45 minutes cooling
Yield: 12 cupcakes
Description
Cinnamon spiced cupcakes stuffed with peach filling and topped with cream cheese frosting and an oat crumble!
---
Peach Filling
1 1/2 cups (150g) fresh peaches, pealed and finely diced (about 1 1/2 large peaches)
2 tsp fresh lemon juice
2 tbsp light brown sugar, packed
2 tsp cornstarch
Pinch of cinnamon
Crumble
1/4 cup (55g) unsalted butter, melted *see notes for vegan option
3/4 cup (90g) Bob's Red Mill Organic All Purpose Flour *see notes for GF option
1/4 cup (25g) quick oats
2 tbsp light brown sugar, packed
Pinch of salt
Cinnamon Cupcakes
1 cup (240g) milk
1 tsp apple cider vinegar or lemon juice
1/2 cup + 2 tbsp (130g) mild oil (vegetable, canola, almond, avocado..etc)
2 tsp vanilla extract
1 cup (200g) granulated sugar
1 3/4 cups (230g) Bob's Red Mill Organic All Purpose Flour
1 1/2 tsp baking powder
1/2 tsp baking soda
1 tsp cinnamon
1/4 tsp salt
Cream Cheese Frosting
1/2 cup (110g) unsalted butter, room temp
8oz cream cheese, room temp
4 cups (480) powdered sugar
Topping
1 peach, sliced with skin on
1 tbsp granulated sugar
---
Instructions
Peach Filling
Combine all of the ingredients in a saucepan over medium heat. Stir and cook until it starts to bubble. It will be come very thick at this point, but let it bubble for about 1 minute then remove from heat.
Transfer to a heat-safe dish to cool while you make the cupcakes.
Crumble
Combine all of the ingredients in a bowl then place it in the refrigerator while you make the cupcake batter.
Cinnamon Cupcakes
Preheat the oven to 350F and line a cupcake tray with 12 paper liners.
Add the milk and vinegar to a large measuring glass and stir to combine. Set aside.
In a large mixing bowl, whisk together the sugar, flour, baking powder, baking soda, cinnamon, and salt.
To the milk mixture, add the oil and vanilla and stir to combine.
Pour into the dry ingredients and whisk together until smooth.
Evenly distribute the batter between the 12 liners. Pull the crumble out of the fridge and spread it even on a small baking sheet lined with parchment paper.
Bake both at the same time for 15 minutes. Pull the crumble out and test the cupcakes with a toothpick. If they're still underdone, continue baking for 2-3 minutes.
Allow the cupcakes and crumble to cool completely before making the frosting.
Cream Cheese Frosting
First combine the sliced peaches and sugar in a small bowl and set aside. These will go on top of the cupcakes.
For the frosting, mix together the butter and cream cheese using a hand or stand mixer with the whisk attachment. Once smooth, mix in one cup of powdered sugar at a time until it thickens into a frosting.
To make it a bit easier to work with, place the frosting in the refrigerator while you prep the cupcakes. 
Assemble
Hollow out the center of the cupcakes by either using a small knife, apple corer, or a cupcake corer. Just make sure the hole doesn't reach all the way down to the bottom of the cakes.
Stuff the cupcakes with the cooled peach filling, packing it in.
Using an offset spatula or butter knife, scoop about 4 tablespoons (eyeballing it) on top of each cupcake and spread it in an even but thick layer. Then run the spatula all around the edge of the cupcake to create a flat wall of frosting that wraps around the cupcake (see picture in post for reference).
Scoop some of the crumble into your hand and press it into the side of the frosting all around the cupcake. It helps to do this over the baking tray the crumble was baked on so any excess can fall back onto the tray. Top with a juicy peach slice and enjoy!
Notes
CANNED PEACHES – You can use canned peaches, I just recommend going for fresh peaches when you can. If using canned, top the cupcakes with a canned peach slice and omit that 1 tablespoon of sugar recommended with the fresh peaches.
VEGAN – You can make this recipe vegan by just swapping the butter for vegan baking sticks, the cream cheese for vegan cream cheese, and the milk with non dairy milk. Sub any sugar with organic sugar to ensure it's completely free of any animal products. Bob's Red Mill Organic AP Flour is certified vegan.
GLUTEN FREE – Although I haven't tested it, I believe this recipe would work well with gluten free flour. Sub the flour with gluten free baking flour. I like Bob's Red Mill 1-to-1 gluten free baking flour. I also suggest weighing the flour, rather than measuring by cups, to ensure accuracy.
Prep Time: 1 hour
Cook Time: 15 minutes
Category: Baking
Cuisine: American
Keywords: peach cupcakes, cupcakes, peach pie, peaches, cinnamon cupcakes
Recipe Card powered by