If you are looking for the PERFECT carrot cake cupcake recipe, you're in the right place. These cupcakes are super moist but tender and fluffy, and each one is topped with a silky smooth cream cheese frosting. With the perfect ratio of shredded carrots and warm spices, these cupcakes are rich in both flavor and texture making them your new go-to carrot cupcake recipe.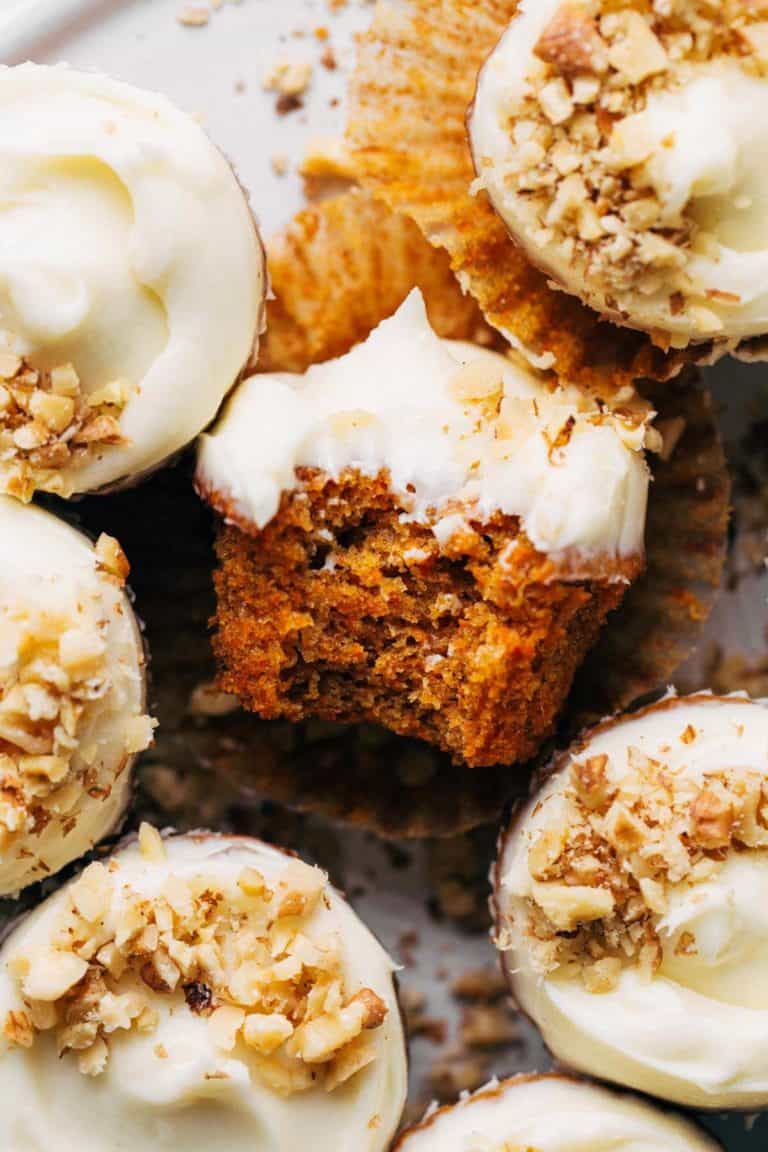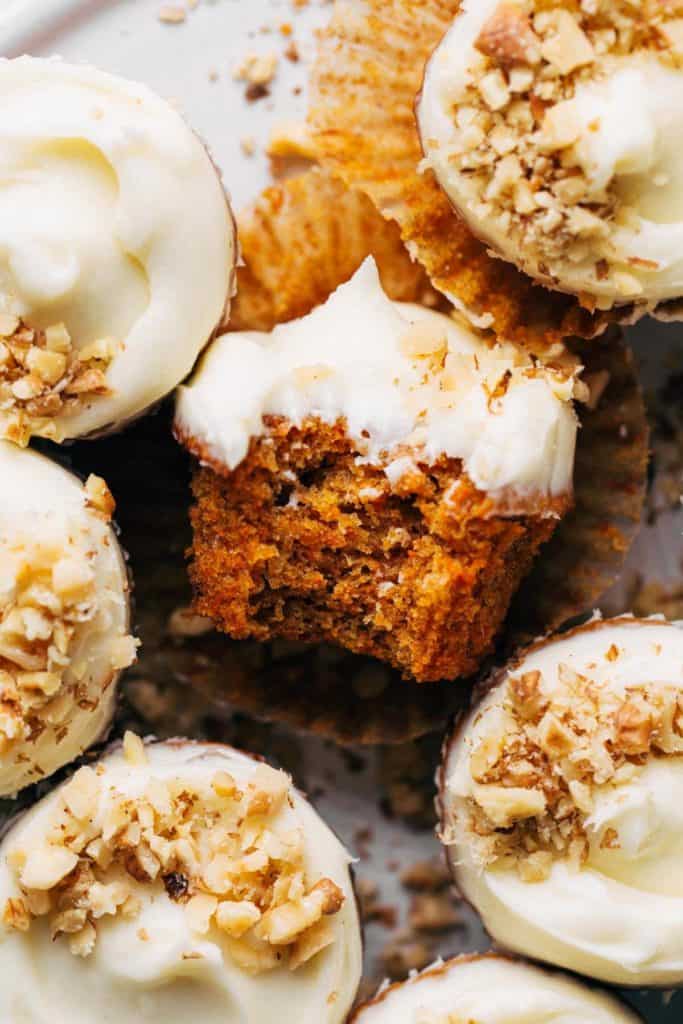 How to make homemade carrot cake cupcakes
What I love about this recipe is just how easy it is to make. The batter is mixed together all in one bowl and all by hand. To ensure yours turn out just right, here are a few things to keep in mind:
Shredded Carrots – First, try to use organic carrots if you can. I find they have a much stronger flavor and are just a tad bit sweeter. Then, wash and peel the carrots before shredding. Shred using the smallest holes on a box grater as these tiny shreds will blend seamlessly into the batter.
Flour – Spoon the flour into your measuring cup and level it off with a flat edge. Don't scoop directly in to your flour bag or container and don't shake it or pack it down in to the cup. This will leave you with way too much flour and thus a dense and dry cake.
Mixing – Don't over mix. As soon as the batter has fully come together, stop mixing. Over mixing can lead to a sunken-in cupcake.
Filling – Only fill the cupcake liners about 3/4 full. Any more and the centers of the cakes will collapse in the oven.
Once the cakes are baked, allow them to cool inside the pan for 20-30 minutes. This makes it much easier to lift the cakes out as they won't be as delicate when cooled. Then, allow the cakes to cool on a cooling rack before frosting. Do not add frosting until the cakes are completely cooled, otherwise the frosting will slide right off.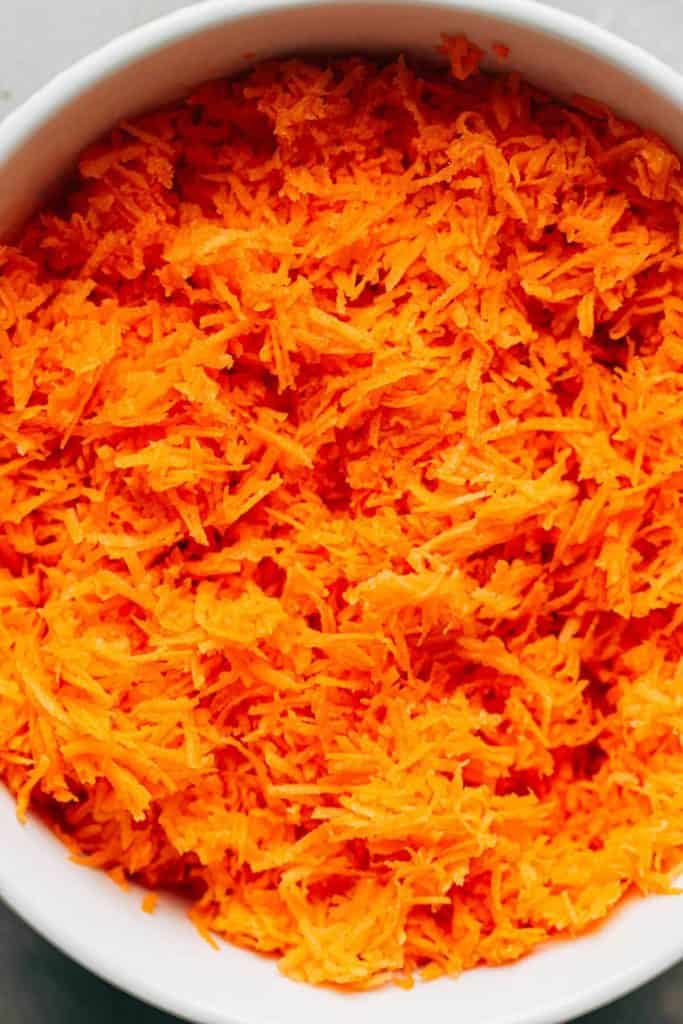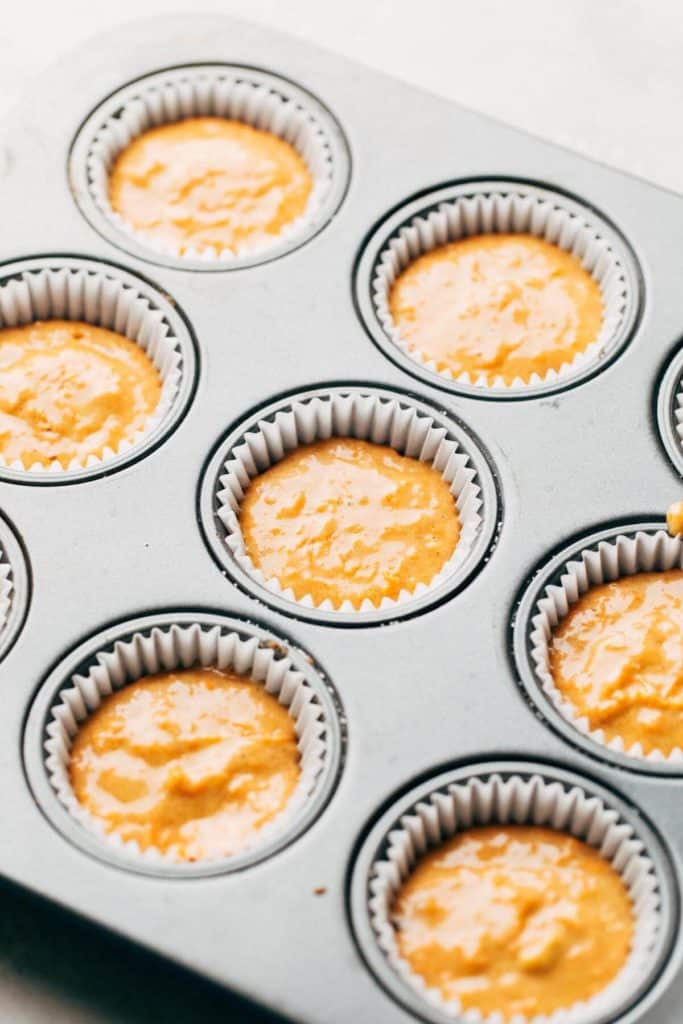 Carrot cake substitutions you can and cannot make
As always, I recommend sticking to the original recipe as this is the EXACT recipe I tested myself. But if there are certain foods you can't eat or you want to use what you already have on hand, here are the swaps you can make:
Flour – If you want a gluten free cupcake, you can use a good quality 1-to-1 gluten free baking flour that has xanthan gum in the blend. I haven't tested it, but I would assume these cupcakes would turn out just as good. Just expect a more dense texture.
Oil – You can swap with any mind-flavored oil like avocado or melted coconut oil. You can try swapping with melted butter but I have not tested it. Unsweetened applesauce might also work but again, I have not tested this myself.
Brown Sugar – I use light brown sugar in these cupcakes, but you can use dark brown sugar if it's all you have on hand. The cupcakes might just turn out a bit darker.
Eggs – I haven't tested this, but you can try swapping the eggs with a flax egg. Use 1 flax egg of every egg. 1 flax egg = 1 tbsp ground flax mixed with 2 tbsp water. Let it sit for 10 minutes to gel before use.
Greek Yogurt – You can also use sour cream. You can try using milk as well but again, I have not tested this. For the best results, use buttermilk or a homemade buttermilk which is 1/2 cup of milk mixed with 1.5 tsp vinegar. Let it curdle for 5 minutes before use.
Can I use olive oil instead of vegetable oil in carrot cake?
Yes BUT, just know that this will create a slight change of taste to these cupcakes. If you love the flavor of olive oil, then this swap shouldn't be a problem. But if you want a true and pure carrot cake flavor, stick with a mild-flavored oil like vegetable oil.
If you prefer not to use vegetable oil at all, I recommend melted coconut oil or grapeseed oil.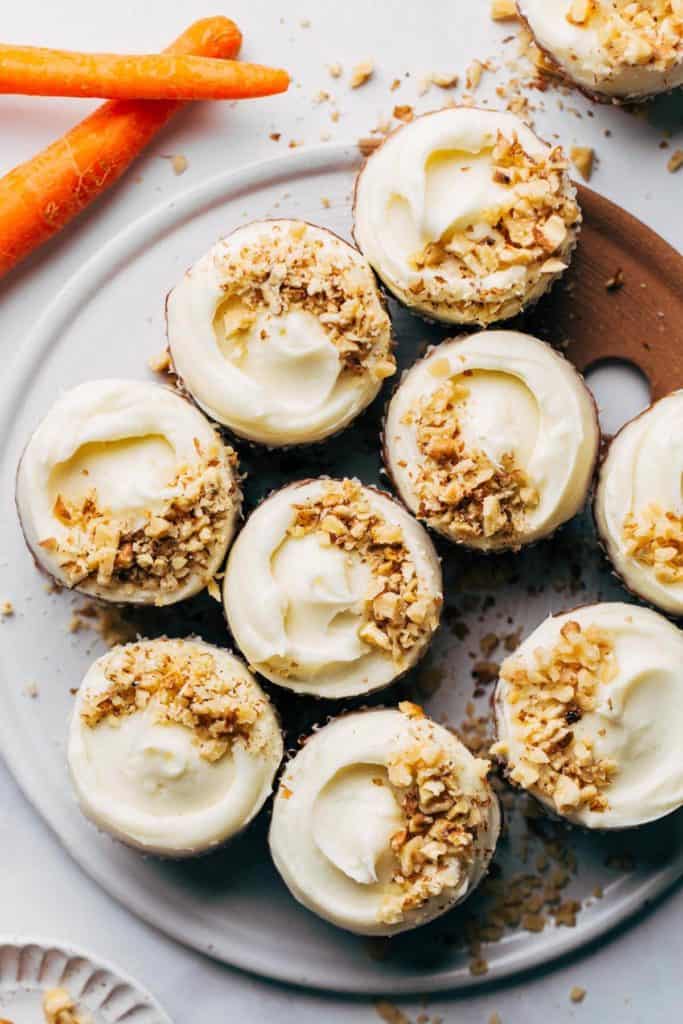 How to decorate carrot cake cupcakes
Each carrot cupcake is topped with a dollop of homemade cream cheese frosting. It's the perfect pairing to these carrot cupcakes as it's slightly tangy in contrast to the sweet and spiced cakes.
You can choose to pipe the frosting on top using a piping bag and a large tip, or you can create these homemade bakery-style swirls shown here. For the swirls, dollop a few spoonfuls of frosting on top of the cupcake. With the cupcake in one hand and a small offset spatula in the other, spread the cream cheese out to the edges of the cupcake while maintaining a cone-like shape in the center.
Once you've created a cone on top of the cupcake, use your spatula to press into the center of the cone as you rotate the cupcake in your hand. Work the frosting outwards and then pull in to get the center swirl. Once you've reached the center, pull straight up to finish off the swirl.
Then hold your spatula vertically and run it all around the edge of the cupcake to clean up the sides.
Top each cupcake with a generous helping of finely chopped walnuts. You can use walnuts or pecans, whichever you prefer. Otherwise, you can leave the cupcakes as is without any toppings.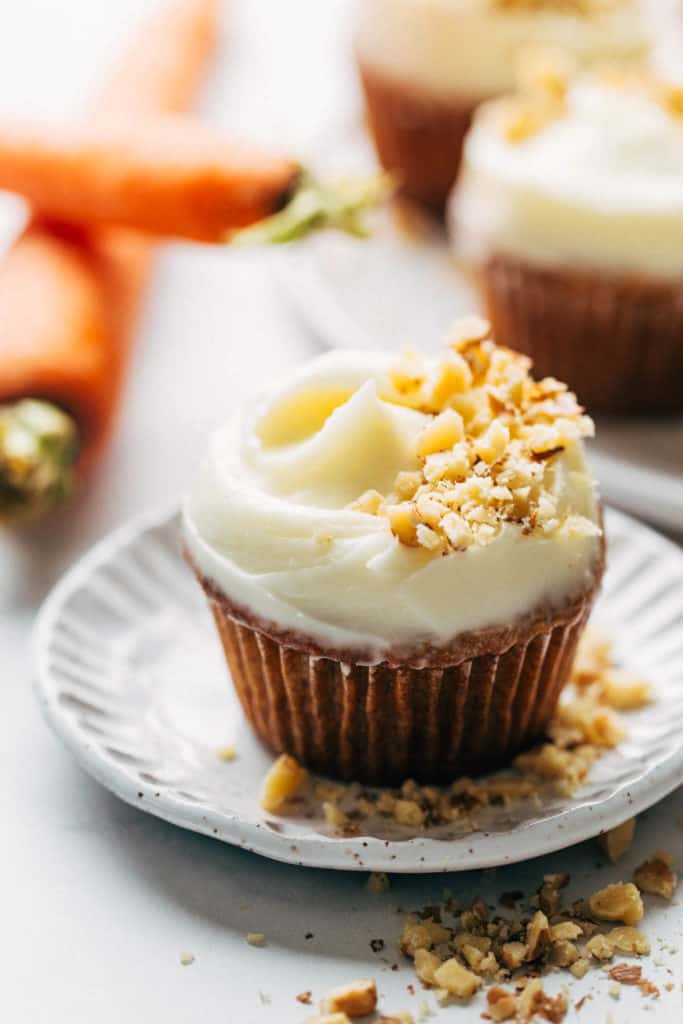 How to store carrot cake cupcakes
Once complete, store the cupcakes in an air tight container in the refrigerator. The cream cheese frosting is fairly soft, so you want to keep it cold. Then let the cupcakes come up to room temperature before serving. They should keep for up to 5 days.
Can I cut the recipe in half?
Yes, for a smaller batch cut the recipe in half to make about 7 cupcakes. Just make sure you only fill each one about 3/4 full. All the measurements should be easy to halve, but here's a couple tricky ones:
Half of 1/4 cup is 2 tablespoons
Half of 1/3 cup is 2 tablespoons + 2 teaspoons
Can I add nuts or fruit to the batter?
You can add any dry mix-ins, just know that this will add volume to the batter so you may end up with 1-2 additional cupcakes. You can add up to 2 cups of any mix in, whether that's finely chopped nuts, raisins, or shredded coconut.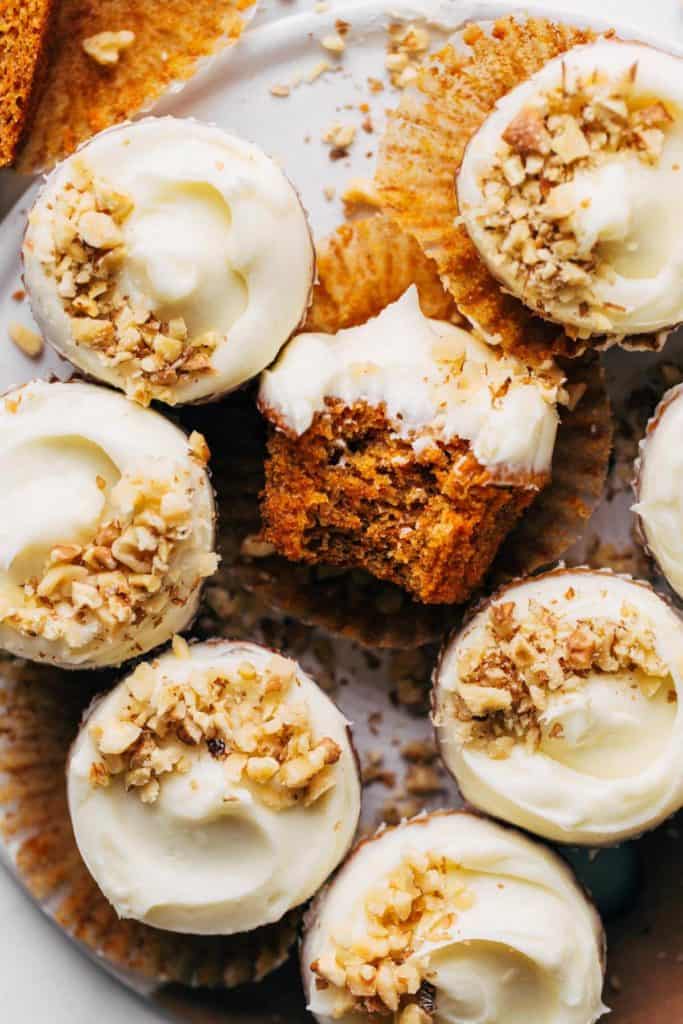 For more cupcake recipes, check out my:
For a full carrot cake recipe, see my:
Make sure to tag me @butternutbakery on Instagram and leave a review below if you make these Carrot Cake Cupcakes. To pin this recipe and save it for later, you can use the button on the recipe card, the buttons above or below this post, or on any of the photos above. Happy baking!
Print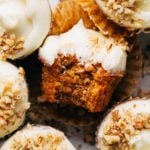 Carrot Cake Cupcakes
---
Author: Jenna Barnard
Total Time: 50 minutes + 1 hour cooling
Yield: 15 cupcakes
Description
These are the BEST carrot cake cupcakes! No only are they extra moist with loads of fresh grated carrots and warm spices, but they're also topped with a rich and silky cream cheese frosting. 
---
Carrot Cake Cupcakes
1 1/2 cups (165g) finely grated organic carrots*
1 1/4 cup (160g) all purpose flour, spooned and leveled *see notes for GF option
1 tsp baking soda
1/2 tsp baking powder
1/4 tsp salt
1 1/2 tsp cinnamon
1/4 tsp nutmeg
1/4 tsp ginger
1/2 cup (120ml) vegetable or canola oil
1/2 cup (100g) light brown sugar, packed
1/3 cup (70g) granulated sugar
2 large eggs
1 tsp vanilla extract
1/2 cup (120g) Greek yogurt or sour cream
Cream Cheese Frosting Recipe (half this recipe)
---
Instructions
Carrot Cake Cupcakes
Preheat the oven to 350F and line 2 cupcake tins with 15 paper liners.
Grate the carrots using the fine grate side of a box grater. Set aside.
In a bowl, whisk together the flour, baking soda, baking powder, salt, and spices. Set aside.
In a large mixing bowl, whisk together the oil, brown sugar, sugar, eggs, and vanilla. Then whisk in the sour cream followed by the carrots.
Pour in the dry ingredients and whisk to combine. Don't over mix.
Distribute the batter evenly between the 15 liners, filling each about 3/4 full.
Bake for 18-20 minutes or until a toothpick comes out clean.
Allow the cakes to cool in the pan for 20 minutes, then transfer to a cooling rack to cool completely before frosting.
Once cooled, top each cupcake with cream cheese frosting (using only half the cream cheese frosting recipe). Sprinkle with finely chopped walnuts if desired. Enjoy!
Notes
ORGANIC CARROTS – I prefer organic because they have a stronger and sweeter flavor. You can use regular if you can't get organic.
GLUTEN FREE – Although I haven't tested it, I believe this recipe would work well with gluten free flour. Sub the flour with a good quality gluten free baking flour. I like Bob's Red Mill 1-to-1 gluten free baking flour. I also suggest weighing the flour rather than measuring by cups, to ensure accuracy. 
Prep Time: 30 minutes
Cook Time: 20 minutes
Keywords: carrot cupcakes, carrot cake cupcakes, carrot cake, easter desserts
Recipe Card powered by