Strawberries and rhubarb are the epitome of summer! Combined in a drink, this strawberry mojito is so delicious with fresh strawberries, bright limes and mint, sweet rhubarb syrup, rum, and sparkling water. It's so refreshing and can easily be made into a mocktail as well!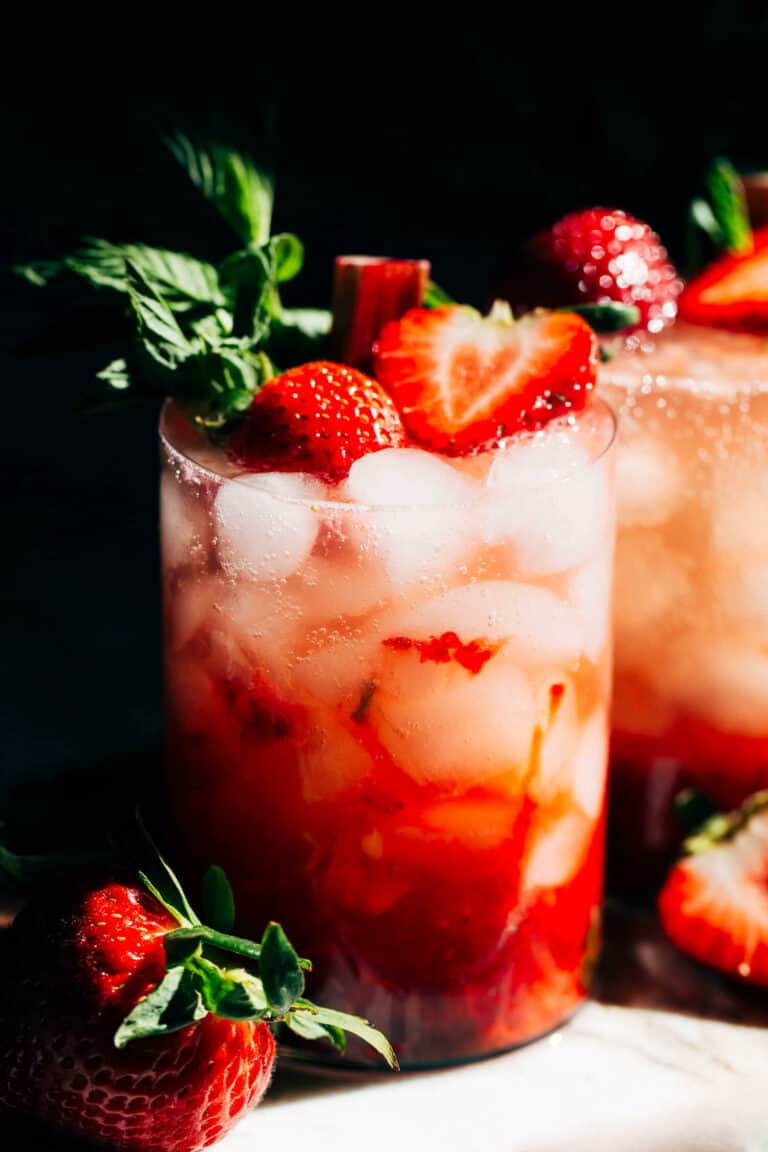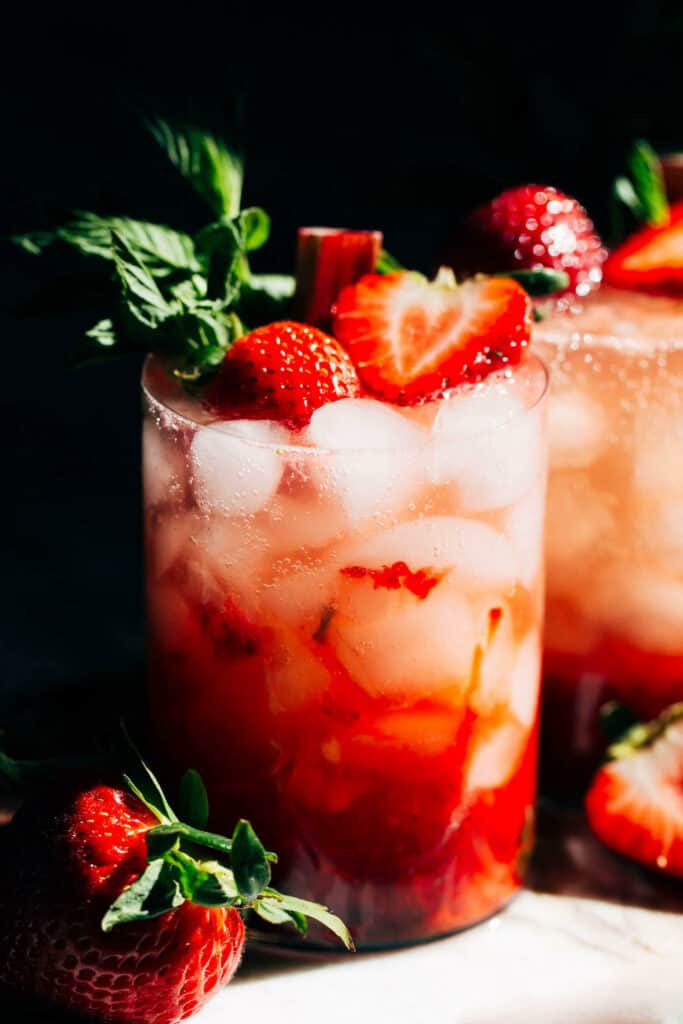 How to make a strawberry mojito
This cocktail is so simple to make and yet it's full of flavor!
A traditional mojito is made by muddling limes with mint, then mixing in simple syrup, rum, and sparkling water.
Using this as a base, strawberries and strawberry jam are muddled along with the mint and lime. The fresh strawberries provide tons of juices while the bit of jam elevates the overall strawberry flavor.
To bring in the rhubarb, this recipe uses a homemade rhubarb simple syrup that is so easy to make and adds the most BEAUTIFUL color. The overall rhubarb flavor is subtle, but you can definitely tell a difference when it's not there.
Then white rum is mixed in and it's all topped off with sparkling water or club soda.
The gradient affect is mainly for looks, so make sure to stir up your strawberry mojito before taking a sip!
How to make rhubarb simple syrup
Simple syrups are so fun to make because they're incredibly easy and yet a great way to incorporate an added layer of flavor.
This rhubarb simple syrup is made up of fresh rhubarb, water, and sugar. The rhubarb can either be fresh or frozen and thawed, just as long as it's sliced into small chunks.
Everything is heated in a saucepan and brought to a bubble. Then it's removed from the heat where the syrup steeps for about an hour.
After that hour, the rhubarb should be very soft. To get the most flavor, mash in the rhubarb before straining the syrup.
Once it's strained, it reveals the most gorgeous fuchsia color. The syrup is best the day of, but I suggest chilling it for a bit so that it doesn't bring up the temperature of the cocktail.
Strawberry Mojito FAQs
Can I use frozen strawberries?
Yes, frozen and thawed strawberries can be used. Frozen and thawed rhubarb can be used as well.
Can I use bottled lime juice?
I advice against bottled citrus for cocktails because it's more acidic than fresh citrus. For the best flavor, always go with fresh limes.
What is the best rum to use?
Use whatever you prefer, but I like Jamaican rum for its bold flavor. My favorite brand is Plantation.
Can this be made into a mocktail?
Yes! Just omit the rub and sub in a bit more sparkling water or club soda.
How long does the rhubarb simple syrup keep?
For the best flavor, use within two weeks.
For more summer cocktail recipes, check out my:
Make sure to tag me @butternutbakery on Instagram and comment below if you make this strawberry mojito. To pin this recipe and save it for later, you can use the button on the recipe card, the buttons above or below this post, or on any of the photos above. Cheers!
Print
Strawberry Rhubarb Mojito
---
Author: Jenna Barnard
Total Time: 1 hour 5 minutes
Yield: 1 cocktail
Description
This strawberry mojito is the perfect summer cocktail made with fresh strawberries, rhubarb syrup, and bright lime and mint!
---
Rhubarb Simple Syrup
2 cups rhubarb, sliced (fresh or frozen thawed)
1/2 cup (100g) granulated sugar
1/2 cup (115g) water
Strawberry Rhubarb Mojito
6–8 mint leaves
1/2 lime, juiced
3 strawberries, quartered
1/2 tbsp strawberry jam
3/4 oz rhubarb simple syrup
2 oz white rum
2–4 oz club soda or sparkling water
---
Instructions
Rhubarb Simple Syrup
Add all of the ingredients to a saucepan over medium heat.
Stir occasionally and bring to a bubble.
Remove from heat and allow the syrup to steep for 1 hour.
Then strain and chill before use.
Strawberry Rhubarb Mojito
Add the mint leaves, lime juice, strawberries, and jam to a highball glass and muddle into a pulp.
Stir in the rhubarb simple syrup and rum.
Fill the glass with ice and top with club soda or sparkling water.
Stir before drinking and enjoy!
Equipment
Notes
MOCKTAIL – Omit the rum and add a bit more sparkling water!
Prep Time: 5 minutes
Cook Time: 1 hour
Category: Drinks
Method: Stirred
Cuisine: Cuban
Keywords: strawberry mojito, strawberry mojito recipe, strawberry rhubarb mojito
Recipe Card powered by