These chocolate cupcakes are extra moist and topped with a silky sour cream chocolate frosting! They have a light and fluffy consistency but are still so rich and flavor. It's bound to be your new go-to chocolate cupcake recipe.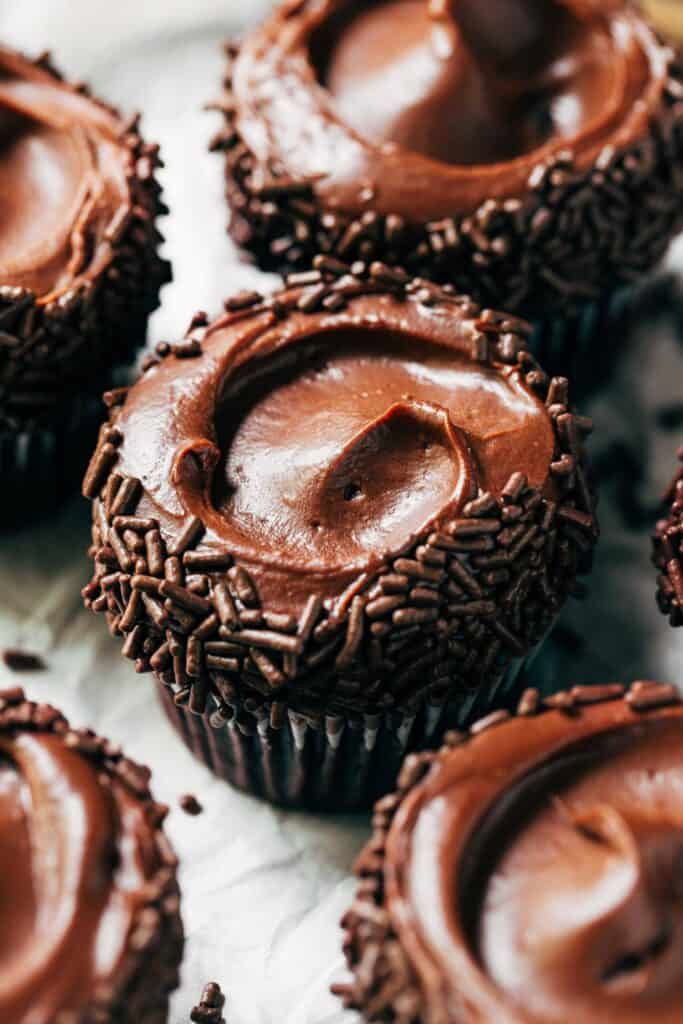 What makes this the best chocolate cupcake recipe?
Whenever I create a cupcake recipe, I always use box cake mix as my point of reference. There's just something about a mix that makes cakes so good! They're light and delicate yet so moist and flavorful.
That's what you can expect from this recipe. These cupcakes are like little chocolate clouds that are so rich and chocolatey.
Plus, the batter itself is mixed by hand! They're so quick and easy to make and yield the most perfect chocolate cupcakes every time.
But to enhance this recipe even more, a few secret ingredients are added:
Dutch Process Cocoa – This is cocoa powder that has be alkalized to cut the acidity. It has a smoother chocolate flavor with a rich dark color.
Espresso – Coffee and chocolate go hand in hand as it helps bring out the chocolate flavor even more. Warm espresso is mixed in to the batter to give these cupcakes a boost of flavor.
Sour Cream – My favorite cake baking ingredient. Sour cream adds so much richness and moisture, while the acidity helps activate the baking soda. In the end you're left with a moist but bouncy cake.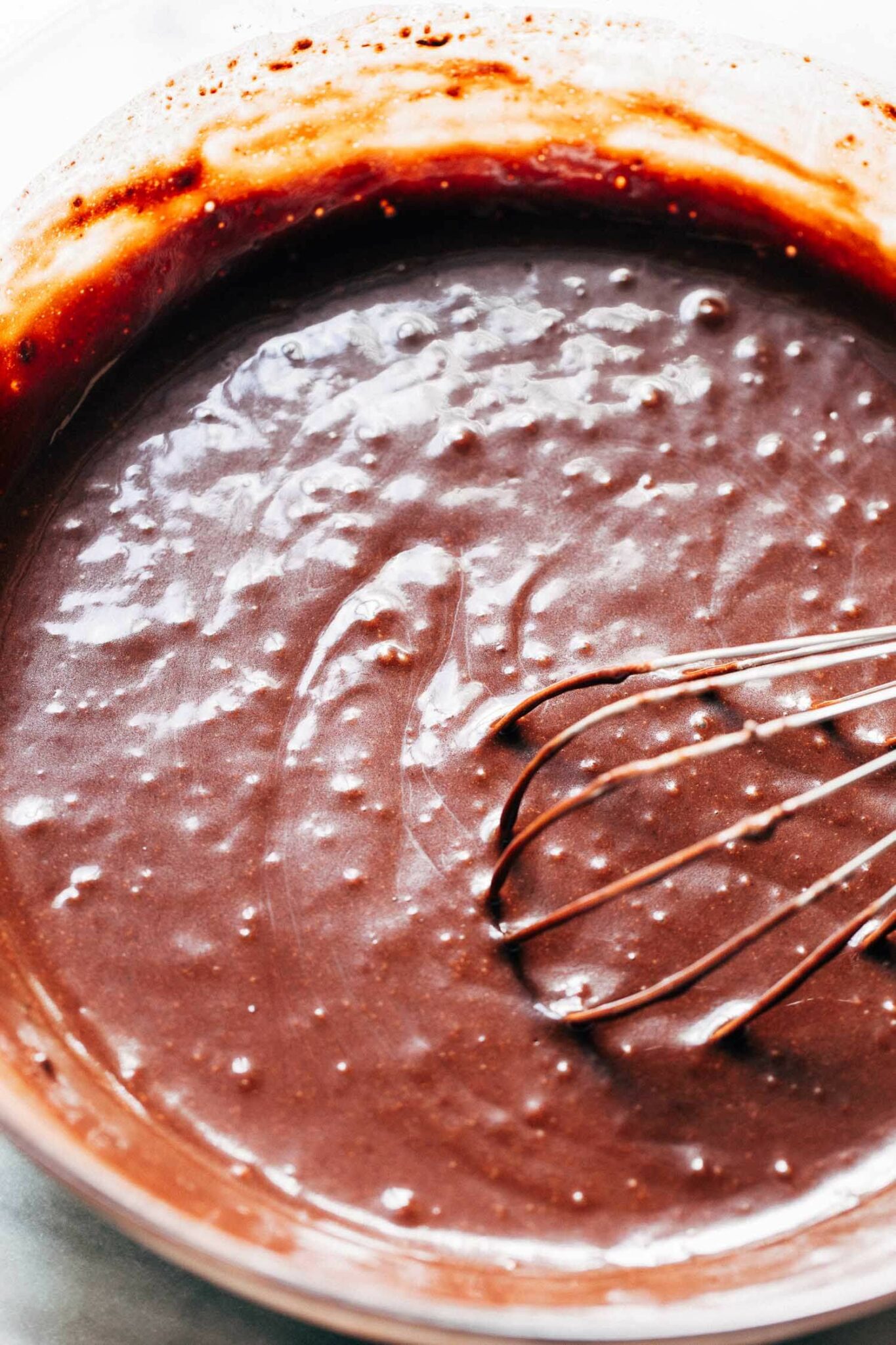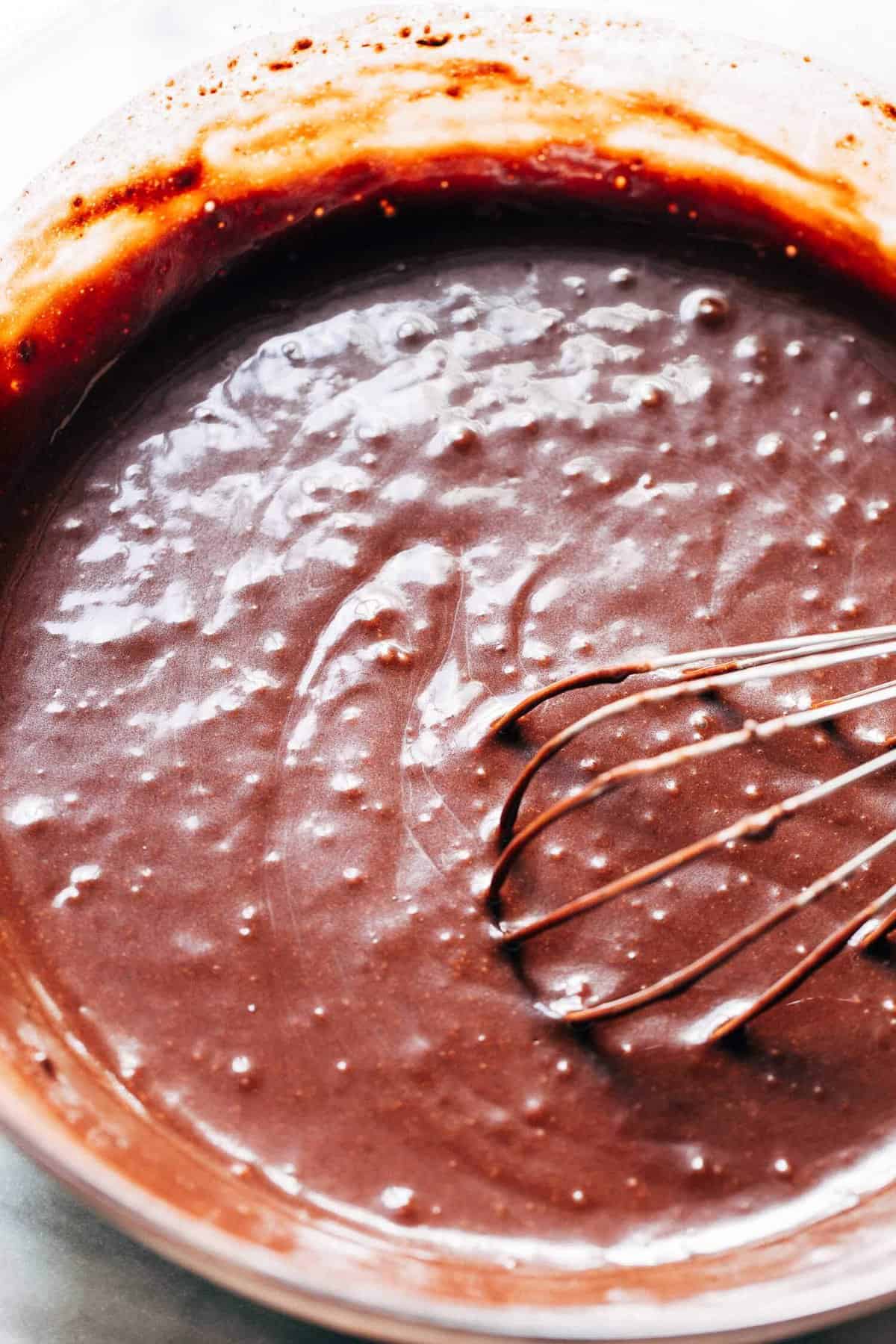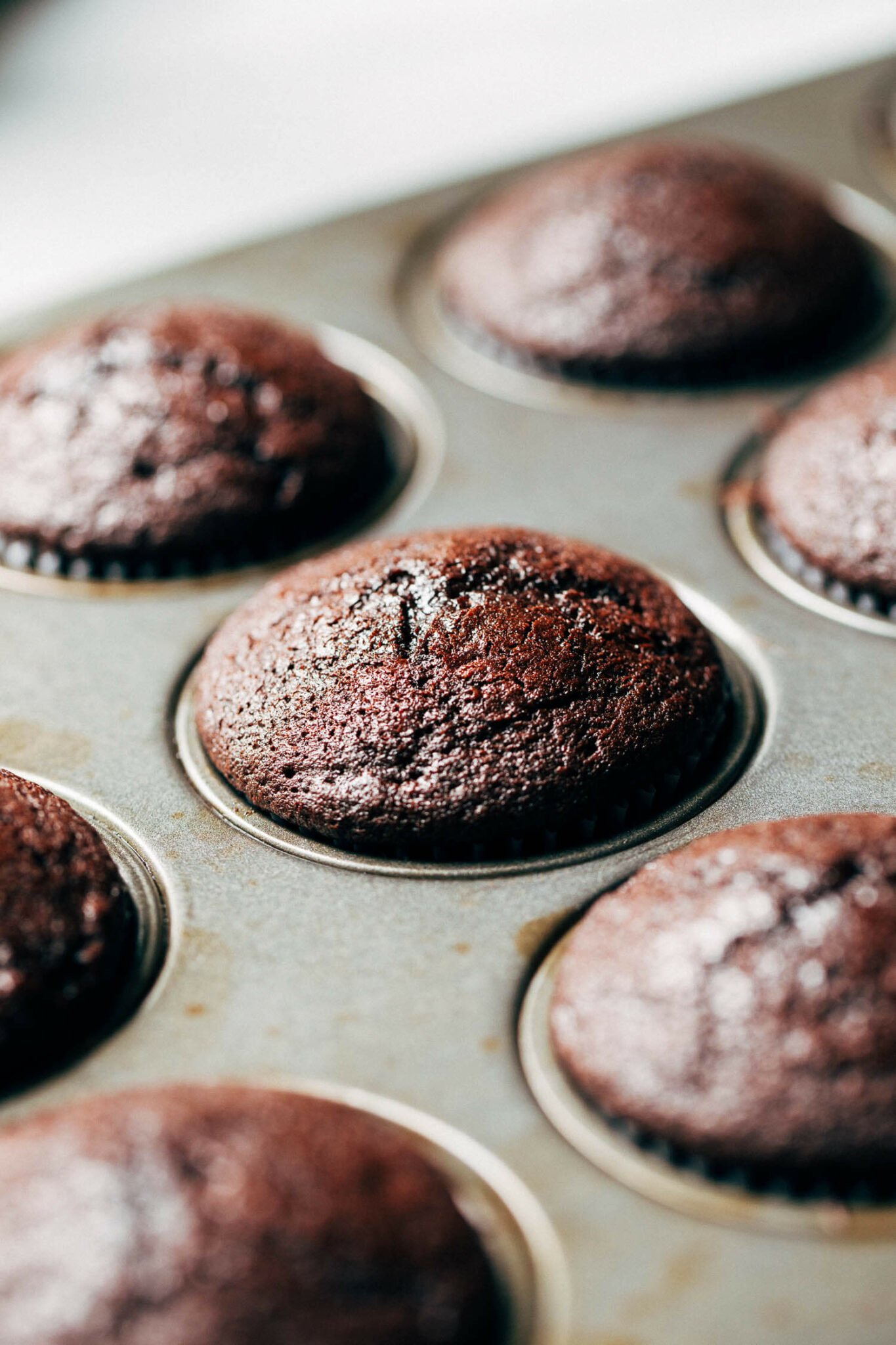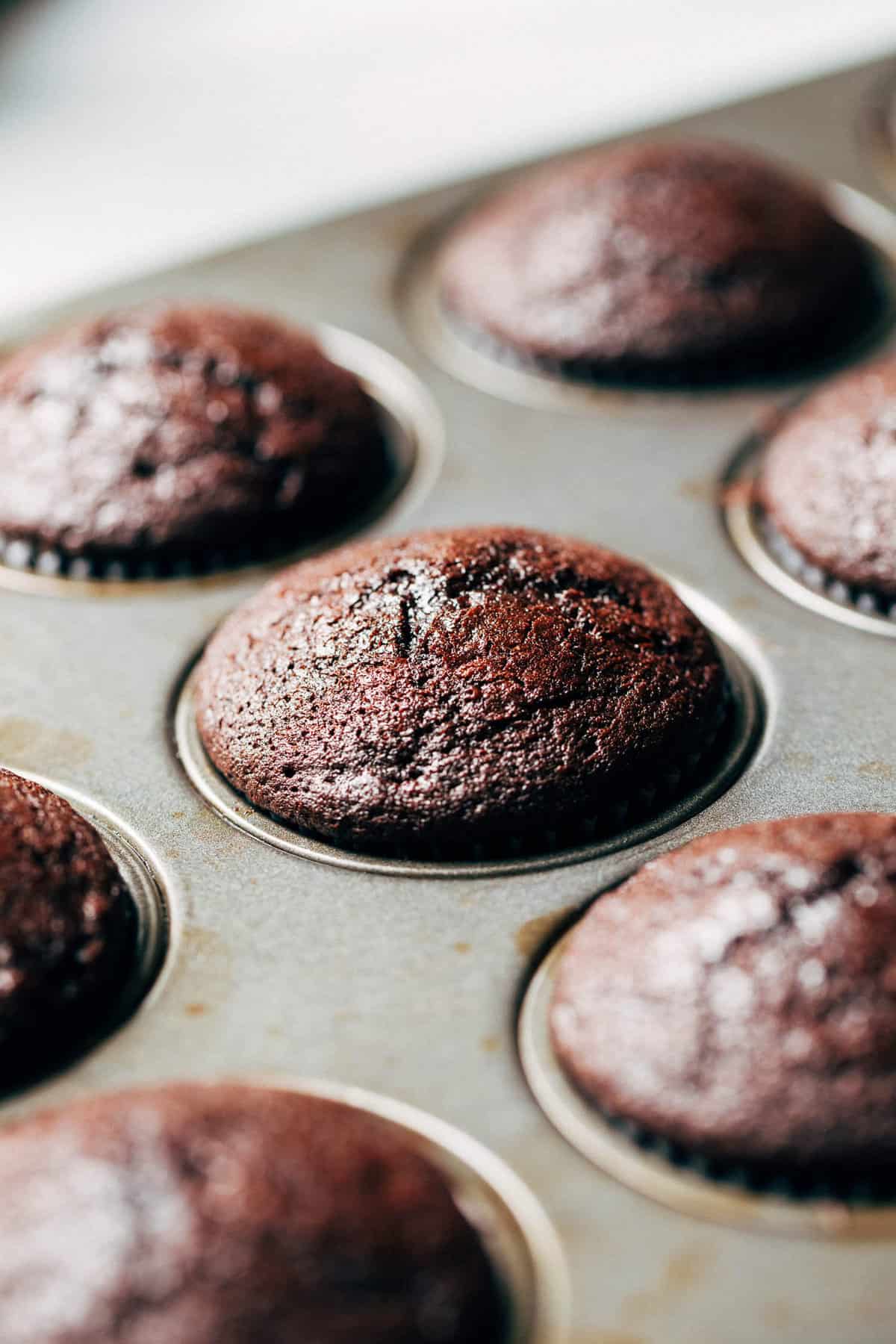 Tips for baking perfect chocolate cupcakes
This cupcake batter is so easy to make, but here are a few tips to ensure they turn out just right:
Flour – I say this in every recipe, and for good reason. It's the number one reason why most recipes fail. If there's too much flour, these cupcakes will turn out tough and dry. If possible, measure the flour with a food scale. Otherwise, gently spoon the flour into the measuring cup and level it off with a flat edge. We always want a light and fluffy cup of flour.
Cocoa Powder – Same measuring rule applies here!
Mixing – When all of the wet ingredients are added to the dry ingredients, practice gentle mixing. If the batter is over worked, it could cause tough cupcakes that cave in the center.
Hot Water – When mixing the water and espresso into the batter, it's important that the water is hot. The heat will activate the cocoa powder to bring out even more flavor.
Filling – Fill each cupcake liner about halfway. If the cups are filled with too much batter, the cupcakes will bake with XL tops and run the risk of sinking in the center.
Cooling – Try to remove the cupcakes from the hot baking pan as soon as possible. That residual heat can cook the cupcakes even further, so transferring the cupcakes to a cooling rack ASAP will ensure light and delicate cakes.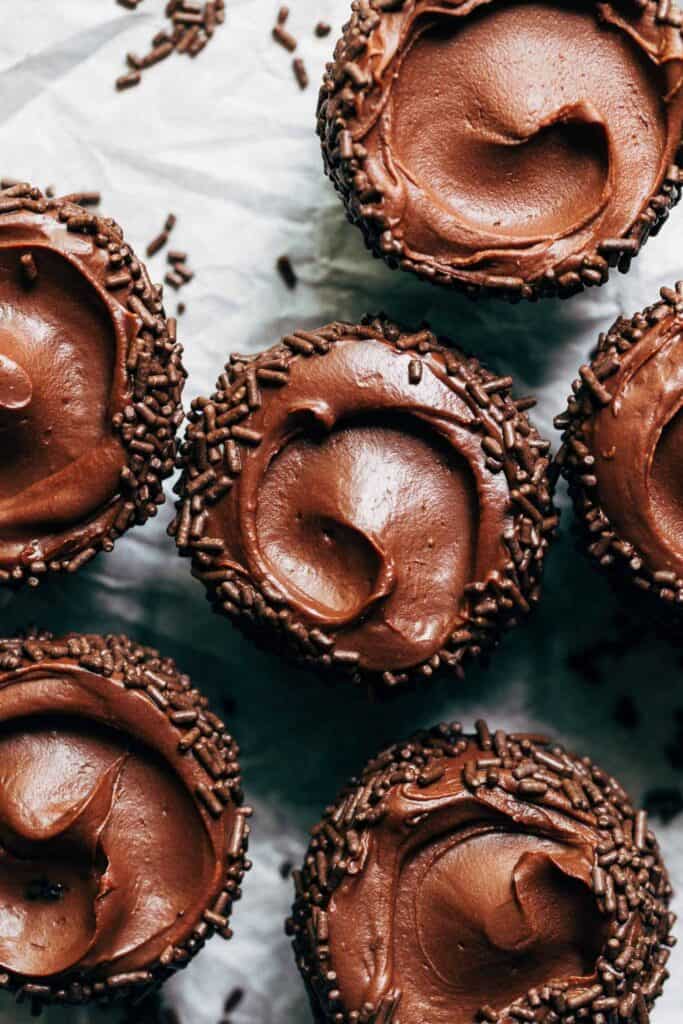 How to make chocolate sour cream frosting
I don't know which I love more, the chocolate cupcakes or the chocolate sour cream frosting on top. It's so silky, so smooth, so chocolatey, and not overly sweet. It's basically perfect for anyone who is anti frosting…although I cannot relate one bit.
The frosting start off by melting together semisweet chocolate, bittersweet chocolate, and corn syrup. I recommend using chopped chocolate bars here as they are better suited for melting vs chocolate chips. Corn syrup is there to prevent crystallization and adds lots of gloss and shine!
Once melted, warm sour cream is mixed in to the chocolate. It's important that the sour cream is warm because if cold cream is mixed into warm chocolate, it can cause the chocolate to seize up.
Meanwhile, butter and sugar are being creamed together in a stand mixer. Once smooth, the sour cream mixture is poured into the butter and sugar.
Naturally, this will cause the frosting to thin as the warm chocolate will melt the butter. This is normal! That's why the frosting is chilled while the cupcakes bake. Once cooled, it will thicken in to a smooth and spreadable frosting.
Additional chocolate cupcake frosting options
If you prefer a more traditional chocolate buttercream frosting, use the chocolate buttercream recipe from my gluten free chocolate cupcakes.
I also have a recipe for cream cheese frosting where I also share how to turn it into a chocolate cream cheese frosting.
For a true and rich chocolate frosting, chocolate ganache is another great frosting option. See my gluten free chocolate cupcakes for that recipe.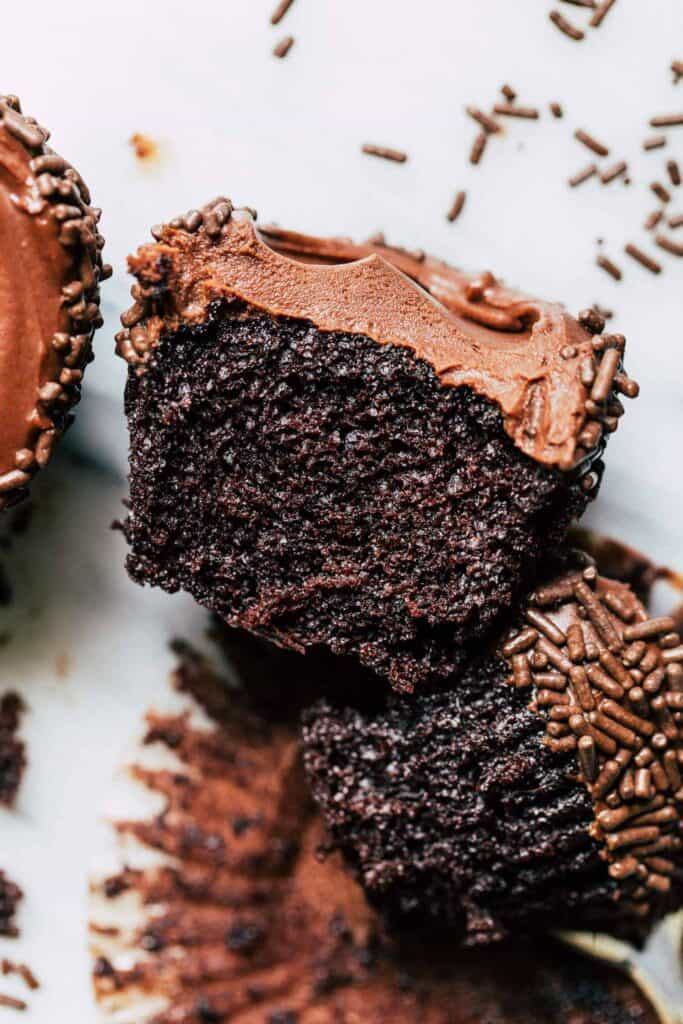 Chocolate Cupcakes FAQ's
Can I use light brown sugar instead?
Yes, but for the best flavor and consistency I suggest sticking with dark brown sugar.
Can I use regular unsweetened cocoa powder?
Unfortunately not. The acidity of traditional cocoa powder can throw off the lift of these cupcakes.
What can I substitute for the sour cream?
Full fat Greek yogurt works the exact same. Otherwise, you can try buttermilk.
How do you store chocolate cupcakes?
Keep the cupcakes in an airtight container and store in the refrigerator. They'll keep moist for about 4 days.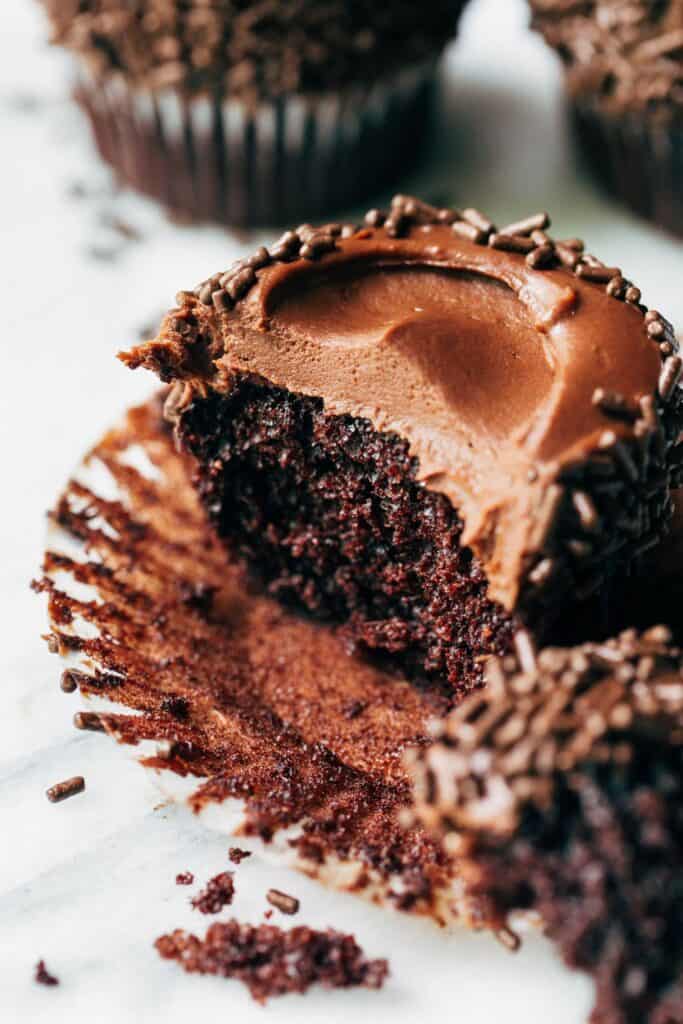 For more chocolate cake recipes, check out my:
Make sure to tag me @butternutbakery on Instagram and comment below if you make these chocolate cupcakes. To pin this recipe and save it for later, you can use the button on the recipe card or on any of the photos above. Happy baking!
Watch how to make these chocolate cupcakes:
Print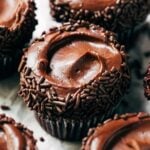 Moist Chocolate Cupcakes
---
Author: Jenna Barnard
Total Time: 1 hour 15 minutes
Yield: 15 cupcakes
Description
These moist chocolate cupcakes live up to their name with an incredibly rich and bouncy texture with delicious chocolate flavor. They're also topped with a silky chocolate sour cream frosting that isn't overly sweet!
---
Chocolate Cupcakes
1 cup (132g) all purpose flour
1/2 cup (100g) dark brown sugar, packed
1/2 cup (100g) granulated sugar
1/2 cup (50g) dutch process cocoa powder
1 tsp baking soda
1/2 tsp baking powder
1/4 tsp salt
1/2 cup (108g) vegetable oil
1 large egg + 1 egg yolk
2 tsp vanilla extract
1/2 cup (120g) sour cream
1/2 cup (118ml) hot water
1/2 tsp instant espresso powder or instant coffee granules
Sour Cream Chocolate Frosting
1/2 cup (110g) unsalted butter, room temp
1 1/2 cups powdered sugar
4 oz semisweet chocolate, chopped
3 oz bittersweet chocolate, chopped
2 tbsp light corn syrup
3/4 cup (180g) sour cream
2 tsp vanilla extract
Chocolate sprinkles
---
Instructions
Chocolate Sour Cream Frosting
First, make the frosting as it will need time to chill and thicken while the cupcakes bake.
In a large bowl using a hand or stand mixer with the paddle attachment, mix the butter and sugar until smooth and fluffy (about 3 minutes).
Meanwhile, add the chocolate and corn syrup to a heat safe bowl and microwave in 30 second intervals until smooth, stirring between each interval.
Then microwave the sour cream for about 30 seconds or until thinned and smooth.
Mix the warm sour cream into the warm chocolate along with the vanilla. Stir to combine.
With the mixer running, slowly pour the chocolate into the sugar and butter. Mix until smooth.
The frosting should be pretty thin at this point, like the consistency of freshly made pudding.
Place the bowl into the refrigerator and allow the frosting to chill and thicken for about 45 minutes. Stir the frosting every so often to ensure it chills evenly.
Chocolate Cupcakes
Preheat the oven to 350F and line a cupcake pan with 12 liners and a second pan with 3 liners (this recipe makes 15 cupcakes).
In a large mixing bowl, whisk together the flour, sugars, cocoa, baking soda, baking powder, and salt.
In a separate bowl, whisk together the oil, eggs, vanilla, and sour cream.
In a measuring glass, combine the hot water and espresso powder.
Pour the oil mixture into the dry ingredients and stir to combine.
Halfway through mixing, pour in the coffee mixture and continue to stir until smooth.
Distribute the batter between the liners, filling each halfway full.
Bake for 15-17 minutes, or until puffed and a toothpick in the center comes out clean with a few moist crumbs.
Transfer the cupcakes to a cooling rack as soon as possible, careful not to touch the pan as it will be very hot.
Allow the cupcakes to cool completely before frosting.
By the time the cupcakes have cooled, the frosting should be thickened and spreadable. If it's TOO thick, remove a few spoonfuls and microwave until thin and smooth. Then mix the warm frosting into the bowl of chilled frosting.
Frost with a piping tip or with a handmade swirl and top with sprinkles of choice. Enjoy!
Equipment
Prep Time: 30 minutes
Cooling Time: 30 minutes
Cook Time: 15 minutes
Category: Dessert
Method: Baking
Cuisine: American
Keywords: chocolate cupcakes, chocolate cupcake recipe, moist chocolate cupcakes, chocolate cupcake, moist chocolate cupcake recipe
Recipe Card powered by