These are the BEST Lemon Cupcakes and for so many reasons! They're extra moist, bursting with zest lemon flavor, and topped with a rich mascarpone buttercream and homemade lemon curd. Can you think of a better lemon cupcake recipe?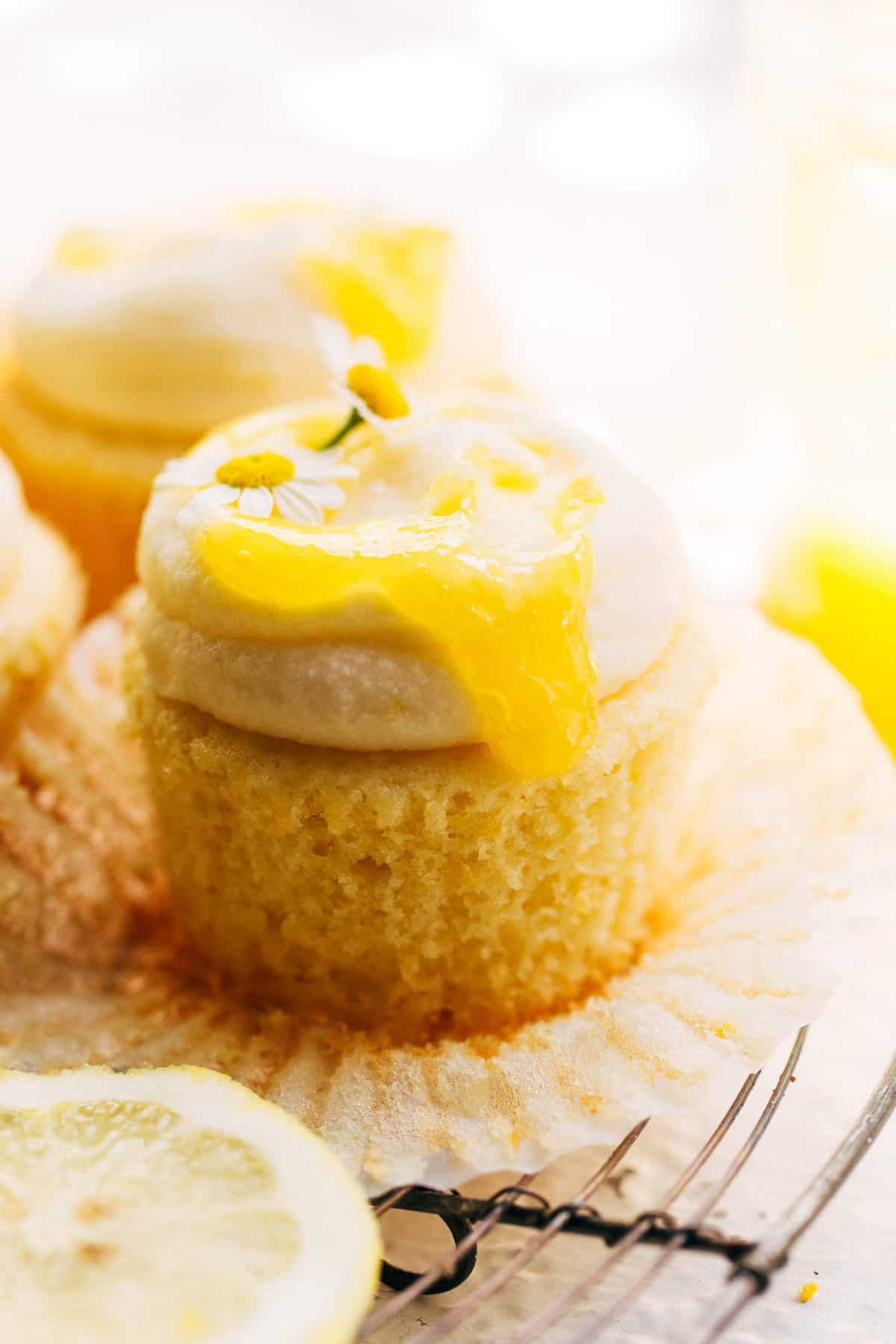 What makes these the BEST lemon cupcakes?
Cupcakes should be sweet and moist, and lemon cupcakes are no exception. This recipe combines this signature richness with the bright zest fresh lemons, almost like a delicious vanilla cupcake with added lemon flavor! The secret is in two key ingredients:
Lemon Zest – Before mixing, lemon zest is rubbed into the sugar by hand. The granules of the sugar release the oils within the zest, enhancing the lemon flavor.
Sour Cream – This cupcake batter is thick, which is why the cupcakes are so good! Sour cream is what thickens the batter and adds richness to the overall cake.
Once baked, these lemon cupcakes are topped with a little something special – mascarpone buttercream. Mascarpone is not as tangy as cream cheese but still just as rich, preventing the frosting from competing with the zesty lemon cupcakes. To take things a step further, homemade lemon curd is swirled on top of each cupcake. It adds an extra bite of bright lemon flavor to take these cupcakes over the top!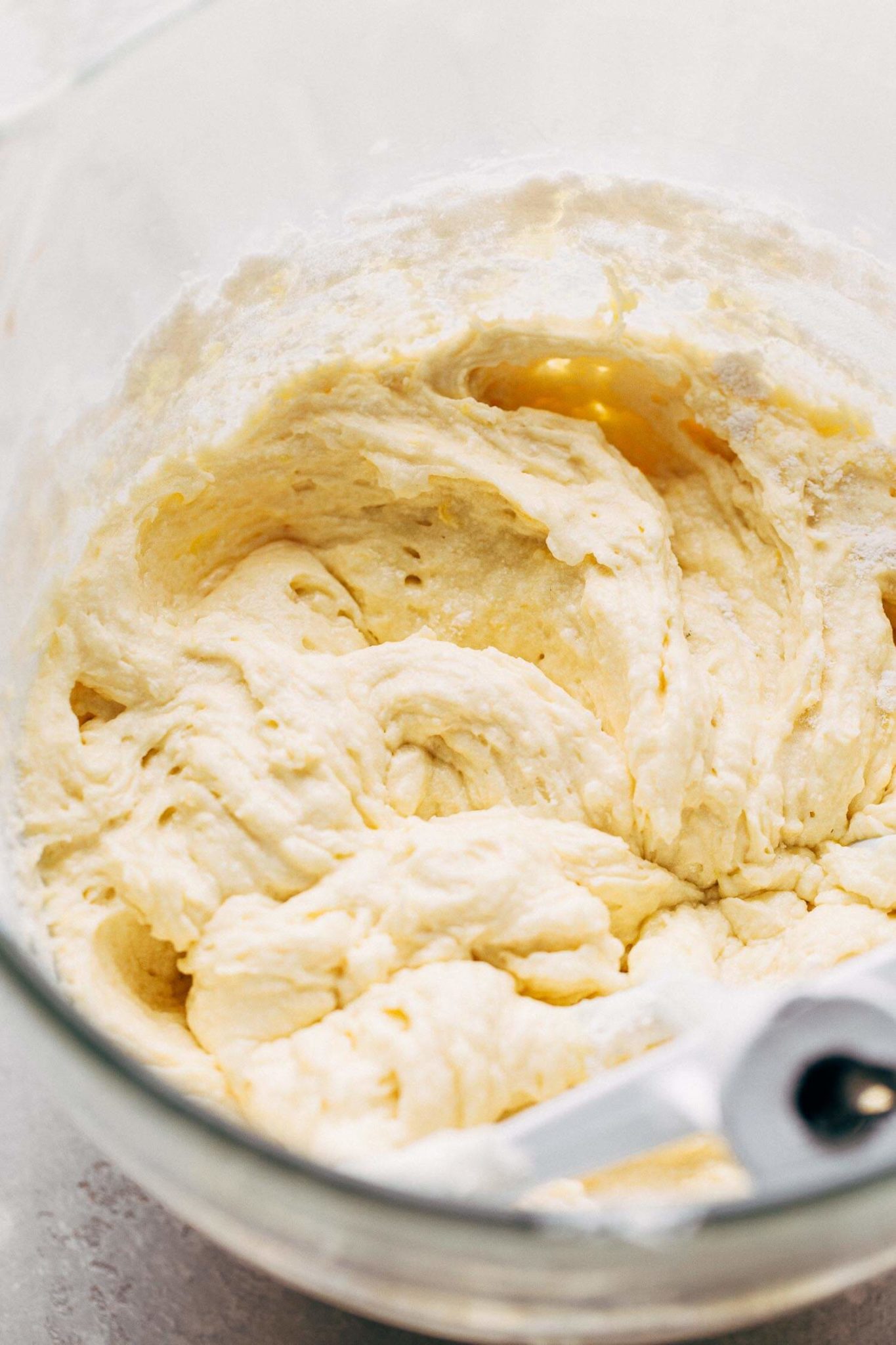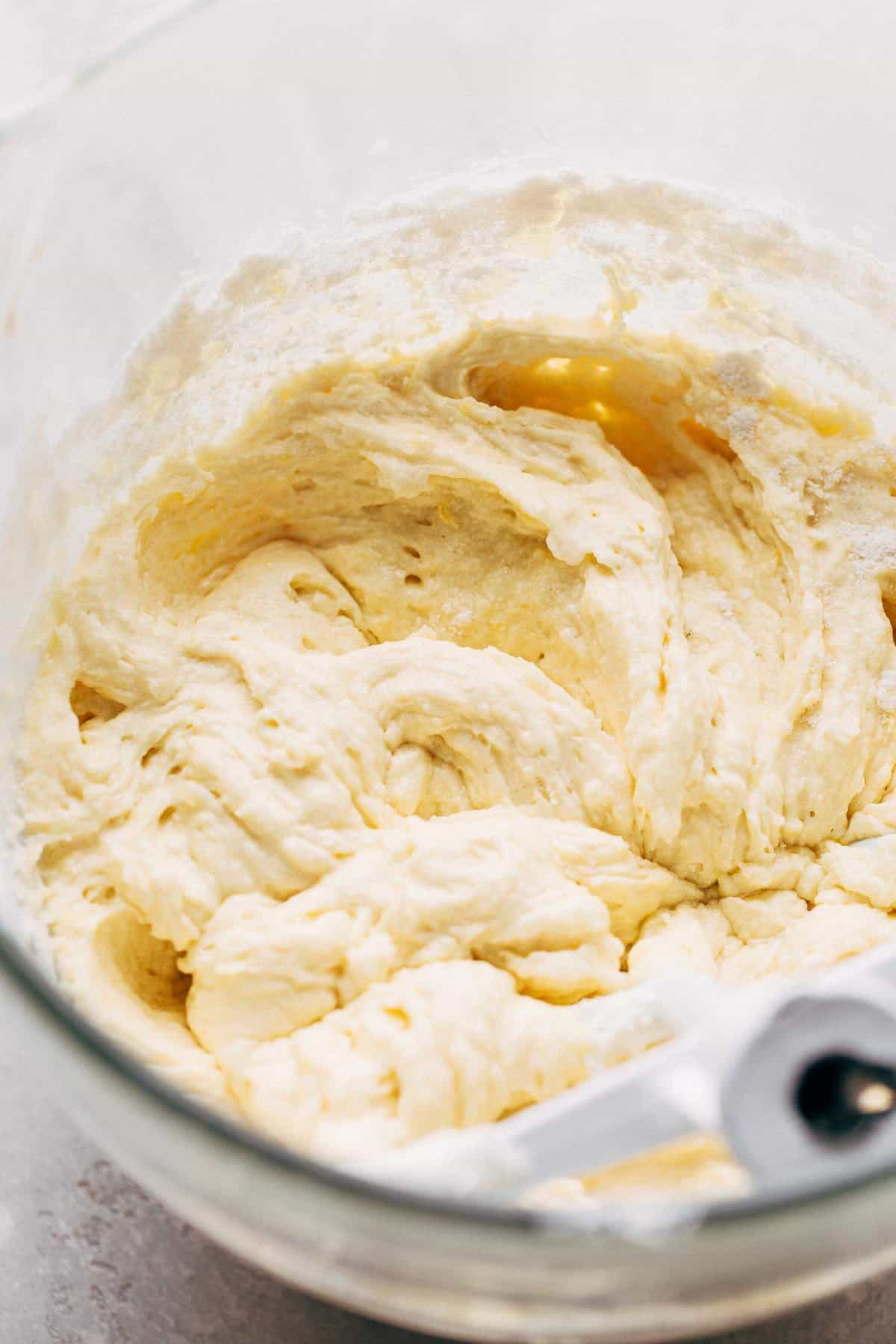 Tips for making perfect lemon cupcake batter
This cupcake recipe is very easy to make but to ensure they turn out perfectly moist and sweet, here are some of my top cupcake baking tips:
Properly measure the flour – I say this in every post, and for good reason. It's the number one reason why most recipes fail. If there's too much flour, the cake will turn out dry and dense. If you can, measure the flour with a food scale. Otherwise, to ensure you use the exact amount needed, gently spoon the flour into your measuring cup and level if off with a flat edge. If you scoop directly into the flour container, it packs it down into the cup which could leave you with 1/4 cup or more of added flour.
Aerate the butter and sugar – The base of any good cake recipe starts with butter and sugar. By using room temperature butter, its softness ensures a smooth batter. It also allows the sugar to aerate the butter. This is done so by mixing the two ingredients together on high speed for a period of time. When this happens, the sugar granules whip tiny air pockets all throughout the batter which you'll notice just by looking at it. Both the color and texture lightening – turning it into a fluffy base that provides an extra lift to these cupcakes.
Room temperature ingredients – All chilled ingredients must be brought up to room temperature. If the ingredients are cold, the batter will the cold. If the batter is cold, it will take longer for the oven heat to penetrate each cake. Room temperature ingredients are also easier to mix in, which is important in my next tip.
Don't over mix – RIGHT when the batter comes together, stop mixing. Over mixing will lead to a cupcake that's caved in the center with a tough texture.
Don't over fill – Only fill each cupcake about half full with batter. Over filling can also leave to a caved in center.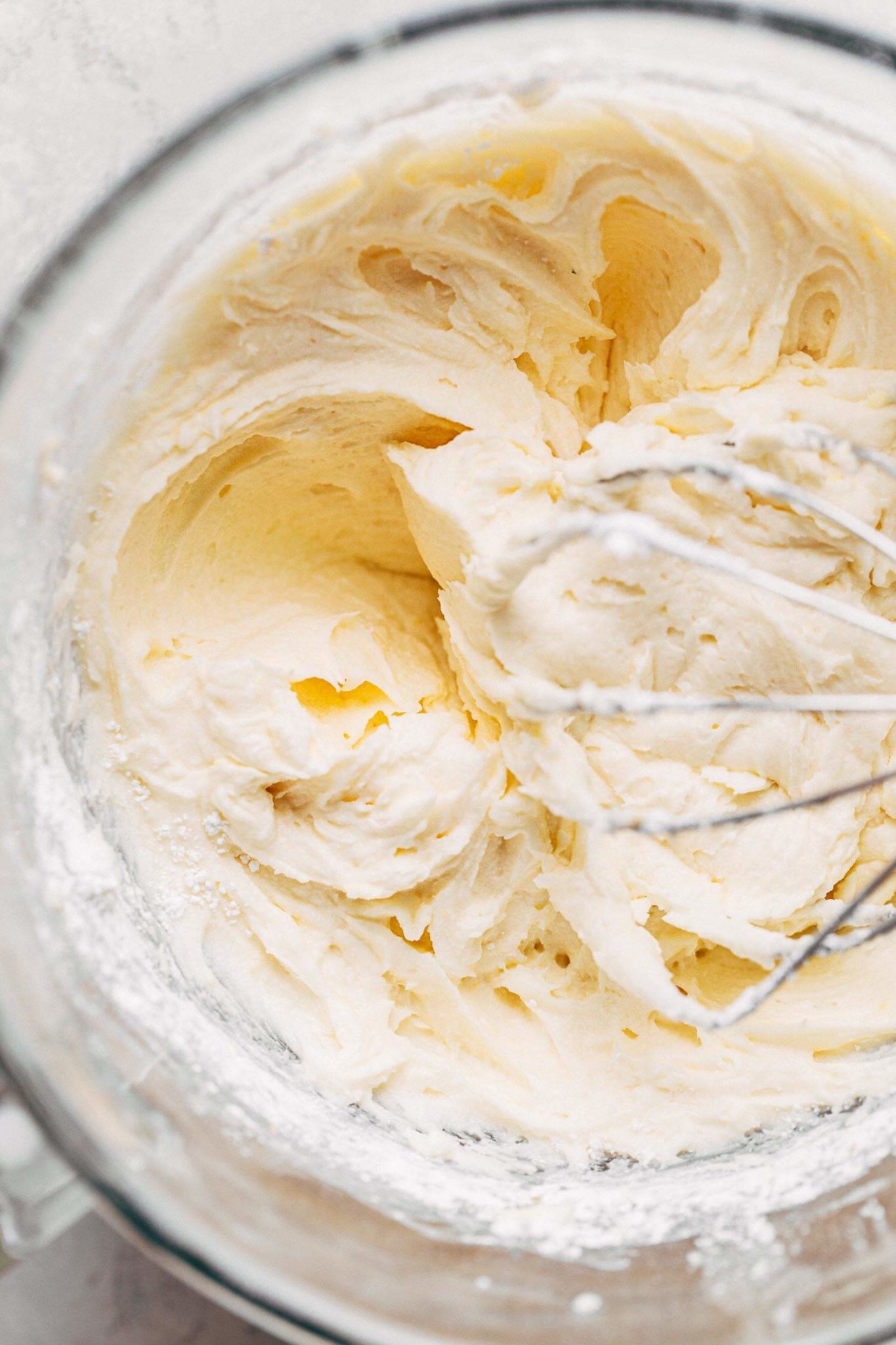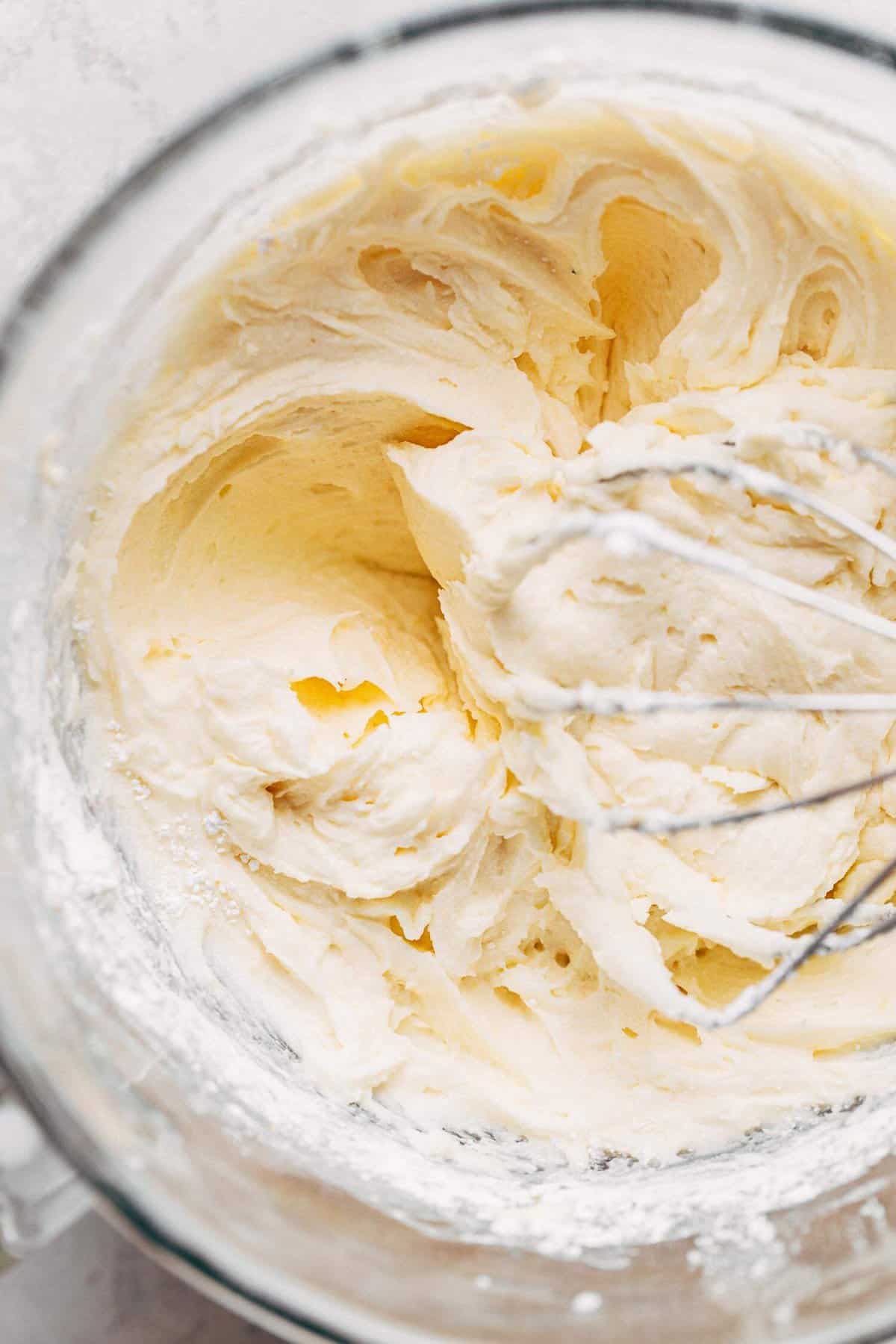 Mascarpone vs. Cream Cheese Frosting
Compared to cream cheese, mascarpone is much richer due to its higher fat content but cream cheese tends to be a bit more acidic. This is why cream cheese works so well in cheesecake, because the acidity helps to balance out the sweetness of the cake. For these cupcakes, the mascarpone doesn't overpower in flavor. It helps to create a lighter and creamier buttercream but with a smooth flavor. It's the perfect carrier for that lemon flavor as it has very little to compete with.
Because if its high fat content (and water content) mascarpone is softer and creamier at room temperature. This is why it's important that the mascarpone is chilled before making the frosting – which is the exact opposite of cream cheese.
If you can't get a hold of mascarpone cheese, or just prefer to stick with cream cheese, you can easily substitute the two. Will the flavor over power the cupcakes too much? Absolutely not. I just find that mascarpone cheese is a better compliment, but cream cheese is by no means a bad guy here. Just make sure it's at room temperature before mixing into the frosting, otherwise the frosting will turn out a bit lumpy.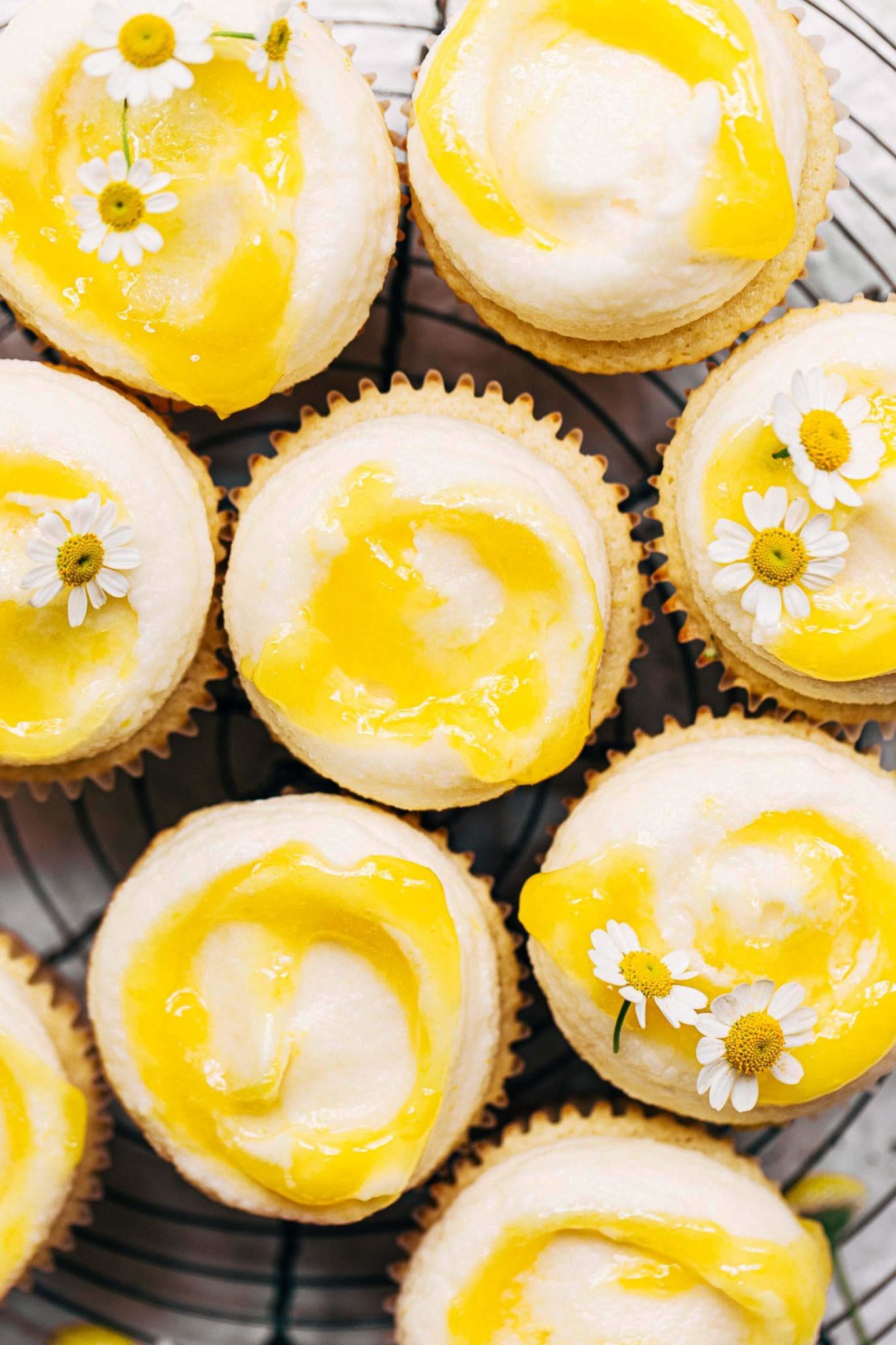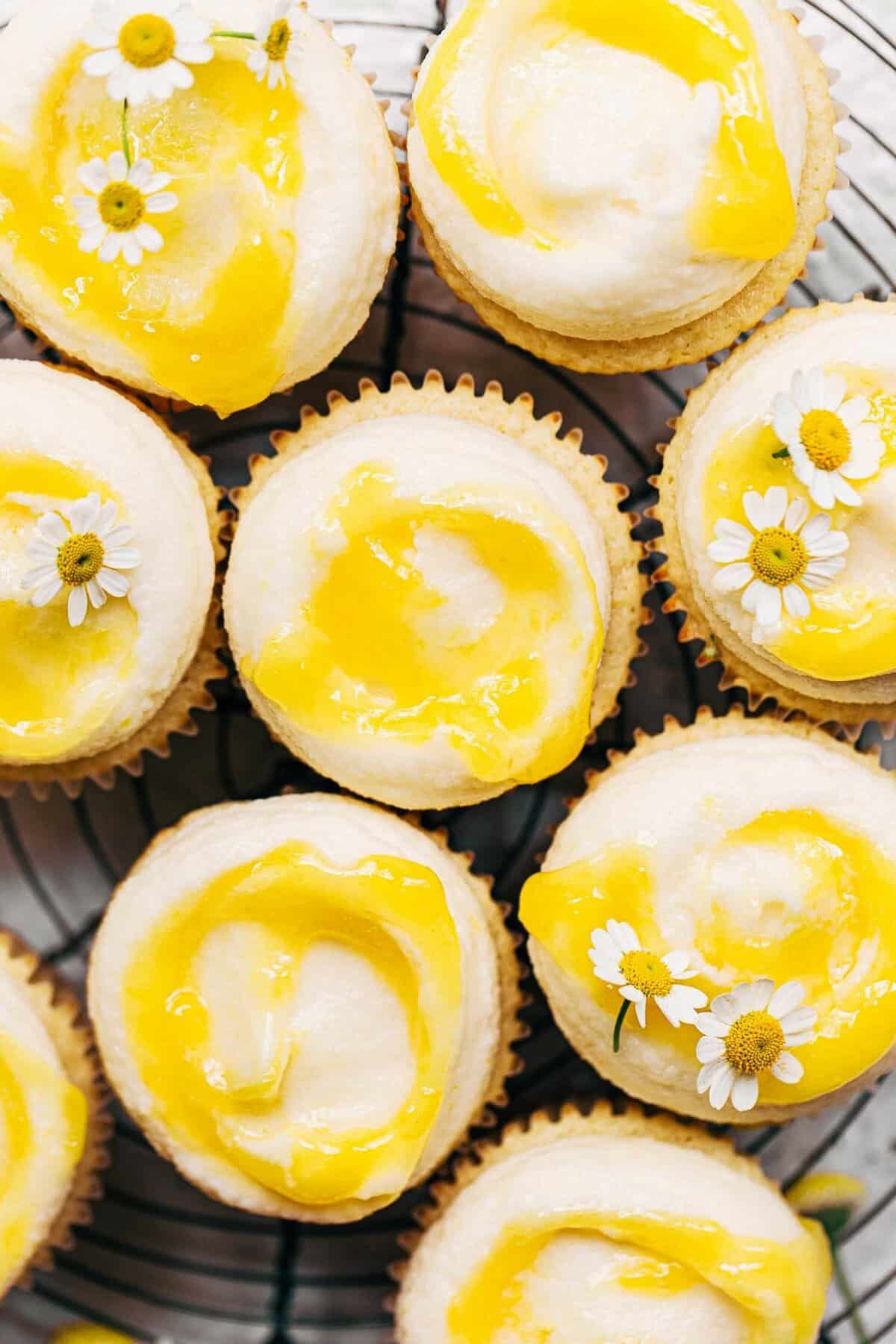 How to decorate lemon cupcakes
You can choose to pipe the frosting on top using a piping bag and a large tip, or you can create these homemade bakery-style swirls shown here. For the swirls, dollop a few spoonfuls of frosting on top of the center of cupcake.
Dip the tip of either a small offset spatula or spoon into the lemon curd, grabbing about 1 teaspoon worth. Then dig the very tip of your utensil into the center of the frosting mound as you rotate the cupcake in your other hand and move the spatula out towards the edges of the cupcake.
If you aren't happen with the amount of lemon curd, scoop more on the tip of your utensil and retrace your steps.
Can you fill the cupcakes with the curd?
Absolutely! Although a few minor tweaks must happen:
For swirling on top, leave the butter out of the lemon curd recipe. But if you want to FILL the cupcakes with the curd, follow my lemon curd recipe exactly which can be found in my recipe for lemon bar butter cookies.
Allow the cupcakes to cool completely. Then, use a cupcake corer or small paring knife to cut a hole in the center of the cupcake. Only cut about halfway down. Then scoop or pipe the curd into the cupcake cores and top with frosting.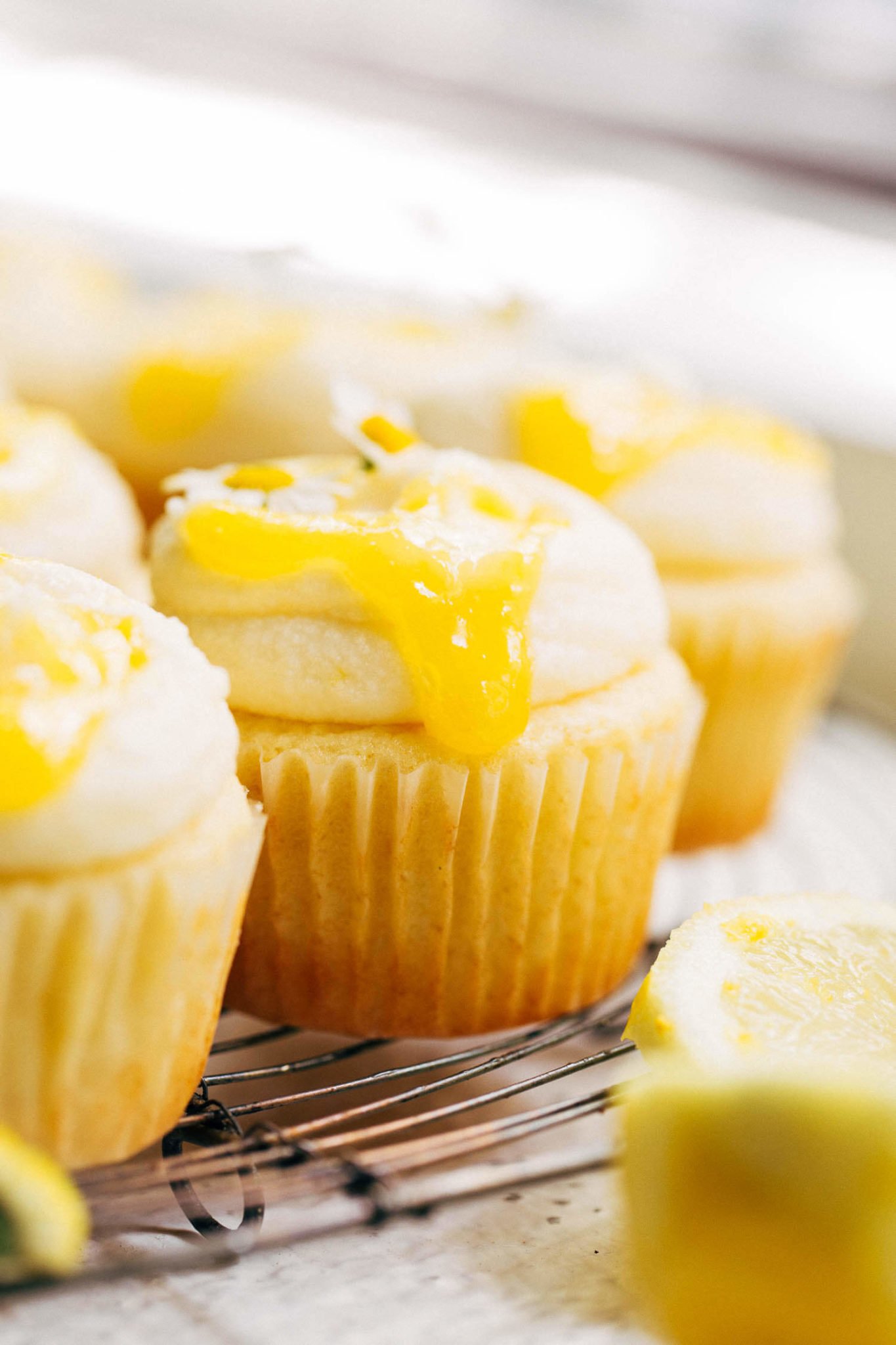 Lemon Cupcakes FAQs
Can these be made gluten free?
I haven't tested it, but I would suggest swapping the flour with a good gluten free baking flour blend. This one is my go-to. Just be careful when measuring the flour as it's a bit more dense than regular flour. I recommend weighing the flour rather than measuring by cups, just to ensure accuracy.
How long do these cupcakes keep?
They don't last long because of how fast they're eaten up! But for storage, they'll keep in the refrigerator for about 5 days. Just keep the cupcakes chilled whenever you can because the frosting does soften quite fast.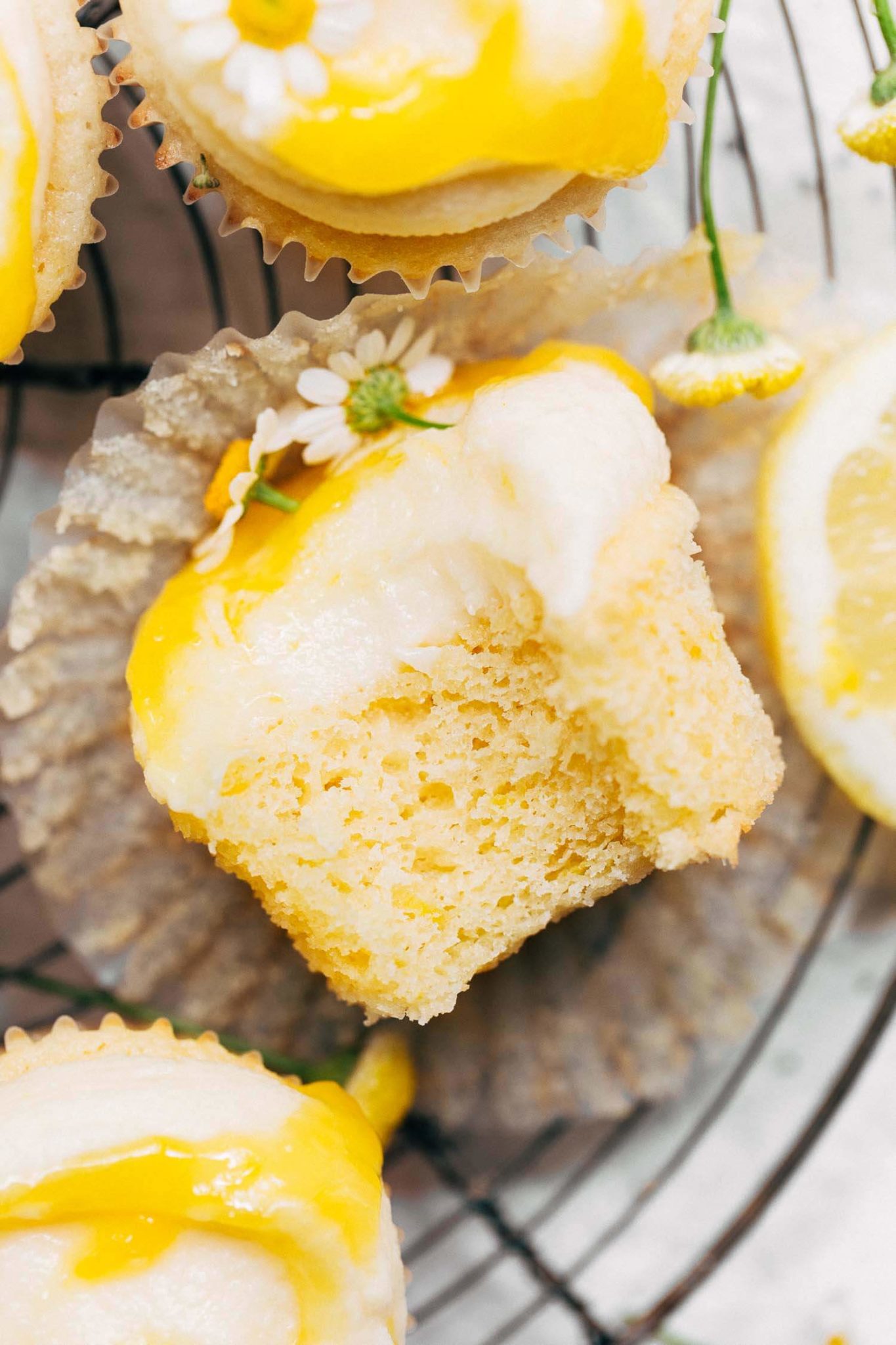 For more lemon dessert recipes, check out my:
Make sure to tag me @butternutbakery on Instagram and leave a review below if you make these lemon cupcakes. To pin this recipe and save it for later, you can use the button on the recipe card, the buttons above or below this post, or on any of the photos above. Happy baking!
Print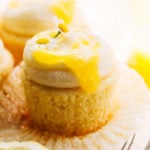 Lemon Cupcakes
---
Author: Jenna Barnard
Total Time: 1 hour + 1 hour cooling
Yield: 16 cupcakes
Description
Fluffy and moist lemon cupcakes with a creamy mascarpone buttercream and homemade lemon curd swirl!
---
Lemon Cupcakes
1/2 cup (110g) unsalted butter, room temp
1 cup (200g) granulated sugar
Zest of 2 lemons (1 tbsp)
2 large eggs + 1 egg yolk, room temp
1/4 cup (60ml) fresh squeezed lemon juice (3–4 lemons)
2 tsp vanilla extract
1 1/2 cups (195g) all purpose flour *see notes for GF option
1 tsp baking powder
1/2 tsp baking soda
1/4 tsp salt
1/2 cup (120g) sour cream**, room temp
Mascarpone Buttercream
3/4 cup (185g) unsalted butter, room temp
8 oz mascarpone cheese***, chilled
Zest of 1 lemon (1-2 tsp)
4 cups (480g) powdered sugar
2–3 tbsp heavy whipping cream, chilled
Optional
---
Instructions
*If you'd like to add lemon curd on top, make that first thing. Then, pour it into a counter and let it cool at room temperature while you make the cupcakes. By the time you're ready to frost, the curd will be thickened but still drippy – perfect for swirling.
Preheat your oven to 350F and line cupcake tins with 16 paper liners.
In a small bowl, mix together the flour, baking powder, baking soda, and salt. Set aside.
In a large bowl using a hand or stand mixer with the paddle attachment, add the sugar and lemon zest. Rub the zest into the sugar using your fingers which will release even more lemon flavor.
Add the butter and mix on high speed for 3-4 minutes, or until light and fluffy.
Mix in the eggs one at a time. Scrape down the bowl and mix in the lemon juice and vanilla. 
Pour in half of the dry ingredients and mix just until combined. Scoop in the sour cream and mix again.
Scrape down the bowl and add in the rest of the dry ingredients. Mix on medium-low speed and stop right when the dry ingredients are fully blended into the batter. The batter should be thick.
Evenly distribute the batter into each cupcake liner, filling each about half way full. Bake for 15-18 minutes or until a toothpick comes out clean.
Let the cupcakes cool completely before making the buttercream.
Mascarpone Buttercream
When ready, mix together the room temperature butter and chilled mascarpone using a hand or stand mixer with the whisk attachment.
Once combined, mix in the lemon zest.
Then mix in the powdered sugar one cup at a time until smooth. In between cups of powdered sugar, add in the heavy cream 1 tablespoon at a time. Start with just 2, and decided if you need the third by the end.
When everything is mixed in, kick the speed up the high and let it mix for about 1-2 minutes. The frosting should be smooth and creamy. If it's too thin, chill the frosting for about 30 minutes. 
Frost your cupcakes either with just the mascarpone frosting, or with the addition of a lemon curd swirl. Pop them in the fridge for 20 minutes to set. Enjoy!
Notes
*GLUTEN FREE – I haven't tested it, but I believe gluten free flour would work for this recipe. Substitute the flour with a good quality gluten free baking flour. I like Bob's Red Mill 1-to-1 gluten free baking flour. I also suggest weighing the flour rather than measuring by cups, to ensure accuracy.
**SOUR CREAM – You can also use full fat Greek yogurt.
***MASCARPONE – If you can't find mascarpone cheese, sub with room temperature full fat cream cheese.
STORAGE – Keep the cupcakes in an air tight container in the refrigerator where they will keep for up to 5 days. The frosting softens quickly, so always keep the cupcakes chilled. Serve either cold or at room temp. 
Prep Time: 45 minutes
Cook Time: 15 minutes
Category: Baking
Keywords: lemon cupcakes, cupcake recipes, lemon recipes, lemon cupcake recipe, lemon curd
Recipe Card powered by