If you're looking for an extra moist carrot cake recipe, this is for you! This is the BEST carrot cake because it its rich texture, spiced flavor, and smooth cream cheese frosting. It can also be made as a tall three layer cake or a wide two layer cake and can be decorated however you like!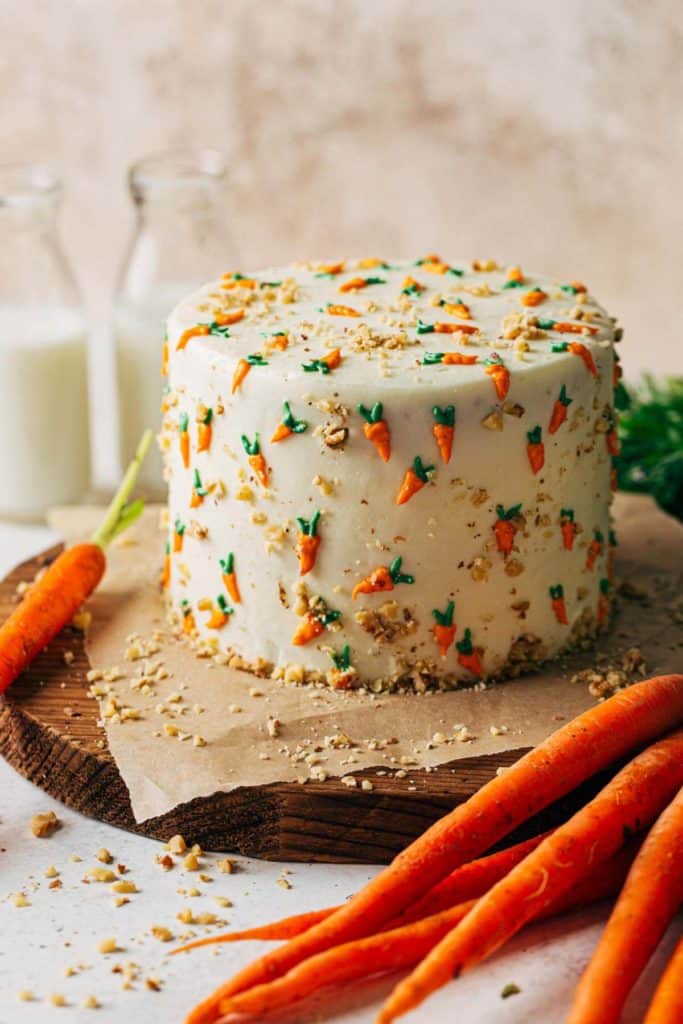 Carrot cake from scratch
If you've never had homemade carrot cake, meaning not from a box or pre-made, then get ready to have your mind blown. You'll be making carrot cake from scratch every year from here on out.
It starts, very obviously, with the carrots. Do not buy the bags of pre-shredded carrots as those aren't grated finely enough. Also make sure to buy organic carrots. I find they have much better flavor and texture than regular.
Start by rinsing and pealing your large carrots (not baby carrots). Using a box grater, grate using the second largest holes. You're wanting it to grate like a fine shredded cheese.
It takes about 5-6 large carrots to get the amount you need. Once you fill up 2 1/2 cups worth, set it aside.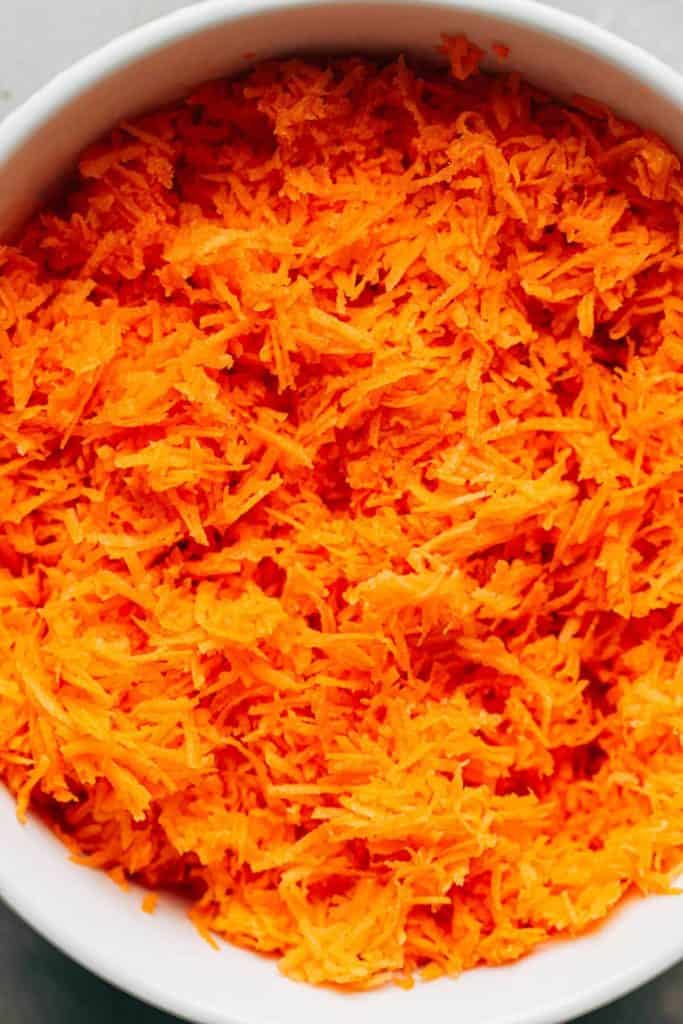 What spices are in carrot cake?
Next, we want to whisk together the dry ingredients. Carrot cake is typically made with a combination of warm spices such as cinnamon, nutmeg, cloves, and ginger. It closely resembles a spice cake but with more moisture from the carrots.
For this carrot cake recipe, we're using cinnamon, nutmeg, and clove. I found this combination lended the best flavor. Whisk together in a bowl along with salt, flour, and baking soda.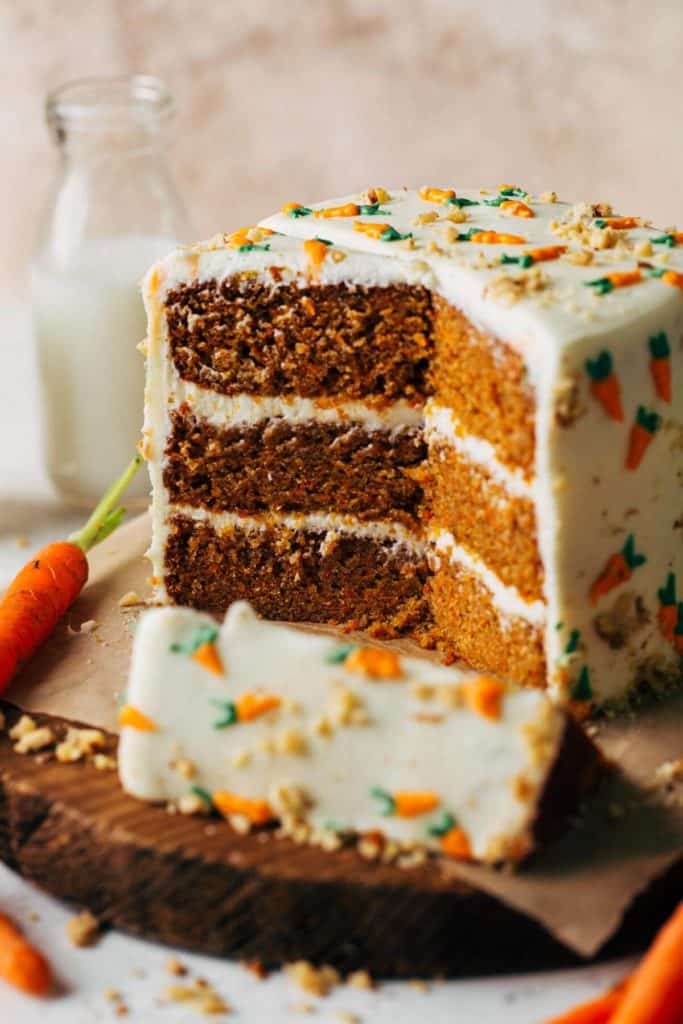 How to make a moist carrot cake WITHOUT pineapple
A little trick some like to do with their carrot cake is add some crushed pineapple. It adds tons of moisture but I like to have that carrot flavor stand alone. So here's what I do to make a SUPER moist carrot cake without any fruit!
The two simple ingredients that makes this cake amazing are the oil and Greek yogurt. I love using oil in cakes because not only does it make your cake moist, but it also STAYS moist for much longer than if you used butter.
That's because oil is 100% fat where butter is around 80%. But, it's important to use butter in cakes that don't have other flavors included.
For example, we use butter in a plain vanilla cake because you're able to actually taste the flavor of the butter. Otherwise, it would just taste like an oil cake. Since we're using carrots and spices in this cake, you don't notice the oil flavor and get to reap all the benefits of its delicious texture.
Greek yogurt also adds to the perfect texture of this cake. Most cakes might use buttermilk or whole milk. Because I'm using Greek yogurt, it makes the cake moist without making it too soft. If it's too soft, it might fall apart when stacking.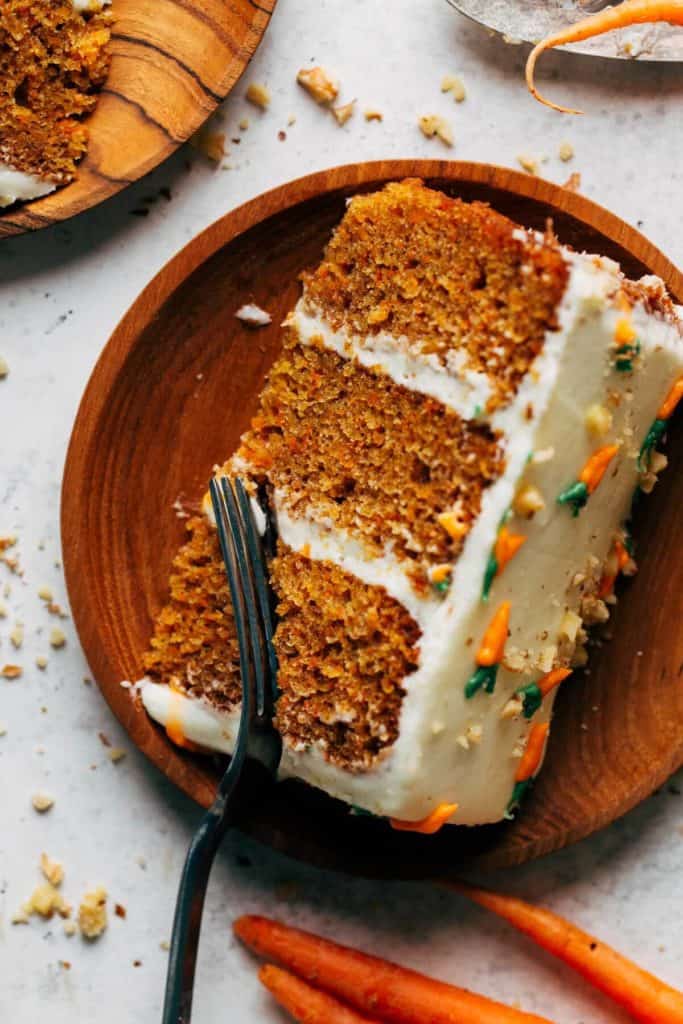 Baking your carrot cake
Once we've mixed together the sugars, eggs, oil, vanilla, Greek yogurt, carrots, and dry ingredients…your cake is ready to bake!
I used 3 round 6″ cake pans for this recipe. You could also use 2 round 8″ pans but keep an eye on it until it's done.
To get the PERFECT carrot cake layers, I love to use cake strips. You dampen and wrap them around the cake pans before baking.
This prevents the outside of the pan from heating up too quickly, thus lending a cake that is evenly baked all the way through. Plus, it gives you flat cake layers so you don't have to slice anything off the tops.
It's also important to not overfill your cake pans. Each should only be filled about 2/3 full. If your cakes sink in the middle, this could be due to overfilling or over mixing the batter.
It's done when the edges start to pull away from the pan and a toothpick stuck in the center of the cake comes out clean with a few moist crumbs.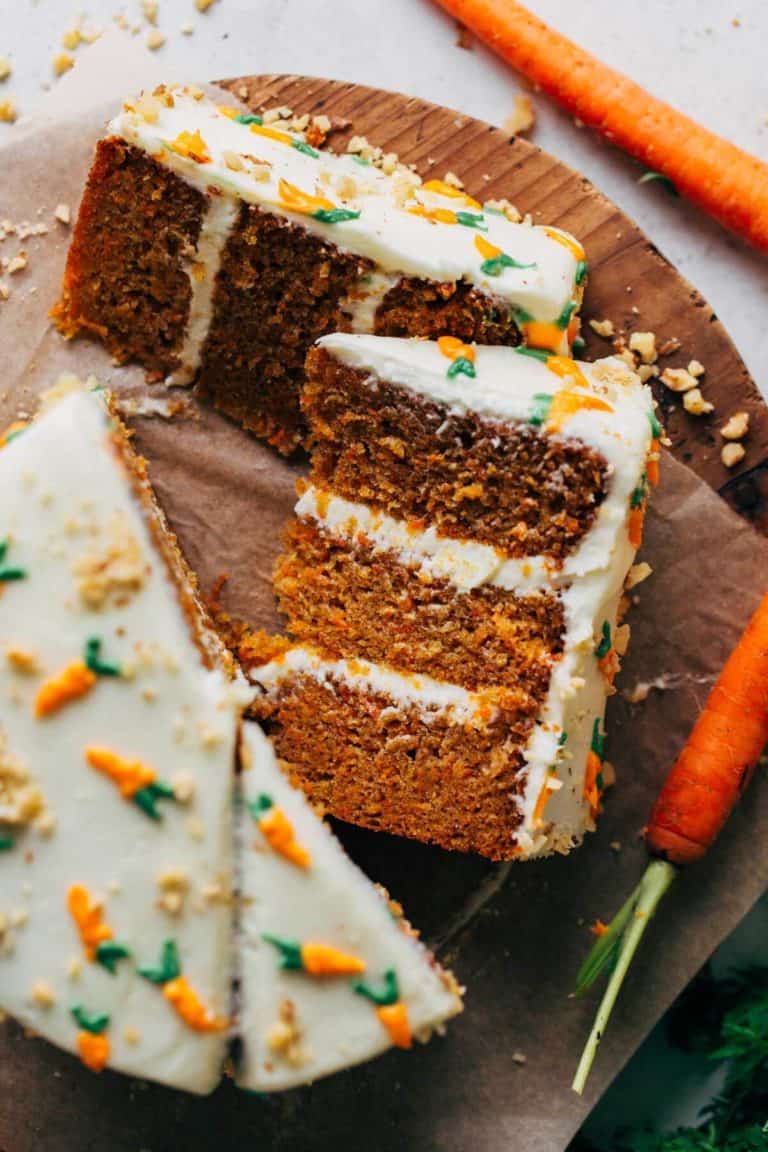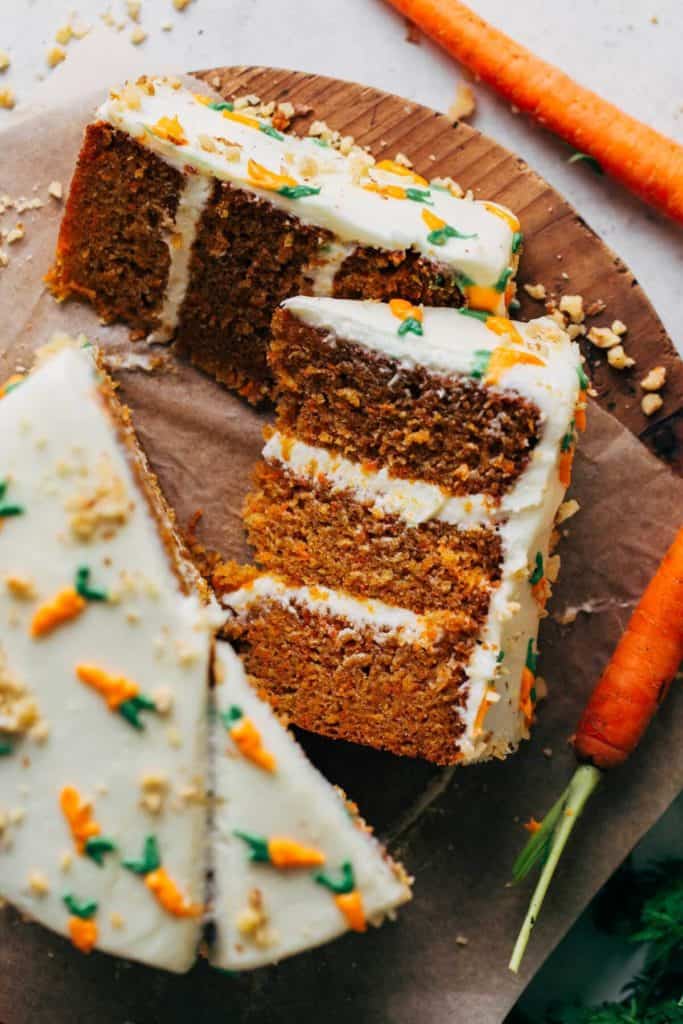 How to frost and speckle your cake
First and foremost, do not frost your cake until it is COMPLETELY cooled. After they've cooled in the pan, pop them onto a cooling rack for about 20 minutes. Then, wrap your layers in plastic wrap and place them in the fridge for at least 1 hour. This makes stacking your cake much easier.
When frosting the cake, spread about 1/2-3/4 cup of frosting between each layer. Once stacked, place it in the fridge for 20-30 minutes so that the frosting layers can firmed up. For more information on how to frost a cake using cream cheese frosting, check out my Cream Cheese Frosting 101 post.
Continue frosting the outside of your cake. Smooth out your sides and place the cake back in the fridge for another 30 minutes. Now with the remaining frosting, separate a few spoonfuls into two dishes.
In one dish, add one to two drops of green gel food coloring. I high recommend gel food coloring because it gives you the biggest color pay off with a minimal amount of dye. To give it a more natural green hue, dip a toothpick in brown gel food coloring and add a swatch to the green.
Do the same using orange and brown gel food coloring to dye the other bowl of frosting. Place the bowls in the refrigerator to thicken while the cake chills.
Transfer the colored frosting to two separate piping bags, each fitted with a small around tip. First pipe on the carrots in a scattered and random pattern. Then follow them up with two tiny lines of green above each carrot, which act as the stalks.
Finish off the cake with a light sprinkling of finely chopped walnuts and your carrot cake is complete!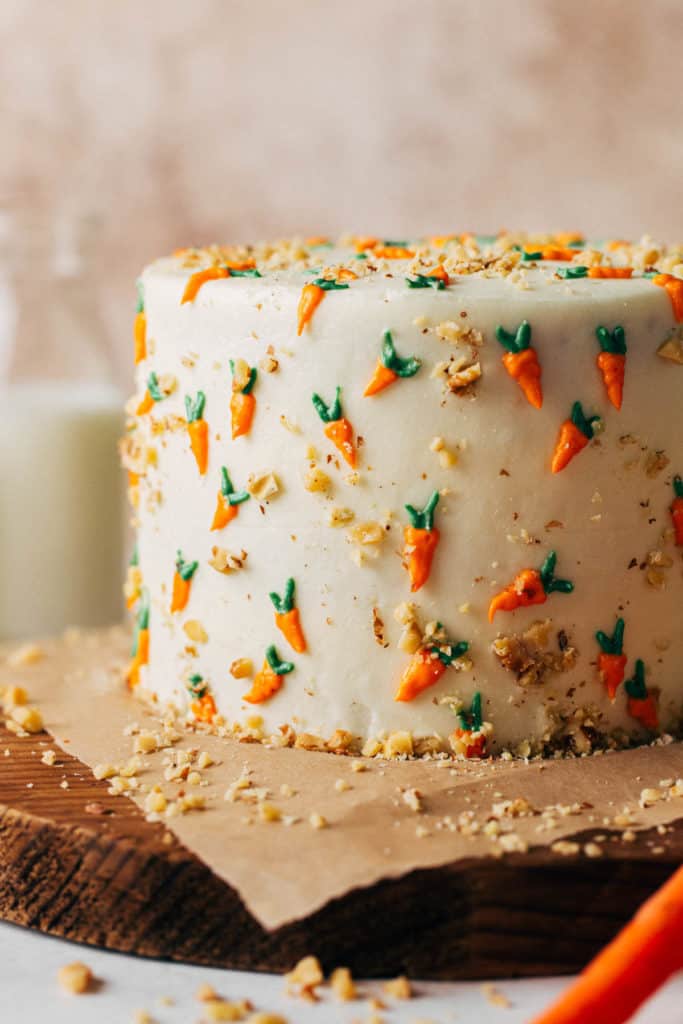 For more cake recipes:
Make sure to tag me @butternutbakery on Instagram if you make this Carrot Cake recipe. I love seeing my recipes come to life in YOUR kitchen! To pin this recipe and save it for later, you can use the button on the recipe card, the buttons above or below this post, or on any of the photos above. Happy baking!
Print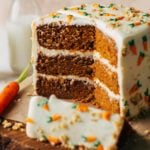 Perfect Carrot Cake
---
Author: Jenna Barnard
Total Time: 1 hour 50 minutes + 1 hour chilling
Yield: 10-12 slices
Description
This is truly the BEST EVER carrot cake recipe. It's incredibly moist, perfectly spiced, and smothered in cream cheese frosting. It's the only carrot cake recipe you'll ever need!
---
Carrot Cake
2 1/2 cups (245g) finely grated organic carrots
2 cups (255g) all-purpose flour, spooned into the cups then leveled
2 tsp baking soda
1/2 tsp salt
2 tsp cinnamon
1/4 tsp nutmeg
1/8 tsp clove
1 cup (220ml) vegetable or canola oil
3/4 cup (170g) light brown sugar, packed
3/4 cup (150g) granulated sugar
3 large eggs
2 tsp vanilla extract
3/4 cup (190g) Greek yogurt or sour cream
Frosting Carrots
1/4 cup finely chopped walnuts
---
Instructions
Carrot Cake
Wash and peal your carrots. Grate them using the medium-sized holes on a box grater. It should resemble very finely shredded cheese. Measure out 2 1/2 cups into a bowl and set aside.
Preheat the oven to to 350F and grease 3 round 6″ cake pans or 2 or 3 round 8″ cake pans. Line the bottom of each pan with a round sheet of parchment paper and, if you have them, wrap the pans with dampened cake sleeves.
Whisk together the flour, baking soda, salt, cinnamon, nutmeg, and clove. Set aside.
In a large bowl, whisk together the oil and sugars.
Once combined, mix in the eggs, vanilla, and Greek yogurt.
Fold in your dry ingredients and just before it comes together, fold in the carrots as well.
Evenly distribute your batter between the cake pans.
Bake for 35-40 minutes or until a toothpick in the center comes out with a few moist crumbs.
Let the cakes cool in the pan for about 20 minutes then turn them out onto a cooling rack to cool for another 20 minutes.
Wrap each layer individually in plastic wrap and refrigerate for about 1 hour. Chilling the layers makes it much easier to frost. You can also chill the cakes overnight and frost the next day.
Cream Cheese Frosting
While the cake chills, make your cream cheese frosting. If it's too thin, chill the frosting for about an hour to thicken.
To assemble, level off the tops of each cake using a cake level. Then, spread a thin and even layer of frosting between each cake.
Spread a very thin layer of frosting around the entire outside of the cake (also known as the crumb coat) and chill for 30 minutes.
Apply a thick layer of frosting around the chilled cake and then spread it even. See my post on how to frost a layer cake for more details. 
With any remaining frosting, you can pipe swirls on top of the cake and/or add carrot decorations all around the outside. Separate a few spoonfuls of the frosting into two dishes. To one, add one to two drops of green gel food coloring and a tiny toothpick swatch of brown. To the other, add one to two drops of orange gel food coloring and a tiny toothpick swatch of brown. 
Transfer the colored frosting to two separate piping bags fitted with small around tips. Pipe tiny carrots all around the outside of the cake, followed by the green carrot stalks. Sprinkle with finely chopped walnuts and then chill the cake for an hour to set.
Now slice and enjoy!
Prep Time: 1 hour
Cook Time: 40 minutes
Keywords: carrot cake, best ever carrot cake, carrot cake recipe
Recipe Card powered by