This isn't just any chocolate chip cookie recipe, because these cookies are baked with brown butter. These easy, chewy Brown Butter Chocolate Chip Cookies are an elevated version of a classic. They have a richer flavor, texture, and taste gourmet. You won't make chocolate chip cookies the same way again!
What is brown butter?
It's magical. Seriously, add brown butter to any recipe and it makes it 10x better!
Brown butter is melted butter that has been cooked down to release its milk solids. Once those have browned, you'll see the butter transform into an amber color and release a delicious nutty aroma. It basically smells like heaven.
It's along the same lines as roasting nuts in the oven, to release a deeper flavor.
It adds so much depth of flavor to any dish, either sweet or savory. It works perfect in chocolate chip cookies because it really shines through. You have the nuttiness of the brown butter, the sweetness of the brown sugar, and the richness of the chocolate.
How do you make brown butter?
Making brown butter is very easy to do, but is also very easy to burn. I walk you through how to brown butter more in depth in a separate post, but here are a few tips to follow:
Use a heavy bottomed saucepan. This prevents the butter from browning too quickly.
Melt the butter over medium heat. Stir occasionally at first.
As the butter melts, you'll see phases of bubbles. First, there will be a few clear bubbles. As the butter cooks, more and more bubbles will appear.
After about 5 minutes, the bubbles will start to turn into a foam. This is when you want to switch to stirring constantly.
Once the foam forms, the browning process will happen fast. Keep stirring to not only keep the milk solids from burning on the bottom of the pan, but to also push away the foam so you can see the butter.
When the butter turns an amber color and you start to see little brown flecks mixing into the foam, the butter is ready.
Remove from heat and pour into a heat proof container.
Scrape down the bottom of the pan because that's where all the brown bits like to stick. Don't leave those behind! That's where all the flavor is.
And you're done! Delicious brown butter to add to your chocolate chip cookies.
Tips for baking perfect chocolate chip cookies
These cookies have the best texture. They're gooey in the middle, chewy on the outside, and have soooooo much flavor. Following these tips will ensure you're baking them right every time:
Brown butter – Measure the brown butter exactly to one cup. The extra two tablespoons of butter should make up for the water that's evaporated during the browning process. If you come up short, add some water. If you have too much, remove some of the butter.
Stick to the recipe – This may be an obvious one, but don't leave any of the ingredients out. There are some odd ones in there, but they all matter in creating the best chocolate chip cookies.
Good chocolate – Use really good chocolate in these cookies because it's in every bite… so you can really taste a difference! I use Ghirardelli baking squares and semisweet chips.
Chill the dough – Patience patience patience. Chilling the dough enhances the flavor and texture of these cookies. Baking them straight away will leave you with a very thin and sad cookie.
Underbaked – If the cookies seem a little doughy in the center once baked, then you're doing it right! The center will be nice and soft while the edges are golden and chewy.
Sea salt – Don't forget this! The sea salt on top enhances all the flavors in these cookies. I use Maldon sea salt flakes.
FAQs
Why are there two different flours?
Two different flours are used in this recipe, bread flour and cake flour. These are used very strategically as they both work together to create the perfect texture.
Bread flour has a high protein content, higher than regular all purpose flour. This high amount of protein produces more gluten. And more gluten = more chewiness.
Cake flour, on the other hand, is on the opposite end. It has a lower protein content than all purpose flour and is lighter, softer, and much more fine. It produces a much more delicate texture which is why it's great in things like, well, cake.
Pairing the two together allows me to hit that sweet spot between ultra chewy but also delicately soft. I lose that control when using just all purpose flour because it just rings in one note. Using different flours adds layers of texture to these cookies.
Can I use all purpose flour instead?
Yes… but I would prefer it if you didn't! To get the full affect of these cookies, you really need to use the two different flours. All purpose will do the job, but you won't be left with that perfect texture. Your cookies could also turn out a little bit drier.
Why is there lemon juice?
So you might be wonder… uhh… lemon juice?… in chocolate chip cookies? Ok hear me out!
Lemon juice is highly acidic, so adding just a touch to this chocolate chip cookie recipe helps to break down some of the gluten. This is how you get a chewy but also tender cookie… in conjunction with the bread and cake flour. Definitely don't leave it out!
And why is there Espresso powder in these chocolate chip cookies?
The one last ingredient that might raise some eyebrows. Adding espresso powder to ANYTHING that has chocolate in it only enhances the chocolate flavor.
You can't taste the espresso, as it's only there to highlight the chocolate flavor. But without it, you lose that extra depth of flavor.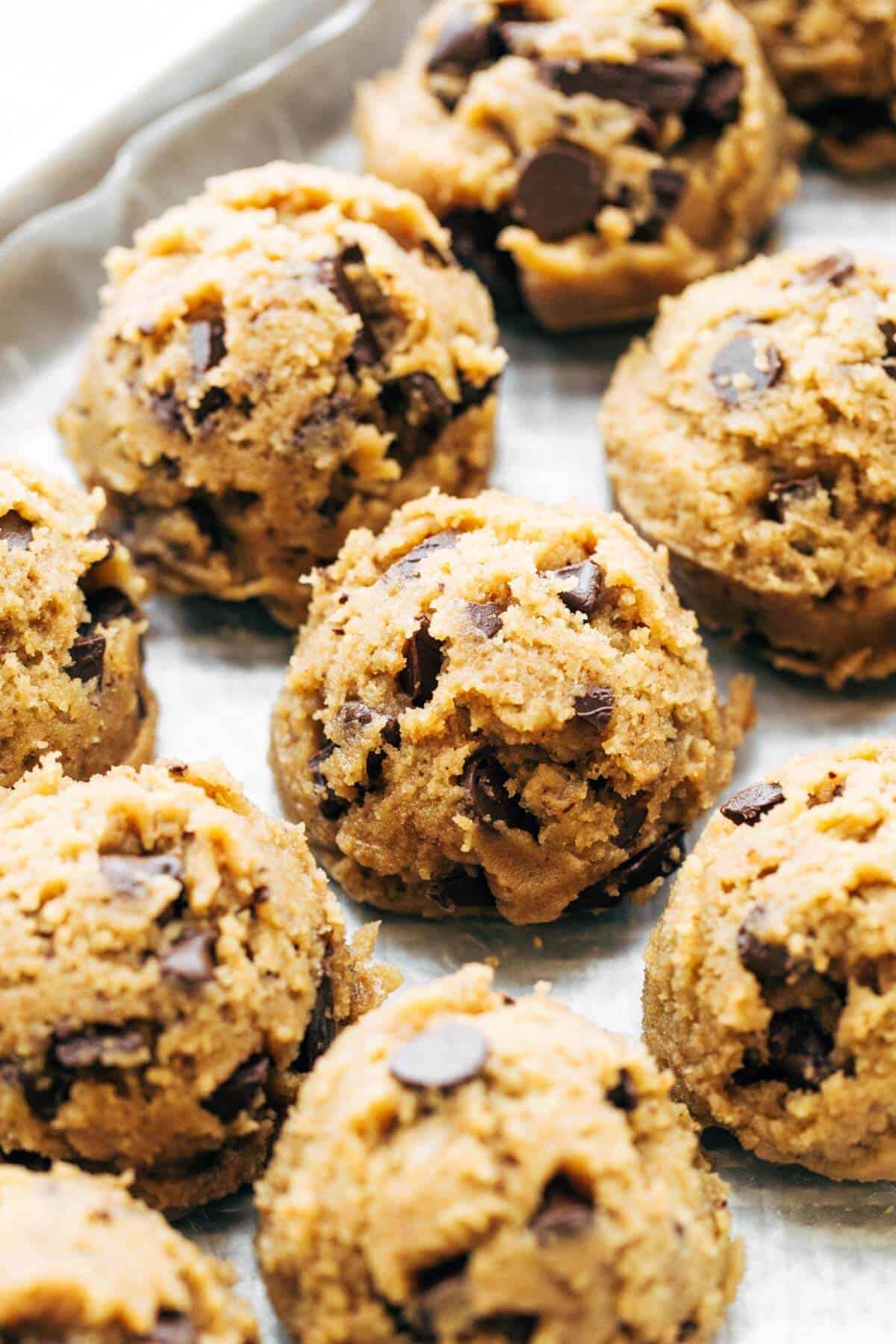 Why do I have to chill the dough?
I know, who wants to wait a whole day to bake their chocolate chip cookies? But trust me, it's well worth the wait.
Chilling the dough is very important step in this recipe for a couple reasons.
First, chilling the dough gives cookies the perfect texture. As they chill, they're also losing some of the excess water in dough. It's both evaporating and also being fully absorbed by the flour and sugar.
This allows the cookies to spread nice and even in the oven. It's also what gives you that chewy outside and soft and doughy inside. Chilled dough takes longer to spread and heat up in the middle, so the center is just barely baked.
Reason number two is the flavor which also comes back to the excess water. As the cookies dry out, the flavors become more and more concentrated. The same concept applies to kool-aid – if you add less water to the mix the flavor is much stronger.
In the end, you're left with a super rich cookie with the BEST texture. See? Waiting doesn't seem too bad after all.
How to chill the cookie dough
When the dough is freshly made, prep a small baking tray by covering it in wax or parchment paper.
Using a large 2 oz cookie scoop, scoop the cookie out onto the tray, placing them side by side.
Pop the tray into the fridge uncovered. Let the dough chill for at least 4 hours but preferably overnight.
Bake the chilled cookie dough straight from the fridge. The cookie dough should be almost hard as a rock when you place them in the oven.
How to bake brown butter chocolate chip cookies
These cookies are baked at 350F for at least 12 minutes. That is, if you're baking large cookies. If you're baking medium-sized cookies, start at 10 minutes.
They're baked on a large baking sheet lined with parchment paper. Space the cookies 2 inches apart as they spread quite a bit. I recommend only baking 4-5 cookies at a time so you have plenty of space.
When the 12 minutes are up, the outside should be golden brown and the inside still pale and slightly doughy. As the cookies cool, they'll settle and darken just a bit.
If they aren't there, bake for an extra minute. You definitely don't want to over bake these!
When they're done, sprinkle each cookie with a little bit of sea salt while they're still warm. This helps the salt stick.
Now dig in! They're the best when warm.
How long do brown butter chocolate chip cookies keep?
Store your cookies in an air tight container at room temperature. They'll still taste good for up to 5 days. More than that and they will taste a bit dry.
Can I freeze the cookie dough?
Yes! When you've scooped the dough, place it in the fridge for an hour to harden just a bit. Then, toss the dough balls into a freezer safe plastic bag and freeze for up to 3 months.
When you're ready to bake, take the cookie dough out of the freezer for 30 minutes to thaw. Then add an extra minute on to your bake time.
This also works great as gifts! I like to send my friends and family the raw and scooped cookie dough with the instructions on how to bake and a small container of sea salt. There's just nothing better than a warm brown butter chocolate chip cookie.
For more chocolate chip cookie recipes, check out my:
Make sure to tag me @butternutbakery on Instagram and leave a review below if you make these Brown Butter Chocolate Chip Cookies. To pin this recipe and save it for later, you can use the button on the recipe card, the buttons above or below this post, or on any of the photos above. Happy baking!
Print
Brown Butter Chocolate Chip Cookies
---
Author: Jenna Barnard
Total Time: 35 minutes + chill overnight
Yield: 12 large cookies
Description
Brown butter chocolate chip cookies are an elevated version of a classic recipe. They're rich, chewy, gooey, and loaded with chocolate chunks.
---
1 1/4 cups (145g) cake flour
2/3 cup (100g) bread flour
1 tsp salt
1 tsp  baking soda
1 cup + 2 tbsp unsalted butter, browned to make 1 cup
1 cup dark brown sugar
1/2 cup granulated sugar
2 tsp vanilla extract
1 tsp  espresso powder
1/2 tsp fresh lemon juice
1 large egg + 1 egg yolk
1/3 cup semisweet chocolate chips
5 oz dark chocolate, chopped
Maldon sea salt for sprinkling
---
Instructions
Start by browning the butter. I walk through the entire browning process here. 
When it's done, pour it into a glass measuring cup. Scrape down the bottom of the pan because you don't want to miss those brown bits at the bottom. Make sure it measures 1 cup. If it's a little over, take some out. If it's a little under, add some water.
Place it in the fridge to cool down. Don't leave it in for more than 30 minutes. It should be a liiiiittle warm to the touch but not hot.
While the butter chills, chop the chocolate.
Then, combine the flours, salt, and baking soda in a bowl and set aside.
In a large bowl, mix together the sugars, espresso powder, and cooled brown butter. It will not be smooth, but do your best to combine the ingredients.
Mix in the vanilla, lemon juice, and eggs. Finally, slowly incorporate the dry ingredients until the dough comes together – careful not to over mix. Fold in the chocolate.
Using a large 2 oz cookie scoop, scoop out the cookie dough onto a cookie sheet lined with wax paper to prep for the fridge. Recipe makes 12-13 large cookies. Refrigerate uncovered for at least 4 hours but preferably overnight.
Once chilled, preheat the oven to 350F and bake the cookies for 12-14 minutes. Space the cookies about 2 inches apart. You're looking for golden brown edges and a pale doughy center.
Sprinkle with some sea salt when they're fresh from the oven then transfer to a cooling rack. Doing it while they are still warm helps the salt stick. Careful when transferring as the cookies will still be soft.
Cool completely before eating. Enjoy!
Notes
Store your cookies in an air tight container at room temperature. They'll still taste good for up to 5 days. More than that and they will taste a bit dry.
Prep Time: 20 minutes
Cook Time: 15 minutes
Keywords: chocolate chip cookies, the best chocolate chip cookies, brown butter chocolate chip cookies, brown butter
Recipe Card powered by