These bakery-style Salted Caramel Chocolate Chip Cookies have been a favorite for years! I bake up a fresh batch for just about any occasion because they're an absolute crowd-pleaser. With a chewy edge, gooey center, chocolate, caramel, and sea salt, EVERYONE loves them!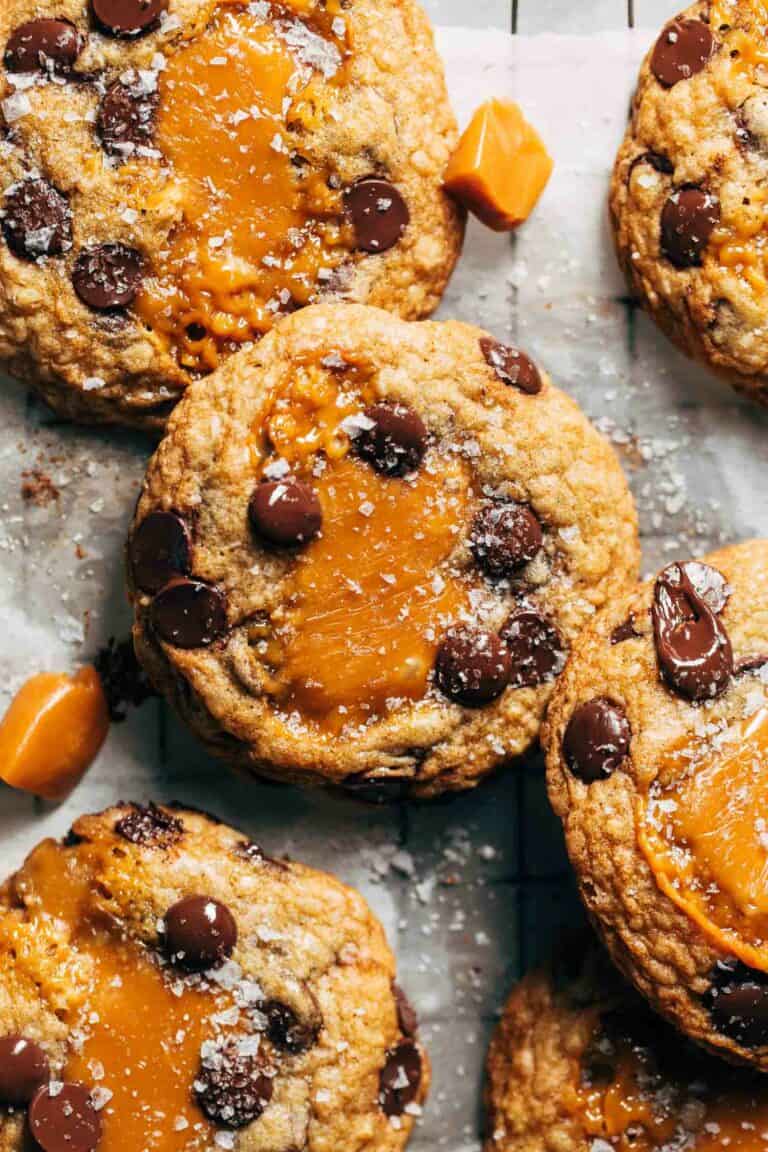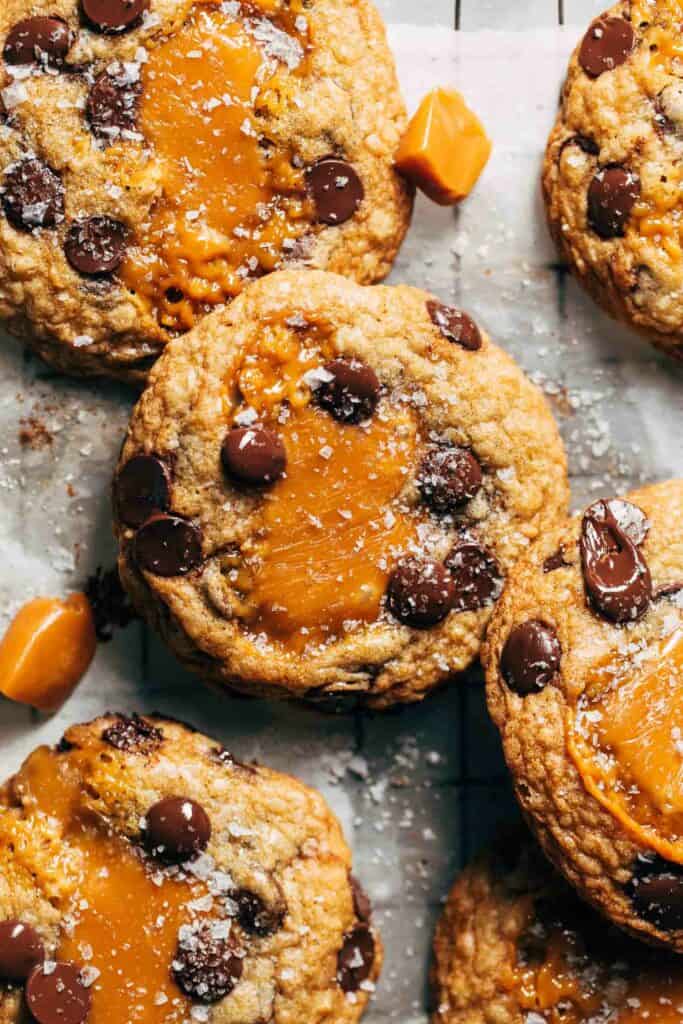 Why are these chocolate chip cookies so good?
One unique ingredient in these cookies is lightly ground oats. They add so much texture to these cookies and help to create that ooey gooey center. The oats don't absorb as much as moisture as flour so you're left with a very soft dough.
To get the perfect consistency, dump your oats into a food processor and pulse about 5-6 times. It should look like the photo below.
You also want to make sure to use old fashioned rolled oats as opposed to quick oats. They're much heartier so they don't retain as much moisture and absorb into the cookie.
Another important step to take these cookies to the next level is to really whisk together the butter and sugar. This goes for almost any cookie recipe. You can use an electric mixer to make it easier but I like to make these cookies by hand.
There's just something about manually mixing your dough that makes the end product so much more satisfying!
The butter and sugar will look somewhat separated at first but keep whisking until you get a smooth and silky consistency. This lightens your cookie dough and creates a more homogeneous cookie.
How to bake caramel into cookies
This step is actually very simple but takes a little extra time. For this salted caramel cookies recipe, the caramels are baked on top rather than inside the dough!
I like to use Werther's soft caramels here because once melted into the cookie, they don't stick to your teeth like crazy. It just gives a soft and silky caramel bite – leave the homemade salted caramel for another recipe!
One important thing to keep note of is the size of your caramels. Using the Werther's soft caramels, I cut them in half before adding them to the dough. To make this easier, chill the caramels for about an hour before cutting.
You want to make sure your caramels are proportionate to the size of your cookies, otherwise a large caramel piece in a small cookie will cause it to spread too much in the oven. You'll be left with a puddle of melted caramel and hardly any cookie.
If you plan on making smaller cookies, cut your caramels a bit smaller. Again, I halved mine but you could quarter them as well for a more standard cookie size.
The caramels are then wedge into the center of each cookie dough ball before baking. This allows the caramel too melt with the cookie and not outside of the cookie! The older version of this recipe had the caramels mix in to the dough which would cause the caramel to melt everywhere.
By containing the caramel into the center of each cookie, these can bake into perfect salted caramel chocolate chip cookies.
To bump up the caramel, the warm cookies are topped with even more caramel! Since we're using soft chew caramels, the extra bits will just melt into the warm cookies, creating extra thick puddles of caramel.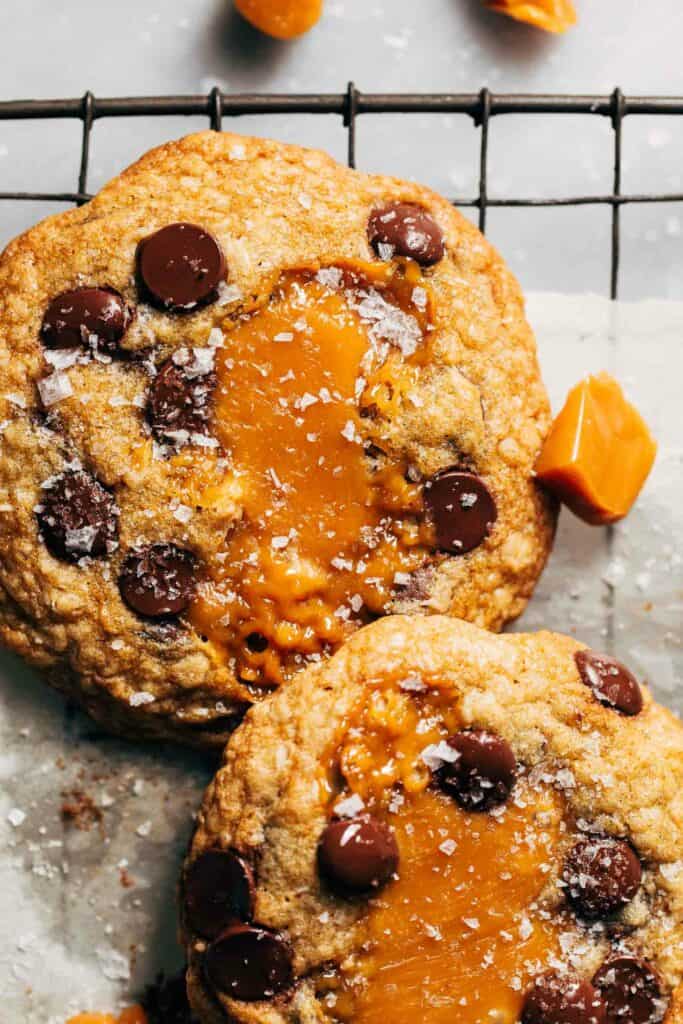 Why chill cookie dough before baking?
The reason being, the dough is partially made up of oats. The chew of the oats adds a great textural element to these cookies, but it also needs a little extra time to hydrate.
Allowing the dough to chill for just 30 minutes gives the oats a chance to plump up and hydrate which then creates a stronger dough.
You'll notice that right after the dough is mixed, it's rather thin. If the dough were to be baked right away, it would likely bake into thin and sad puddles of cookie dough.
Chilling also gives the dough a chance to firm up, making it scoopable and spreadable. Once chilled, the dough is thick, no longer sticky, and easily holds its shape.
This is perfect for baking and for wedging in the caramels before baking!
Why you want to under bake these salted caramel chocolate chip cookies
You'll notice the cookies might look a little underdone but that's exactly what we're going for.
As the cookies cool, they'll continue to bake and settle from the residual heat. Thus, giving you a cookie that looks exactly like the ones above.
Using this method will help you get that perfectly chewy outside and soft inside.
And don't forget the sea salt on top! My favorite is by Maldon and that little box has lasted me so long. I've hardly made a dent. Sprinkle some on top of the WARM cookies so that it sticks. It not only looks great, but it enhances the flavor of these delicious salted caramel chocolate chip cookies.
For more delicious chocolate chip cookie recipes, check out my:
Make sure to tag me @butternutbakery on Instagram or comment below if you make these Salted Caramel Chocolate Chip Cookies. To pin this recipe and save it for later, you can use the button on the recipe card, the buttons above or below this post, or on any of the photos above. Happy baking!
Watch how to make these salted caramel chocolate chip cookies:
Print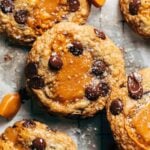 Salted Caramel Chocolate Chip Cookies
---
Description
These salted caramel chocolate chip cookies are crisp and chewy on the outside and gooey on the inside. With pieces of caramel baked in the center, there's a bit of chocolate and caramel in every bite. A pinch of flaky sea salt on top of each cookie helps bring out the caramel flavor even more!
---
1/4 cup + 2 tbsp (40g) old fashioned oats
1 cup (132g) all-purpose flour
1/4 tsp baking soda
1/2 tsp kosher salt
1/4 tsp ground cinnamon
1/2 cup (110g) unsalted butter, melted
1/2 cup (100g) light brown sugar, packed
1/4 cup (50g) granulated sugar
1 tsp vanilla extract
1 large egg
1 cup (180g) dark chocolate chips
3/4 cup Werther's soft caramels, chilled
Flakey sea salt for sprinkling
---
Instructions
First cut the caramels. Make sure they're chilled for easy chopping. Unwrap and chop each caramel in half, filling 1/2 cup. Return the cut caramels to the refrigerator and keep 1/4 cup worth whole and at room temp to soften. 
Add the oats to a food processor and pulse 5-6 times. You should be left with some finely ground bits with some larger chunks. See photo in post for reference.
Whisk together the oats, flour, baking soda, salt, and cinnamon. Set aside.
In a large bowl, whisk together the sugars and melted butter. 
Whisk in the vanilla and eggs.
Fold in the dry ingredients until combined. Then, fold in the chocolate chips.
Cover and chill the dough for 30 minutes.
When ready, preheat the oven to 350F and line a large baking sheet with parchment paper. 
Using a large cookie scoop (3 tbsp worth), scoop 4 cookies onto the large baking sheet. Then press two half pieces of the chilled caramel into the center of each cookie. Mold each cookie dough ball in your hands to help contain the caramels. Top with a sprinkle of extra chocolate chips if desired (see picture in post for reference). Return the remaining dough to the refrigerator. 
Bake for 12-14 minutes. The edges should be a nice golden brown and the center still slightly underdone.
Using the remaining room temperature caramels, tear in half and flatten out each half into a thin disk. Place the caramel disk into the center of an existing caramel puddle on the freshly baked cookies. Each cookie gets one half of a room temperature caramel. 
The caramel will slowly melt into the cookie to create DOUBLE the caramel goodness. Sprinkle with flaky sea salt then transfer to a cooling rack. Continue to bake the rest of the dough.
Allow the cookies to cool for about 20 minutes, then enjoy!
Equipment
Prep Time: 18 minutes
Chill Time: 30 minutes
Cook Time: 12 minutes
Category: Dessert
Method: Baking
Cuisine: American
Keywords: salted caramel chocolate chip cookies, chocolate chip cookies, caramel cookies
Recipe Card powered by