These pumpkin chocolate chip cookies are anything BUT cakey! They're so rich with a buttery texture and gooey chocolate chips. Each bite just melts in your mouth and has the perfect balance of chocolate with a hint of pumpkin spice. Also made with brown butter, it's simply just the perfect pumpkin chocolate chip cookie recipe.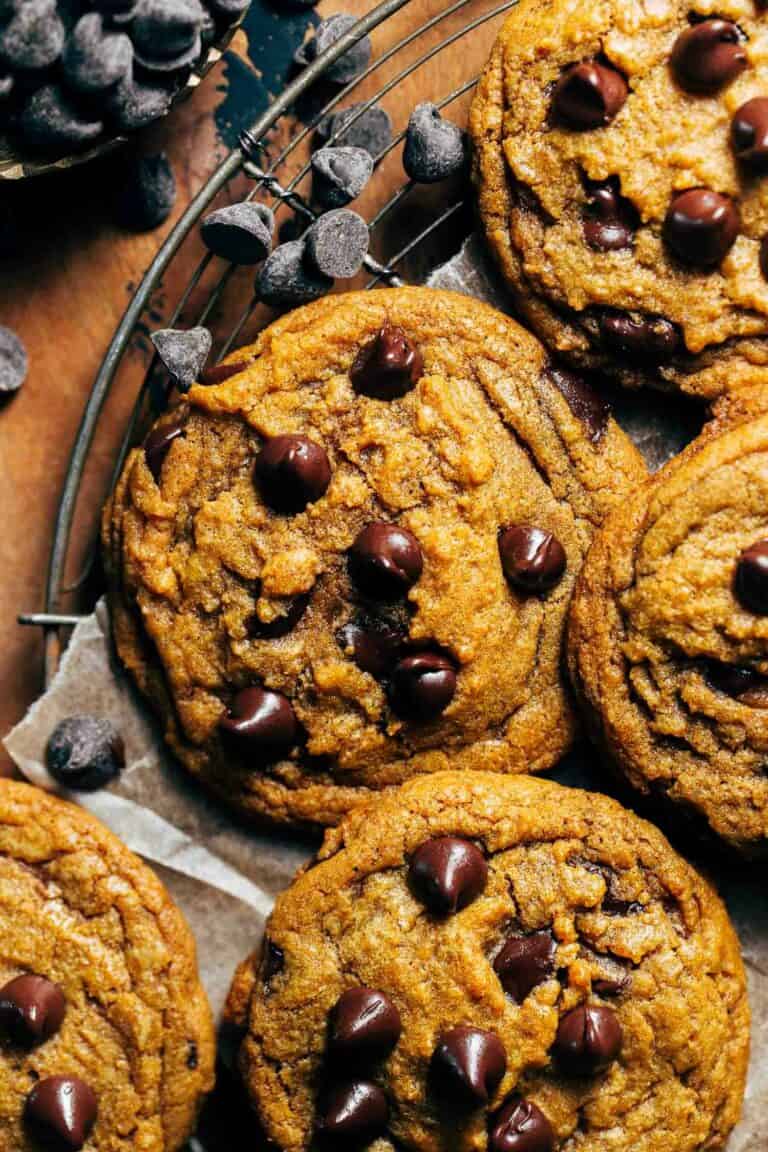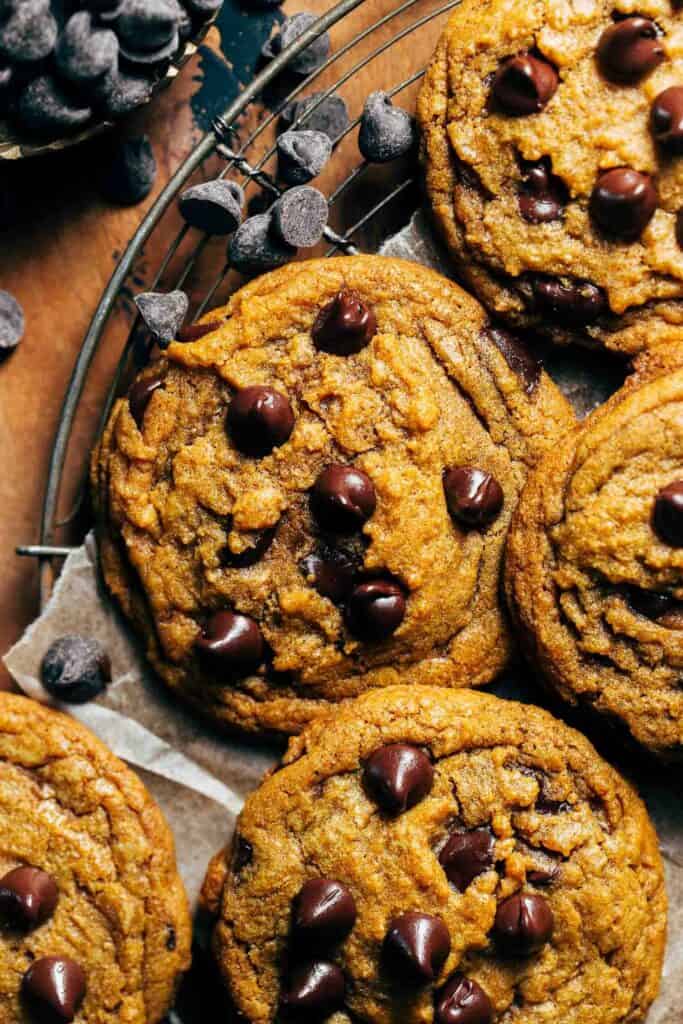 The BEST Pumpkin Chocolate Chip Cookies
I take the term "best" very lightly so when I claim something is the best, it's because it truly is!
These pumpkin chocolate chip cookies are unlike any other. Rather than fluffy and cakey, they're rich and buttery with chewy edges and a gooey center. It's basically my dream chocolate chip cookie.
Not only is the texture PERFECTION, but the flavors are just as incredible. These pumpkin cookies are made with brown butter which provides a layer of rich nutty flavor.
Taking care not to overwhelm these cookies, the dough uses just a teaspoon of pumpkin pie spice. It's enough to help bring out the pumpkin flavor but not too much to where it overpowers the chocolate. It's basically the goldilocks of pumpkin chocolate chip cookies.
Last but not least, the dough is made completely by hand and no chilling is needed. Just brown up the butter, mix the dough, scoop, and bake! Your pumpkin cookies are ready in only an hour.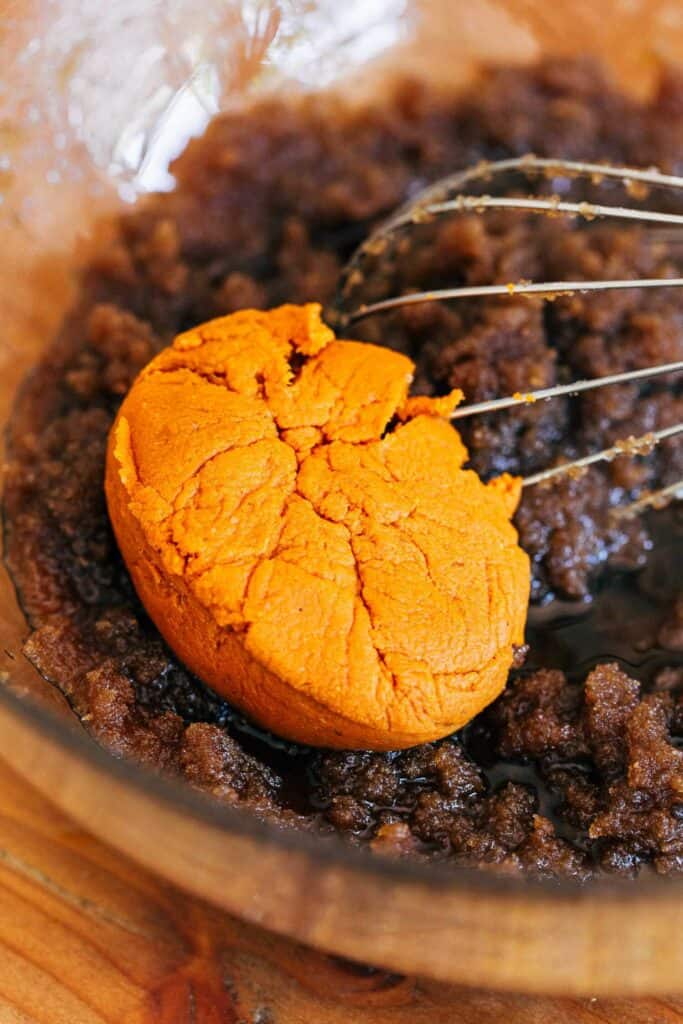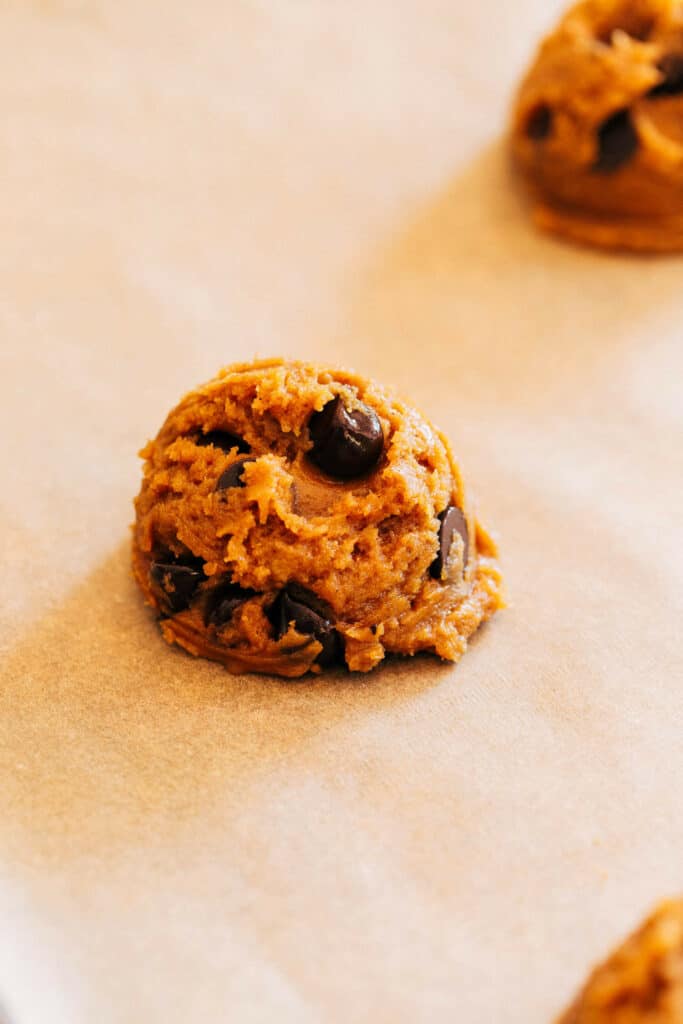 How to Make Pumpkin Cookies NOT Cakey
In my personal opinion, cookies should never ever be cakey. They're meant to deliver so many delicious textures and cakey is not one of them. That's what cake is for!
But when it comes to pumpkin, it's very easy to make a cakey cookie. The moisture from the pumpkin basically turns the dense cookie dough into fluffy cake batter.
So to battle this, the pumpkin is wrung out before use and no special equipment is required!
Using paper towels, the pumpkin is placed in the center of a clean sheet and wrapped up. Gently squeezing the bottom, moisture is wrung out until the paper towel can no longer hold together. When this happens, it's replaced with a new sheet.
All together, the wringing process uses 4 sheets of paper towels and about 3 good squeezes. This process can also be done with a cheesecloth instead, but that's not a highly common kitchen item so I provided this paper towel option instead. But if you have one, go for it!
To check and make sure enough moisture is squeezed out, measure the pumpkin in a 1/3 measuring cup. The pumpkin should reduce by about half, so this is the perfect measure to ensure it's just right. If it overflows the cup, give the pumpkin another good squeeze and that should do the trick.
It's very important to not skip this step! Otherwise you will be left with cakey (or potentially soupy) pumpkin cookies.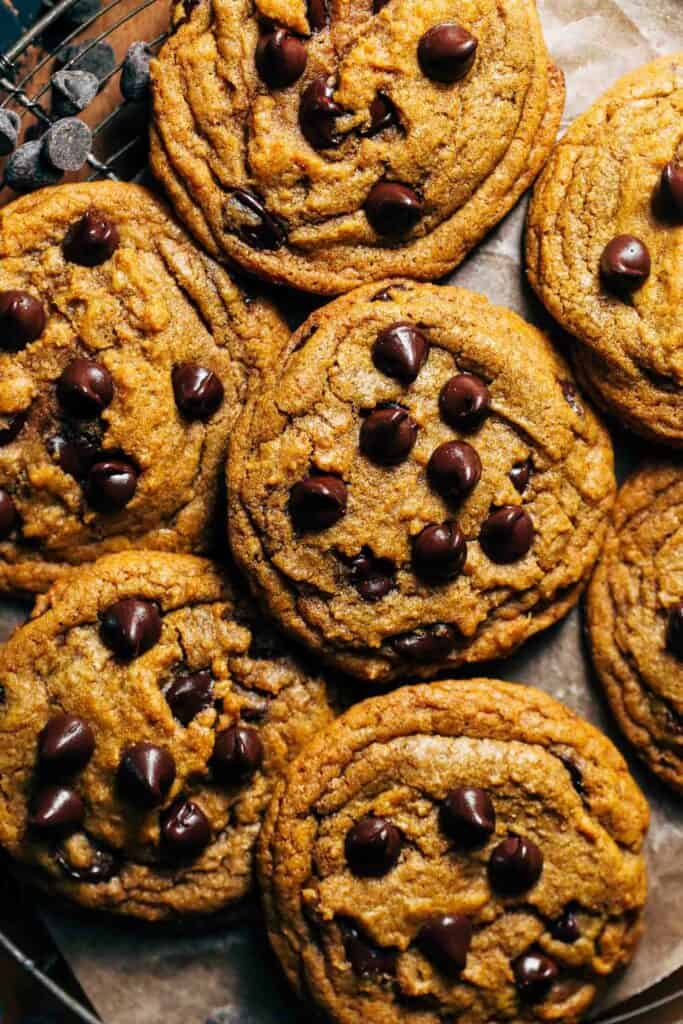 Tips for Baking Perfect Pumpkin Chocolate Chip Cookies
This recipe can get a little tricky only because pumpkin can be difficult to work with when it comes to cookies. So to ensure yours turn out just right, here's what you need to know:
Pumpkin – First, use 100% pure pumpkin and not pumpkin pie filling. Second, measure the pumpkin once it's wrung out to make sure it has reduced by half in size. Otherwise, if too much moisture is kept in, the cookies can turn a bit cakey.
Butter – If possible, use a high quality butter. This is typically called "European-style" or "cultured" butter. These have a higher butterfat, so these cookies will turn out extra rich.
Flour – To ensure you use the exact amount needed for these cookies, gently spoon the flour into your measuring cup and level if off with a flat edge. If you scoop directly into the flour container, it pacts it down into the cup which could leave you with 1/4 cup or more of added flour. If your cookies don't spread properly, this is likely the culprit.
Size – Scooping big cookies is what will provide that thick and gooey center. Use a 2 oz cookie scoop (I linked mine at the bottom of the recipe card) or a 1/4 measuring cup.
Baking – Pull the cookies when they look slightly underdone in the center. As the cookies cool, that center will set into the perfect rich and gooey texture.
Pumpkin Chocolate Chip Cookies FAQs
Why did my cookies spread so much?
If you find your cookies spread too thin, the butter might have been too hot when mixed into the dough OR you were a little too light handed with the flour. To fix this, either cover the dough and chill for 30 minutes or mix in an extra tablespoon or two of flour.
Can I replace the dark brown sugar with light brown sugar?
You can, but the flavors won't be as rich and the cookies might not spread as much as they should.
Can these pumpkin cookies be made gluten free?
I haven't tested it, but I do think they could work with a gluten free baking flour. I would try 1 3/4 cup cup for cup gluten free baking flour and 1/4 cup almond or oat flour.
Can I replace the chocolate chips with white chocolate chips?
Sure! Just know that the cookies might not spread as much, but will still be just as tasty.
Can you freeze pumpkin chocolate chip cookie dough?
Sure! First, scoop the dough and chill until solid. Then place the balls into a freeze bag and store for a couple months. To bake, allow the dough to come up to room temperature and then bake as instructed.
How do you store pumpkin chocolate chip cookies?
The cookies will keep at room temperature for a few days. Any longer and they will need to be stored in the refrigerator where they can last about a week.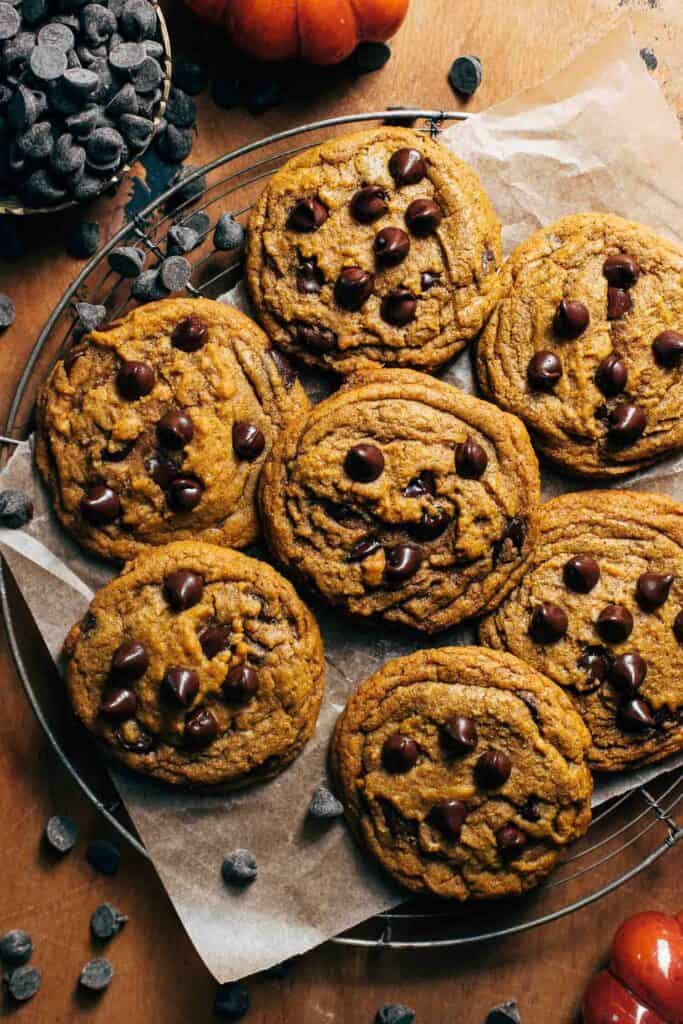 For more pumpkin dessert recipes, check out my:
Make sure to tag me @butternutbakery on Instagram and comment below if you make these pumpkin chocolate chip muffins. To pin this recipe and save it for later, you can use the button on the recipe card or on any of the photos above. Happy baking!
Print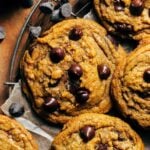 Pumpkin Chocolate Chip Cookies
---
Description
These pumpkin chocolate chip cookies are rich and gooey with melty chocolate chips and a hint of pumpkin spice! Made with brown butter, these cookies are also loaded with flavor and bring all the warm and cozy vibes needed for a delicious fall cookie recipe.
---
Pumpkin Chocolate Chip Cookies
1 cup (222g) unsalted butter
1 cup (208g) dark brown sugar, packed
1/2 cup (100g) granulated sugar
2 large egg yolks
1 tsp vanilla extract
2/3 cup (173g) pumpkin puree
2 cups (265g) all-purpose flour
1 tsp baking soda
1/2 tsp kosher salt
1 tsp pumpkin pie spice (optional)
1 cup (180g) semisweet chocolate chips, plus more for topping
---
Instructions
Pumpkin Chocolate Chip Cookies
Place a fine-mesh strainer over a bowl and lay a paper towel sheet inside the strainer.
Scoop the pumpkin onto the paper towel and allow it to sit and draw out some moisture while we brown the butter.
In a saucepan over medium heat, melt down the butter. Occasionally stir as it goes from melted to loud and bubbling.
Keep a close eye on it once it goes from loud and bubbling to quiet and foaming. Stir continuously until it turns a light amber color and gives off a nutty aroma.
Immediately remove from heat and pour into a measuring glass. Set aside to cool.
Now in a medium bowl, whisk together the flour, baking soda, salt, and pumpkin pie spice. Set aside.
Preheat the oven to 350F and line a large baking sheet with parchment paper.
Back to the pumpkin – you should notice that the paper towel has absorbed quite a bit of moisture. Transfer the pumpkin to a clean paper towel and gently wring it out over the mesh strainer. When the paper towel becomes too weak, replace with another clean paper towel and wring the pumpkin out again. Do this one more time to where you've used up 4 clean paper towels in total and wrung out the pumpkin 3 times. (If you have a cheese cloth, that can be used in place of the paper towels).
Measure the pumpkin by packing it into a 1/3 measuring cup. It should just fit with a tiny bit overflowing.
Now to a large mixing bowl, add the dark brown sugar, sugar, and brown butter. Make sure to scape in all the brown bits at the bottom of the measuring glass. Whisk to combine.
Add in the egg yolks, vanilla, and wrung out pumpkin. Whisk to combine.
Pour in the dry ingredients and switch to a rubber spatula to gently fold the dough. Just before it's fully combined, dump in the chocolate chips and fold to bring the dough together.
Using a large 2 oz cookie scoop, scoop about 4 balls onto the baking sheet.
Bake for 10-12 minutes or until the edges are slightly darkened and the center appears puffed and slightly underdone.
When the cookies are fresh from the oven, top each one with a few more chocolate chips and then transfer to a cooling rack. Continue to bake the rest of the batch.
Allow the cookies to cool for about 15 minutes, then dig in!
Equipment
Prep Time: 30 minutes
Cook Time: 30 minutes
Category: Dessert
Method: Baking
Cuisine: American
Keywords: pumpkin chocolate chip cookies, pumpkin chocolate chip cookie recipe, chocolate chip pumpkin cookies
Recipe Card powered by