These golden birthday cookies are perfect to celebrate with! They're super quick to make (much easier than a birthday cake) but are packed with that delicious funfetti birthday cake flavor. Top them off with a few golden Oreo pieces to take these cookies over the top!
The BEST birthday cookies
When I first developed this recipe, it was for my 25th birthday which also happened to be my golden birthday. That year, all I really wanted was cookies but I also needed a way to make them extra special for this one-in-a-lifetime day.
I was brainstorming any and everything golden: edible gold leaf, golden sprinkles, golden candles, golden cupcake liners, really anything that met in the middle of my gold and birthday venn diagram.
Then it hit me…golden Oreos! To be honest, I prefer these way more than regular Oreos but I also just love everything vanilla. Their flavor goes PERFECTLY with funfetti cookies and adding cookies on top of cookies definitely makes these extra special.
Not only are there Oreos on top of these birthday cookies, but the cookies themselves are so delicious. They're buttery, chewy, and loaded with sprinkles. Plus, there's ZERO chill time so you can have a fresh batch of these cookies in under an hour.
But above all, it's something unexpected that people can get really excited about. Make these for a birthday party and everyone will be grabbing one…guess that means you should make a double batch!
How to make the cookie dough
The cookie dough is super simple and made up of ingredients that you might already have in your pantry. And there are no unique tricks or extra steps needed, making this a fool proof funfetti cookie recipe.
To start, combine the all-purpose flour, cornstarch, baking soda, and salt in a bowl and set aside.
Next, cream together the butter, sugar, and brown sugar. This helps give the cookies a slight lift because the sugar granules whip air into the butter. That's why it's important to use room temperature butter, making it much easier for those air bubbles the form.
Once the butter is light and fluffy, mix in the egg and vanilla. Finally, dump in the dry ingredients. Just before the dough comes together, toss in the sprinkles and give it a quick mix.
Now they're ready to bake!
The secret to getting that "birthday cake" flavor
This recipe calls for clear vanilla extract which can be found in most grocery stores. It's not so much the lack of color that makes it so special, but the phony vanilla flavor it brings to these cookies…and I mean that in a good way!
Clear vanilla extract is basically funfetti birthday cake in the bottle. It's not actually an extract, but vanilla flavoring. You don't get that deep vanilla flavor, but rather a sweet vanilla substitute that tastes just like funfetti.
If you can't get your hands on it, regular vanilla extract is totally ok. Better yet, use vanilla flavoring instead. I know, so shocking to hear from a baker!
How to add Oreos to these birthday cookies
Right when you pull the cookies out of the oven, start to press the Oreo pieces into the tops of the cookies.
It's important to do this ASAP because you don't want the exterior of the cookies to set. The Oreos stick to the doughy center of these cookies, so it's important to press them dough and break that exterior crust.
Can I use a different type of cookie?
Sure! Golden Oreos are the perfect option if you're celebrating a golden birthday, but you can totally use any type of Oreo or cookie you like. Regular chocolate Oreos would be delicious, but they also have a birthday cake Oreo that's MADE for these cookies.
Any other cookie will also work, as long as it's not a soft cookie. Adding a crunchy cookie is what compliments the soft but chewy funfetti cookie underneath.
What are the best sprinkles to use?
My favorite sprinkles are rainbow jimmies. They're more robust than nonpareils (the small round sprinkles) so your cookies will be bursting with colors.
They also don't bleed as much as nonpareils, so there's a clear distinction between the rainbow sprinkles and creamy sugar cookies.
Just make sure to use really bright sprinkles. White I love naturally colored sprinkles, they don't stand out as much as regular sprinkles due to their muted colors.
How to store birthday cookies
Allow the cookies to completely cool before storing in a container. It's important that the Oreo cream as firmed it before stacking these cookies, otherwise the tops could look a bit messy.
The Oreo filling will become much softer since they're pressed into freshly baked warm cookies. To make sure they're set, just press into one of the Oreo pieces. If it don't budge, they're ready to store.
Place into an air-tight container and store at room temp for up to 3 days. After that, the Oreos will go a bit stale.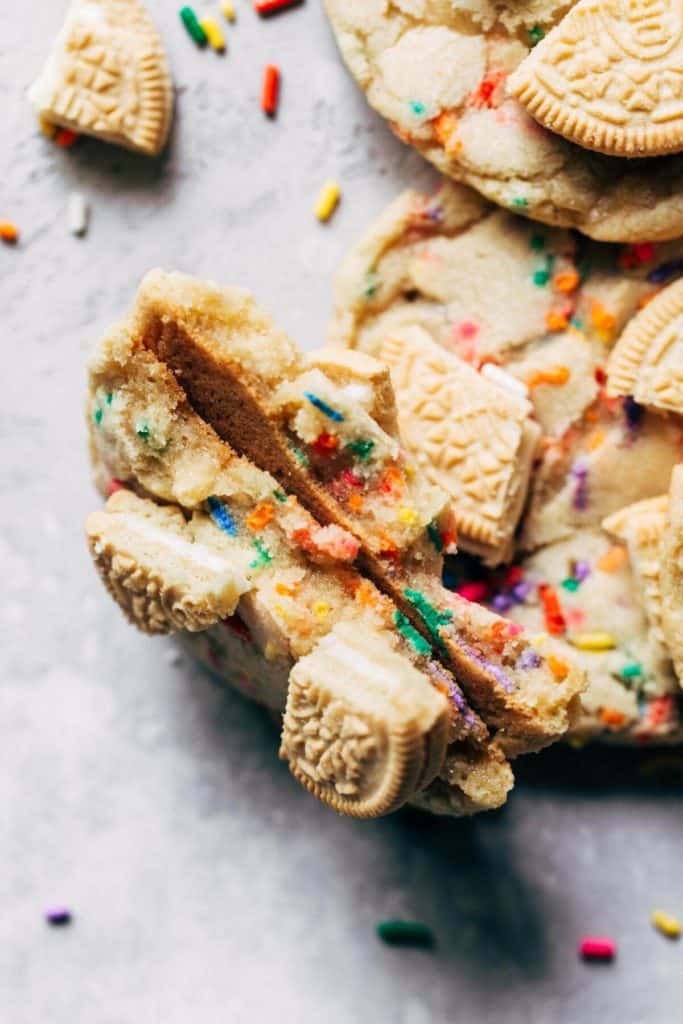 For more birthday desserts, check out my:
Make sure to tag me @butternutbakery on Instagram and leave a review below if you make these Golden Birthday Cookies. To pin this recipe and save it for later, you can use the button on the recipe card, the buttons above or below this post, or on any of the photos above. Happy baking!
Print
Golden Birthday Cookies
---
Description
Funfetti birthday cookies studded with golden Oreos. It's a great birthday cake alternative!
---
1 3/4 cup (220g) all-purpose flour*
1 tbsp cornstarch
3/4 tsp baking soda
1/2 tsp salt
1/2 cup (110g) unsalted butter, room temp
1 cup (210g) granulated sugar
1/2 cup (110g) light brown sugar, packed
2 tsp clear imitation vanilla extract**
1 large egg
1/2 cup rainbow sprinkles
20 golden Oreos
---
Instructions
Preheat the oven to 350F and line a large baking sheet with parchment paper.
Chop up the Oreos into bite-sized pieces. I found it's best to use a serrated knife (like a steak knife) to gently saw back and forth. This prevents the cookies from breaking apart.
Whisk together the flour, cornstarch, baking soda, and salt in a medium bowl and set aside.
Using a hand or stand mixer with the paddle attachment, cream together the butter, granulated sugar, and brown sugar until light and fluffy (2-3 minutes on medium-high speed).
Mix in the vanilla and egg.
Mix the dry ingredients and right before the dough comes together, toss in the sprinkles and mix for a couple more seconds, just until they're evenly distributed.
Use a large cookie scoop to make 15-16 cookies. Place 5-6 cookies onto your baking sheet and bake for 11-13 minutes, or until the edges are a VERY light golden color.
Right when you take them out of the oven, press a few Oreo pieces into the tops. Make sure it breaks through the surface and touches the doughy center. This helps them stick.
Transfer to a cooling rack and allow them to cool for 15 minutes.
Now dig in!
Notes
*Spoon the flour into your measuring cup and level it off with a flat edge to ensure you don't use too much
**Clear vanilla extract is how you get that "funfetti birthday cake" flavor. If you don't have access to it, regular vanilla extract is also OK to use!
Prep Time: 30 minutes
Cook Time: 12 minutes
Keywords: birthday cookies, funfetti cookies, golden oreos
Recipe Card powered by