These lemon cookies combine the creamy tartness of lemon bars with the sweet richness of gooey butter cookies. They're basically heaven in a cookie! Delicious butter cookies are coated in powdered sugar and baked with a puddle of homemade lemon curd right in the center. They taste just like a lemon bar, but in cookie form!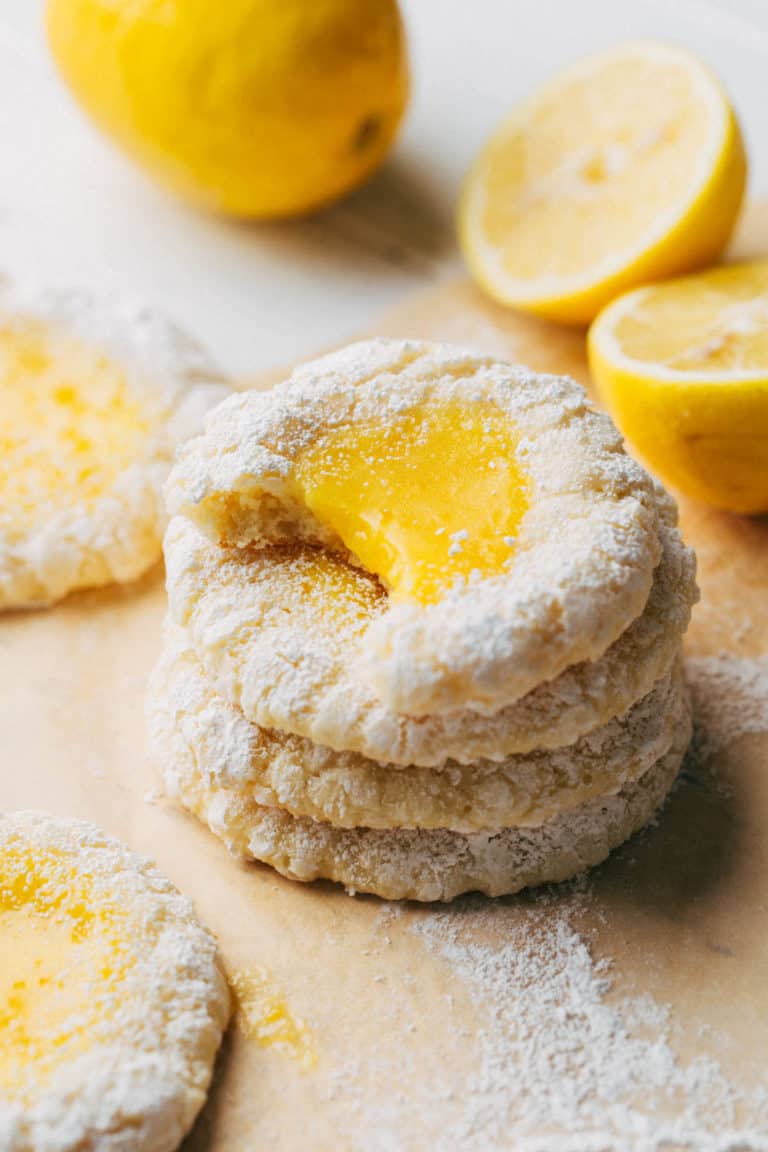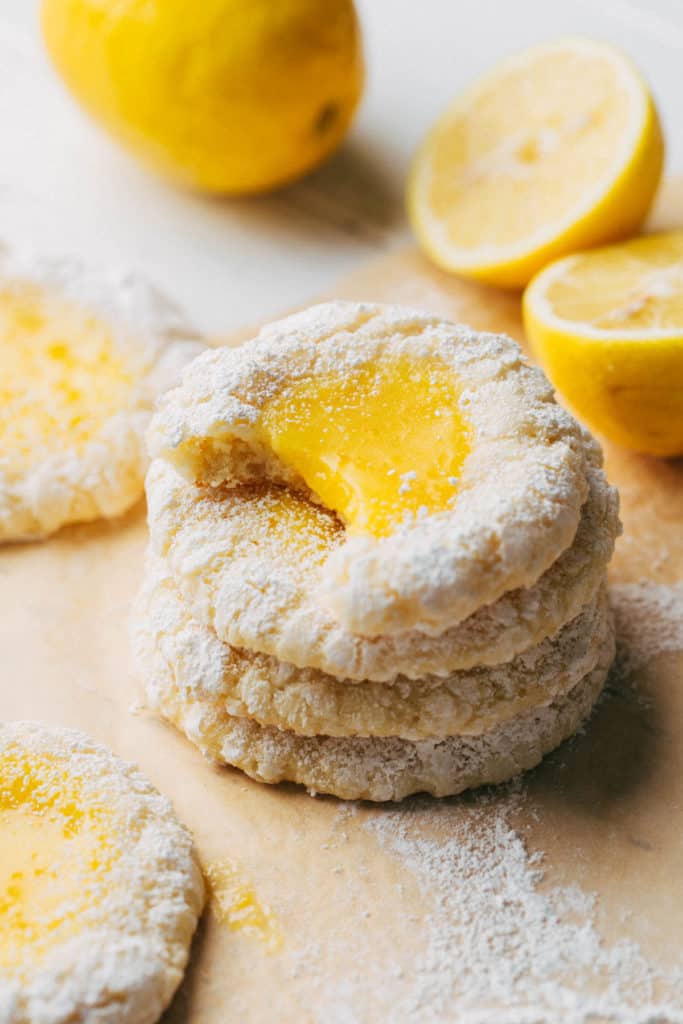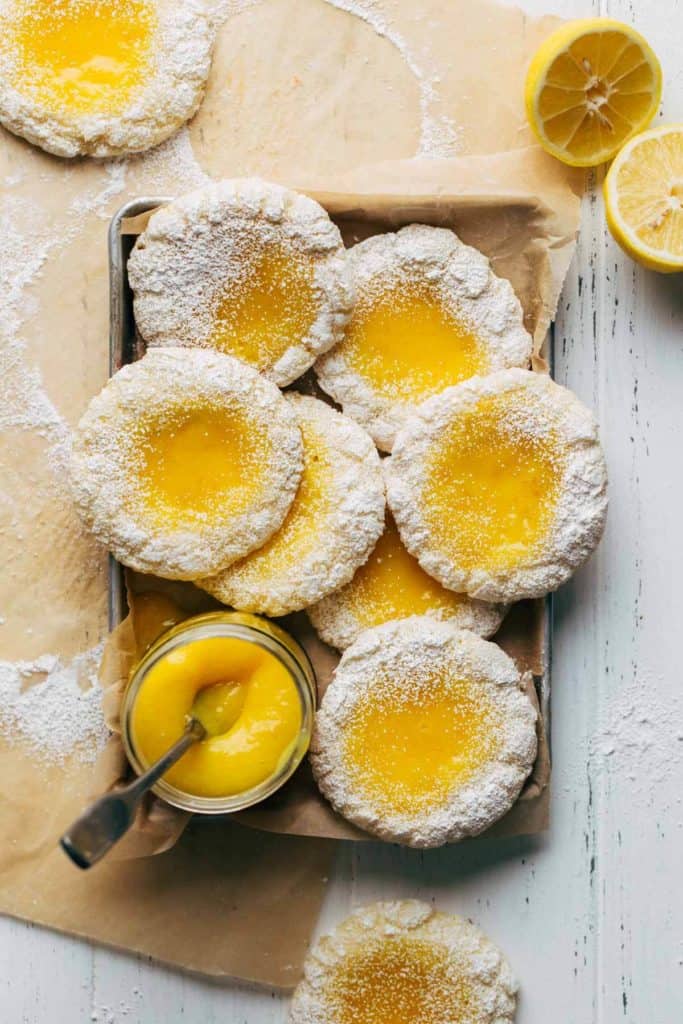 How to make homemade lemon curd
This recipe starts with a simple homemade lemon curd. Because it needs time to chill and thicken, this is the very first step before making the cookie dough. Luckily it's really quick and easy to make, but packs so much delicious fresh lemon flavor. Here are a few things to keep in mind when making your curd:
Organic Lemons – Try to use organic lemons if you can. Regular lemons are covered in a wax coating to seal in freshness. This wax then mixes in with the lemon zest, diluting its flavor. Organic lemons are void of this coating, so the lemon zest flavor is much stronger. It's OK to use regular if you can't find organic, but I highly recommend organic if you can.
Utensils – Before placing the curd over heat, use a whisk to fully whisk all of the ingredients together. This prevents any lumps while cooking. Then, switch to a rubber spatula once it's placed the heat. Using a spatula allows you to scrape down the bottom and corners of the pan, which is typically where a whisk can't reach. This will further prevent any lumps while the curd cooks.
Cooling – Pour the hot curd into a wide and shallow heat safe container. This will help speed of the chilling process.
Once the curd has completely cooled, it should be the consistency of a thick pudding (see picture below). If it's too runny, try chilling for a bit longer. If it's STILL too runny, try returning the mixture to your saucepan and heat it even further. If the curd is too thin and runny, it will run and melt in the oven rather than bake into a beautiful lemon pool in the center of each cookie.
Tips for make gooey butter lemon cookies
Next is the cookie dough. The curd is baked on top of rich and gooey butter cookies. This closely mimics the soft and sweet shortbread that's typically the base of any delicious lemon bar recipe.
The dough is made using both cream cheese and butter. The cream cheese provides richness, giving these cookies their signature gooey and tender texture. To ensure yours bake perfectly, here's what you need to know:
Room Temperature – Make sure your cream cheese and butter are softened to room temperature before using. Otherwise, you'll end up with a lumpy dough that won't spread properly when baked.
Cream Cheese – Use full fat cream cheese, especially Philadelphia block cream cheese if you can get your hands on it. This provides the best flavor and texture.
Creaming/Mixing – When mixing the cream cheese, butter, and sugar, make sure you allow the mixer to run on medium-high speed for at least a minute. This will whip air into the cream cheese and butter, allowing each cookie to bake evenly. When mixing in the eggs, repeat this same process. Yolks act as an emulsifier, so fully beating the eggs into the dough will give you a much stronger cookie. Do the opposite when mixing in the dry ingredients. Mix low and slow JUST until the flour is incorporated. Over mixing flour will strengthen the gluten, giving you a tough cookie texture.
Properly measure the flour – I say this in every post, and for good reason. It's the number one reason why most recipes fail, especially for cookies. If there's too much flour, the cookies will not spread properly. If you can, measure the flour with a food scale. Otherwise, to ensure you use the exact amount needed, gently spoon the flour into your measuring cup and level if off with a flat edge. If you scoop directly into the flour container, it packs it down into the cup which could leave you with 1/4 cup or more of added flour.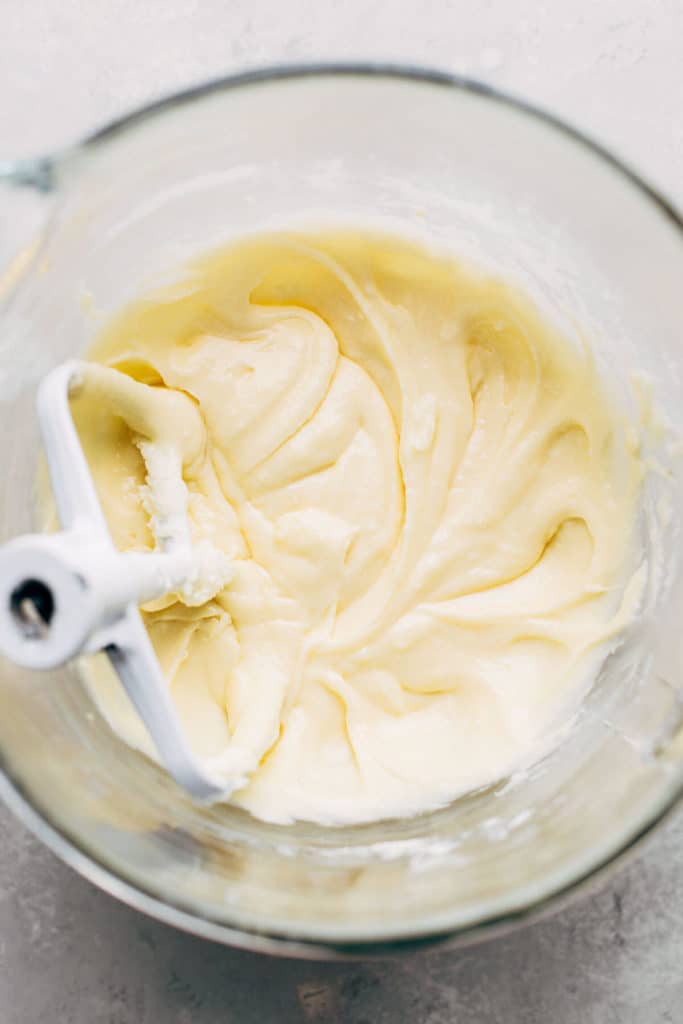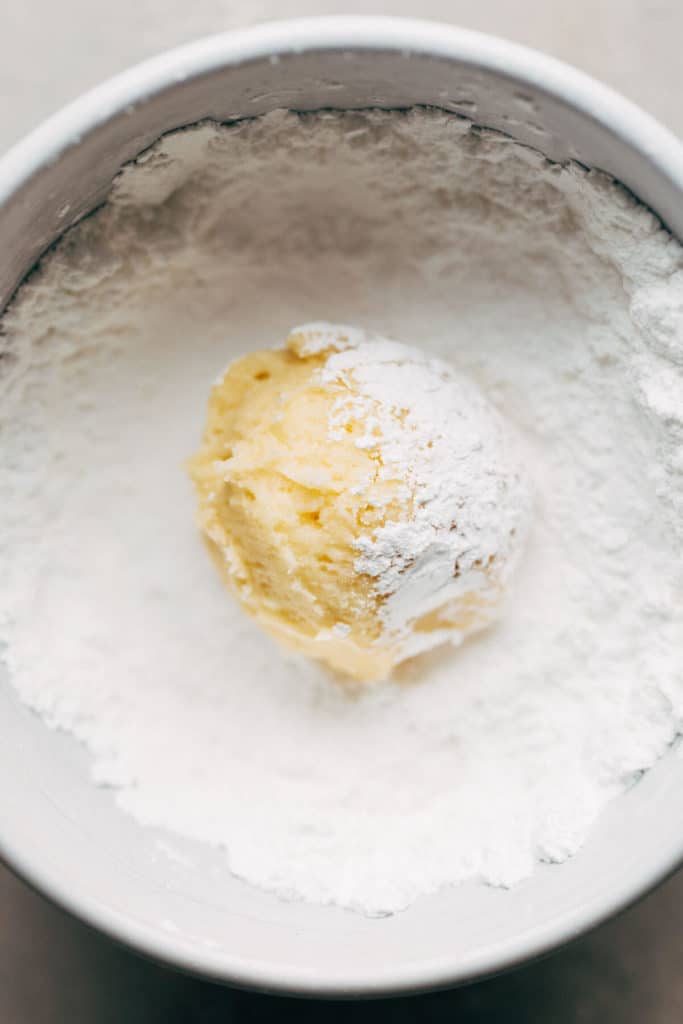 How to bake lemon bar cookies
This is the very unique part of this recipe, as each cookie is assembled just like a thumbprint cookie but is then baked just like any other drop cookie. As the cookies spread in the oven, the curd will spread along with it. In the end you're left with a flat but puffed gooey butter cookie with an even layer of curd baked right on top.
As this can be a tricky step, make sure you follow the instructions exactly as they are. Most importantly, use the right sized cookie scoop.
Since the dough is very sticky, using a cookie scoop is key for a mess-free butter cookie. That way, you can simply scoop the dough right into a bowl of powdered sugar and toss to coat. This prevents the sticky dough from sticking to your hands.
Make sure to use a large cookie scoop that holds about 3 tablespoons of dough. This is the perfect size as it gives you the best cookie to curd ratio.
After you've placed 5 sugar-coated cookie dough balls on to your baking sheet, it's now time to create a small indent for the curd to sit. Using the back of a rounded tablespoon, press into the center of each cookie. Only press about halfway down, as shown in the picture above. This provides the perfect nesting spot of the curd to sit, allow it to stay within the cookie as they bake and spread.
Then fill each indent with a full 1 teaspoon of curd. It should almost look like a yolk! Now your cookies are ready to bake.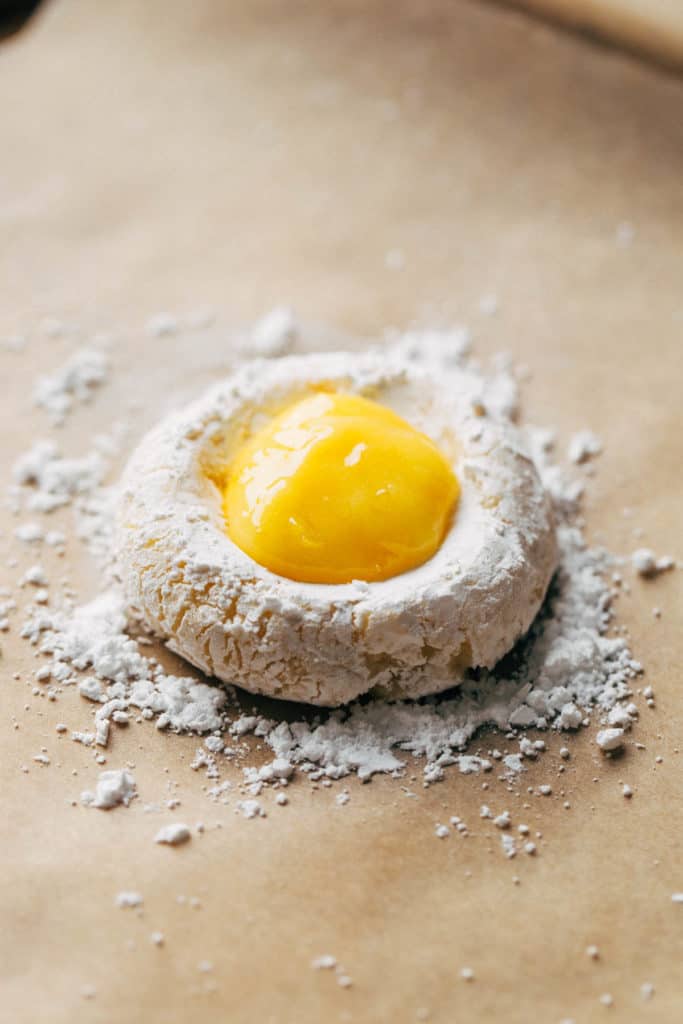 Can I use store bought lemon curd?
I haven't tested it with store bought, but it's worth a try if you don't have time to make your own. Just know that your lemon cookies may not turn out as vibrant as the ones shown here as store-bought curd has a more mellow color. If you do try it, I recommend using the highest quality curd you can find.
How to store lemon curd cookies
When the cookies have baked and cooled completely, store in an air tight container in the refrigerator where they will keep for up to 5 days. These cookies are best served cold or at room temperature.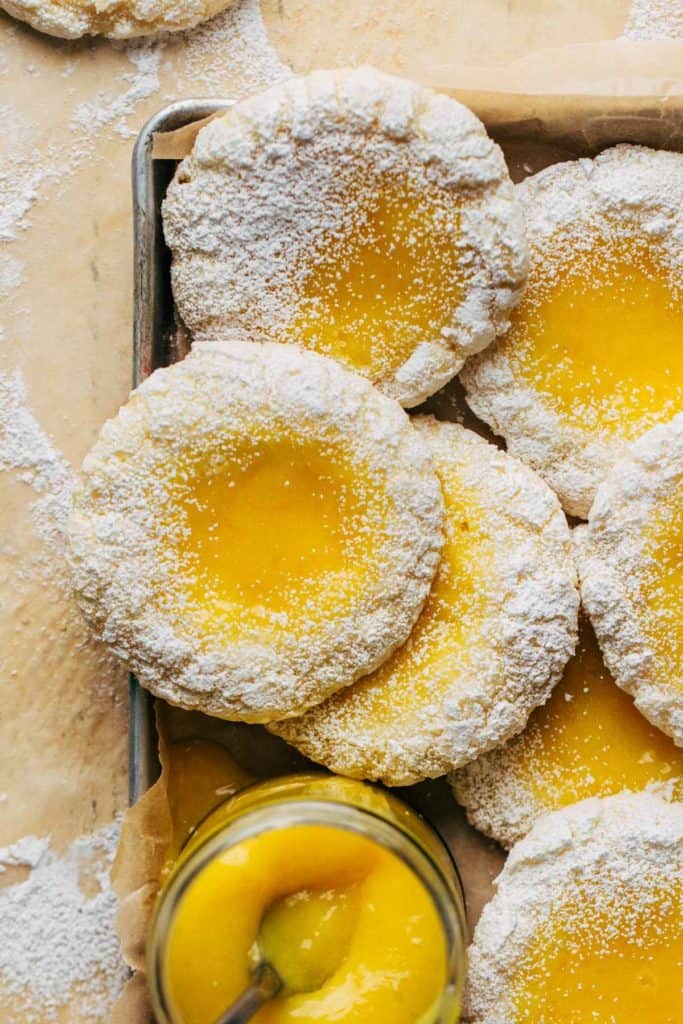 For more lemon dessert recipes, check out my:
Make sure to tag me @butternutbakery on Instagram and leave a review below if you make these Lemon Bar Butter Cookies. To pin this recipe and save it for later, you can use the button on the recipe card, the buttons above or below this post, or on any of the photos above. Happy baking!
Print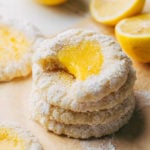 Lemon Bar Butter Cookies
---
Author: Jenna Barnard
Total Time: 1 hour 10 minutes + 30 minutes cooling
Yield: 18 cookies
Description
This lemon cookie recipe combines two delicious desserts – lemon bars and gooey butter cookies. A puddle of homemade lemon curd is baked into the center of each cookie.
---
Homemade Lemon Curd
1/2 cup (100g) granulated sugar
3 large egg yolks
1 tsp cornstarch
2 tbsp lemon zest (2 large lemons)
1/4 cup (60ml) fresh lemon juice (2–3 large lemons)
1/4 cup (55g) unsalted butter, sliced into tablespoons
Gooey Butter Cookies
2 1/4 cup (286g) all purpose flour
2 tsp baking powder
1/2 tsp salt
8 oz full fat cream cheese, room temp
1/2 cup (110g) unsalted butter, room temp
1 1/2 cups (300g) granulated sugar
1 large egg + 1 egg yolk
1 tsp vanilla extract
1/2 tsp almond extract (optional but highly recommended)
1 cup powdered sugar for coating
---
Instructions
Homemade Lemon Curd
Whisk together the sugar, eggs, and cornstarch in a medium saucepan.
Once smooth and well combined, whisk in the lemon zest and juice.
Cook over medium heat until thickened, occasionally stirring (with a rubber spatula) at the beginning but constantly mixing near the end. It should take about 8-10 minutes on a gas stovetop and about 20 minutes on an electric.
Remove from heat and toss in the butter. Stir until melted and combined.
Pour the curd into a wide and shallow heat proof container. Cover the container and let it chill while we make the cookie dough.
Gooey Butter Cookies
Preheat the oven to 350F and line a large baking sheet with parchment paper.
In a medium bowl, whisk together the flour, baking powder, and salt. Set aside.
In a large mixing bowl using a hand or stand mixer with the paddle attachment, add the cream cheese and butter. Beat on medium-high heat until smooth and lump-free. Scrape down the sides and bottom of the bowl and give it another good mix.
With the mixer running on medium speed, slowly pour in the sugar. Then increase the speed to medium-high and let it run for about a minute.
Once well combined, mix in the eggs and extracts. Scrape down the bowl and give it another good mix. It should be fairly thin at this point.
Pour in the dry ingredients and mix to combine, careful not to over mix.
Remove the bowl from the stand and use a rubber spatula to mix in any dry bits that may have sunk to the bottom of the bowl. The dough should now be thick but sticky.
Fill a small bowl with the powdered sugar.
Using a large cookie scoop (roughly 3 tablespoons) scoop a cookie dough ball directly into the powdered sugar and toss to coat. The powdered sugar will prevent the dough from sticking to your hands.
Place 5 coated cookie dough balls on your large baking sheet, evenly spaced apart. Using the back of a rounded tablespoon, or using your thumb, press into the center of each ball to create a round indent (see picture in post for reference).
Fill each cookie with a full teaspoon of the lemon curd.
Bake for 10-12 minutes or until the cookies have flattened and the curd is pale and bubbly.
The curd will look very pale when it's right out of the oven, but will turn more vibrant as the cookies cool. Allow the cookies to cool on the baking sheet for about 2 minutes, then transfer to a cooling rack. Continue baking the rest of the cookies.
Allow the cookies to cool completely, then transfer to the refrigerator for about 15 minutes to chill. This helps the curd to fully set.
Dust the edges of each cookie with any powdered sugar that's leftover in the dish, allowing the curd in the center to peak through. Now enjoy!
Equipment
Notes
LEMON CURD – I haven't tested it with store-bought lemon curd, but I imagine it could also work!
Prep Time: 1 hour
Cook Time: 10 minutes
Category: Dessert
Method: Baking
Cuisine: American
Keywords: lemon cookies, lemon bars, gooey butter cookies, lemon curd
Recipe Card powered by