This cookie cake is perfect for any celebration! I mean who wouldn't want to eat a giant chocolate chip cookie? Especially a chocolate chip cookie cake that's rich, buttery, and loaded with creamy chocolate chips. Not to mention the fudgy chocolate frosting and rainbow sprinkles on top!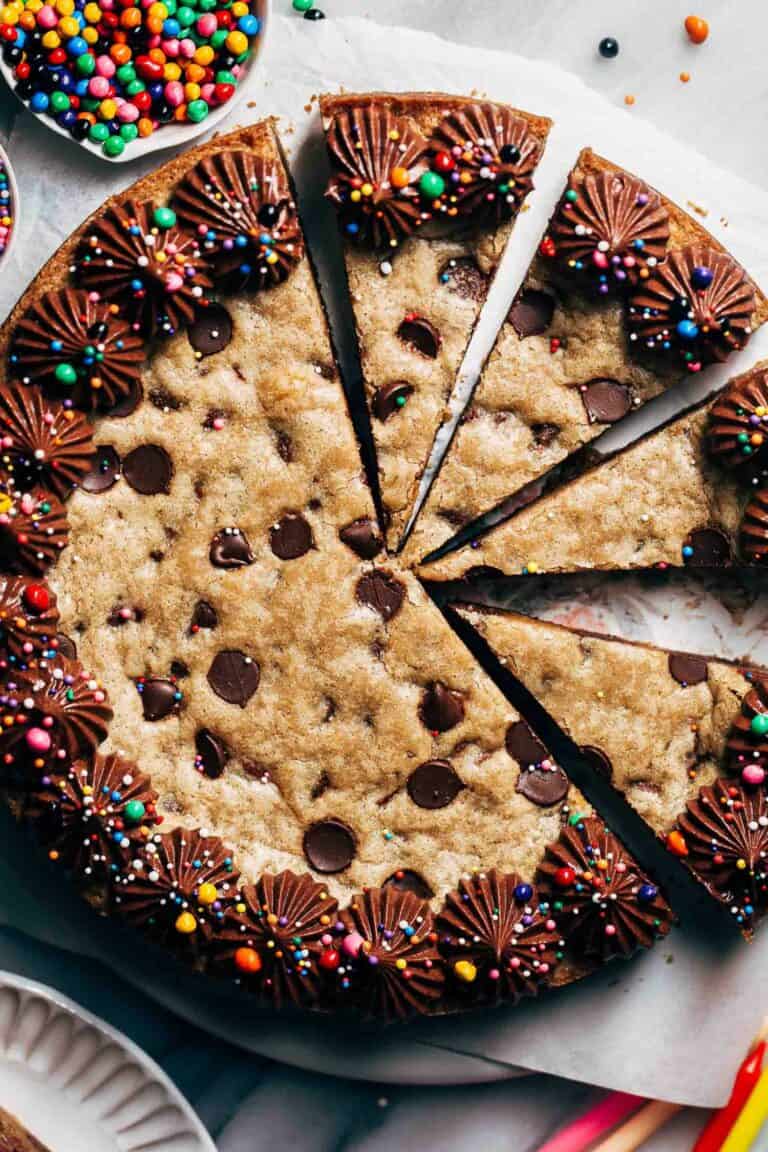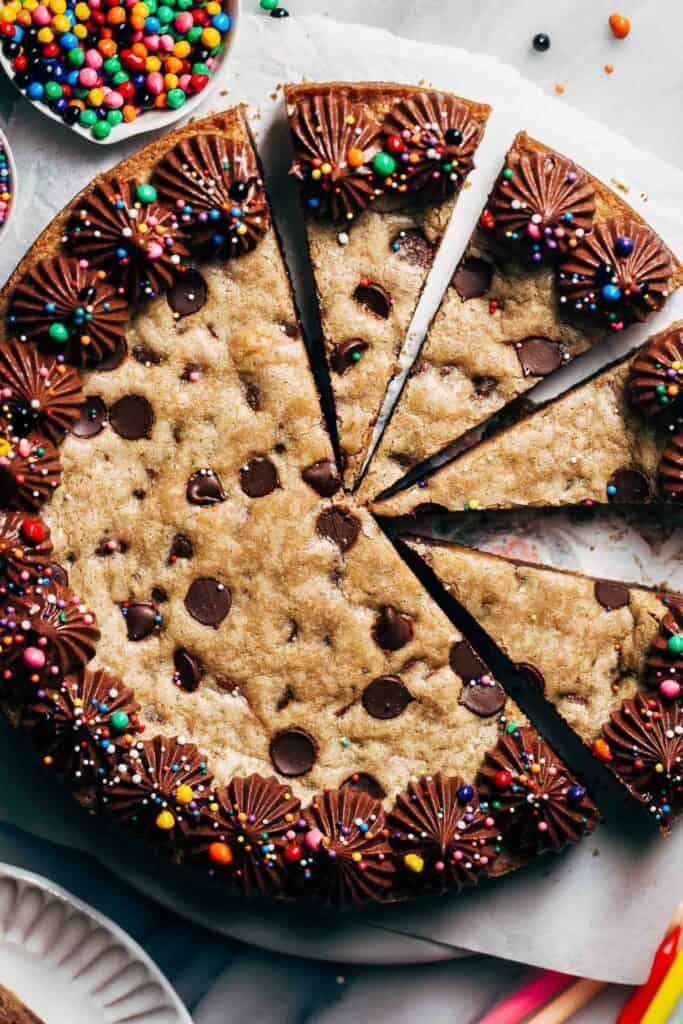 What makes this the BEST chocolate chip cookie cake?
As a kid, I always ogled at the chocolate chip cookie cakes I'd see in the display boxes at Mrs Fields. So when it came to making my own recipe, I pulled inspiration from the most classic chocolate chip cookie there ever was.
Although when it comes to chocolate chip cookies, I'm a big stickler on the cookie texture. While the Mrs Fields cookie cakes LOOKED beautiful, I was always a little iffy on the thin and chewy texture.
To me, a cookie should be rich and buttery with a soft center and lots of melty chocolate chips.
So when making this cookie cake, you can expect just that. This cake (cookie?) is dense and buttery with an ever-so-slightly chewy bite. It's basically the ideal chocolate chip cookie but in a much larger format.
The secret to this texture lies in a few key ingredients:
Dark Brown Sugar
Egg Yolk
Baking Powder
When testing this recipe, I made some batches with light brown sugar and some with dark brown sugar and the dark brown definitely made a much better cookie cake. It adds an extra layer of moisture, flavor, and richness that the light brown sugar just couldn't quite reach.
To make this cookie extra rich, mixing in an additional egg yolk helps to create that dense and buttery center.
Last but not least, a tiny bit of baking powder prevents this cookie from entering into TOO dense territory. The subtle lift creates a slightly chewy texture.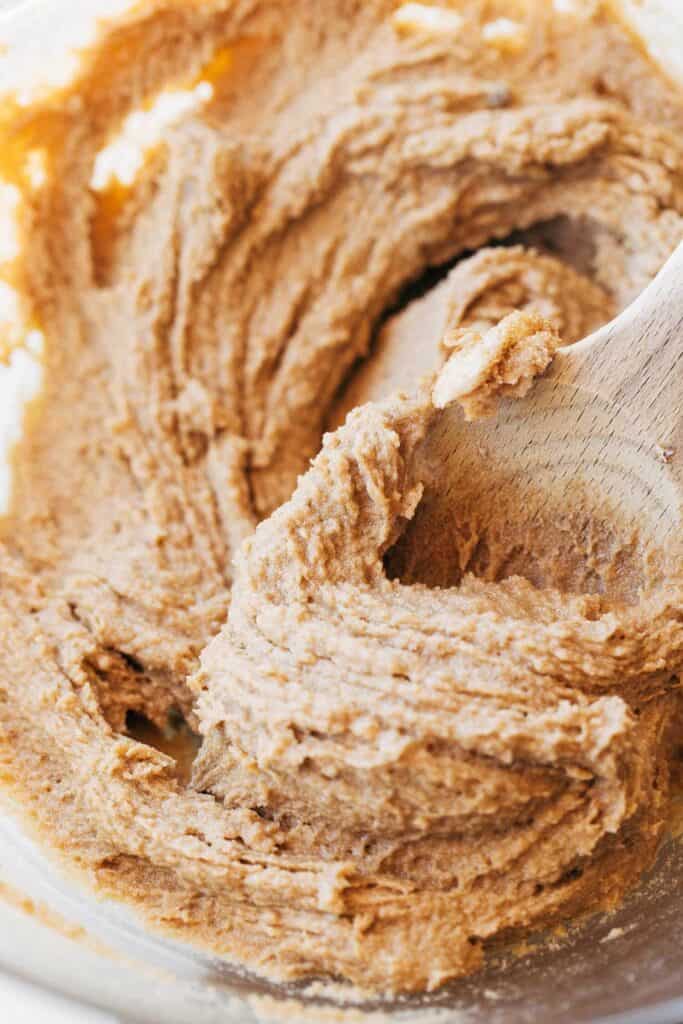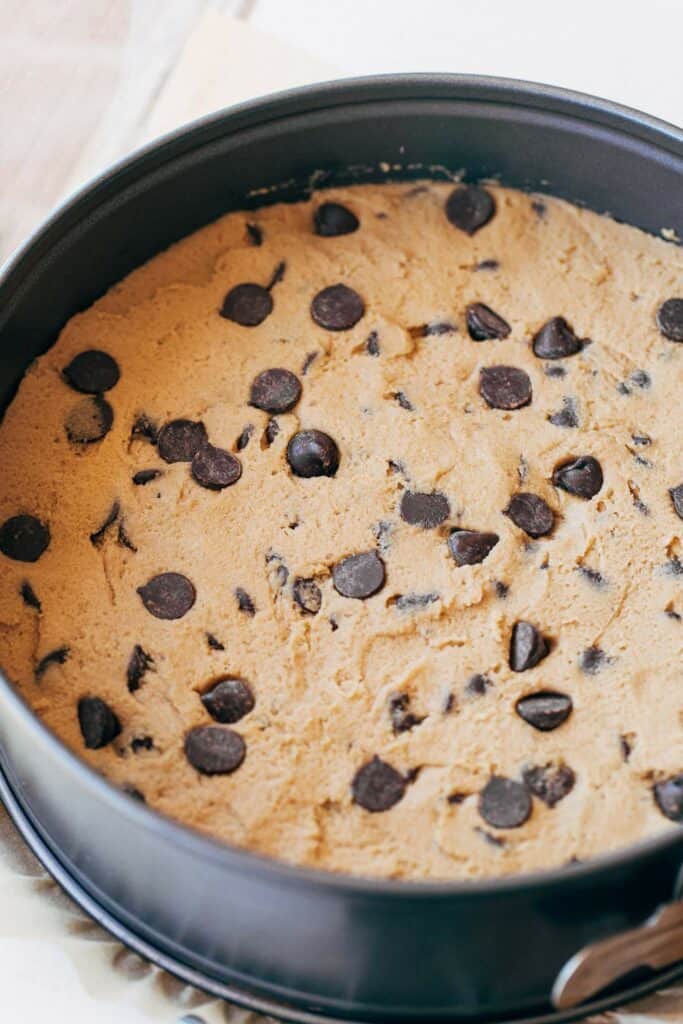 Tips for baking the perfect cookie cake
This recipe is very hard to get wrong. You're basically just slapping cookie dough into a pan and baking it to soft and buttery perfection. It's so simple that if it's over baked, it's still good and if it's under baked, it's definitely still good. But to make sure nothing goes haywire, here are my top tips:
Flour – I say this in every post, and for good reason. It's the number one reason why most recipes fail. If there's too much flour, this cookie will turn dense and dry. If possible, measure the flour with a food scale. Otherwise, to ensure the exact amount, gently spoon the flour into the measuring cup and level it off with a flat edge. If scooped directly into the flour container, the flour becomes packed down into the cup which could leave you with 1/4 cup or more of added flour.
Butter & Sugar – When mixing the two together, make sure to reach a point where the mixture turns a couple shades lighter in color. This lightless is the result of tiny air pockets all throughout the butter. These pockets are what allows the baking powder to do its thing while the cookie bakes.
Dark Brown Sugar – You may be tempted to sub in light brown sugar here, but the result won't be as delicious! Still a cookie cake, but not to its highest potential. The dark brown sugar is really needed to create a rich texture and flavor.
Baking – The cookie is done when it's evenly puffed with light golden edges. If you're unsure, just pull the cookie out. If it's slightly underdone, that's totally fine. It will just lead to an even softer center.
Cooling – Allow the cookie to cool completely! Especially before adding the frosting, otherwise it will just melt and slip right off. Cooling also allows the cookie to set, transforming into a perfect sliceable consistency.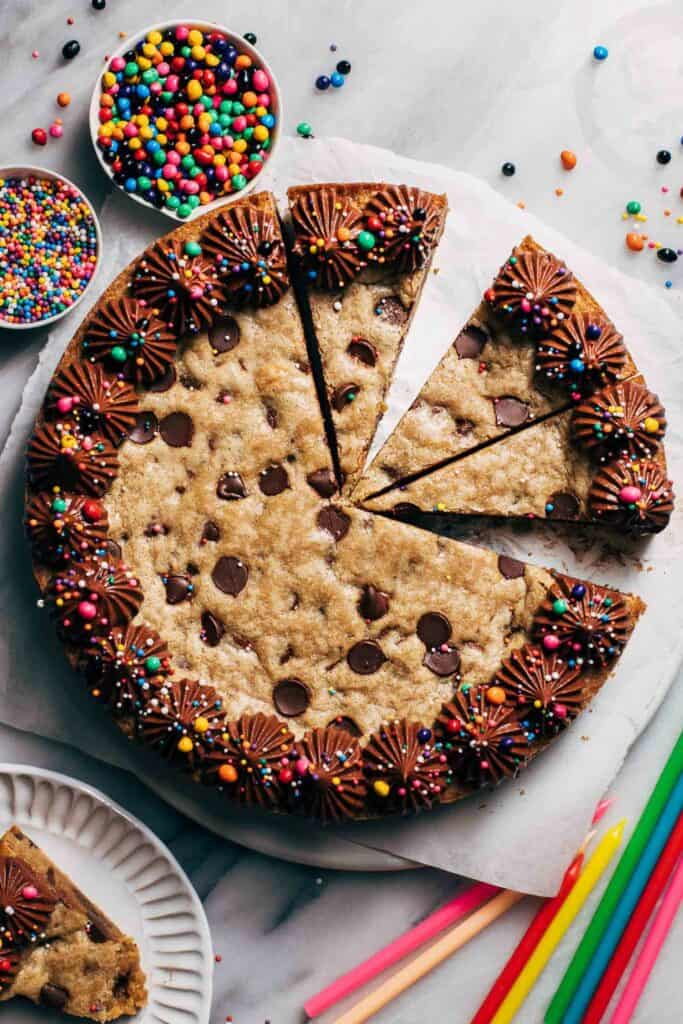 Cookie cake frosting
For this recipe, I provided a chocolate frosting to top the cooled chocolate chip cookie cake. Not only does the flavor pair perfectly, but I also love the look of chocolate frosting with bright rainbow sprinkles!
It's also a very basic recipe but yields a fudgy chocolate frosting. Simply mix together softened butter with powdered sugar, cocoa powder, and a tiny bit of milk.
If you prefer vanilla frosting, sub the cocoa powder with more powdered sugar. Also include a scant 1/2 teaspoon of vanilla extract. The vanilla frosting may only need 1 tablespoon of milk, so only mix in one to start and then assess of the other is needed.
To customize your cookie cake, letters can also be piped in the center of the cake. To make enough frosting for both the lettering and the border, I suggest doubling the frosting recipe.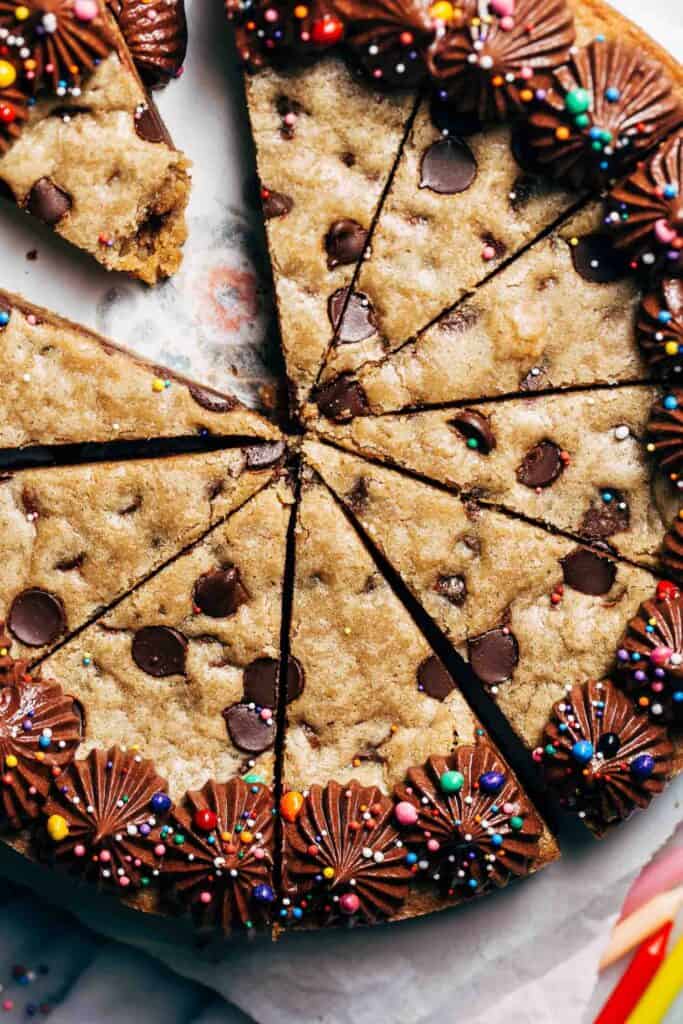 Chocolate Chip Cookie Cake FAQs
Can cookie cake be made dairy free?
Yes! Simply swap the butter and milk with a plant-based alternative and use dairy free semisweet chocolate chips.
Can cookie cake be made gluten free?
I have not tested it for this recipe, but I think a cup for cup gluten free baking flour could work for this cookie cake.
Can cookie cake be baked in a different pan?
This cookie cake can be baked in any similar-sized pan, like a 9″ round cake pan. Just know that the cake will be a bit more challenging to remove from a pan without removable walls.
Can I top my cookie cake with vanilla frosting?
Sure! I left instructions on how to make a vanilla frosting in the passage just before the picture above.
How long does cookie cake keep?
Store the cookie cake in an air tight container in the refrigerator and it will keep for about a week. But if you expect it to not stay around long, you can also leave it at room temperature for just a couple days
Can you freeze cookie cake?
Yes! If the cake is already frosted, place the cookie cake in the freezer for a couple hours or just until the frosting is frozen firm. Then place the cake in a freezer storage bag and it will keep for about 3 months.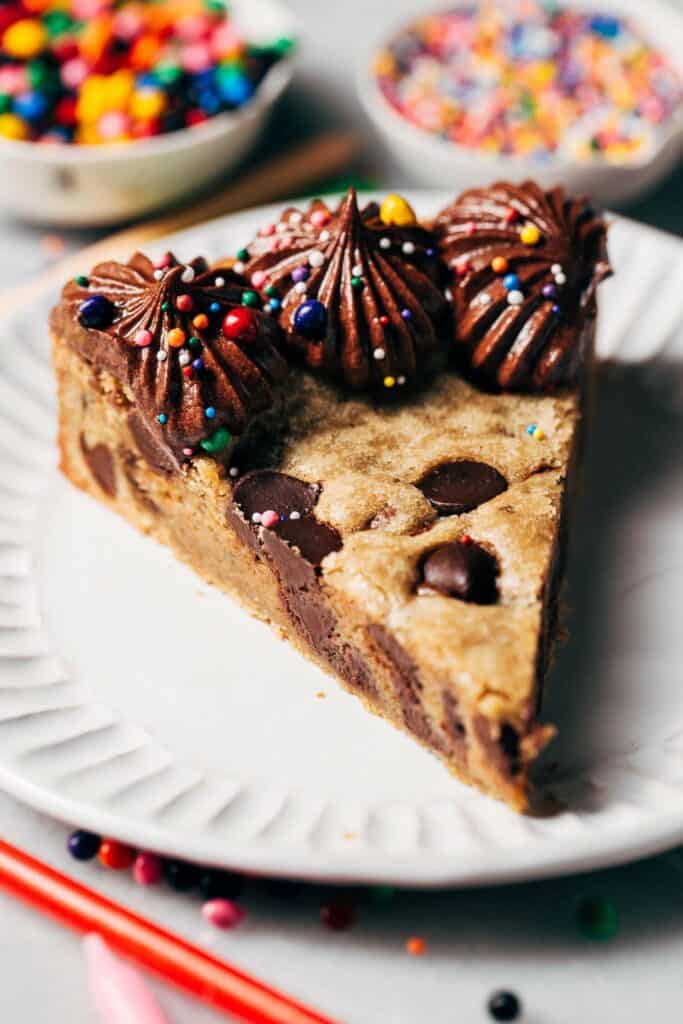 For more chocolate chip cookie recipes, check out my:
Make sure to tag me @butternutbakery on Instagram and leave a review below if you make this cookie cake. To pin this recipe and save it for later, you can use the button on the recipe card, the buttons above or below this post, or on any of the photos above. Happy baking!
Print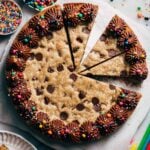 Chocolate Chip Cookie Cake
---
Author: Jenna Barnard
Total Time: 2 hours 15 minutes
Yield: 10-12 slices
Description
This is the ultimate chocolate chip cookie cake! It's thick, dense, rich, buttery, and loaded with creamy chocolate chips. Topped with chocolate frosting and rainbow sprinkles, it's the perfect cookie cake fit for any celebration.
---
Cookie Cake
3/4 cup (180g) unsalted butter, room temp (regular or plant-based)
1 cup (210g) dark brown sugar, packed
1/4 cup (50g) granulated sugar
1 large egg + 1 egg yolk
2 tsp vanilla extract
2 cups (265g) all purpose flour
1 tsp kosher salt
1/2 tsp baking powder
1 1/4 cup (225g) semisweet chocolate chips, plus an extra handful for topping
Chocolate Frosting
6 tbsp unsalted butter, room temp (regular or plant-based)
1 cup (120g) powdered sugar
3 tbsp unsweetened cocoa powder (regular or dutch process)
1–2 tbsp milk (regular or plant-based)
Rainbow sprinkles for decorating
---
Instructions
Cookie Cake
Preheat the oven to 350F and grease the inside of a 9″ springform pan. Line the bottom with a sheet of parchment paper and set aside.
In a medium mixing bowl, whisk together the flour, salt, and baking powder. Set aside.
In a large mixing bowl, mix together the butter and sugars until smooth and lightened in color. This can be done by hand with a wooden spoon or with an electric mixer.
Then mix in the eggs, followed by the vanilla extract.
Pour in the dry ingredients and gently mix to combine. Just before all the flour absorbs, toss in the chocolate chips and mix to fully bring the dough together.
Spread the dough in the prepared springform pan and sprinkle with a handful of extra chocolate chips. Gently press the chips into the surface of the dough.
Bake the cookie for 22-25 minutes, or until evenly puffed with light golden edges.
Allow the cookie to cool at room temperature for 30 minutes, then chill for about an hour or until no longer warm.
Chocolate Frosting
When the cookie has fully cooled, make the frosting.
Add the butter to a mixing bowl and gradually mix in the cup of powdered sugar. This can also be done by hand or with an electric mixer.
Once smooth, mix in the cocoa powder along with one tablespoon of milk. Mix and assess if the additional tablespoon of milk is needed.
Fit a piping bag with a large french star tip and fill with the frosting. Pipe a border of frosting all around the edge of the cookie and top with sprinkles.
Slice and enjoy!
Equipment
Prep Time: 20 minutes
Cooling Time: 1 hour
Cook Time: 25 minutes
Category: Dessert
Method: Baking
Cuisine: American
Keywords: cookie cake, chocolate chip cookie cake, cookie cake recipe, chocolate chip cookie cake recipe
Recipe Card powered by