As if chocolate chip cookies couldn't get any better, these are filled with Nutella! These Nutella stuffed cookies are ooey gooey and so easy to make. It's a simple way to elevate a classic chocolate chip cookie!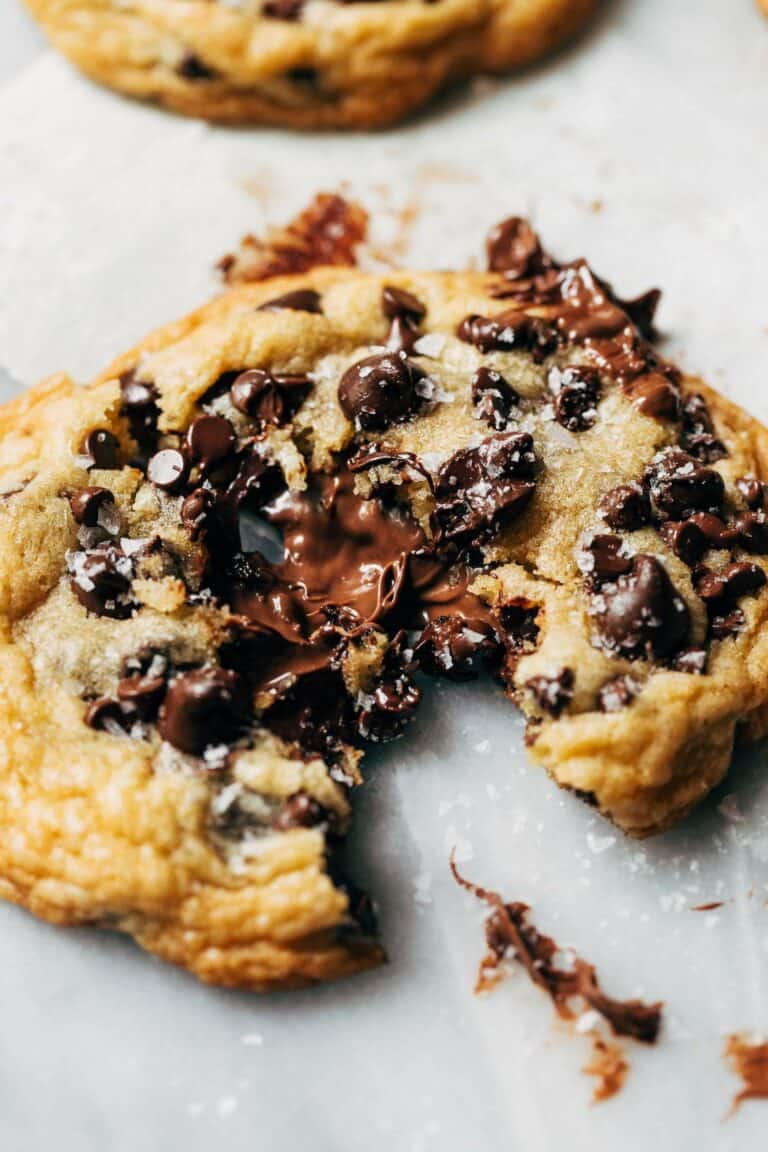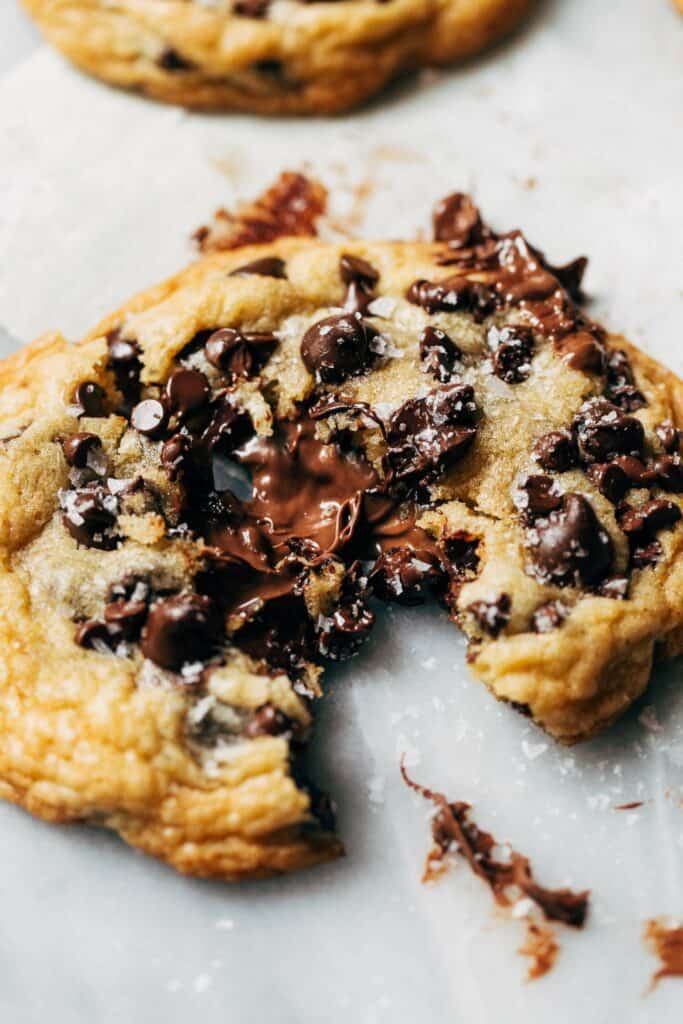 How to make nutella stuffed cookies
Stuffing cookies with Nutella is actually much easier and cleaner than you might be thinking. The trick to a mess-free stuffed cookie is cookie scoops!
You first start by freezing the Nutella. Dollop 8 tablespoons onto a plate lined with wax or parchment paper and pop it in the freezer. This can be done with a regular tablespoon, but using a tablespoon cookie scoop makes this way easier. By the time you're done making the cookie dough, the Nutella will be firm and easy to pick up.
To stuff the cookie dough, simply scoop out a large cookie dough ball using a 2 oz cookie scoop (equal to 1/4 cup). Press the ball into a disk and place the frozen glob of Nutella in the center.
Enclose the Nutella with the cookie dough and make sure there are no cracks or seams. It's important to make sure all edges are sealed so the Nutella doesn't leak out while baking.
Place the stuffed cookie dough onto a baking sheet, top with a layer of chocolate chips, and bake!
What makes these the best nutella stuffed cookies
Not to toot my own horn, but these are probably the best Nutella stuffed chocolate chip cookies you can make at home. They're gooey, full of flavor, and over flowing with Nutella!
These are made using my BEST chocolate chip cookie recipe which is one of the top recipes on my website. It yields the most perfect cookie with wrinkly and chewy edges and a soft and tender center.
Most importantly, these cookies are so easy to make. The dough is mixed by hand and only has to chill for 30 minutes. This make the dough much easier to handle during the stuffing process.
Above all, these cookies are stuffed with a whole tablespoon of Nutella! It's not an overwhelming amount, but it's just enough to where each bite has a good balance of Nutella, cookie, and chocolate chips.
How to bake nutella stuffed cookies
These are XL cookies and that's not just because my sweet tooth wanted giant cookies.
Baking large cookies yields a delicious texture inside and out, especially when baking stuffed cookies.
As the cookies melt in the oven, the edges begin to bake much faster than the center. What this does is create those delicious wrinkly and chewy edges while the center stays nice and soft, creating the perfect nest for the melty pocket of Nutella.
To make these cookies extra special, top the cookie dough balls with a decent amount of chocolate chips. For these cookies I did combo of both regular chocolate chips and mini chocolate chips simply because I like the look! Either way, add more chocolate than you think you will need because as the cookies spread, the chocolate will spread with it.
These cookies are done with the edges look golden and wrinkly while the center looks pale and puffed. It may even appear a bit underdone which is exactly what we want. Because as the cookies cool, the residual heat will further bake the cookie into the perfect soft consistency.
Most importantly, top the cookies with a sprinkle of flaky sea salt! Between the sweet cookie and rich Nutella, the sea salt really helps to round out and balance the flavors of these cookies.
The best time to serve nutella stuffed chocolate chip cookies
Now, we all know there's nothing better than a fresh and warm chocolate chip cookie and these are no exception.
The best time to eat these cookies is shortly after they've been baked. Transfer the cookies to a cooling rack, sprinkle them with a little sea salt, and let them cool for about 20 minutes before digging in.
If eaten warm, they are extra soft and ooey gooey. If you prefer a more solid cookie, allow them to cool to room temperature. Although lets be real, these cookies are so dang good at ANY temperature.
Can the dough be frozen?
Yes! To freeze the cookie dough, first scoop and fill each cookie with Nutella. Transfer the stuffed cookie dough balls to the refrigerator to firm up for about 30 minutes.
Once firm, chuck the cookie dough balls into a freezer safe bag.
To bake the frozen dough, preheat the oven to 340F and allow the cookie dough to thaw while the oven preheats.
Bake for 14-16 minutes, or until the cookies have golden and wrinkly edges with a pale and slightly under baked center. Top with sea salt and enjoy!
For more Nutella dessert recipes, check out my:
Make sure to tag me @butternutbakery on Instagram or leave a comment below if you make these Nutella Stuffed Chocolate Chip Cookies. I love seeing my recipes come to life in YOUR kitchen! To pin this recipe and save it for later, you can use the button on the recipe card, the buttons above or below this post, or on any of the photos above. Happy baking!
Watch how to make these Nutella stuffed chocolate chip cookies:
Print
Nutella Stuffed Chocolate Chip Cookies
---
Description
These Nutella stuffed chocolate chip cookies are cookie HEAVEN! A glob of Nutella is baked in the center of the most perfect chocolate chip cookies with crisp and chewy edges and a soft and doughy center.
---
1/2 cup (125g) Nutella
1 1/4 cup (165g) all purpose flour
1/2 tsp baking soda
1/2 tsp baking powder
3/4 tsp kosher salt
1/2 cup (110g) unsalted butter, melted and cooled
1/2 cup (100g) light brown sugar, packed
1/3 cup (75g) granulated sugar
2 tsp vanilla extract
1 large egg
1 cup (180g) dark chocolate chips + more for topping
Flaky sea salt, for sprinkling
---
Instructions
Start by prepping the Nutella. Line a plate with wax or parchment paper and dollop 8 tablespoons onto the plate. Pop it in the freezer while you start on the dough.
In a small bowl, mix together the flour, baking soda, baking powder and salt and set aside.
In a large mixing bowl, whisk together the butter and sugars. Vigorously whisk for 1-2 minutes.
Next, mix in the egg and vanilla. Vigorously whisk for another 1-2 minutes.
Switch to a rubber spatula and mix in the dry ingredients.
When some flour is still visible, fold in the chocolate chips to fully bring the dough together.
Cover the bowl and chill the dough for 30 minutes. 
Preheat the oven to 350F and line a large baking sheet with parchment paper.
Scoop the dough using a large 2 oz scoop (or 1/4 cup). Flatten out the cookie dough and place a frozen scoop of Nutella in the center. 
Mold the cookie dough around the Nutella and make sure it's completely concealed with no cracks. 
Place 3-4 cookies on the baking sheet, all well spaced apart. Top with more chocolate chips if desired.
Bake for 13-15 minutes or until the edges are golden brown and the center looks just barely underdone. 
Sprinkle the warm cookies with flaky sea salt and transfer to a cooling rack.
Allow the cookies to cool for about 20 minutes, then enjoy!
Equipment
Prep Time: 20 minutes
Chill Time: 30 minutes
Cook Time: 15 minutes
Category: Dessert
Method: Baking
Cuisine: American
Keywords: nutella stuffed cookies, nutella stuffed chocolate chip cookies, nutella cookies, chocolate chip cookies stuffed with nutella
Recipe Card powered by