Yep, that's right. I'm bringing you a chocolate chip cookie LAYER cake! Because a single layer cookie cake just isn't enough for this cookie lover. I made this cake when I hit 10,000 followers on Instagram because there's no better way to celebrate than with the ultimate cookie cake.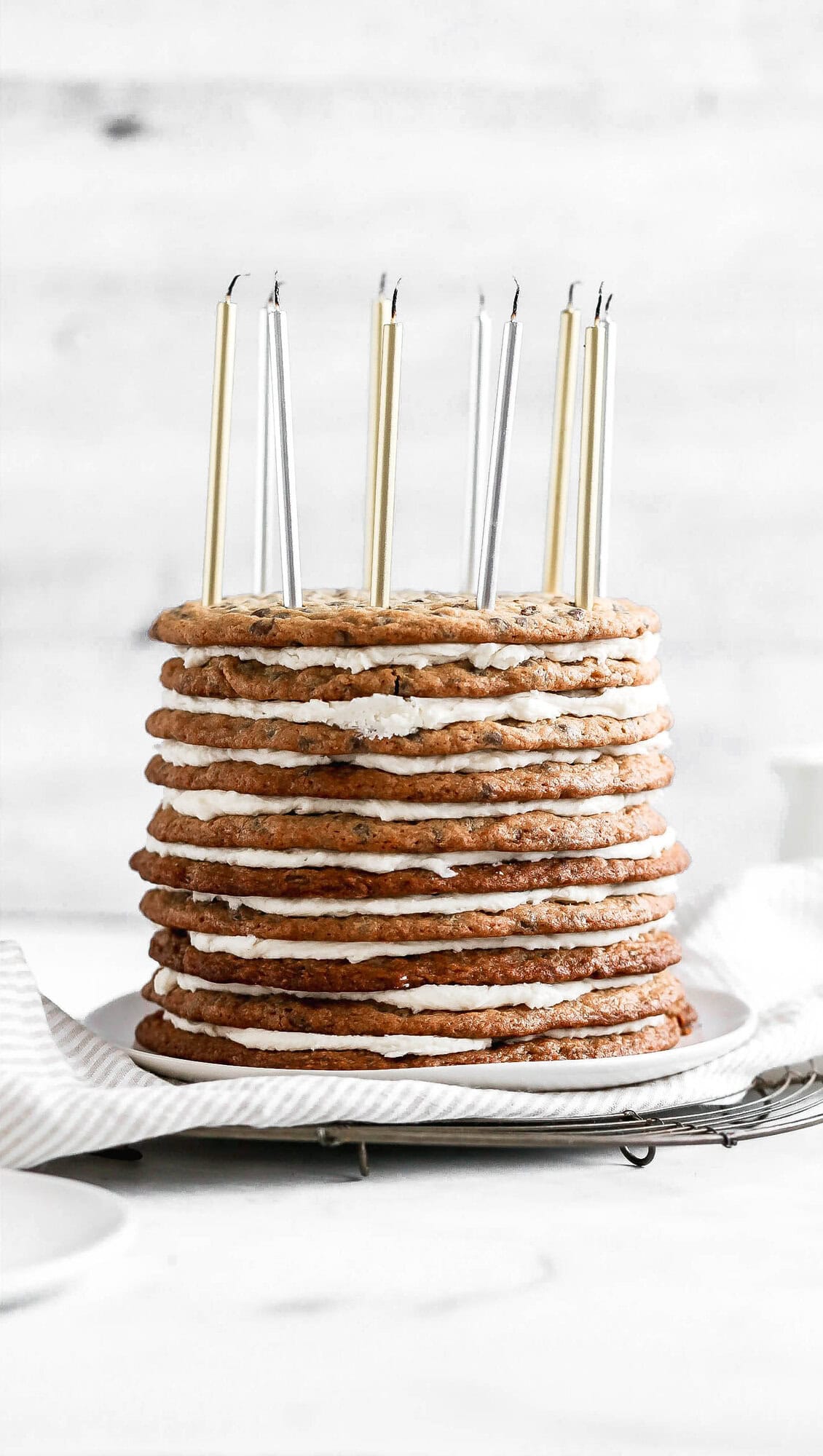 I've always had this idea in my head of creating a chocolate chip cookie layer cake but struggled with the execution. I can't take all the credit for the construction of this cake because I was heavily influenced by this cake from The Cake Blog. The recipe is still my own but I lend all the cookie smashing to Carrie!
But if you want a birthday cake that WOWs…this is exactly what you need. I mean how often do you see a 10 layer cookie cake?? Plus, it's way easier to make than a traditional birthday cake. No really…it is!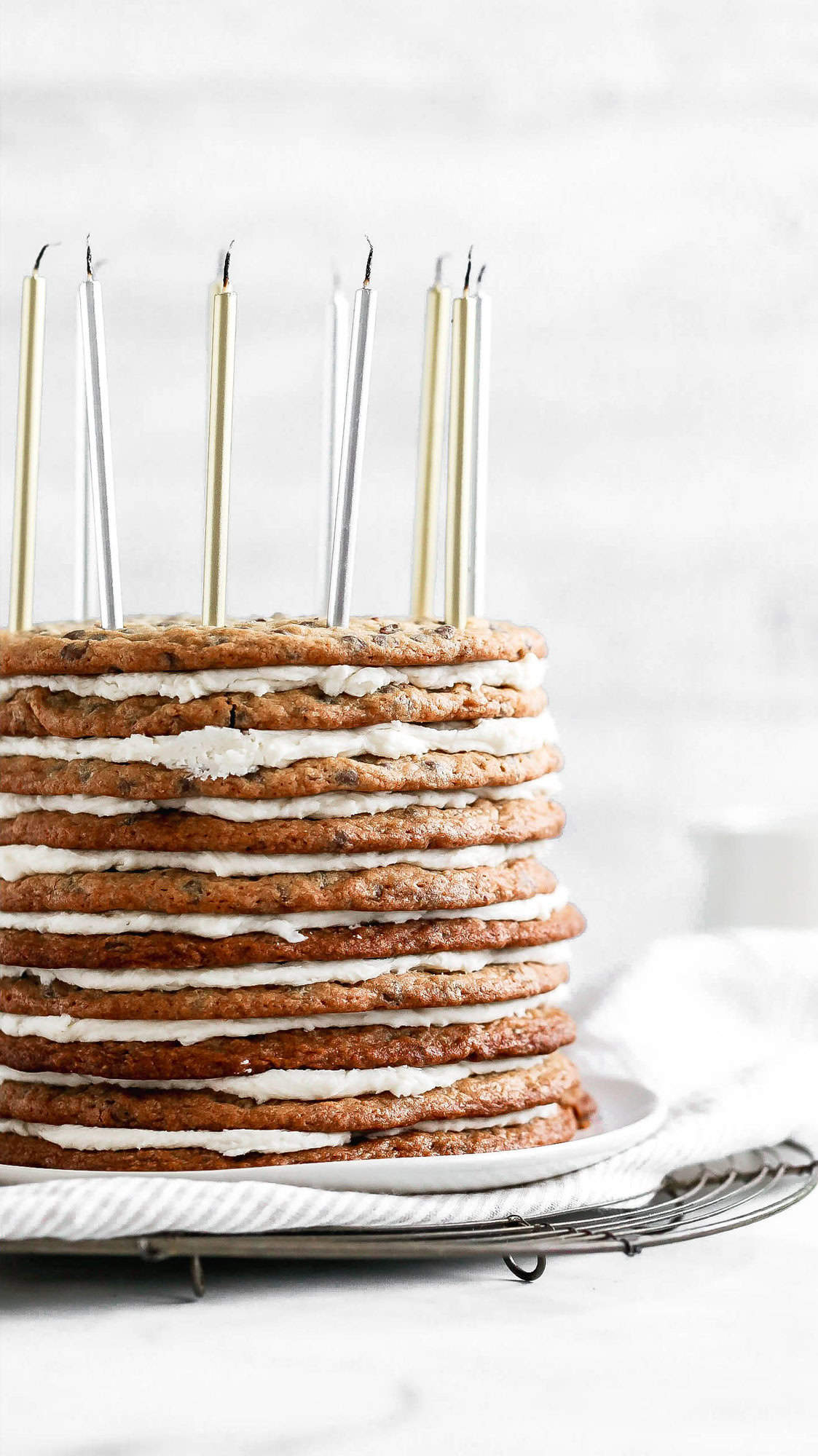 How to make the chocolate chip cookie cake layers
You're probably looking at this cake and thinking…how the heck do you get all those layers? It's actually much easier than you think. It just takes a little extra work than your standard chocolate chip cookie.
You start by making the cookie dough just like any other. The magic is how you prep the cookie dough for baking. You scoop out a large portion (weighed for consistency) and place it on your baking sheet lined with parchment paper.
Using something heavy and flat, place another piece of parchment paper on top of your cookie dough mound and press to flatten. You know when to stop pressing when the chocolate chips don't allow you to push any more. They're a nice guide so you can't make your cookies too flat.
Now, bake! Since they're so flat, they bake around the same time as a standard cookie. The trick is to bake as many as you can at once so that you get consistent color and spread. The longer your cookie dough sits out, the thinner and darker you cookies will get as they bake.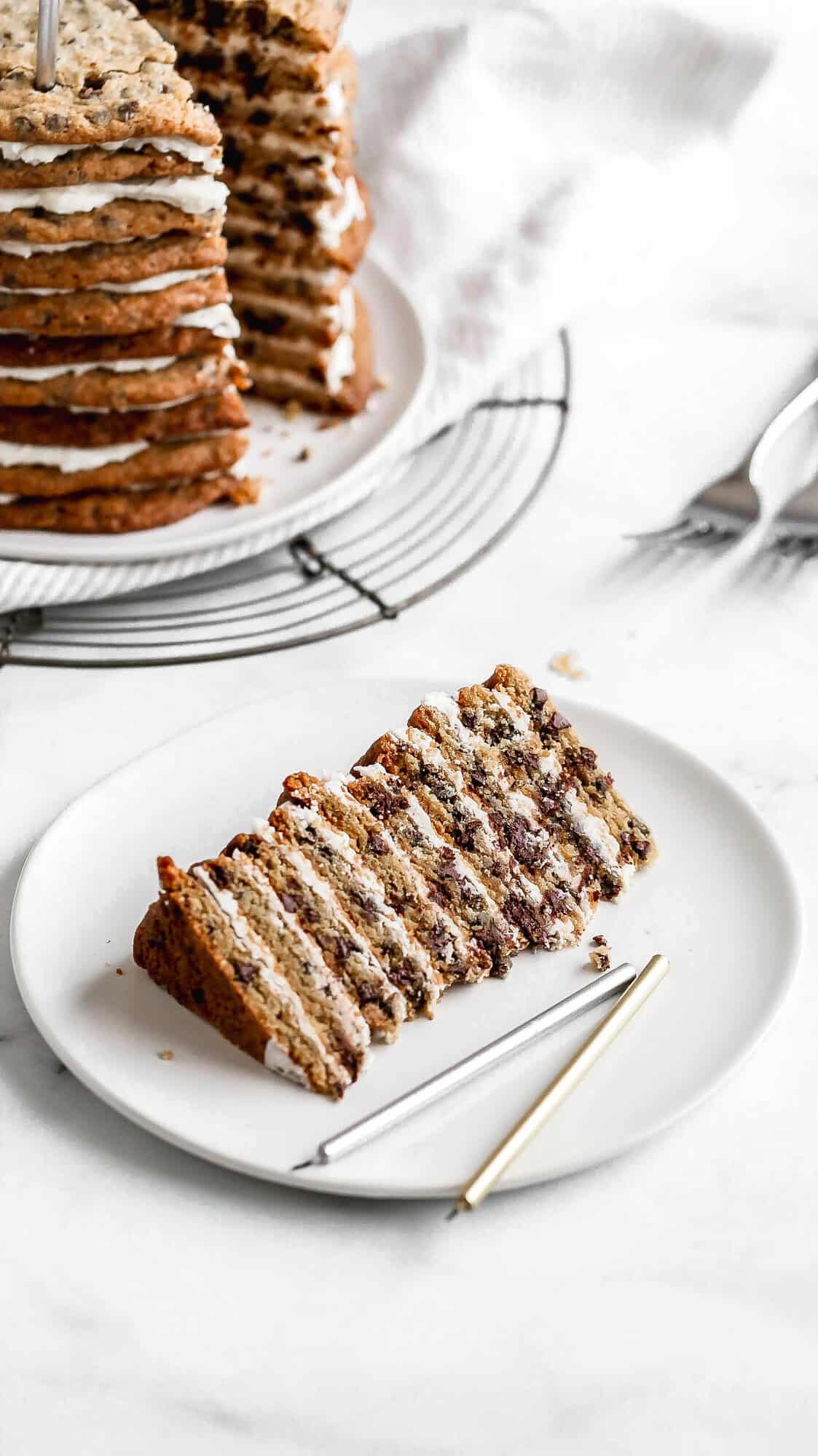 How to construct your cookie layer cake
Now that the cookies are baked, it's time to assemble your cookie layer cake. It's essential to use a buttercream that is thick enough to hold the weight of the cake. I used a traditional American buttercream that tightens up as it dries. Tightens? Hardens? It just becomes a bit stronger as it sits.
Start by stacking your cookies in an order that looks best as you might get some slight variations in sizes. Also make sure your cookies are COMPLETELY cool. If you use warm cookies, your cake will just fall apart. Then you just stack and spread, stack and spread, stack and spread.
No need to refrigerate it. Let it sit out for a few hours, or overnight, so that the stack becomes more solid. The buttercream will also start to moisten the cookies, giving it a more cake-like texture.
When you set it out, either put it in a tall cake container or cover it in plastic wrap. You don't want it to dry out!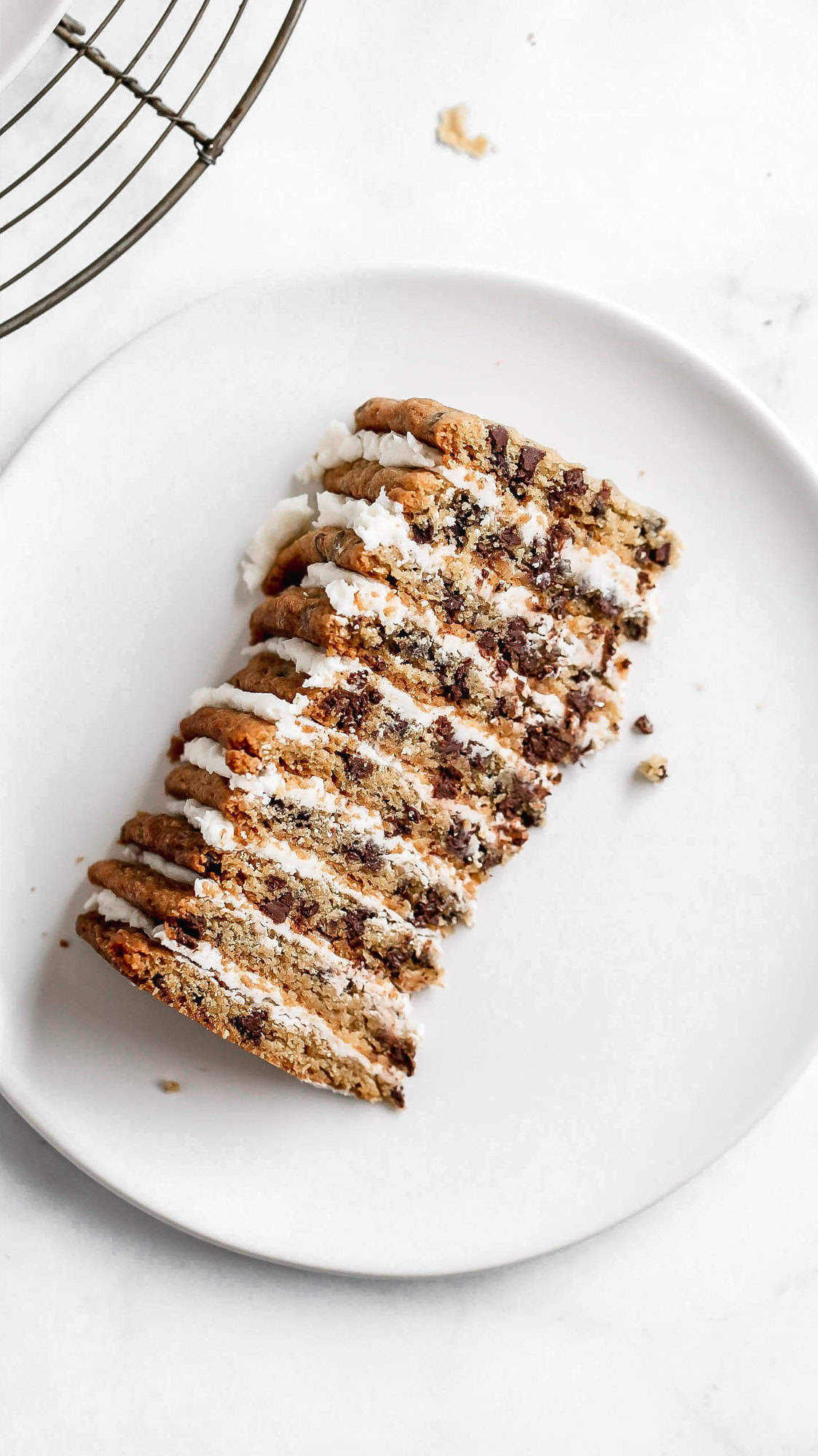 C'mon! Just look at that slice! If that hasn't sold you then I don't know what will.
If you're a cookie addict like me, you should also try out my:
Make sure to tag me @butternutbakery on Instagram if you make this chocolate chip cookie layer cake. I love seeing my recipes come to life in YOUR kitchen! To pin this recipe and save it for later, you can use the button on the recipe card, the buttons above or below this post, or on any of the photos above. Happy baking!
Print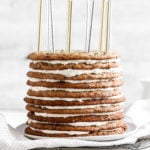 Chocolate Chip Cookie Layer Cake
---
Description
This chocolate chip cookie layer cake is PERFECT for the cookie lover in your life! Ditch the birthday cake and go with this 10 layer stack of delicious chocolate chip cookies.
---
Chocolate Chip Cookies
1 cup unsalted butter, room temp
1 cup packed brown sugar
1/2 cup granulated sugar
2 large eggs
2 tsp vanilla extract
2 1/4 cups all-purpose flour
3/4 tsp baking soda
1 tsp salt
2 cups mini chocolate chips
Buttercream
1 cup unsalted butter, room temp
6 cups powdered sugar, sifted
1 tbsp vanilla extract
2–3 tbsp milk
---
Instructions
Chocolate chip cookies
Start by weighing the bowl (in grams) in which you are going to mix your cookie dough in. Write that number down so you can subtract it from the total weight later on so you can get the true weight of the cookie dough.
Preheat your oven to 350F and line a very large cookie sheet with parchment paper.
In a bowl, whisk together the flour, baking soda, and salt. Set aside.
Using an electric mixer, cream together the butter and sugars on medium speed until light and fluffy. Then mix in the eggs and vanilla.
Mix in the dry ingredients in a couple batches so you don't get flour all over your kitchen. Fold in the chocolate chips.
Weigh the bowl again (in grams) with the cookie dough inside. Subtract the weight of the bowl that you took earlier so you know exactly how much dough you have. Divide that number by 10. This ensures all of your cookies are uniform.
Place the cookie dough in the fridge for about 10 minutes.
Weigh out the amount of cookie dough needed for one cookie and place it on your cookie sheet. Try to fit two cookies on one sheet to speed up the baking process. Place them about 2-3 inches apart.
Place another piece of parchment paper on top of your scooped cookie dough. Take something flat and heavy (I used a small cake stand) and press down until the chocolate chips stop you from pushing anymore. They'll be about 1/8 inch thick.
Bake for 10-12 minutes or until the edges are golden brown and the center is set. Take a large spatula and carefully transfer them to a cooling rack. Repeat 4 more times.
While each batch bakes, place the dough in the fridge. You don't want the dough to reach room temperature as it will affect how the cookies bake.
Let the cookies cool COMPLETELY before assembling.
Buttercream
Start by sifting the powdered sugar in a bowl.
In a larger bowl, cream the butter then slowly mix in the powdered sugar one cup at a time. Halfway through, mix in the vanilla and 2 tbsp of milk.
Once all of the powdered sugar is mixed in, add in another tablespoon of milk if your buttercream is too stiff to spread.
Assembly
Spread an even layer of buttercream between each cookie.
Let the cake sit out at room temperature for 4 hours or overnight. This allows the cookies to soften and the buttercream to strengthen the cake. Place it in a cake container or wrap it in plastic wrap so it doesn't dry out.
Now cut a big slice and enjoy!
Prep Time: 20 minutes
Cook Time: 60 minutes
Keywords: cookie cake, cookie layer cake, giant chocolate chip cookie
Recipe Card powered by
*Some of the links above are affiliate links, which pay me a small commission for my referral at no extra cost to you! Thank you for supporting Butternut Bakery.