You will never go back to a classic espresso martini after having this toasted marshmallow espresso martini. It's so flavorful and rich with marshmallow vodka, toasted marshmallow syrup, and a toasted marshmallow garnish. It has the classic taste of a strong espresso martini, but with a layer of marshmallow sweetness.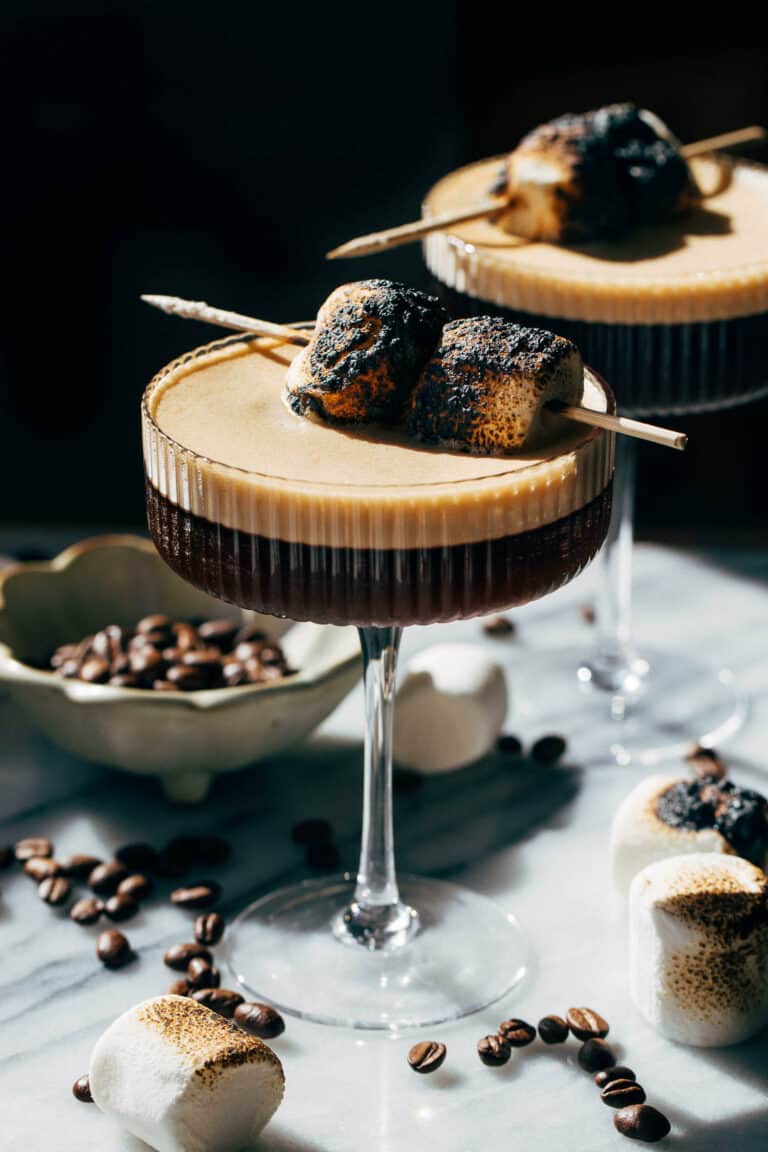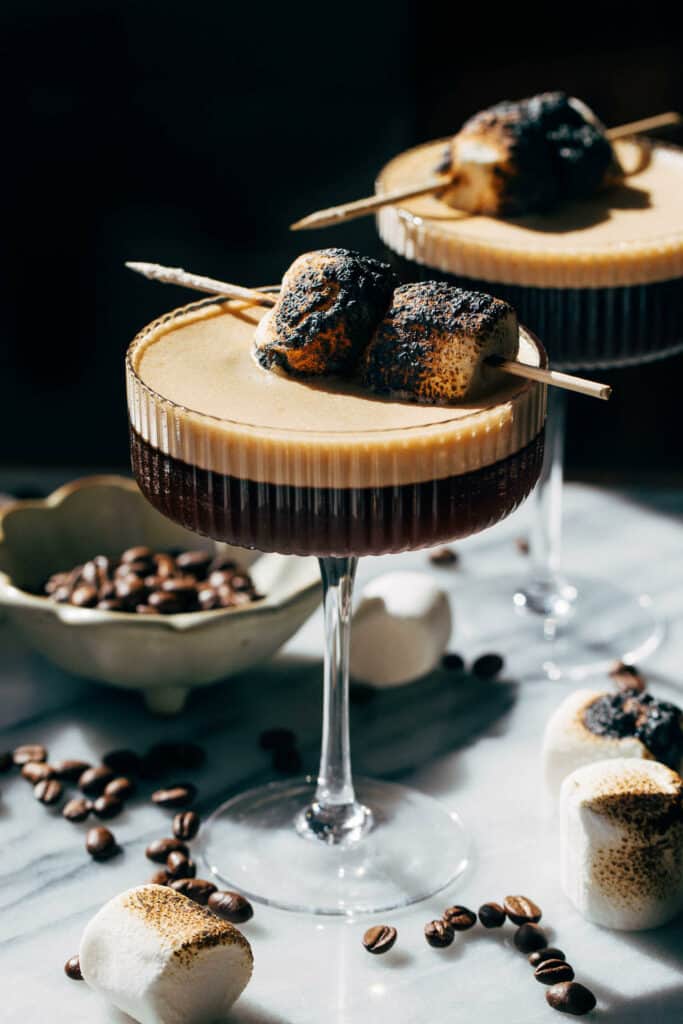 How to Make a Toasted Marshmallow Espresso Martini
The idea for this cocktail originally came from a candle! I recently collaborated with Siblings to create a Spiced Maple Butter Cookie Candle (which smells SO delicious) but what made me fall in love with the brand is their burnt sugar marshmallow scent.
It's so good that I just want to eat it! And for the holidays, I really wanted to create a twist on an espresso martini. Thus sparked the idea to combine the two – especially after discovering that marshmallow vodka exists. It was just meant to be.
Along with the flavored vodka, this espresso martini is infused with a homemade toasted marshmallow simple syrup. Garnish with a skewer of toasted marshmallows, you inhale the rich scent of toasty goodness with each sip. It's easily one of my favorite cocktails to date!
Toasted Marshmallow Simple Syrup
To incorporate that delicious burnt toasty flavor of a fireside marshmallow, this espresso martini recipe starts off with a homemade marshmallow simple syrup.
First, marshmallows are torched to charred perfection. This can be done with a kitchen torch or over a stovetop flame.
The toasted marshmallows are added to a saucepan with sugar and water. Over heat, the marshmallows and sugar dissolve into the water to create a sweet syrup.
There will be tons of black charred bits floating around the syrup, so it's important to strain it before chilling. Don't worry, the toasty flavor will still be here!
Once chilled, it adds a sweet a toasty flavor to this cocktail.
Flavored Vodka for Espresso Martinis
When creating this recipe, I assumed that there's a vodka flavor for just about anything. Lo and behold, I came across a few brands who make marshmallow flavored vodka – perfect for this cocktail!
But when I went out shopping for this vodka, I could not find it anywhere. Maybe it's too early in the season, but there's a possibility it is discontinued. If that's the case, I suggest using a whipped cream or vanilla flavored vodka. It's so close to the flavor of marshmallow that it's hard to tell the difference.
For more cocktail recipes, check out my:
Make sure to tag me @butternutbakery on Instagram and comment below if you make this marshmallow espresso martini. To pin this recipe and save it for later, you can use the button on the recipe card, the buttons above or below this post, or on any of the photos above. Cheers!
Print
Toasted Marshmallow Espresso Martini
---
Description
This toasted marshmallow espresso martini is a fun twist on a classic cocktail. Made with marshmallow vodka, toasted marshmallow syrup, and topped with freshly toasted marshmallows, this cocktail is uniquely sweet and so delicious!
---
Toasted Marshmallow Syrup
5 jumbo marshmallows
1/2 cup sugar
1/2 cup water
Toasted Marshmallow Espresso Martini
1 1/2 oz espresso
1 1/2 oz marshmallow vodka (or whipped cream vodka)
1 oz coffee liqueur
1/2 oz toasted marshmallow syrup
Jumbo marshmallows, for garnish
---
Instructions
Toasted Marshmallow Syrup
Add the marshmallows to a small saucepan and use a kitchen torch to fully toast each one. If you don't have a torch, you can also toast the marshmallows over the stovetop flame and then place them in the saucepan.
Add the sugar and water and place over medium heat.
Continue to stir until the marshmallows are melted and the sugar is fully dissolved (about 3-5 minutes). The syrup should be a deep brown color.
Strain the syrup into a glass container and chill before making the cocktail.
Toasted Marshmallow Espresso Martini
To a shaker with ice, add all of the ingredients and shake for a good 30 seconds.
Strain the cocktail into a coupe glass.
Cut a wooden skewer down to size and slide on two large marshmallows. Toast with a kitchen torch (or stovetop flame) and place over the cocktail.
Enjoy!
Equipment
Notes
MOCKTAIL – 2 oz espresso, 1 oz heavy cream, 3/4 oz marshmallow syrup
Keywords: espresso martini, espresso martini recipe, toasted marshmallow syrup, marshmallow martini, toasted marshmallow espresso martini, marshmallow vodka, marshmallow cocktail
Recipe Card powered by