This apple cider margarita is packed with flavor using a homemade spiced apple cider. The flavors warm cinnamon, zesty orange, ginger, and fresh apple pair so well with the aged sweet notes of reposado tequila. Finished with a salted cinnamon sugar rim, this margarita is the ideal fall cocktail!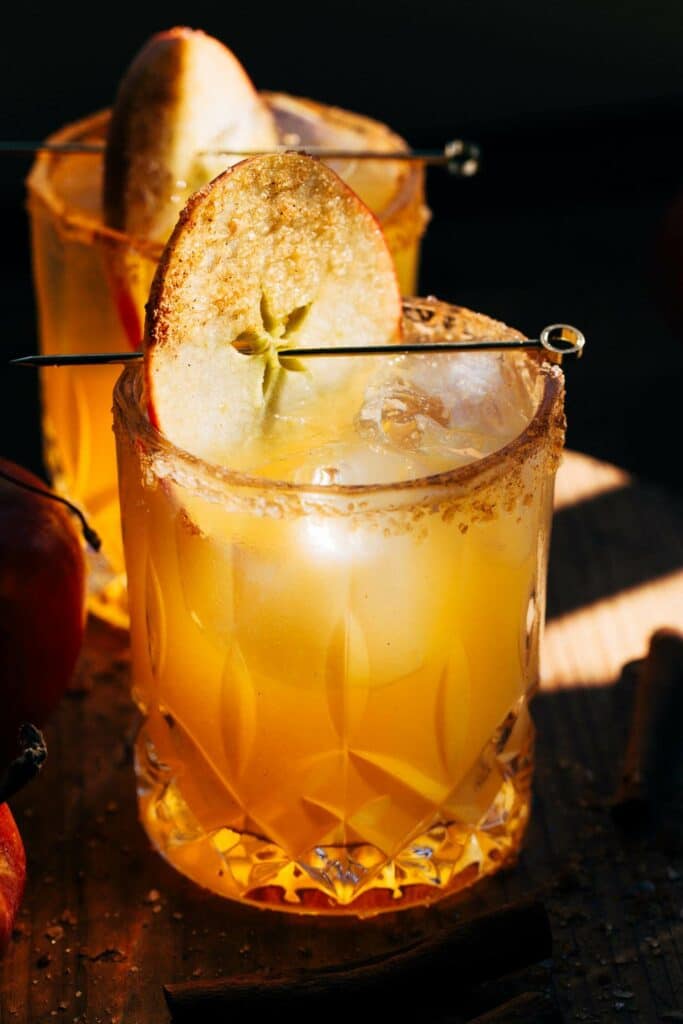 What Makes This Apple Cider Margarita So Good?
A margarita is easily my favorite cocktail and apple cider is THE drink for fall, so it was only natural to combine the two!
But instead of making a basic apple cider margarita, I wanted to punch up those flavors to make an extra special apple cider cocktail.
Enhancing the apple cider flavor, this recipe adds flavors of cinnamon, allspice, orange, and ginger to an already delicious drink.
The warm flavors allow the apple cider to really shine because not only does the process infuse flavor, but it also reduces the apple cider to really concentrate its flavor.
As far as the alcohol, I knew a reposado tequila would be best. This aged tequila has a rich and sweet flavor that pairs so well with the apple cider. Combined with maple syrup and orange liqueur, you definitely can't go wrong with this cocktail.
How to Make Spiced Apple Cider
This cocktail starts with a really quick and simple spiced apple cider recipe. Now, apple cider can be purchased spiced but this homemade version has a lot more flavor!
To make homemade spiced apple cider, simply combine these ingredients in a saucepan:
Apple Cider
Cinnamon Stick
Allspice
Orange Peel
Chopped Ginger
It's brought to a simmer, covered, and then the heat is turned down to low. The cider sits for about 15 minutes to allow all of those flavors to really sink in. Your house will smell AHMAZING as well.
After those 15 minutes, turn off the heat and scoop out all of the added bits. Pour into a heat-safe glass and chill before making a cocktail.
How to Make a Cinnamon Sugar Rim
The cocktail itself is more on the sweet side, so the glass is lined with a SALTED cinnamon sugar rim. The added salt really helps balance out all of the flavors in this apple cider margarita.
First, combine raw sugar, cinnamon, and flaky salt in a small shallow dish. Raw sugar is best because it doesn't easily dissolve and flaky salt holds well.
Then, run an already-squeezed lemon edge around the rim of the glass. Flip over the glass and twist the rim into the cinnamon sugar mixture.
Fill the glass with ice and pour in your margarita!
And to enhance the garnish, dip half of an apple slice into the cinnamon sugar before decorating the cocktail.
For more cocktail recipes, check out my:
Make sure to tag me @butternutbakery on Instagram and comment below if you make this apple cider margarita. To pin this recipe and save it for later, you can use the button on the recipe card, the buttons above or below this post, or on any of the photos above. Cheers!
Print
Spiced Apple Cider Margarita
---
Author: Jenna Barnard
Total Time: 1 hour 15 minutes
Yield: 1 cocktail
Description
This apple cider margarita is so flavorful with homemade spiced apple cider and a salted cinnamon sugar rim! It's the perfect tequila fall cocktail.
---
Spiced Apple Cider (makes 3 cocktails)
2 cups apple cider
1 cinnamon stick
1 2″ orange peel
1/2" ginger nub, peeled and sliced
Tiny pinch of allspice
Apple Cider Margarita (1 cocktail)
2 oz reposado tequila
1/2 oz orange liqueur
1/2 oz fresh lemon juice
2 oz spiced apple cider
1/2 oz pure maple syrup
Salted Cinnamon Sugar Rim (optional)
1 tbsp raw sugar
1 tsp flaky sea salt
1/2 tsp cinnamon
---
Instructions
Spiced Apple Cider
Add all of the ingredients to a saucepan and bring to a simmer over medium-high heat.
Once bubbling, cover and turn the heat down to low. Leave the cider for 15 minutes.
Then turn off the heat. Remove the cinnamon, orange peel, and ginger and pour into a heat-safe container. Chill before making a cocktail.
Apple Cider Margarita
Run an already-squeezed lemon half around the rim of a cocktail glass (one that was used to make the lemon juice).
Dip the rim in the salted cinnamon sugar mixture.
Now add all of the cocktail ingredients to a shaker with ice. Shake for about 20 seconds and then strain into the rimmed cocktail glass filled with ice.
Garnish with an apple slice and enjoy!
Prep Time: 1 hour
Cook Time: 15 minutes
Category: Drinks
Method: Shaken
Cuisine: Tex-Mex
Keywords: apple cider margarita, apple cider margarita recipe, fall margarita recipe, fall margaritas
Recipe Card powered by