Between the color, the flavor, and the beautiful presentation, this cocktail recipe is bound to be your new favorite! This blackberry vodka sour is perfectly sweet and tart with a creamy finish. Made with a homemade blackberry ginger syrup, this cocktail is so unique and sure to impress.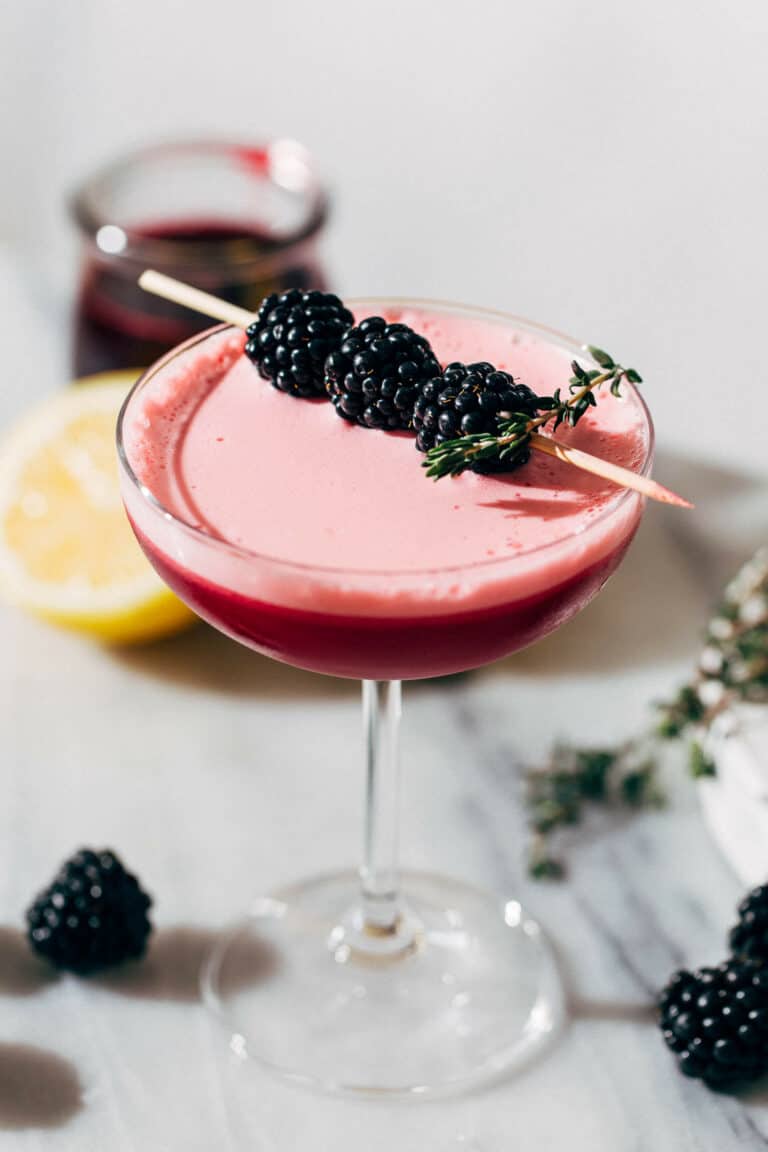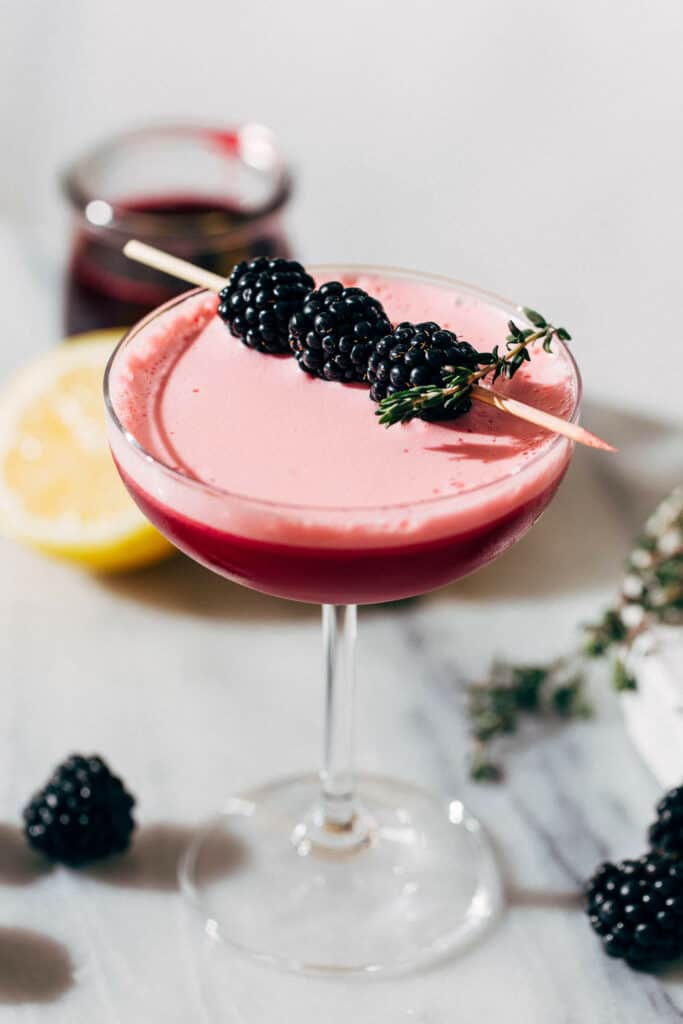 How to make a blackberry vodka sour
A vodka sour is typically made up of vodka, lemon juice, simple syrup, bitters, and an egg white. In order to make this a BLACKBERRY vodka sour, we're incorporating our very own sweet blackberry syrup.
It starts off like a typical simple syrup recipe with one part sugar to one part water. To infuse the blackberry ginger flavor, fresh blackberry and sliced ginger are heated with the syrup.
Once warm, the blackberries are finely mashed into a pulp to release even more flavor. As the mixture boils, the heat releases that delicious sweet blackberry flavor and tangy ginger kick.
The syrup is then run through a mesh strainer to leave behind all the seeds and pulp. The end result is a deliciously sweet blackberry syrup with a gorgeous rich purple color.
It's important that the syrup is chilled before use as we want your drink to be VERY cold, so make it an hour or two in advance. It can also be made a couple days ahead as well.
Does this recipe work with other fruit?
If you'd like to experiment with this recipe, I'd say stick to similar fruits when making the syrup. Raspberries are very close to blackberries, so I think this could be a great alternative!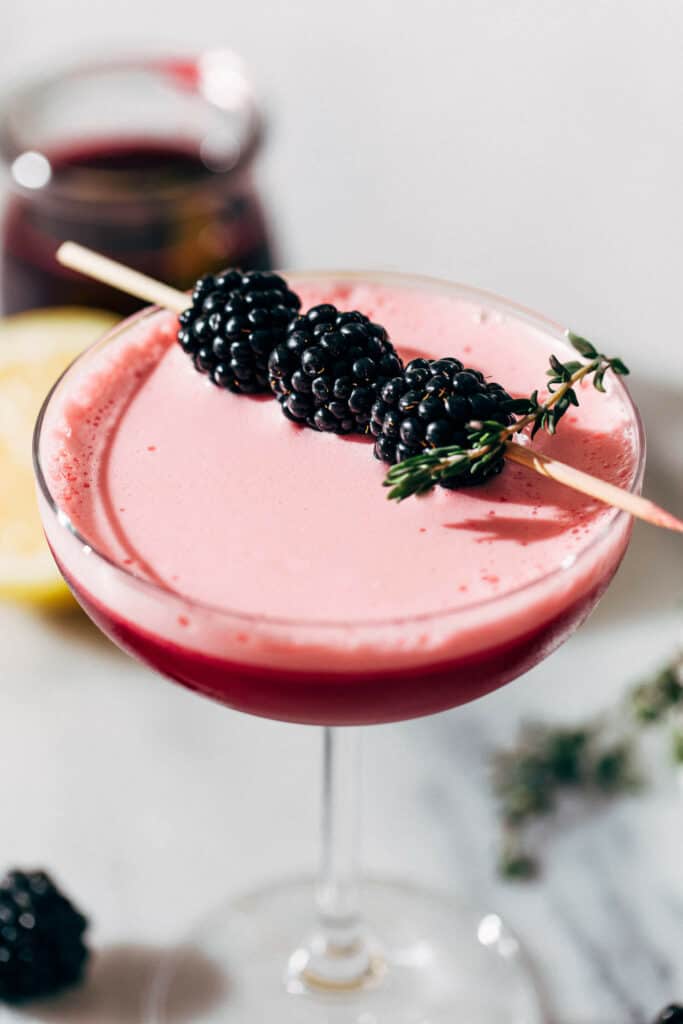 Shaken blackberry vodka sour
When the syrup has cooled, it's time to make the cocktail!
All of the ingredients go into a shaker (metal preferred) and is shake without ice for 30 seconds. This just gives the egg a chance to emulsify before frothing with the ice.
Ice is then added and it's shaken for another 30 seconds. Make sure to give it a vigorous shake to create the smoothest froth.
Then pour into a coupe glass (frozen if desired) and garish with fresh blackberries.
Egg white alternatives
If you're looking for a vegan option or are just a little iffy about egg whites in your drinks (although trust me, it is SO delicious) you can sub in aquafaba.
This is the liquid from a can of chickpeas. It works just as well to create that frothy top and smooth finish.
For more cocktail recipes, check out my:
Make sure to tag me @butternutbakery on Instagram and comment below if you make this Blackberry Vodka Sour. To pin this recipe and save it for later, you can use the button on the recipe card, the buttons above or below this post, or on any of the photos above. Cheers!
Print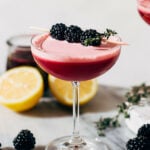 Blackberry Ginger Vodka Sour
---
Author: Jenna Barnard
Total Time: 10 minutes + 1 hour chilling
Yield: 1 cocktail
Description
This vodka sour is perfectly sweet and tart with a smooth finish. Made with a homemade blackberry ginger syrup, this drink is so flavorful and so easy to make!
---
Blackberry Ginger Syrup
1 cup (150g) fresh blackberries (or thawed frozen berries)
1 inch nub of fresh ginger, peeled and sliced
1/2 cup (100g) granulated sugar
1/2 cup (118g) water
Blackberry Ginger Vodka Sour (1 drink)
2 oz vodka (also tastes great with mezcal!)
1 oz fresh lemon juice
1 1/2 oz blackberry ginger syrup
2 dashes aromatic bitters
1 large egg white (or 1 oz aquafaba)
---
Instructions
Blackberry Ginger Syrup
Add all of the ingredients to a saucepan over medium heat.
Stir and heat until the blackberries start to bleed their color and become tender.
At this point, use a potato masher and mash up the blackberries into a chunky pulp.
Once mashed, allow the mixture to bubble for 5 minutes, stirring often.
Remove from heat and run the syrup through a mesh strainer over a glass container, pressing out the seeds and pulp to leave you with a clear blackberry syrup.
Refrigerate the syrup for at least an hour before making a cocktail.
Blackberry Ginger Sour
Add all of the ingredients to a shaker and shake for 30 seconds without ice.
Then add ice and shake for another 30 seconds.
Strain into a coupe glass and garnish with fresh blackberries and a thyme twig. Enjoy!
Prep Time: 5 minutes
Cook Time: 5 minutes
Category: Drinks
Method: Shaken
Keywords: vodka sour, vodka sour recipe, blackberry vodka sour
Recipe Card powered by