Sweet and tangy fresh orange juice, smoked cinnamon and mezcal, and warm spiced honey syrup make up one delicious cocktail. This smoky spiced orange cocktail is an incredibly flavorful drink that's like making a swanky restaurant-quality drink right at home.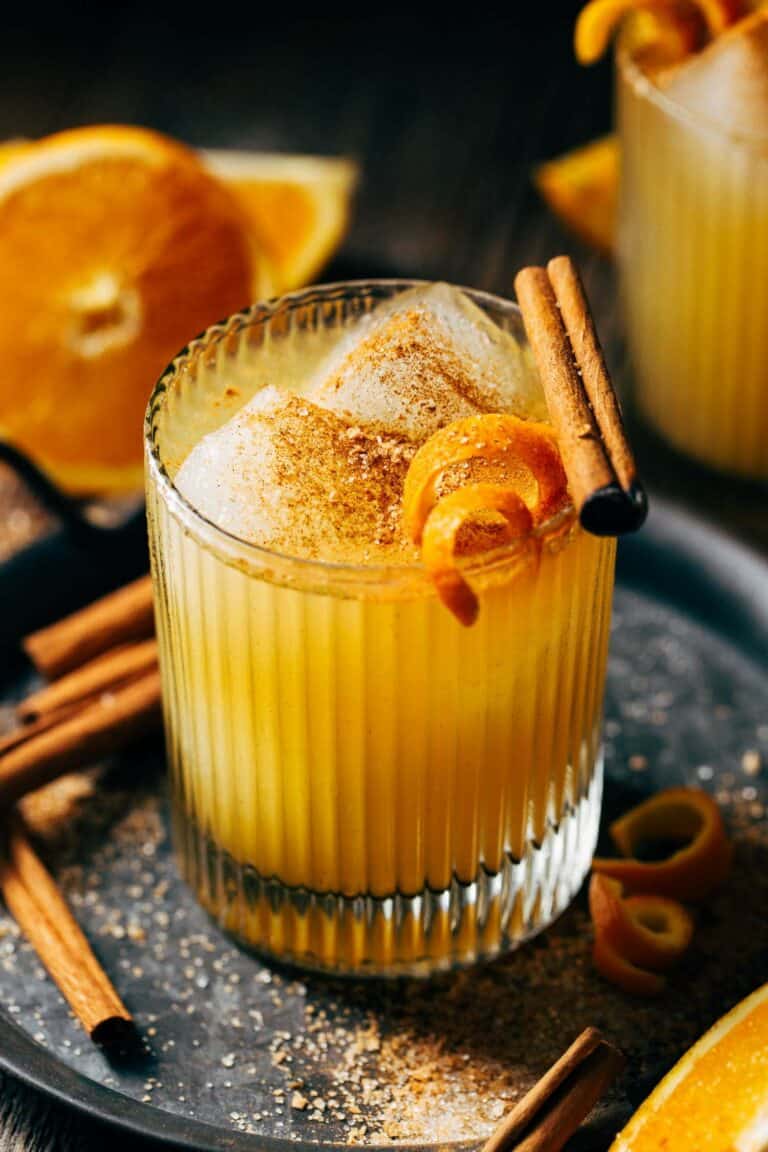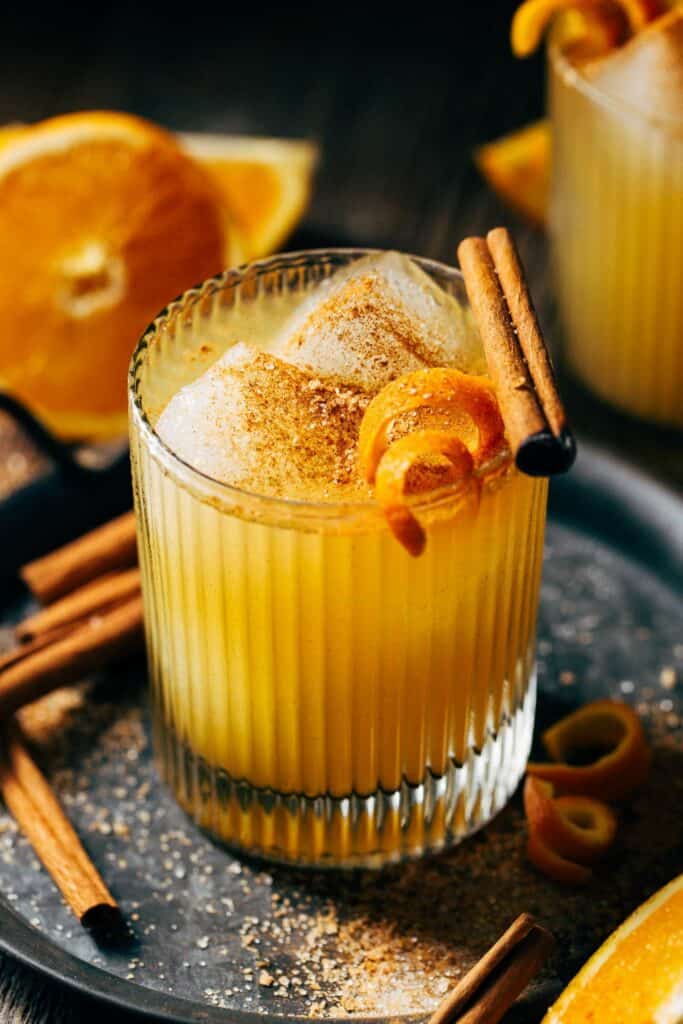 How to make a smoky orange juice cocktail
This recipe packs so many flavors into one drink, including a hint of smoke. Here's what's needed to create the ultimate smokey sweet cocktail:
Cinnamon Stick – One half of the smoke is from smoking the cocktail glass before filling it. This is done by lighting a cinnamon stick on fire and then smothering it with the inside of a cocktail glass. This traps the smoke in and wafts that flavor into the glass.
Mezcal – This is a subset of tequila, made from the hearts of an agave plant. They're cooked in pits in the ground to create a smoky flavor. In short, it's basically smoky tequila with an incredibly smooth flavor.
Spiced Honey Syrup – The homemade portion of this recipe includes this delicious syrup made from water, honey, ginger, cinnamon, and orange. It's simmered and steeped to pack in lots of flavor into one ingredient.
Silver Rum – The warm spices in this cocktail pairs perfectly with rum. It's subtle sweetness contrasts beautifully with the smoky mezcal and tangy orange juice.
Orange Juice – The main ingredient for this cocktail is orange juice, so using fresh squeezed is the best route!
Along with additional spices, everything is shaken and poured into a smoked cocktail glass and garnished with salty cinnamon sugar.
Spiced orange honey syrup
The major flavor enhancer in this drink is the spiced honey syrup. Similar to simple syrup, this is made with equal parts water and honey.
The two are simmered over medium heat along with cinnamon sticks and fresh ginger. The warmth of the syrup helps release the flavors to create our spiced honey syrup.
Once simmering, a fresh orange peel is added to help brighten up this syrup. It simmers for another 30 seconds before steeping for 30 minutes to 1 hour.
The longer the syrup steeps, the more flavor there is so I always go for one hour. Then pour the syrup through a strainer into a glass container and chill until you're ready to make the cocktails.
The syrup has the most flavor the day of, but can also be made a day in advance and it will keep for about 5 days.
Can this be made into a mocktail?
Yes, here are the swaps I suggest:
Sub the mezcal and rum for a zero proof tequila alternative.
Shake the cocktail with 1-2 dashes of orange bitters. You can also add a drop of liquid smoke to help mimic the smoke of mezcal.
For more cocktail recipes, check out my:
Make sure to tag me @butternutbakery on Instagram and comment below if you make this smoky spiced orange juice cocktail. To pin this recipe and save it for later, you can use the button on the recipe card, the buttons above or below this post, or on any of the photos above. Cheers!
Print
Smoky Spiced Orange Cocktail
---
Description
This orange juice cocktail has extra flavor with smoked cinnamon and spiced honey syrup. Mixed with rum and mezcal for extra smoke, this delicious cocktail is sweet, smoky, spicy, and so delicious.
---
Spiced Honey Syrup
1/2 cup water
1/2 cup honey
2 inch fresh ginger, peeled and sliced
2 cinnamon sticks
2 inch orange peel
Smoky Spiced Orange Cocktail (makes 1 drink)
1 cinnamon stick
1 oz mezcal
1 oz silver rum
3 oz orange juice, fresh squeezed*
1/2 lemon, juiced
3/4 oz spiced honey syrup
2 dashes ground cinnamon
1 dash each ground ginger and nutmeg
Salted Cinnamon Sugar
1 tsp flaky sea salt
1 tsp granulated sugar
1/2 tsp ground cinnamon
---
Instructions
Spiced Honey Syrup
Combine the water, honey, ginger, and cinnamon sticks in a medium saucepan over medium heat.
Bring to a simmer and allow the honey to fully dissolve. Drop in the orange peel and continue to simmer for 30 seconds.
Remove from heat and let the syrup steep for 30 minutes to 1 hour. The longer it steeps, the stronger the flavor.
When it's done steeping, strain into a glass container and chill until you're ready to make the cocktails. The syrup is the most flavorful the day of, but it can be refrigerated for up to 3 days.
Smoky Spiced Orange Cocktail
Light the end of a cinnamon stick and place it on a ceramic plate, stone, or wood surface that you don't care about damaging. Immediately place the cocktail glass over the stick to trap in the smoke. Let it sit while we make the cocktail.
To an ice-filled shaker, add the remaining ingredients and give it a good shake.
Release the cocktail glass from the cinnamon stick and fill with ice.
Pour your cocktail and garnish with the cinnamon stick, orange peel, and salted cinnamon sugar. Enjoy!
Notes
*ORANGE JUICE – If you go the store bought route, just make sure the orange juice is 100% orange juice without any added sugars or ingredients
HONEY SYRUP – This recipe is enough to make about 12 orange cocktails
Prep Time: 1 hour
Category: Drinks
Method: Shaken
Keywords: orange cocktail, orange juice cocktail, spiced orange cocktail, mezcal cocktail, orange cocktail recipe, rum cocktail
Recipe Card powered by