To be honest, I'm not a big pie person but this? This cookie pie? I can get behind. It has a buttery flaky pie crust baked with an ooey gooey peanut butter chocolate chip cookie pie filling. Serve it warm with a scoop of vanilla ice cream for the most enjoyable eating experience ever.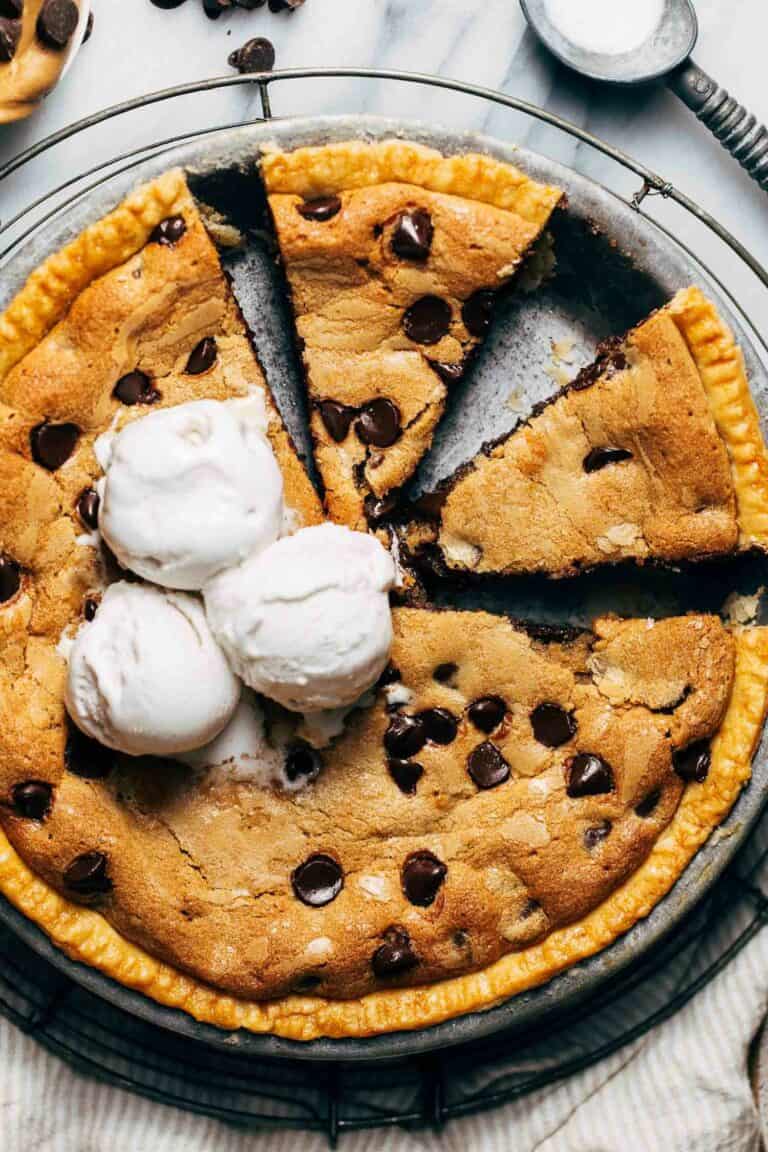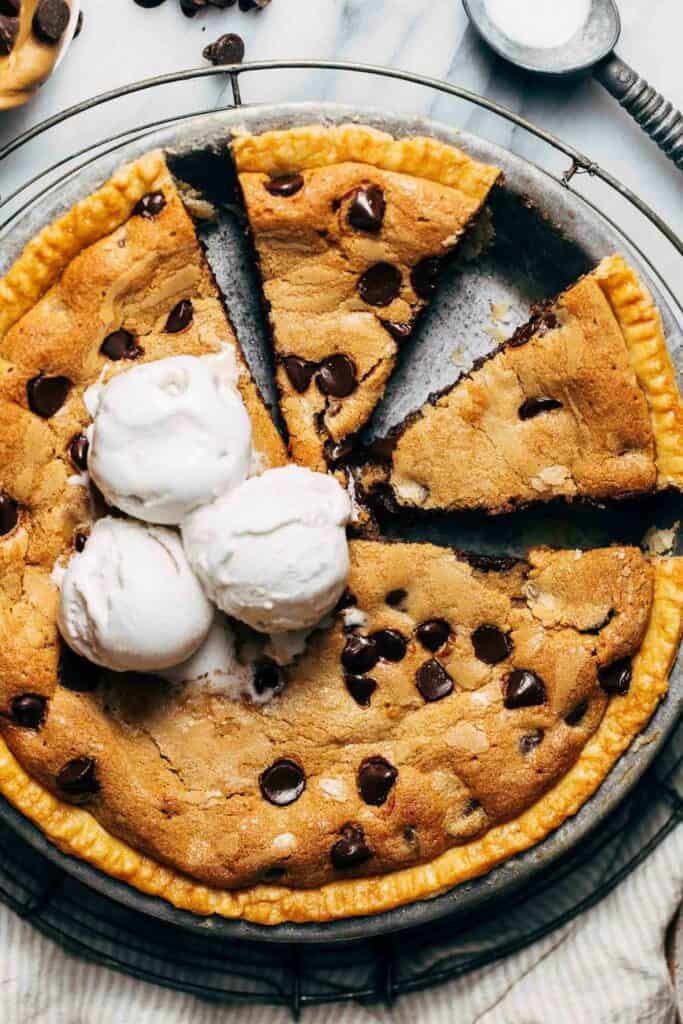 Here's why you will LOVE this peanut butter cookie pie
Okay this may be obvious because, I mean, just LOOK at it but wow, this pie is so insanely good.
First of all, it's made with a buttery and flaky pie crust. I've included my homemade recipe which adds a few extra steps to this pie, but it's definitely worth it. Although for a VERY quick and easy cookie pie, you can also use a store-bought shell.
THEN the filling. This peanut butter pie filling is so rich and loaded with melty chocolate chips. Once it bakes, it turns into the most delicious gooey, buttery, and fudgy consistency. My mouth is currently watering as I type this.
The filling itself is also so easy to make. Just whip some eggs, mix in some sugar, then peanut butter, butter, and vanilla, then flour and salt, then the chocolate chips.
Once it's baked, it is cooled and then served slightly warm. This provides the BEST consistency where each slice stays in tact but still has a ooey gooey texture. Serve it with a scoop of ice cream and thank me later.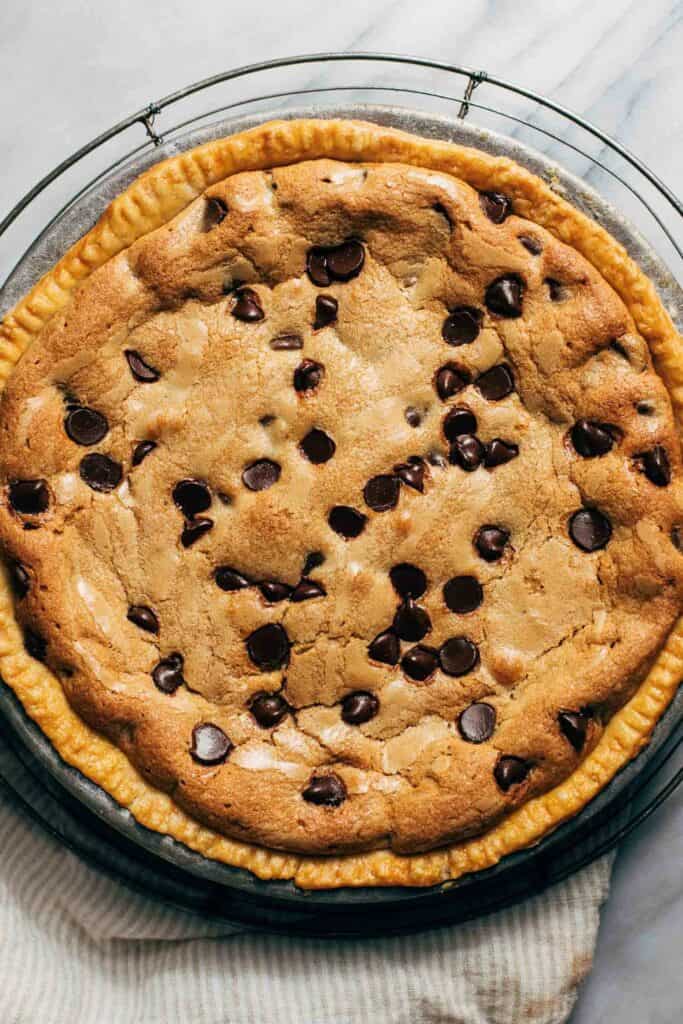 How to make a cookie pie crust
This recipe was inspired by the classic Nestle Tollhouse cookie pie which uses a store-bought pie shell. So if you would like to make this recipe SUPER quick and easy, then go for it!
But I also wanted to provide a homemade option for those of you who like to make everything from scratch (plus, homemade always tastes better).
My pie crust recipe is very simple and basic, but requires a few extra steps:
Lard – The majority of the dough uses butter for flavor, but I love using lard in my pie dough because it makes the crust extra tender and flaky. This is definitely proven with my brownie pie and pumpkin pie tarts which both use an all lard crust!
Freezing – Once the dough is rolled out and nestled into the pan, the shell freezes for about 30 minutes. This is to fully chill that butter and lard while also prepping it for parbaking.
Parbaking – When the shell is frozen solid, it's filled with pie weights and baked for 15 minutes. This step gives the crust a head start so the bottom of the crust isn't completely soggy. It also locks the shell in place so it doesn't shrink when the entire pie is baked.
Then the shell is filled with the quick and easy pie filling! For golden edges, a quick egg was is brushed around the crust before popping the pie in the oven. For even easier baking, place the pie dish on a baking sheet as this is easier to maneuver in and out of the oven.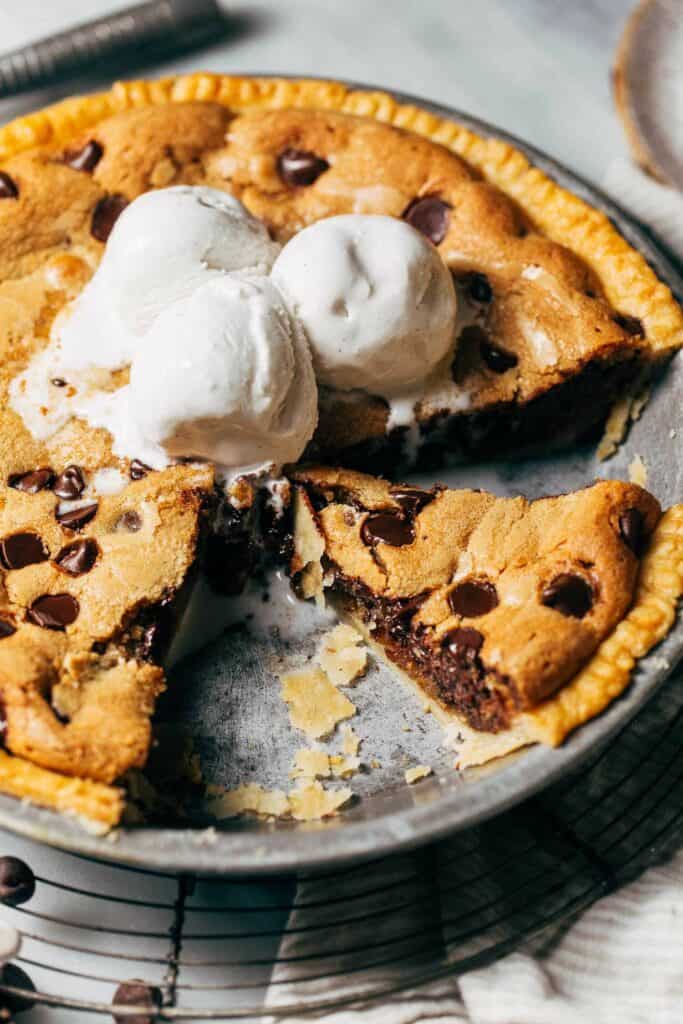 Peanut Butter Chocolate Chip Cookie Pie FAQs
What is the best peanut butter to use in cookie pie?
Use a classic creamy peanut butter like Jif or Skippy. Nothing natural!
Can I use store-bought pie dough?
To make the pie crust easier, use a deep dish 9″ frozen pie shell. If you want to use store-bought dough to mold your own shell, follow the freezing and parbaking instructions included in my homemade pie crust steps.
Can I use other chocolate chips?
You can also use dark chocolate chips! But I don't recommending going with any thing sweeter than semisweet.
Can I make this cookie pie gluten free?
Yes! Use the gluten free pie crust found with my cinnamon apple butter pie recipe. When the dough is divided to make the crust and the decorative leaves, just use the portion allotted for the crust and save the leaf dough for another time (it will keep in the freezer for a few months). Once the dough is rolled out and placed into the pie dish, follow the parbaking instructions in the recipe here. As for the filling, swap the flour with a gluten free cup for cup baking flour.
What is the best temperature to serve cookie pie?
The pie should be slightly warm but not hot! If it's too warm, the pie won't hold its shape once sliced. It's also very good chilled, but warm with a scoop of ice cream is best.
How do you store cookie pie?
The pie can be kept in an air tight container at room temperature for a couple days, but any longer and it will need to be stored in the refrigerator. It will keep for about a week.
Can cookie pie be frozen?
Yes! Allow the pie to chill in the fridge for about an hour or until it is completely cooled. Then cover and store in the freezer where it will keep for a couple months.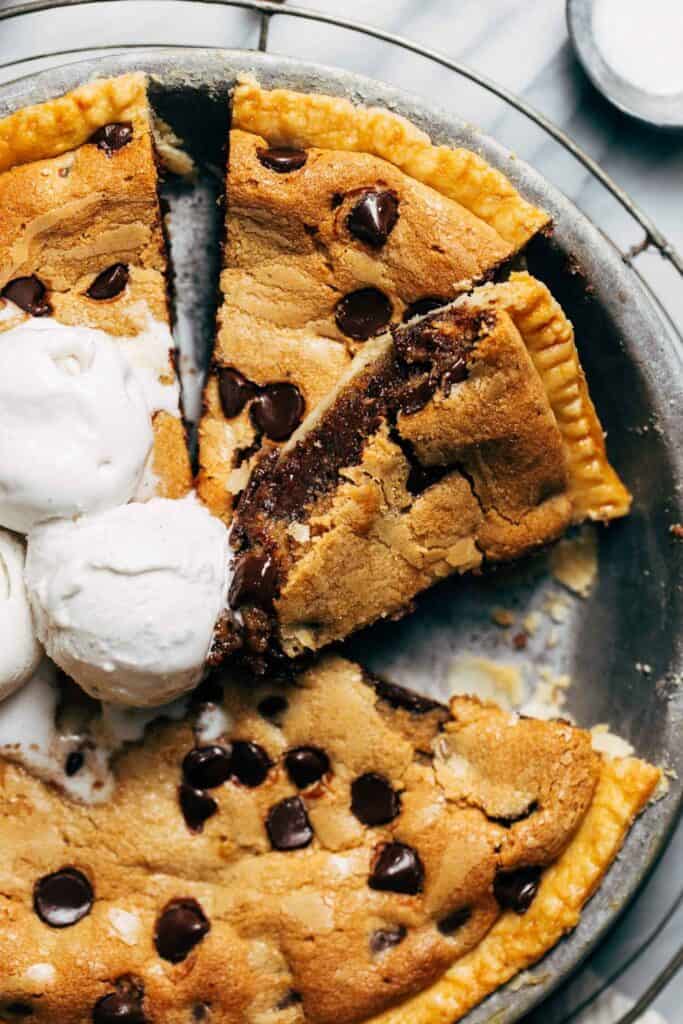 For more gooey cookie recipes, check out my:
Make sure to tag me @butternutbakery on Instagram and comment below if you make this peanut butter cookie pie. To pin this recipe and save it for later, you can use the button on the recipe card or on any of the photos above. Happy baking!
Print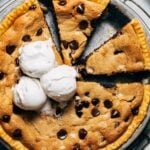 Peanut Butter Chocolate Chip Cookie Pie
---
Author: Jenna Barnard
Total Time: 2 hours 45 minutes
Yield: 8-10 slices
Description
This peanut butter cookie pie is SO ooey gooey with loads of melty chocolate chips and a buttery flaky crust. It's warm, rich, and best served with a scoop of creamy vanilla ice cream.
---
Pie Crust (or store-bought 9 inch deep dish frozen pie shell)
1 1/4 cups (150g) all purpose flour
1/4 tsp kosher salt
6 tbsp unsalted butter, chilled and cubed
2 tbsp lard or shortening, chilled
1/4 cup ice water
1 large egg + 1 tbsp milk or water (for egg wash)
Peanut Butter Cookie Pie Filling
2 large eggs
1/2 cup (100g) granulated sugar
1/2 cup (105g) light brown sugar, packed
1/2 cup (125g) creamy peanut butter
1/2 cup (110g) unsalted butter, softened
1 tbsp vanilla extract
1/2 cup (65g) all-purpose flour
1/2 tsp kosher salt
1 1/4 cup (210g) semisweet chocolate chips, plus more for topping
---
Instructions
Pie Crust
Combine the flour and salt in a large bowl.
Toss in the butter and shortening and use your fingers to press and smush them into the flour until you reach pea-sized lumps (this can also be pulsed in the food processor).
Add in two tablespoons of ice water and gently mix the dough with your hands. Add in the other 2 tablespoons of ice water and mix again, careful not to over work the dough. It should come together in one mass.
Press the ball into a disk and tightly wrap in plastic wrap. Chill the dough for at least 30 minutes.
After 30 minutes, lightly dust a work surface with flour and roll out the dough. Roll to a size that's an inch larger than a 9″ pie pan.
Place the sheet of dough into the pie dish and crimp the edges. Then freeze the crust for at least 30 minutes (I like to make the crust a day ahead so the crust can also be frozen overnight).
When it's ready, preheat the oven to 350F. Crumple up a large sheet of parchment paper and then unravel it flat. Lay the wrinkled sheet of paper inside the frozen pie crust and fill with pie weights or dry beans. Make sure they completely fill the inside of the crust.
Bake for 15 minutes, then remove the weights and paper. *If you are using a store-bought frozen pie shell, this par-baking step is not needed.
Reduce the oven temp to 325F.
Peanut Butter Cookie Pie Filling
In a mixing bowl using a hand or stand mixer with the whisk attachment, beat the eggs until light and frothy.
Then mix in the sugars, followed by the peanut butter, butter, and vanilla.
By hand with a rubber spatula, mix in the flour and salt, followed by the chocolate chips.
Pour the batter into the parbaked homemade shell (or frozen store-bought shell), spread it even, and sprinkle with a few extra chocolate chips.
Beat 1 egg and 1 tbsp milk together in a small dish and brush the pie crust edges with the egg wash.
Bake for 45-50 minutes. It's ready when the edges are golden brown and the entire pie is puffed up. It will flatten and settle as it cools.
Allow it to cool for about 30-45 minutes at room temp – it should still be slightly warm when serving. Then slice, top with ice cream, and enjoy!
Equipment
Prep Time: 1 hour 30 minutes
Cooling Time: 30 minutes
Cook Time: 45 minutes
Category: Dessert
Method: Baking
Cuisine: American
Keywords: chocolate chip cookie pie, peanut butter chocolate chip cookie pie, peanut butter cookie pie, cookie pie, cookie pie recipe
Recipe Card powered by