As if a deep dish cookie doesn't already sound amazing, let's make it a stuffed Skillet Nutella Cookie Pie! This skillet cookie is ooey gooey and baked with a layer of melty Nutella right in the middle. I quite honestly might make this my birthday cake this year because it's just SO DANG GOOD.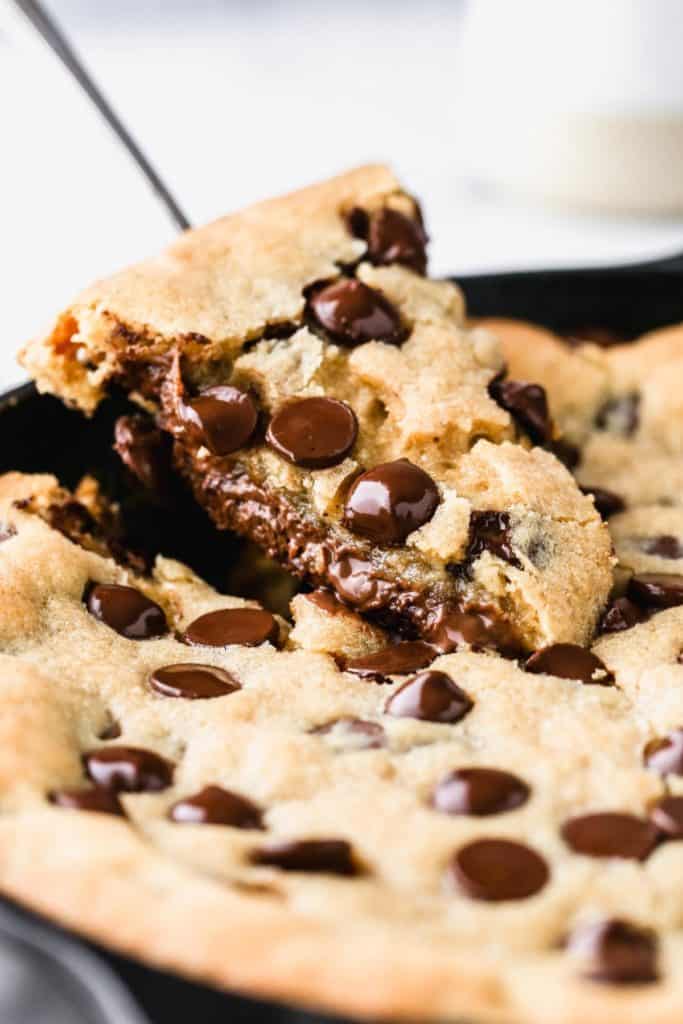 What makes this stuffed skillet cookie so good?
I'm on a mission to add more skillet cookie recipes to my blog but I honestly don't think I'll be able to top this one. It's soft, gooey, chocolately, and it has Nutella so, duh.
The best part is that they're SO EASY to make. You get all the best parts of a cookie without having the tedious work of scooping out each one. Just press the cookie dough into a cast iron skillet and you're good to go.
My first ever skillet cookie recipe was for this gluten free oatmeal chocolate chip skillet cookie. If you're in need of a gluten free skillet cookie, try that recipe or use gluten free baking flour in this one. Just make sure it's the 1-to-1 gluten free flour I used in the oatmeal chocolate chip skillet cookie!
Creating those skillet cookie layers
Making this Skillet Nutella Cookie Pie was so easy because it only consists of 2 main layers – chocolate chip cookie dough and Nutella.
Once your pan is prepped with nonstick baking spray and your dough is ready, press half of your chocolate chip cookie dough into the bottom of the pan. If it's sticking to your hands, spray your fingers with some of the nonstick spray.
My first tip is to use melted Nutella to spread on top. That makes it so much easier to create an even layer without disturbing the cookie dough underneath (and you could make your own Nutella to take this recipe to the next level?)
Evenly spread it on top but leave about 1/2 an inch around the edge of the cookie dough.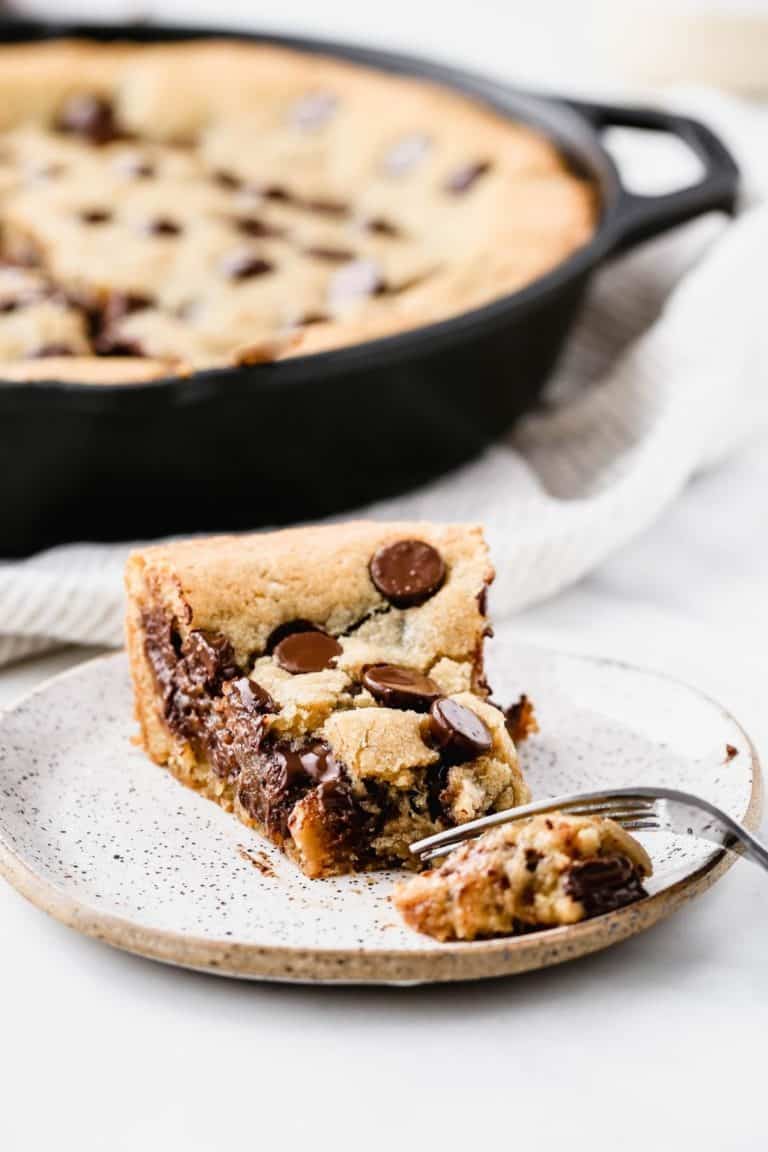 With the second half of your dough, take large chunks and flatten them with your hands. Again, if it's too sticky use some nonstick spray on your hands.
Lay those pieces on top of your Nutella layer until it's completely covered. Carefully smooth out the edges to create a seamless cookie top and make sure the edge of the cookie is sealed.
Top with even more chocolate chips and bake! For a more doughy cookie, bake for around 25 minutes. If you like it more well-done, bake for an additional 10 minutes.
You can enjoy it while it's fresh from the oven for a more "gooey" cookie or let it cool to room temperature to get those perfect slices. I personally prefer the latter but it's delicious either way!
Deep Dish Cookie FAQs
What if I don't own a cast iron skillet?
If you don't have a cast iron, you could also use a 9 inch pie pan. Although, cast irons are fairly inexpensive and after making this recipe, you'll want to make it again and again!
Can I make a no nuts version with a different chocolate spread?
Feel free to substitute with your favorite brand as long as it has a similar texture to Nutella and behaves the same way when it is melted. I really love chocolate SunButter as a good nut free option! Also be sure that your chocolate chips are nut free too if you're on the lookout for allergens.
How do you store a skillet cookie?
Skillet cookies are one of those desserts that's best eaten on the spot, but if you have leftovers make sure it's completely cooled and well covered. Store in the refrigerator where it will keep for a couple days!
How do you reheat a skillet cookie?
The beauty of a skillet dessert is that it's already in the container needed to heat it up! Preheat the oven to 300F and warm it up for about 5-8 minutes.
For more cast iron skillet recipes, check out my:
Make sure to tag me @butternutbakery on Instagram if you make this NUTELLA STUFFED DEEP DISH COOKIE. I love seeing my recipes come to life in YOUR kitchen! To pin this recipe and save it for later, you can use the button on the recipe card, the buttons above or below this post, or on any of the photos above. And if you have any questions, ask me on Instagram! That's the best way to reach me. Happy baking!
Print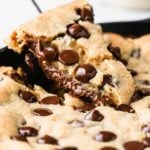 Nutella Stuffed Deep Dish Cookie
---
Author: Jenna Barnard
Total Time: 45 minutes + 30 minutes cooling
Yield: 8-10 servings
Description
This deep dish chocolate chip skillet cookie is baked with a layer of Nutella right in the center! It's so rich and so ooey gooey, but also so fun to make. It's best to dig in when it's still warm for an extra melty center!
---
1 cup (220g) unsalted butter, room temp
1 cup (200g) light brown sugar, packed
1/2 cup (100g) granulated sugar
2 tsp vanilla extract
2 large eggs + 1 egg yolk
2 3/4 cups (360g) all-purpose flour
1 tbsp cornstarch
1 tsp baking soda
1/2 tsp kosher salt
1 1/2 cups (275g) semisweet or dark chocolate chips, divided
1/2 cup (120g) Nutella *or chocolate SunButter for a nut free option
---
Instructions
Preheat the oven to 350F and coat a cast iron skillet with light layer of nonstick spray.
In a bowl, whisk together the flour, cornstarch, baking soda, and salt. Set aside.
In a large bowl, mix together the butter and sugars using a hand or stand mixer with the paddle attachment. Mix on medium-high speed for 2-3 minutes until light and fluffy.
Scrape down the bowl and mix in the vanilla and eggs.
Slowly mix in the dry ingredients. The dough will get pretty thick.
Switch to a rubber spatula and fold in 1 1/4 cups of the chocolate chips by hand.
Press half of the cookie dough into the bottom of the cast iron skillet. If it's sticking to your hands, spray your fingers with some nonstick spray.
Spread the Nutella over top, leaving a 1/2 inch gap around the edge.
Take large chunks of the cookie dough and gently flatten them with your hands. Lay them on top of the Nutella layer then press the seems together to create a smooth top.
Sprinkle on the remaining 1/4 cup of chocolate chips.
Bake for 25-30 minutes for a more gooey cookie and 30-38 for a more well-done cookie. I baked mine for about 28 minutes.
If you'd like to just dig in with your spoon, enjoy when it's warm from the oven. For a cookie you can slice into like a pie, let it cool to room temperature.
Prep Time: 15 minutes
Cook Time: 30 minutes
Category: Dessert
Method: Baking
Cuisine: American
Keywords: skillet cookie, nutella stuffed cookie, skillet chocolate chip cookie, cookie pie, nutella cookie pie
Recipe Card powered by