This lemon blueberry loaf TRULY belongs in a bakery! It's so moist and tender with a tight crumb. Every bite just melts in your mouth. Each slice is also loaded with fresh blueberries and the entire batter is mixed with the zest and juice of fresh lemons (no artificial flavors here)! Topped with a sweet layer of crumble and a drizzle of lemon icing, this blueberry loaf is just as tasty (if not more) as it looks.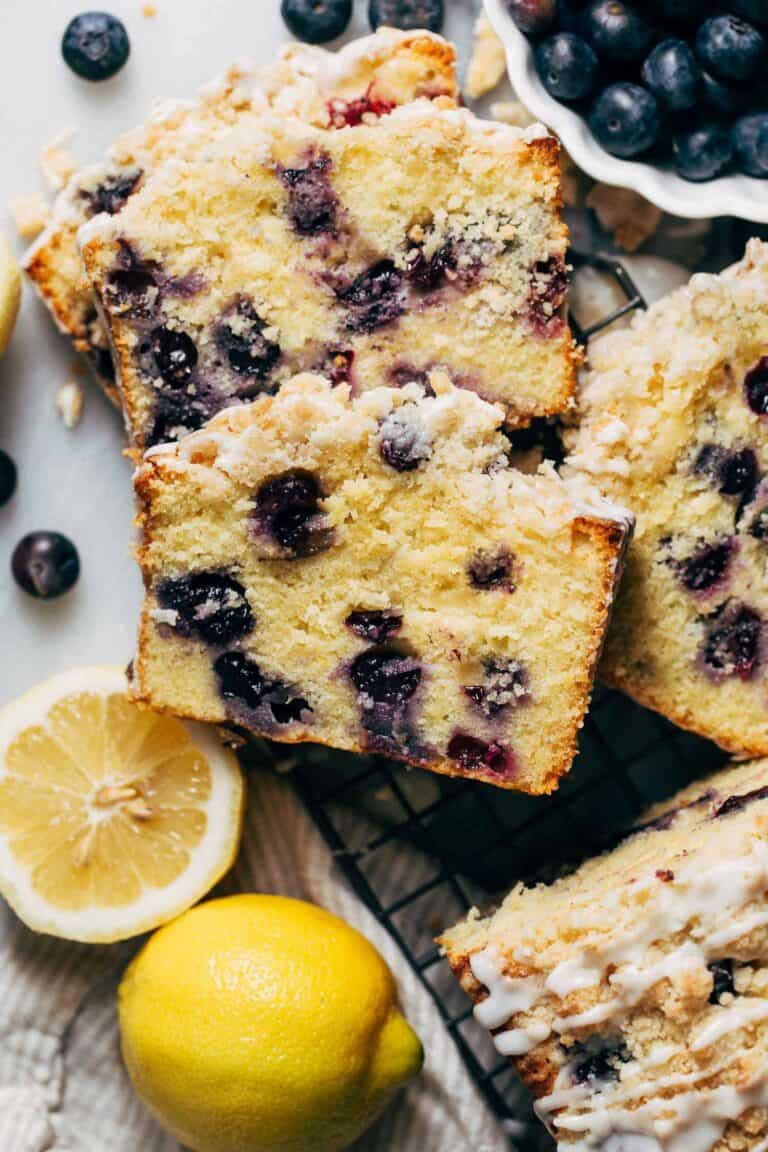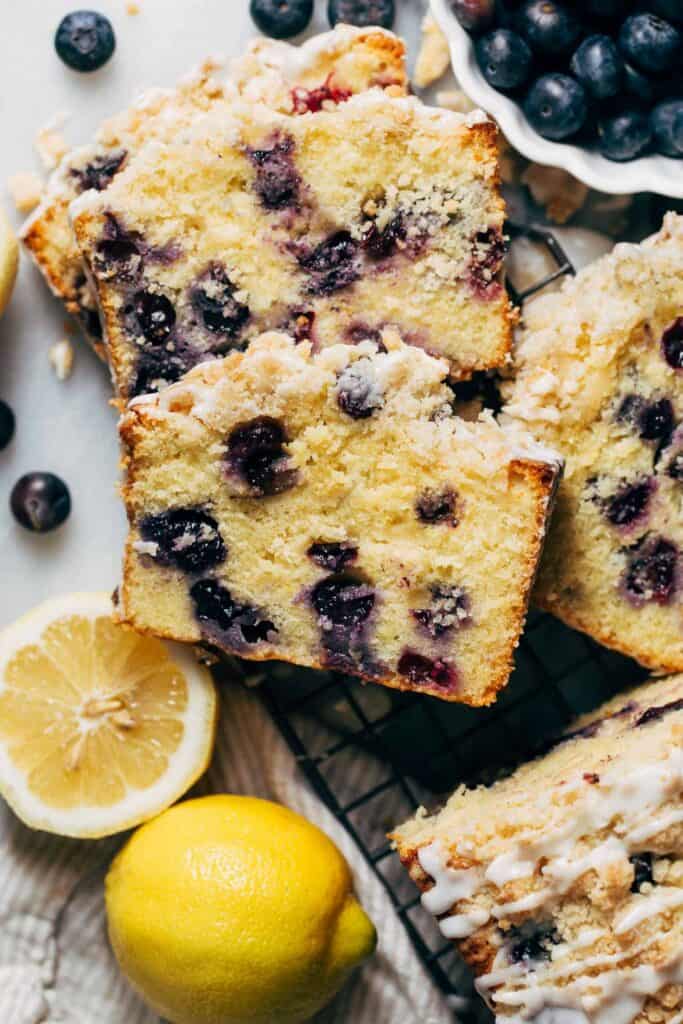 What makes this lemon blueberry loaf so good?
This recipe was directly inspired by the new blueberry lemon loaf at Costco so I had very big shoes to fill!
Although I have to admit, I have never even tried their version. Mainly because the list of ingredients is very…interesting. I can't even pronounce half of them so trying to recreate this chemically induced loaf was very difficult. But in the end I think we nailed it! It might actually be even better than the original considering it's made with REAL ingredients.
This includes all fresh and natural flavors as there is absolutely NO fake lemon or blueberry flavor in this loaf. It's made with loads of fresh blueberries as well as fresh lemon zest and juice.
It also gets a natural lift from baking powder and baking powder alone. Many store bought cakes use chemicals or a chemical process in order to provide tons of height in their desserts. This is something that is very difficult to achieve with a homemade bake, but it's definitely not impossible! It just means the testing process takes a little bit longer on my end.
Most importantly, this loaf is made with all butter and no oil which provides the moist delicious flavor.
Not only does it enhance the taste, but it's also the reason why the loaf has the most tender and moist consistency. This is mainly due to the reverse creaming method.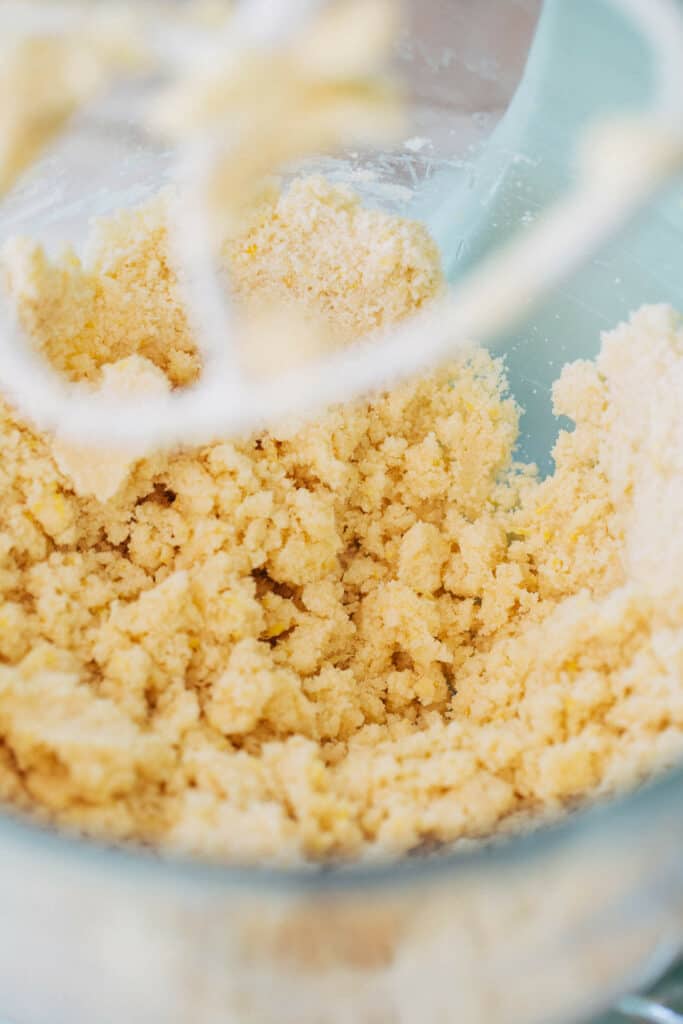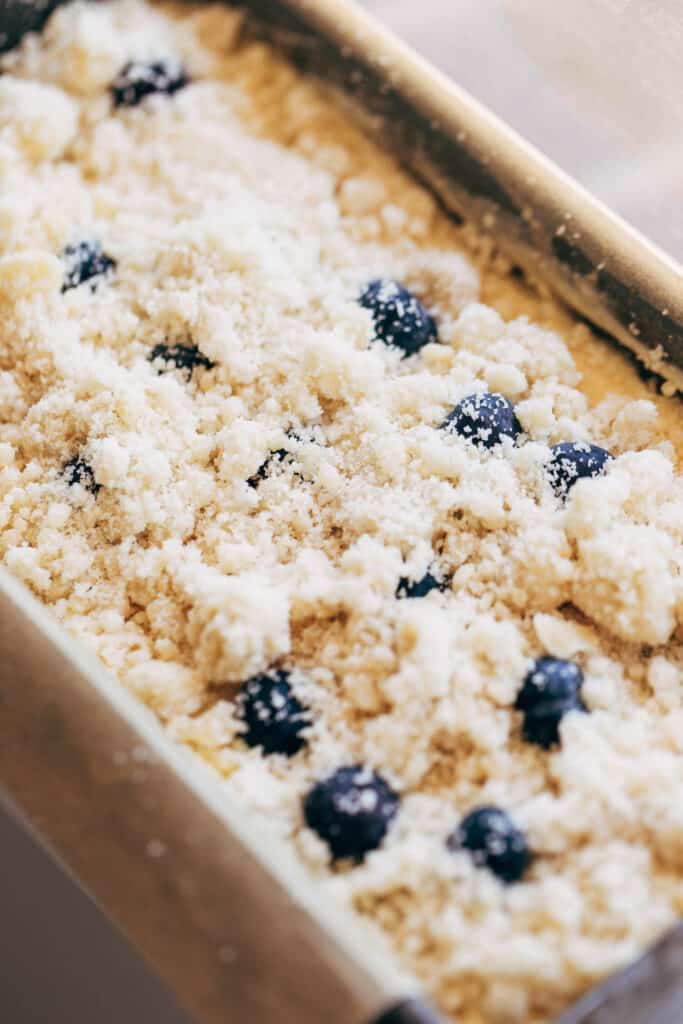 What is the reverse creaming method?
Typical cake batters are made using the traditional creaming method – whip together the butter and sugar, then mix in the wet ingredients, then the dry ingredients.
But for this recipe, we are using the reverse creaming method – combine ALL of the dry ingredients (sugar, flour, salt, baking powder), then mix in softened butter, then the rest of the wet ingredients.
When mixing in the butter with all of the dry ingredients, the soft butter coats the flour in a layer of fat. This creates a barrier around the flour which slows the gluten forming process. Because when flour comes in direct contact with the wet ingredients, the gluten strands jump into action to create strong bonds with one another. This is what creates bounce and structure.
So when the flour is coated and those gluten strands are held back from each other, the result is an incredibly tender and soft cake with a tight but light crumb. It's my absolute FAVORITE method when it comes to rich cakes like my iced lemon loaf cake or red velvet pound cake.
For this specific lemon blueberry loaf recipe, this method yields a lush and rich texture that is completely irresistible.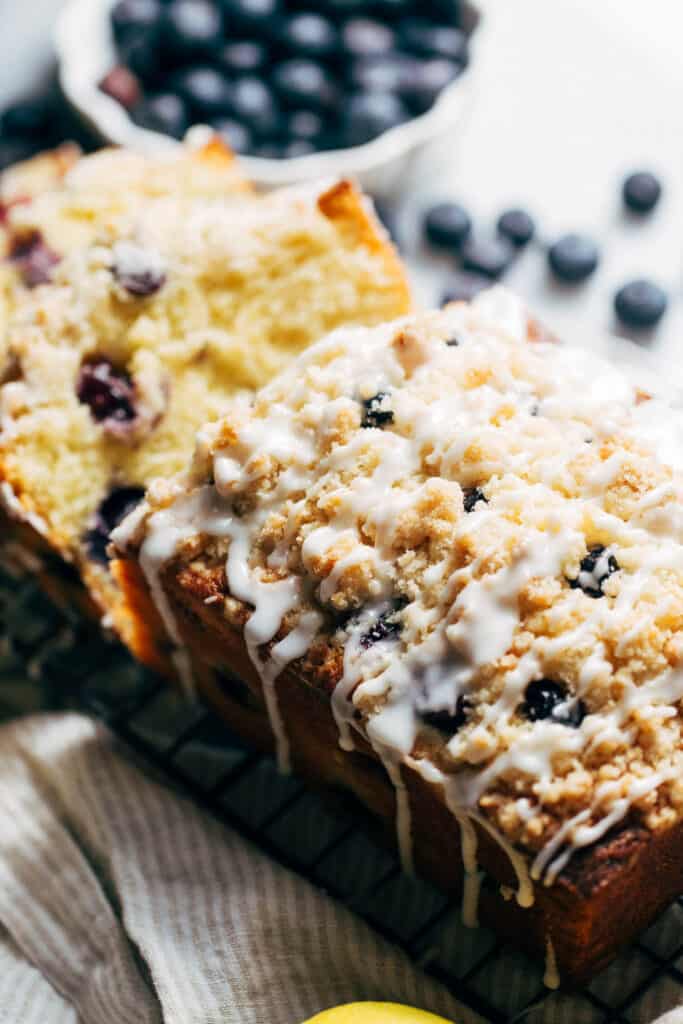 Tips for baking a moist lemon blueberry loaf
Loaf cakes can be a bit tricky because it's a lot of batter baked in a very tight space. This can often lead to a sunken cake or the loaf itself can struggle to bake all the way through. But these tips will ensure your loaf turns out just right!
Baking Pan – This loaf cake is baked in a 1lb loaf pan which is slightly smaller than a typical 9×5 loaf pan. The narrow shape of this pan helps create a taller rise. A traditional 9×5 pan can also be used, but always make sure to use a loaf pan that is a light metal color. Glass and ceramic do not conduct heat as well as metal, so you can end up with a loaf that is well done outside and slightly underdone in the center.
Mixing -The key to a tender cake is to mix as little as possible. When mixing the butter into the dry ingredients, stop right when the butter fully blends in. Then when adding the rest of the wet ingredients, take your time and mix on low or medium-low speed. The less the batter is mixed, the more soft the cake will be.
Flour – When measuring the flour, I always suggest using a food scale for accuracy. If that's not available to you, spoon the flour into the measuring cup and level it off for a light and fluffy cup of flour. NEVER scoop directly into the flour as this packs the ingredient down into the cup, adding way more flour than is necessary to the cake batter.
Blueberries – Rinse the blueberries with water and strain. Then toss the wet blueberries in some flour. It's important to do this while the berries are wet as this will allow the flour to stick. This flour coating will help the berries stay suspended in the batter, as fruits tend to sink to the bottom of cakes as they bake.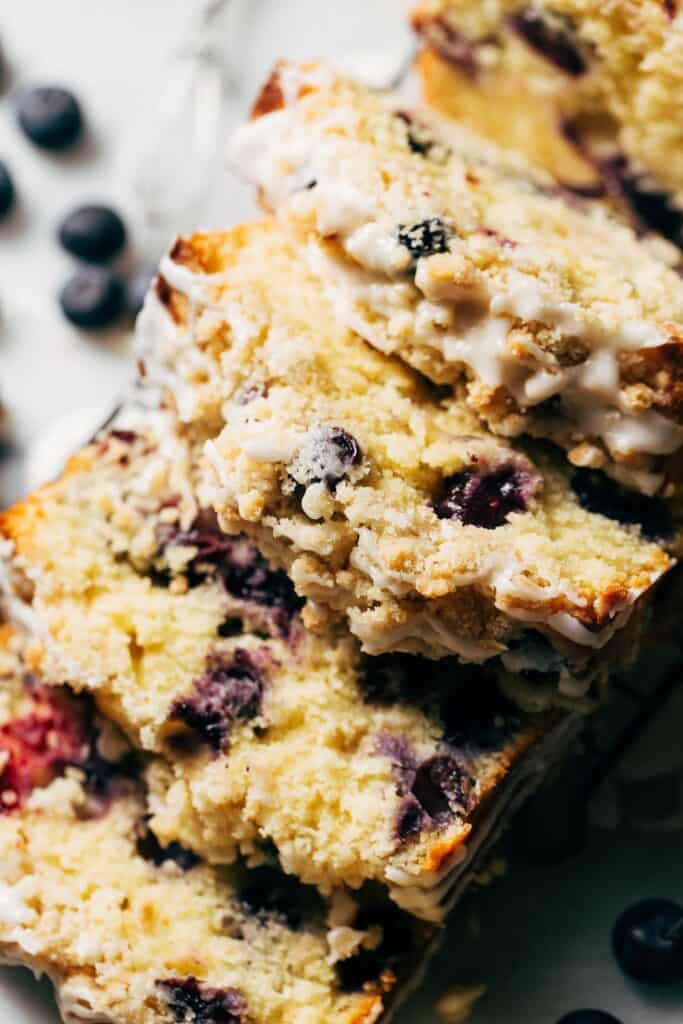 Blueberry Lemon Loaf FAQs
Can lemon blueberry loaf be made with frozen blueberries?
I suggest sticking with fresh blueberries as frozen blueberries tend to bleed into the batter, turning it partially purple. The frozen blueberries can also drop the temperature of the batter, making it more difficult for the loaf to bake evenly.
Can I make this into a plain lemon loaf instead?
To make a lemon loaf cake, I suggest using my iced lemon loaf recipe but add the crumble from this lemon blueberry loaf.
Does this recipe require an electric mixer?
I try to make all of my recipes as electric-free as possible but the reverse creaming method is much easier when using an electric mixer. It's not impossible to make this recipe by hand, but it will take quite a bit of extra work.
How long does this loaf keep?
This loaf can be stored in a container at room temperature for a couple days, but any longer and it will need to be kept in the refrigerator. It can keep chilled for about a week.
Can lemon blueberry loaf be frozen?
Yes, store the loaf in a freezer storage bag and it will keep in the freezer for a few months.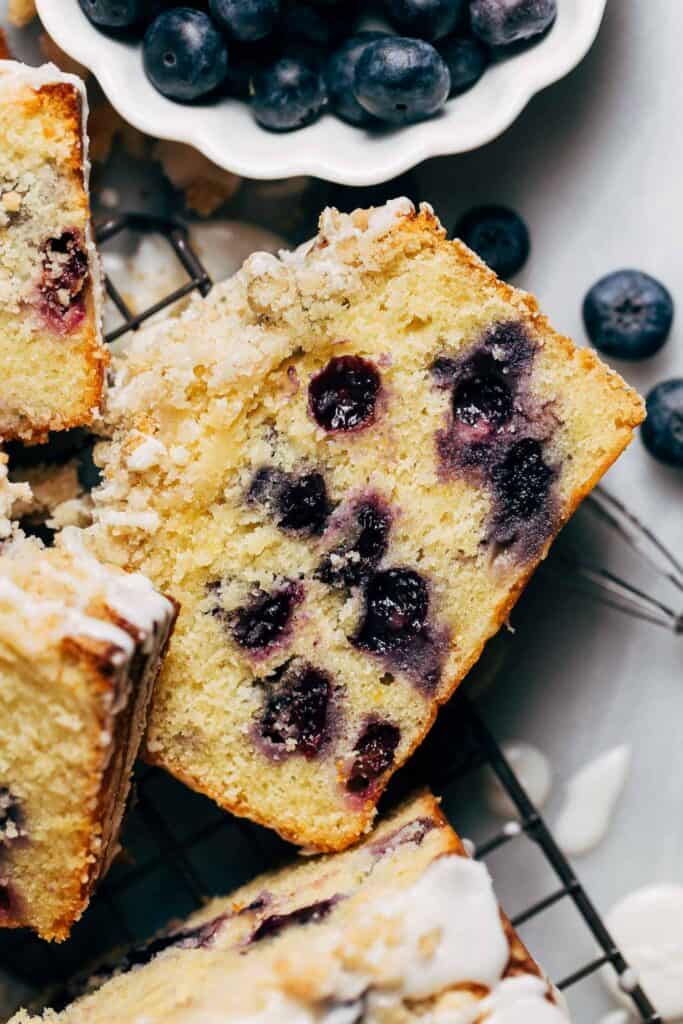 For more blueberry dessert recipes, check out my:
Make sure to tag me @butternutbakery on Instagram if you make this lemon blueberry loaf. I love seeing my recipes come to life in YOUR kitchen! To pin this recipe and save it for later, you can use the button on the recipe card, the buttons above or below this post, or on any of the photos above. Happy baking!
Print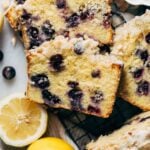 Lemon Blueberry Loaf
---
Author: Jenna Barnard
Total Time: 2 hours 5 minutes
Yield: 10-12 slices
Description
This lemon blueberry loaf is so tender and loaded with fresh blueberries and zesty lemon flavor! Topped with a sweet layer of crumble and a lemon icing drizzle, this loaf cake is NEXT LEVEL good.
---
Crumble
2 tbsp unsalted butter, melted
3 tbsp granulated sugar
1/3 cup (43g) all purpose flour
Tiny pinch of kosher salt
Lemon Blueberry Loaf
1 cup (200g) granulated sugar
2 tbsp fresh lemon zest (about 2 lemons)
1 1/2 cups (195g) all purpose flour, plus 1 tbsp for blueberries
1 tsp baking powder
1/4 tsp kosher salt
3/4 cup (185g) unsalted butter, room temp
1 tsp vanilla extract
3 large eggs, room temp
2 tbsp fresh lemon juice (about 1 lemon)
1/4 cup (60g) milk, room temp
1 1/2 cups (215g) fresh blueberries, plus a handful for topping
Lemon Icing
1/2 cup (55g) powdered sugar
1/2 tbsp milk or cream
1/2 tbsp fresh lemon juice
---
Instructions
Crumble
Mix together all of the ingredients in a small bowl.
Place in the refrigerator while we make the batter.
Lemon Blueberry Loaf
Preheat the oven to 350F and grease and line all sides of a 1lb loaf pan (8.5×4.5″).
In the bowl of a stand mixer with the paddle attachment (a hand mixer can also be used), add the sugar and zest. Using your fingers, rub the two together to release even more lemon flavor.
Now add in the flour, baking powder, and salt. Mix to combine.
With the mixer running on medium low speed, drop in the softened butter 1 tablespoon at a time.
Mix until it turns crumbly but you can no longer see any lumps of butter.
Scrape down the bowl and mix in the vanilla, followed by the eggs one at a time.
Then mix in the lemon juice followed by the milk.
Remove the bowl from the mixer and scrape down the bowl to make sure there's no unmixed bits at the bottom.
For the blueberries, pick out any stems and rinse with water. Then toss with 1 tablespoon of flour. The flour should easily stick to the wet berries, creating a coating of flour around each berry.
Toss the berries into the batter and gently fold them in. Fold just enough to evenly distribute.
Pour the batter into the prepped loaf pan and spread even. Top with a handful of extra berries, followed by a layer of the chilled crumble.
Bake for 50 min – 1 hour or until a toothpick in the center comes out clean with a few moist crumbs. The loaf should also appear golden around the edges and puffed up in the center.
Allow the loaf to cool for about 45 minutes at room temperature.
Lemon Icing
Once the loaf has cooled, make the lemon icing.
Whisk together all of the ingredients until it turns into a glue-like consistency. If it's too thick, mix in an extra bit of liquid. If it's too fluid, mix in another spoonful of sugar.
Lift the loaf out of the pan and drizzle with the icing.
Now slice and enjoy!
Equipment
Prep Time: 20 minutes
Cooling Time: 45 minutes
Cook Time: 1 hour
Category: Dessert
Method: Baking
Cuisine: American
Keywords: lemon blueberry loaf, blueberry lemon loaf, iced lemon blueberry loaf, lemon blueberry loaf cake, lemon blueberry loaf recipe, blueberry lemon loaf recipe
Recipe Card powered by