This gluten free oatmeal chocolate chip skillet cookie is so good that you won't even know it's gluten free! It's loaded with chocolate chunks and drizzled (or drenched) in an easy homemade caramel sauce. Skillet cookies are the perfect dessert for a crowd and this gluten free skillet cookie will ensure all your friends can enjoy it!
I have to admit, I've been a little intimidated by gluten free baking. There are so many adjustments you have to make to get it just right and I was always worried my recipes would just fall flat. But when I found Bob's Red Mill 1-to-1 Gluten Free Baking Flour, it made this gluten free skillet cookie a breeze.
Even if you don't have a gluten allergy, you'll want to make this skillet cookie. It's rich, chocolatey, and so addictive. I kept going back for more even when I told myself to put the spoon down. Oh, did I mention it's super easy to make? You have no excuse NOT to make this!
How to make a gluten free skillet cookie
Not only are skillet cookies super easy to make, but they're even easier to turn gluten free. I used Bob's Red Mill 1-to-1 Gluten Free Baking Flour which already has xanthan gum in the mix, making your life so much easier. Usually you would have to add this as a separate ingredient to give you the chewiness that you would typically get from gluten.
Because this is a 1-to-1 ingredient, you can turn so many recipes into gluten free recipes with a simple swap. Wherever you see flour, just use this gluten free baking flour and you're good to go.
Since this is an oatmeal chocolate chip skillet cookie, it's also important to use certified gluten free rolled oats. Some oats are processed alongside other products that are not gluten free, making them unsafe for anyone with a gluten allergy. Luckily, Bob's Red Mill also has certified gluten free rolled oats that you can confidently use in this skillet cookie!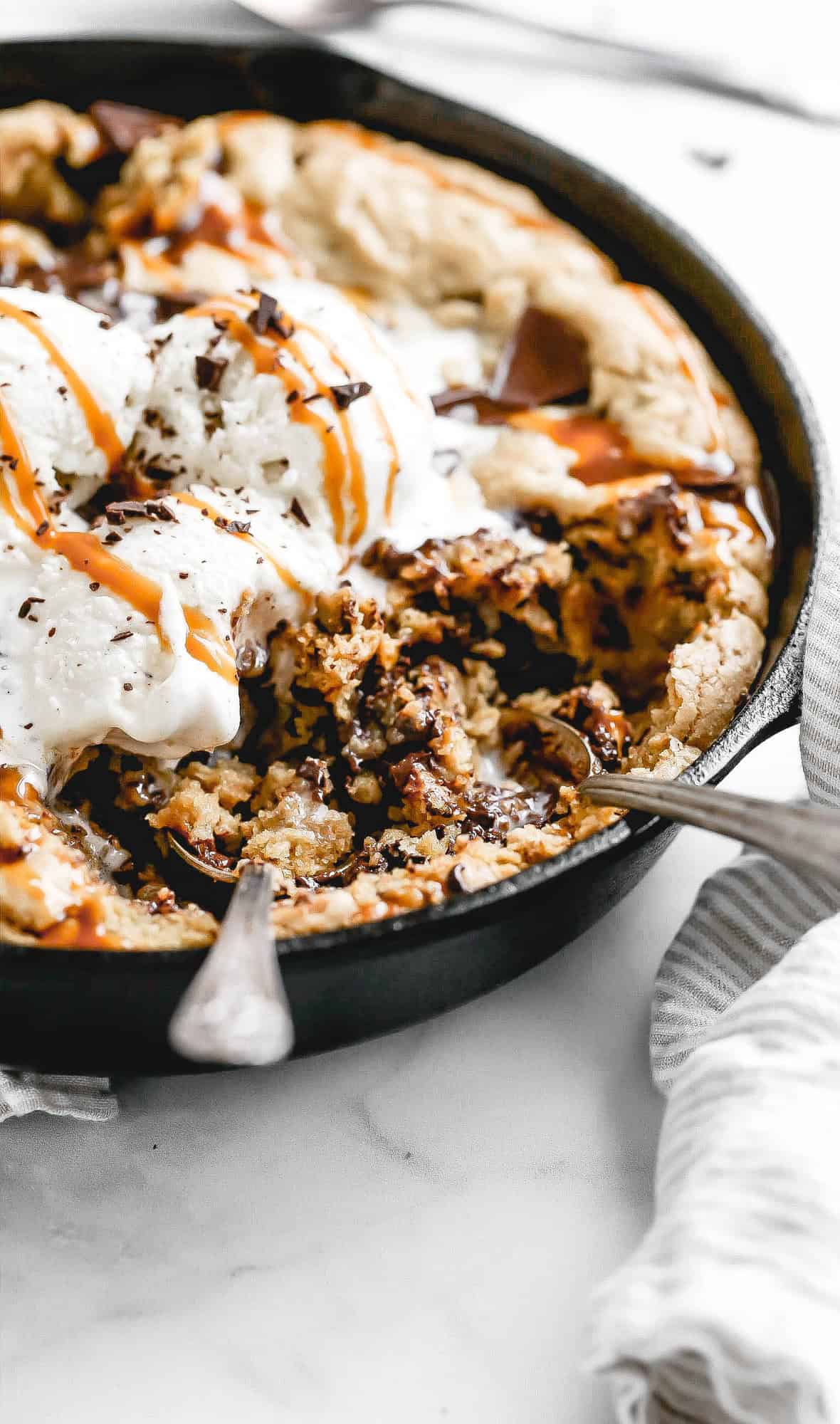 How to bake a skillet cookie
First, you bake a gluten free skillet cookie just like you would any other. But, due to the ingredients used, this one won't brown as much on top. It will stay pretty pale in color which is why you should give it a little shake to make sure the center is set.
What's great about skillet cookies is that you can customize it to your perfect consistency and texture. I like my skillet cookies to be a bit doughy in the middle but if you're looking for a more well done center, add on about 5-10 minutes to the overall bake time.
Also, using a cast iron skillet is best for this recipe. You can find them fairly cheap or you could use any large oven-safe skillet. Here is the one I used in my recipe: Lodge Cast Iron Skillet.
Add all the toppings!
My favorite part about making a skillet cookie is all the toppings you can throw on. My go-to is ALWAYS ice cream because it's so delicious with a warm and gooey skillet cookie. Instead of just vanilla, you could try rocky road, cheesecake, or your favorite chunky ice cream flavor (as long as it's gluten free).
I also made an easy homemade caramel sauce to drizzle on top of mine. With the warm cookie, cold ice cream, and warm caramel, you just can't beat it. You could also drizzle on some chocolate sauce or melted peanut butter. A couple dollops of marshmallow cream would also be so good!
With so many possibilities, you could easily turn this into a fun activity. Lay out a buffet of toppings and go wild! You could do this for your kids, a girls night in, or a cute date for two…if you're not into sharing with tons of people. I get it, I wouldn't want to either.
If you're looking for even more cookie recipes, you could easily make any of these gluten free with the Bob's Red Mill 1-to-1 flour:
Make sure to tag me @butternutbakery on Instagram if you make this gluten free oatmeal chocolate chip skillet cookie. I love seeing my recipes come to life in YOUR kitchen! To pin this recipe and save it for later, you can use the button on the recipe card, the buttons above or below this post, or on any of the photos above. Happy baking!
This post is sponsored by Bob's Red Mill. Thank you for supporting the brands that make Butternut Bakery possible!
Print
Gluten Free Oatmeal Chocolate Chip Skillet Cookie
---
Description
This gluten free skillet cookie is full of oats, chocolate chunks, and drenched in an easy homemade caramel sauce. It's the perfect dessert to make for a party! Or yourself…also totally acceptable.
---
Cookie
1 cup unsalted butter, melted
3/4 cup brown sugar
3/4 cup granulated sugar
2 eggs, room temp
2 tsp vanilla extract
1 tsp baking soda
1/2 tsp salt
3/4 cup semi-sweet chocolate, chopped
3/4 cup dark chocolate, chopped
Caramel Sauce
1/2 cup granulated sugar
3 tbsp unsalted butter, room temp and cubed
1/4 cup heavy cream, room temp
1/4 tsp salt
---
Instructions
Cookie
Preheat your oven to 350F and butter your cast iron skillet.
Chop up your chocolate and set aside.
In a bowl, whisk together the flour, oats, baking soda, and salt. Set aside.
Melt your butter and mix it into your sugars, using a whisk or electric mixer (paddle attachment), in a large mixing bowl.
Let it cool for a couple minutes then mix in the eggs and vanilla.
Once smooth, gradually mix in the dry ingredients. If doing this by hand, switch to a wooden spoon.
When the dry ingredients are fully incorporated, fold in the chopped chocolate. You can reserve a handful to dot the top of the cookie if you like.
Evenly spread the dough in your skillet and pat it down with your hands. Bake for 15-20 minutes for a doughy center. Add on 5-10 minutes for a well-baked cookie.
Caramel Sauce
In a small saucepan, melt the sugar over medium-high heat. Whisk constantly until it's fully melted. This should take 8-10 minutes.
Once melted, stop whisking and let it brown. Keep a close eye on it as this happens quickly.
Remove from heat and whisk in the butter. Slowly pour in the heavy cream and whisk. Finally, mix in the salt.
Let it rest for a couple minutes before drizzling on top of your cookie.
While the cookie is still warm, top with ice cream and caramel sauce. Now dig in and enjoy!
Prep Time: 30 minutes
Cook Time: 15 minutes
Keywords: gluten free skillet cookie, chocolate chip skillet cookie, easy caramel sauce
Recipe Card powered by