These Lucky Charms Marshmallow Treats would make for a super easy Easter dessert! The pastel colors of the marshmallows scream spring and who doesn't love an ooey gooey marshmallow treat? Plus these are EXTRA marshmallowy which is why I absolutely love this recipe!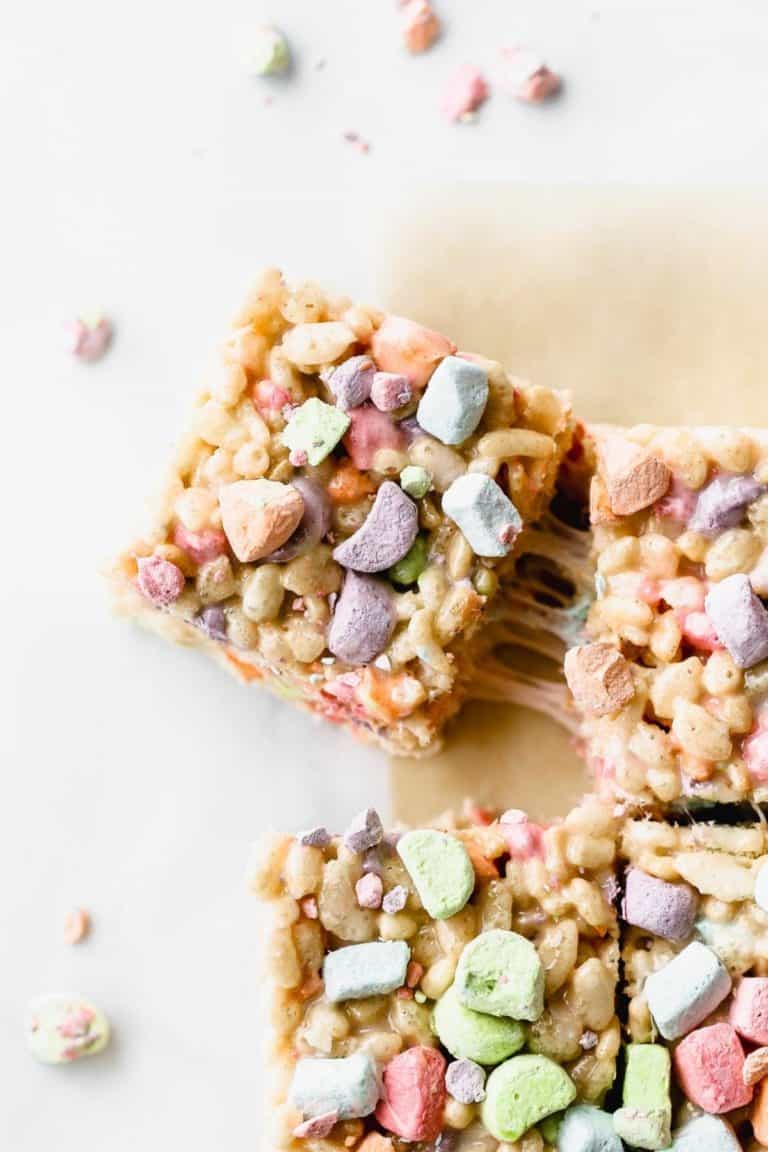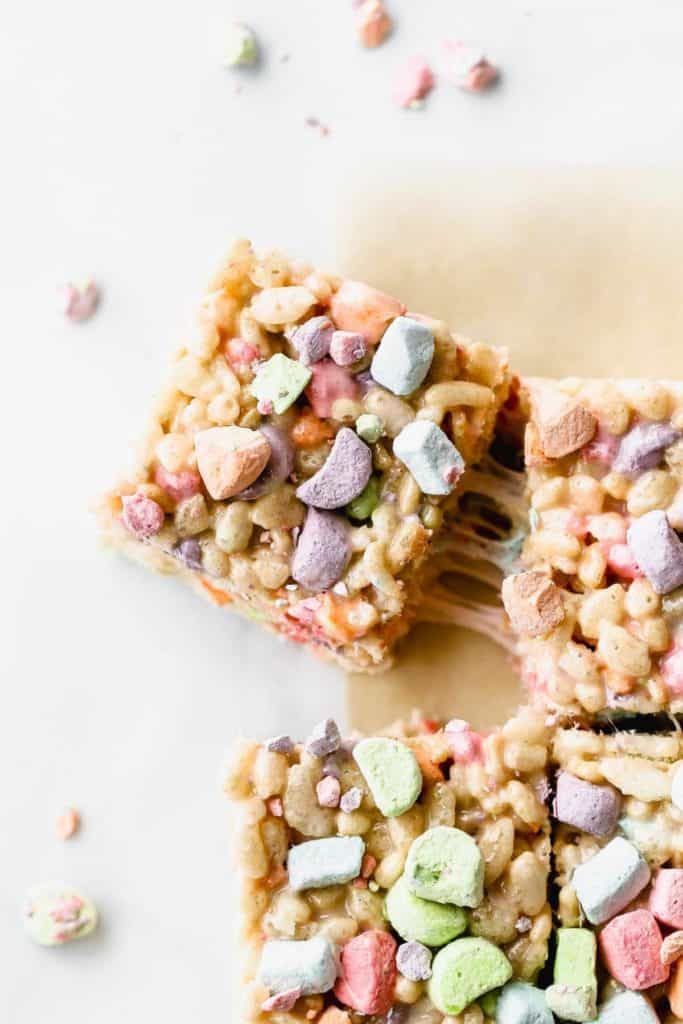 What I love about this recipe
Just look at that pull! And it takes a bit of effort to pull these pieces apart because of how ooey gooey they are. There's definitely no shortage of marshmallow in these cereal marshmallow treats!
So what makes this the best rice crispy treat recipe? A whopping 10 cups of marshmallows. That's almost a bag and a half. I'm not messing around with this recipe. If I'm gonna make some marshmallow treats, I'm gonna do the damn thing.
You can buy lucky charms marshmallows only!
You have two options: pick out ever marshmallow from a box of Lucky Charms OR buy a big bag of Lucky Charms marshmallows! Ah Amazon, how did we ever survive without it?
But yes, these bags exist in varying sizes. With the one I purchased, I still have plenty leftover so you could double this recipe or save the extras and add them to your favorite cereal.
They also make for the prettiest decorations. Sprinkle them on top of cupcakes or a cake. Or make my Lucky Charms Sugar Cookies. Just make sure not to bake them as they will definitely melt and dissolve.
Customize your marshmallow treats
Not only are marshmallow cereal treats quick to make, but you can also easily substitute your favorite kind of cereal.
I opted for the tried-and-true Rice Krispies because you just can't beat a classic. Other cereals that could work for this recipe are Cheerios, Corn Flakes, Frosted Flakes, Golden Grahams… basically anything that is pale in color.
If you use a cereal that has bigger chunks, like Golden Grahams, make sure to crust them up a bit before adding them to the melted marshmallows. This helps create a tight and uniform marshmallow treat.
You can also adjust the measurements to a 50/50 split between cereal and Lucky Charms marshmallows if you'd like to have even more of them!
For even more easy no bake recipes:
Make sure to tag me @butternutbakery on Instagram if you make these Lucky Charms Marshmallow Treats. I love seeing my recipes come to life in YOUR kitchen! To pin this recipe and save it for later, you can use the button on the recipe card, the buttons above or below this post, or on any of the photos above. Happy baking!
Print
Lucky Charms Marshmallow Treats
---
Author: Jenna Barnard
Total Time: 1 hour 15 minutes
Yield: 16 marshmallow treats
Description
These lucky charms marshmallow treats are so gooey and loaded with sweet marshmallow candies! The pastel colors of the marshmallows makes this a super easy Spring dessert recipe that everyone will love.
---
6 tbsp unsalted butter
10 cups mini marshmallow (about one and a half bags)
1/2 tsp vanilla extract
1/2 tsp salt
4 cups Rice Krispies cereal
2 cups Lucky Charms marshmallows
---
Instructions
In a large bowl, mix together the Rice Krispies and Lucky Charms marshmallows.
In a large pot over medium heat, melt down the butter and marshmallows. Continue to stir so you don't burn the bottom.
Once melted, remove from heat and mix in the vanilla and salt.
Dump in the cereal mixture and stir to coat.
Press into an 8×8 pan that has both been sprayed with non-stick spray and lined with parchment paper so it's easy to take out. Lightly coat your hands in the spray and press it even.
Sprinkle some more Lucky Charms marshmallows on top and let them rest at room temperature for about an hour. Then slice and serve!
Notes
To achieve more of a sprinkle effect, you can crush a few of the Lucky Charms marshmallows in a zip lock bag with a rolling pin.
Prep Time: 5 minutes
Chilling Time: 1 hour
Cook Time: 10 minutes
Category: Dessert
Method: No Bake
Cuisine: American
Keywords: lucky charms marshmallow treats, rice krispie treats, marshmallow treats
Recipe Card powered by